Browsing recipe blogs, meal inspirations on Pinterest, and shopping for all the ingredients of my favorite dishes can be overwhelming. Using the Whisk recipe app now takes all that burden off me.
Whisk functions as an organizer of recipes and a shopping list, making the app a fantastic addition to the phone of anyone who loves cooking or eating.
This guide will walk you through one of the most downloaded recipe apps in the marketplace today.
About Whisk
Key Features of Whisk
How to Download Whisk
How Whisk Works
Whisk's Interactive Features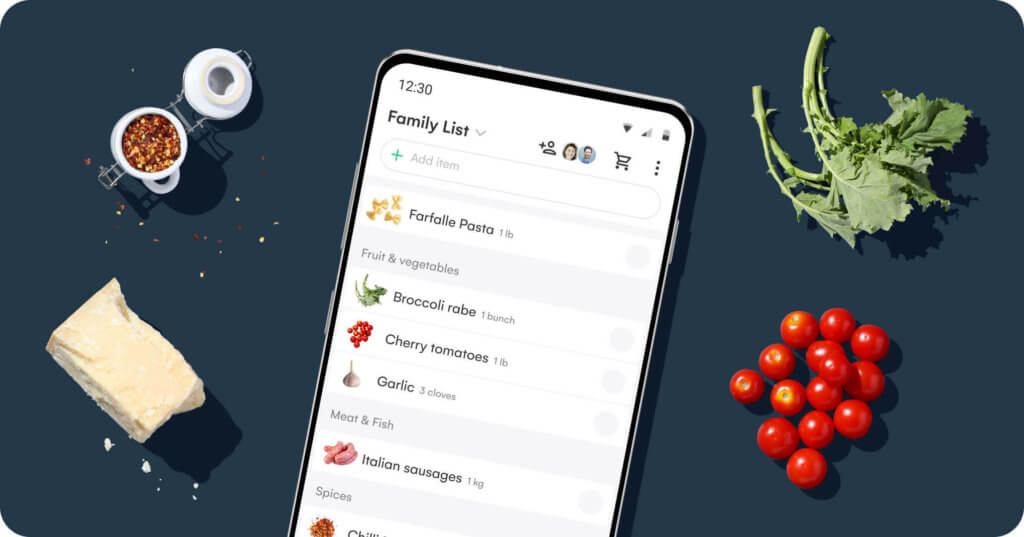 About Whisk
Whisk is a recipe app that specializes in creating, personalizing, and organizing food-related content online. Whisk was founded by Craig Edmunds, Nick Holzherr, and Viktor Taranenko in June 2012 and was acquired by Samsung NEXT in 2019.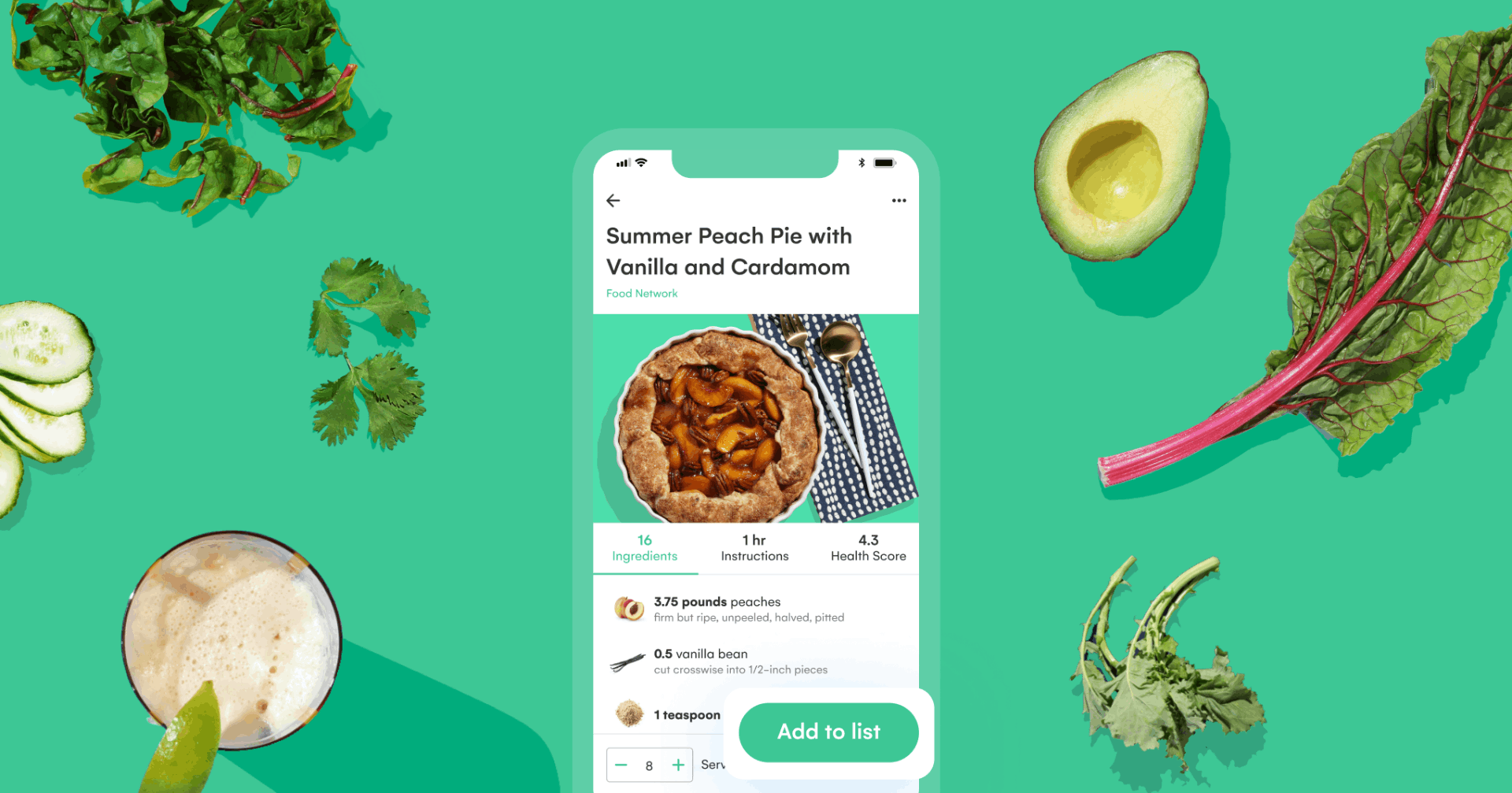 Whisk works with publishers, retailers, CPG brands, and health companies in guiding the app's users at every stage of their cooking journey, from finding inspiration to preparing their food.
Whisk's system is powered by 18 technology products and services, such as jQuery, Google Analytics, and HTML5. Whisk was the winner of Google Play's Best of 2020 'Everyday Essentials' Award.
With Whisk, I can save recipes I find online, create a personal cookbook, find cooking ideas, plan meals, and build a shopping list. I can even personalize dietary preferences. I can also share recipes with family and friends.
Partnership with Tastemade
In 2021, Whisk and Samsung partnered with Tastemade, a media company that produces food videos and recipes.
The partnership makes Tastemade's content available on Whisk and on Samsung Family Hub refrigerators.
Whisk users get more options in terms of food and recipes, and Tastemade fans enjoy more convenient access to its content.
Key Features of Whisk
While cooking can be fun, it requires attentiveness, practicality, and efficiency. Whisk's features help me achieve all of them. Are you always taking screenshots of recipes you see online? With Whisk, you can simply copy recipes from almost everywhere, such as Pinterest, the Food Network, and even blogs.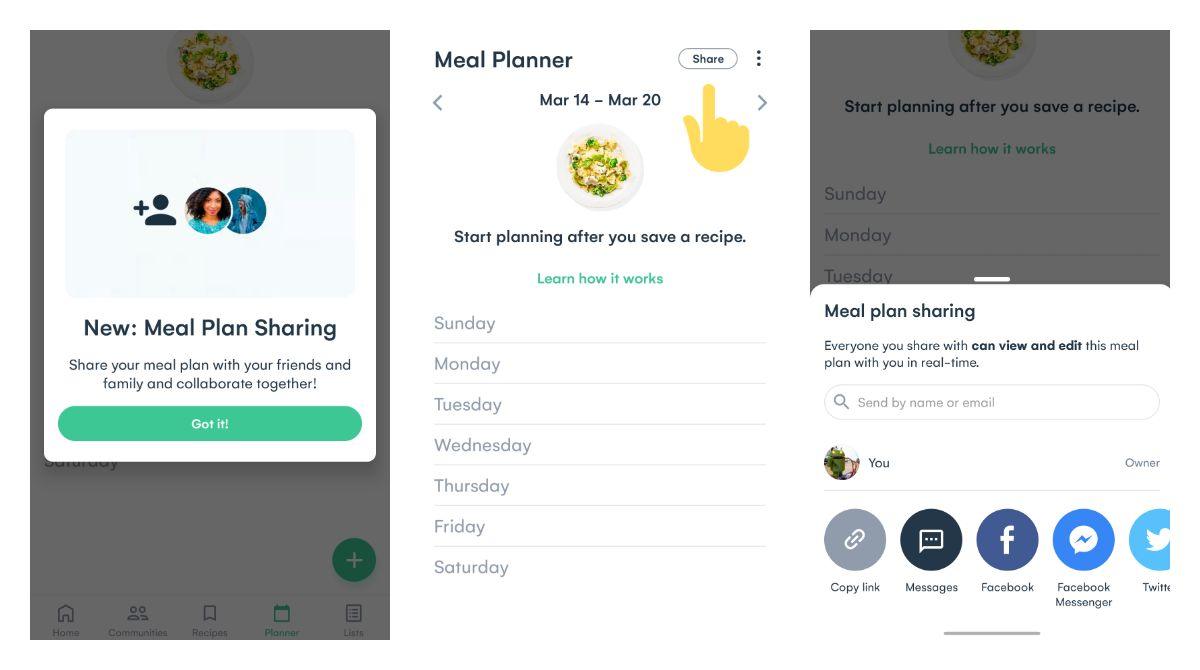 Moreover, you are free to edit those imported recipes or add notes and comments, including what you want to change in the list of ingredients or anything you want to tweak in the process.
Whenever I plan my meal for the week, I can not only schedule the dishes but also monitor the nutrients I get from them. For example, I can come up with a chicken recipe for lunch on Monday and then have a salad for dinner to ensure I get both protein and fiber in my day. I am also able to avoid leftovers and save time.
Whisk doesn't just store the recipes I find online, it creates recipe collections according to my preferred categories. These categories include vegan food, paleo diets, gluten-free desserts, low-carb meals, and fish recipes.
Shopping with Whisk
The most practical feature of Whisk is the ability to turn recipes into shopping lists.
Your grocery list can appear on your screen with just a few clicks. You can even customize your list based on the aisle where you can find your ingredients for unexpected store visits.
When I am at home, I can have the groceries delivered to my doorstep. Whisk is a partner of popular online grocers, like Amazon Fresh, Ralphs, Walmart, Kroger, and Instacart. You only need to choose from one of them, share your zip code, and go straight to checkout.
How to Download Whisk
I can access Whisk on my phone, laptop, in the kitchen, and even when I am browsing food and recipe websites. Apart from being downloadable on iOS and Android, Whisk is also available as a Chrome extension and on Alexa, Google Assistant, and Bixby.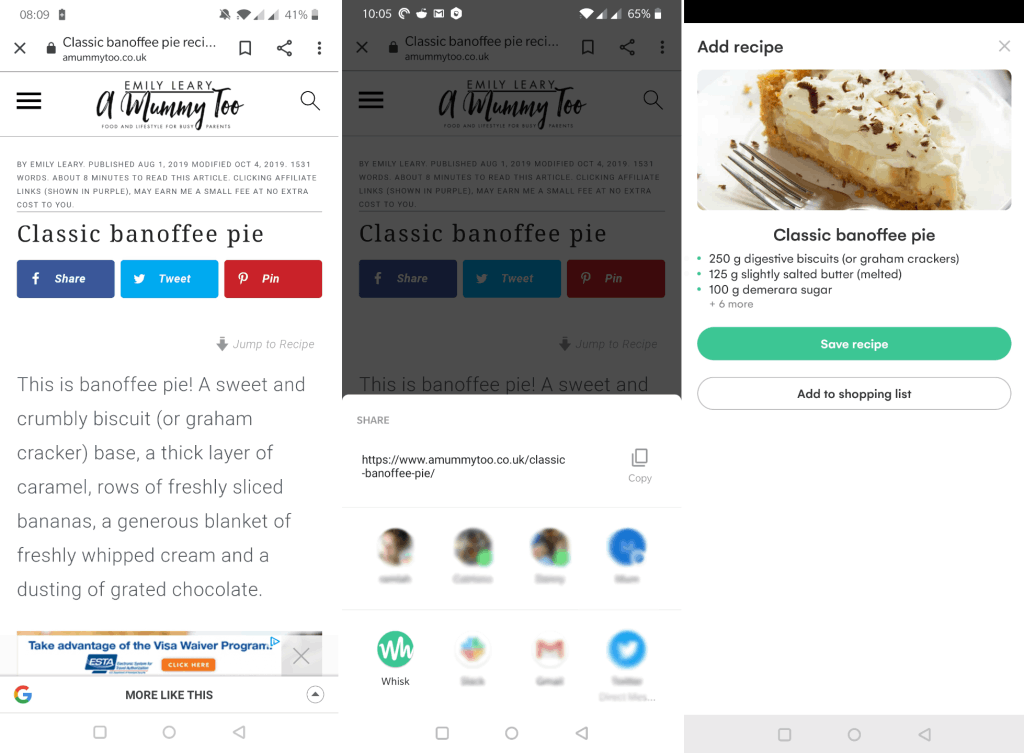 To download Whisk for iOS, go to the App Store and search for "Whisk." Once you see the app on the list of results, tap on "Get" and wait for the app to install. Be sure the device you are using is iOS 13.0 or later.
To download Whisk for Android devices, go to the Google Play Store, type in "Whisk" in the search area and choose "Whisk: Recipe Saver, Meal Planner & Grocery List." Once on the app page, tap on "Install."
Personal Data
Once you have downloaded Whisk, the app will collect some personal data from you, such as your contact details and authentication data. You may also be asked to set up an account and complete a profile.
While you are using the app, information about your food preferences, diet, and nutritional preferences will also be disclosed to the app and its partners.
Other information you may publicly share is data about your use of Whisk's services. When you are using some of Whisk's features, your device's geo-location may be revealed. Your grocery data is also accessible to Whisk.
How Whisk Works
I am impressed by Whisk's dynamic layout and clear labeling of where things go and what they can do for you. As you use the recipe app, the labels and instructions that pop up are simple and easy to follow.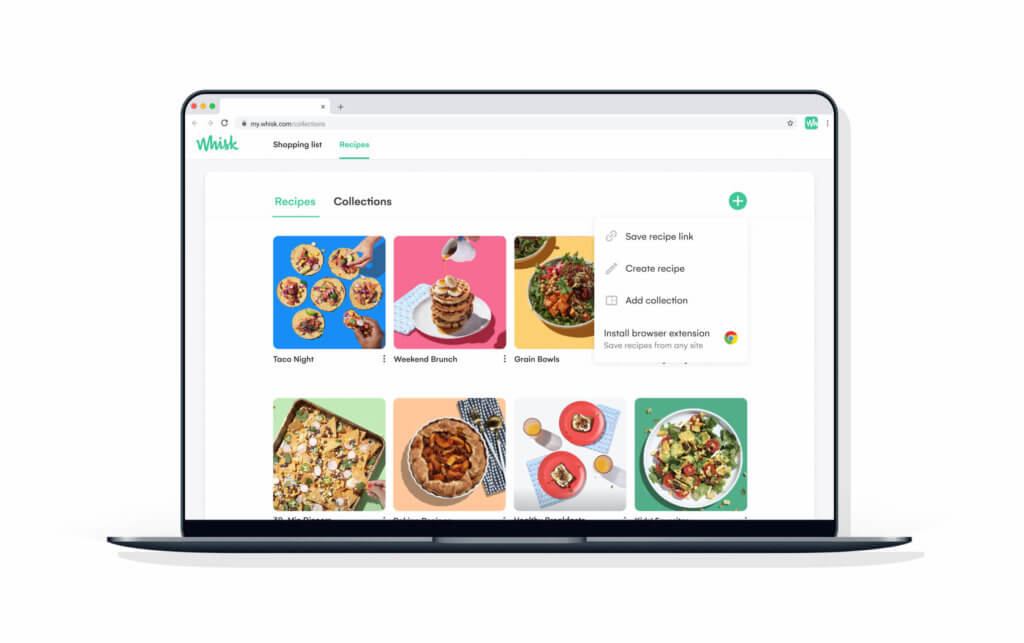 After signing up for the Whisk app, I am able to build a shopping list in the app immediately.
If I tap on the plus icon at the bottom of the screen, my "favorites" will appear, which is where I have saved my favorite items. I can start with five items first, and these items could expand into groups of five at a time.
For popular items, you can expect the app to create a shopping list that comes with relevant products. When I choose individual items, the items are checked, which means that I already have the items. When I hit the shopping cart icon, Whisk activates its shopping cart feature.
Whisk's Smartness
The items you saved on a shopping list in Whisk can be purchased directly through the app. Meanwhile, saving online recipes to the app is as easy as adding things you like on the likes of Instagram and Pinterest.
With Whisk's "smartness," the app can recognize and save a recipe and its ingredients and generate an automatic shopping list. Whisk can also spot similar items found within a recipe.
For example, if an ingredient is used twice in a recipe, it will be listed down separately in the ingredients list. However, on Whisk, their quantities are combined when added to the shopping list so the user can determine exactly how much of an item they need.
Whisk's Interactive Features
Whisk functions as a social media space for regular meal planners, food enthusiasts, and culinary experts because of its interactive features.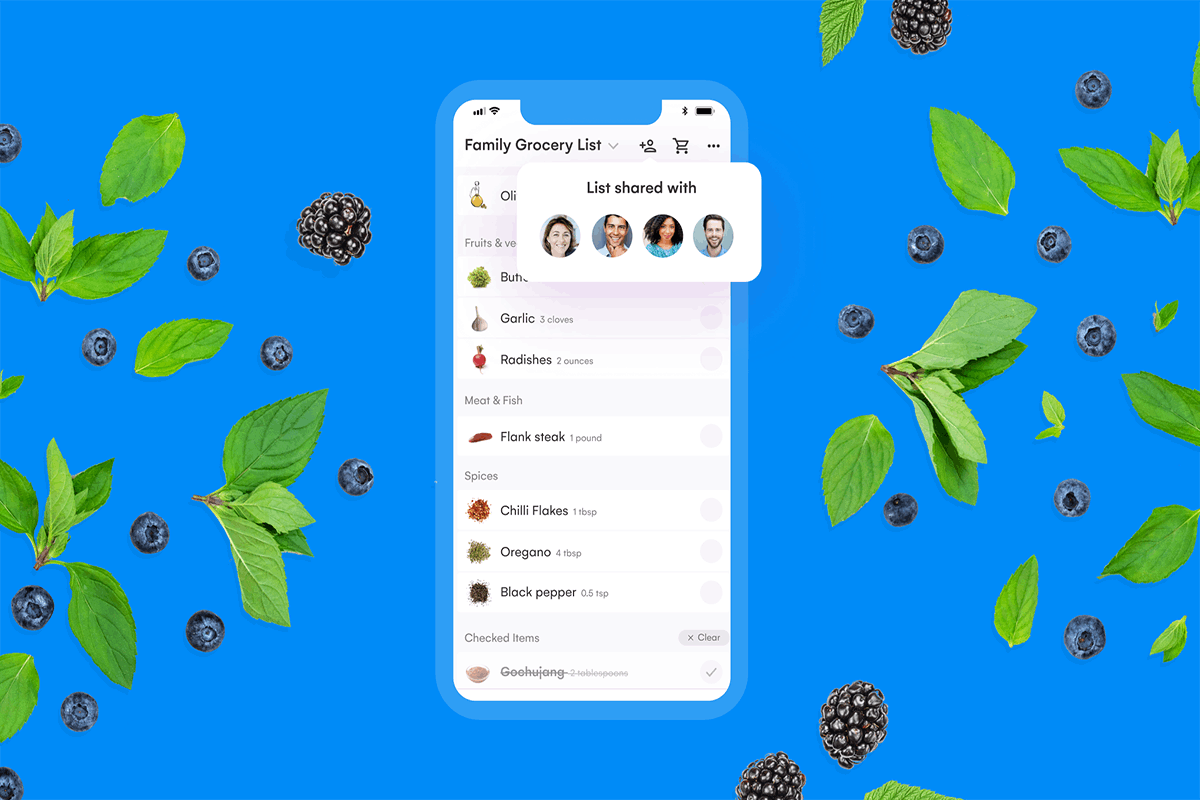 The feature "Shared Meal Plans" allows roommates, neighbors, friends, and families to decide together about which recipe to make next and when to make it. They are able to share their preferences, tastes, and cooking advice. To use the "Shared Meal Plans" feature, go to the meal plan first and choose "Share" to invite others.
If another person is leading the meal plan, they will control the sharing of the plan with others. Once people join your shared meal plan, the individual meal plans will be removed. When I want to return to my individual meal plan, I simply remove people individually or disconnect collaboration on my meal plan completely.
I can also customize which day my meal plan starts and make sure that it will complement my other schedules. I accomplish this task by tapping the three-dot icon in the upper-right part of a meal plan and then choose whichever start day works best for me.
Communities
Another interactive feature on Whisk is Communities, in which I can discover and share recipes based on common food interests. Communities can be explored through categories like vegan-friendly or gluten-free baking, your schedule, and even your appliances. Whish has over 25 communities with a variety of topics, but anyone can create a new one.
With Communities, I can contribute recipes from my recipe box to the Communities I am a part of. I can save recipes from any Community I am in into my recipe box or to my shopping list.
For more shopping options, note that Whisk is accessible and available on its partner apps and publishers, such as the Food Network and Food.com, brands like McCormick, Simply Cook, Hidden Valley, and USA Pears, and retailers like Walmart, Tesco, Baker's, Sainsbury's, and Owen's Market.
Conclusion
Whisk makes food preparation, cooking goals, and shopping easier with its organizing functions and labels. Whisk's collaborative lists that I can share with family and friends make both the cooking experience and usage of the app more meaningful and fun.
Given all those features, Whisk truly helps people be more efficient, organized, and more passionate about their everyday kitchen tasks and culinary adventures. It has certainly made me more excited about the daily chore of cooking and I hope it can for you too!
References
recipes – Learn How to Make Recipes with the Cookpad App – GoHow.co
App Store – ‎Whisk: Recipes & Grocery List on the App Store