Videos easily grab attention nowadays, especially on social media. But what if you're like me who isn't a professional video editor? The Alight Motion app does the trick.
If you're a business owner, you can use videos to promote your products and services. Personally, I use it to share videos with family and friends. At work, you may need videos for programs and presentations.
Whatever your reason is, Alight Motion can make you feel like a professional. Get that level of confidence and try out the app today.
About Alight Motion
Key Features of Alight Motion
How to Download the Alight Motion App
Alight Motion's Subscription and Pricing
Using the Animation Easing Curves
How to Join the Alight Motion Monthly Challenges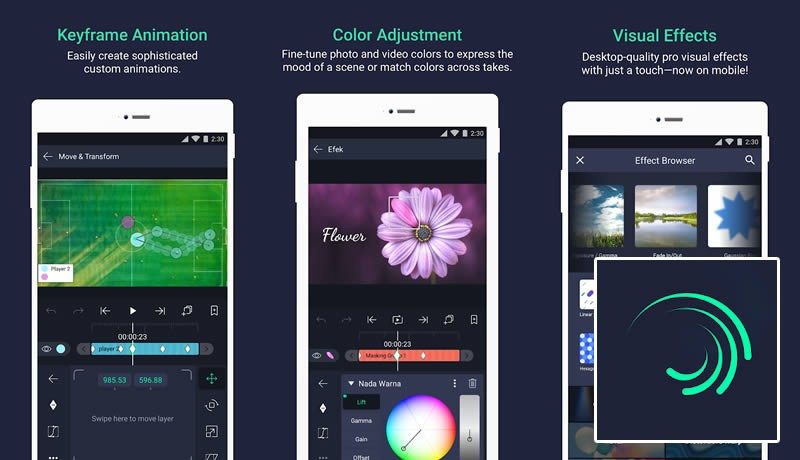 About Alight Motion
With Alight Motion, you can perform motion graphics editing at your fingertips.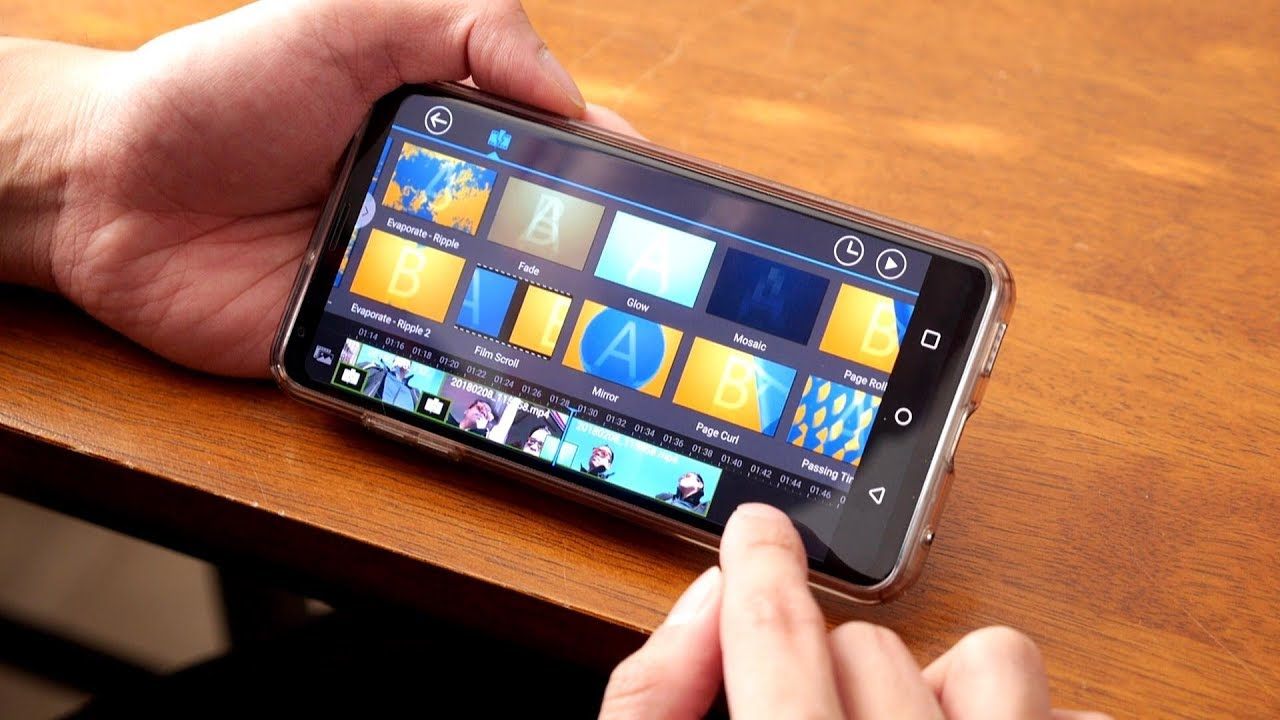 You only need a smartphone or a tablet to achieve professional-quality animation, visual effects, motion graphics, video compositing, and all-around video editing. It makes the video editing process efficient and effortless.
What convinced me to download Alight Motion, aside from its video editing function, is because it is also packed with vector shapes, custom vector, and freehand illustrations. This means I don't have to spend time looking for images elsewhere.
As if that's not enough, I learned that the app has a database of more than 100 customizable visual effects. It's a creative visual explosion that is free for Android users.
Alight Creative, Inc.
The brilliant developer behind the app is Alight Creative, Inc, an Android developer launched in 2018.
Today, Alight Motion is under the category "Video Players & Editors" and is highly ranked in several countries.
Key Features of Alight Motion
If you're excited to use Alight Motion, let me tell you about the features that make it friendly to both pro and amateur video editors.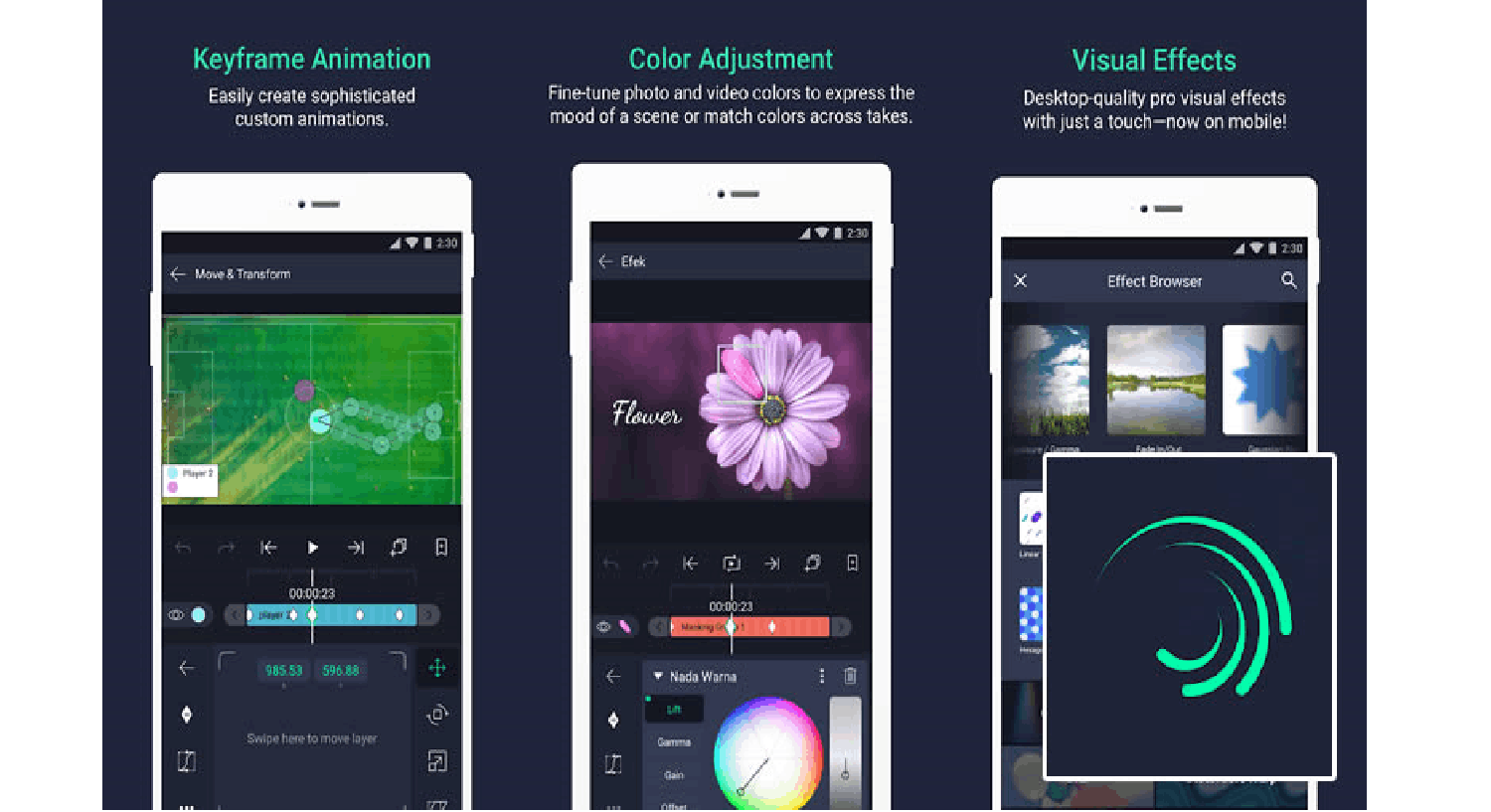 What initially blew me away is the app's ability to create multiple layers of graphics, video, and audio. Whatever setting you choose, you can view keyframe animation. A keyframe indicates the action of a frame at a certain point in time and what time that action happens.
When I create videos, I'm particular about the flow of the scenes. Alight Motion helps users create more fluid motion by allowing them to select a preset or building their own timing curves.
What's rarely noticed in videos, but has a huge impact on them, are the nuances. Alight Motion's features that add style to video edits are grouping and masking, color tuning, and velocity-based motion blur. In terms of color, there are solid color, gradient, and media fill, stroke, shadow, and multi-border effects, and custom font support.
Transfer to Other Platforms
The Alight Motion app has a flexible system. It allows exporting MP4 videos in H.264 and HEVC, GIF animation, PNG sequences, and more. The app also supports vector and bitmap, and you can process this right away in the app.
I am able to share project packages and move projects between devices. I can also directly send them to other users in an editable file. This is perfect when I'm working on a project with family members or coworkers.
How to Download the Alight Motion App
If you'd like to find out why more than 250,000 users have left a rating for the Alight Motion app on the Google Play Store, install it on your device now. The app has a rating of 4.2 out of 5 stars.
If you're an Android user like me, simply head to the Google Play Store. Look for "Alight Motion — Video and Animation Editor." When you see the app, open it and then hit 'Install'.
iOS users can download the app from the App Store. Search for "Alight Motion." Once the name appears, tap on the 'Get' button.
Alight Motion has been downloaded by more than 10 million Android users. The app is available in English, German, Indonesian, Korean, Arabic, French, Hindi, Italian, Japanese, Malay, Vietnamese, Portuguese, Traditional Chinese, Russian, Simplified Chinese, Turkish, Spanish, and Thai.
Compatibility
The Alight Motion app is compatible with Android devices that run Android 6.0 or higher. Make sure it has a minimum of 1.5GB RAM. However, at least 2GB is highly recommended.
If you're an iOS user, you can download Alight Motion if your iPhone, iPod Touch or iPad is running iOS 12 or higher or your Mac has macOS 11.0 or later and a Mac with an Apple M1 chip.
Alight Motion's Subscription and Pricing
When I downloaded the Alight Motion app on my phone, I got the free version first. However, I switched to the paid one to have the watermarks on my videos removed.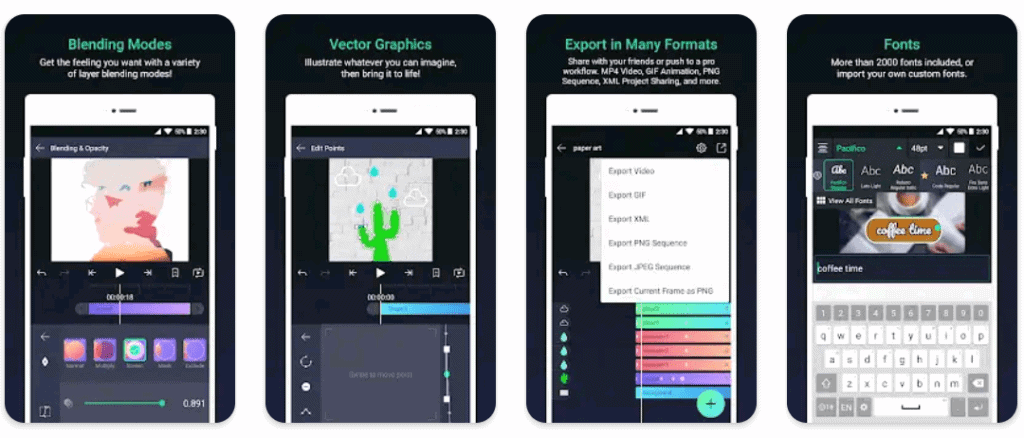 You can always start with the free version of Alight Motion if you're not sure if it's the right app for you. Nothing will be charged but there are effects and features that you won't be able to use.
If you're ready to fully dive into the app, you can choose between two paid subscription plans. The Alight Monthly Subscription cost is $4.99. For the annual subscription, you must pay $28.99.
Note that Alight Motion offers a Watermark Removal Ticket, which removes the watermark only and costs $1.99 for a single license and $3.99 for three licenses.
Canceling Your Alight Motion Subscription
In case you realize that Alight Motion is not for you, you can cancel your subscription at any time. For Android users, simply go to the Google Play Store and tap on 'My subscriptions' to select the subscription you want to cancel. Choose 'Manage' and then 'Cancel Subscription'.
If you're an iOS user, open the Settings app and tap your name. Go to Subscriptions and choose the subscription you want to manage. Then, select Cancel Subscription.
Note that if you cancel your subscription in the middle of a subscription period, there will be no automatic renewal at the end of that period. However, you can still use the app normally for the period that you paid for.
Using the Animation Easing Curves
As I've said above, a fluid-looking animation is important to me. Easing refers to the process of speeding up and slowing down an animation.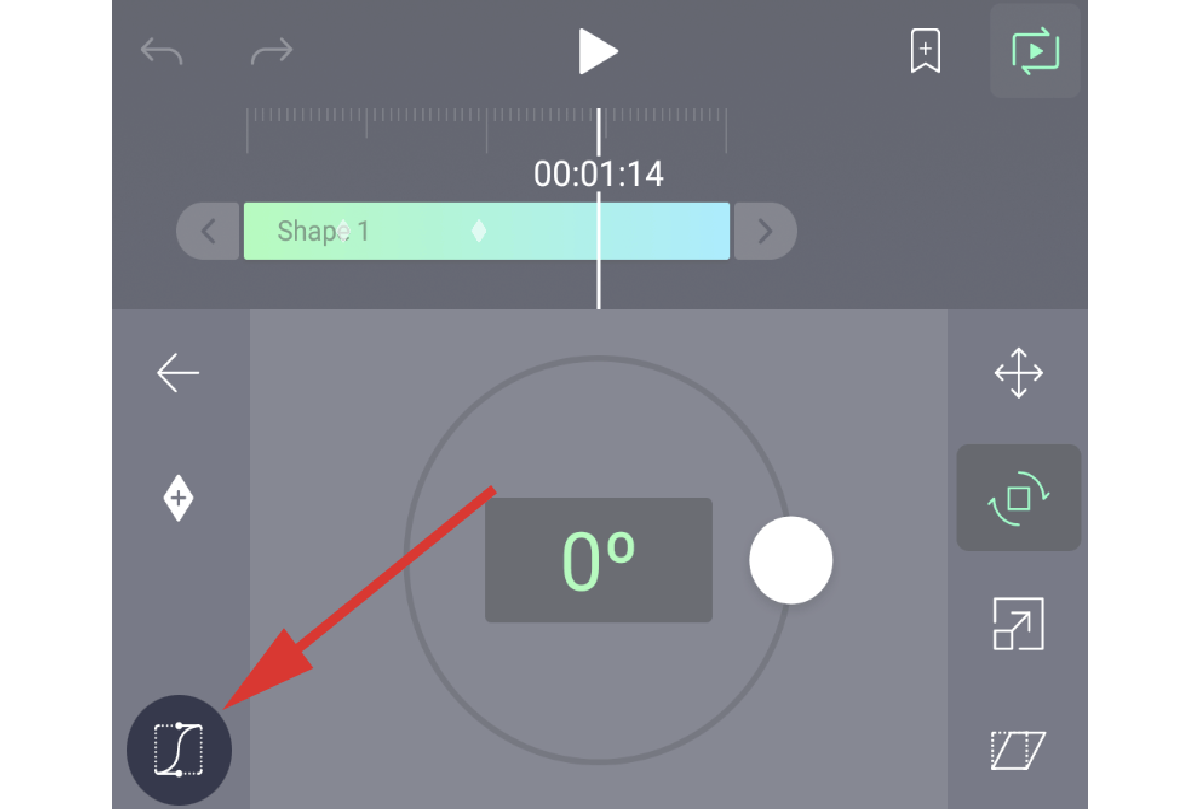 Poor easing could ruin the mood of the video. Alight Motion makes this process efficient and smooth for me.
The app allows easing to any property that supports keyframes, such as scale, location, rotation, opacity, and color. The first step is to make sure you have at least two keyframes, which emerge like solid white diamonds with a dark border.
Open the curve editor and scroll the timeline so the playhead is between your keyframes. Adjust the curve using linear, ease-out, ease-in, or ease-out-in. Or you can drag the white handles to make the curve adjustment yourself.
Copying Curves
To reuse an easing curve on another pair of keyframes, simply use the "…" button to the bottom left of the curve. You'll see the Copy Curve and Paste Curve actions.
You can use the same menu on another layer or unique pair of keyframes to paste the same curve settings.
How to Join the Alight Motion Monthly Challenges
I find the Alight Motion Monthly Challenges fun. It motivates me to fill up my well of creativity and explore the app further.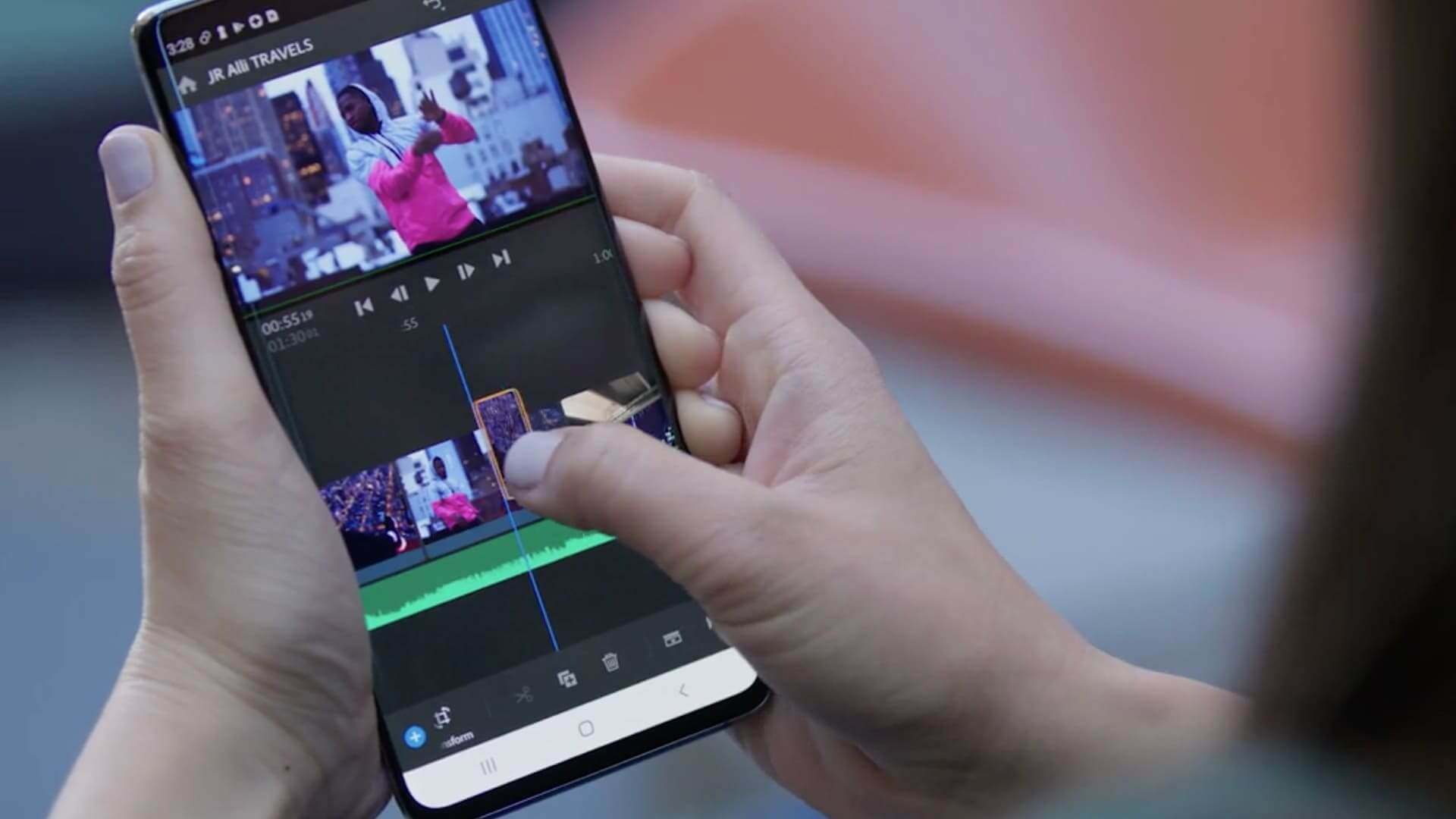 When you submit your work to the Monthly Challenges, you'll have a chance to be featured in the Home tab and on Alight Motion's social media accounts. Your talent will inspire and be appreciated by millions of users.
To participate, you must create a video in Alight Motion based on the current challenge. When you're done, you have to publish it online and make it visible to other users. You also have to add the required hashtags. Fill out the participation form, and then wait for the results.
Alight Motion sets the deadline for each monthly challenge at 11:59 PM GMT on the last day of the month. The winners are usually posted during the first or second week of the following month.
Eligibility
To be eligible, make sure your work is original and you have rights to the video and all of the media used in it. This also means you must credit any external source in your post. Everything about the video must be made mostly in Alight Motion.
My advice is to make sure you are observing even the smallest requirements, such as the hashtags and the platform to post your video on. It should not be on platforms where the video may disappear after some time, such as Instagram Stories and Snapchat.
Most of all, Alight Motion reminds participants to create videos that do not contain any profanity, nudity, violence, and adult themes.
Conclusion
The Alight Motion app is a video editing app that is comprehensive yet accessible and user-friendly. Regardless of your video editing experience, you'll be able to churn out professional-looking videos in a short period of time.
Whether you are a business owner, a professional who creates presentations at work, or a thoughtful friend or family member who loves sharing personal videos, the app has something for you.
Spanish version: Alight Motion – Edita y anima cualquier cosa