There's nothing better than redecorating and renovating your house or room, giving it a completely fresh look and feel, which makes you feel as if you're stepping into a brand new home.
As a homeowner who is addicted to do-it-yourself (DIYs) and renovations, I certainly feel that nothing beats having to give your wall a fresh coat of paint. However, I often find it exhausting to keep running to the paint store and then to come back with pieces of colored paper, trying to figure out how my walls would look.
Thanks to this new app I've discovered called Prestige ColorPic Paint Color, I can now visualize how my walls would look in different colors and mix and match color combinations before choosing the paint. Read on and learn more about this excellent app.
Prestige: Changing The Way People Paint
Key Features Of The Prestige ColorPic Paint Color App
Using The App's New Photo Tab
Current Projects And All Projects Tab
Explore Color And Paint Calculator Tabs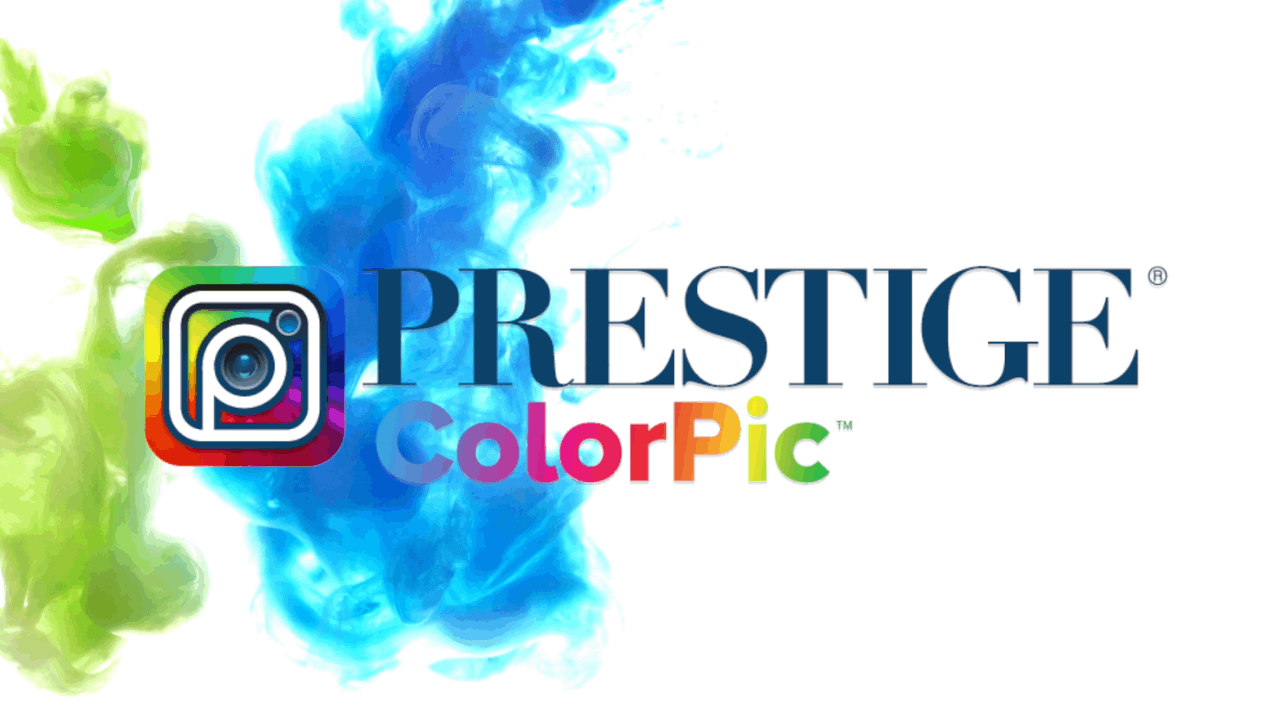 Prestige: Changing The Way People Paint
As I've mentioned, I'm a fan of decorating, especially repainting those old walls and giving the house a whole new personality. But my revamping projects are often left unfinished due to many issues, one of which is that I am unable to find the perfect shade of paint I've imagined in my head.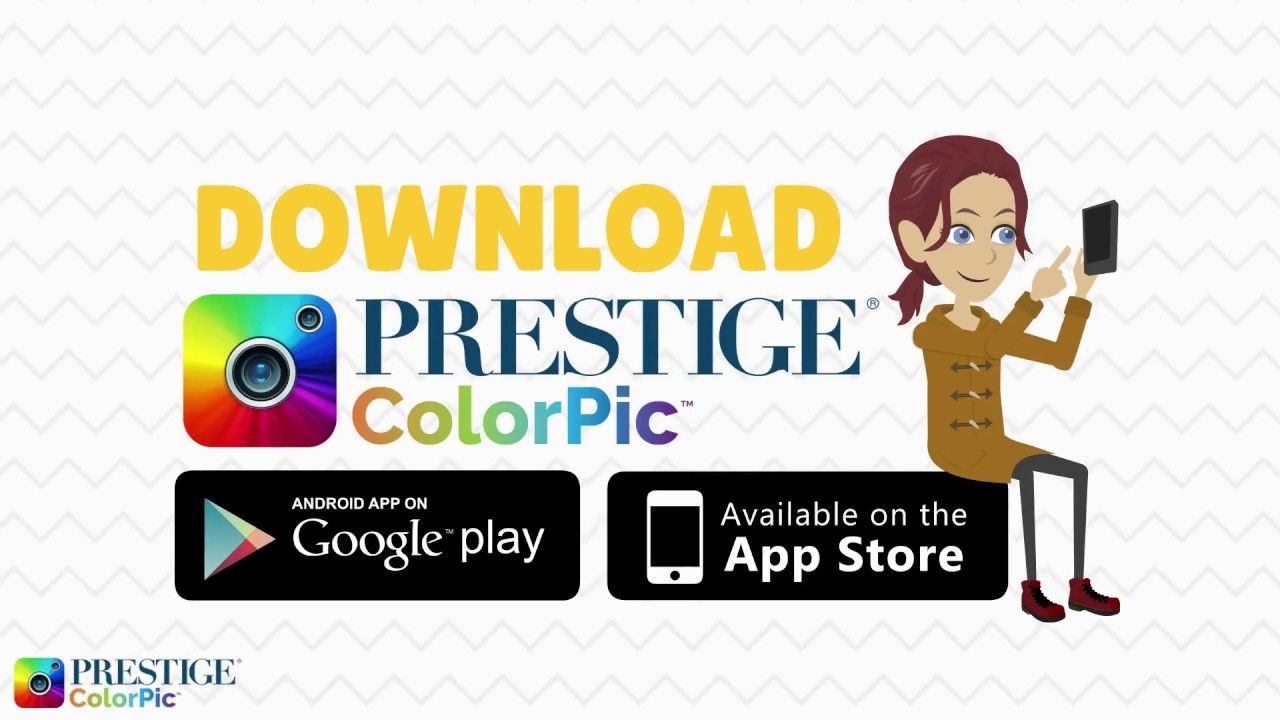 After several unsuccessful trips to the paint store, I find myself wholly unhinged and decide altogether to give up on the project. But when I learned about Prestige, the artist in me suddenly felt alive!
Unlike many other paint brands, Prestige Paints is an entirely online paint brand that is exclusively sold through its partner, the e-commerce giant Amazon. The brand's mission is to completely change the process of buying and selling paint.
Prestige Paint provides consumers with American-manufactured, premium quality, and low volatile organic compounds (VOC) of less than five g/l before tinting. The brand truly lives up to its motto: "Simple. Streamlined. Efficient." by bringing technology to paint consumers. Let's learn more about this technology in the next section!
Prestige ColorPic Paint Color App
Prestige Paints does not only sell paint – it sells convenience as well. Through the Prestige ColorPic Paint Color App, users are provided with realistic and accurate renditions of their walls painted differently.
Users can also order their chosen paint colors via the mobile app, which can be downloaded on Google Play Store and Apple App Store. It is free to download, so search the app and click "Install" if you download the app from the Google Play Store or "Get" if you download the app from the App Store.
You do not need to create or register an account to start enjoying the app. With a growing number of downloads and over a hundred thousand users, the app has a 3.6-star rating on Google. The app constantly updates and improves itself to provide users with a seamless experience.
Key Features Of The Prestige ColorPic Paint Color App
We'll have a comprehensive guide on using the app later, but as an overview, all you have to do is take a photo of your wall, and then the app does the rest of the work for you. Awesome, right?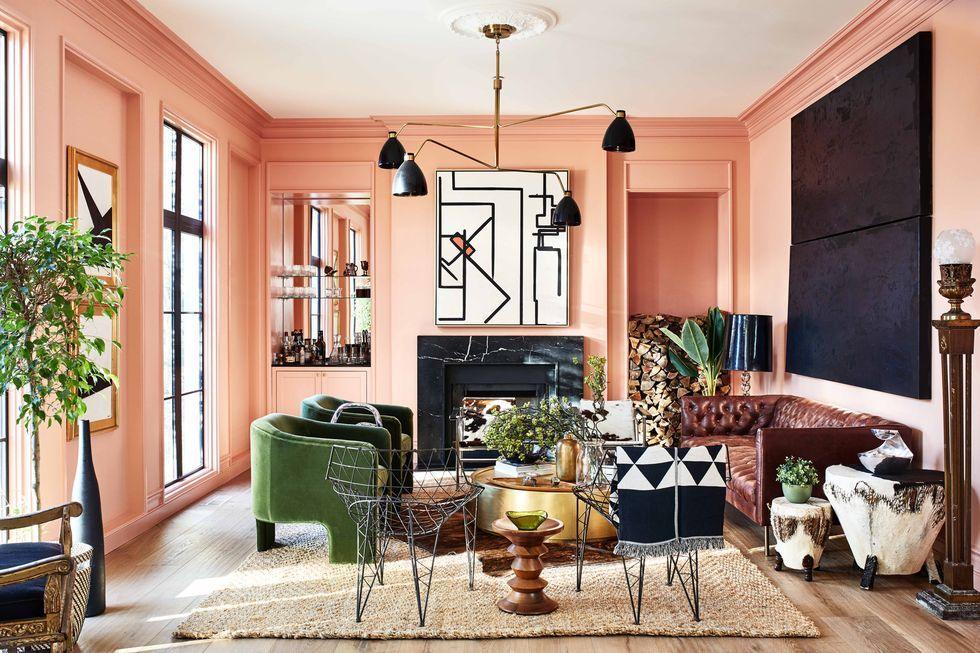 The best part of using this app – and I cannot overemphasize this enough – is that I save a lot of time by using the app. I don't have to keep making trips to the paint store for paint swatches, and I avoid getting dirty looks from the store salesmen I bother to mix the paint for me.
Prestige also boasts the biggest selection of colors which can all be found on the app. I can attest to the wide range of colors offered by Prestige, especially those colors which are not offered by most brands in their limited selection of colors.
Aside from the widest selection of colors and real-time feedback, you can ensure that every can of paint you purchase through the app is made with ultra-premium paint and primer, which is mixed perfectly.
Buy Prestige Only On Amazon
If you think the app can't get any better, you're wrong! Because of Prestige Paints' partnership with Amazon, this paint brand is exclusively distributed only through the e-commerce platform.
And we all know that ordering on Amazon guarantees a quick and efficient delivery. I've ordered Prestige Paints on Amazon multiple times, and it amazingly takes at most two days before my paint cans arrive.
However, take note that the 2-day shipping guarantee is only available for Amazon Prime members.
Using The App's New Photo Tab
Now it's time to go into detail on how to use this revolutionizing app. The app has five tabs: New Photo, Current Project, All Projects, Explore Color, and Paint Calculator, which we will discuss in the next sections.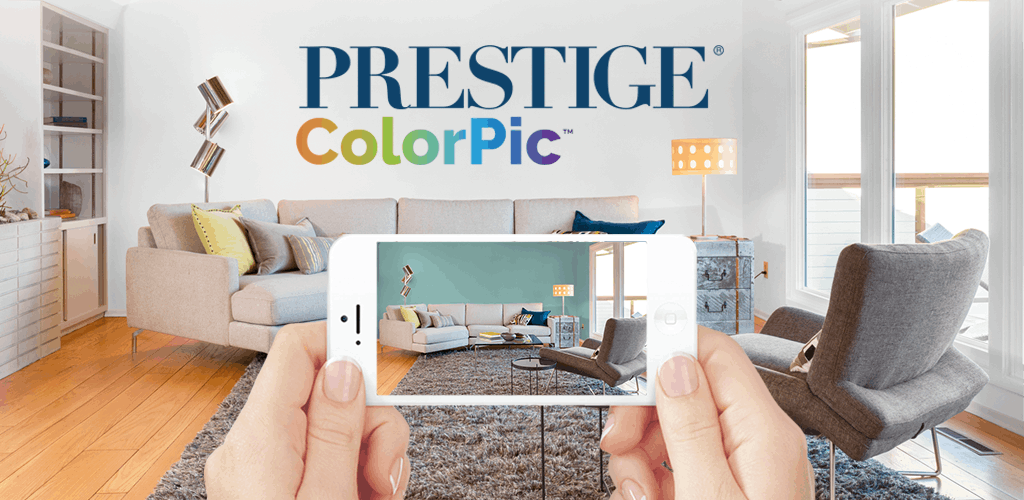 The app is a simple and no-brainer software with an interface that is non-tech-savvy-friendly. The first tab, New Photo, is where you can either take a photo of your room or upload an existing image in your gallery.
Right after taking the photo, the app will show you an arc-shaped menu containing five categories of paint colors: their Prestige color section and colors comparable to four of the leading global paint brands – Behr, Benjamin Moore, Sherwin Williams, and Valspar.
After you've selected a color, tap on the area of the wall you'd like to paint, and voila! You now have a realistic and accurate representation of what your wall could look like after giving it a new coat of paint.
Other Functions
On the upper left corner, you can see a pencil icon that contains four functions. The first function, and the function I find most useful, is the ability to see what the paint looks like under two different lighting conditions: incandescent lighting and fluorescent lighting.
If you want to zoom in, click the icon with four arrows leading to four opposite sides. If you're going to clear the selection of colors, click the eraser icon and browse more colors to find the perfect color of your choice.
The palette icon allows you to add five different colors in one photo. If you're feeling a bit artsy, this feature is absolutely the best! This saves time if you're caught between choosing five different colors and having a hard time deciding which of the five colors you would like to choose.
Current Projects And All Projects Tab
Once you're satisfied with the colors, click on the Save button in the upper right-hand corner. The app will now take you to the Current Projects Tab, which shows a side-by-side Before and After photo of your wall.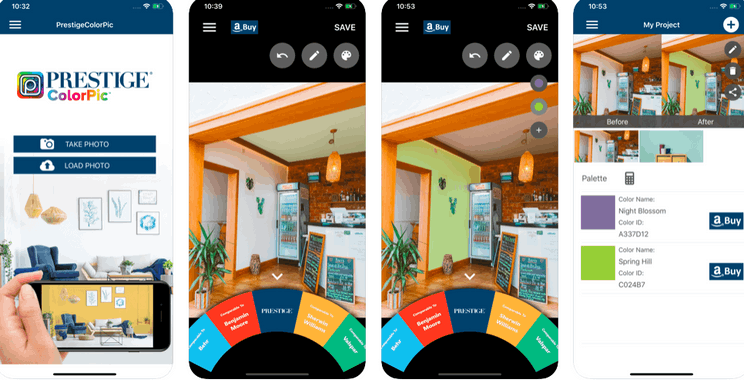 The app also indicates the color name and the color ID for easy reference. To make things even more convenient, you can use the "Buy" button next to the Amazon logo to buy the products you just tested out on your walls.
Clicking this button will redirect you to the Amazon shopping page, where you can place your order and check out the paint you want to buy.
All Projects
I like having all the photos of my walls saved and easy to retrieve, so I appreciate that the app stores them under the All Projects tab.
This was especially helpful when I had to renovate my entire house, where I had to choose different colors for the kitchen, bedroom, dining, and other parts of my home.
Explore Color And Paint Calculator Tabs
I was a bit overwhelmed with the range of choices I had to consider during my house renovation, so it helped to create a mood board of sorts to help me organize my choices and get me on track on the different themes that I wanted to add to my different rooms.

Luckily, I can get an overview of my choices in the app after I narrowed down my potential colors. I can easily compare the different tints and shades in the Explore Color tab.
Comparing the color swatches from Behr, Benjamin Moore, Prestige, Sherwin Williams, and Valspar got a whole lot easier with the Explore Color tab.
Once clicked, each color is categorized under reds, oranges, neutrals, yellows, greens, purples, blues, and many more making it easier for you to find the perfect color for you.
Paint Calculator
One of the most ingenious features this app has is the Paint Calculator, which helps you calculate the amount of paint you need to paint a certain area.
All you have to do is enter the room dimensions (width and height) in feet and the number of doors and windows, and then the application will be able to calculate the amount of paint you need.
The app asks you about the preferred number of coats and whether you'll use the paint on an interior or exterior setting. After collecting that information, the app will calculate the number of paint cans required for the total square feet.
Conclusion
Painting walls has never been made easier with the Prestige ColorPic Paint Color App. Indeed, this smart technology developed to make buying paint and using them on walls is revolutionary in the industry of home renovations, construction, and interior design.
Now, homeowners like me no longer have to waste time in paint stores trying to find that perfect pink, brown, beige, or blue shade. With the Prestige ColorPic Paint Color App, choosing colors is easy as 1-2-3.