I use my phone for work but I have to access and download various files, which clogs my storage space. Even though I cleared my storage by deleting them, I noticed that my device performance was still not optimal.
I turned to the Avast Cleanup app to clean my storage space and boost the performance of my mobile device. The app is a well-trusted system optimization and junk cleaner tool.
Check out how I cleaned my storage space through the Avast Cleanup app and how I learned how to save space on my phone through the app.
Discover Avast Cleanup App
Read the App's Privacy Policy
Get to Know the Clean-Up Process
Boost Phone Performance
Detoxify Photo Library
Learn from the Space-Saving Tips
Discover Avast Cleanup App
Besides downloading files, I also have a habit of trying out many different apps. If I do not find them interesting, I uninstall them eventually. I recently learned that deleting files and uninstalling apps is not enough to clear the storage space as there are caches and other junk leftover.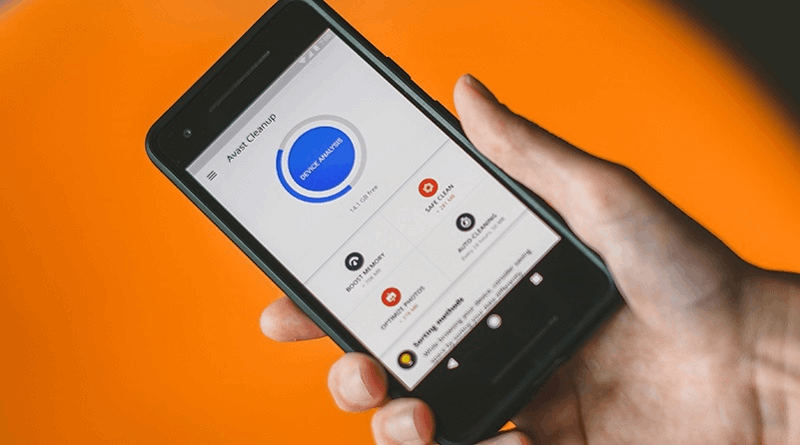 I utilized a system optimization tool and junk cleaner app called Avast Cleanup to delete such files. It offers a highly effective cache and junk cleaner system wherein I can boost the performance of my phone.
Avast Cleanup lets me free up storage space, detox my photo library, and tune up my device performance by clearing the RAM. The app also has a special feature to boost my phone's battery life.
Avast Cleanup is already a well-known system optimization tool for disks on computers. Avast Software decided to offer the services of their junk cleaner to mobile phone users by launching the Avast Cleanup app in February 2015.
Installing the Avast Cleanup App
The Avast Cleanup app easily gained users because of its reliable features and tools. At present, the app has been downloaded over 50 million times already. The app maintained its good reputation with a high rating and excellent user reviews.
I installed the Avast Cleanup app for free but eventually got a premium plan to unlock exclusive features.
Read the App's Privacy Policy
The Avast Cleanup app welcomed me with its Terms & Conditions and Privacy Policy, which I had to read and agree on to proceed using the app. The app explained that using Avast Cleanup and its features will require access to data on my mobile device, including personal information.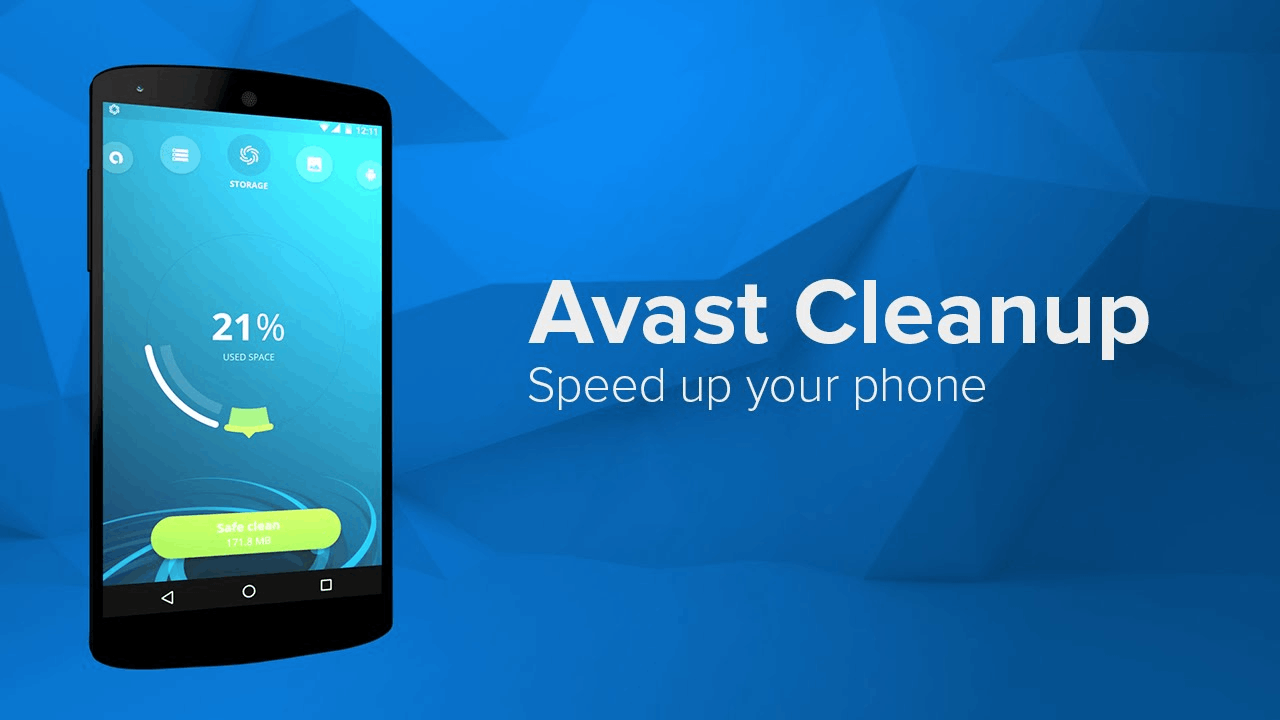 The app also needs to access and collect data on the installed apps, which Avast Cleanup needs to store locally. By saving the collected data, Avast Cleanup can develop tips on optimizing my storage space and improving the phone's functionality.
Aside from the Privacy Policy, I also permitted Avast Cleanup to access, read, and modify content, files, and documents on my internal and external memory or storage space. It also needed to access my contacts, device ID, call information, and location.
Avast Cleanup also wants to do the following on my phone: update component usage statistics, delete all app cache data, read sync settings, measure app storage space, modify system settings, run at startup, change network connectivity, install shortcuts, draw over other apps, and more.
Starting with the App
After granting permissions and agreeing on the Privacy Policy, I have to click the "Get Started" button to utilize the Avast Cleanup app's features. The app will then initially analyze my phone in terms of its performance.
I liked that Avast Cleanup immediately scanned my mobile device to configure its systems, check the storage space, and assess its performance. Then, Avast Cleanup asked me if I wanted to proceed using the app with ads.
As I mentioned, Avast Cleanup is free to use, but there are ads. However, there is a premium version to remove the ads and unlock exclusive features.
Get to Know the Clean-Up Process
Whether users opted to proceed with the free or premium version, the Avast Cleanup app provides a guide on the first cleanup of their mobile device. The app displays the percentage of the used space and the free space.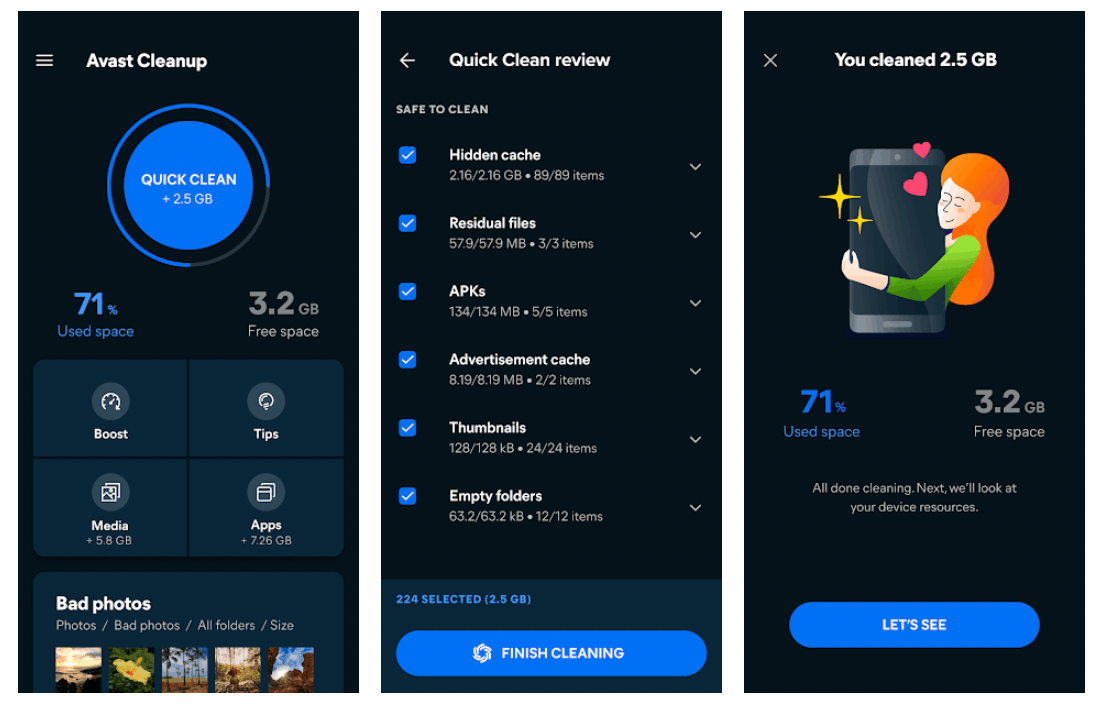 To begin the cleanup process, I must tap on the pulsating blue "Start Here" button. The app explained that the cleanup was only two steps away. First, I have to ensure that I grant Avast Cleanup permission to clean my photos, media, and files.
After giving permission, the app scans for junk files in my file storage. The scanning process will be longer if the users have used most of their storage space.
Based on experience, the first cleanup process took the longest because there were many junk files. After the scanning process, I click the "See Results" button to view the Quick Clean review.
Understanding the Quick Clean Review
I liked that the app offers a clear image of what affects the declining performance of my device after scanning. Avast Cleanup made it clear that there are junk files I need to clear through the Quick Clean review feature.
On this feature, I can see the amount of space that the following junk files are taking up. Some spaces listed will include visible cache, residual files, advertisement cache, thumbnails, hidden caches, and empty folders. These are the files identified by Avast Cleanup as "Safe to Clean" files.
The Avast Cleanup app also identifies the app data, checking how each installed app stores junk or cache files. Since users cannot assess whether they are important files, Avast Cleanup sets these app data as "For Consideration."
Boost Phone Performance
After cleaning the files, Avast Cleanup wants me to look at my device resources. Here, it focuses on the RAM storage that greatly affects the performance of my phone.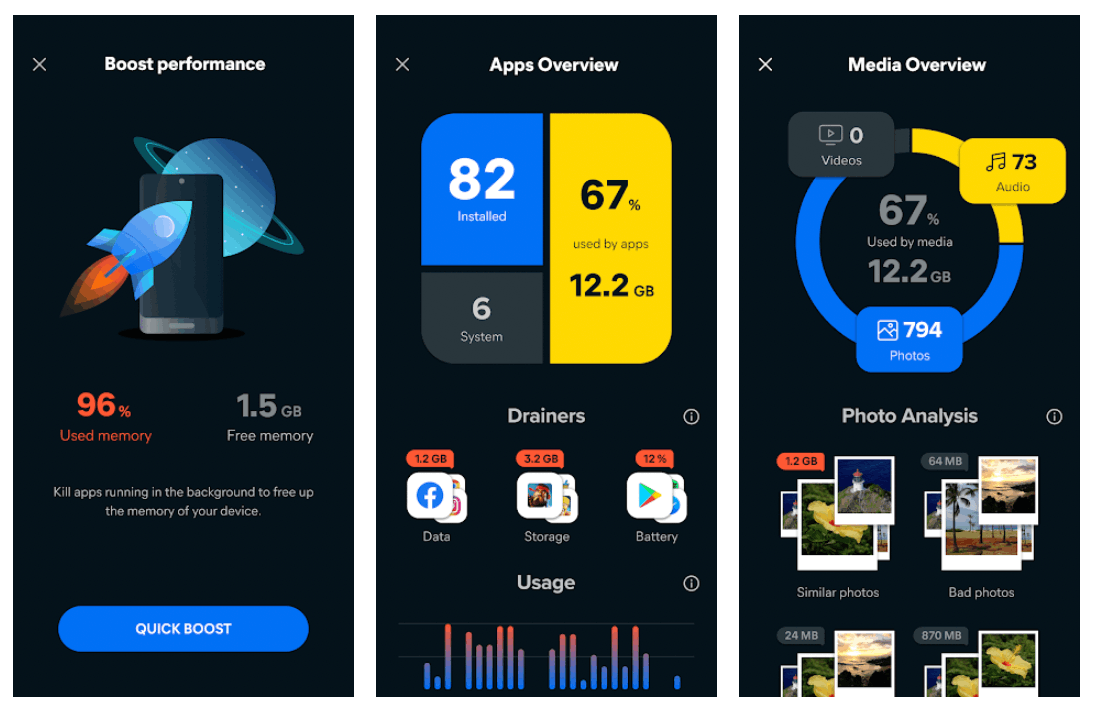 For example, I have 8GB of RAM storage. The Avast Cleanup app provides a report on how much of it is currently being used. The larger percent shown by the app means that the device performance is compromised or declining.
Avast Cleanup advises killing or closing the apps running in the background to free up the memory of my mobile phone. I do not have to manually close the apps one by one as Avast Cleanup has the Quick Boost feature.
Upon clicking the "Quick Boost" button, Avast Cleanup will automatically kill the apps eating so much of my RAM Storage. True to its name, this feature only takes a few seconds to finish and will then provide a report on how much space was freed.
Exploring the App's Home Page
Once done with the first cleanup process, I can now explore the app's home page. It has a neat and organized user interface wherein I can easily access its main features with one tap. It provides my storage status in terms of used space and free space.
Then, I can also find how much space my media files and installed apps take up in the storage. There is a "Quick Clean" button at the center of the screen, which displays the number of junk files I already accumulated, and in just one tap, I can clear them all.
Avast Cleanup Premium users can enjoy customizing their dashboard by adding custom shortcuts to quickly access their information. They may choose a pre-made template or create a new shortcut from scratch to make their experience personalized.
Detoxify Photo Library
As someone who loves taking photos, I know that media files take up a large space in my files storage. The Avast Cleanup app has a solution for removing the photos that I might not need anymore.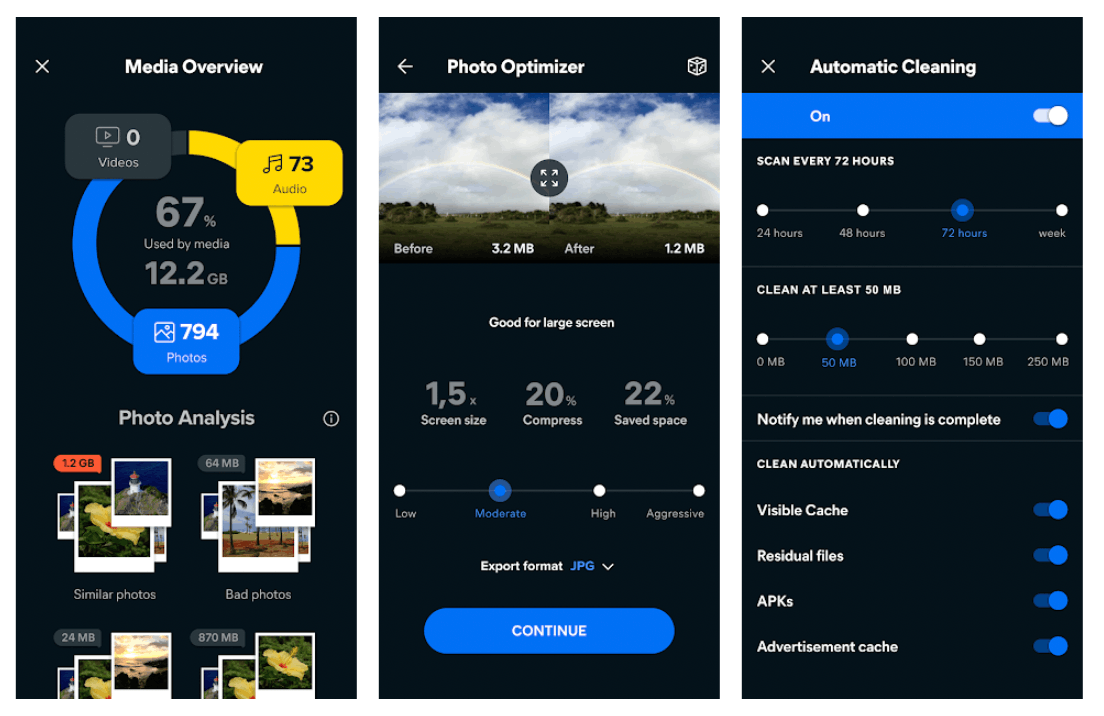 This feature of Avast Cleanup lets me detoxify my photo library as it automatically identifies bad photos that I can remove. Aside from Identifying them, I can allow the app to automatically remove or delete these photos once detected.
I can easily clean up my photo library in just a few taps by eliminating duplicate, similar, old, and poor-quality pictures with this feature. In addition, I can easily identify the best photos worthy of being retained on my phone storage.
Discovering the App's Other Features
Besides cleaning junk files, the Avast Cleanup provides more relevant information and useful features to optimize the storage space of my mobile device. I can easily stop CPU, battery, memory, and traffic-draining apps.
It is also possible to remove data from pre-installed bloatware and uninstall the apps that I never or rarely use. To boost my phone's battery life, I can turn off the phone functions that I do not use often.
Moreover, I can get the following analysis and statistics: draining apps analysis, usage statics, notification analysis, and app size growth analysis.
Learn from the Space-Saving Tips
Another interesting feature of Avast Cleanup is its smart tips on saving space. I can customize the priority of the space-saving tips on device boosting, apps, junk cleaning, photos, video, and other things I am interested in.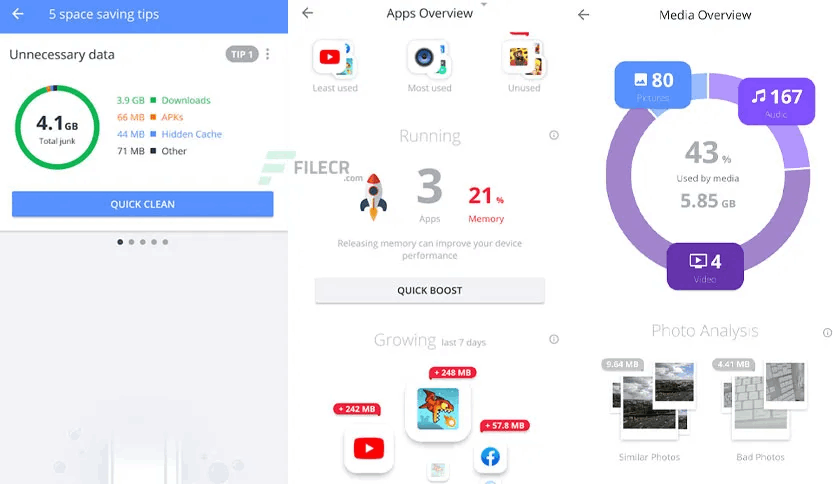 With this app, I can learn about the apps that collect unnecessary data, thus eating up my storage space. In addition, the app suggests regularly cleaning these apps or uninstalling them.
I can also get my app diary which shows the apps that I have not used for a period of time or those that I generally spend less time on. Avast Cleanup offers an option to uninstall all of them at once to free more space.
Avast Cleanup also lists the "biggest apps," which lets me know much space they take individually. Moreover, I will also know which apps drain my battery the most as they demand device resources.
Enjoying Avast Cleanup Premium
Avast Cleanup Premium lets users access exclusive features to enhance the user experience. Premium users can hibernate apps to extend battery life and free RAM and storage space. They can also auto-adjust battery usage depending on their location.
It is also possible to do automatic cleaning, wherein users schedule the app to scan and delete junk files. There is also a function to find and safely delete all hidden caches. Other exclusive features are themes, advanced photo optimizer, ad removal, and Avast direct support.
The Avast Cleanup Premium price depends on the plan you want, but it ranges from $0.99 to $5.99.
Conclusion
The Avast Cleanup app is a trusted and effective junk cleaner app. Users can easily remove junk and cache files using this service. It also provides boost features to extend battery life and improve overall phone performance.