Reading is likely the most essential tool a young mind can learn and it plays a role in all other academic endeavors. After a child learns to read, they can access all sorts of information. 
Game-like apps that use the principles of phonics and word association help you make the task of learning to read fun. This could be just the trick you need to make a lifelong reader and help them build their word skills. Here are the five apps that we think could help.
Learn with Homer
This is an award-winning app that was developed from research executed by two of the most prestigious colleges in the US: Harvard and Stanford. The research study saw an increase in children reading scores of almost 75%. After a free trial, the application costs $10 per month and only $60 for yearly access.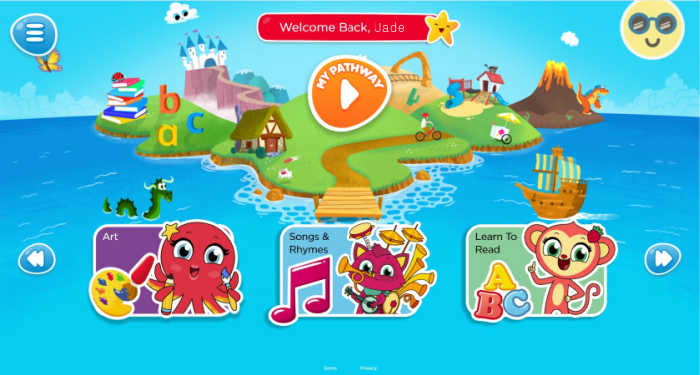 Loaded with over 100 hours of lessons, this app is perfect for teaching your children to read. In fact, it is continually updated so that there is new content added every week. This means that the app grows with your child and especially helps those kids who love reading. 
Homer is an application that uses a game-like approach to learning, which keeps children engaged. Your children can choose the topic they want to learn and get a customized learning plan too. The app can be downloaded on the Google Play Store for Android and the Apple App Store for iOS devices.
Reading Raven
This app is available on both platforms and helps guide you through the curriculum step by step. Your child can do this at their own pace which allows them to get the hang of reading skills very quickly. It is perfect for children aged 3 to 7 years old.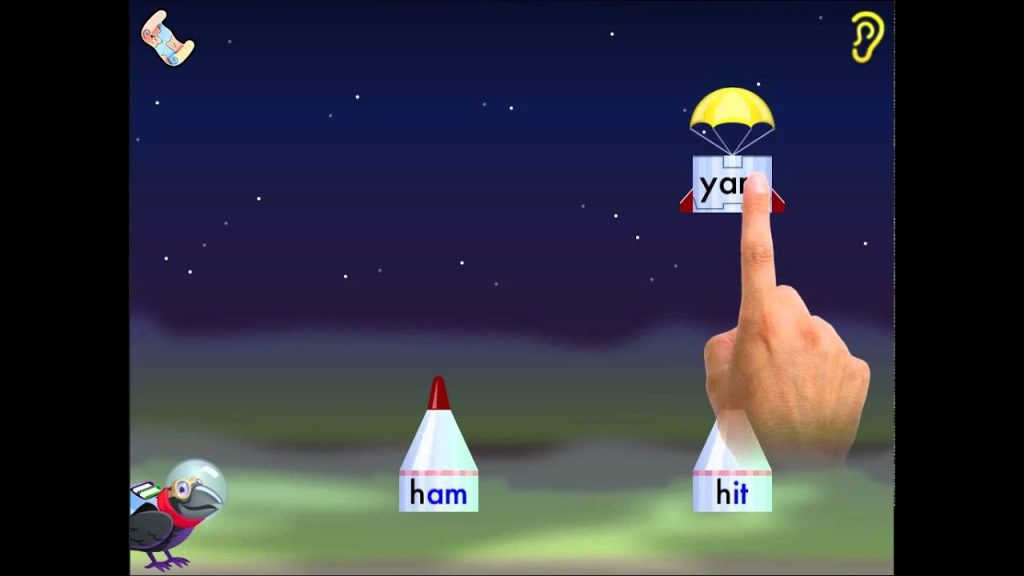 Reading Raven puts its focus on building comprehension skills and you can choose which level your child should start working on. You can begin working on letter sounds or word-matching, or activities putting word groups together. The app uses phonics to improve the retention of skills and words. 
This app also comes programmed with entertaining and attention-grabbing games that will keep your kids even more engaged. The app price is $4 for the first version and another $3 for a second volume with more activities. To download the app, visit the Google Play Store or the Apple App Store.
Marbleminds Phonics
One of the fundamental aspects of reading is understanding the sound of the letters and letter combinations. Marbleminds Phonics uses games to concentrate on this skill, which makes it a great option to help teach your children to read.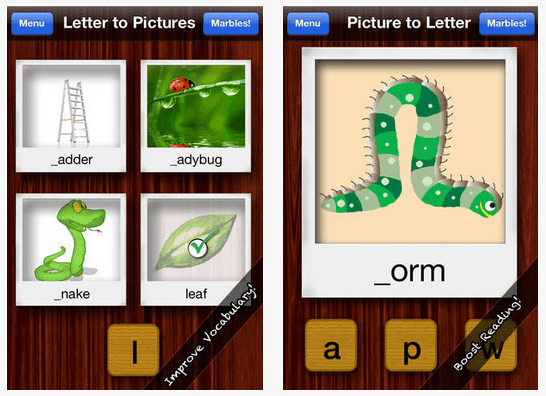 The app is easy to use and comes with a plethora of images and phonics to help ensure your child is excited to read. If you want to keep it simple and improve your child's reading skills, this is a great app to use!
To download the app, head to the Apple App Store. Unfortunately, this app is not yet available for Android devices. 
Bob Books Reading Magic Lite
This app is based on a book that has been read by millions of kids globally. This is a phonics-based game that uses a drag-and-drop model interface. An interface like this is a really great option for kids as it also helps with other motor functions.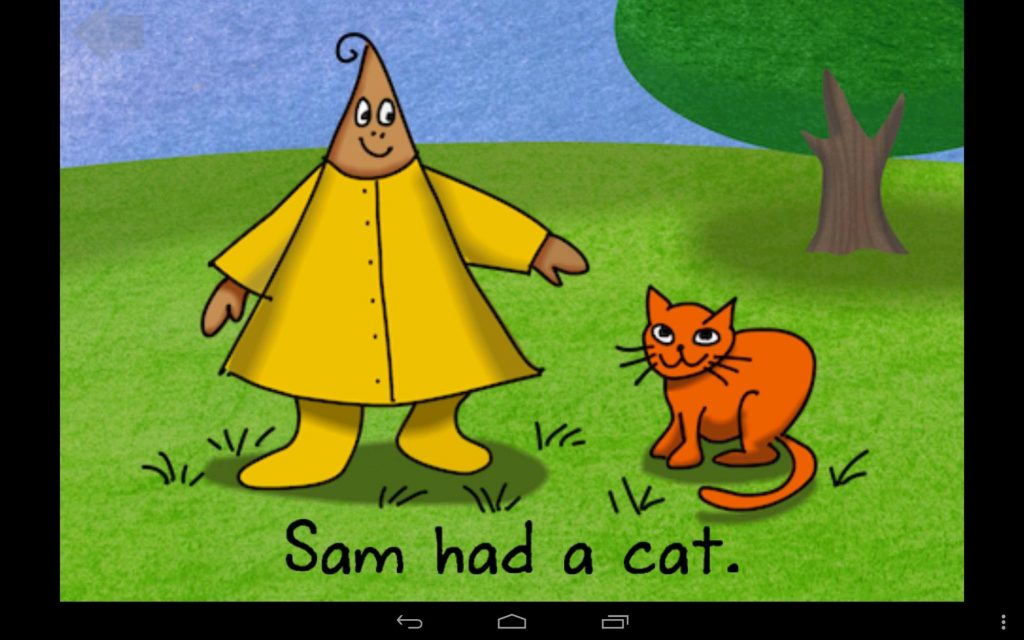 The familiar characters are brought to life in a colorful world that helps keep the kids stay engaged. By keeping their attention, the app helps build the child's reading ability.
You can download Bob Books Reading Magic on the Google Play Store or on the Apple App Store.
Word Magic
This app has had some critical acclaim as it was nominated for the best educational app a few years back. The app uses engaging and funny images to help simplify the learning experience.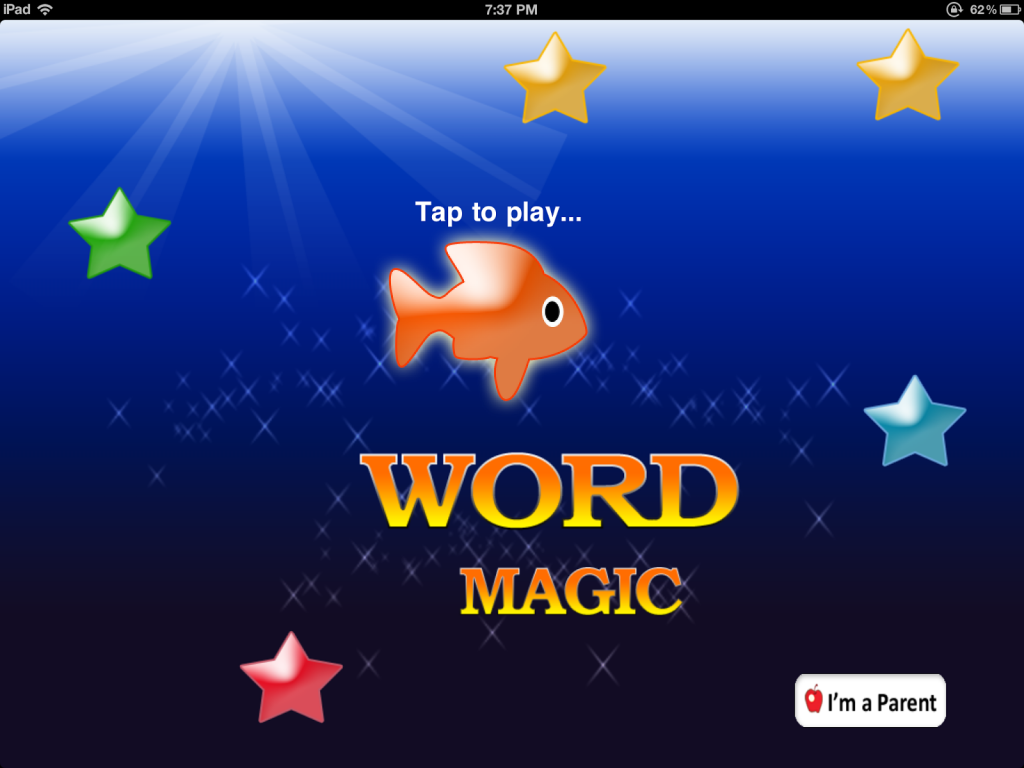 Plus, it uses a voice acknowledgment to help give the user encouragement when the child gets a correct answer. This app is great for kids with some reading skills already who are looking to continue their education.
Visit the Apple App Store to download for iOS. This app costs $0.99, but it is a small price to pay to help your child learn!
ABC Mouse
For every family that has a kid learning how to read, ABC Mouse has been a savior. This application is very interactive and has thousands of activities to help children develop the skill of reading.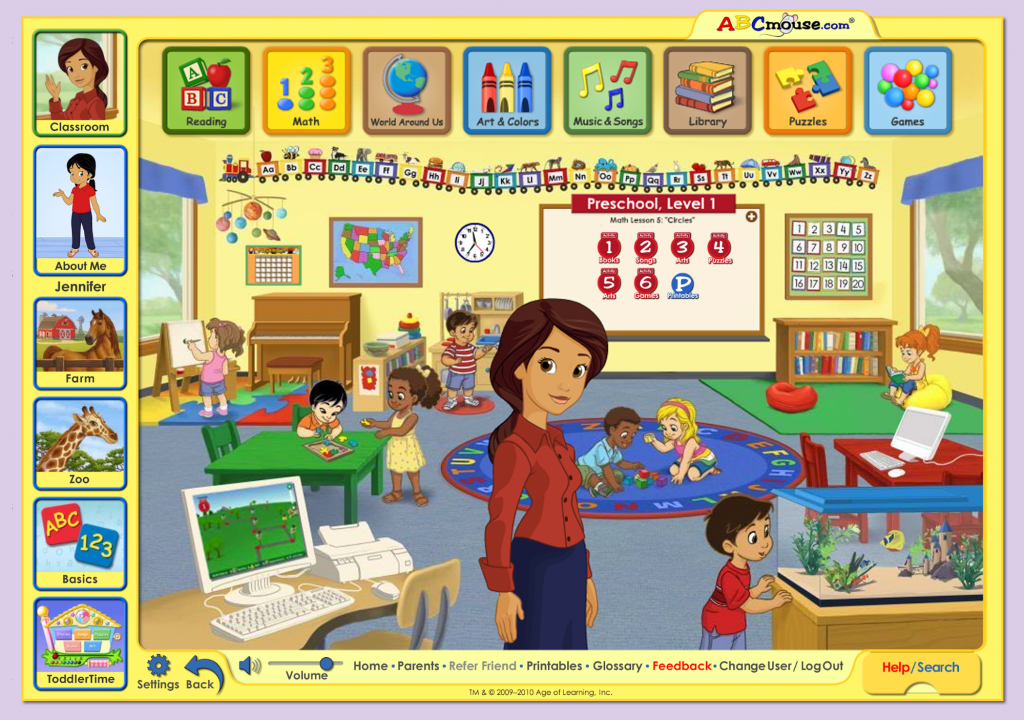 ABC Mouse has a section made for 8 to 13-year-olds called Adventure Academy, but the best reading program in this application is for kids aged 2 to 8, which is their Step-by-Step Learning Path. It has 850 lessons over 10 levels, to help children develop their reading skills through interactive activities. 
After the 30-day free trial, the cost of this app will be $10 per month. If you purchase a full year's subscription then you can easily get 50% off on the total price, which is definitely a catch! You can download ABCMouse on the Google Play Store and through the Apple App Store as well. 
Starfall
Starfall has been teaching children how to learn since their website launched in 2002, and the nonprofit has now developed an app for this reason as well! Most of the content on this application is also free, while you can get the full version for just $35 a year.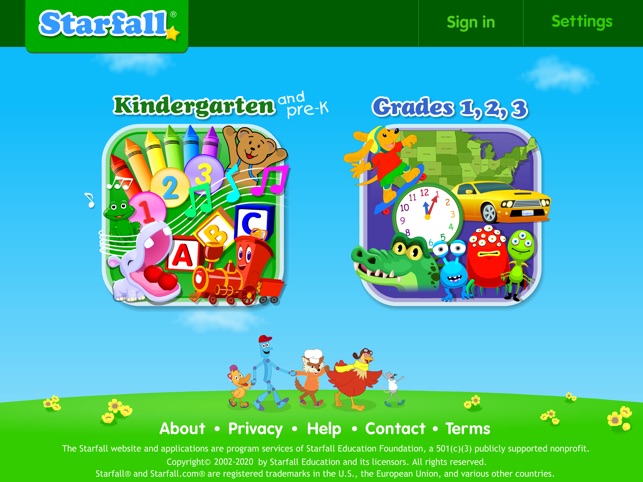 Zac the Rat is the teacher in this application, who guides the children through phonics with the help of simple and interesting activities to keep children engaged. There are games throughout these lessons that make learning fun and something children want to willingly do! 
There are sections called 'It's Fun to Read' and 'Let's Read' that help elementary school students to develop their language skills. Starfall aims to make students improve to advanced levels and learn more about the world along the way. The app can be downloaded on the Google Play Store and the App Store. 
Hooked on Phonics
The integrated study plan in this application is best for children who are being homeschooled, making it amongst the popular applications used to help students learn to read. The company existed even before we knew the face of the internet, where they promoted learning through books and worksheets.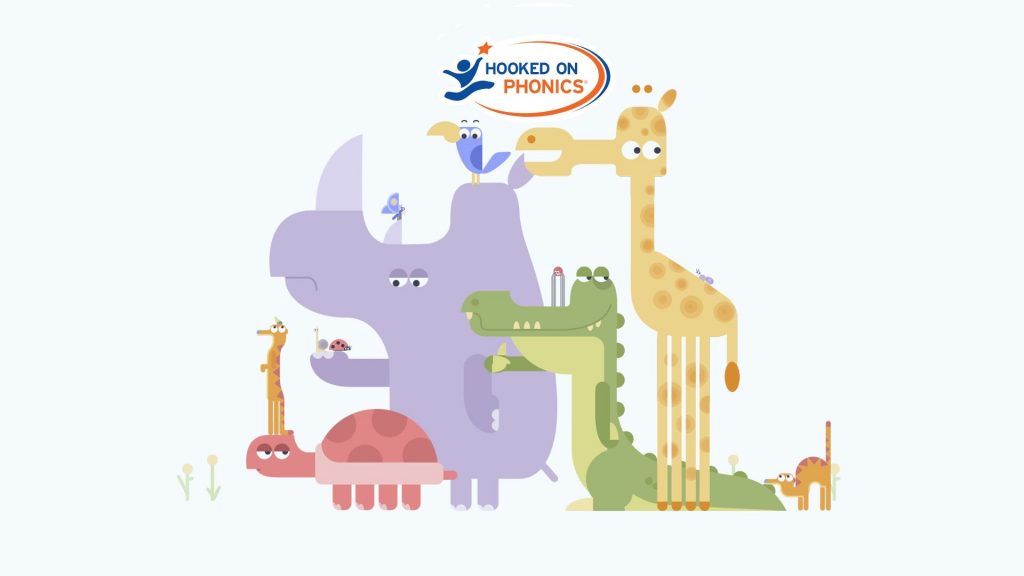 Hooked on Phonics is now a multimedia platform, using techniques that are tried and tested, by way of interactive methods. Your children will benefit from workbooks, book suggestions, questions, and so much more. 
There are exciting games that help your children practice, and a reward system for these too, so the kids are always looking to win. The application is $16 per month after a trial month of $1, and you can download it through the Google Play Store only.  
Skybrary
Skybrary was previously known as Reading Rainbow, and this application is connected to the non-profit organization called Reading is Fundamental which solely works on improving the literacy of children. The framework focuses on interactive learning activities to help young learners explore their favorite topics.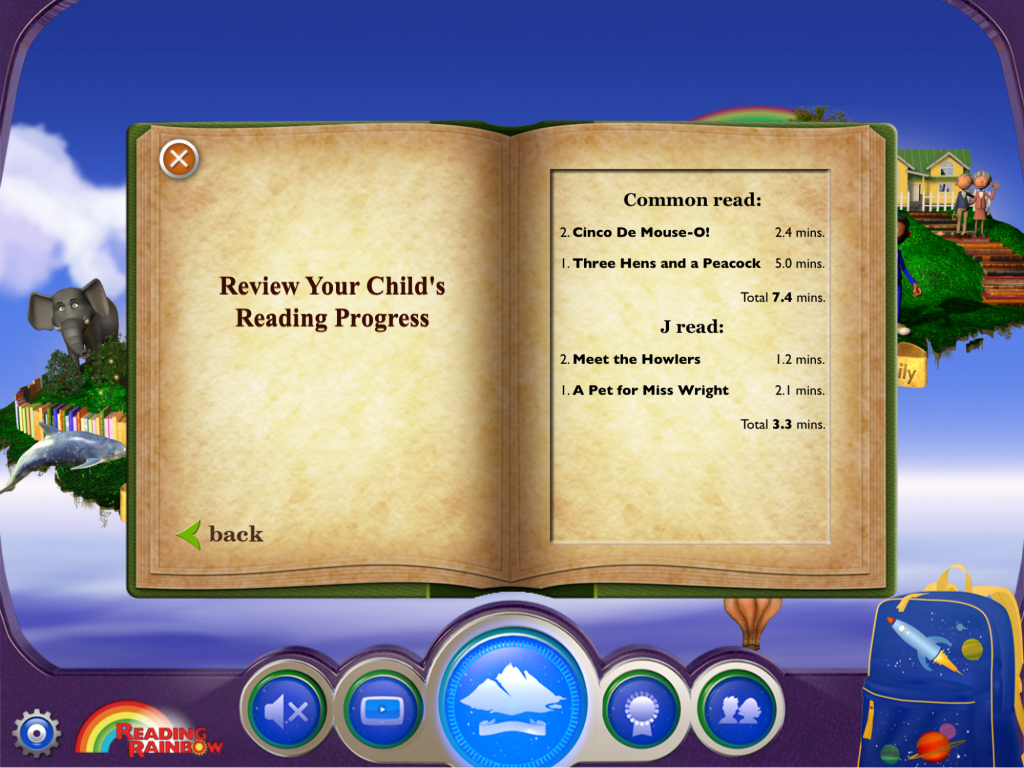 Experts have selected the books and planned interesting activities for young learners with read-along narration options to make the process even more exciting. The reading lessons are bound to make your children have fun and build the habit of reading from a very young age. 
Your children can choose what topic they're interested in, and begin learning more about everything that piques their interest before going on to new topics. The app is $5 per month and $40 per year, and it is available for download on the  App Store. 
FarFaria
With an adventurous learning set-up, FarFaria uses the help of magical lands on a map to help children decide which theme they want to start learning. The charming outlook of this application attracts your children and makes them want to never stop learning!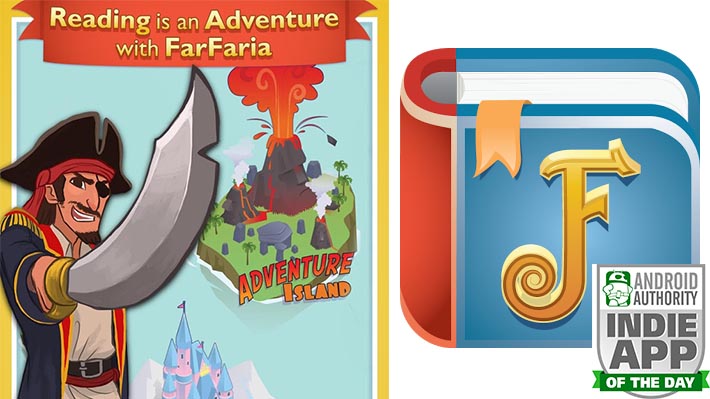 Reading skills through FarFaria will be put into practical concepts so this remains etched in their brains. Your children can choose to read the books available or they can have it read to them aloud, whatever they prefer. There are a free version and a paid version of FarFaria. 
The free version has a new story every day for your children, but the paid version gives unlimited stories with the option to save favorites to access even when offline. A fee of $5 per month, $50 per year, and $100 for a lifetime is all it takes. You can download the application through the Google Play Store for Android devices or the Apple App Store for iOS devices. 
Summary
We chose apps that would cover all levels of beginning reading skills, and hopefully, that will help you introduce app-based reading education into your home and expand your child's literacy and comprehension with no stress and tons of fun.
Download any one of these apps to begin a fun and structured way to learn how to read and advance your child's reading skills.
Spanish version: Descubre las mejores aplicaciones para enseñar a los niños a leer
German version: Entdecke Die Besten Apps, Um Kindern Das Lesen Beizubringen