I love spending time checking out my favorite social media apps. Sometimes, on my days off, I'll spend half of my day scrolling through all of the exciting content. During this time, I often thought that if I got paid to do this, I would be sitting on a lot of cash by now.
Thankfully, there is an app that can turn my dreams into reality! The Bling Story app lets users earn money while browsing content. I can also post my own content or follow other content creators and make friends!
Read on and learn more about the Bling Story app, what it is and how it works. I'll also share my experiences and some tips for using this app.
Earn Money While Browsing with Bling Story
Getting Started with the App
Inviting Friends to Use the App
Check Out News with the For You Tab
Accomplishing Novice Tasks
Reaping Rewards with the Bling Story App
Other Options for Pay-Outs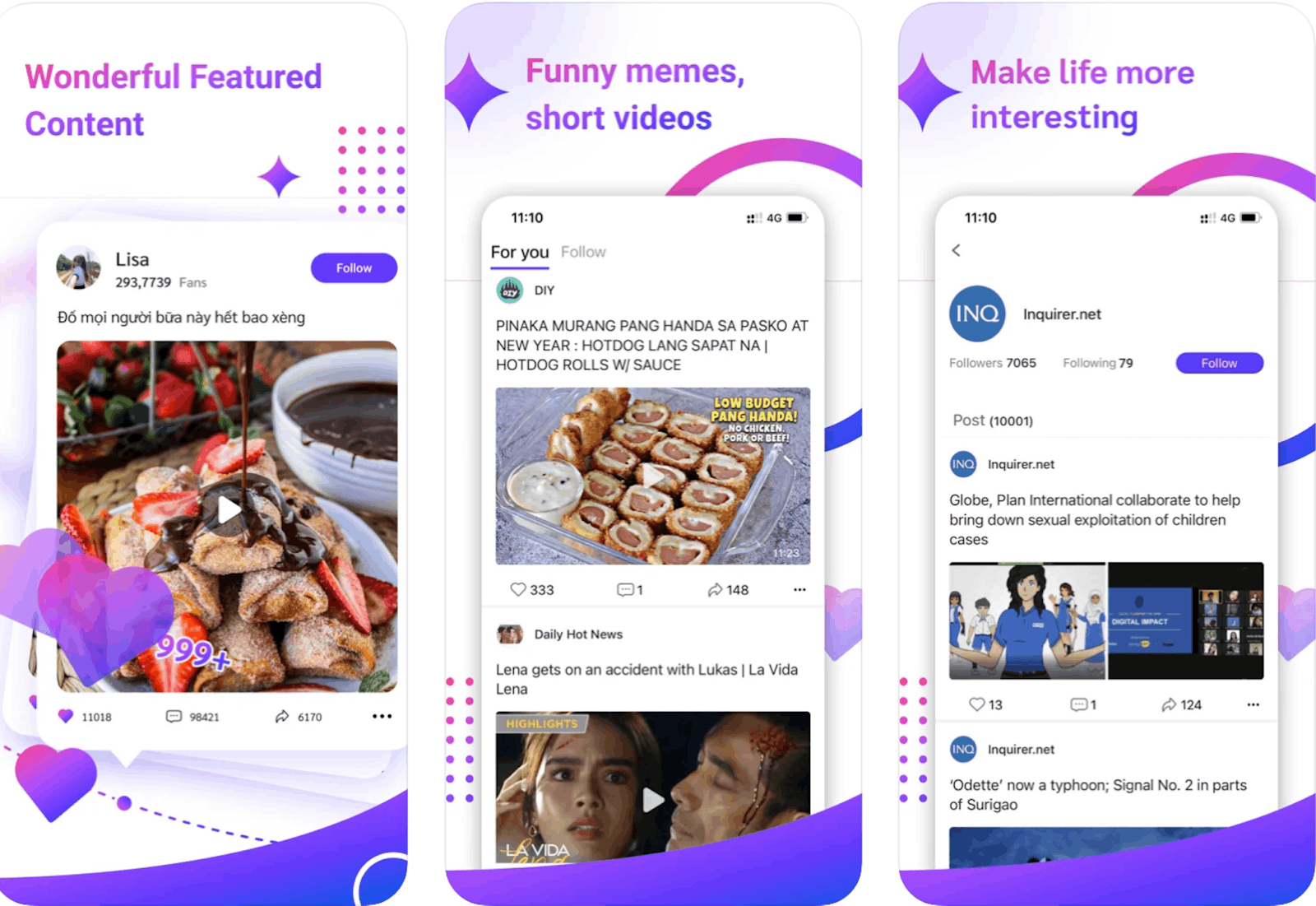 Earn Money While Browsing with Bling Story
The Bling Story App is a fairly new application, but it has been creating a buzz on the Internet since its release. Bling Story is a content-sharing community and app that provides users with coins in exchange for referrals, playing games, and posting content.
Bling Story lets users like me make money while browsing content and watching videos, which means I get to earn every day, and especially on weekends!
I can also post to the app to unleash my creativity using photos or short videos and connect with other users through personalized content.
Downloading the App
I have an Android device, so I searched for the name of the app on the Google Play Store. It is free to download. Simply click "Install" to start the process.
For Apple users, Bling Story is available on the Apple App Store. Search the name of the app and click "Get" to download to your iPhone or iPad.
Getting Started with the Bling Story App
After downloading, the Bling Story app recommends that users create an account to save their data. You can link a social account to create an account on the app. There's an option for adding a Facebook account or a Google account.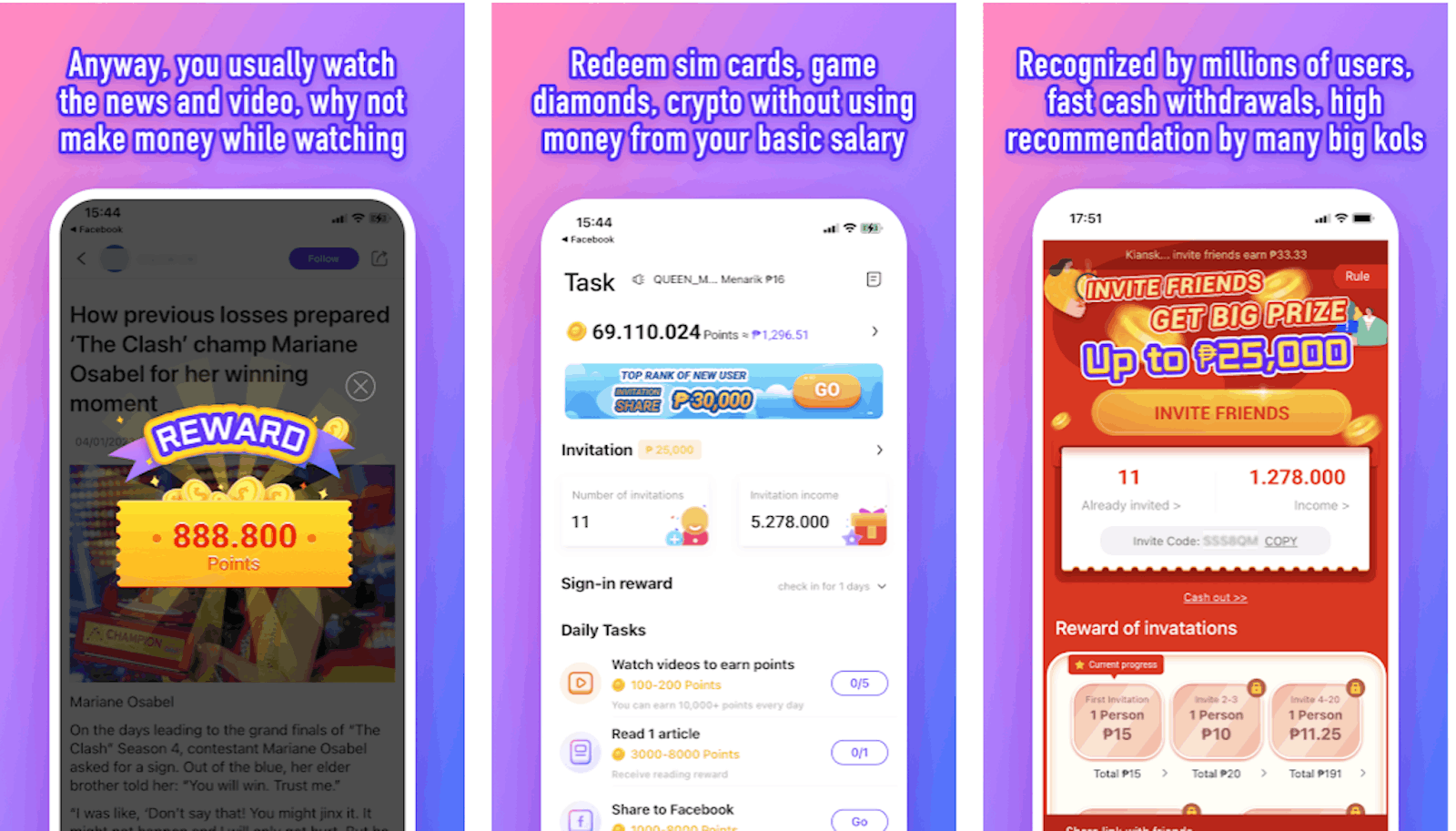 However, if you prefer to create an account separate from these, you can click "Other login methods" at the bottom of the page and sign up using a mobile phone number.
After successfully logging in, I was redirected to the Me tab. I pressed the Settings option to upload my avatar and change my nickname.
The points I gather while using the app are shown on the Task tab. These points are crucial because they serve as the currency within the app.
Get Rewards by Logging In
I make it a point to always sign in to claim my sign-in reward in the Task tab. Points accumulate for each day that I sign in.
The biggest reward I received in a day was 18,888 points, and I only got this after I consecutively logged in to the app for seven days.
It is important to note that logging in will not automatically provide points. You have to manually collect your points over at the Task tab.
Inviting Friends to Use the App
Inviting friends can be done in two ways– via the download link or the invite code. When I invite my friend via the download link, I tap the invite button and choose the method I want to use to send the link.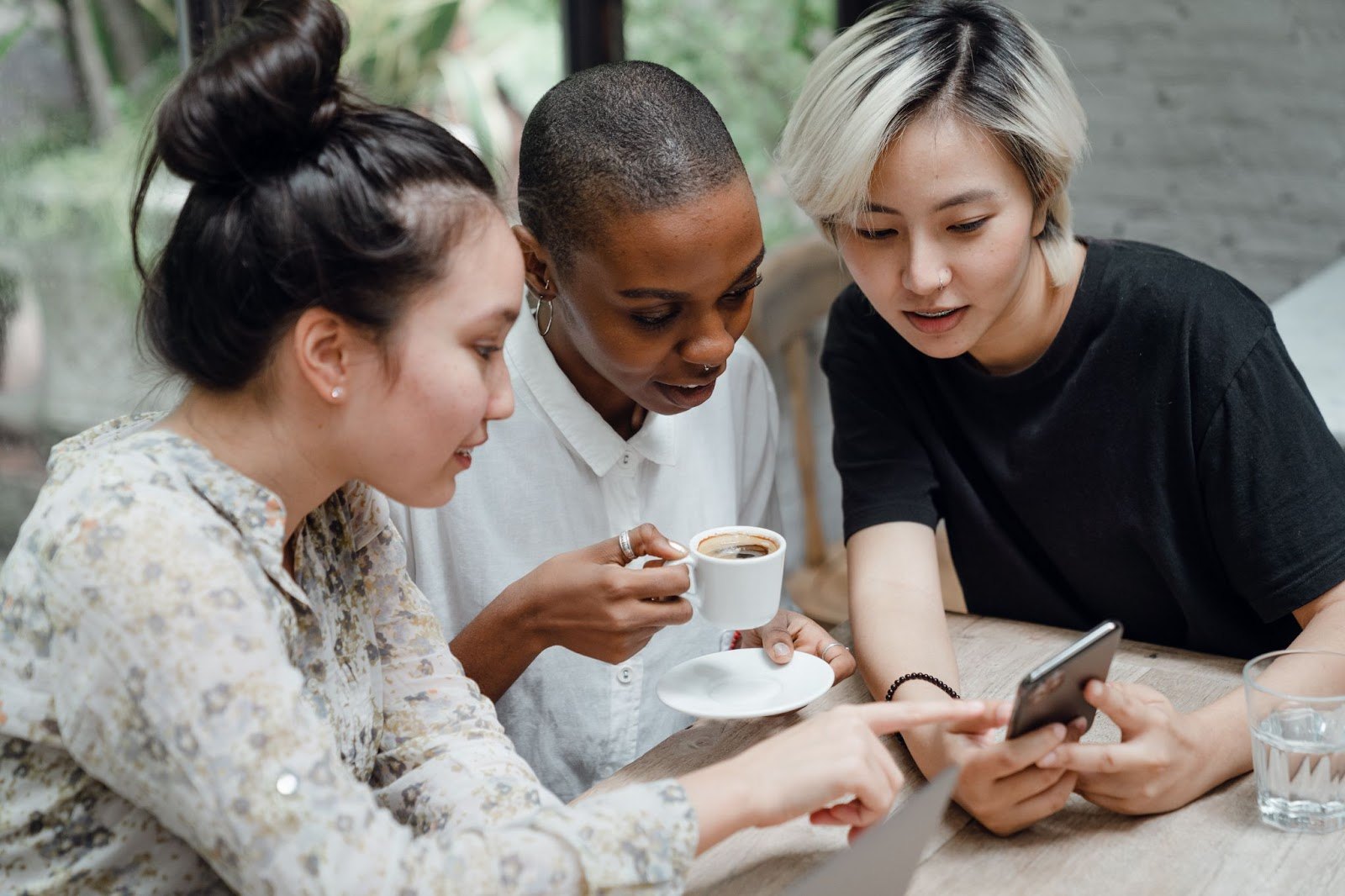 An easier way of inviting friends is via my invite code, which can be found on the Me tab beside the words Referral Code.
I copy my invite code and send it to my friends. I prompt them to go to the Task page on their account and input my invite code to get points for referring them.
Whichever method I use, I always get points for every referral. As I invite more friends to download and log in with the app, I get more rewards!
Using Multiple Platforms
Bling Story suggests that sharing via Messenger or WhatsApp yields a 200% success rate in referrals, which I found out to be true.
However, I also used other platforms such as Telegram and Viber because most of my friends are on those channels.
The number of invitations accepted and the income from those accepted invitations appear on a counter under the Task tab.
Check Out News with the For You Tab
The For You tab is where I spend most of my time using the Bling Story app. The app never runs out of articles to read.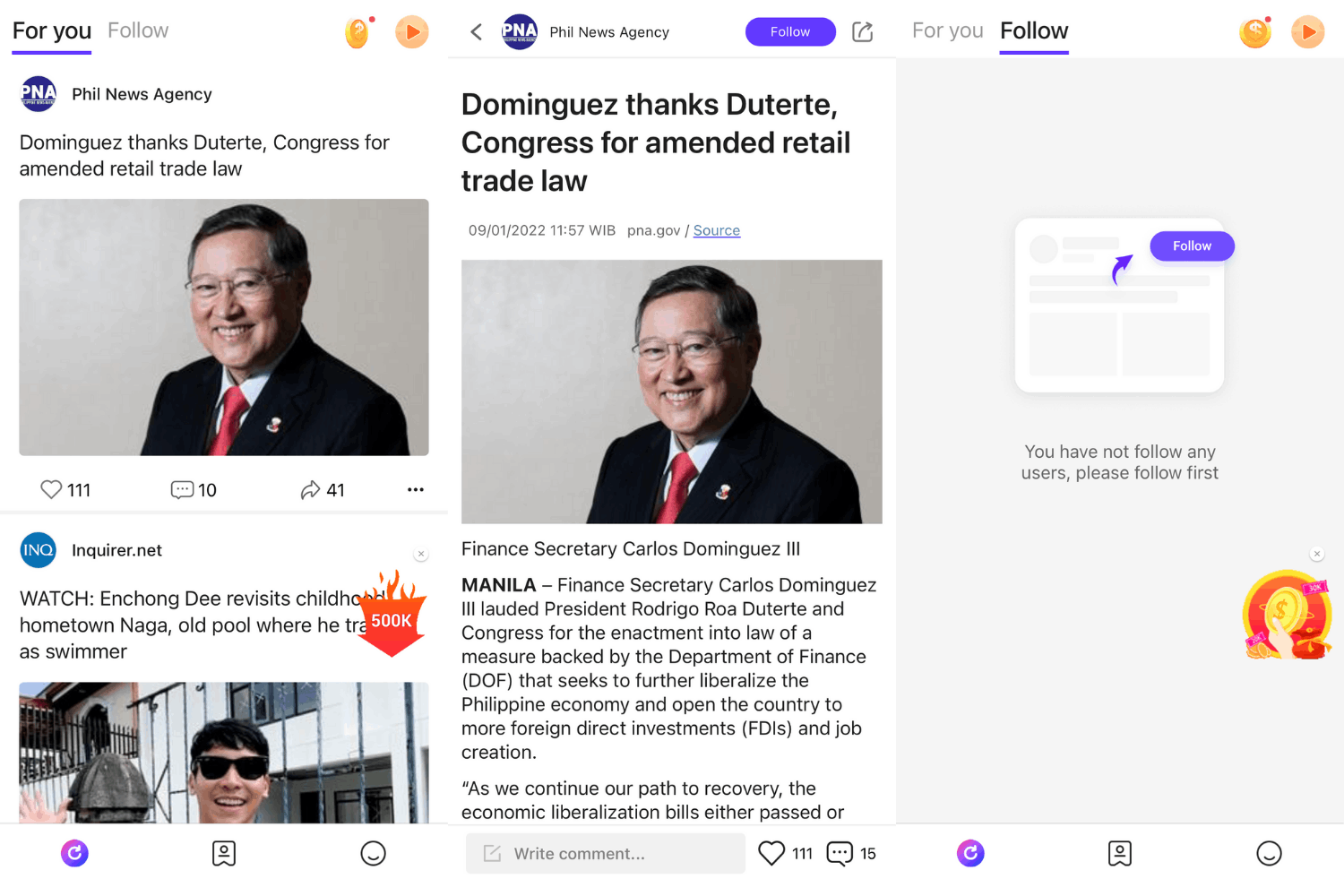 Most of the articles shown on my feed are relevant and interesting to me, thanks to the app's sophisticated algorithm, which uses my data to recommend great articles and posts. Scrolling through my For You tab is a great and smooth experience.
Posts include information such as the account of the post's owner, the number of reactions, the number of comments, and the number of times the post has been shared. A brief caption is also included in the post.
To follow users, I click on their user names and click "Follow". All of the content from users I follow appears on the Follow page.
Interacting with Other Users
To read the entire article, I click the header photo. I can write a comment in the "Write comment" space at the bottom of the page.
If I want to share the article, I click the upper rightmost icon beside the Follow button, and I am given options to share the post. I usually use the option to share the articles directly to Facebook.
There is also an option to share the article on other platforms. Just click "Share" to activate my phone's native sharing options and share the article using the options presented.
Accomplishing Novice Tasks
Accomplishing Novice Tasks is a great way to earn more coins. Novice Tasks are simple tasks that require minimal effort.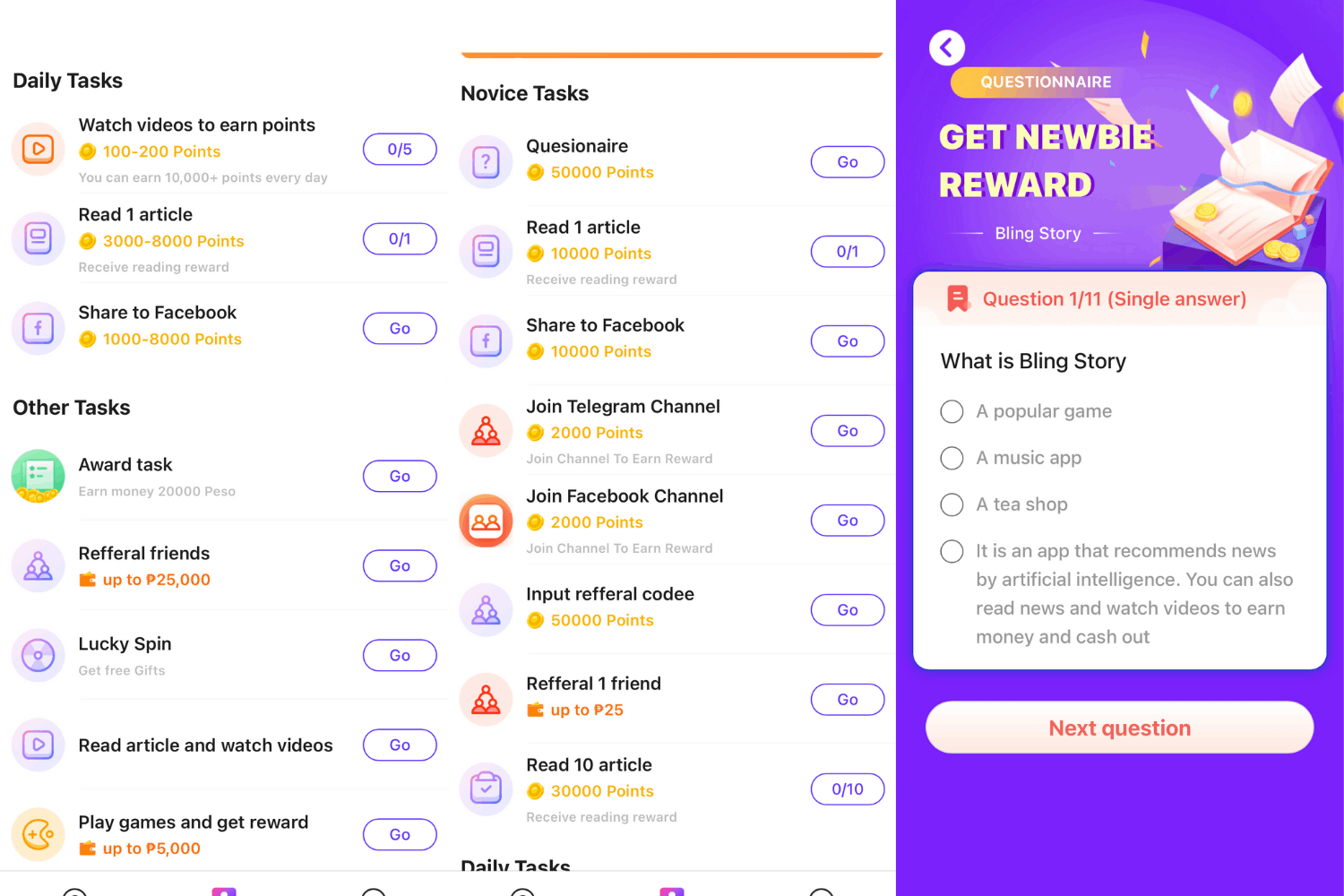 For answering an 11-question survey, I was rewarded 50,000 points, while reading one article allowed me to earn 10,000 points. The first post that I shared on Facebook garnered me 10,000 points.
Other Novice Tasks include joining the Telegram and Facebook channels, referring a friend, and reading a total of 10 articles (for 30,000 points!).
Novice Tasks are one-time tasks only, so you cannot do them again once you have completed them.
Daily Tasks and Other Tasks
Novice Tasks aren't the only tasks on the app.
There are also Daily Tasks and Other Tasks, including spinning wheels, reading articles, and watching video advertisements.
Unlike Novice Tasks, tasks under the Daily and Other tasks can be done daily.
Reaping Rewards with the Bling Story App
Cashing out using the Bling Story app is a hassle-free and convenient experience. It did not take me long before I withdrew my first pay-out on Bling Story because I made an effort to actively invite friends, accomplish tasks, and play games.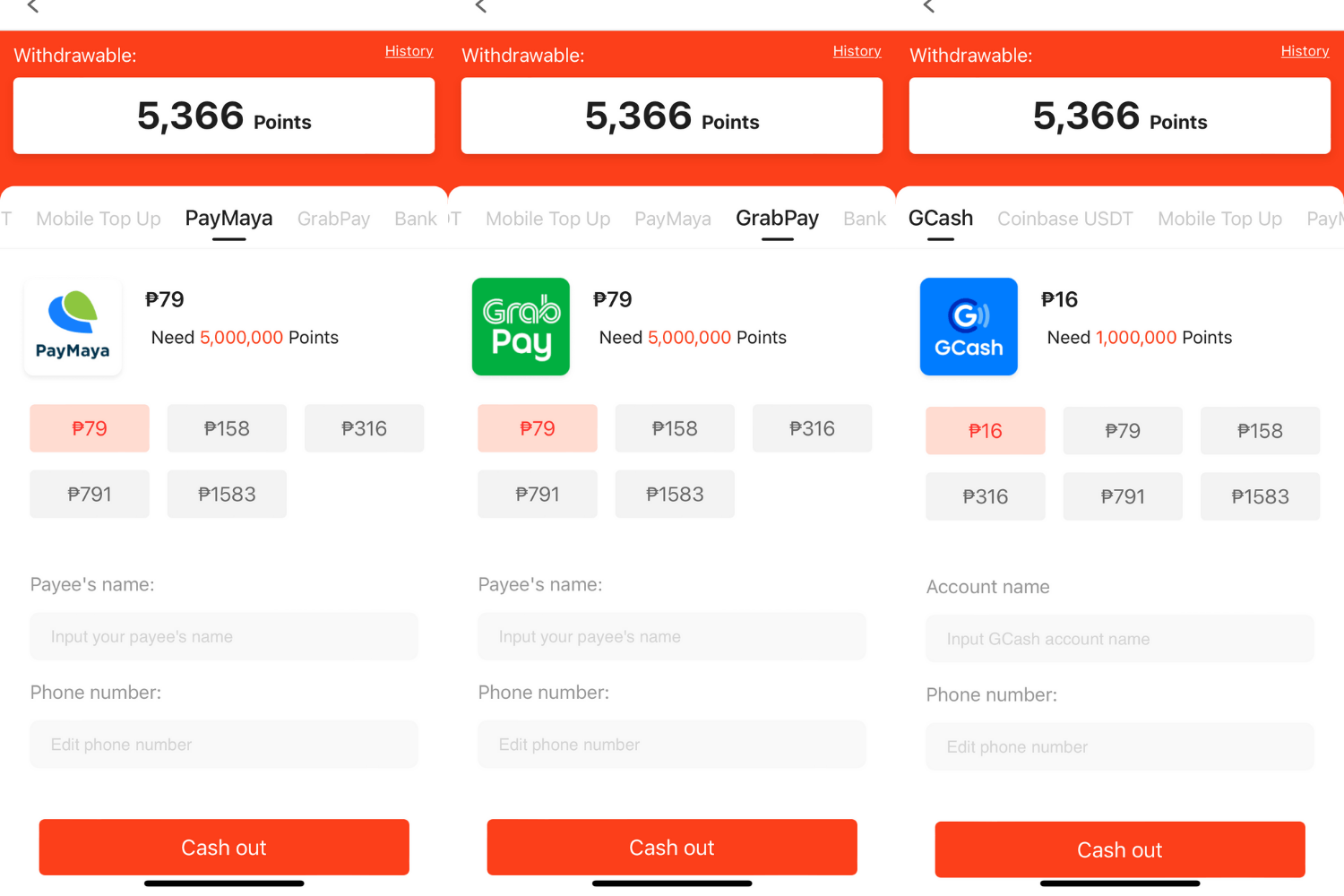 There are many available platforms where I can deposit my pay-out, depending on the region where the user is currently located. In Southeast Asia, major platforms include GCash and PayMaya, both digital wallets, GrabPay, and Coinbase USDT.
During my first pay-out, I went to the Task tab and clicked the number of points I had earned. I chose the GCash option, provided my account name and linked phone number, and clicked "Cash Out."
After that, I received an SMS saying that my GCash account had been credited with money from Bling Story.
Using the Bank Option
Pay-outs can also be credited to my bank account or a prepaid cellular reload to my phone number.
For my subsequent pay-outs after the initial one, I used the bank option.
All I needed was to share my name, bank account number, bank, and mobile number with the app, and the money was sent directly to my account.
Other Options for Pay-Outs
To credit my pay-outs as prepaid reload for my phone, I pressed "Mobile Top-Up", entered the amount I wanted to credit to my phone number and identified my carrier network before entering my phone number. Then, I pressed "Cash Out."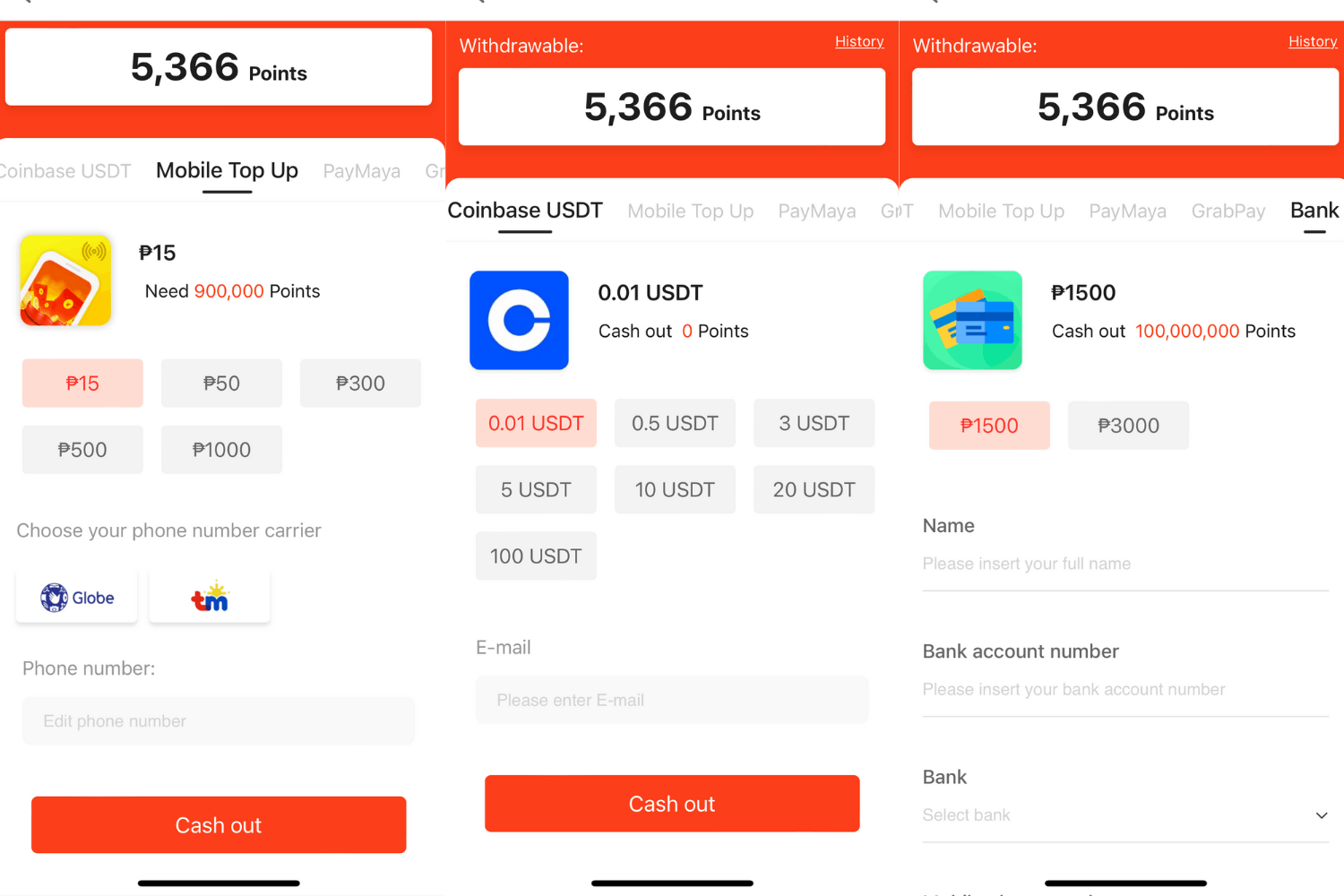 The pay-out process is quick and easy. The transfer happens in real time, except for some banks with cut-off times. Overall, I haven't encountered any problems cashing out with Bling Story.
Earning points requires patience and consistency in doing tasks, inviting friends, and playing friends.
When I withdrew my first pay-out, I only got $15. I had to earn 50 million points to get $15.
Minimum Pay-out Requirement
For bank transfers, the minimum pay-out requirement was $30, and the maximum was $60.
I had to earn 100 and 200 million points, respectively. To credit $1 as a prepaid load, I had to earn 3 million points.
Conclusion
Apps like Bling Story are great platforms for people to connect and earn money simultaneously. I hope more apps such as this will emerge to cultivate responsible media consumption culture while building a sense of community through shared experiences and fun.
Whether you want to experience the wonder of Bling Story is entirely up to you. Have fun as you fill up your mind as well as your wallets!