Juggling different roles in life requires thoughtful time management, or you'll end up missing deadlines and neglecting responsibilities at home or in the workplace.
That's why I use Microsoft To Do to help me synchronize my commitments, show up where I have to, and reach my daily goals. Microsoft To Do is a cloud-based personal task management tool that allows me to filter and focus on my priorities.
With Microsoft To Do, I can efficiently manage my tasks in one place and transform systemless day-to-day activities into a purposeful routine. Find out how it can also help you accomplish more each day.
About Microsoft To Do
How to Download
Features of Microsoft To Do
Creating Tasks and Lists
Sharing Tasks with Microsoft To Do
About Microsoft To Do
Microsoft To Do was introduced to the public in April 2017. The app had a design overhaul and was unveiled in September 2019 with a new user interface.
The modified Microsoft To Do removed the hyphen from To-Do and has a more polished look with various backgrounds to choose from. Observers say the design resembles Wunderlist, which was acquired by Microsoft in 2015.
With the upgrade, Microsoft To Do takes users away from depending on notebooks and whiteboards for tracking their schedule. The app is a smart daily planner that offers suggestions based on what I enter into it, reducing the time I need to plan my next activity.
Meanwhile, the app's task manager keeps me in control of my task lists, from grouping details of the same nature to monitoring my progress. What's fun about lists is I can share them with family, friends, or colleagues, and it is very helpful when we are planning an event.
Microsoft Office 365 Integration
With Microsoft To Do, I can sync my task lists and reminders with Outlook. I can easily access my task lists from the apps and services across Microsoft 365.
This option eliminates the hassle of switching between tabs and having to update my task list manually whenever a new task comes up.
How to Download
Microsoft To Do is available on Android, iPhone, and Windows 10. To date, you can enjoy the features of Microsoft To Do for free. You'll only need a Microsoft account, an Outlook.com email, or Skype credentials.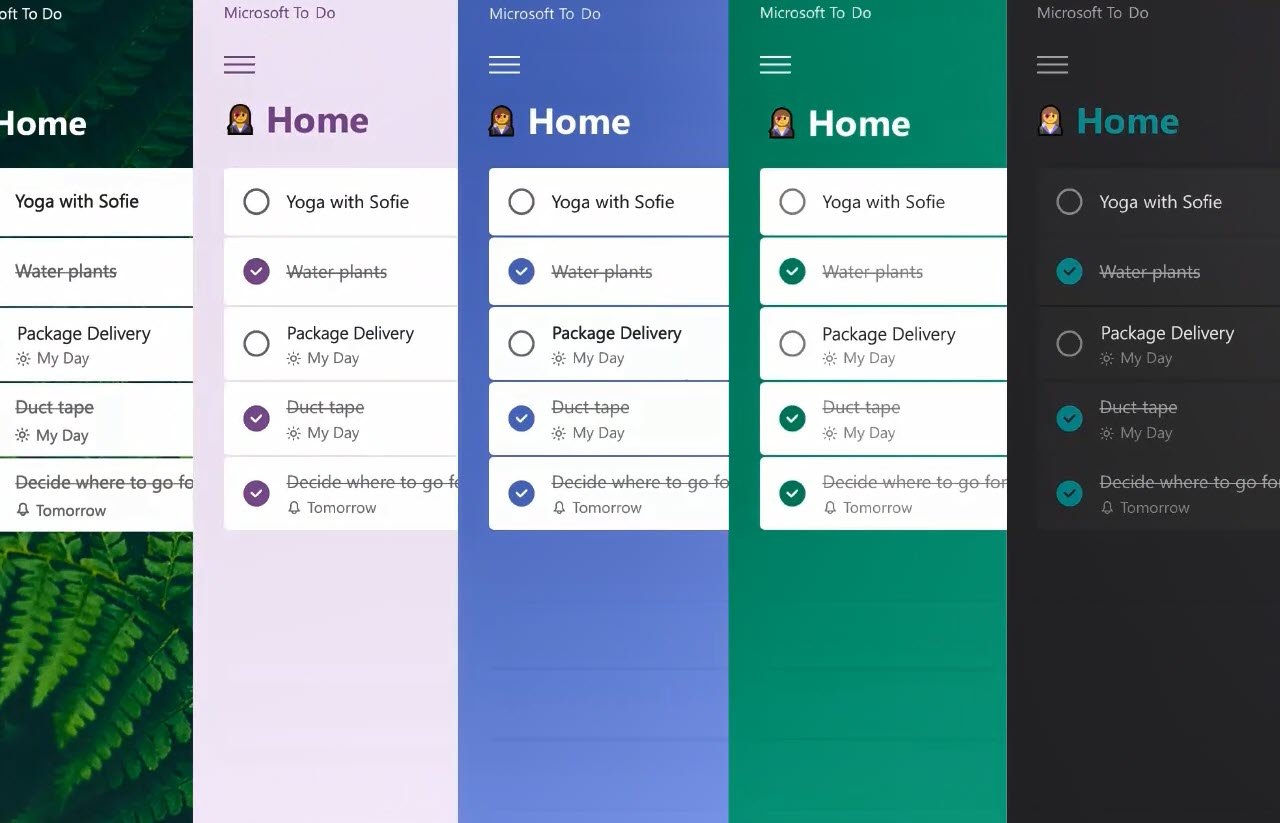 Android users can download Microsoft To Do on the Google Play Store. Type in "Microsoft To Do" in the search bar. Once the app's name is on the screen, press "Install" and then "Open."
To install Microsoft To Do to your iPhone, go to the App Store. Search for "Microsoft To Do," and when you find it, click on the "Get" button to start the installation process.
Availability for Desktop
You have the option to work from a browser too, or through Outlook on the web.
You can access your to-dos from the Outlook desktop app. To use Microsoft To Do on your desktop, download it from the Microsoft Store.
Features of Microsoft To Do
Now that you have Microsoft To Do downloaded to your device of choice, it's time to take a closer look at its most essential features. First off, Microsoft's To Do interface displays the top functions that users access more often than others. These are the tasks shown on the navigation bar on the left.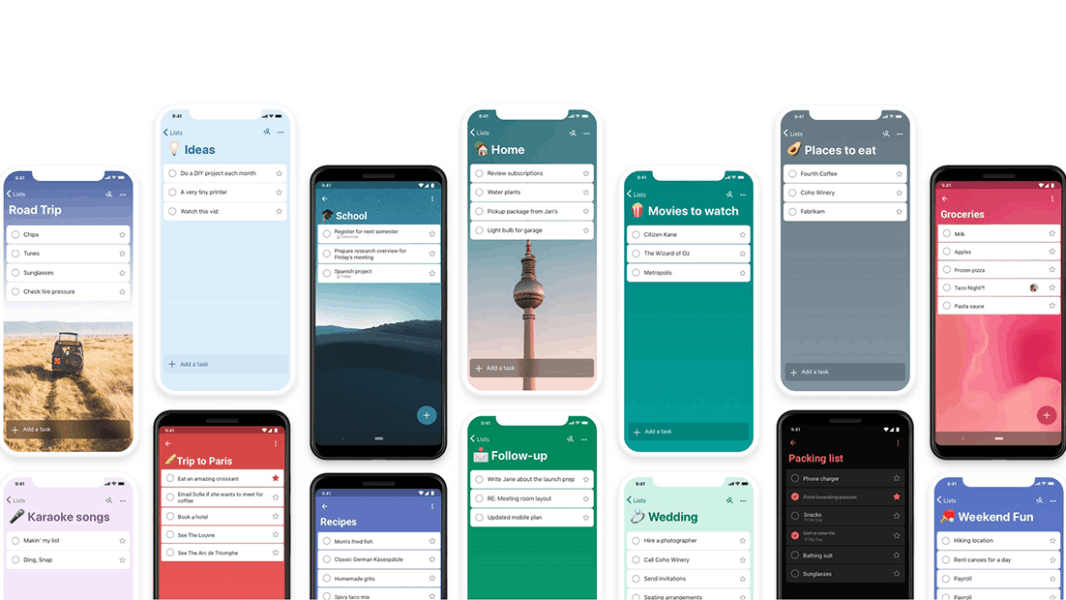 On the left side is My Day, which shows tasks I must finish within the day, and Important, which contains tasks I starred because they are priority tasks.
I group these tasks by creating and labeling lists, like Work Tasks, Personal To-Dos, Shopping List, and more. This arrangement allows me to keep the app all-embracing yet still uncluttered.
What I like most about Microsoft To Do is that my tasks can be as specific as I want them to be. For instance, I can specify the due date of a task, and under this task, I can add a reminder, comments, attachments, and even subtasks.
Organizing Tasks on Microsoft To Do
One of the benefits of using Microsoft To Do is being able to organize information and make it easy to follow. The app's organizing tools are My Day, Important, Planned, Assigned to You, Flagged Emails, and Tasks. My Day is for tasks I have to accomplish for the day while Important is for my priorities.
When I have a deadline or a certain activity as a due date, I make sure that this specific task is under Planned. Meanwhile, the tasks I'm in charge of, as reflected in To Do, Outlook tasks, or Microsoft Planner, will be automatically marked under Assigned to You.
With Flagged Emails, I am able to see any Outlook email that I have flagged in To Do as a related task. Lists that fall outside the lists I've created are labeled as Tasks. These tasks could be the ones that are not related to a certain goal or activity.
Creating Tasks and Lists
Now that you're familiar with where things are on Microsoft To Do, let's proceed with the actions you will regularly use on the app. While there are default lists on the app, you can always create your own. To do this, tap on "New List" and type a name for your new list.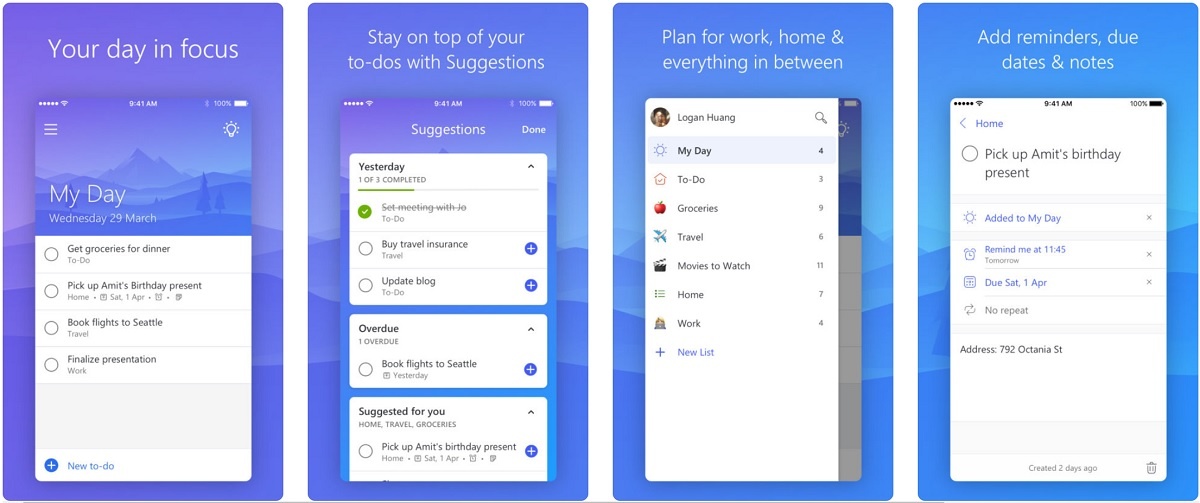 If I already have an existing list, I simply click on it to create a task. Just tap the field to Add A Task, create a name for the task, and then click Add. To add more details to a task, click on it so the detail view sidebar will appear.
Choose the entry to Add Due Date and pick a date. If I need to be reminded of a particular task on or before its deadline, I select a date and time, and the task will fall under Remind Me. Sometimes, I create a note about the task and then hit Save.
If there is a particular task that I want to see each time I open Microsoft To-Do, I click the entry to Add To My Day. This also allows me to view all tasks in the My Day section. Then, I tap the arrow to Dismiss Detail View.
Customizing Tasks and Lists
One of the great things about using Microsoft To Do is I get to personalize tasks and lists. I am able to change the background image on the app. If I have a list, I can set and rearrange the order of the tasks.
I can drag and drop my tasks between different lists. I can also attach a file to the task, or if the file has to be edited or updated by another person, I add a link to the file instead. If I have to add notes about the file, I use the comments area.
Another feature of Microsoft To Do that makes it a convenient app is the Repeat function. This option is for tasks that are recurring daily, weekly, or monthly. When I am done with a task, I simply click the circle beside it or hide it, so the list gets updated and remains tidy.
Sharing Tasks with Microsoft To Do
Not all tasks are done on your own. With this, Microsoft To Do allows users to share their lists with other people for different reasons.
This facet of the app is convenient for colleagues who are working on the same project, for family members who are planning a weekend getaway, or for friends who want to organize a party or a charity event.
I can share lists within an organization or among people with Microsoft accounts. To do this, just open the list you want to share. Click the icon of a person with a + in the top right corner of the list.
You'll see a share link, which you can send directly to Microsoft Teams or send via an email. The recipients have to open the link, and they automatically become list members. To view the people who have access to a particular list, just tap the icon of a person.
Adjusting the Settings of a List
You can change the settings of sharing, especially if you want to remove users who should not have access to the list in the first place. However, you can only do this if you are the owner of the list.
When you are on Manages access, you can also limit the access to the list members that moment.
When it comes to assigning a task to another user, that person has to be a list member. You won't be able to assign a task to yourself if you are the only member of a list.
Conclusion
Install Microsoft To Do on your device if you want to get more things done every day. The app's list and task management functions, uncomplicated interface, and integration with Microsoft 365 help users set up and keep tabs on daily tasks and long-term goals.
Most of all, Microsoft To Do is a productivity app that you can access anywhere so you can easily fine-tune your routine and stay on top of your life.