Due to the pandemic, I, being a glasses wearer, began worrying about getting the perfect model of spectacles for myself without being able to leave my house. It sounded pretty unrealistic at first, but as I researched more, I realized that this wasn't just easy but possible too!
Eyewear brands worldwide have been adapting to market competition and bringing new things for customers to enjoy; virtually trying out their models of glasses is one of them!
I was surprised to see how many options I could try on through apps that I can download. Let me enlighten you with more information about trying on glasses virtually on mobile applications!
Concept Behind Virtual Try-On Glasses
Zennioptical
Lenskart
Warby Parker
Ideofit Glasses and Sunglasses
Glassify – Try-On Virtual Glasses
Shop EBDirect – Eyewear, and Glasses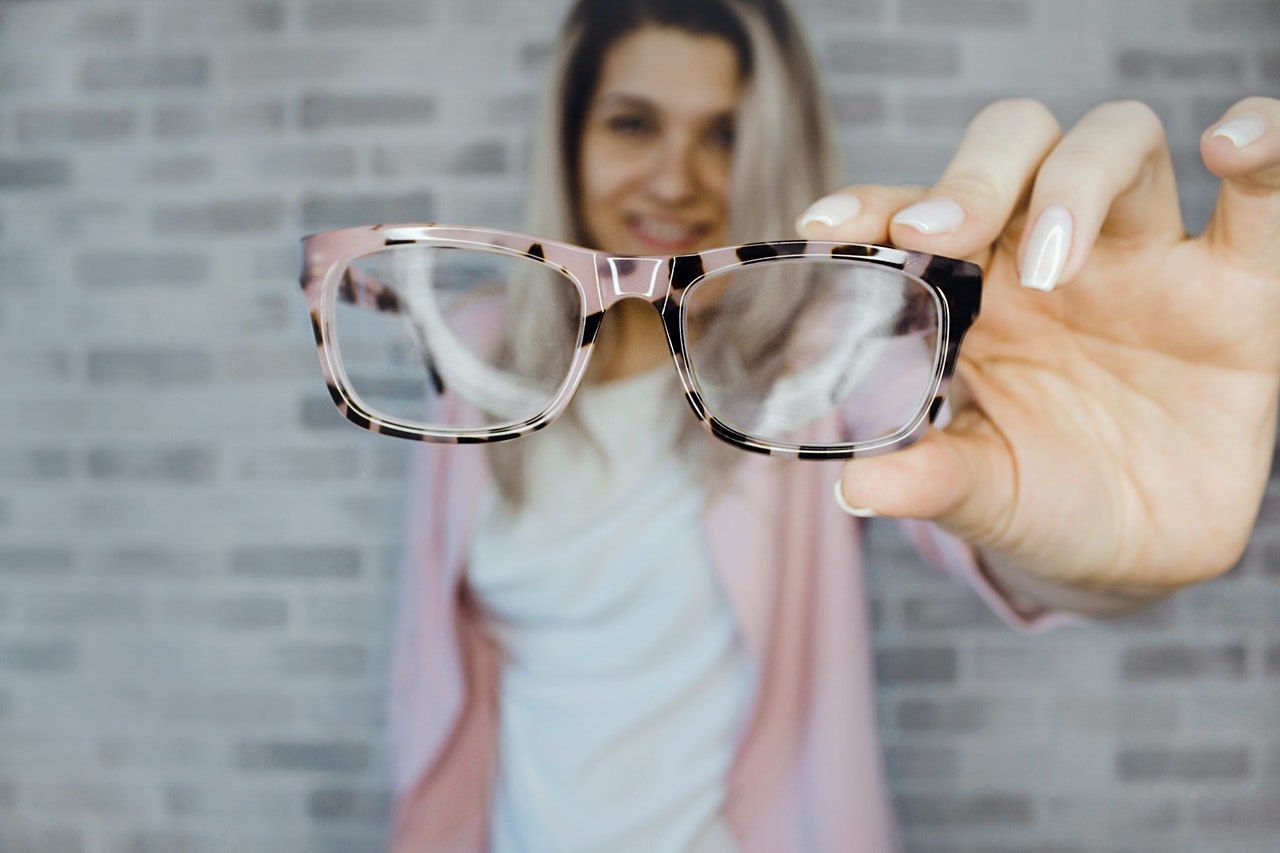 Concept Behind Virtual Try-On Glasses
Virtual try-on glasses occupy a technology that is quite similar to the augmented reality brought to our phones through Snapchat or Instagram filters. We all have these applications downloaded as famous social media networks, and face-tracking technology lets us customize our faces!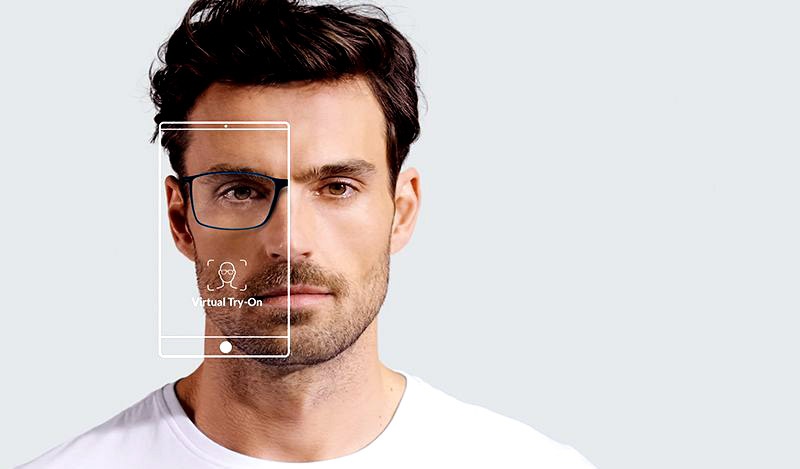 These applications, with their virtual try-on glasses feature, aim to provide the same technology in a hyper-realistic filter.
In these filters, you see only a picture of yourself and 3D objects (glasses in this case) which will be similar in shape, size, and color as they are in real life.
Benefit
You being the customer, can benefit from this technology by owning a smartphone and downloading an application of your preference. The try-on process feels quite natural!
I browsed through a couple of applications and found out the most famous ones. Let's learn more about them below.
Zennioptical
Zenni, a company that started in the San Fransisco Bay Area, is determined to provide customers with spectacles that are not only conveniently available but super affordable as well! Their main goal is to offer cheap glasses to their customers without charging them an arm and a leg.
Zennioptical started as a small company but quickly turned into an online-based optical industry leader, providing everything to customers from the comfort of their homes.
You can get prescription glasses, sunglasses, non-prescription glasses, sports glasses, goggles, and so much more – all online! As you browse through their exceptional and high-quality optical lenses, you can order spectacles for yourself through their try-on feature.
They have brilliant customer support service as well, so if you happen to get stuck anywhere or have a problem, you can reach out for help!
How to Download
Zennioptical is available for everyone to download on the iOS platform and the Android platform as well. You can search the application on the Google Play Store.
If you own an Apple device, you can find the application on the Apple App Store.
Lenskart
Lenskart owns the broadest range of sunglasses and eyeglasses for everyone who needs them. You can find variety for men, women, and also kids! No matter what type of glasses you're looking for, be it prescription glasses, polarized sunglasses, blue light blocking computer glasses, or kids' special, Lenskart will have them available for you.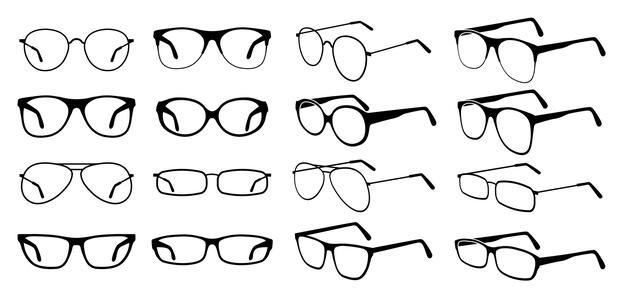 This application shows you completely authentic brands that use precise robotic technology and modern styles as well.
The designs are ergonomic with high-quality glasses that are not only trendy but flexible, durable, and at affordable prices too. You can also choose to become a Gold Member if you want to benefit from deals on bestsellers.
Another feature of Lenskart is the Face Analysis option, through which you can use the AI-powered tool to find the perfect glasses for your face. To use this feature, simply attach a selfie, and you will see the eyewear options that will fit best on your face.
How to Download
You can download this application easily on your Android and iOS devices as well. To download it on your Android phone, you can search the application on Google Play Store or on the Apple App Store.
Warby Parker
This brand is relatively new in the industry, but it has quickly grasped onto the things customers like to see in an optical store.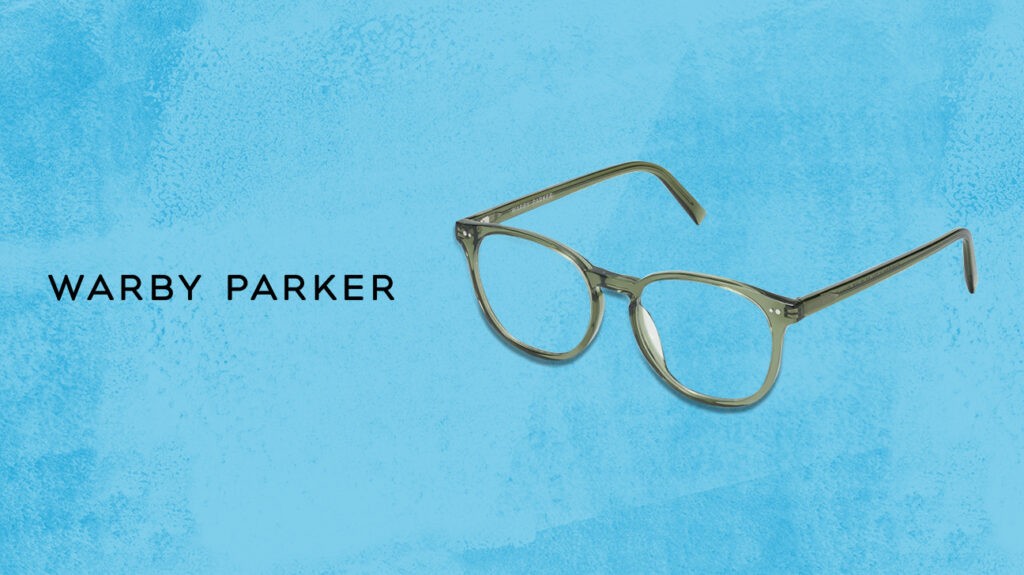 Through Warby Parker's application, you can effortlessly search for eyeglasses, sunglasses, and contact lenses with the glasses starting from $95, with prescriptions included, free shipping, and easy returns.
In the eyewear market, Warby Parker has claimed a prominent spot due to its home try-on program in which you can pick up to five frames and get them delivered to your home for five days! Not only this, but this service is entirely free of charge, including pre-paid return shipping.
Using the Warby Parker application, you can also benefit from the virtual try-on feature in which the application will scan your face and then recommend a bunch of frames for you. This works towards a highly personalized shopping experience for customers and can help change how we all shop online for our spectacles.
How to Download
Unfortunately for Android users, the Warby Parker application is only available for iOS users. People who have an Apple phone can easily find this application on the Apple App Store.
Ideofit Glasses and Sunglasses
Using the Ideofit application, you can scroll through the variety of glasses available to buy and try them on using your phone camera before selecting which one to purchase.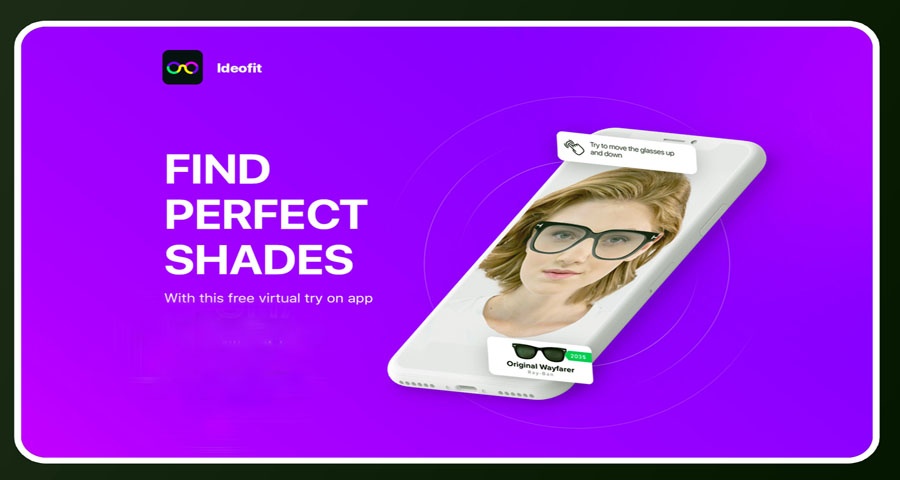 Ideofit is an application that is powered by AR (Augmented-Reality) technology which helps with smooth transitions through models of glasses.  The frames fit super quickly on your face through the try-on feature, and you can decide while scrolling past models as you see them on you.
The application does not scan your face nor take any photos, it is 100% on-screen. You can use the application to compare glasses and inspect them over your face as well.
The application also allows you to place your glasses on your face wherever you usually wear them and then inspect how they look on you. So, if you wear them a little low on your nose or cover your eyes fully with them, you can see the look by placing your glasses the way you want.
How to Download
You can easily find the Ideofit Glasses and Sunglasses application on your Android and Apple phones.
To download Ideofit on iOS, search the application on the Apple App Store. If you own an Android, you can search the application on the Google Play Store.
Glassify – Try-On Virtual Glasses
Glassify brings you about 100 designs for sunglasses or eyeglasses, all for the choosing after trying on the frames. Under different categories, you can find many frames to try on and see which looks good on you. Making a fashion statement won't be too difficult now!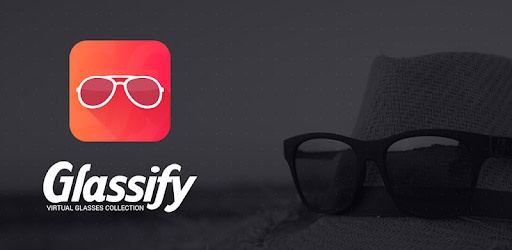 Through the augmented reality facial detection feature, the application helps you overlay multiple designs on your face and accurately depict what they will look like on you in real life.
The application will simply use your phone's front camera and use the face recognition algorithm to identify your facial landmarks and place the frames accurately. If you think that the application has not placed the frames where you usually wear them, you can always change the place!
You can share your selfies with friends and family to get their opinion too, plus, there are multiple ranges of popular brands like Ray-Ban, Dior, Oakley, Vogue, Boss, Gucci, and more.
How to Download
You can download the application on your Android and Apple devices very easily. If you own an Android, simply go to the Google Play Store and search the application before waiting for it to download
If you own an Apple device, you can search this application on the App Store and download it from there.
Shop EBDirect – Eyewear, and Glasses
With a range of high-quality eyewear and glasses available, the Eye Buy Direct app gives you eyewear options that start from as low as $6.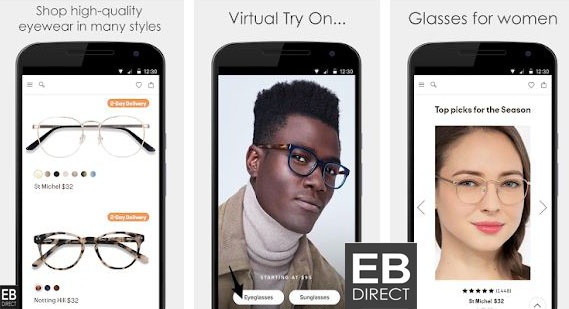 The application has a huge variety of prescription glasses available with fast delivery as well. They have categories available for every gender and every type of occasion! If you're looking for collections of women's eyewear, you can find bold to sleek and sophisticated frames on EBDirect.
However, if you're searching for men's eyeglasses, then you can also find minimalistic metal frames and also trendy wayfarers on the app! You can also filter your searches to find the frame that best suits your requirements.
The application features affordable collections of eyewear for anyone and not only that, but it also provides you with the try-on feature so that no matter which design you pick for yourself, you can try it on before buying it.
How to Download
You can download EBDirect on your Android phones only.
Final Words
I found a massive benefit to the augmented reality feature. I had no idea how easy it would be to simply order frames online and also know that they would look good on me too! These applications are a lifesaver for anyone who wants convenience and also styles with their frames.