It's always a bummer when you lose something, but it's a much bigger disappointment when you lose something of value, such as your smartphone. Phones cost hundreds of dollars and contain almost everything about your personal and work life.
Because of this, it's important to make sure that you have done everything to avoid losing your phone. However, in the event that you do lose your device, it's better to have a plan just in case. Your best bet is to install a mobile phone tracker and security app.
If you are a user of an Android smartphone device, you can use Google Find My Device. The app will help you track down your phone wherever it is. Up next we're going to tell you all you need to know about this mobile app.
About Google Find My Device

Useful Tracking and Security Features

Downloading and Installing Find My Device

Properly Setting Up Your Device

How to Track Your Device with Find My Device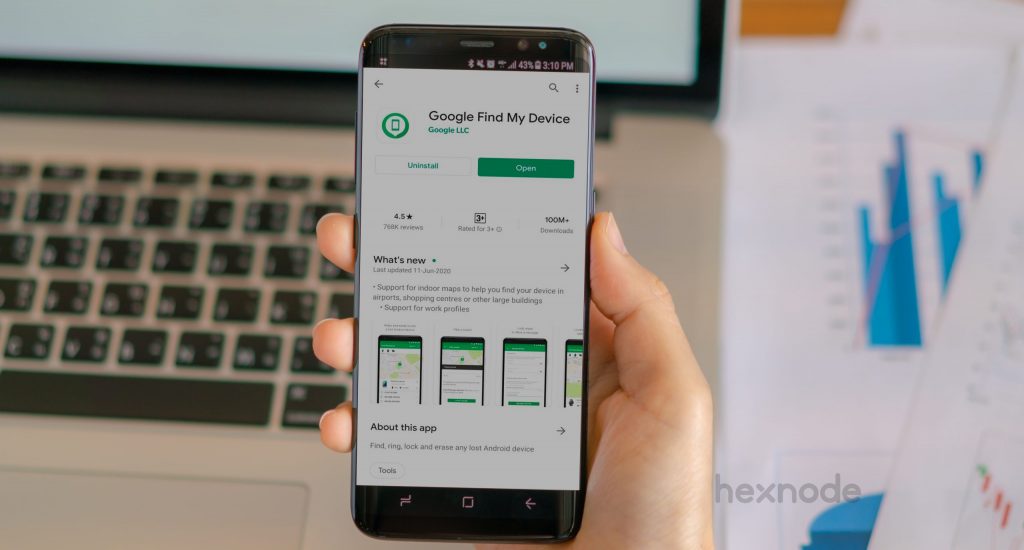 About Google Find My Device
Google Find My Device is a mobile app from Google that allows you to remotely find, lock, or erase data on a lost or stolen smartphone or other Android devices, such as tablets and smartwatches, as well as the Pixel Buds. The app is part of a collection of Google services called Google Play Protect, which protects users from malicious content.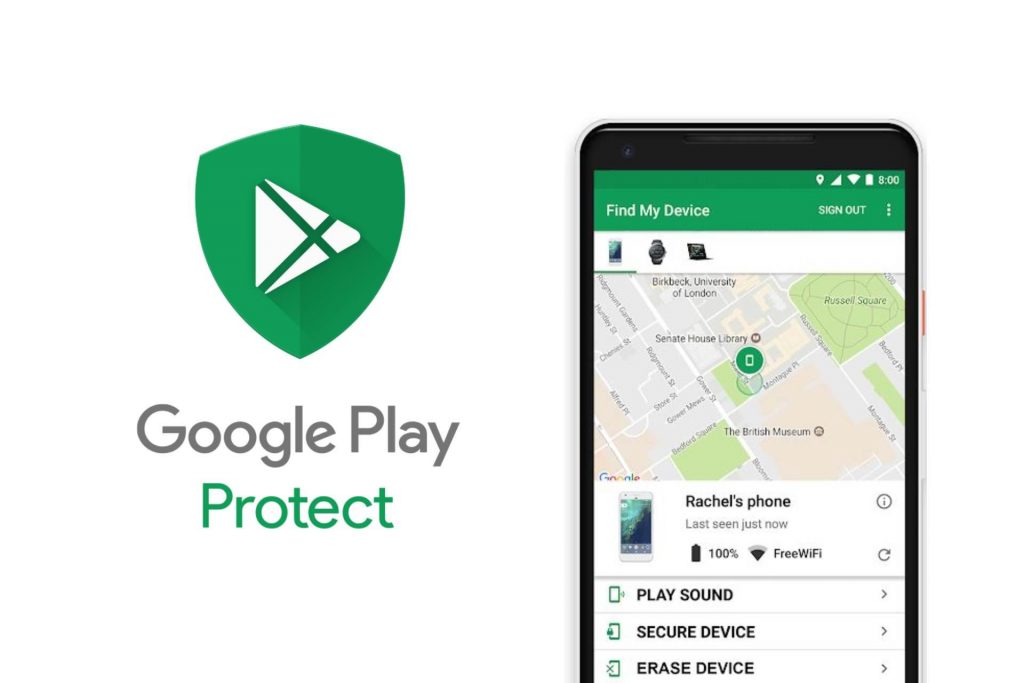 It combines various services offered by Google, including its machine learning technology, to scan and verify apps installed on your phone. One of the most important features of this app is that it lets you see where your device is located on a map, so you have a better idea of where you will find it. 
Users with mobile devices running on Android 4.0 Oreo or later will be able to install Google's Find My Device app. 
Relatively Old App
While you may just be learning about Find My Device now, this app has actually existed since 2013 albeit under a different name. Back in 2013, this app was introduced by Google as the Android Device Manager but in May 2017, the company renamed it to Find My Device.
This move helped to clarify exactly what the service is used for, which is based on locating your lost device. Google also accompanied the name change with a new app design.
The new design allows you to see all of your devices in a row on top of the page. With the earlier version, you had to use a drop-down menu to select the device you wanted to track. Now, it is much more user-friednly. 
Useful Tracking and Security Features
Find My Device provides the real-time position of your phone if your location service is on and if turned off, it will still show the last known position before it was turned off. Also, the app is capable of locating your phone even inside establishments such as airports, large buildings, or malls through its indoor maps.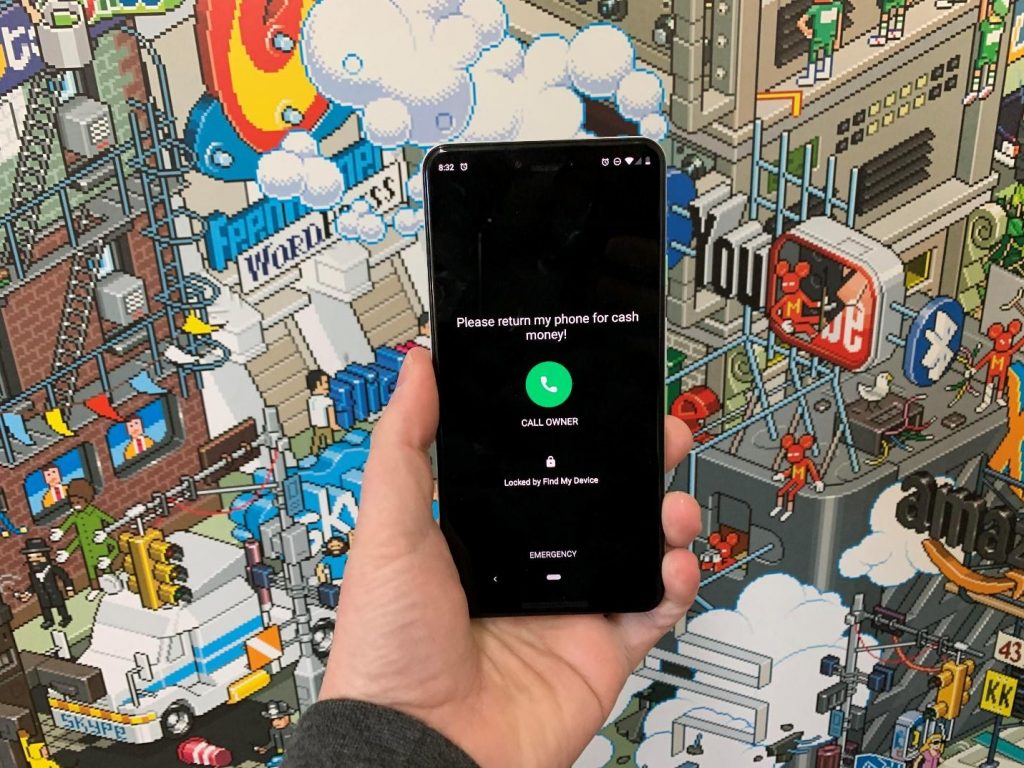 You can also use this app to initiate loud sounds on your device to help you find it by ear and this works even if your device is in silent mode. That way, you can easily tell if your device is in close proximity. 
In addition, this app features a network and battery status tracker so you can tell if your phone has run out of juice already or has no network coverage. This is important to know because then you know whether or not the phone is on. 
If you suspect that your device is in the hands of a stranger, this app will display a custom message and your contact number. For stolen devices, you can lock the phone immediately, or you can simply erase all its contents.
Conditions for Using the App
While Find My Device is a very useful app, it requires several conditions to be able to track, lock or erase data on your phone. 
For it to work, your phone must be turned on, signed in to a Google Account, be connected to mobile data or Wi-Fi, be visible on Google Play, have Location turned on, and have Find My Device installed and turned on.
Make sure all of these settings are active on your phone so you will be able to easily find it if it is ever lost. 
Downloading and Installing Find My Device
Since the most important condition for using the app is to make sure it is installed on your phone first. While most recent devices have it installed out of the box, you could manually download and install it from the Google Play Store.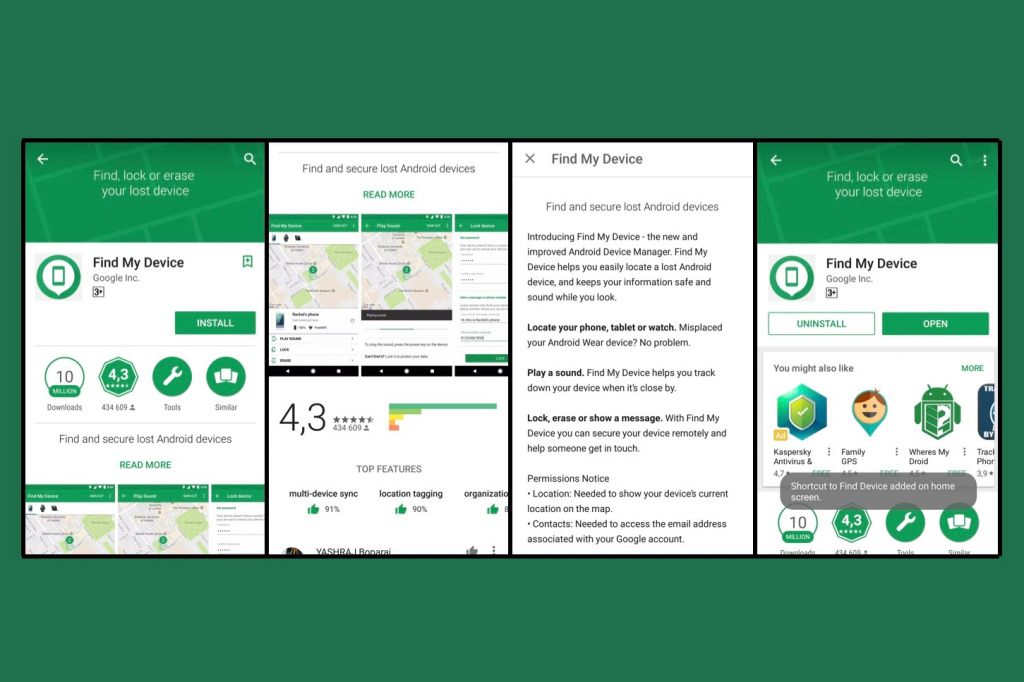 To download the app, head over to the Google Play Store and type in 'Google Find My Device' in the search bar. Choose the correct option from the list of search results. 
Once you've selected the right app, just tap the 'Install' button and the app will begin installing onto your device. 
After it's completely downloaded, you can open the app by pressing 'Launch' or 'Open'. From there you need to sign-in in order to set-up the app's services.
Signing in to Find My Device 
After downloading and installation, the next step is for you to sign in to the app as it only works on devices that are signed in. 
After opening Find My Device, select the Google account you want to use it with and tap the 'Continue as' button. You will be prompted to type in your password for the Google account you selected before. 
After you input the correct password, just hit 'Sign In' and the app will ask you to allow it to access the device's location. Grant access to it and you are now ready to use Find My Device.
Properly Setting Up Your Device
As discussed earlier, there are several conditions that should be met for you to effectively use Find My Device. Making sure that your device has been properly set up will ensure that you avoid problems when the time comes that you need to use the app.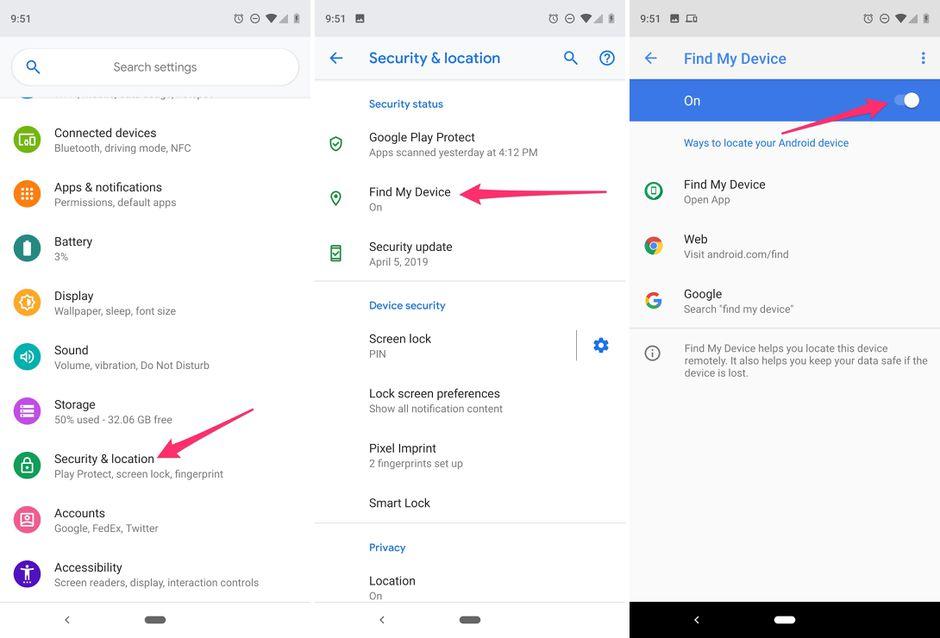 First, make sure that you are connected to the internet via mobile data or Wi-Fi. Next, go to Settings, tap Google and select Google Account. If you're logged in, your name and email address will appear at the top of the page.
Choose Security & Location and Find My Device will appear under Security status. Make sure that it is toggled to On before going back to Security & Location and scrolling down to the Privacy section. 
Toggle the Location switch to on and you should see the app under Recent location requests.
Google Play Visibility
Lastly, make sure that your device is visible on Google Play. Although it is the default setting, you can actually hide it if you choose to. However, that will not help you find your device. 
To check its status, go to play.google.com/settings and see if your device has a checkmark on Show in Menus under Visibility.
How to Track Your Device with Find My Device
You can start tracking your device by using either the Find My Device website where you will be asked to log in to your Google account or another Android device where the same Google account is logged in.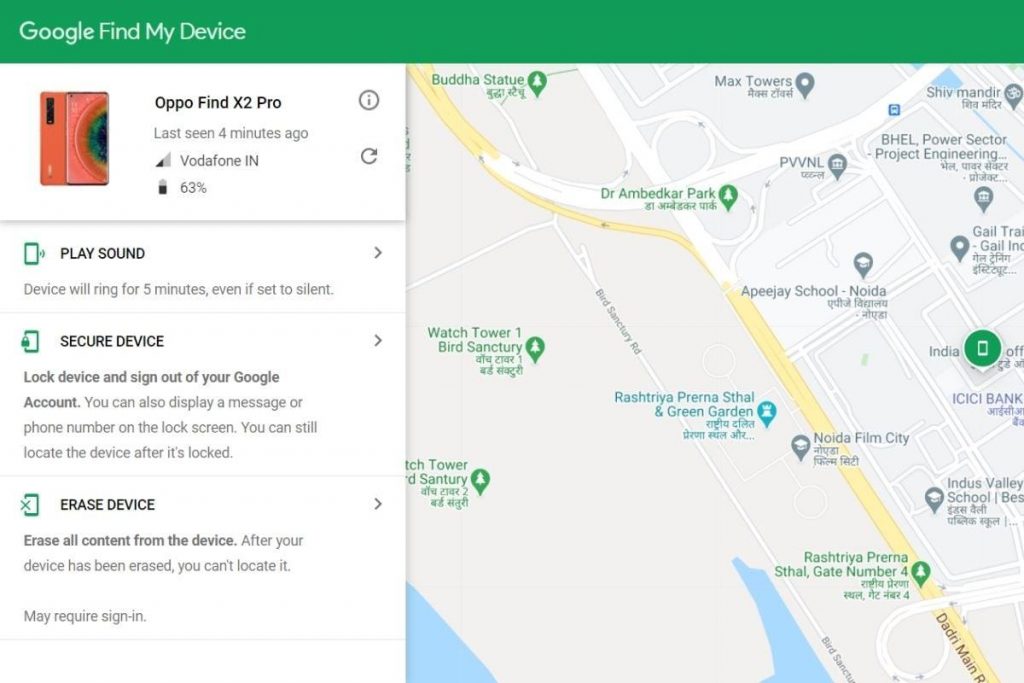 If you only have a single device, the app will immediately try to detect its current location or last known location when it was turned on and connected to the Internet. 
For multiple devices, you can choose from the device icons you will see on the upper left area of the page.
Once it has provided information on the device's location, you will have three actions that you can take. You can either Play Sound, Secure Device or Erase Device.
What You Can Do
The Play Sound option allows you to remotely play a ringtone on your device. Even if the device is on silent mode or the volume level is low, it will play a loud tone continuously at full volume for five minutes. You can press the power button to stop this once you find your device.
If you think your device is lost or stolen, you can use the Secure Device option to lock it remotely. You can also add a message and a contact number to the lock screen so that if a person finds your device and wants to return it to you, they will be able to contact you.
If you've determined that you won't be able to get your device back, the last option is Erase Device, which will wipe out all your data remotely by performing a factory reset. If the device is turned off when you use this option, it will still be able to perform a reset once it goes online.
The Bottom Line
Now that you've learned about Google's Find My Device app, there's no doubt that you'll find it a very important and easy-to-use tool. Make sure that you set up the app not only on your smartphone but also on all your other Android devices. 
In case the unexpected happens and your device gets lost or stolen, remember that you have Find Your Device at your disposal. Immediately find a way to go online and try to recover it using Find My Device.