Due to the global health crisis, many people have lost their jobs, closed down their businesses, or were unable to return to work due to restrictions or health concerns. As a result, the trend towards freelancing work has become more popular.
However, if you're starting to explore the world of freelancing, you might get overwhelmed by the sheer number of freelancing gigs you can find online. I experienced this when I decided to leave my regular job several years ago to become a full-time freelancer. I did not know which jobs matched my skills and what I should do to decide which jobs to pursue.
Luckily, several apps and websites were developed to help you find the best freelance jobs for you without going through the confusion I experienced in the past. I will share with you some of the best apps that I have used to find freelance jobs. Continue reading this article if you want to find out more about these websites and apps.
Upwork
Fiverr
Indeed
Freelancer
Guru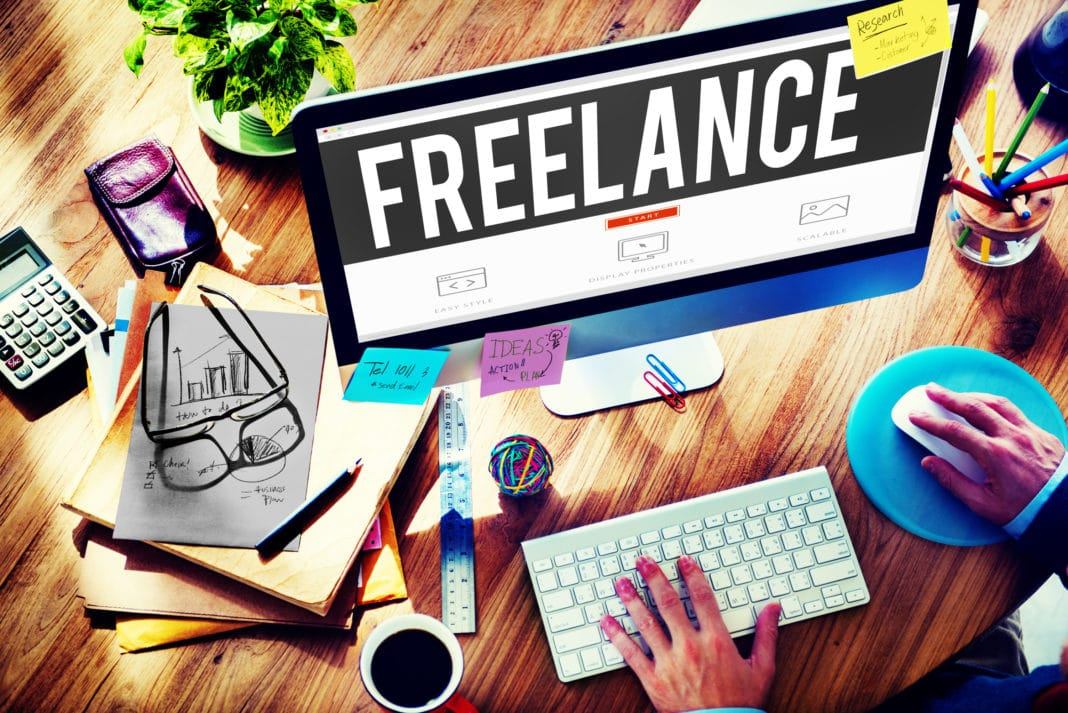 Upwork
Formed following the merger of Elance and oDesk in 2015, Upwork serves as a market and platform where freelancers, companies, and organizations could connect to conduct business.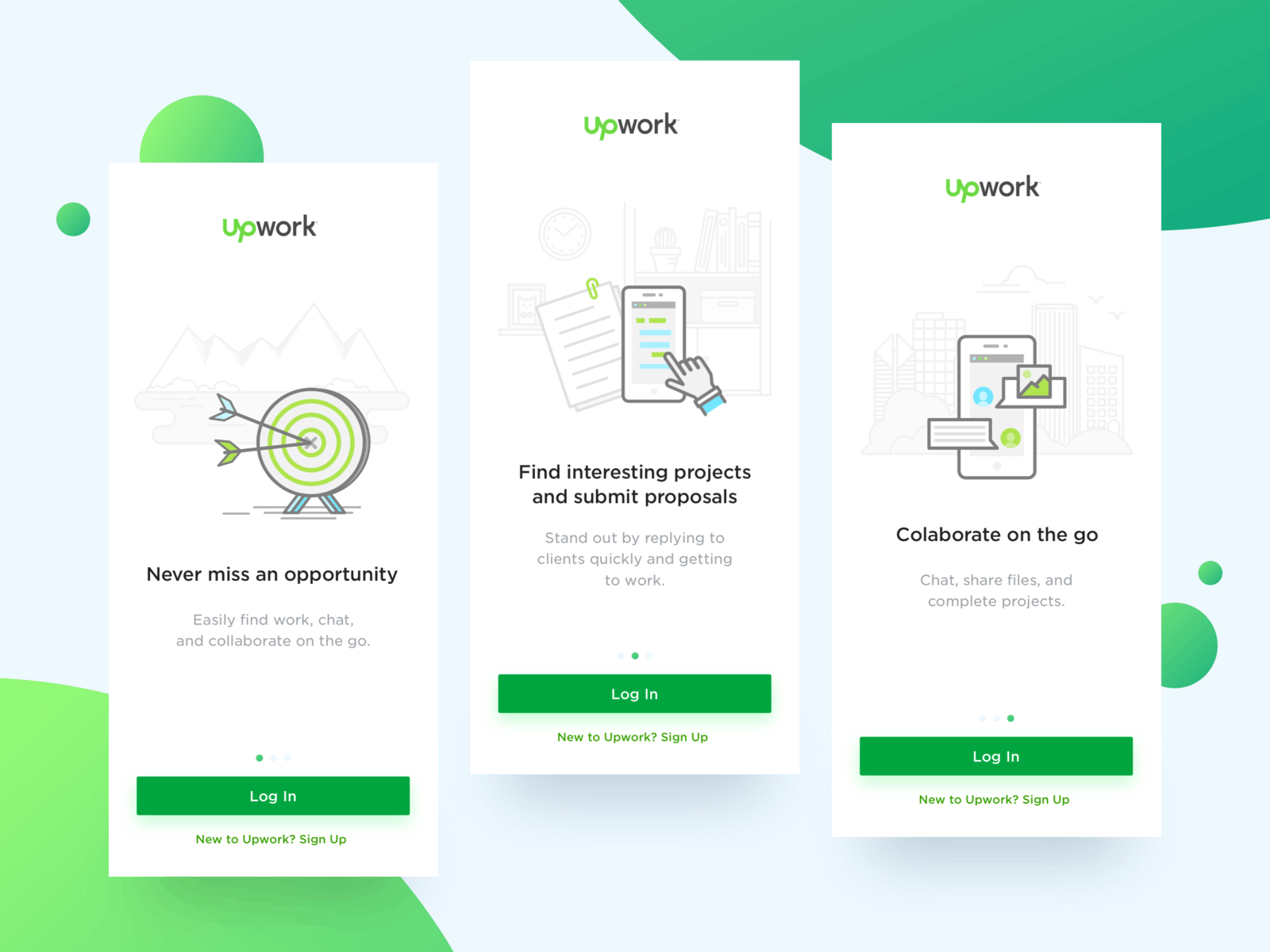 It is considered the largest freelance marketplace globally, with more than 18 million registered freelance workers and five million registered clients, generating three million jobs annually worth $1 billion.
At Upwork, you can find various freelance jobs, from short-term to long-term projects, from hourly to per-project compensation, and from entry-level to expert-level assignments. Whether you're just beginning to look for freelance jobs or an experienced freelancer like me, you will surely find something for you on the platform.
The Upwork platform has several useful features, including filters that help clients search for freelancers who are relevant to the positions they are filling and help freelancers find jobs suited to their skills. It also has a searchable directory of registered freelancers and a real-time chat feature to help both sides communicate.
How The Platform Works
Upwork works as a job marketplace where clients can post a freelance job and the price range they are willing to pay for its completion. In turn, freelancers who are interested can apply to these job postings, or the clients may directly invite freelancers registered on the platform.
Both clients and freelancers must have a profile on Upwork to view the relevant details about the job or the workers. While clients may filter freelancers based on their reviews, ranking, experience, or keywords relevant to the job, I, as a freelancer, may also see the ratings and job descriptions of these clients.
Upwork takes around 20% of beginner freelancers' earnings until they've built a regular relationship with any client, where after the fee is reduced to 10%. Meanwhile, the company gets a 3% fee as payment from clients. You may visit Upwork's official website for more information or download the apps for Android and iOS devices.
Fiverr
Like Upwork, Fiverr is an online marketplace for freelance services, particularly for creative types, including writers, filmmakers, producers, and photographers. It also promotes itself as a low-cost platform for freelance services globally.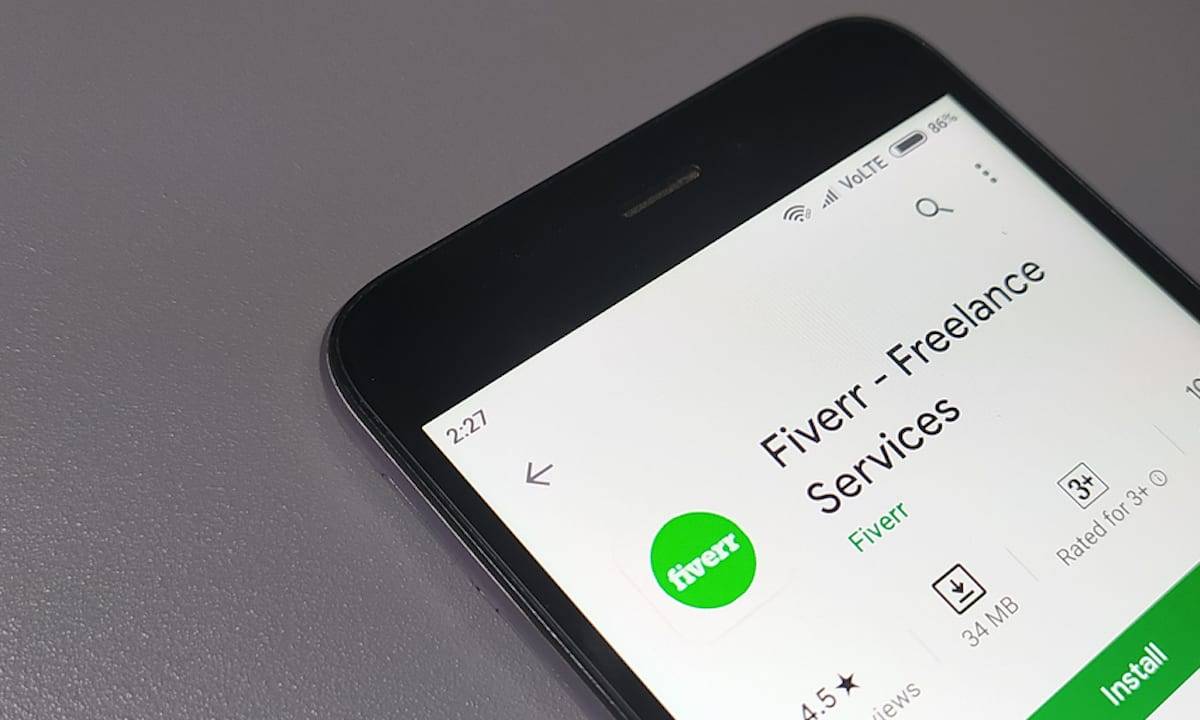 Since Fiverr is a marketplace, there is a seller and a buyer and a product or service. In this case, the product being sold is called gigs, which refer to any type of freelance service. The seller is the registered freelancer who "sells" gigs, and the buyer is the client who purchases these gigs. A request can be made when a buyer needs a specific service.
Initially, Fiverr gigs were set at a base price of $5, but freelancers can now set their own prices on packaged services that they offer. Gigs are generally completed within a day or two, but it may take longer for some sellers who have a high demand for their gigs.
How Fiverr Works
As a seller, I was required to set up a profile on Fiverr and create custom gigs to list on the platform. I was free to set my pricing for each gig, and I could even offer add-on services to boost my earnings.
If a buyer decides to purchase a gig from me, Fiverr will take the corresponding amount from their account and hold it until the gig's completion. Upon completing a gig, I will receive 80% of the amount the buyer paid for my service. Like any other marketplace, I have to make sure to deliver my work on time and with high quality to receive great ratings.
Building a good reputation and earning high ratings allow me to attract more buyers and set gigs at a higher price than my competition. You can access Fiverr's website if you want to know more about the platform or download the Fiverr apps for iOS users and Android users.
Indeed
Unlike the first two entries, Indeed is more like a traditional job search engine rather than an online marketplace. However, since it has been around for a long time, the sheer amount of job postings on the platform will almost be overwhelming for a job seeker.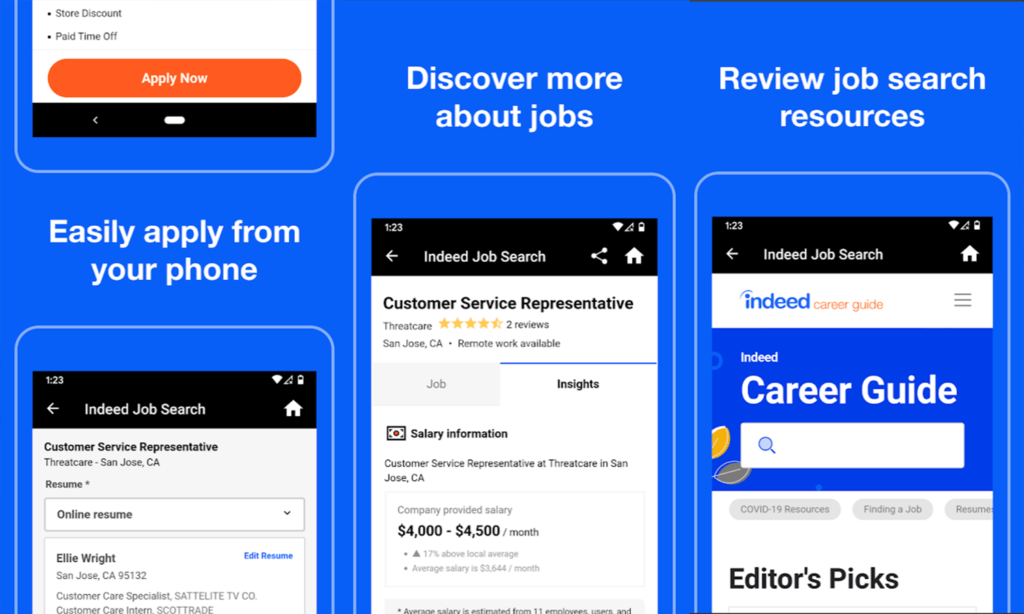 As a freelancer, I use Indeed to do a general and wider search of jobs available online. This is because Indeed collects job postings from different interwebs and organizes them into its platform. There are numerous freelancing opportunities that you can find on Indeed.
Unlike Upwork and Fiverr, Indeed does not take any percentage from my earnings from work I can get from its platform. The company earns from the client's side through pay-per-click advertising, subscription fees, banner ads, and hiring events.
Get To Know More About Indeed
You may go directly to Indeed's website to search and view details of the job postings. However, you need to set up an account before you can apply to these job ads.
The Indeed app is available on the Google Play Store for Android devices and the Apple App Store for Apple devices.
Freelancer
From the name itself, the Freelancer app is made specifically with freelancers in mind. Like Fiverr and Upwork, potential employers would post a project or contest and its details and wait for freelancers to bid on it.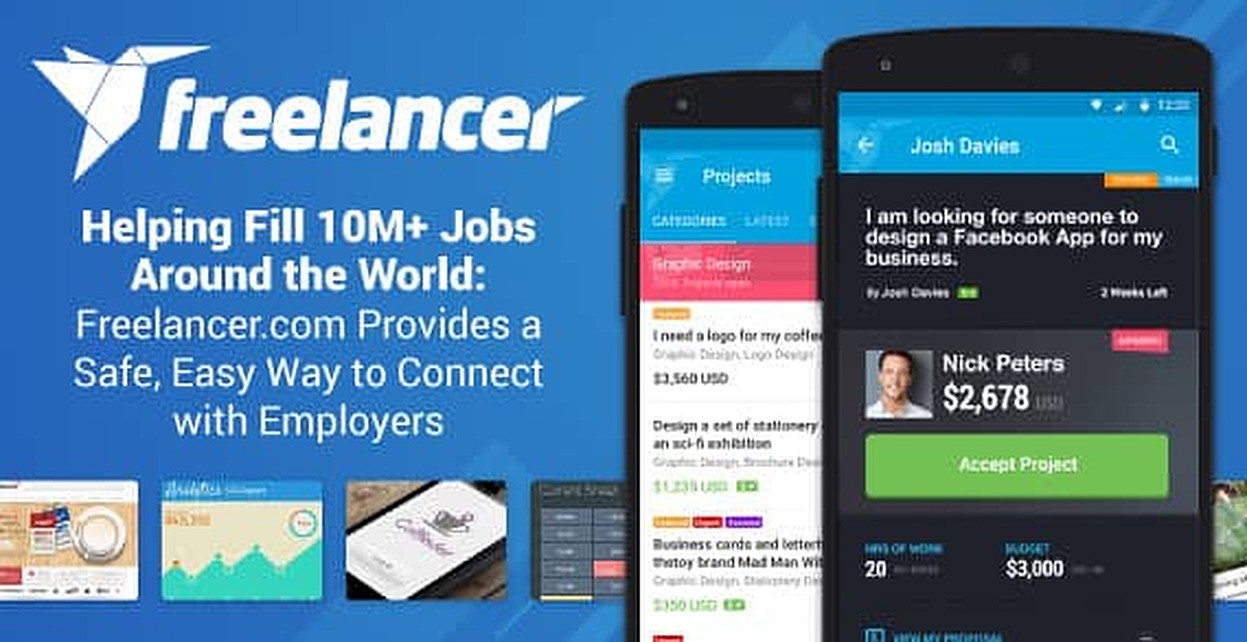 The client may freely choose whose bid to accept after browsing through profiles and chatting with the freelancers in real-time. Projects on Freelancer may have a fixed price for completion or an hourly rate for the services they require.
The company was founded in Australia in 2009 but had a user network in 247 countries. Freelancer also has 44 regional marketplaces available in 34 languages and 21 currencies.
Freelancer's Membership And Fees
What sets Freelancer apart from Fiverr and Upwork is that its commission or fee from projects depends on the membership level of the client and the freelancer. The base rates are 10% or $5, whichever is higher, for fixed-price projects and 10% for hourly rate projects. Contests are also priced the same way as fixed-price projects.
However, for service rates, Freelancer gets a 20% fee on the total service price, but only 15% is collected as a project fee for members of the Preferred Freelancer Program. Membership costs may range from free to $59.95 monthly.
I like the pricing of Freelancer compared to Upwork and Fiverr but what I find odd is that it only allows freelancers to submit only eight proposals monthly. However, this would be a non-issue if you have a free membership and only use the app as a supplementary source of freelance jobs to the previous entries discussed above. You can download it on both iOS devices and Android devices.
Guru
Founded in 1998 as eMoonlighter.com to cater to high tech workers looking for short-term contracts, Guru has evolved into a freelance marketplace for various professionals. What distinguishes Guru from other job sites and apps is that it developed and uses its own candidate profiling system based on industrial and organizational psychology techniques.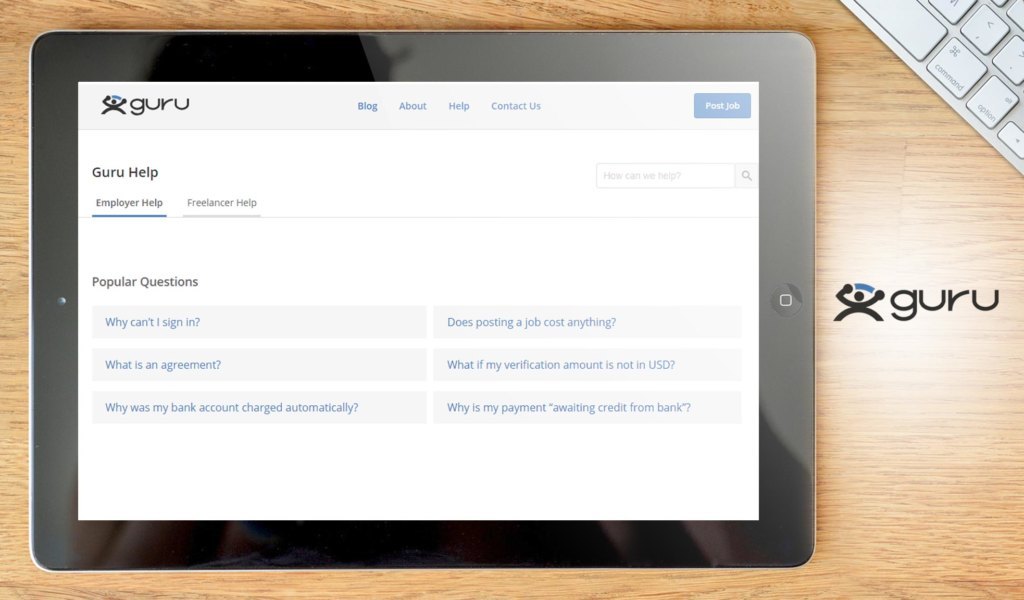 Its SmartMatch technology enables Guru to match resumes and freelancer details, such as skills and experience, to their relevant jobs. This means that I don't have to worry about missing out on freelance job opportunities that match my profile just because I wasn't able to search from them since this technology alerts me every day about these opportunities.
The Guru Work Room allows clients to build their team of freelancers and manage them in one place. It also keeps track of progress and time, which is useful for hourly-based projects.
On the other hand, freelancers like me can use the Work Room to manage all of my ongoing projects from different clients.
Guru Rates
I find Guru's rates more competitive than the other apps. It charges a 9% commission for freelancers while it gets a handling fee of 2.9% from employers. This is relatively low compared with the usual 10% to 20% commission charged on freelancers and 3% on clients.
Clients may also get 100% cashback from the handling fee if they use eCheck or wire transfer as their payment method.
You can find more information about Guru on their website.
The Bottom Line
There are so many freelance job opportunities out there regardless of your profession, level of education, or experience. It boils down to how committed you are to find a gig that will suit you the best. I was afraid to jump into freelancing due to uncertainties, but I have thrived well in this work setup.
However, you must never forget that as a freelancer, you are a seller of your service. You must always give every project your best because your income depends on your reputation as a freelancer. Use these websites and apps well to deliver your best work as a freelancer.