The working environment has drastically changed in the past few years. People are now working remotely while others prefer to be inside the office. While this has changed the way we work, a lot of times, we are still stuck in the mundane work routine.
This is why many employees innovate and create their own working environment with the help of applications like the Donut Slack app. The Donut Slack app is a productivity app that lets you communicate with your workmates and build meaningful relationships no matter where you are.
Learn more about the Donut Slack app, including how to get started and pricing, in this article.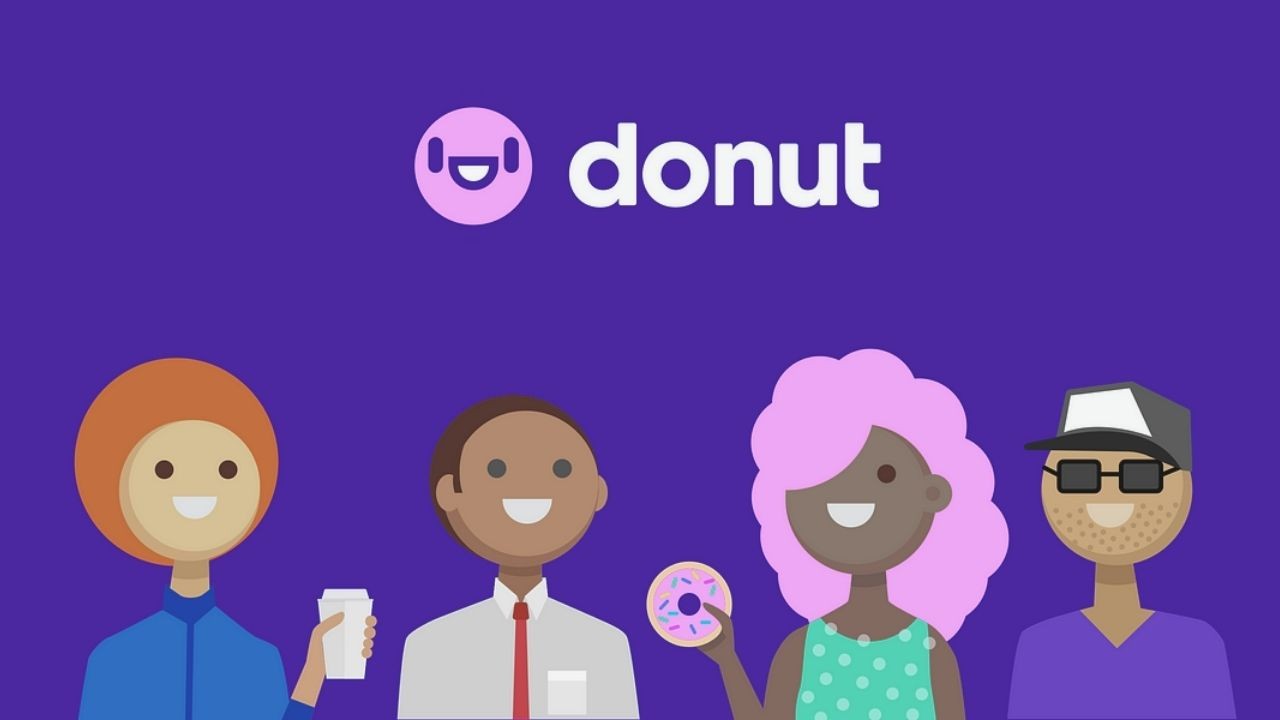 Why Choose the Donut Slack App?
Building solid connections is one of the fundamental aspects of a good working environment. This is why the Donut Slack app was developed. In the past, employees would have to communicate in person where it is proven to be much more difficult.
The Donut Slack app makes it more interesting and easy to engage in communications through different social programs without having to go through long sign-ups or install a mobile app.
Donut is integrated into Slack which means users can immediately learn how to use it without the need to undergo any training.
Since Slack is already a common platform for workplace communication, the integration of Donut in Slack makes it even more interesting. Now, you have an integrated app that lets you connect with other employees outside of work.
How Does Donut Work?
Donut's main intention is to promote proper communication among employees who use Slack. The way this integrated app works is that it matches people within the platform and sends them a direct message introducing themselves to start the conversation.
You can then choose a channel where other users join them. You can interact with each other to get to know other users or employees and enjoy your time together. The Donut Slack app encourages its users to meet up during lunch or for donuts or even virtual coffee through video chats within the platform.
Donut then checks back in with your group to see if you have met up or gatherings have been planned. Users can even leave compliments to each other that they can revisit at any time.
Getting Started with the Donut Slack App
You can initiate the conversation by starting the Donut Slack app. Register an account and you can start your free trial by installing Donut through the official website and clicking on "Add to Slack".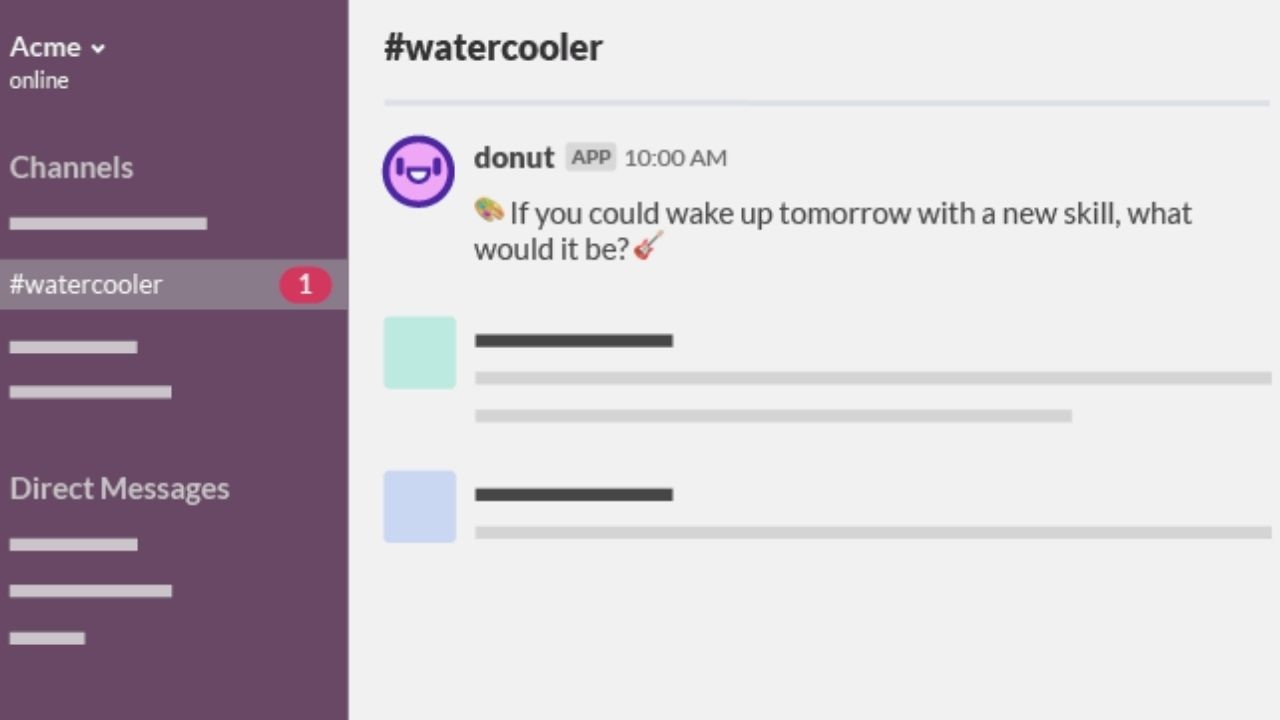 You are then prompted to log in to your Slack account or if you're logged in, you will be prompted to choose a specific workplace. Once done, head over to the billing page and start your free trial.
You can create a Slack channel specifically for Donut and start inviting other users to your channel or group. The free trial period will last for 14 days and if you have a card linked to your account, it will automatically renew the subscription so you can continue using the Donut Slack app.
To add your credit card, head over to the billing page and click on "Add Your Credit Card". Fill in the necessary details and link your credit card to use it right away.
Proper Onboarding Using the Donut Slack App
With many employees having different work setups, it can be very challenging to onboard new hires and other employees to your team. Onboarding is the process of introducing a new employee to the ins and outs of the office environment.
It is very important to initiate onboarding as it allows you to introduce your new teammates. This lets them get a glimpse of your working environment and team culture right away. With the help of the Donut Slack app, new employees can immediately adjust to fit right inside your team.
Donut provides templates to get you started such as welcome messages and buddy intros. With the Donut Slack app, you'll designate an orientation buddy, time for one-on-one meetings with managers, schedule check-ins to get updates from your team, and even schedule social time with them.
Tips and Tricks for Using the Donut Slack App Effectively
The Donut Slack app is meant to create and foster better relationships between employees. Having a safe and healthy relationship between employees is key to having a productive environment.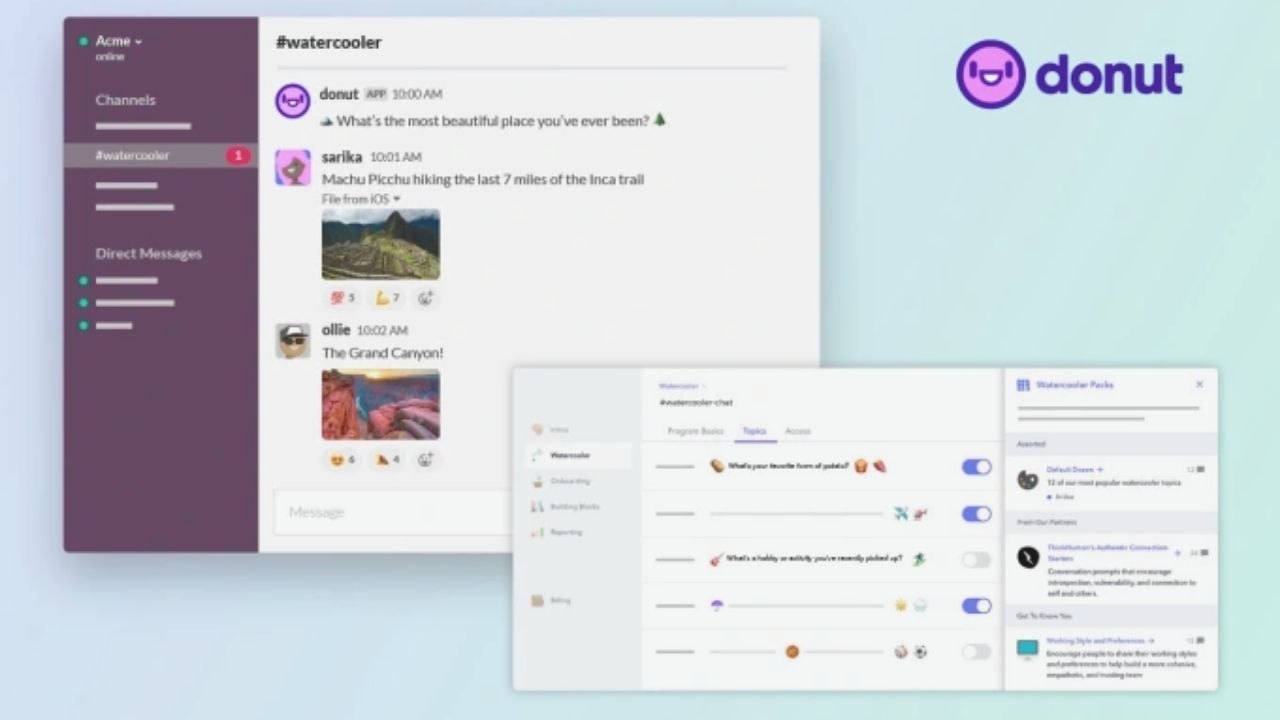 We all know how important it is to have harmony within a certain working environment and Donut knows this. When you have the Donut Slack App, always engage your team with different social programs or by simply checking in on them.
Interaction is key to a healthy social and working relationship. You can also customize your settings by sending out themed messages and introductions to other users.
One good way to allow for a healthy relationship is through proper feedback. With the help of the Donut Slack app, you can convey your feedback and help foster a collaborative working environment.
Subscription and Pricing
You can use the Donut Slack app for free to build relationships with your co-workers. With the free version, you get to randomly pair up to 24 users in a single Donut channel as well as send invitations to join your channel.
The Standard subscription costs $49 a month and lets you create a connection program alongside unlimited introductions. You also get the function to create Watercooler channels where you can access the plethora of topics that you can choose to start a conversation with other users on your channel.
The Premium subscription includes unlimited targeted introductions and lets you customize your message. This subscription can be unlocked by paying $99 a month.
Conclusion
If there is one thing that we know about work is that it is always changing. The past few years is a testament to the many changes has been made in the working environment and adapting is key to making it successful. The Donut Slack app offers a safe digital workplace and a more vibrant and productive environment for millions of employees today.