Many people think that producing good music and DJing is pretty easy, but in reality, it's not. There are a lot of factors at play when you create music. When it comes to creating music, you'll need good music software to get everything together.
For many music enthusiasts out there, no one thought that the day would come when your mobile phone could become a DJ mixer app. Edjing Mix is an audio mixing app for Android phones, tablets, iPads, and iPhones. It offers a comprehensive list of tools and features that pales in comparison to many music software, even on PC.
Find out more about what the Edjing Mix app is all about, including its features and more with the article down below.
Designed by Pro DJs, Reworked for Better Performance
Get Access to Millions of Tracks, Including Your Own
Check Out All the Free Samples That You Can Use
Learn How to Mix and Become a DJ Through DJ School
Discover How You Can Integrate Your Mixfader With the Edjing Mix App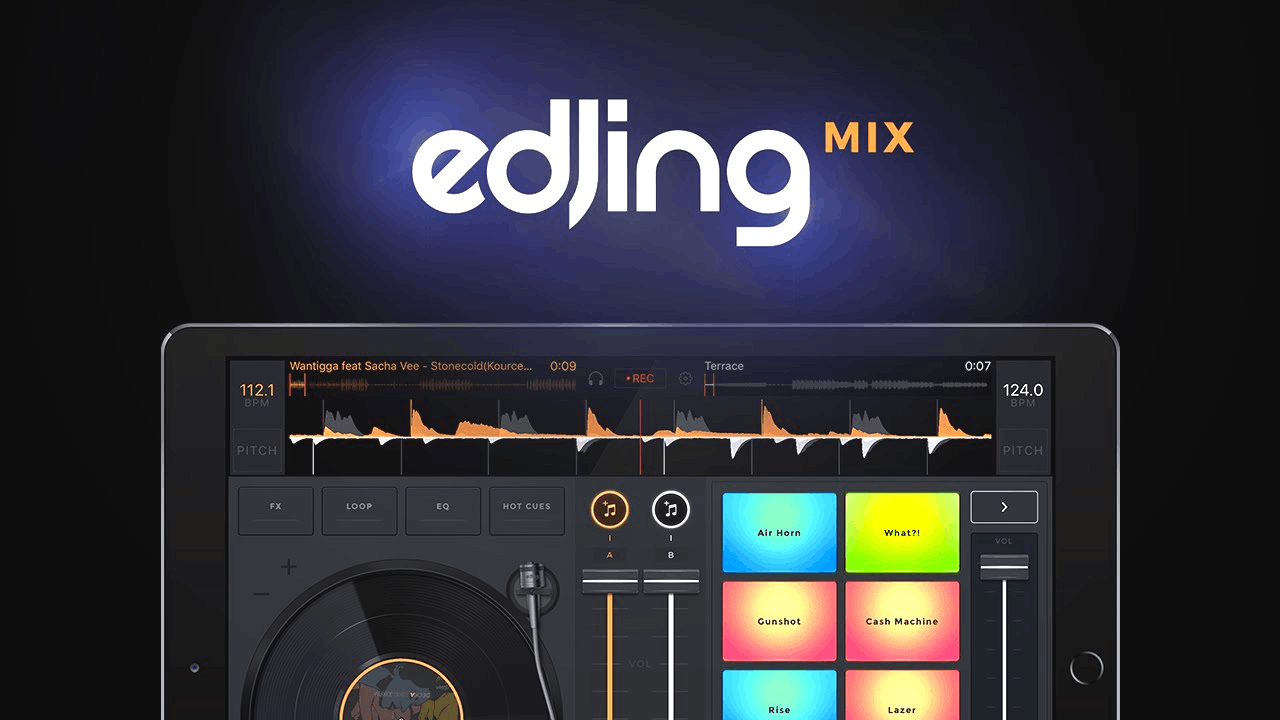 Designed by Pro DJs, Reworked for Better Performance
Edjing Mix is the brand new version of the popular DJ app. It has been reworked so that you can enjoy all the features and functions to create your own music.
With its features designed by professional DJs, you can expect more tracks, more tools, and more options to mix your samples together with the music of your choice.
Transform your phone into a real DJ setup with this new and improved version of the app. It has been reworked from its previous version to provide better performance, thus allowing you to create your music effortlessly.
It has more than 20 DJ effects and features different tracks from different sources. Edjing Mix pushes the envelope of creating new music even further.
Why Choose Edjing Mix?
While many apps are very similar to Edjing Mix, you might also wonder why you need to choose the Edjing Mix app over the others. The answer is quite simple. You get all the features of DJ software that are commonly used in high-end computers right on your phone.
Gone are the days when you have to bring your laptop and all your equipment to work just to create your music. With the Edjing Mix app, you only need to download the app on your phone, have a playlist of music, samples that you need, and then you can start creating your music.
It's simple, easy, and convenient while offering unlimited creative freedom.
Get Access to Millions of Tracks, Including Your Own
One of the many requirements of becoming a DJ is having a wide taste in music and a large collection of music. In the past, you'd have to list down all of the music that you like to remix and download it to your phone. You don't have to now with the help of Edjing Mix.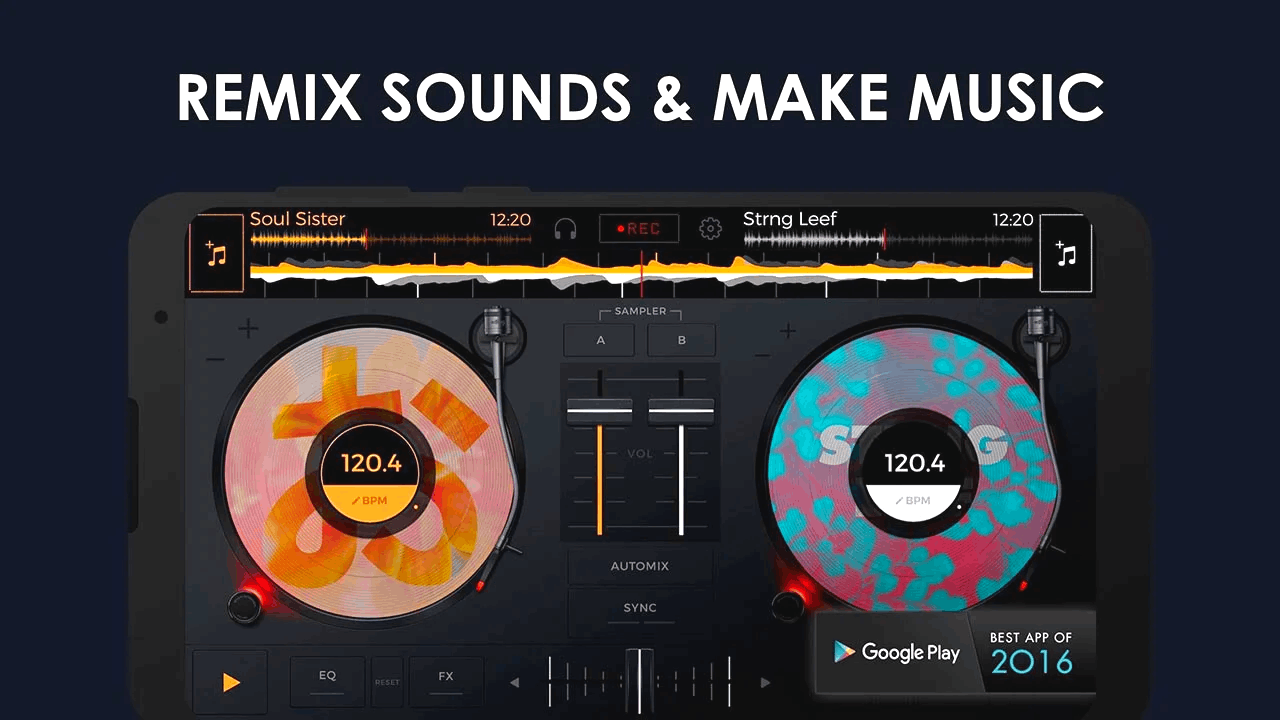 There's a reason why this app is the ultimate DJ app to create new music and the option to access millions of tracks. This can be done with the integration of TIDAL Premium as well as Soundcloud, Dropbox, Google Drive, and many more programs.
You can pull music from these sources and create the music that you want. The integration allows you to pull from a deep library of music, and you can even access your local music through this option.
You get to remix from over 70 million tracks, including your own.
Queue Music and Create Your Playlist for Your Set
With music integration, you can gain access to the songs that you want to play as well as queue music on your playlist for your set. You can create different playlists for songs of different genres.
There is also a smart search feature that only displays the songs you need on such a small screen. This allows you to quickly pull up the music that you need within a short period. The Edjing Mix app also has a queue system that allows you to prepare the songs you want to play.
Users can even sort out the songs either through alphabetical order or the length of the song, or even the song's BPM. Imagine how easy it is just to pull up the song that you like and play it using the app.
Check Out All the Free Samples That You Can Use
DJing is all about mixing different sounds and music to create a new one. Samples are often needed to do this. However, samples are also quite difficult to come by.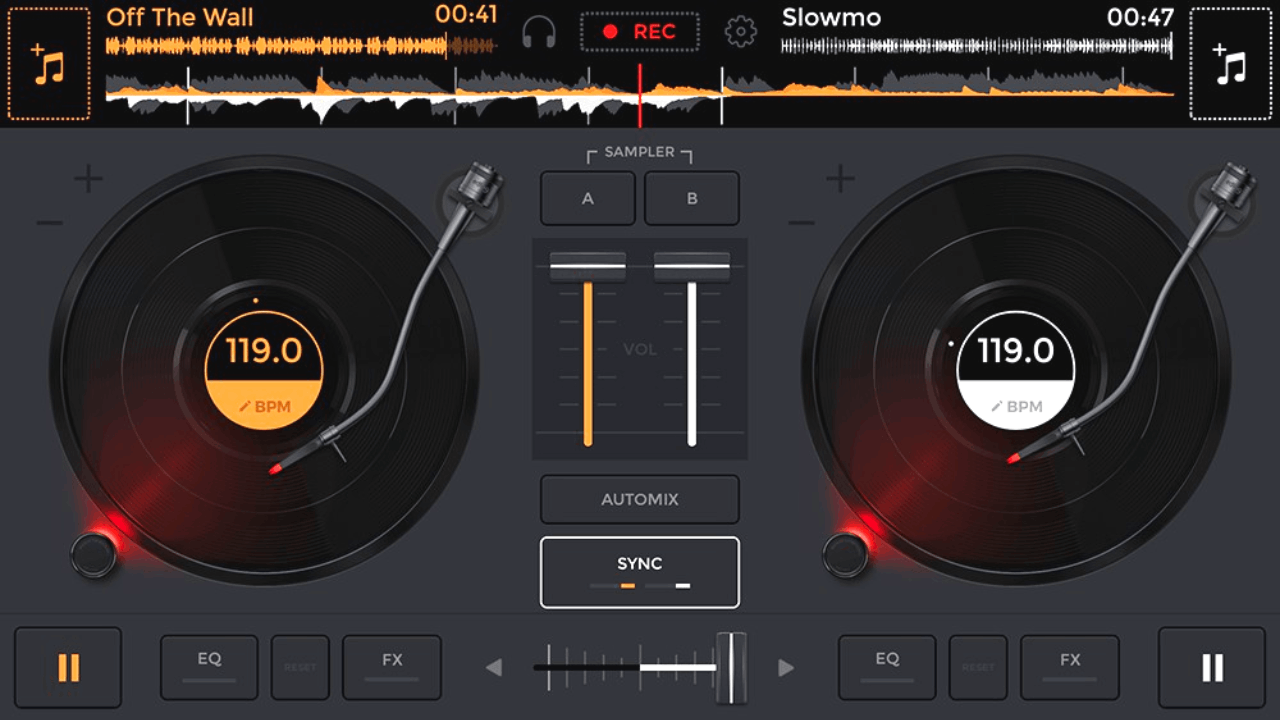 You'll need to ask permission from its original creator to use the sample legally. Fortunately, Edjing Mix has it covered as you have over 16 samples like a gunshot, kick, siren, and more.
Alongside these free samples, you also get sample packs, each with a different genre of music such as EDM, dubstep, hip-hop, and more. There is even a wide spectrum of beats that are optimized for you to use.
As a DJ, you always want to know each song's BPM, and to help you identify this, Edjing Mix has an automatic BPM detection for all the songs you have on your phone.
Discover Loads of New Tools to Help You Create the Music That You Want
Apart from the ability to queue up your music and automatically detect the BPM of each song, there are also loads of new tools that can help you create the music that you want. You can loop the song from 1/64 to 128, and it is customizable depending on what you need.
There are also EQ three bands and an automix mode that will help you transition between two tracks. Features such as Slip mode, vinyl inertia, and HD recording are just some of the features that you can take advantage of.
Truly one of the most complete and comprehensive DJ apps of all time, Edjing Mix brings all of it together.
Learn How to Mix and Become a DJ Through DJ School
Some might think that it's very easy to DJ. You only mix two songs, add effects, press play, and hope for the best, but that is not always the case. Mixing songs need to have proper timing as well as musicality.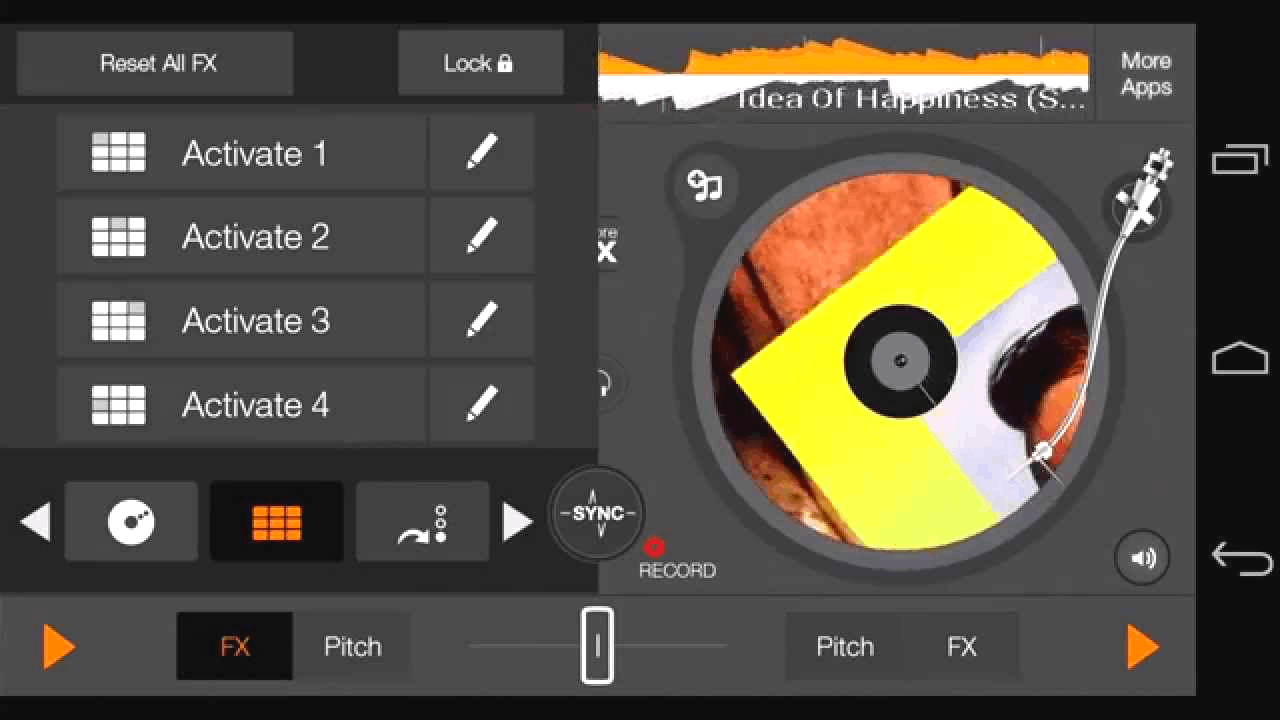 This is why Edjing Mix also features a DJ school where you can learn how to mix and become a DJ. In this feature, you understand the basics through lessons.
You also get to play and mix songs as part of the course. Go ahead and start your journey today and enroll in the DJ school within the app.
Intuitive Design Makes It Feel Like You're a Real DJ
With all these features and tools within the app, it can be very difficult to see and choose which button to tap and use. There are so many nodes and controls to look at, and can be confusing at times. This is especially true if you are still new or if you are still learning.
Thankfully, Edjing Mix makes it much easier for you to understand, locate, and access these tools with its intuitive design and interface. You can immediately apply effects to your songs while using the other essential features.
Everything about this app is all about making sure you are comfortable.
Discover How You Can Integrate Your Mixfader With the Edjing Mix App
DJing entails a lot of equipment which means you need an app that is compatible with a lot of different hardware.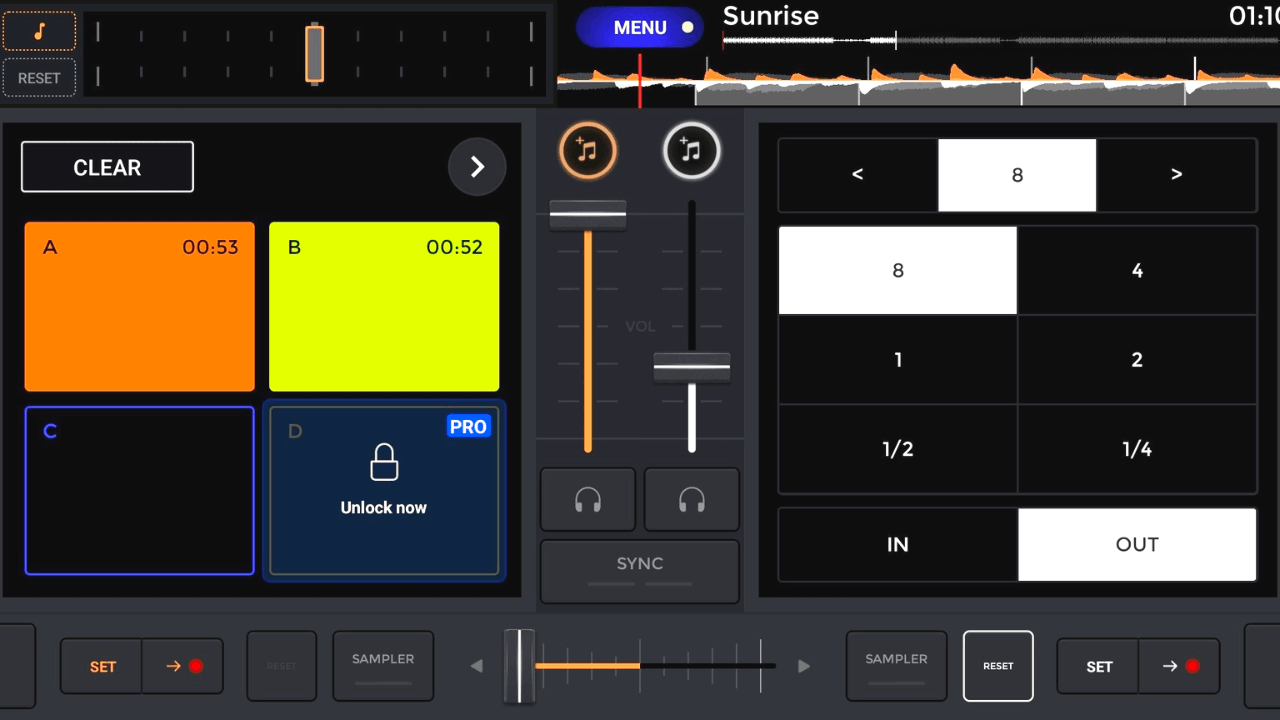 Mixfader is one of the most popular faders, which is very compatible with the Edjing Mix app. It only requires a Bluetooth connection and your phone.
Furthermore, the app is compatible with almost all hardware that many DJs all over the world use for their music.
It is also compatible with many time-coded and standard audio vinyl and has MIDI controller support as well.
Benefits of Using the Edjing Mix App
Now that you've learned the features of the app, there are a lot of benefits to using Edjing Mix. The app allows you to create your own style. With its millions of tracks and free samples, you can find your voice and style.
It gives you access to both your online and local playlists, so you don't have to download every song that you want to use. Its wide collection of music gives you a unique tone, therefore, making you stand out.
The app is compatible with almost everything, hence you don't need to use any other equipment to make music.
Conclusion
Designed by many professional DJs, Edjing Mix allows you to learn more about music by making it accessible to everyone. Start mixing and remixing music as you see fit by using the Edjing Mix app. Enjoy one of the most comprehensive music apps of all time with Edjing Mix.
The app is currently available to download from the Google Play Store and the Apple App Store.