Many people might think that being a DJ is an easy profession. What they do not know is that it is a very complex and layered job that you need to master. This is why Edjing Mix is a great app to help you develop those skills.
Edjing Mix is an innovative and powerful music-mixing app that allows users to become professional DJs on the go. With this app, users can access a massive library of music from some of the most popular streaming services and create their own unique mixes with ease.
From adding sound effects to creating transitions, Edjing Mix has all the tools necessary to create amazing DJ sets. Learn how to use this music DJ app with the article down below.
Create Unique Mixes with the Edjing Mixer App
Check Out These Must-Have DJ Tools
Become a Pro DJ with the DJ Master Class Feature
Unlock Even More Exclusive Features and Content with the Pro Subscription
Create Unique Mixes with the Edjing Mixer App
Edjing Mix is an excellent choice for both amateur DJs who want to learn more about DJing as well as professional DJs who need powerful tools for creating unique mixes.
The app has a wide range of features, including the ability to mix tracks from various sources, such as SoundCloud, Deezer, Spotify, and your personal library. It also offers a range of effects and sound processing tools for creating unique sounds.
Edjing Mix has an intuitive user interface that is easy to navigate, with a virtual turntable at the center of the screen. It also provides access to over 50 million tracks from various sources, allowing users to search for specific songs or genres.
The app also allows users to record their mixes in real-time or save them for later playback. In addition, Edjing Mix offers an array of advanced features such as AutoMix mode, Loops, Hot Cues, Sampler, FXs, and many other features.
Discover How to Use Edjing Mix
Using the Edjing Mix app is simple and intuitive. Upon opening the app, you will be able to choose between two different options – either create a mix or play one of your own tracks.
To create a mix, select the first option and then select which type of track you would like to use to create your mix, from either the either Free or Premium selections. Once you have chosen your track type, you will be able to select from a wide range of music genres, including hip-hop, EDM, trap, and more.
When you have found a suitable track, press "Play" and start mixing it with other tracks by using various tools such as loops, filters, and effects available in the app. If you are satisfied with your mix, save it on your device or share it with friends via social media platforms such as Facebook or Twitter directly from within the app.
Check Out These Must-Have DJ Tools
You'll need a lot of tools to create the best mixes possible. The Edjing Mix app is one of the most popular DJ apps available, and it has plenty of great DJ tools to help you create amazing mixes.
For example, the Crossfader tool allows you to smoothly transition from one track to another by adjusting the balance between two tracks. It also enables you to quickly switch between tracks and create interesting sound effects.
The Edjing Mix app comes with a wide variety of sound effects that allow you to customize your mix and make it stand out from the rest. The equalizer lets you fine-tune your mix by adjusting the frequency levels of each track in your mix.
The app has a huge library of samples that you can use to add some extra flavor to your mixes. Looper allows you to loop sections of a track so that they repeat continuously throughout your mix. This is great for creating intros, outros, transitions, or just adding some extra energy to your mix overall.
Dive Deep into Music with Endless Music Library
The Edjing Mix app boasts an impressive and ever-growing music library with over 50 million tracks at your fingertips. This library is constantly being updated with new releases from all genres of music, ensuring that you always have access to the latest and greatest tunes. With such a vast selection, you're sure to find something that fits your taste.
The app also allows you to create your own playlists and mix them with ease. You can even use powerful filters and effects to refine your sound and make it unique. Additionally, the app has an amazing cloud feature that allows you to store your mixes online and share them with friends.
The Edjing Mix app is truly a one-stop shop for all of your DJ needs. With its endless music library, powerful mixing capabilities, and convenient cloud storage option, it's no wonder why this app is so popular among DJs of all levels.
Become a Pro DJ with the DJ Master Class Feature
The Edjing Mix app is an amazing tool for aspiring DJs. It allows users to learn the basics of DJing, as well as advanced techniques, all in one place.
The app has a comprehensive master class that teaches users how to mix music, create unique sounds and effects, and use the app's various features. The master class starts with a tutorial on the basics of DJing. This includes an introduction to the different types of equipment and tools used in DJing, as well as terminology and techniques.
The tutorial also covers topics such as beat matching, mixing songs, and creating soundscapes. Once users have mastered the basics of DJing, they can move on to more advanced topics such as using effects and plugins, creating transitions between songs, and using samples.
Lastly, users can learn how to use various features of the Edjing Mix app such as auto-mixing and looping.
Discover the Different Hardware Integration Capabilities
The Edjing Mix app is a powerful and popular DJ app that allows users to mix, scratch, and remix their favorite music. One of its best features is its hardware integration capabilities. Users can connect their compatible DJ controllers or turntables to the app for an even more immersive experience.
With Edjing Mix's hardware integration capabilities, users can take advantage of features like cue points, filters, effects, and more. DJs can use their controllers or turntables to access all of these features while they mix. This makes it easier to create unique sounds and mixes that would otherwise be difficult with just a laptop or smartphone.
Edjing Mix also offers a wide range of customization options for both hardware and software. They can also customize the software by creating custom sound banks and effects. This allows DJs to create unique mixes that are tailored to their own personal style and preferences.
Unlock Even More Exclusive Features and Content with the Pro Subscription
The Edjing Mix app offers a Pro subscription for users who want to access all its features and content. The Pro subscription includes exclusive access to premium sound packs, unlimited access to the entire music library, and the ability to customize sound effects.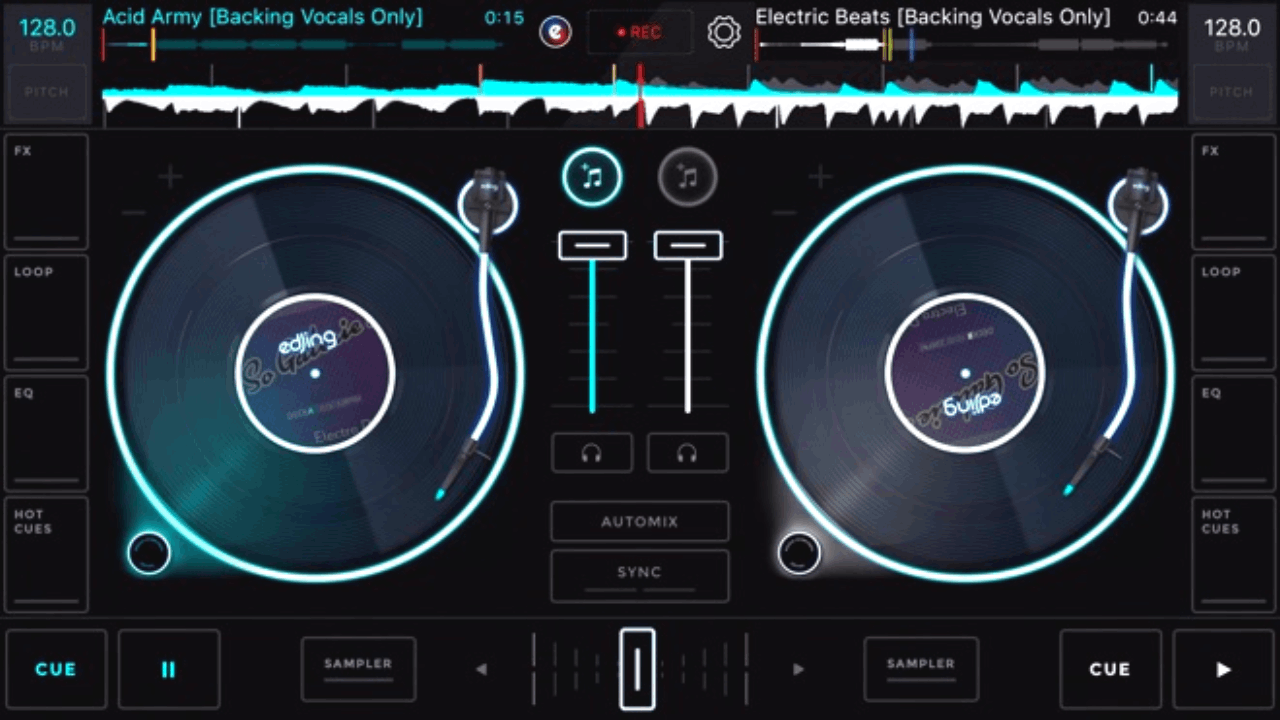 It also gives users access to advanced editing tools such as pitch shifting, time stretching, and audio filters. Additionally, users can save their mixes and share them with friends on social media.
The Pro subscription also offers unlimited recording time, allowing users to create their own tracks without worrying about time constraints. It is a great way for serious DJs and producers to get the most out of the Edjing Mix app.
If you plan on canceling the subscription, make sure that you manually turn it off in the settings before the renewal date. You can continue to use the exclusive features before the date.
Learn How to Download the App
Downloading the Edjing Mix app is a fairly straightforward process. You can download the app from the Apple App Store for iOS devices. Search for the name of the app and tap "Install" to begin downloading the app.
Depending on your device, you may have to confirm your download with a few extra steps like entering your password or confirming a payment method. Once the download is complete, you can open the Edjing Mix app and start mixing music right away.
You will be asked to create an account either through Facebook or email before you can begin using it. After that, you can access all of its features like creating playlists, mixing songs together, and more.
Conclusion
The Edjing Mix app is an incredibly powerful and versatile music-mixing tool that provides users with a wide range of features to create professional-sounding mixes. It is easy to use and has an intuitive user interface that makes it accessible to all levels of users.
With its ability to mix multiple tracks, apply effects, and customize sound settings, Edjing Mix allows users to create unique mixes that stand out from the crowd.