Having moved to an English-speaking country in my teenage years, I was always conscious of my accent and speech.
English is not my native language. But as a child of immigrant parents who had to work two jobs to keep us afloat, I did not have the privilege of taking classes to improve my speech.
That is why I was so happy to find the English Language Speech Assistant (ELSA) app. With just my smartphone, ELSA helps me improve my English speaking skills. In this article, you can learn more about this app, my experience with ELSA, and the features that helped me improve me English.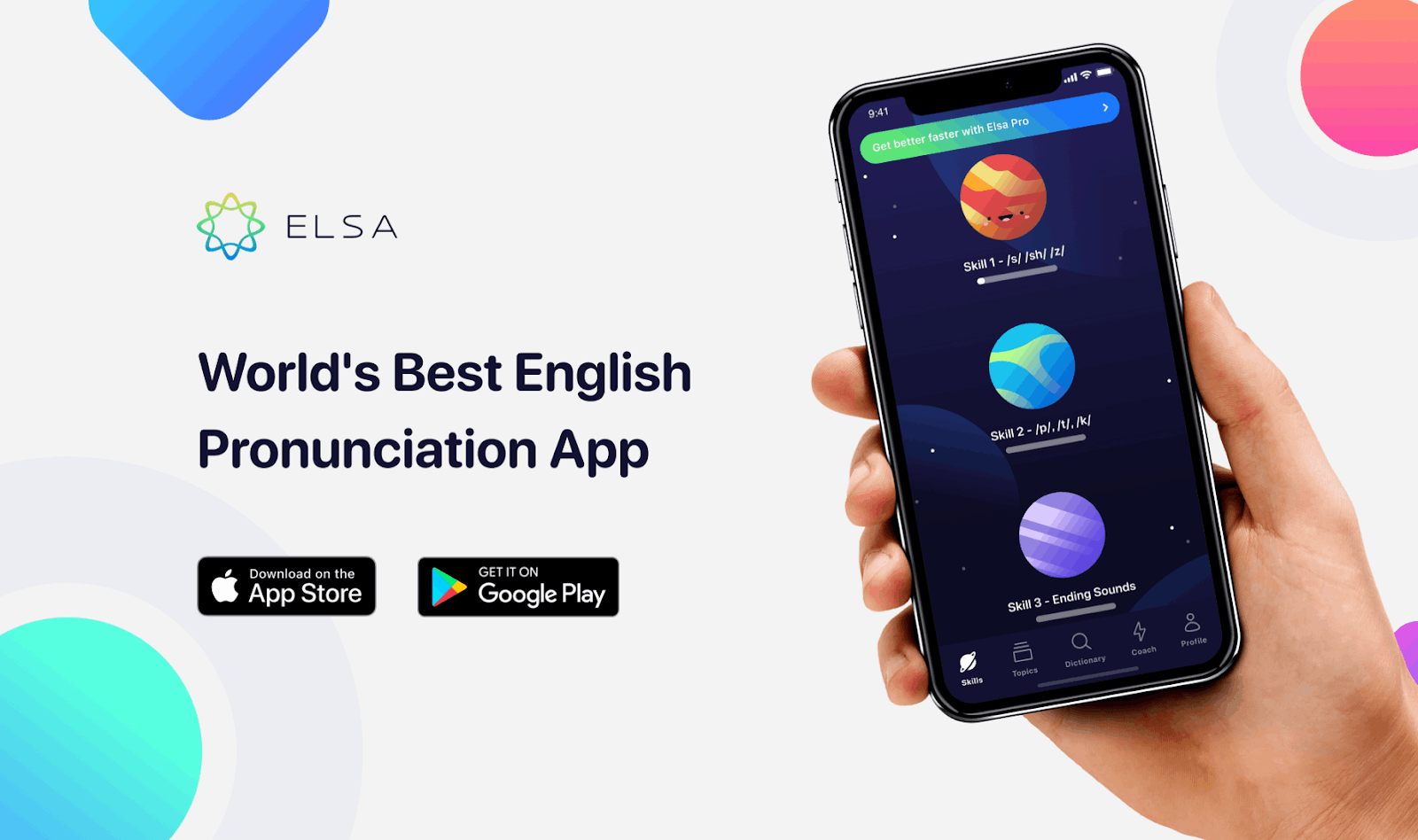 ELSA: Sound Like A Native Speaker
ELSA is the best app that I've used to help me speak English. As a non-native English speaker living in the US, I've always been very conscious of how I spoke English.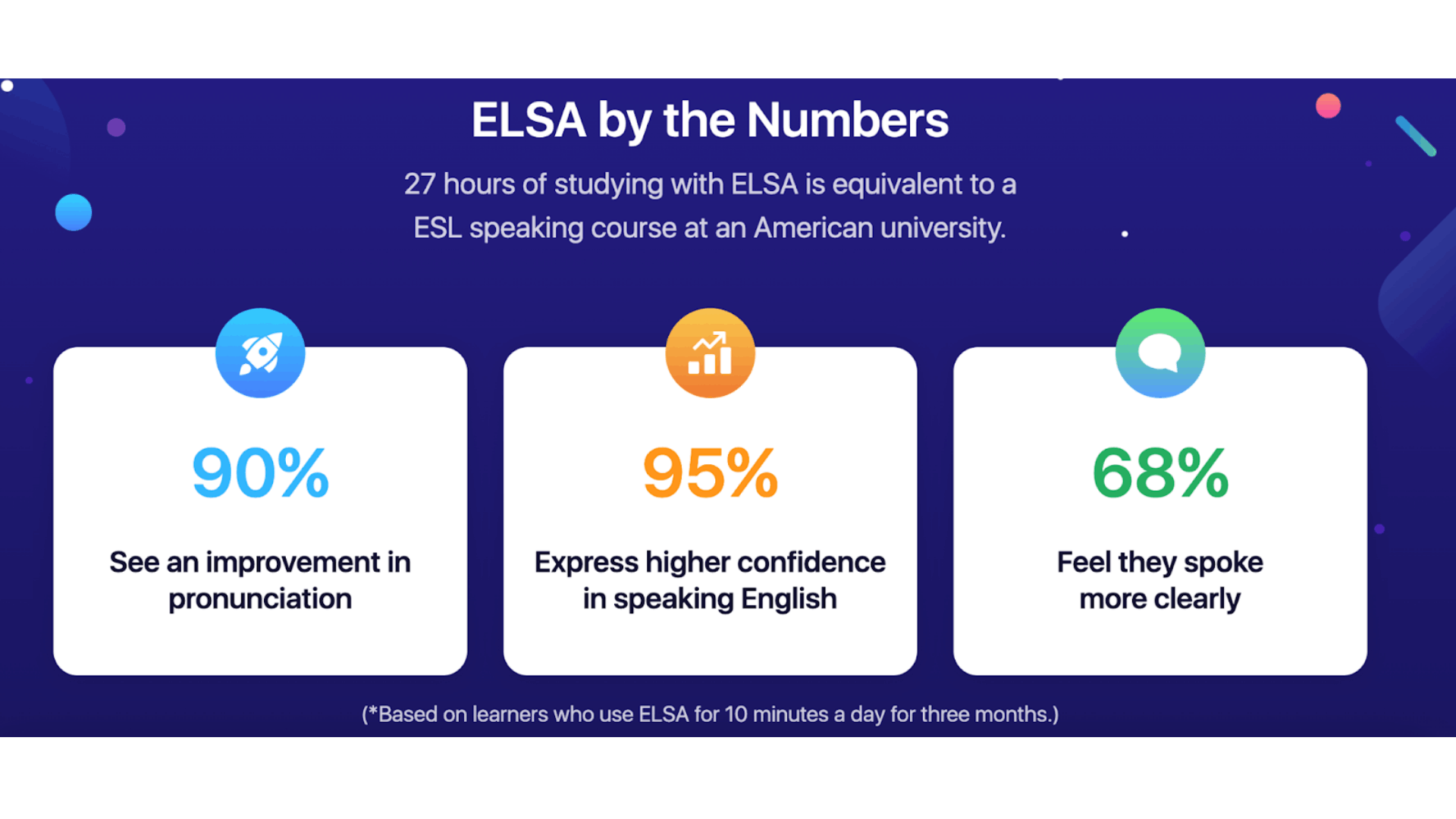 ELSA is an English learning coach who helps users like me stay motivated to speak English. It efficiently uses artificial intelligence to provide real-time speech recognition feedback on fluency and pronunciation.
One of the best things about ELSA is its adaptive learning system and evolving AI model, which allows the app to track my performance and provide feedback based on my performance and progress.
With ELSA, I have access to over 3,000 lessons in conversational English. Unlike other apps that focus on written English, ELSA's lessons are geared towards practical and conversational English that does not sound awkward.
Also read: LingoDeer – Learn New Languages with This App
How it Works
ELSA's AI was developed using voice data of English speakers with various accents. With this, the app is able to recognize a variety of speech patterns, including non-native speakers. This is the first app in the market to do so.
The app's AI coach pays attention to my progress and provides personalized feedback on my progress. Moreover, ELSA is not a stagnant piece of technology — it gets smarter each day I use it, making it the perfect coach for people with evolving and improving English skills.
Twenty-seven hours of hard work and dedication using the app is equivalent to an English as a Second Language (ESL) course at an American University. This was a huge relief to me because I could not afford to take English classes through a school.
Getting Started With the App
ELSA is available to download for free from the Google Play Store. It has over 10 million downloads and has an impressive 4.6-star rating out of 300,000 user ratings on the platform.
After downloading the application, the app asks several questions to personalize my experience. First, I was asked to identify my native language or mother tongue to help the app provide accurate feedback.
I was also asked why I was practicing English. Some of the options for these questions include practicing for job opportunities, education, travel, living and working abroad, or culture and entertainment.
Setting My Profile
I was also asked about my perceived English proficiency between Beginner, Intermediate, and Advanced.
Next, the app asked me to define my practice goal from options like Casual Practice, Standard Practice, or Serious Practice. These depend on the amount of time I'm willing to spend practicing each day.
Lastly, I had to schedule my practice time, which I found helpful in the following days. An alarm or reminder from the app has been really helpful in helping me to stick to my schedule.
Also read: Learn the Right Way to Use Apps to Learn Languages
My ELSA Score
I love taking the ELSA test to take a look at my proficiency level. When I first started using the app, I got a really low score on the proficiency test. The ELSA score shows me how I'm progressing, so I always look forward to taking the test from time to time.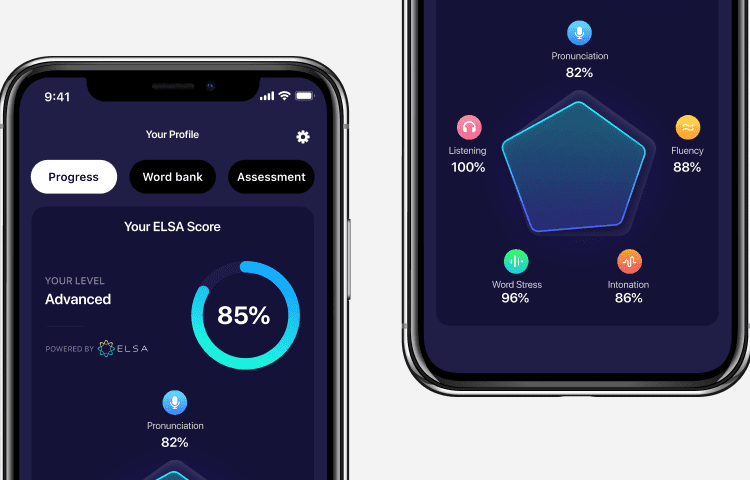 My ELSA score shows details such as my overall proficiency level, as well as a percentage in the three areas of speech: Intonation, Fluency, and Pronunciation. I am also given an IELTS Speaking Score Predictor, which tells me my predicted grade in the IELTS speaking test.
There is also a more detailed breakdown of my competencies in English sounds, which really helps me identify the areas in which I need more practice. The specific list includes diphthongs, R, consonant clusters, nasals, ending, schwa, and TH sounds.
The detailed report can be accessed anytime under the Profile tab, which is located at the lower rightmost portion of my screen.
The Proficiency Test
The Proficiency Test consists of 16 sentences to be read out loud. It takes 5 to 10 minutes, depending on your proficiency. What I like about it is that I am able to review the phrases and hear the correct pronunciation, stress, and tone.
Moreover, the app records every sentence I speak, which makes it easy for me to compare my pronunciation with the correct and prescribed format.
All I have to do is press the speaker icon to hear the correct one and then press the ear icon to listen to my own pronunciation.
The Learning Plan
Based on my proficiency test result, the app generates a learning plan for me. There are a total of 23 skills that can be mastered, each with a corresponding set of lessons that I can complete.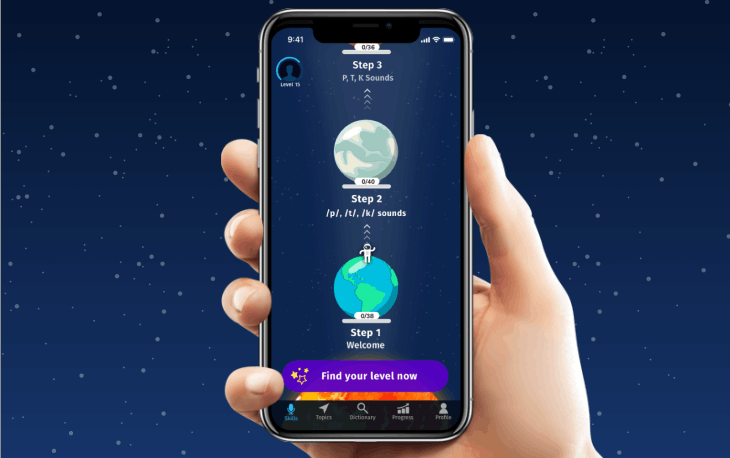 Under the first skill are two main lessons with 18 sub-lessons divided into three levels. At first, I was a bit overwhelmed with how many lessons I had to take, but the lessons were really fun, and I learned a lot.
Moreover, the lessons come in bite-sized pieces, so they are really easy to complete and understand. I like how each lesson is made up of around 10 words, phrases, or sentences, so I can easily progress with other lessons.
Comprehensive Lessons
I like the learning plan because it provides categories of situations where I will most likely use English such as when ordering food, using everyday expressions, shopping, or commuting.
The lesson plan will zero in on the specific skill set that I have to work on (TH sound, diphthong, etc). Some skills include links to Youtube videos and other resources.
Also read: See the Most Downloaded App to Learn New Languages
Speak With Study Sets
Study sets are related to the learning plan, which can be found when I press the magnifying glass icon at the bottom of my screen. Here, I have access to the dictionary and can look up any phrase to check my pronunciation.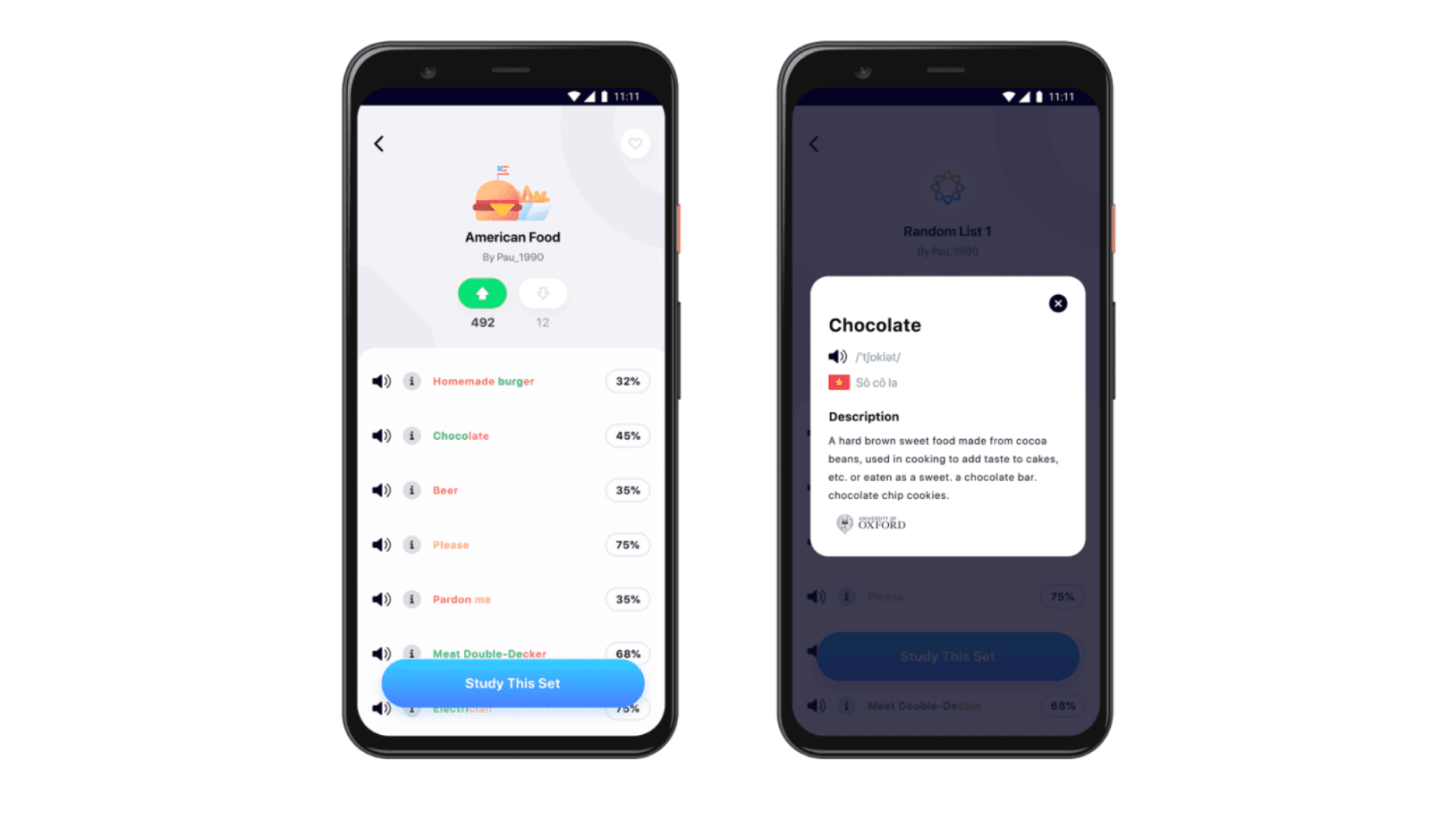 Study sets mainly consist of words. To do this, all I have to do is search for the word I want to include. I create study sets and use them as my personal guide in learning words and phrases.
I can also explore and study the study sets created by other ELSA users. In addition, I can create my own study set, save them, and go back to these materials when I need to.
Public Study Sets
I can make my study sets public to all or set them to private. I've learned a lot from public study sets and resources shared by other users in the community, so I also try to give back by making my study sets public for other users to study.
There are featured study sets that appear daily. I can also bookmark or save those study sets so I can easily access them in the future.
Also read: Beelinguapp – Study New Languages with this App
Practicing With ELSA
ELSA's interface is easy to use. Its visuals and interface really provide a comprehensive overview of the daily targets for training. It also gives me a daily rating and tells me how much like a native English speaker I sound every training day.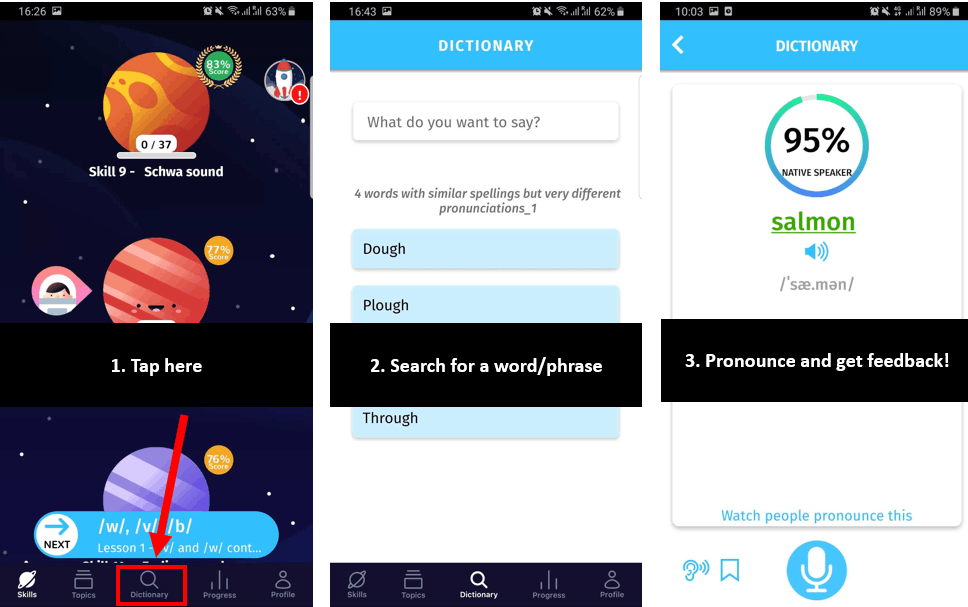 After each day of training, I am given stars for my progress. Lessons are also named appropriately, which is a great feature for me because just by reading the lesson title, I know exactly what I will be learning.
Moreover, the lessons are also very informative and practical. If I need help, I can always ask ELSA to provide me with personal help from a real native English speaker, so I can hear how words and sentences are correctly pronounced.
An Overall Motivating Application
ELSA has really helped with my motivation to learn to speak like a native English speaker.
Its rewards, gamification of the process, and even provides encouraging notes in between practices and exercises make me feel like I am not alone in my journey.
Conclusion
Technologies such as ELSA have made learning English accessible to all, especially to those who cannot afford to take classes or those who lack the time. What's more, ELSA can be accessed right through our smartphones, so it is a really great alternative to in-person classes in universities.
I can attest to the positive effect that ELSA had brought to my life. Because of this app, I am more confident in communicating with others. Learning languages does not have to be boring or exhausting.