With the boom of the internet and mobile technology, instant messaging has reached a new level of telecommunications and effectively taken the top spot for communication in the modern world.
Due to tight competition, these platforms are racing to include more functionalities to their services, such as multimedia messages, group chats, video calls, and even teleconferencing. Read on to find out which apps are the best free platforms for instant messaging.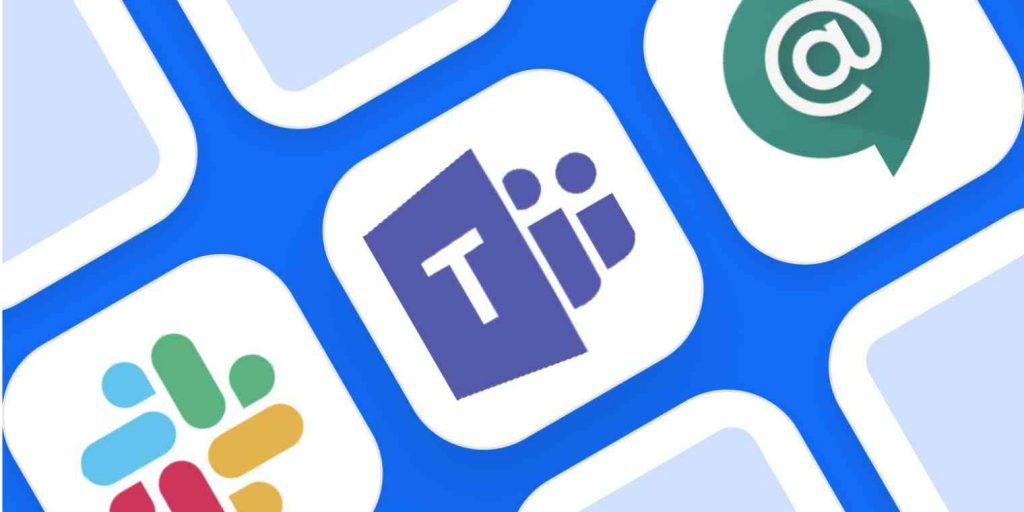 About Instant Messaging
Instant messaging refers to a set of communication technologies used for text-based communication between two or more participants, usually over the internet. It is a type of online chat that provides real-time text transmission.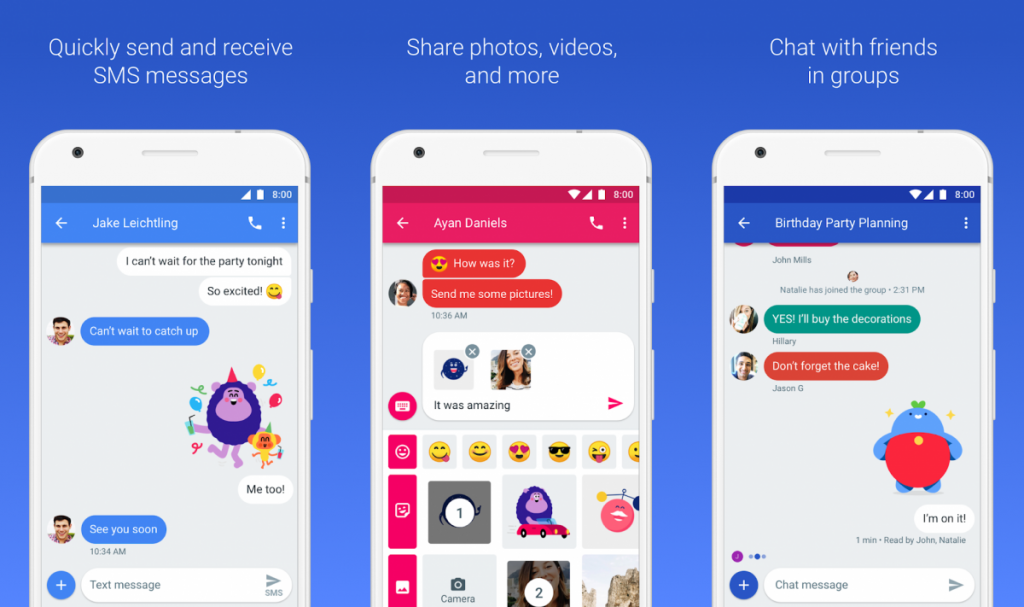 Some instant messaging apps utilize push technology, allowing the transmission of messages character by character while the sender composes it.
Most available instant messaging platforms nowadays also have added features, including the ability to transfer files, send clickable hyperlinks, as well as video chat functions.
Instant messaging is considered a more effective and efficient form of communication due to the ability of message recipients to acknowledge receipt or to reply immediately. The technology's popularity further increased with added features like free phone calling or video chatting.
The History of Instant Messaging Platforms
While the term "instant messaging" only became widely used in the 1990s, its concept has been around since the 1960s through multi-user operating systems, such as the MIT's Compatible Time-Sharing System (CTSS). However, the market only caught pace when Mirabilis launched the text-based messenger ICQ in 1996.
Other companies followed suit, including AOL and its AIM in 1997, Yahoo's Yahoo! Messenger in 1998, and Microsoft's MSN Messenger in 1999. In the 2000s, Jabber, Apple's iChat, Skype, and Meebo emerged.
When the social media platforms started to expand, they also began to add instant messaging features. In 2005 MySpace added MySpaceIM. Facebook launched Facebook Chat in 2008, added video chat in 2011, and introduced the Facebook Messenger on its mobile app.
Slack – The Leading Business Messaging App
Slack is one of the most popular instant messaging platforms, particularly among businesses. It can be used on any operating system, whether you are using Windows, iOS, Android, or Mac OS. Once you've created an account, you can create one or more teams depending on your needs.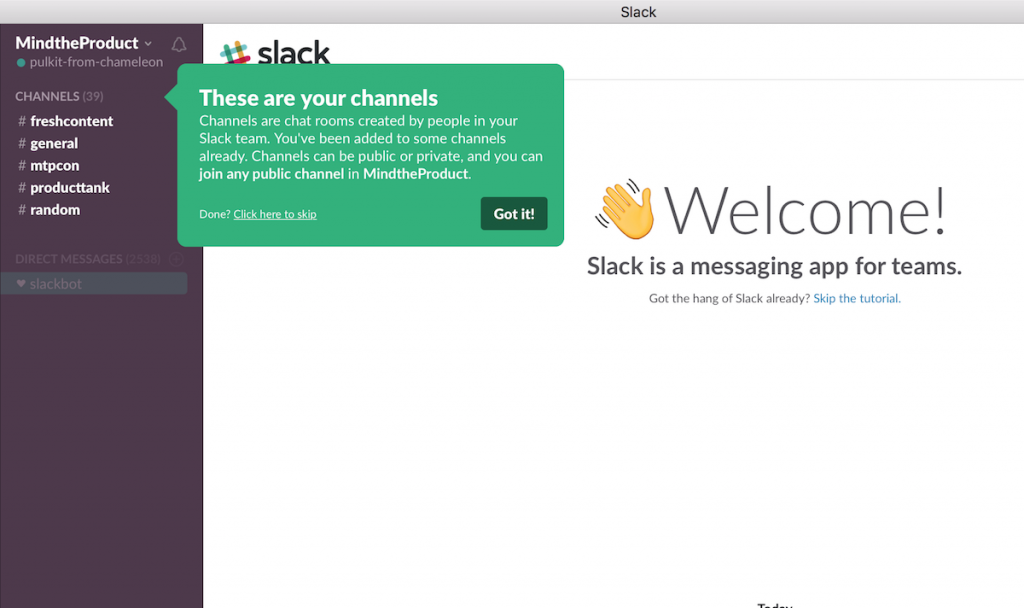 There are two channels that you can use in Slack: public and private. In public channels, all members of your team can see the messages and send messages. On the other hand, only the team creator can select those who can see the messages in the private channel.
With Slack, you will not miss any message because you may still receive notifications even when you log out. You will be informed by email if you have new messages.
Another interesting thing is that it can sync multiple devices with a single account that you have logged into.
Features, Paid plans, and How to Download Slack
Slack, available on desktop and mobile devices, boasts of numerous features, including the ability to share files, create group chats, and transferring data securely. It also has the usual audio and video capabilities, as well as an internal search function.
While Slack has a free option, you can choose from two tiers of paid plans, namely the Standard plan which costs $8 per person per month or $80 per year, and the Plus plan that costs $15 per user per month or $150 annually.
You can download the Slack app for mobile phones by visiting the Google Play Store or the Apple App Store.
Building a Collaborative Workspace with Microsoft Teams
Microsoft Teams is referred to as a business communication platform built by Microsoft as part of its Office 365 line of subscription services. Often pitted against Slack, the Teams platform offers similar services, such as workspace messaging, video conferencing, file storage, and application integration.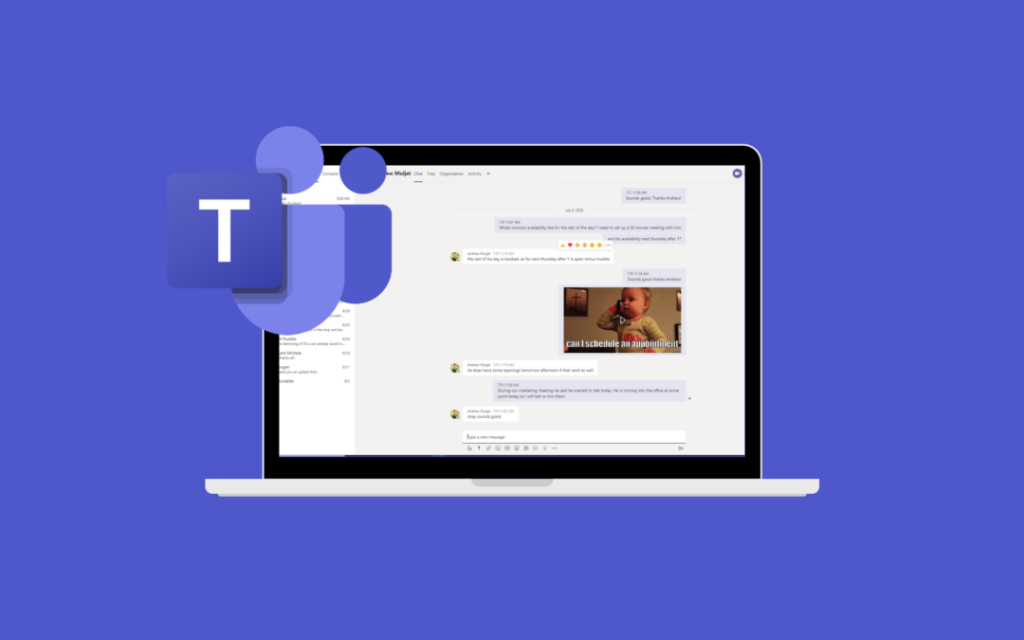 Microsoft Teams was a product of an internal hackathon held at the company headquarters and was launched in March 2017. According to Microsoft, Teams users surged to 75 million at the height of the pandemic in April 2020 and the company called it the fastest growing business app in its history.
It serves as a collaborative workspace where employees and their Microsoft 365 apps can be interconnected similar to an open office space. Teams can be used via the desktop app, web browser, and its mobile app. It is compatible with all major operating systems, including Windows, macOS, iOS, and Android.
Microsoft Teams' Features
Through Chats, Teams users don't need to check the whole conversation history as users may mark certain messages as urgent or important. It also allows file sharing and group calls. Google Teams is used to set up actual teams that users may join. 
Under these teams, members can create specific channels that focus on certain topics of conversation. You can also send direct messages to specific persons within the channel. You can download the Microsoft Teams app from the Microsoft website.
Improving Internal Communication with
Workplace from F
acebook
In most cases, using Facebook at work is prohibited by employers as the social media platform may cause some employees to be distracted from doing their jobs and becoming unproductive. However, Workplace from Facebook does the opposite and actually makes workers communicate more and work together.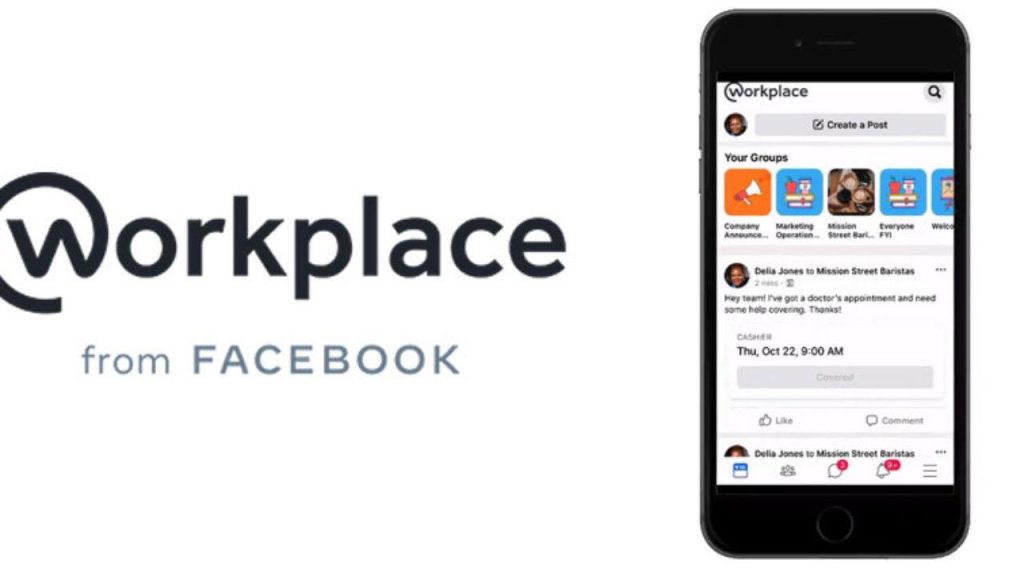 Workplace from Facebook is an online collaborative software that facilitates instant messaging, online group work, video conferencing, and news sharing. It serves as a private version of the social media platform, which companies use to tailor-fit a network that addresses their needs.
Similar to regular Facebook, Workplace features Live Video, News Feed, Groups, Messenger, Reactions, Search, and Trending Posts.
However, unlike the regular platform, it offers a dashboard with analytics, integration, single sign-on, and identity providers for integrating existing IT systems into Workplace.
Subscription Plans
There are two types of subscriptions for Workplace from Facebook. Workplace Advanced costs $4 per person per month while Workplace Enterprise costs $8 per person per month.
Those who want to test the service first may opt for the 30-day free trial of Workplace Advanced.
Android users can visit the Google Play Store to download the app, and iOS users can find the app on the App Store.
Streamlining Team Communication with Zoho Cliq
If you and your company are trying to cut costs but need an instant messaging service for your business, the Zoho Cliq may be the option for you. Zoho, a software developer known for its high-quality, cloud-based solutions, created the Zoho Cliq as a rival to Slack and Microsoft Teams but with a lower cost in mind.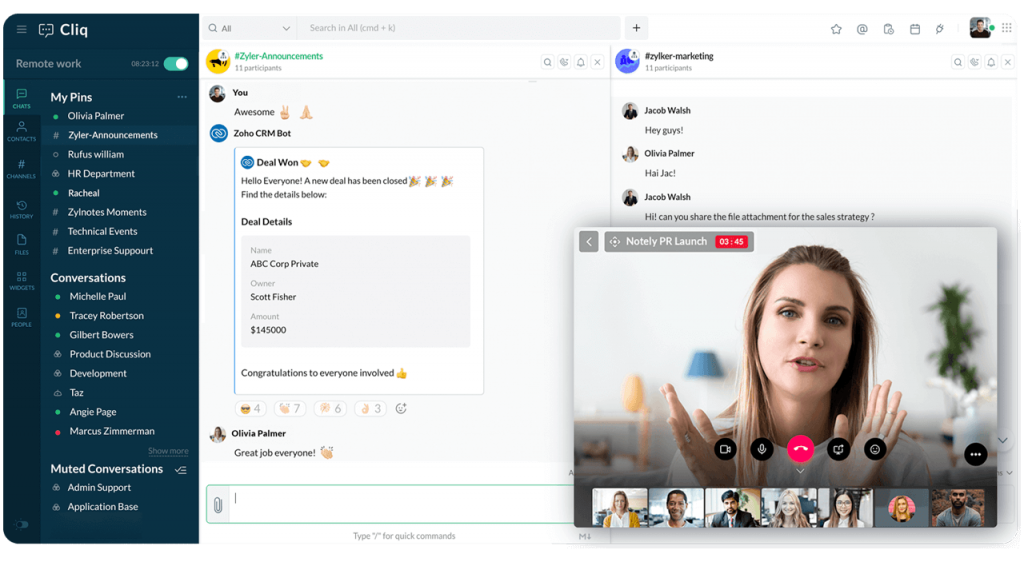 It offers some of the best features that its more expensive competition offers, including team messaging, setting up channels, and app integration but also boasts of a unique feature that allows you to view multiple channels in one window and to track conversations through forking.
The Zoho Cliq also supports features such as unlimited video and audio calls, as well as screen sharing.
If you have the appropriate permission level, you can use the PrimeTime tool to host a one-way video stream to conduct town hall meetings, presentations, and announcements.
Pricing and Plans
As mentioned before, Zoho Cliq presents itself as a less costly alternative for business instant messaging. It is free to use but with some limitations, such as only the most recent 10,000 messages are searchable and a 100 GB storage limit for teams for uploads.
The paid version called Unlimited offers everything that the free subscription has without the limitations, as well as additional perks such as individual 100 GB storage and custom domains. 
Zoho Cliq for mobile can be found on the Apple App Store and the Google Play Store.
Aligning Teams with Flock
Flock is a messaging and collaboration tool that has apps for all major platforms, including Android, iOS, Linux, macOS, and Windows. It can also be accessed through a web app or Google Chrome extension.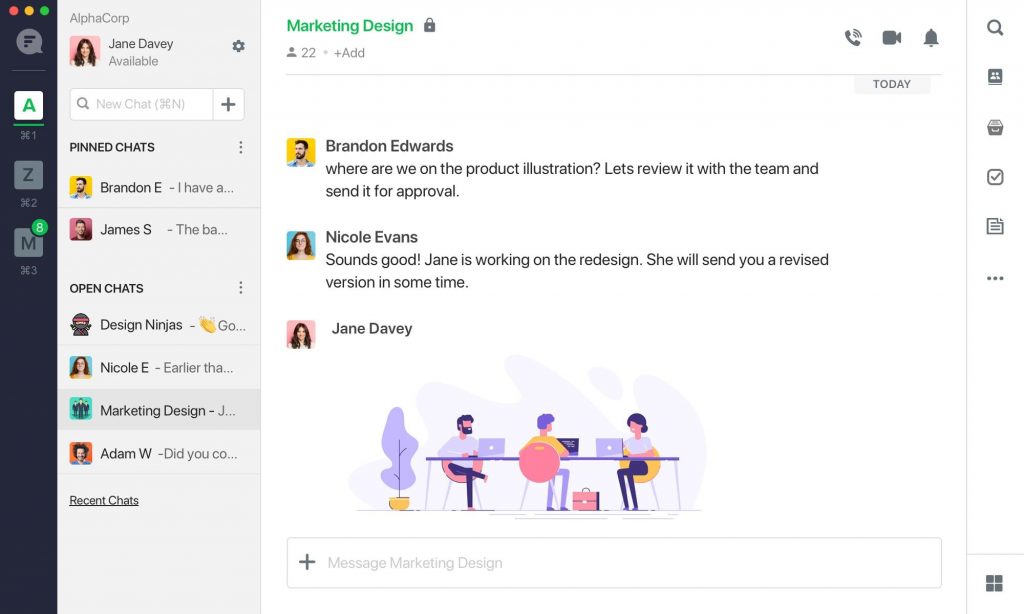 It offers features, such as direct & channel messaging, video conferencing, screen and file sharing, and unlimited chat history. A business using Flock may create multiple teams and channels may be private and public.
The business apps integrated with Flock are the Poll app, Shared To-Dos, Reminders, Note sharing, My Favourites, Mailcast, and Code snippet sharing.
Flock Subscriptions
Flock offers the Starter plan free of charge for teams with 20 or fewer members but is limited to a total of 5 GB of storage per team, 10 public channels, and a single team admin.
Its Pro plan for teams with more than 20 but less than 100 members costs $4.50 per user per month. Larger teams would have to consult with the company to receive a customized quote for its Enterprise plan.
You can download Flock from the Google Play Store, and on the Apple App Store.
The Bottom Line
Instant messaging has come a long way from the simple text-based communication platforms they once were. With the variety of offerings available in the market, you can choose which one to use, depending on you and your organization's needs.
Whether you choose the free plans or invest money for the premium ones, the important thing is that you maximize their features to improve communication within your organization and raise the efficiency and effectiveness of your employees.