Are your typical basketball training sessions getting boring? I had the same problem until I discovered the HomeCourt app. It is a free, interactive basketball app that helps me better my game.
It's my personal basketball trainer that's always with me. It captures my performance, stats, and my progress and, like a real coach, guides me to the next level of playing.
If you want to give your basketball practice sessions a new life, read on. I'll share my experience and more details regarding the app with you.
About the HomeCourt App
How I Benefit from the App
Greatest Features
Easy Set-Up
Downloading and Pricing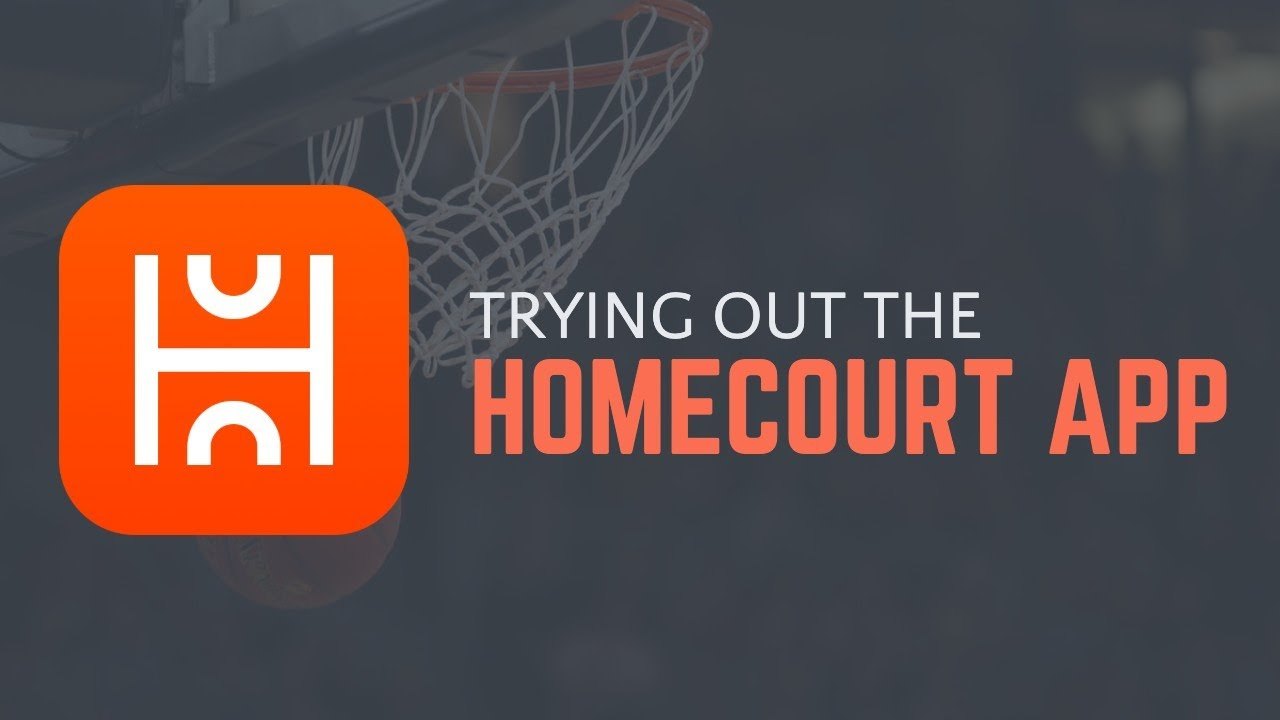 About the HomeCourt App
HomeCourt is a practical, user-friendly app that combines smart computer vision algorithms and augmented reality to help hone basketball skills. With this combined technology it is a great basketball training tool to use with my iPhone or iPad.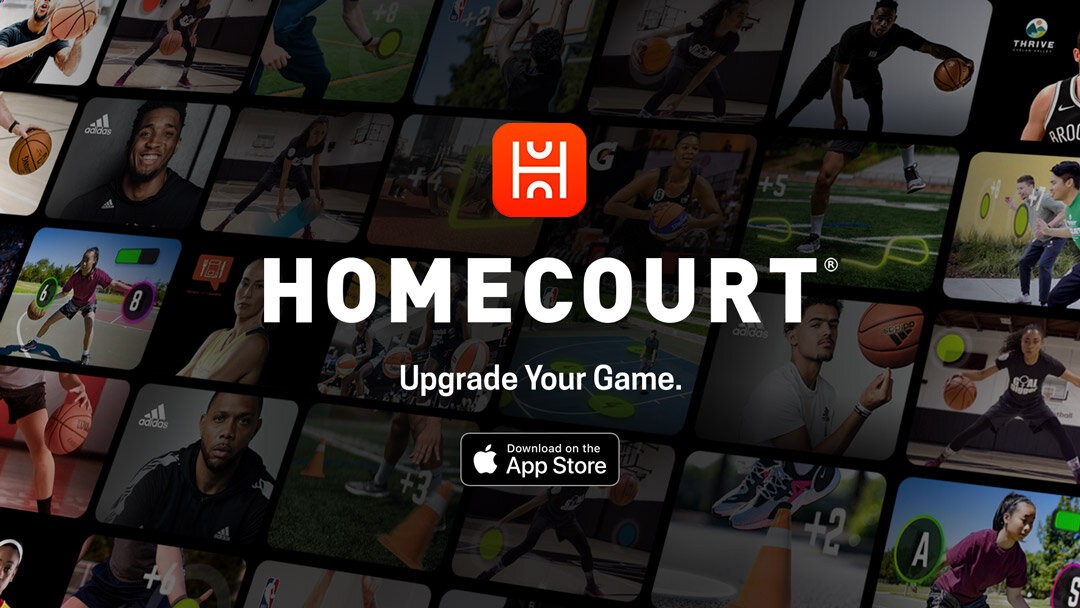 The HomeCourt app captures all my moves and stats while I'm training. It shows me my true skill level. To be honest, when I started with the app I was shocked – I thought I was better!
The app uses the camera on my iPhone or iPad to track my play and performance in real-time. It captures everything, like my jump shots and my crossovers. The data and analytics displayed afterward help me to see exactly what happened on the court.
Video Game Feel
HomeCourt feels more like a video game than training. It is a live-action experience, with virtual targets, bonus levels, points and badges, and audio cues.
I'm finding the use of the app exciting and I'm not bored anymore during practice sessions.
I also stick to my practice routine more now that I've been training with the app.
How I Benefit from the App
The app tracks all my basketball shots on a standard basketball court, and it gives me information on how many shots I've attempted, how many I've made by getting the ball through the hoop, and from where I've tried to make the shots on the court.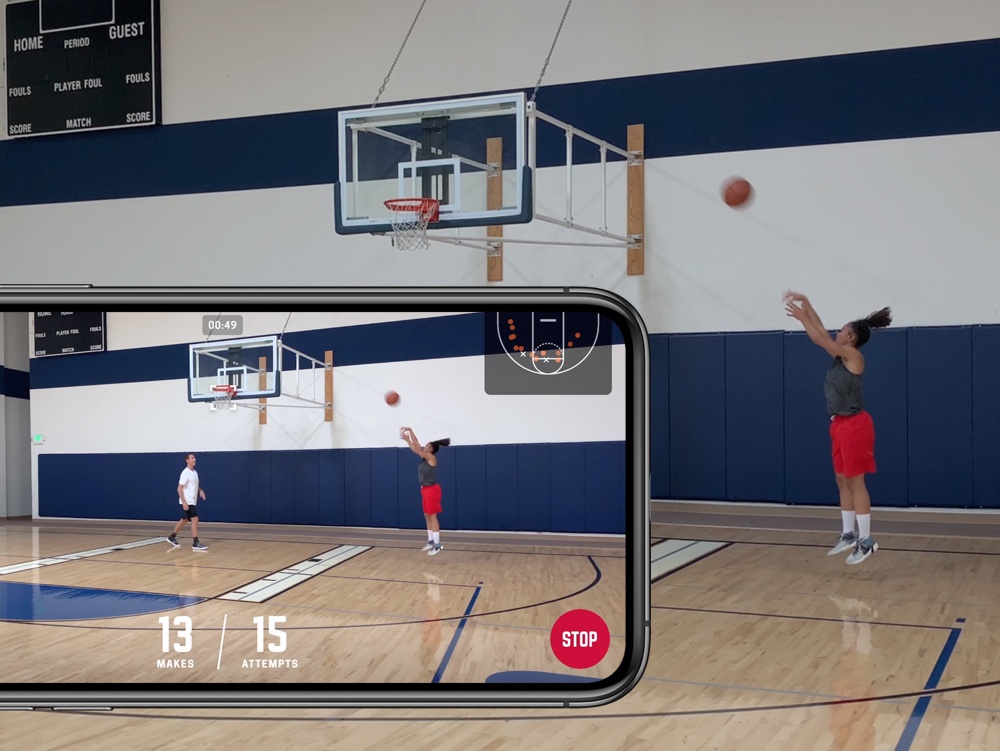 I then get analytic feedback, amongst other aspects including my release time, shot types, speed, and leg angle.
This feedback is given in real-time and is stored so that I can look at it again at a later stage.
Since I've been using the app my skills have drastically improved, especially my shooting skills.
Test Skills Against Others
Apart from the individual skill training and feedback on my practice sessions the app offers, it allows me to compete virtually with my teammates and friends. I can join the HomeCourt virtual team or create my own team for free.
I can also change to "Battle Mode." In this mode, I challenge a friend or teammate to any HomeCourt activity. As I compete in Battles, I collect coins, trophies, and badges just like in a video game. I level up with my friends.
If I take part in the app's showcase activities I might even be discovered by the NBA. I have to opt-in to NBA Global Scout to be eligible to receive invitations to select NBA camps, try-outs, and tournaments.
Greatest Features
One of the greatest features of the HomeCourt app is that it is an official partner of the NBA. This provides me access to the best expertise available. I'm learning from the most elite players in the game today.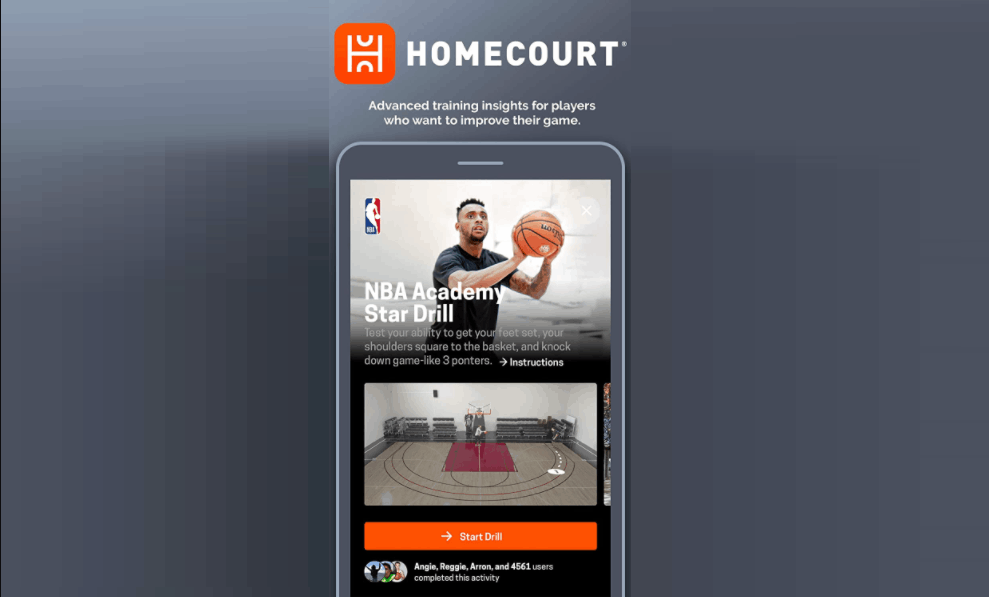 With the app, I get instructions from NBA and WNBA players. The app allows me to train with interactive drills. I find it very exciting to learn the moves of the best players. In interactive challenges, I even compete against them.
The app gives me the opportunity to learn from, and practice with professionals like Sue Bird, a four-time Olympic Gold medalist, Steve Nash, a two-time NBA MVP and Hall of Fame Point Guard, and Al Horford Jr, a five-time NBA All-Star.
Other Features
Another nice feature is that I can replay all my shots and have a visual of how I've performed for each shot. I could also do a slow-motion replay or a zoomed-in of myself doing each shot if I want to analyze my technique.
What's even better is the fact that I can easily track my sessions and witness my progress in real-time. The app also logs how often I do a session and how much time I spent on each aspect of the game.
It is sometimes annoying, but the app sends me a notification when I have not tracked a session!
Easy Set-Up
I don't need special basketballs or expensive equipment, HomeCourt is ready to use anywhere I have my iPhone or iPad. I just set up my device with a clear view of the court and then start my training. Generally, I use my iPhone 6, but sometimes I use my iPad.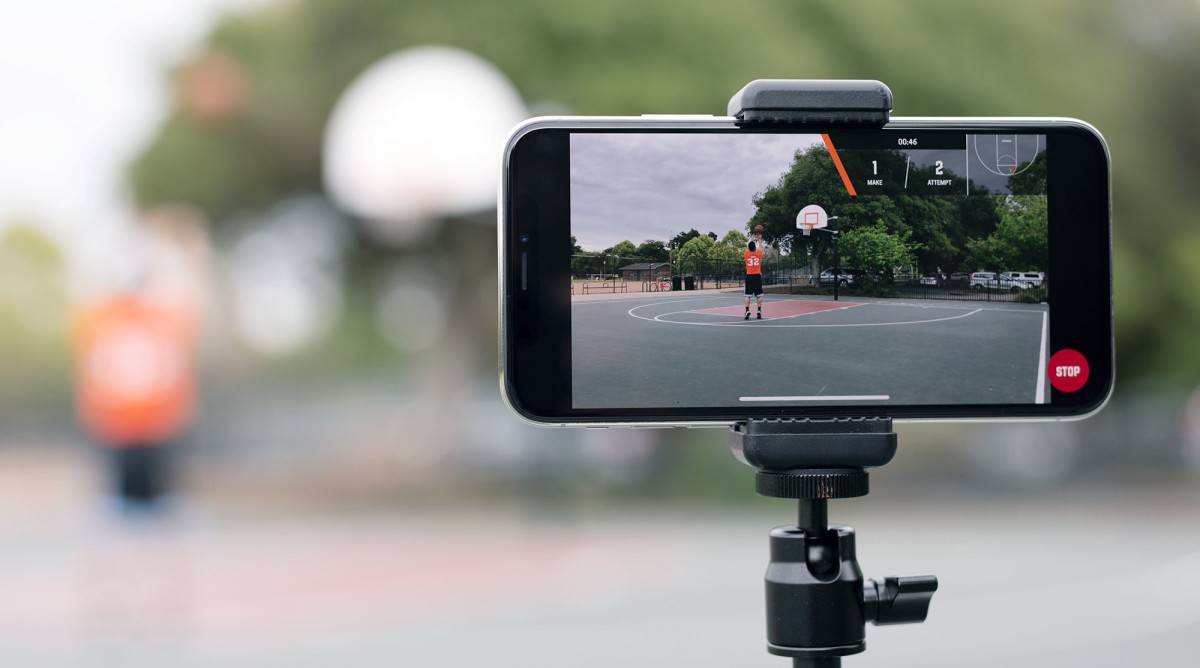 If I want to use an iPad Pro it must be a 2016 model or newer or an iPad 6th Gen or newer. I also mount my iPhone on a five-foot tripod.
I've found that with the tripod on the half-court line my iPhone mounted on top of it gets a clear view of the 3-point line, the hoop, and me shooting the ball. It doesn't take more than five minutes to set up the tripod and iPhone.
Sometimes I use the app with a Bluetooth earphone so I can hear the shot count much better. I can also then get real-time feedback as well.
Starting the Practice Session
Before starting to use the app for my practice session, I have to set up my profile. I must enter my height, position, and gender. Only the height detail is compulsory. Then I select the court type from a variety provided in the app. From "US High School" and "US College" to "FIBA" and "NBA", you can choose the court of your preference.
When I've completed my profile and selected the court type, I mount my iPhone on the tripod in such a way that the back camera faces the basketball court and hoop. Then I tap "Record" on the App and pick the "Shooting Workout."
When I'm satisfied that the iPhone's camera is in the correct position, I hit "Next." This step enables me to make fine adjustments to match the augmented court to the actual court. Then I tap "Start" and I start with my practice. The setup process shouldn't take more than five minutes.
Downloading and Pricing
I started with the free trial which includes unlimited shot tracking, and access to the full library of over 100 drills and activities immediately. To get access to Shot Science and unlimited shot tracking, I've opted to sign up for HomeCourt Pro after the 14-day free trial.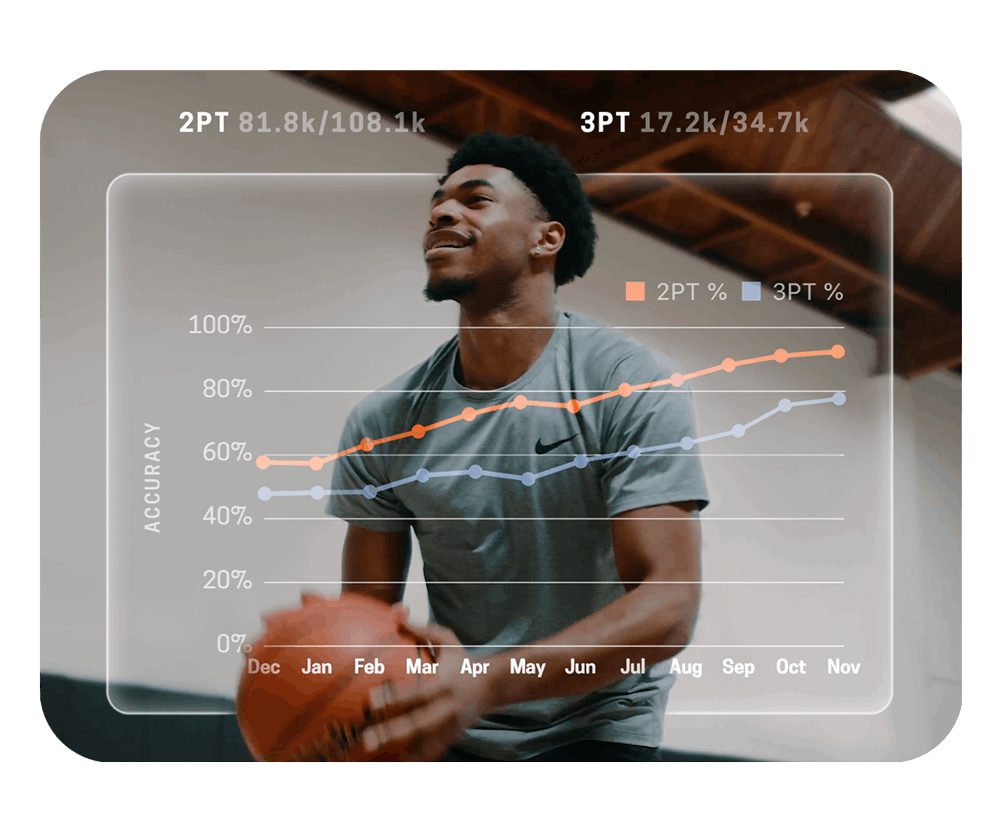 It costs $10.99 per month, but I've signed up for a yearly auto-renewable subscription and received a $35.89 discount. All payments are done through my App Store account, and the subscription automatically renews unless I cancel at least 24 hours before the paying cycle.
You can easily download the app from the Apple App Store for free. Simply search the name 'HomeCourt: Basketball Training' in the search bar of the app store to find the correct app. Once you've located it, select it to go to the app page.
From there, click the 'Get' button to begin installing to your device. Confirm any required permissions during the download process to complete the installation. You can further view the terms of use on the HomeCourt website.
Upgraded Subscription
With the upgraded subscription I can join the members-only training club, and request feedback from the app's professional trainers. But the most important aspect of Shot Science is, to my mind, that it analyzes six different things in each shot.
It analyzes the shot type to advise me what type of shot I still have to work on. It also measures the release time, meaning it measures the time from me catching the ball, picking it up, or dribbling it to when I release the ball. The release angle I follow-through is also measured and commented on.
Shot Science also tracks and comments on my leg angle when I'm shooting, as well as the speed I'm moving into my shot. The sixth aspect I get feedback on is the height I jump when shooting.
Conclusion
This is an app that is widely used by up-and-coming basketball players. But even players already playing at a high level use the app to assist them in honing all the techniques needed to work on during practice sessions.
HomeCourt is a user-friendly and practical app if you are a basketballer who wants a way to track your training and shooting performance. I recommend that you get the 14-day free trial and decide for yourself.