Every one of us goes through difficult adjustments and transitions in life. I always feel the need to be supported, loved, and a part of something grander during those times. It is always helpful to my mental health to be a part of a supportive group.
With her genuineness, love, and delicate healing spirit, Sarah Amala and the Inner Sanctum app have created a quiet refuge and drawn together a community of like-minded souls.
Below, I will be sharing how the Inner Sanctum app saved me and helped me relate to others as well. Continue reading to learn also how to join this community.
Inner Sanctum – Normalizing Magic
The Home Tab
The Integrative Meditation Library
The Activity and Energy Tabs – Demystify the Current Energy Season
The More Tab – More Magic
My Immersions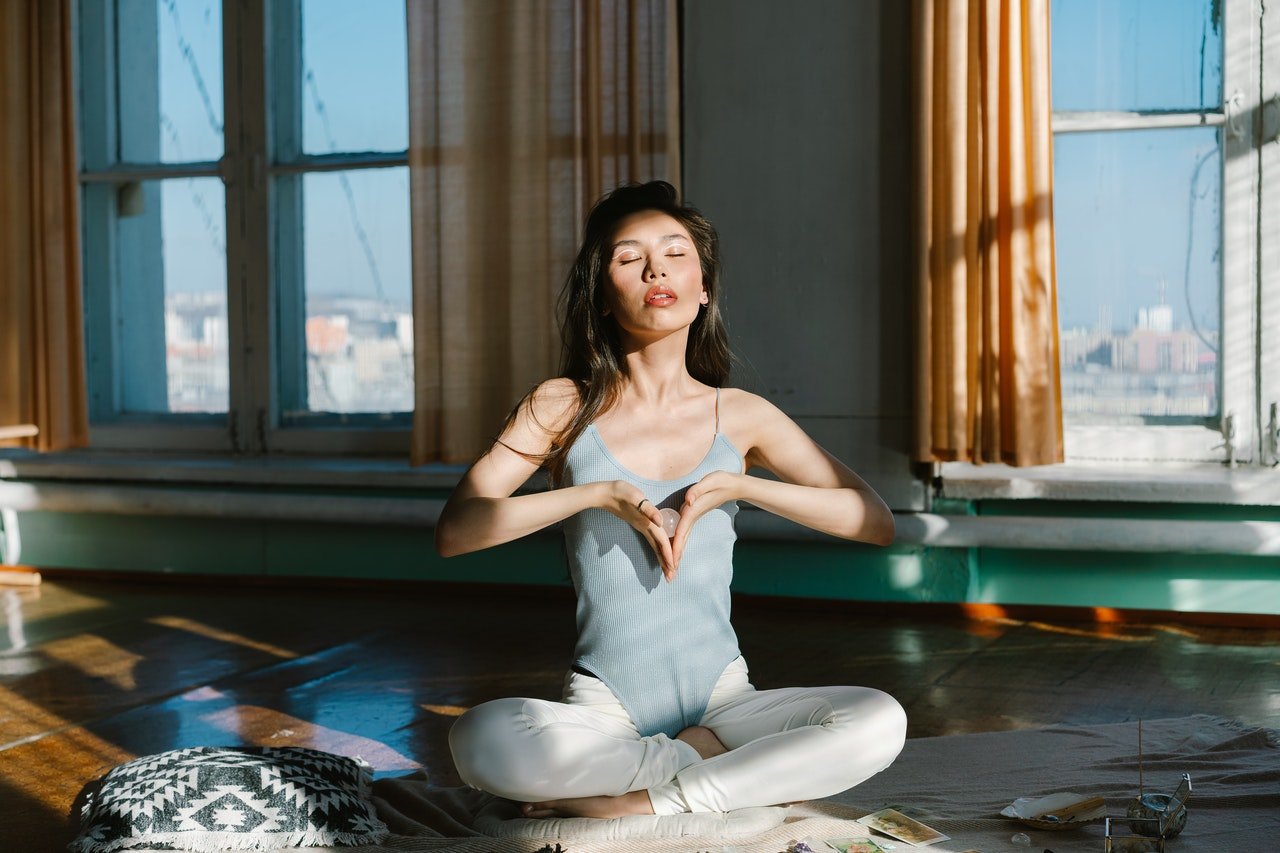 Inner Sanctum – Normalizing Magic
The Inner Sanctum App is a designed guide toward self-discovery and intuitive growth. By combining traditional mystical and esoteric wisdom, expressions, and tools of current sensibility and functionality, Inner Sanctum aims to aid users' spiritual and emotional well-being.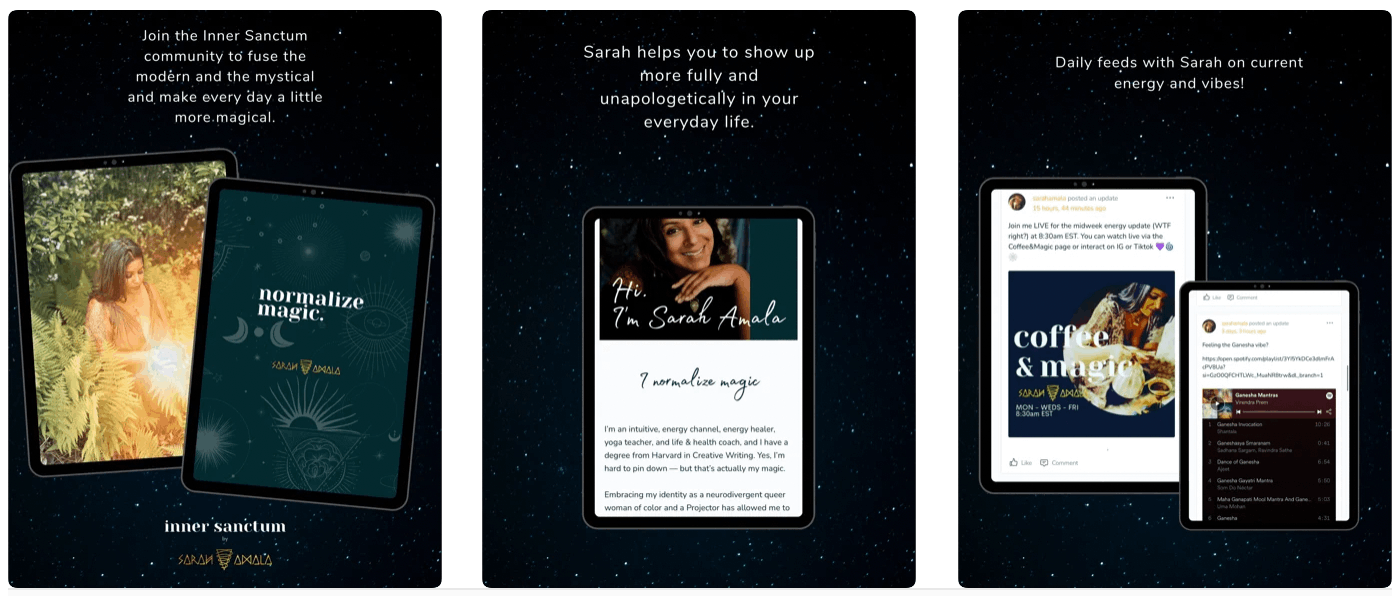 Inspired by meditation hikes through vast, magical forests, the app offers something new every time I open it—something that is just what I need. This app, like me, changes over time to hug my energetic needs.
Inner Sanctum is also composed of a body of people who are one-of-a-kind, transparent, and caring and can connect with their soul family. It features Monthly Lunar Activation calls that connect me to Sarah Amala and other Inner Sanctum members.
Live Channeling and a unique activation are made possible through Monthly Lunar Activation calls. Moreover, the app gives advice and guidance on using the lunar cycles to shape and put my life in harmony in tangible ways.
What's Within the Inner Sanctum App
To delve into my vibrational frequency to connect with the current energies, Sarah Amala's Inner Sanctum app features a large and evolving library of unique activations, meditations, and affirmations.
I also get Energetic Updates daily that inform and keep me aware of the general "pulse" of what's happening, including planetary movements and energetic shifts. There are also Monthly Sensory Palettes curated to correspond to each astrological season.
This helps me better understand each zodiac sign and expression using distinct meditations, soundtracks, recipes, and more.
The Home Tab
I can see three groups on the app's Home tab—OG & BFFs Inner Sanctum; Intuition Mentorship; and Sex, Love, and Your Body. When I click 'See All,' the groups can be arranged according to four categories—Recently Active, Most Members, Newly Created, and Alphabetical.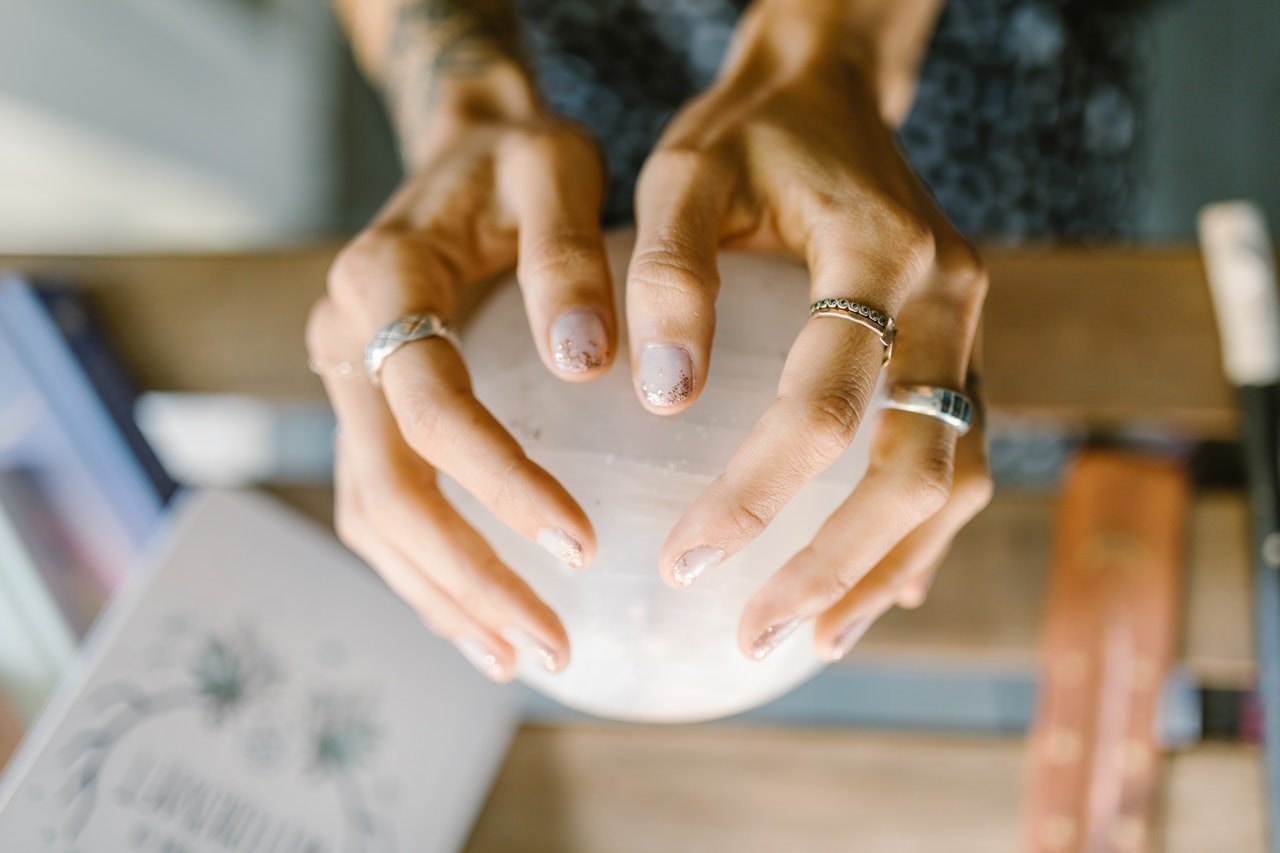 As of writing, all groups are private, and I tapped 'Request to Join' to be included in the group. There are currently nine members in the Sex, Love, and Your Body group, while there are 79 members in the OG & BFFs Inner Sanctum and 16 members in the Intuition Mentorship.
There is also a Quick Access tab to easily access the Integrative Meditation Library, Coaching & Ritual Calls, and FAQs about my account.
Inside 'Quick Access'
The Integrative Mediation features meditations and affirmations to activate my magic, support my journey, and provide peace, grounding, and clarity.
When I clicked the Coaching & Ritual Calls, it showed me a curated guide for self-discovery and intuitive expansion. This includes Immersions, which are self-guided tours through a myriad of energy-based topics. It also features testimonials from Inner Sanctum members.
The FAQs page teaches me how to do things in the app, including getting started with my new account, changing my subscription, and accessing Immersions after purchasing them.
The Integrative Meditation Library
Sarah Amala believes that every cell in our body responds to sound frequency. With all meditations and affirmations being voiced by Sarah Amala, this library is always getting updated with new content.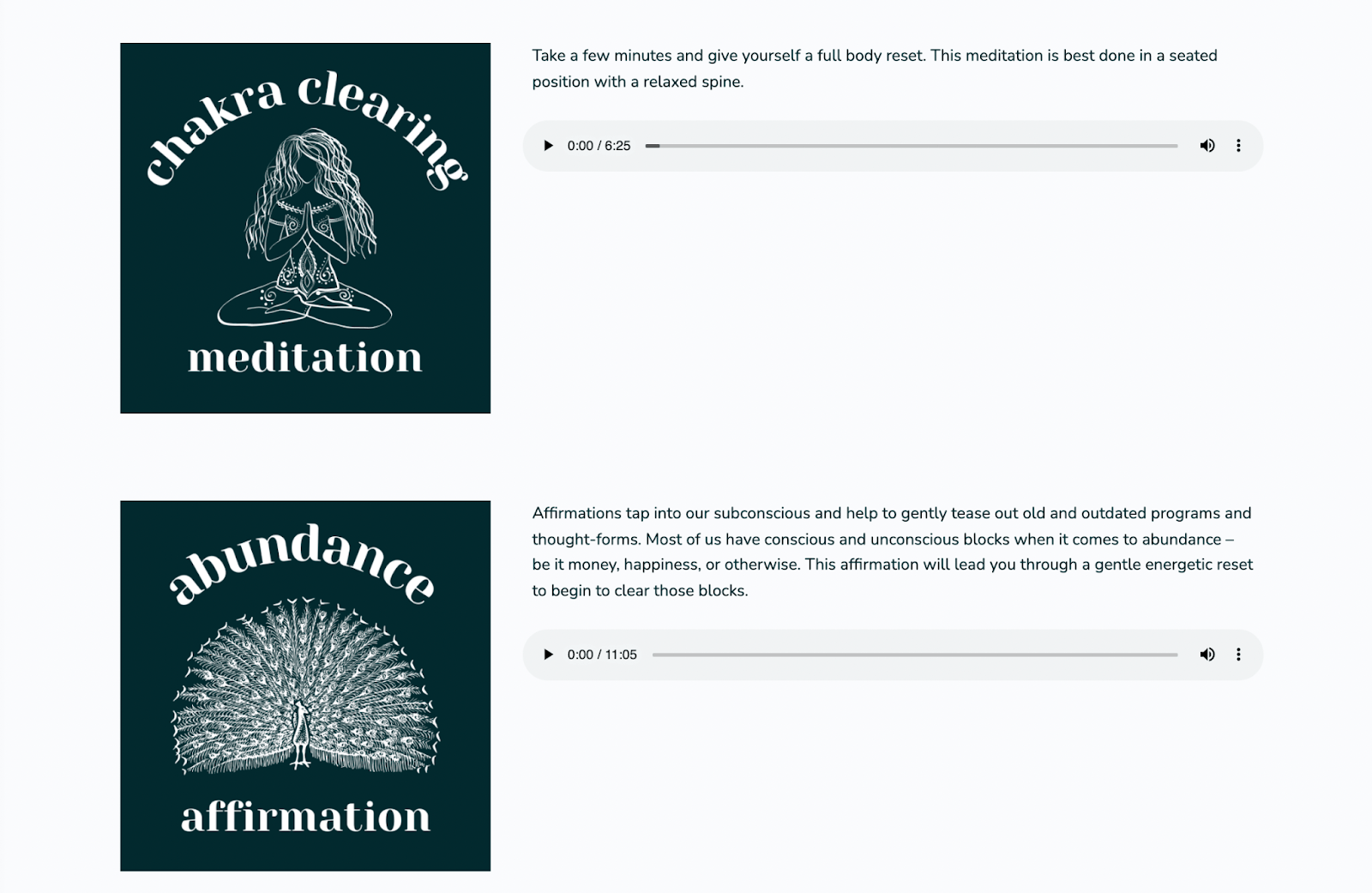 The curated Meditations are Full Moon Aries Meditation, Chakra Clearing Meditation, Abundance Affirmation, Body Love Affirmation, Growth Spiral Affirmation, Moving Meditation, Somatic Energy Release, and Quick Energy Reset.
It also offers 'Message from Your Guides,' a facilitated meditation to assist me in receiving a message from my energetic team. I can use this meditation as a tool to connect every time I feel inclined.
I can easily play the Sounds featured in this library. However, when I don't see player buttons below the meditation, that means I need to upgrade my monthly membership status.
BFF Subscription and Fees
To upgrade my membership to BFF, I need to provide my first and last name and coupon code, if any. Only credit card payment via Stripe Checkout is allowed. The subscription is free for five days, then $22 per month.
A BFF membership lets me enjoy powerfully recorded meditations, affirmations, and soundscapes that help me destress, sleep, look at things from a higher perspective, and connect with angels and guides.
The Activity and Energy Tabs – Demystify the Current Energy Season
I can see the News Feed in the Activity tab, where Sarah Amala posts her daily updates. She posts YouTube videos, Spotify playlists, and announcements to Inner Sanctum members to keep in touch with the current energies and much more.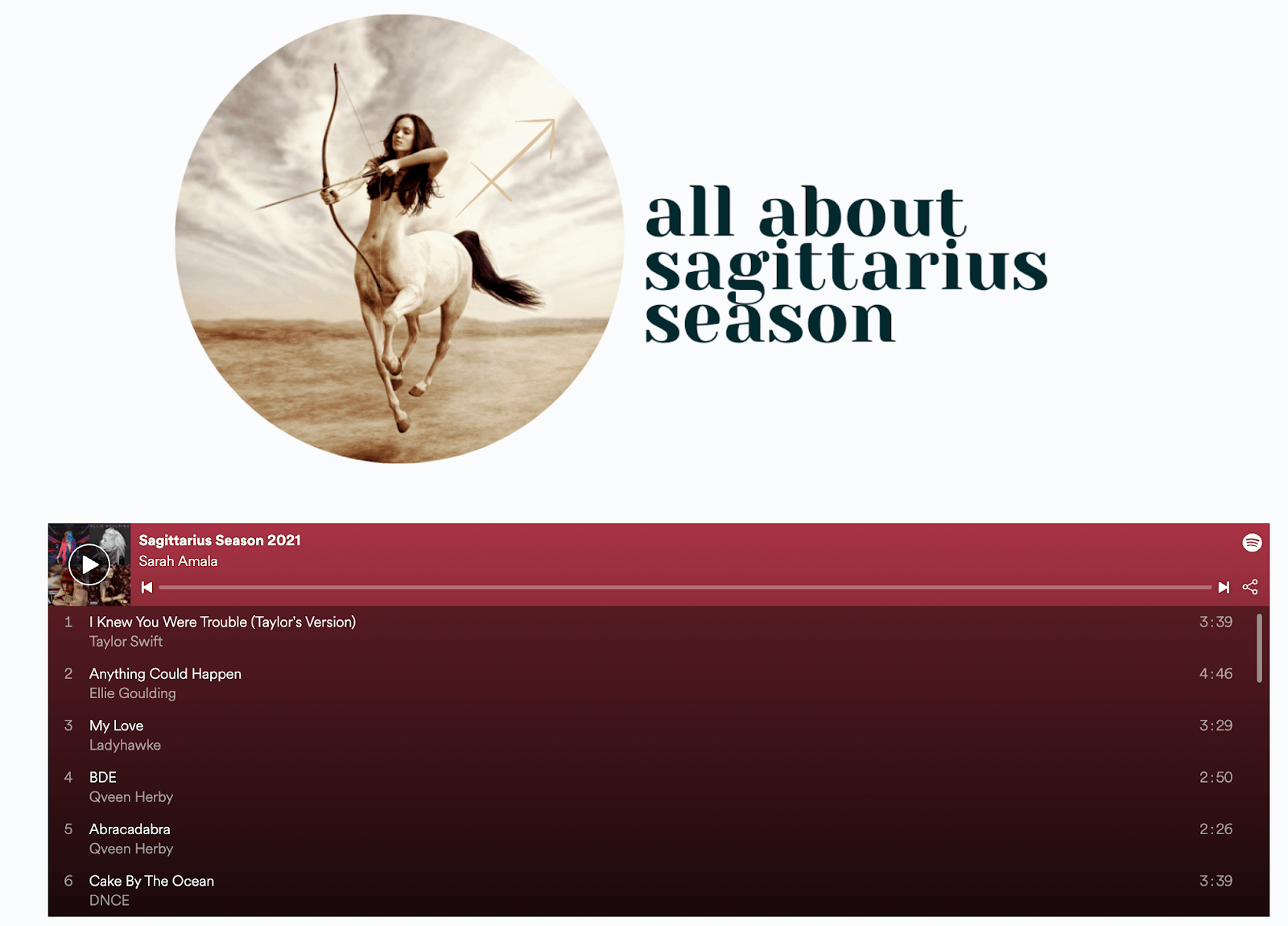 Inner Sanctum members also interact by liking and commenting on the posts in this tab. Because of this tab, there is no need to check other social media for content from Sarah Amala.
I can find need-to-know info on each zodiac sign in the Energy tab. There are also Spotify playlists that get me in the right mood as well as horoscopes and affirmations for the season.
For instance, when it is Sagittarius season, I can see a description of what the Sagittarius sign is about. It also gives me an overview of Sagittarius Energy and Affirmation Horoscopes and extra information about the Sagittarius season.
The Moon Tab – Understand the Moon Magic
In the Moon tab, I can connect with the Inner Sanctum community while Sarah guides me through the energies of the Full Moon and New Moon. I can also watch live or recorded sessions to learn how to manifest and release during these powerful phases of the moon.
The More Tab – More Magic
I can see Coffee & Magic and My Immersions in the More tab. One of Sarah Amala's favorite things to do is to drink her morning coffee with all Inner Sanctum members. She does this live and shares what is going on with the energy. This helps us all gain a little clarity and insight.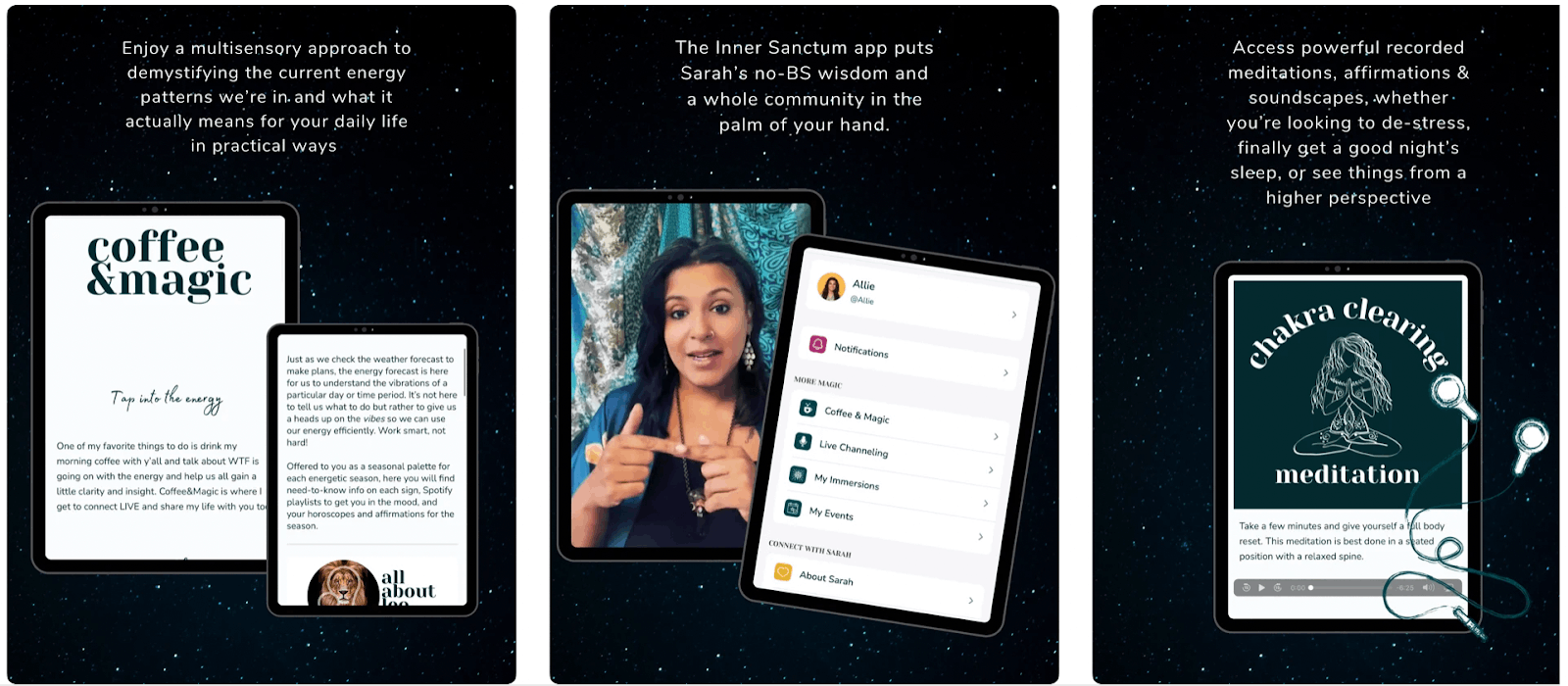 Live Channeling happens two Thursdays monthly and is only available to Bestie and BFF tier members of Inner Sanctum. I was able to see the call information after upgrading my membership. I can choose to stream in-app or via a Zoom link.
How to Download and Sign Up
If you're one of those exceptional, open-hearted, and kind individuals simply looking to interact with others going through similar circumstances, the app is available for free on both the Google Play Store and the Apple App Store. It has a 4.8-star rating on the Google Play Store.
I needed to provide my email and create and confirm my password to create an account. It also asked about my first name, last name, and nickname. The nickname must be at least three characters.
I also ticked the Terms of Service and Privacy Policy agreement then tapped 'Create Account.' I had to check my email to get the verification code to activate my account.
My Immersions
Sarah Amala offers one-of-a-kind programs. The app operates as a virtual community based on the science of Noetics, which leads and helps individuals through the journey of radical self-awareness, strength, and independence.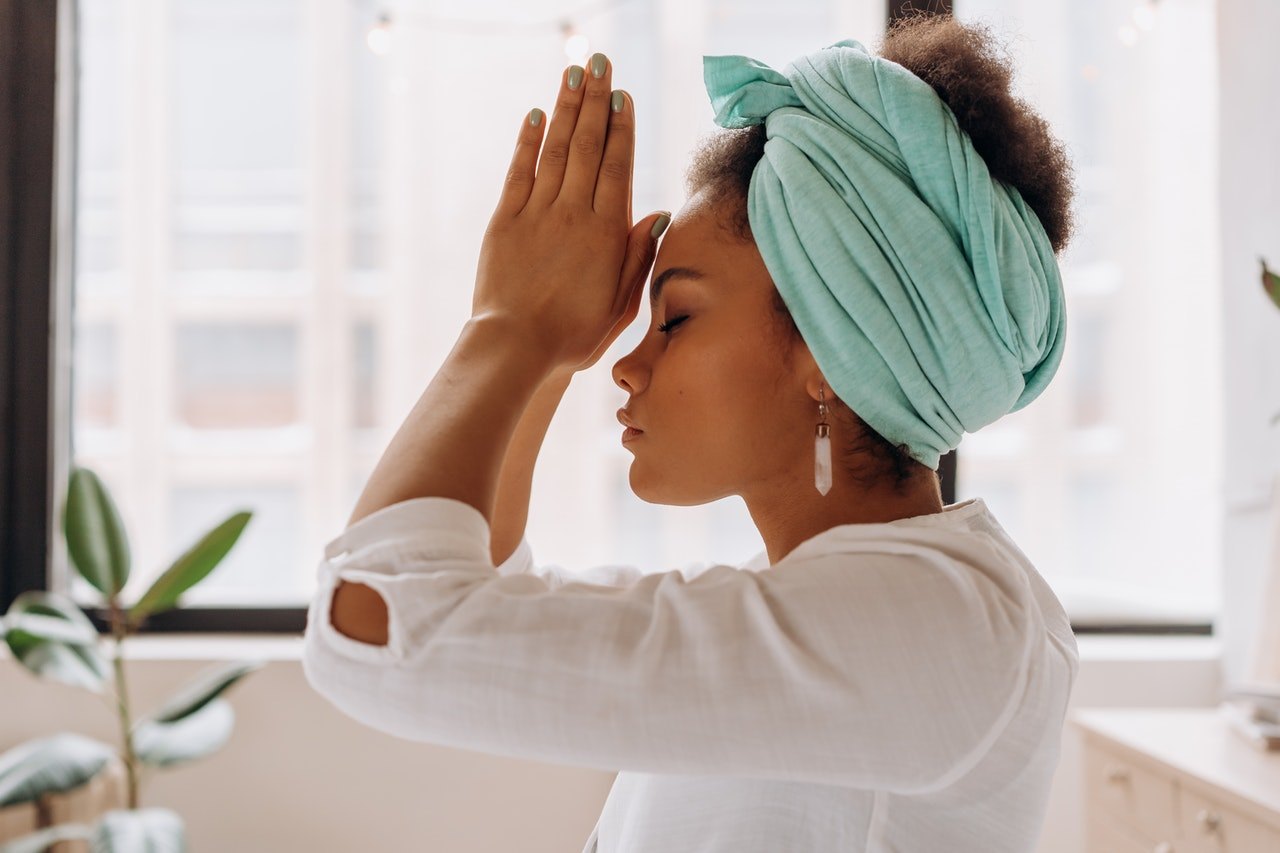 She incorporates energetics, astrology, ancient healing techniques, integrative meditation, Human Design, mindful movement, and other techniques into her practice.
She also provides customized corporate, group, and private coaching, and her workshops are listed in the Immersion section. Currently, there are four Immersions listed on the app, namely, re(Activation), New Earth Energetic Upgrade, Relationship Activation, and Energetic Weight Activation.
The re(Activation) immersion ($222, on sale now for $88) is an intensive immersion for understanding self-care, protection, basic energetic principles, and much more. You can watch a 10-minute video every day for four weeks as you grab your morning cup of coffee.
New Earth Energetic Upgrade, Relationship Activation, and Energetic Weight Activation
The New Earth Energetic Upgrade (normally $88 but currently $22) is a three-day activation that will help you better comprehend and apply New Earth energetics. All you have to do each day is get a cup of coffee, hit play, and listen to Sarah for less than nine minutes!
The Relationship Activation (only $33) is a three-part audio series (each lasting approximately an hour) that delves into the New Earth perspective on romantic, intimate, friendship, and familial relationships.
The Energetic Weight Activation (only $5.55) is a one-hour session that goes over the various causes of energetic weight gain and provides advice and practices for protecting, clearing, and understanding your energy and body. This session was captured in real-time during a workshop.
Conclusion
I've been surrounded by like-spirited people who are on a never-ending quest for knowledge and greater understanding, thanks to the Inner Sanctum app. The focused activities enable me to go deeply into the fundamental issues that need to be addressed.
Through the meditations, affirmations, immersion exercises, and workshops, this app has aided me in both subtle and strong ways. It, like Sarah Amala, is a great channel of divine energies.