Our phones these days are getting a lot of advanced security features, like PIN codes, pattern locks, and even fingerprint and facial recognition to unlock the device. However, we all want extra barriers to our particular applications so that not everyone can use them.
It has always been human nature, that we usually do not trust our friends or dear ones and we would not want them to check our phones. Or, sometimes we would not want our kids to view the contents on the phone.
That is why a backup option of a firewall is always important so that others will not be able to check the applications on our phones. In today's article, we will take a look at locking applications on iPhones and talk about the below points.
Locking Apps On Android Phones
Locking Apps On iPhones
Looking At Different Apps
Specific Examples – iOS
For Parents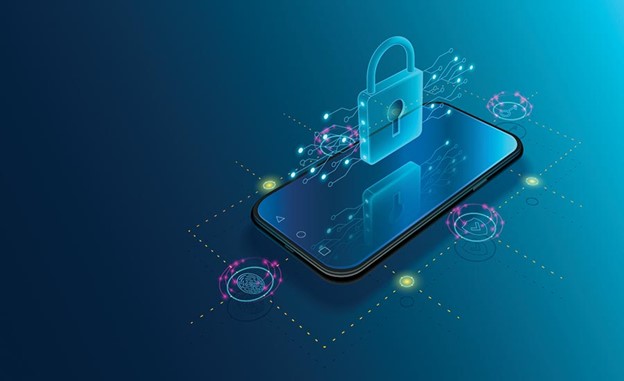 Image Source: Security Magazine
Locking Apps On Android Phones
Locking applications on Android phones is pretty easy as it offers various third-party applications to do so.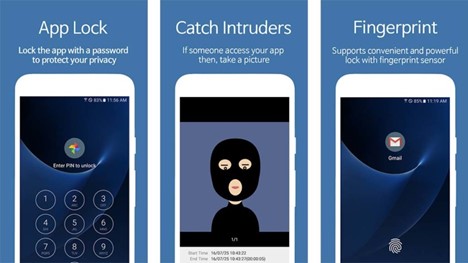 Image Source: Android Authority
One can easily install one of those applications and block access to any other apps that you would not want people to sneak into.
These applications usually require a passcode to gain access; however, some locking apps can also work with fingerprint sensors or facial recognition.
There are a lot of such third-party app locking applications available on Android.
Check The Google Play Store
Android users can quickly search for them on the Google Play Store and download them to your phone. However, users need to keep one thing in mind that these applications tend to require some deep information and access to your phone and its applications.
While using these applications, users will not come across any dangerous or suspicious activity. But yet it seems to be quite dangerous to provide them access to your private stuff.
Locking Apps On iPhones
iPhones are one of the most sold smartphones in the market and take up a huge market share of the mobile world. While iPhones are extremely easy to learn and use, they lack some great features that are considered to be basic and essential on Android phones.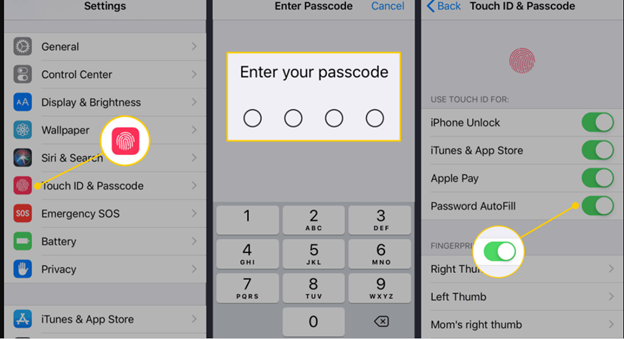 Image Source: Lifewire
One such feature is the App Lock feature. Now, talking about locking apps on iPhones, it is not as simple as it is with Android phones. For your information, this is because Apple does not permit third-party applications to gain access to the phone's inside information.
There is a workaround through which the users can lock individual apps using passcodes. The trick lies within the all-new Screen Time feature that Apple introduced with the iOS 12. The feature will not work until and unless you update your phone to the latest software.
How To Lock Apps On iPhones
Go to the "Settings" app and open it. Next, you will find something called "Screen Time," If you cannot find it, then use the search magnifying glass on top to locate it. Now, you will see a tab that says "Block at end of limit," enable it and set a timer to lock beyond usage hours.
There is a "Devices" section on the top left of your screen time dashboard. Use that to select your current device if you have multiple iOS devices; if not, click on the current device's name. You will now see all the apps that you can easily lock using the toggle button next to it.
Let's say that you wish to use a particular app after the screen time has ended or you have used up the day's usage goal. Check the "Add Limit" tab on the same screen and then click on "Edit Apps." Now, add whatever time you want, and you will see the timer updated and the app unlocked.
Specific Examples – iOS
Each app is different with its own set of security and safety measures that you should know before deciding to use the in-built passcode feature of iOS.
Each app has its features, benefits, and limitations, so know them before applying any blanket or generic method of locking it out.
If you do apply a generic lock-out method, it could impact how the application function. In the next section, we look at specific applications and how you can lock these applications on your iPhone.
Looking At Different Apps
WhatsApp is one of the most noticed apps in the world. In other words, people at home and work have prying eyes to check out your messages. Go to the Settings tab and use screen lock. Set up a touch ID or Face ID to secure your messages.
Dropbox is another app that you want to secure first or any other equivalent cloud storage app that you may have. To make sure you or your little two-year-old doesn't wipe out all necessary documents, use the security section to activate passcode or touch ID.
There are other important apps, for example, for banking and payments. Amazon Pay, Google Pay, or PayPal have great locking features that you should capitalize first from within the apps. This way, even if some apps will bypass malware, nothing will go out beyond the gates of the passcode feature of iOS.
Limitations To Locking Apps
It is easier to use the passcode to lock out any app but not your phone app. The in-built features of Screen Time and Add Limits do not work on the phone app as Apple considers it the default go-to-app.
For applications like messages or Facetime, you have to use the "Always Allowed" tab. Another limitation is that once you disable communication or social media apps like messenger, Facetime, iCloud will not process any messages during downtime.
Blocking Notifications
You will not get any push notifications, too, so you want to be extra careful before blocking out everything, especially if you use these apps for business, for example, WhatsApp.
This is something to keep in mind before deciding to lock any app on your phone.
Other Ways to Secure Data
Nothing and no one should stop you from safeguarding your data and information. Especially, when everything is digitalized and one small leak can set you back by your entire savings. Let us look at some virtual storages or locks that can help you sleep better at night.
Secret Calculator: As the name says, "secret calculator" is like your James Bond type movie app which creates a fake persona of a normal working calculator for prying eyes. You simply enter the "calculation" (the password) followed by a percentage sign and hit enter. You can store all private and confidential information here straight from your cloud storage! 
Photo Vault: To operate this app, you need to first create a solid overall password that works as a firewall against attacks. Once created, start importing data individually and group them into albums. The app provides you with a safe built-in browser to transfer content that is hidden from the public domain and hackers.
Note: The above apps cost between $1-$2 and aren't free. However, they can be downloaded from the official app store of your choice!
Tips
Do you know the best thing to do when you want to hide content from others? Simply use certain built-in options from within the apps rather than using an app lock. For example, you can hide specific documents and photos by marking them as private or tucking them away in an undisclosed location.
Also, there are certain document platforms like PDF or word that give you the ability to lock specific work via passwords. Also, you can consider cloud servers that can protect your content too. Try out these options first then come back to app locks.
For Parents
If you are a parent and wish to lock an app for your children or a teacher and want to do the same for your students, you should use the "Guided Access" option under iOS.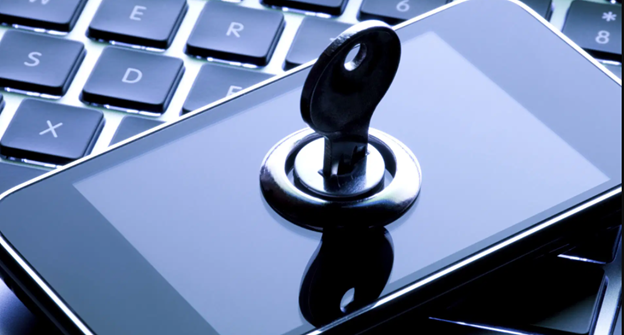 Image Source: BGR
Go to Settings>General>Accessibility>and click on the "Guided Access" button. Turn the toggle on and set a password!
Drawbacks Of Locks
Undoubtedly there are many advantages if you use a passcode, Touch ID, or Face ID. However, it is wise to consider the disadvantages too before implementing a total lockdown on your phone to fortify documents, sensitive data, or any other content that may be extremely important to you.
Apart from safety, you have the convenience of locking apps when you want. Moreover, you no longer need to remember long, complex passwords. As for disadvantages, what if your fingerprint is forged by someone?
Or you get locked out even on these codes? What if you cannot easily access these features on the phone?
Conclusion
To sum up, with new features entitled to the iOS 12, locking apps in the iPhones has never been much easier. So, if you want to prevent others from messing with your phone, add app locks to the private apps on the phone.
This way, there is always a fallback option to keep your content secure. Also, check out the third-party apps that can be faster but also vulnerable to jailbreak aftermath. Then there are other options like doing away with an app lock and simply using privacy options.