Thanks to tech, people can just use a mobile application to do an endless number of things, including scanning documents. Before, you could only use a scanner or printer with a built-in scanner to digitize a document or photograph.
Now, it's as easy as taking a photograph using your phone, scanning, and sending it to various individuals. Most applications are free, offering an easy way to scan documents. 
Some apps even allow you to select files from your phone to be scanned. These are readily available on both Google PlayStore and Apple App Store.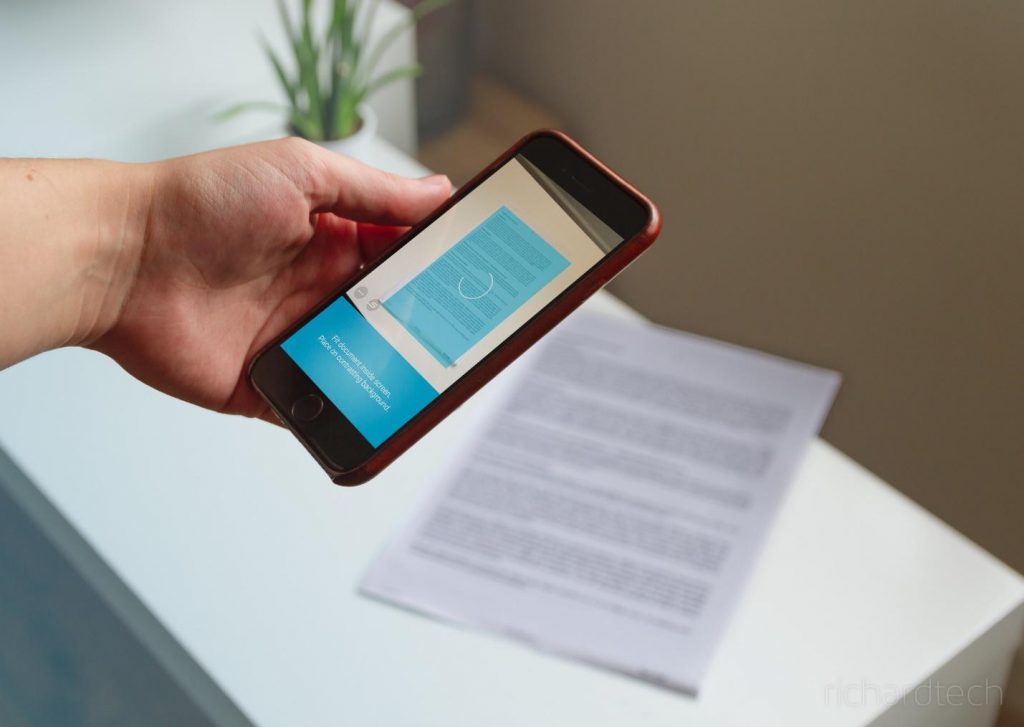 Adobe Scan
The brand Adobe never fails to provide cutting-edge software and applications to benefit a wide range of individuals. You may want to get Adobe Scan for scanning documents, a dedicated application to digitize hard copies of documents, receipts, printed images, and others.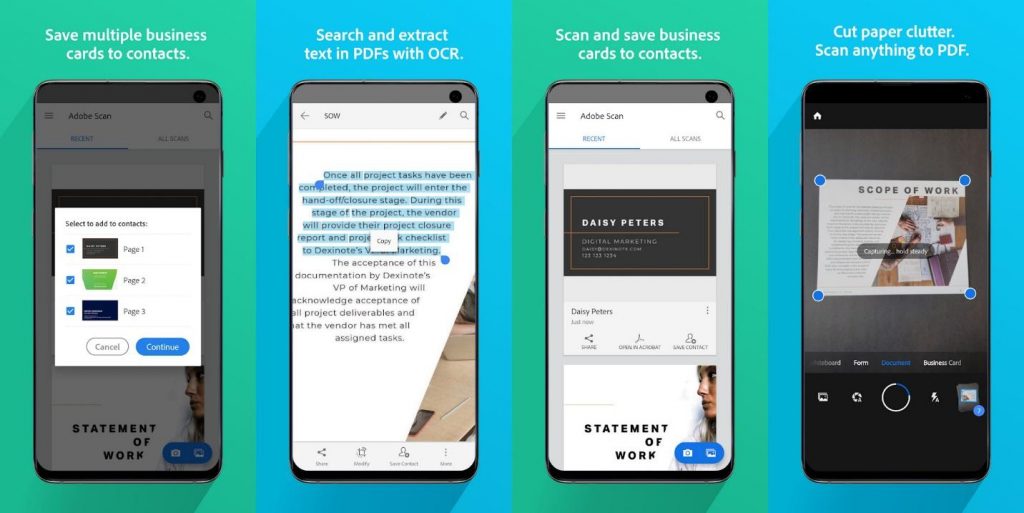 This application supports a myriad of formats, including the PDF file. The best thing is that it only uses the phone's camera to capture a copy of the document and then convert it to PDF format. 
A preview option is available to optimize file dimensions and enhance the images. The best thing about this application is that it allows close integration to other Adobe software like Adobe Acrobat and Fill & Sign. 
Users can edit, annotate, sign, and work with the documents from these places. The Adobe Scan is available for both Android and iOS devices, and the monthly cost starts at. $9.99 per month or $89.99 a year
SwiftScan
If you'll be scanning tons of documents for data backup, the SwiftScan (formerly ScanBot) is a good choice. It's an upgraded application for better organization and document scanning, with custom folders and smart file naming features.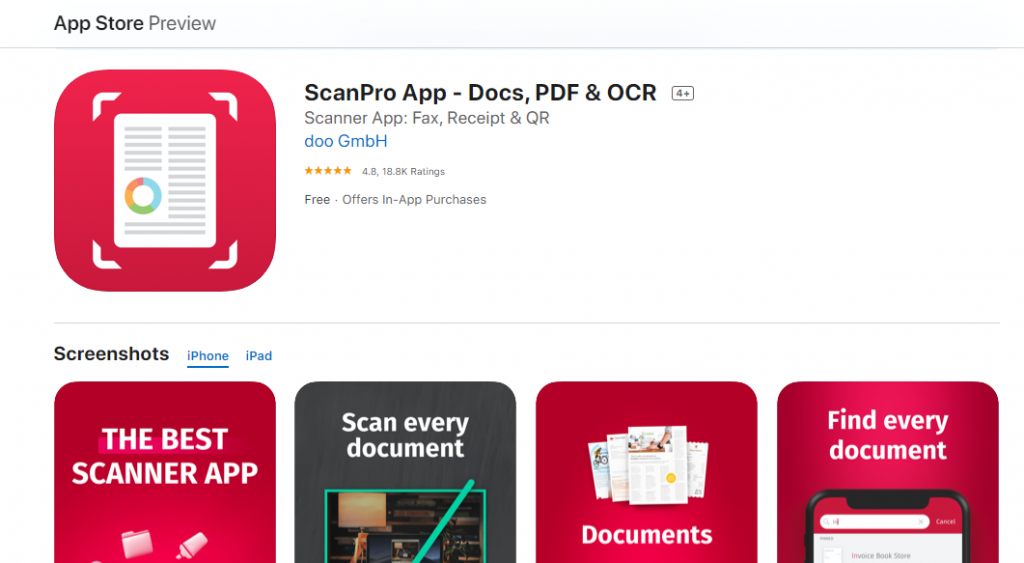 It also supports automatic iCloud syncing to quickly locate files and ease in uploading the documents. The application also features sharing data and is compatible with several devices, especially for iOS users.
More than the smart features, SwiftScan provides crisp scanned copies and performs OCR in dozens of languages. The results are great, but the Android version isn't as advanced as the iOS. 
Another downside is the monthly subscription needed to utilize the application. Anyone can download the application for free, but for users, pricing starts at $6 per month or $35 a year. 
Abby FineScanner
One of the best apps to scan documents is Abby FineScanner. It covers about 193 languages and features 12 file formats – totally functional. This is more advanced and uses optical character recognition technology to scan documents in hundreds of languages.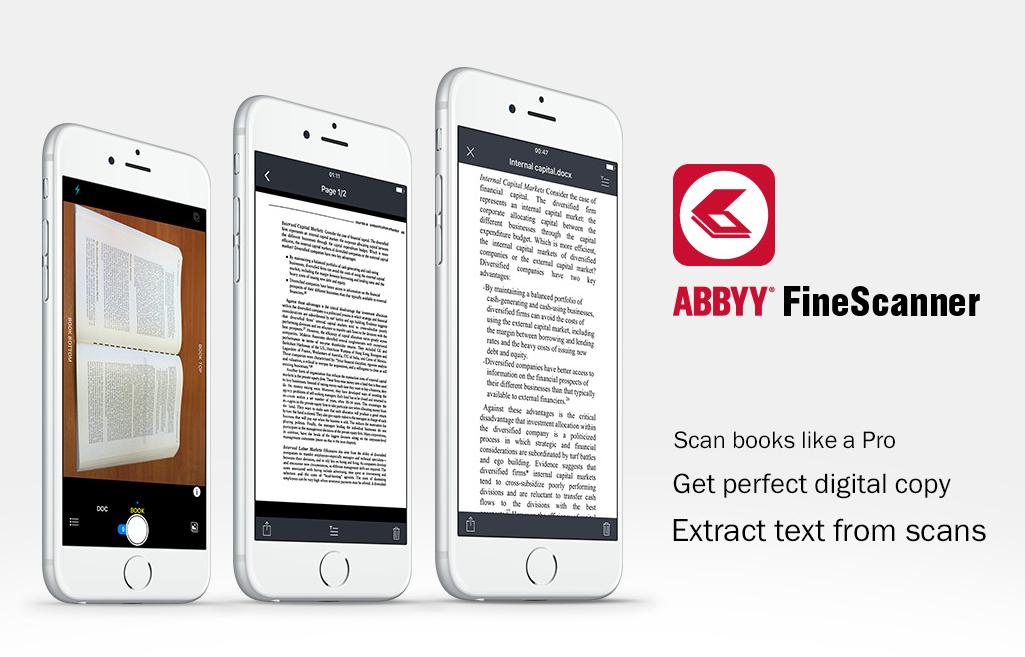 Note that the iOS version is called BookScan, featuring crisp scanned copies without any defect. Users can also share the digitized copies via email and even save them on cloud storage such as Dropbox, Evernote, or iCloud Drive. 
The application is compatible with Android and iOS devices and even lets users scan both printed and handwritten text from your mobile device. 
Moreover, it helps you access annotation tools to add signatures and notes to the text. This application comes costs $59.99. 
Microsoft Office Lens
Microsoft does not disappoint when it comes to its technologies because Office Lens scans documents with hassle-free adjustments. The app is being promoted for use by businesses and schools.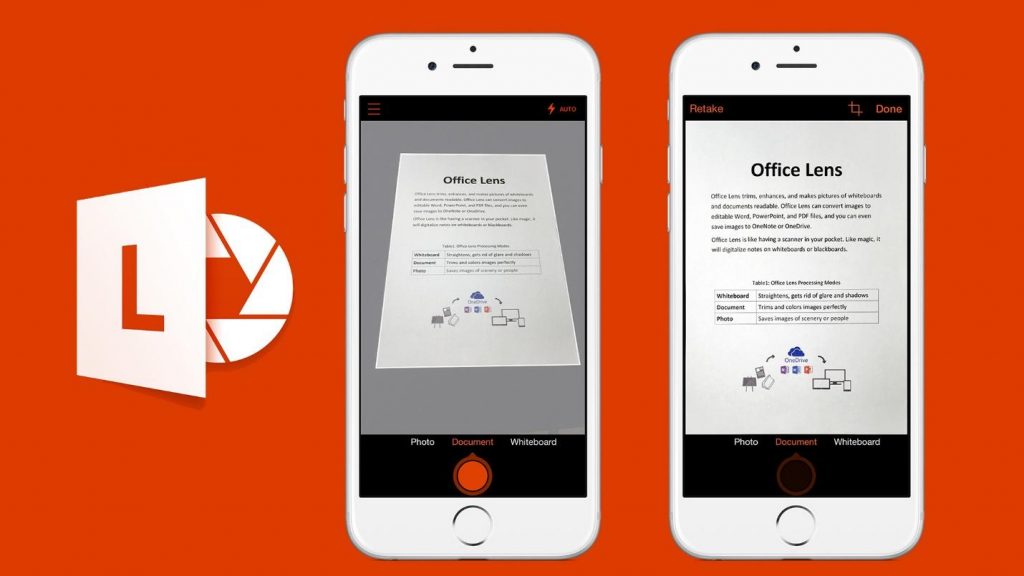 If you need quality scans of your documents like sketches, notes, receipts, business cards, and whiteboards, you can rely on Office Lens. After scanning your papers, you can save them to Microsoft OneNote for easier reference later. 
When using the app, the languages you can choose from are English, Simplified Chinese, German, and Spanish. Even if you are not an Office 365 user, you can Office Lens for free. But you may want to note that the app works best with a Microsoft Office subscription.
TurboScan
If you are not a techie or you prefer the simpler version of things, TurboScan is for you. It's free to download, while the premium submission-only costs USD 4.99.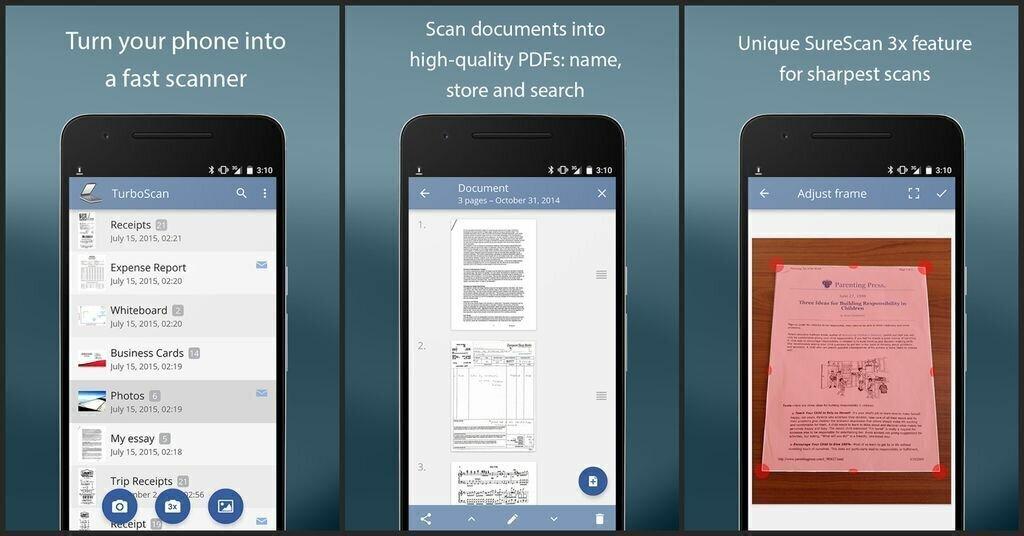 You can trust TurboScan to modify, scan, save, and manage your document. It also functions as a sharing app and is lauded for its speed, quality, and efficiency. 
Among its best features are perspective correction and page edge detection. The app also supports multi-page scanning, though the free version only allows you up to three pages. 
However, the paid version removes all restrictions. The app is available on Google Play and the App Store.
CamScanner
Developed by INISIG Information Co., Ltd., CamScanner has over 100 million downloads from more than 200 countries. The scans you will make with CamScanner are exportable to PDF or JPEG.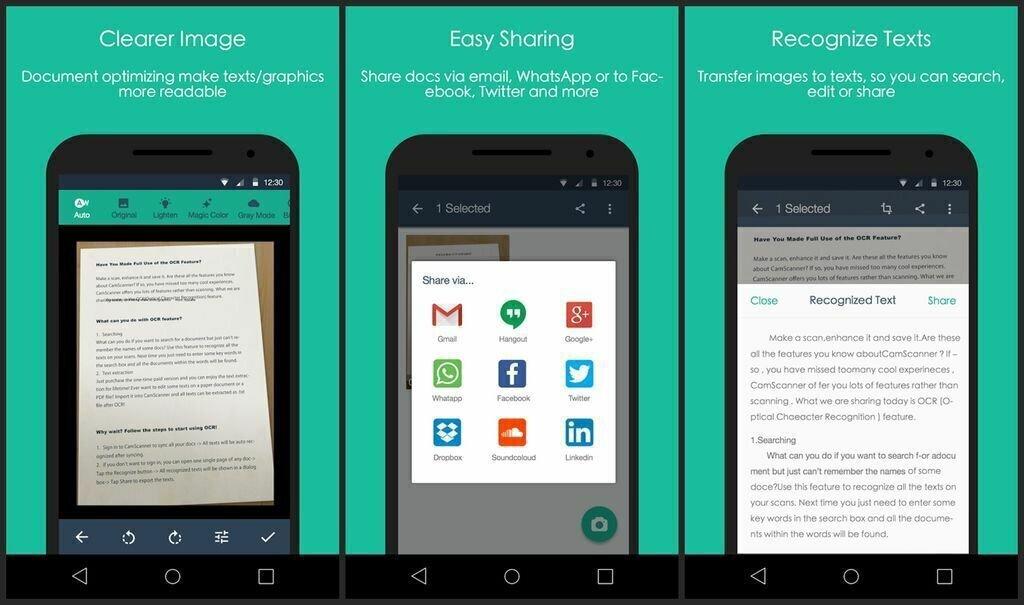 With CamScanner, users can enjoy full customization support as they create, sync, scan, share and manage their files. CamScanner's basic scanning features are free, while users can subscribe for $4.99 per month or $49.99 per year for additional services. 
Both versions can be downloaded from Google Play for Android. You can print your scans using cloud printing or even fax documents. 
CamScanner also features cloud support for Drive, Dropbox, or Box. The company says they get more than 50,000 new registrations on an average in a day.
Prizmo
Prizmo is designed for iPad and iPhone users. Like other apps, Prizmo scans documents, and its auto shoot can do it without user interaction.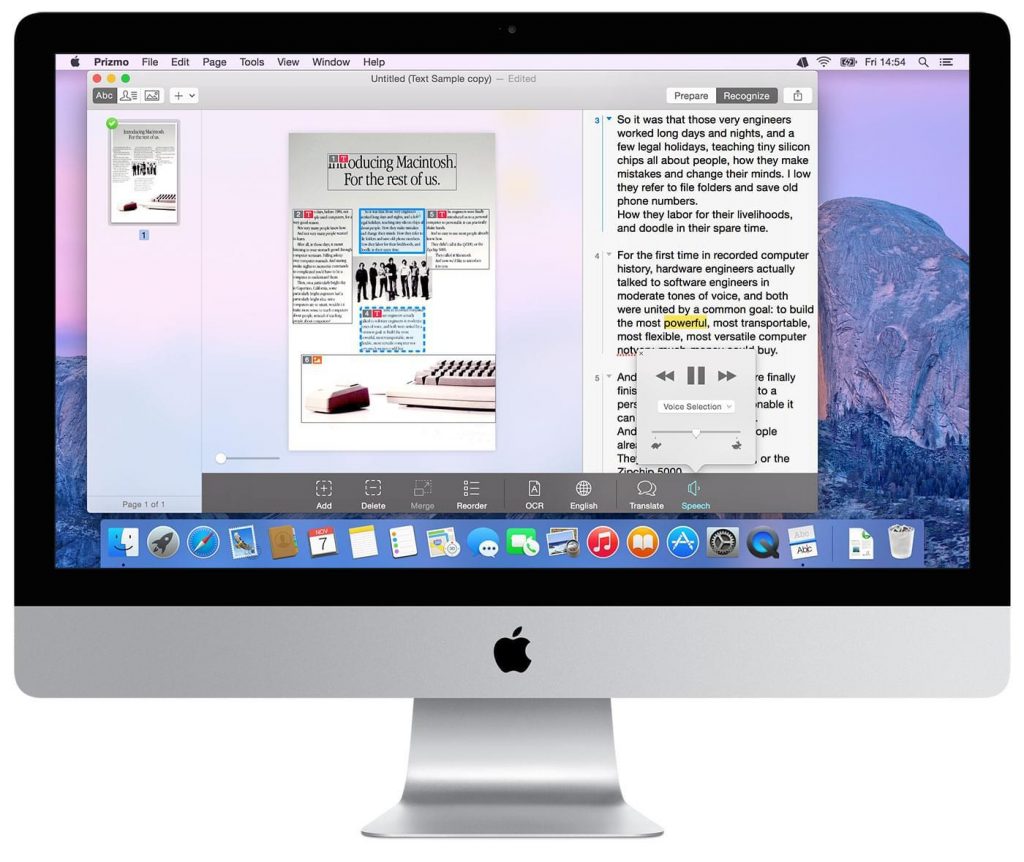 You save your file as PDF, vCard, PNG, Text, and JPEG. For storage, the file can stay in your camera roll or storage accounts like DropBox, Google Drive, and EverNote. 
Prizmo, available on the App Store, is known for its speedy processing, enhancement of multiple pages, and high-quality scans.
Clear Scan
One of the scanning apps that are friendly to users is Clear Scan. Users appreciate its lightweight, quick processing speed, quality scan, and simple editing functions.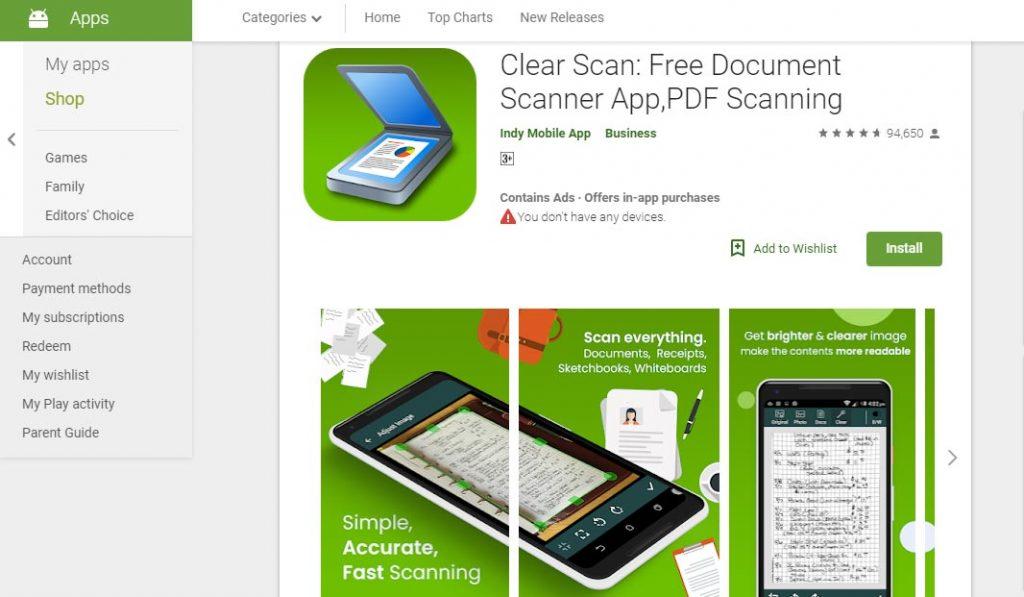 Scanning a file is hassle-free because it only involves pointing your phone at your document. Clean Scan allows you to store PDF or JPEG files to Google Drive, SkyDrive, Dropbox, and OneDrive. 
You can scan documents like notes, journals, bills, books, letters, and invoices. Clean Scan also allows users to edit scans, rearrange pages, print, and share files. The app can automatically spot and polish edges and corners.
Tiny Scanner
You can commend Tiny Scanner for its quick search feature, different contrast levels, and compatibility with extensive cloud storage services. The standard features are here, too, from scanning documents to saving them in PDF files.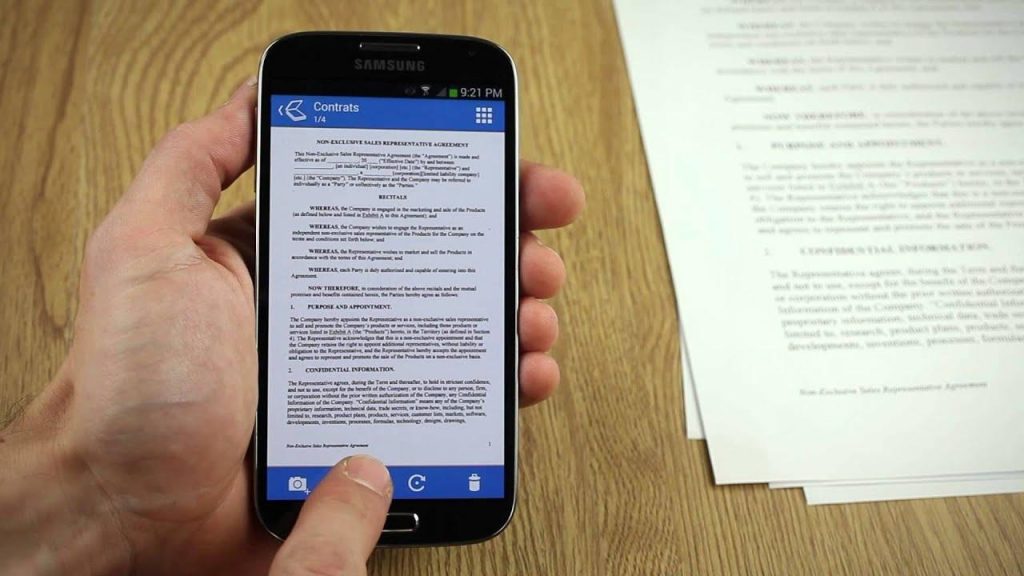 Tiny Scanner allows users to share files to Evernote, Dropbox, OneDrive, Google Drive, and Box to your computer, or send a fax directly from your phone. You can export your documents as images or PDFs. 
It can scan in color, black and white, and grayscale. One unique feature of the scanning app is it can protect your documents with a password. 
Its developer also created a fax app that allows you to fax documents after making them. Tiny Scanner is available on Google Play and the App Store.
iScanner
Whether you are an Android or iOS user, you can expect flexibility with iScanner. It features different modes: a pass and ID mode, a measurement mode, a math mode, a QR mode, and a counting mode.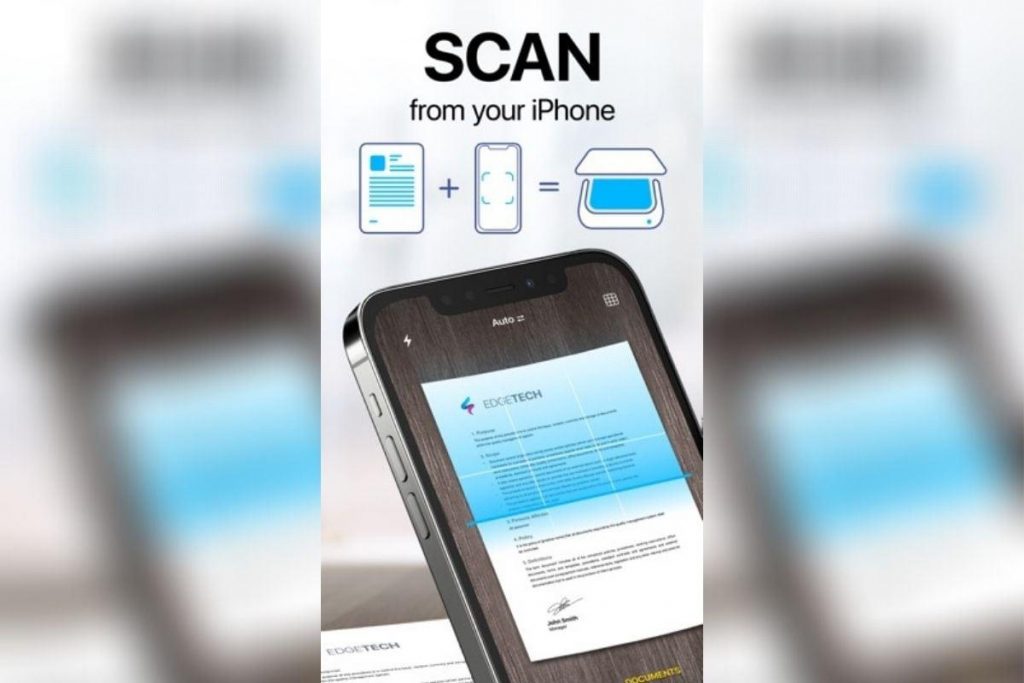 Meanwhile, the main scan mode allows converting documents to either a PDF, TXT, or JPG file. 
Users can turn multiple pages into a single document and modify scans after they are taken. You can download iScanner from Google Play and the App Store.
Fast Scanner
The standard functions of a scanning app can be found in Fast Scanner. You can expect PDF and JPEG support and lots of editing options.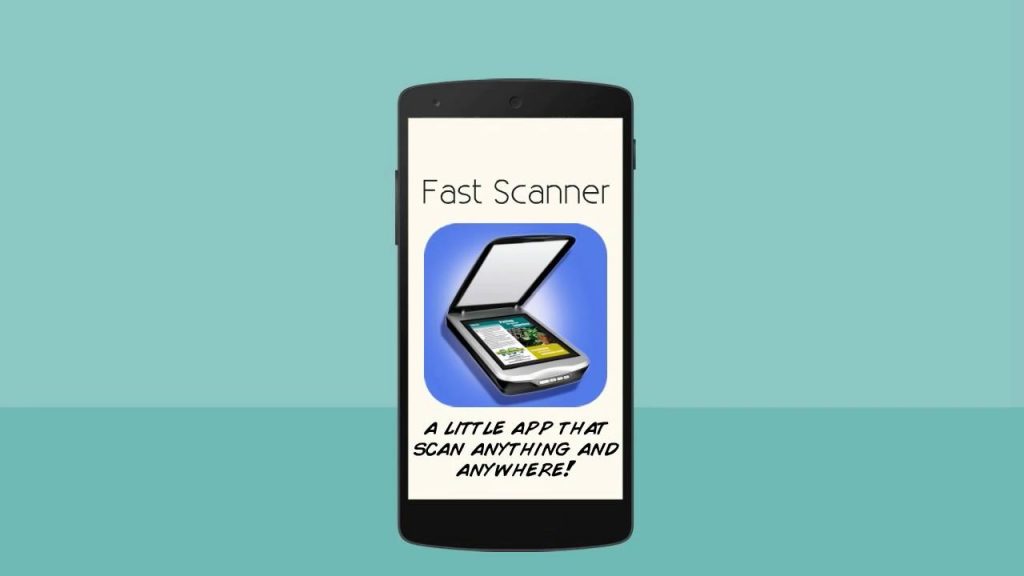 Fast Scanner supports cloud printing. While the free version limits the number of files you can scan, the pro version gives you unlimited services. 
Download this pocket-sized scanner from Google Play or the App Store.
Genius Scan
With Genius Scan, you can your materials in single or batch modes and arrange them according to your preference. The app is praised for its scan quality and editing features.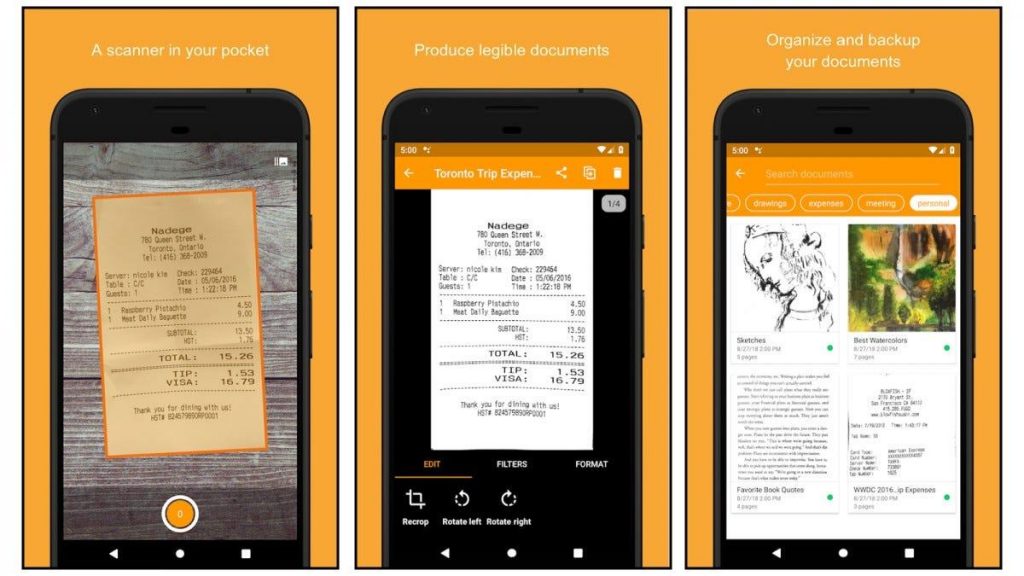 File conversion, document scanning, and sharing are among Genius Scan's basic features. It is promoted as a student-friendly app that makes school notes, whiteboards, and other documents easier to scan. 
Genius Scan's developer also made a separate app for faxing. While you can download the app for free, the pro version is worth $7.99.
Notes App For iOS
Surprised? iOS' Notes app boasts a built-in scanner. If you are on your iPhone or iPad, open the Notes app, make a new note, use the camera icon at the bottom, and then hit Scan documents to scan your file.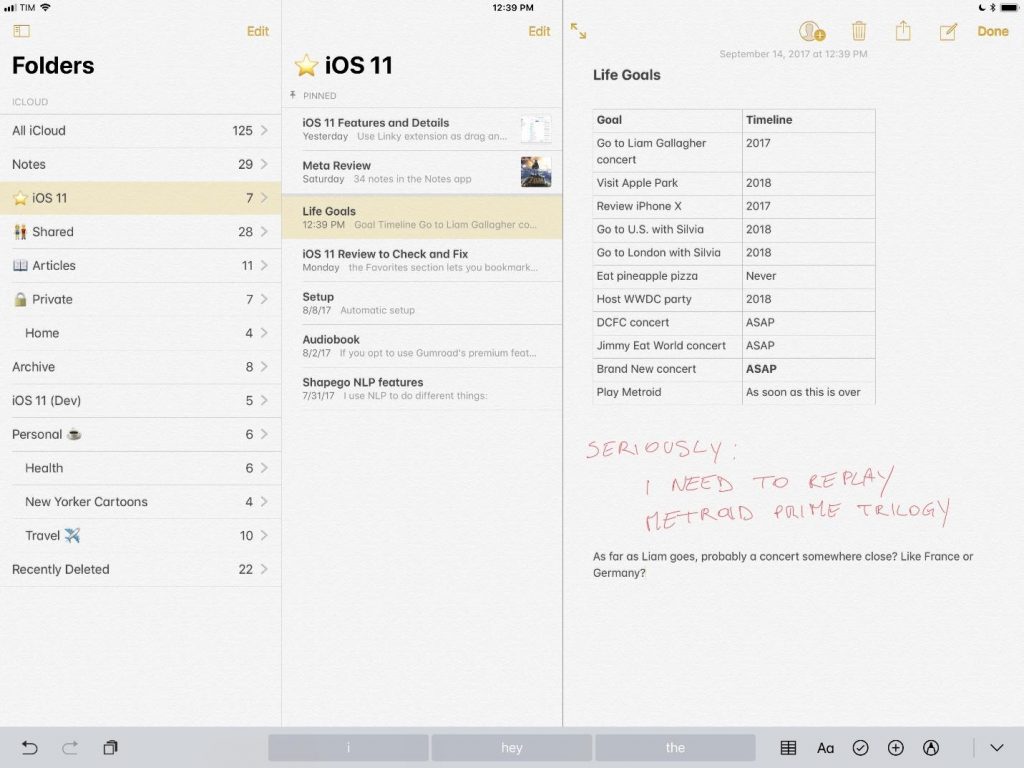 It even has an editing feature that allows you to modify the color, rotate it, or even crop it. You can also share the file with others through another app after you scanned and saved your document. 
You can also sign the document you just scanned by tapping the Share button and then selecting the Markup icon to see the Signature label.
Google Drive For Android
Do you have a Google Drive on your phone? Like the iOS' Notes app, Google Drive covers all the usual functions of a scanning app.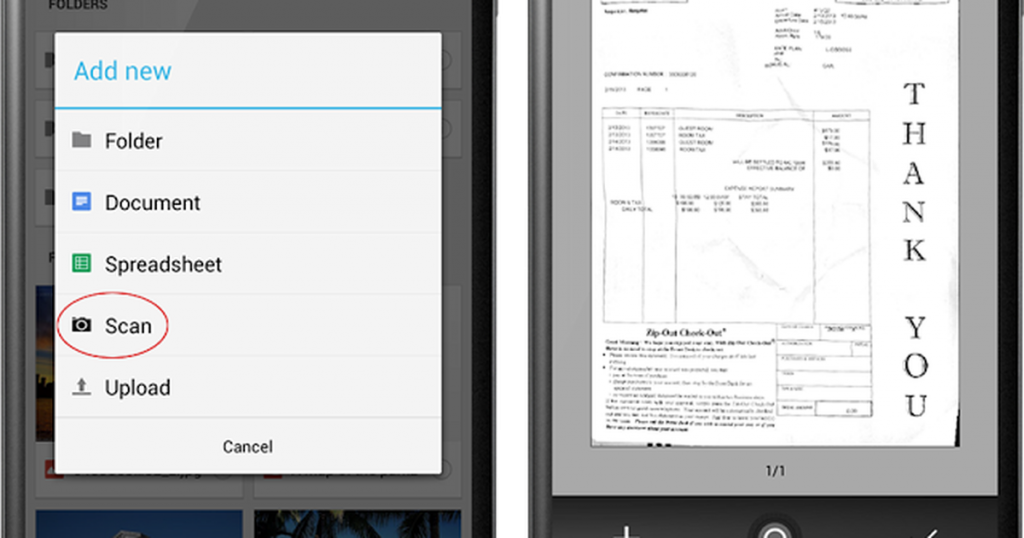 With Google Drive, you simply press the + icon at the bottom, choose Scan, and see a camera interface appear. 
You can crop or rotate your file, play with filters, or enhance your image. A few clicks will help you save the PDF directly on Google Drive and share it with other users.
Simple Scan App
Simple Scan is your ultimate portable scanner. It scans photos, reports, documents, and other types of papers you can think of.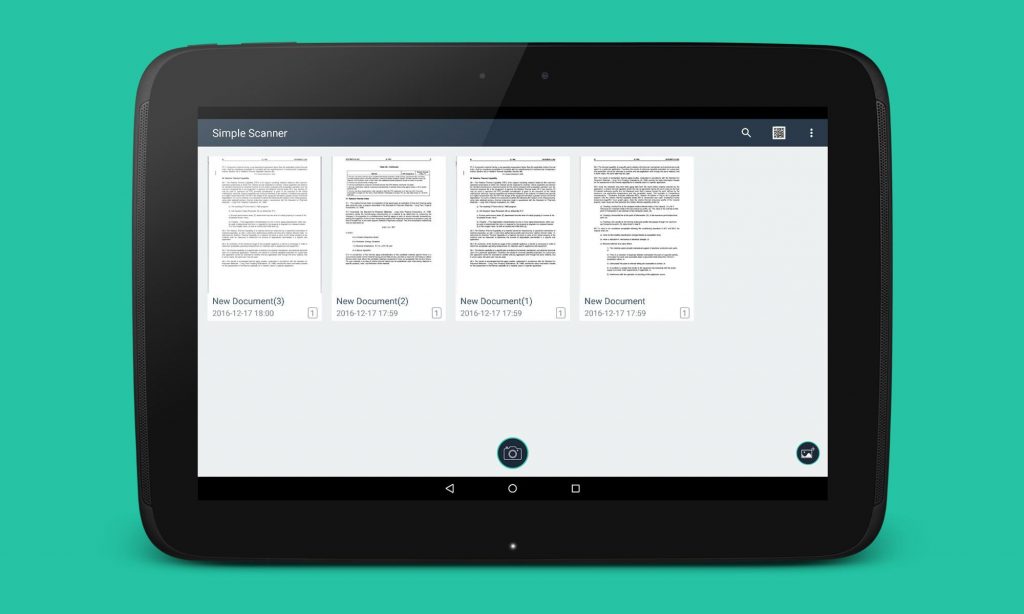 You can save your scans in an image or PDF and share them with others. You can also view your documents in one place, edit them, and rearrange them. 
The Simple Scan app can be used on iOS and Android devices.
Conclusion
Scanning documents, photographs, and receipts are much easier nowadays with free scanning apps. 
Though getting a paid subscription seems better if you are a frequent user of an app. The important thing is that you choose the one that makes things more efficient for you.
Spanish version: Aprende cómo escanear documentos con estas aplicaciones gratuitas
German version: Erfahren Sie, Wie Sie Dokumente Mit Diesen Kostenlosen Apps Scannen Können