Have you ever wondered how famous singers like Ariana Grande, Justin Beiber, and Beyonce have such mesmerizing perfect voices when they sing? Ever wondered if you, too, could have the same pitch-perfect singing prowess to surprise your loved ones? Actually, you can!
Let us introduce you to Moises – probably the best music editor app you will ever encounter. Moises is also the world's first music track separation app. It not only helps you practice singing but also lets you edit your songs to perfection.
I'm sure that the singing enthusiast in you must be wanting to know more about the app and wondering how and from where you can download it. In this article, I'll provide all the information about how the app work and the benefits that you can enjoy, and much more.
All-In-One Moises
Trim And Pitch Your Song
Unique Advanced Features: AI-Based Chords Detection
Extensive Uses Of Moises
How To Use The Moises App
Is It Free?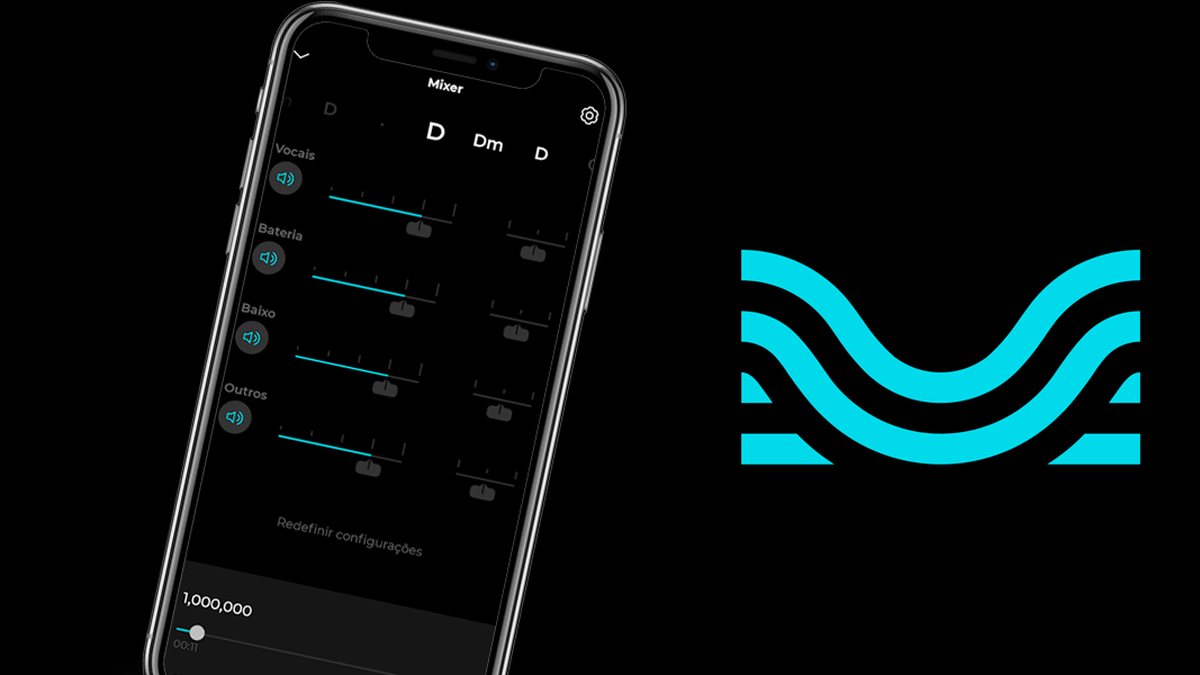 All-In-One Moises
It is not easy to have access to facilities for sound recording, mixing, and audio production of instrumental or vocal musical performances or specialist professionals to edit everything. To make it easier, you can use the Moises app.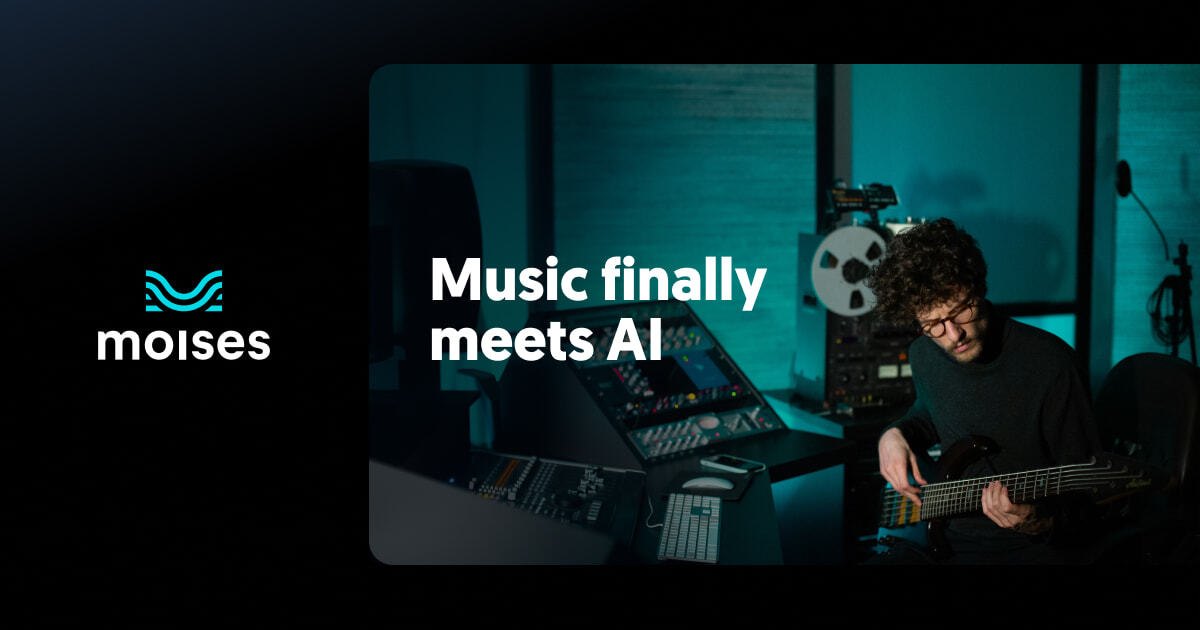 It saves you from spending your hard-earned money on recording studios while making no compromise on the quality of the musical output.
Moises not only helps you elevate your singing skills but also helps you edit your songs by adjusting the pitch, isolate, extracting voices or instrument sounds, and increasing the speed of your tracks. Moreover, it can instantly generate click tracks for any tune you like.
With Moises, you can even create mashups, remixes, samples for your voices, and backing tracks that are powered by high-end artificial intelligence. Using all these features, you can practice and perform anywhere you want, edit any famous song you like, or use it for karaoke.
How Does The App Work
Moises works just like a music editor sitting in a recording studio, helping you improve the quality of your songs. It helps you with track separation, giving you the choice of two, four, or five-track separations.
It's always amazing to have a variety of options to choose from, right?!. You can even set the range of the above-mentioned features. For example – you can keep the drums the same but set the bass lower and the volume higher. You have the freedom to edit anything.
That's not all! You can export the edited song to your mobile. Not just the whole song, but you can also export the music or export individual or multiple tracks simultaneously.
Trim And Pitch Your Song
You don't have to spend a lot of time editing a whole song where you only want to work on a section of the song. By selecting the trim option, you can choose where you want to start the song and where you want to end it.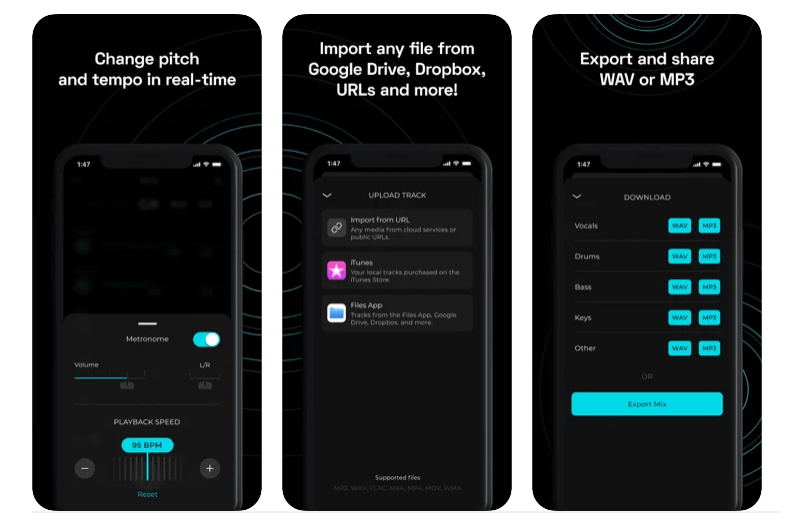 A part of a famous song can now become your new favorite song with this feature. Sounds are higher and lower in pitch according to the frequency of vibration of the sound waves producing them.
I have been able to adjust the same through this feature, making it completely effortless. You can control at what level the song should be listened to with just one touch.
Playback Speed And Storage
If you feel that it's good if a song is played a little fast or slow to match the other beats, then this feature is for you! Set your song playback speed to high or low speed as you like.
Not only songs but set any individual instrument's sound speed at your choice.
All the files we have uploaded or edited in the app are stored in clouds helping the users access the files anywhere and anytime effortlessly and assure you 100% security of your files.
Unique Advanced Features: AI-Based Chords Detection
Yes, you heard it right. You do not need to search for the chords of a song on the web anymore. Moises gets it done for you. It's a unique feature of the app helping countless producers, music directors, and musicians.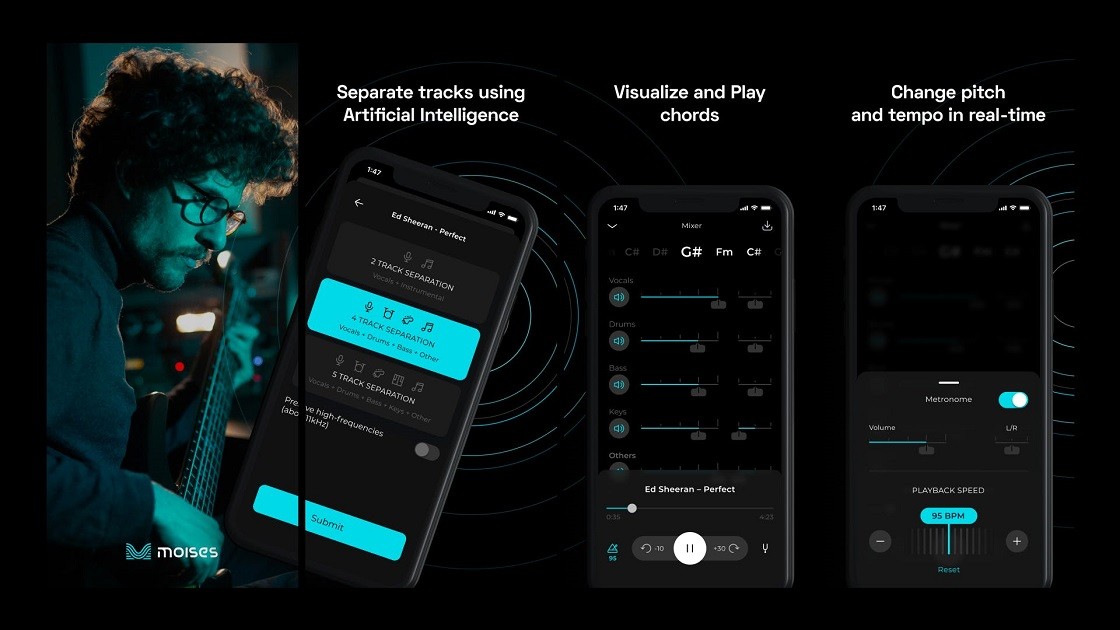 This feature helps by finding out which chord the song is being played in, and it allows you to understand the structure of the song and defines different sections of the song easily and reliably.
There' also track separation, which means that you can separate or export every single individual sound in a beat. In this app, there are various options for an individual to choose, based upon his/her interest.
Track Separation & Stereo Feature
There is a two-track separation which includes voices and instrumental. A four-track separation includes voices, drums, bass, and others. And finally, a five-track separation with voices, drums, bass, keys, and others.
Multiple individual tracks can be exported simultaneously or in a group by selecting all at once and exporting them as a single file.
Further, there is a special feature in the app called stereo. This feature enables the audience to enjoy different styles of listening through headphones. One can also download the same, allowing the user to hear modified stereo music anywhere and anytime. Even individual instrumental sounds can be modified through the stereo feature.
Extensive Uses Of Moises
This app has been downloaded more than ten thousand times, and almost all the users are 100% satisfied with their subscription. Moises can be an ideal platform for budding music producers, musicians, students, and teachers.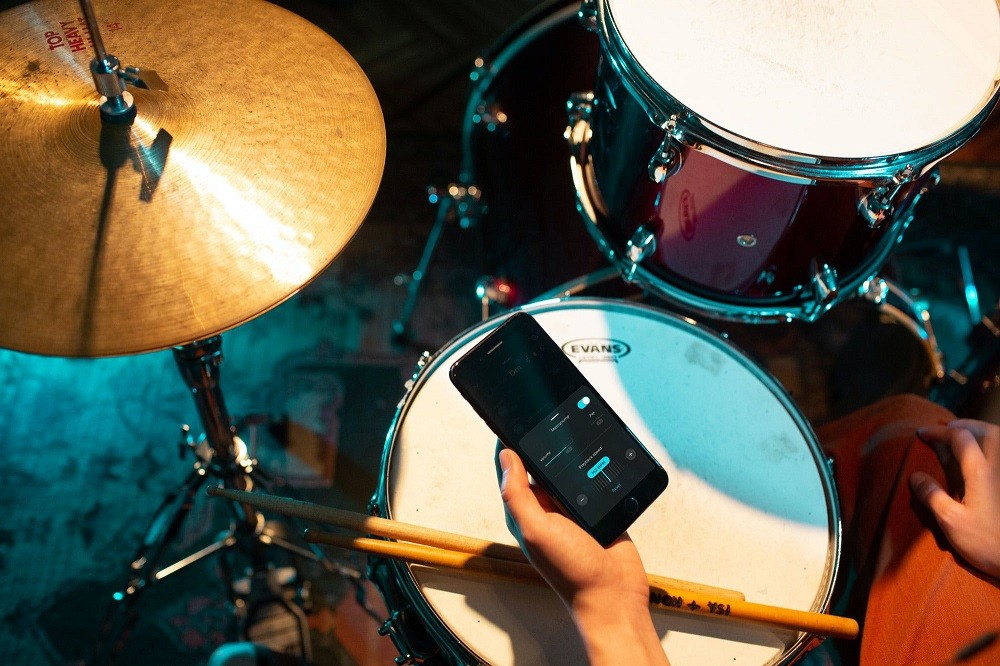 It can also be useful for DJ performances and parties as it enables maximum enjoyment with minimal effort! Apart from this, the app can be used to create, practice, and perform anywhere by mastering your crafts with instrument-less tracks and by playing them back-to-back.
Moreover, it is used by karaoke enthusiasts by removing the vocals and extracting only instrumental sounds.
User Interface – Friendly Or Difficult?
With Moises, there's no need to hesitate if you do not have any knowledge about music or know anything about the technical aspects of the app. The app is made so easy, keeping all the aspects and different people's abilities in mind, making it user-friendly.
For the new users, when they open the app, the app takes them on a very small tour of all the options present in it. Every single option has its own comments helping the user understand what changes are being made to the songs and what they are clicking on.
Songs play on repeat helping the user to understand the changes they have made at every step so that they can un-do it if not right.
How To Use The Moises App
Having countless benefits in the app is useless unless you know how to use it! Here are the steps using which you can download and start using the Moises app.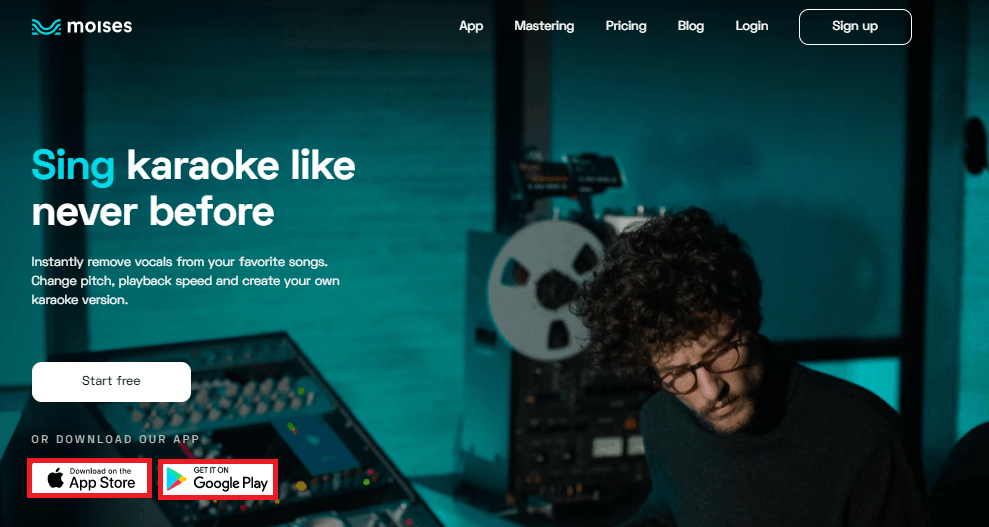 First of all, you need to open Google Play Store if you are an Android user and App Store if you are an iOS user. In the search tab, search for Moises App and hit download.
After the app's been downloaded, you have to open the app and sign in. You can sign up on the app with an existing Google, Facebook, or Twitter account. You can also use email to sign in. After doing this, you will be able to view the home page of the app.
Uploading And Editing Songs On Moises
On the home page, browse the library to add the song of your choice and select the track separation you want to apply to your song. The file can be uploaded in Mp3, WAV, FLAC, M4A, MP4, MOV, and WMA formats only.
Once the upload is completed, click on the song and start editing by setting the range of vocals, drums, bass, keys, and others as you want. One can also set Metronome, playback speed, and stereo as it suits you.
When you are satisfied with the changes you have made to your song, click on the export option and choose the destination you want to download it to. You are all set to reap its ultimate benefits in just five steps.
Is It free?
A free version is available but with limited features. However, the thing about Moises is that even its free features are equivalent to any paid app you encounter online.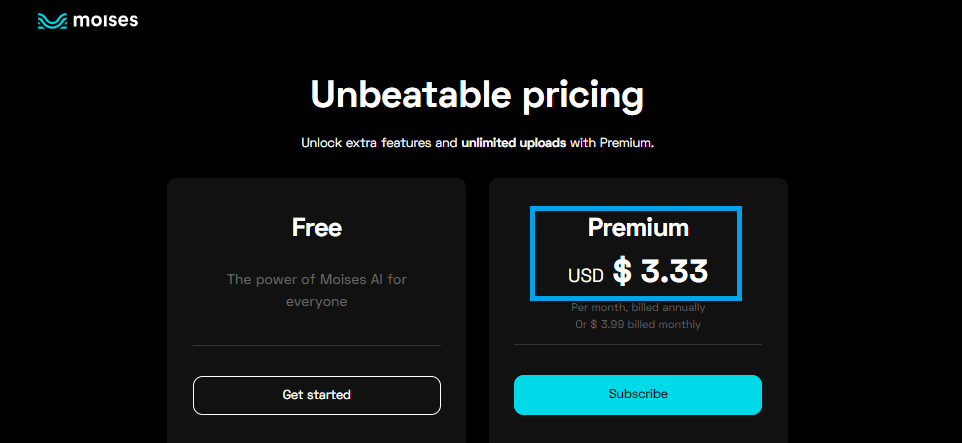 When an individual has to edit his songs professionally, thousands of dollars must be spent on experts to use their software.
But with Moises, one can experience the same level of professionalism at a very low cost.
Subscription Details
To enjoy the maximum potential of the app, one can subscribe to the premium version by paying an amount of $3.33 billed per month. If you opt for an annual subscription, you get a whopping 16% off.
By subscribing to the plans, you get more facilities, such as the file duration limit increased to twenty minutes from five minutes.
You also get unlimited uploads, storage facility forever, various file formats, fast processing queue, smart metronome, advanced setting, playback speed limit increased to name a few.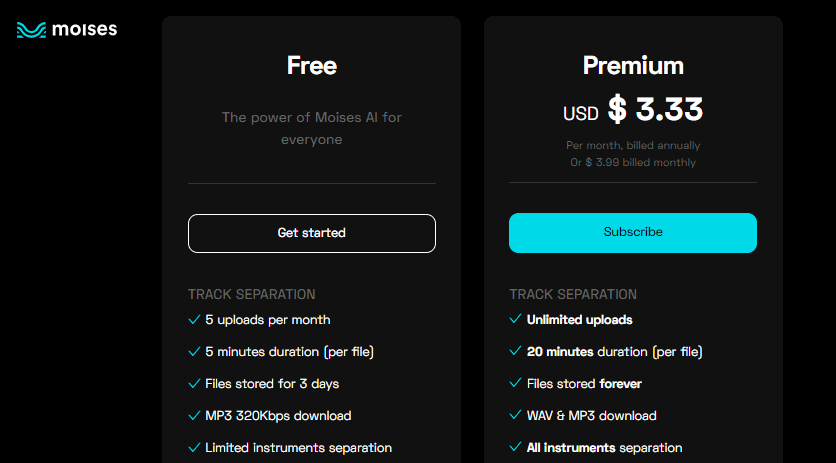 Conclusion
With this magnificent music app, anyone can be more confident about their musical talent. Whether you are at parties or with friends, enjoying alone or practicing, or singing karaoke, Moises is always there for you, providing high-quality musical output.
Trust Moises – the best music editor to bring new forms of music to all!