I find that getting organized and being more effective in my day-to-day activities, especially my work, has become more challenging over time. With my workload piling up and different teams to stay up-to-date with, chancing upon the Notion app has been a godsend!
The app gained popularity over the past number of years and rightly so. For individuals who love (and need) to get organized, I find that Notion fits the bill, and I've made it my primary productivity tool not just for work, but for everyday dealings.
If you are like me who always wants to stay on top of things, the Notion app is a handy discovery. Below are some topics that we will tackle, giving us a clearer insight into how this app can help streamline the lives of people around the globe.
Get to Know the Notion App
Main Features of Notion
Downloading the Notion App
How to Use Notion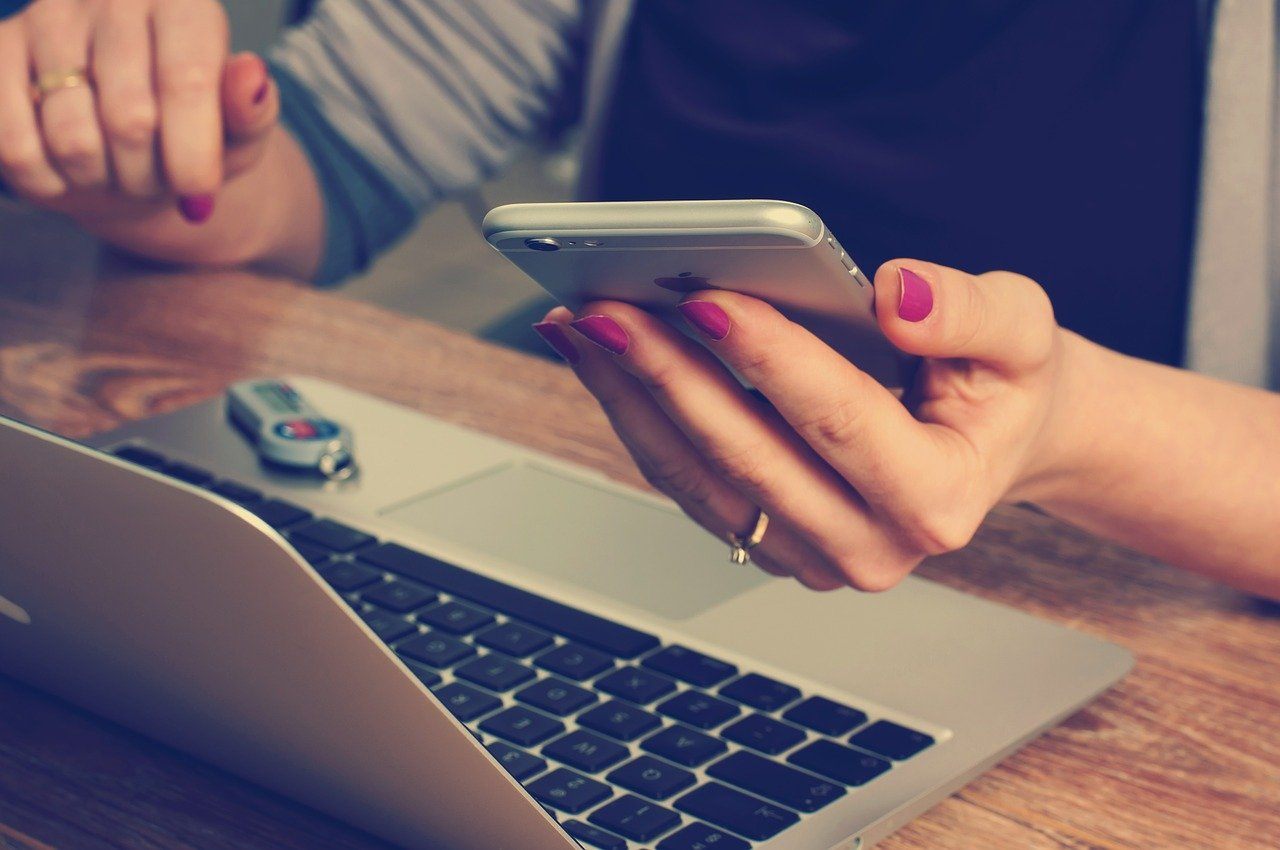 Get to Know the Notion App
Notion is productivity software that is available on both desktop and mobile platforms. It calls itself an all-in-one workspace that lets users like me write, take notes, manage projects, add tasks, collaborate, plan, and more.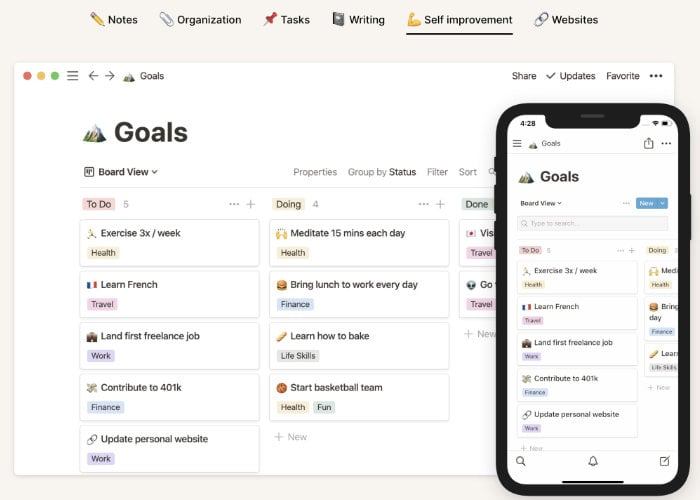 My favorite feature is that it allows me to keep track of my goals and projects and gives me the freedom to manage my tasks. With its extensive range of features and offerings, task management and organization have made it easy for me to breeze through my activities.
Some of the essential components that can be found on this platform include kanban boards, tables, note and document-taking tools, Wikis, and more.
Today, the app is included among the top 100 productivity apps in the App Store. As of writing, it has already garnered more than 4 million users in just a short span of time since it first launched its iOS app in 2017.
How the App Works
This software is designed to help users design and build a system according to their needs without having to learn how to code or using a variety of mobile applications. Instead, it is a toolkit of sorts that gives us the ability to choose what layouts and tools we need to get the job done.
Given that the Notion app works with pages filled with blocks, this app allows us to create just about anything we want, all by being manageable and foolproof at the same time.
With the key offerings and components found on the app, we are free to choose and connect these tools to make a system that works for us. While these components and tools can be used alone, they can also be used in conjunction with other components offered by Notion.
Main Features of Notion
One of the main features of the Notion app is its wide array of templates. These templates can be easily customized according to our preferences and containing tools like dashboards, task lists, pages, kanban boards, and more. The app also teaches us about the components that each template holds and how to best use them to our advantage.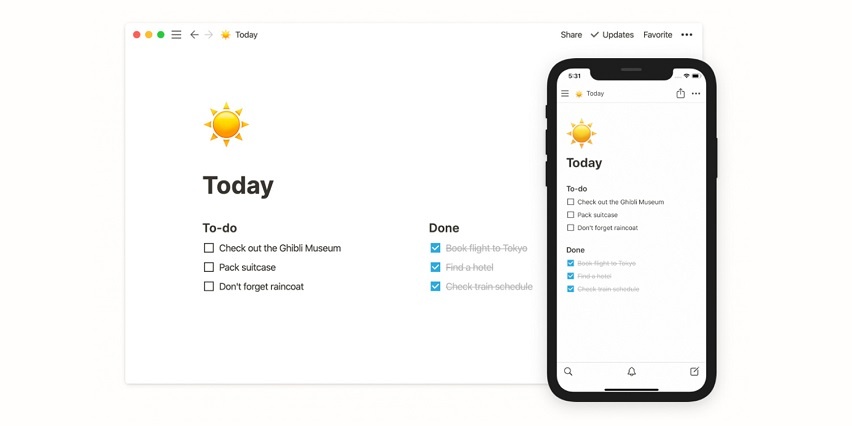 Apart from the templates, perhaps one of the most helpful tools that I found on Notion is the task list. It makes it easy for me to move around and rearrange tasks when necessary thanks to the drag, drop, and edit system. Ticking them off is also just as simple, by marking it as I would on a physical planner. I can also arrange tasks by color to make them stand out.
Even better, the ability to create pages with their own respective subtopics helps me manage different aspects of my life. Whether it is work-related, day-to-day activities like errands or household chores, or even freelancing gigs, these pages help me streamline many different parts of my life.
Within these pages, I have a list of resources and activities that I need to do. For example, under the work component, I put a list of meetings I need to attend and the topics that will be covered in each session. I also include pitches and resources that will help me back up my claims during these meetings.
What Makes the App Unique
There are a lot of similar mobile applications to the Notion app. However, what I find unique about this particular platform is that it provides varying tools essential for organizing without having to leave the app or use multiple apps.
In addition, I find that the minimalist interface provides an equally user-friendly experience, especially for people like me who can find new apps and technology overwhelming sometimes. The Notion app lets me organize information within these pages and have it sync throughout my various devices.
I want to point out that the ability to embed current tools being leveraged by our company and my team has greatly helped me. It gave us the avenue to collaborate in real-time and discuss changes with one another, even if it were on pages and platforms outside of Notion.
Downloading the Notion App
The Notion app is available to download for free for both Android and iOS users. It can be downloaded from the Google Play Store for those with Android devices, while iOS users can download it from the App Store.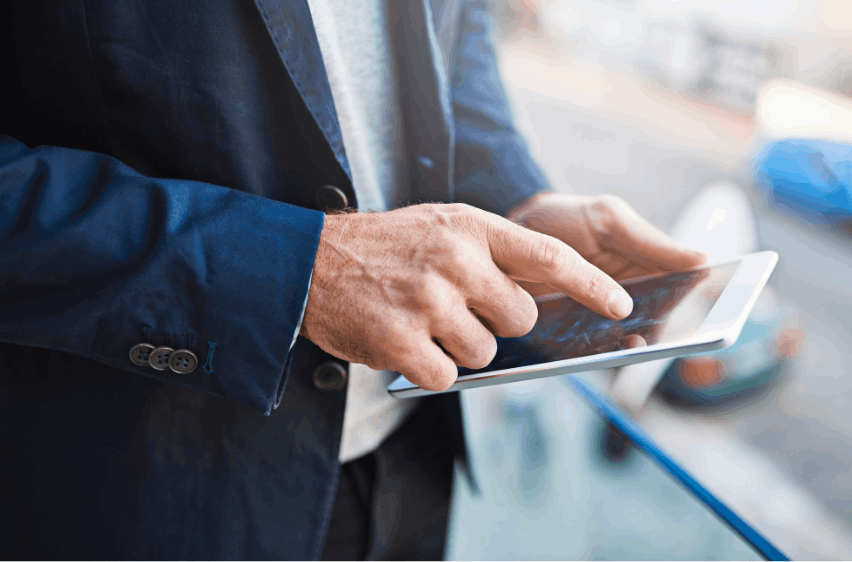 As of writing, Notion offers four plans: Personal, Personal Pro, Team, and Enterprise. Of these options, I have only utilized the Personal version which is their free option. This comes with unlimited pages and blocks, as well as the ability to sync pages and files across devices and share with up to five other people.
The Personal Pro is priced at $4 per month. Designed for users who want more, this plan lets them make unlimited file uploads and share this with unlimited guests. In addition, this also comes with a version history that users can easily refer to.
The Team plan offers are valued at $8 per team member per month. This is made for companies and businesses who value working together in one space. Besides having all the features of the Personal Pro, this also comes with unlimited team members, advanced permissions, and admin tools for a streamlined approach to collaborative workflows.
Upgrading the App
From the aforementioned options, it is easy to say that Notion makes use of a freemium model for pricing. Its Enterprise plan, in particular, provides companies who subscribe to it with the support and controls needed to run operations smoothly.
It includes all the features in the Team plan, but with the added benefit of using SAML SSO, SCIM, API, and having advanced security features and a dedicated manager.
For those who want a more comprehensive approach towards the organization, I believe that upgrading to a paid pricing plan starting at $4 per month is already a great deal. Not only will it provide more space to collaborate, but it also comes with a host of features that are otherwise not accessible.
How to Use Notion
Once the Notion app has been downloaded and installed, we will be asked to create an account. This allows us to save pages, discover more templates, and simply organize all aspects of our life without any difficulty.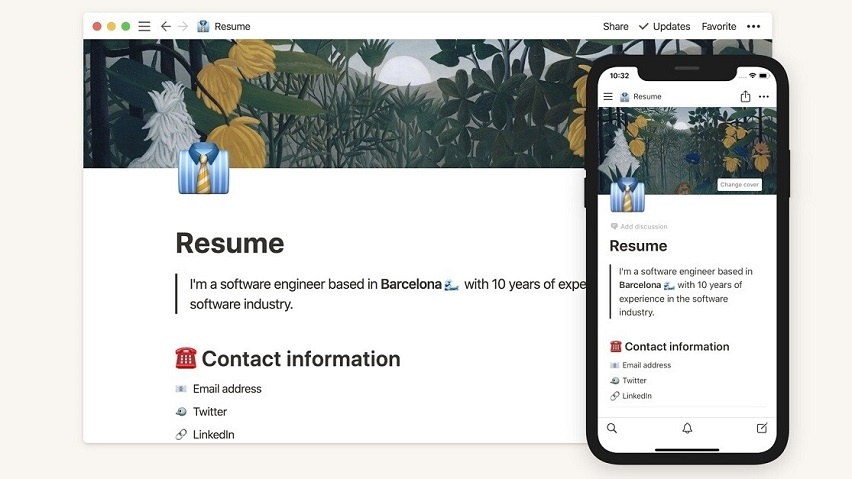 Creating an account requires either signing up with a Google or Apple account. Alternatively, the app also suggests that we can sign up with our email or with other existing login credentials. After creating an account, I recommend newcomers to explore Notion and its different building blocks.
This allows you to gain a better understanding of how the app works and how we can proceed. Personally, I started by creating a new page and picking out a template. Then, I gave my workspace a name prior to writing a checklist I wished to accomplish and explored features from there.
While the interface is minimal, I find that there may be a bit of a learning curve, but it's nothing we can't handle. As more pages are added, these will be placed on the Sidebar located on the left side of the app. Meanwhile, blocks can be dragged around depending on our desired order.
Organizing with Ease – Tips to Remember
Starting out with the Notion app can be confusing. One of the tips that I can give is to start slow and small.
Although it is easy to create pages and blocks using the platform, it would be helpful to decide what aspects and functionalities you want to have. For example, task management, projects, goals, and notes will each require their own page.
I also recommend creating a dashboard or homepage to turn to. I find that this made all of my pages easily accessible. Plus, I also found that a home page gave me the chance to easily link and embed other apps and sites which I personally used.
The Bottom Line
Make organization more accessible than ever with the Notion app.
With this super productivity application, users like me can finally gain more control over their lives and have more time to do other things they love – all with a personalized approach that helps me pursue my growth and purpose every day.