Mobile phones are similar to many other machines that we use today. The more we use it, the more it naturally deteriorates. However, there are a lot of instances that push our devices to the brink that it lowers the device's lifespan in just a few months.
Oftentimes, we encounter freezing, and sometimes, we get the dreaded notification that our phone is infected with some sort of virus or malware. There are a lot of ways to prevent this from happening, one of which is an app called Nox Cleaner.
Here's how you can help improve your phone's performance, gain more storage, and a lot more with the help of this app.
Nox Cleaner – An Effective Phone Optimizer
A Thorough Junk File Cleaner
Maximize Your Phone's Memory
Protection with Nox Cleaner Antivirus
Save More Battery Life with the Nox Cleaner App
Nox Cleaner – An Effective Phone Optimizer
Nox Cleaner App is one of the most effective and trusted phone cleaner apps of all time. When I use the app and all of its functions and features, my phone feels just like new.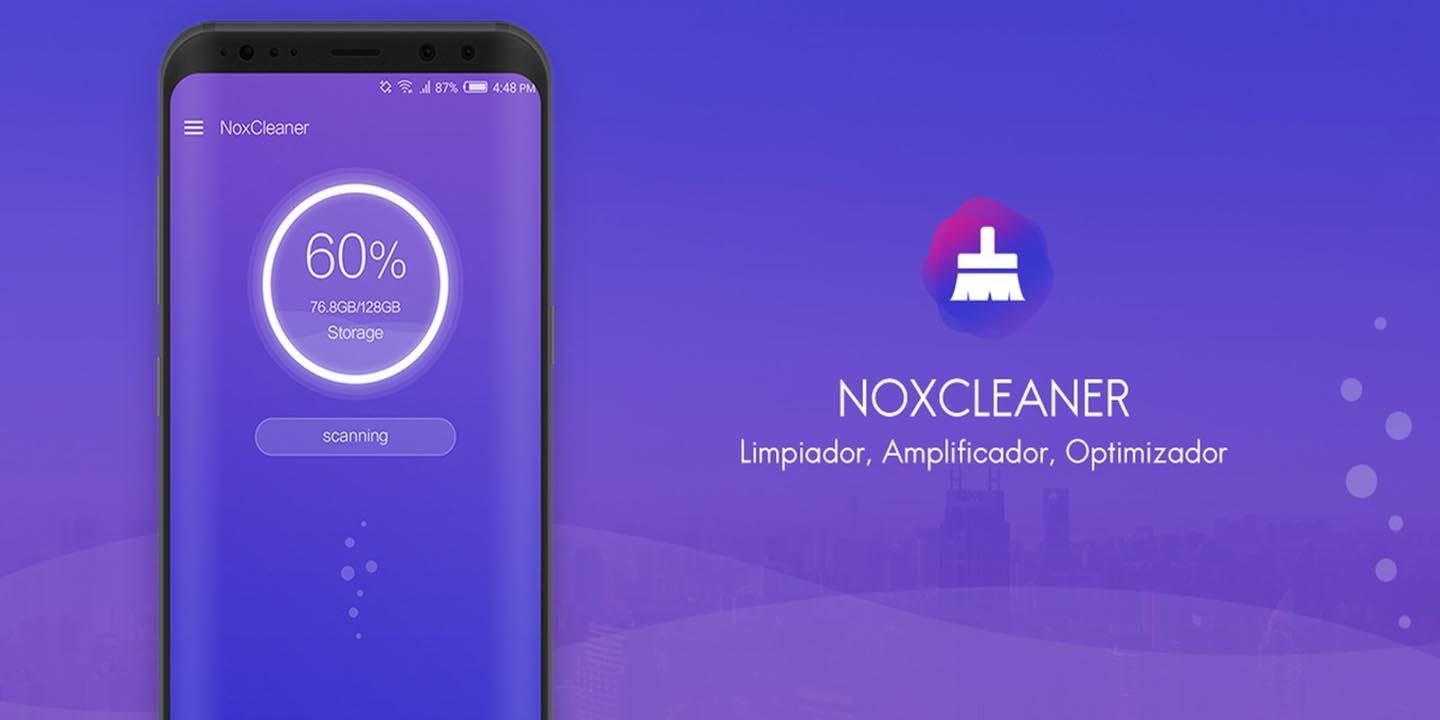 Many of my phone's issues are instantly resolved which makes it like I just bought it.
Besdies cleaning your phone by removing junk files, cached files, and clearing storage space, this app also boosts your phone's overall performance.
There's also more to the app than just cleaning your phone. It also features a powerful antivirus system that helps protect your Android phone from any potential issues when you're connected to the internet.
Play Games with Better Performance
We all want to play mobile games without having to deal with performance issues. Many Android phones are built to accommodate a lot of demanding mobile games nowadays but certain phones need an extra boost.
The Nox Cleaner app has the Game Booster Master feature where you can boost your favorite mobile games to make sure that you have a better gaming experience.
Games run faster, better, and smoother without any lag or FPS issues. That's just one of the many features that you can find on the Nox Cleaner app.
A Thorough Junk File Cleaner
One of the biggest problems problems that our phone's can run into is the build-up of temporary and junk files. These files begin to pile up on our phones and take up a lot of its storage.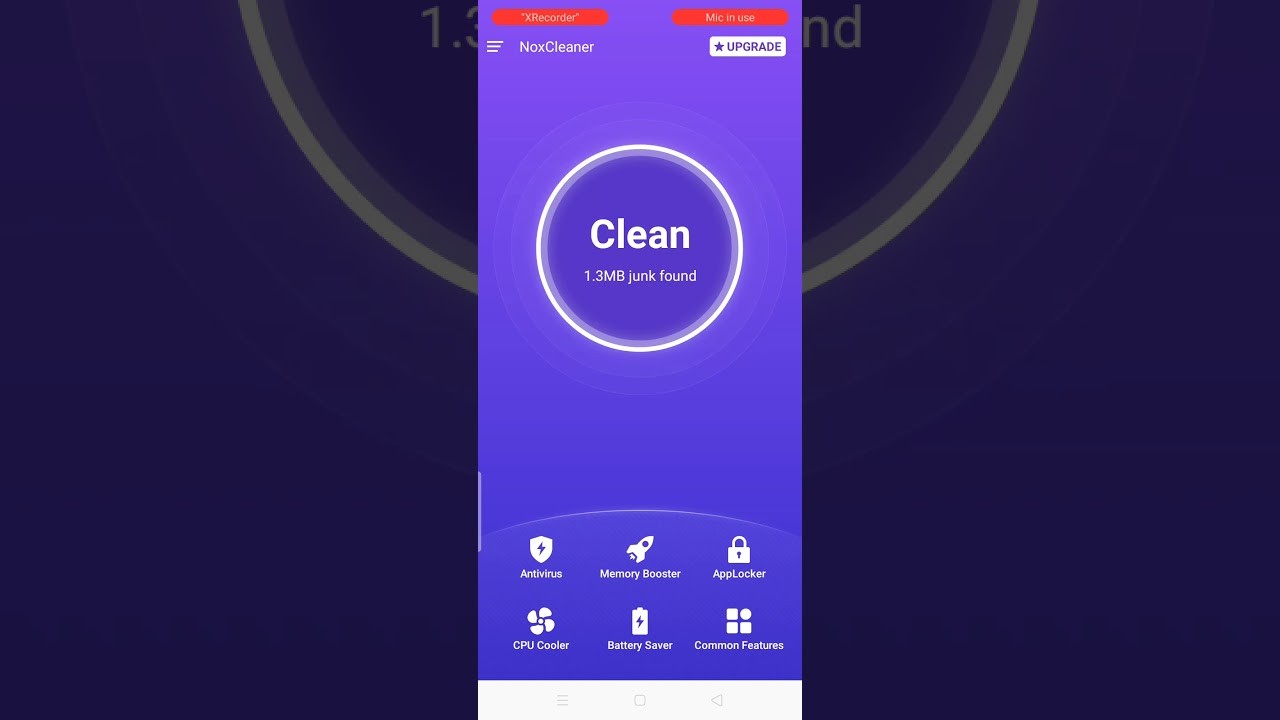 This space could have been best used by other apps to function better. The Nox Cleaner app thoroughly cleans out all the junk files in every folder of your device.
Any residual files, cache, download folders, and even clipboard copies are removed from your device. While the app is removing these unnecessary files, it doesn't delete any of the important ones that are stored.
The app recognizes which ones need to be deleted and which ones shouldn't.
Faster Performance for Your Phone
What I like about the app is that it helps with the overall performance of my phone. Even if my phone is two years old, it still feels brand new whenever I choose to clean the device.
The app thoroughly cleans my phone, making it more reactive and fluid to use. Whenever I swipe around the menus or through internet tabs or gallry images, it reacts much faster than before it was cleaned.
I also get to launch apps much faster after using the app. I can always tell that my phone is performing better whenever I use the Nox Cleaner app.
Maximize Your Phone's Memory
The excessive use of your phone's apps and many other processes can take its toll on the device.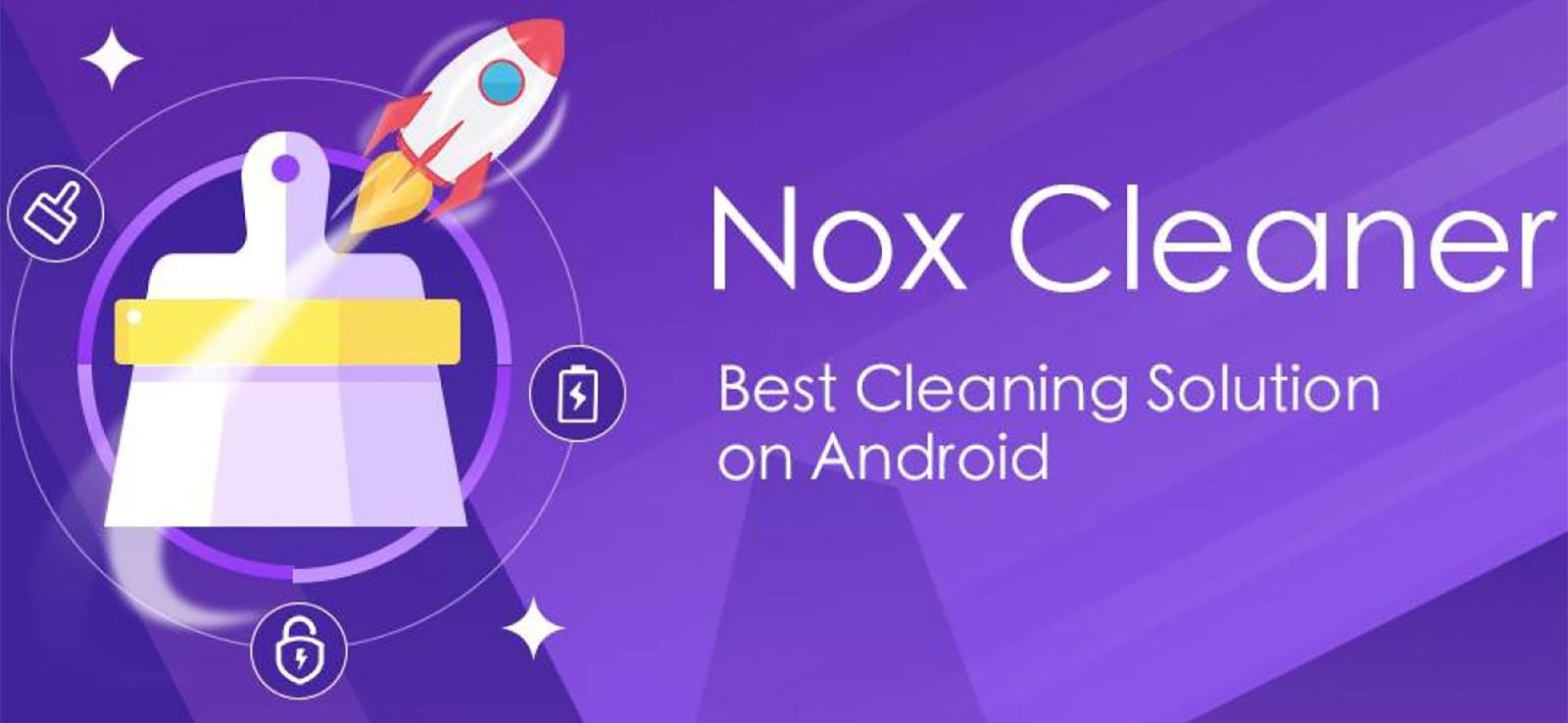 I often do not notice that the phone is nearing its maximum memory whenever I open a lot of apps. At least not until my phone beings feeling very slow.
The Nox Cleaner app can free up your phone's memory with just one tap of a button. The Max Memory Booster feature closes all of the apps that run in the background thus freeing up space on your phone's memory.
This makes it lighter and faster to use so it feels fresh and new.
Smart Way of Closing Apps
We all know that closing an app that is running in the background can help relieve the lag on our device. However, experts say that constantly closing these apps can be detrimental to the overall health of our devices.
While Android does well with managing its resources when it comes to apps, this can have an effect on the phone's battery life. This is why Nox Cleaner recommends that you only use this feature once in a while or whenever your phone feels laggy.
Some apps are designed to run in the background and Nox Cleaner is smart enough to detect which apps should remain running.
Protection with Nox CLeanerAntivirus
One of the most dreadful experiences any Android user will have is when they realize that their phone is infected with a virus or malware. Viruses and malware pose a very serious threat as they are vehicles for identity and privacy theft.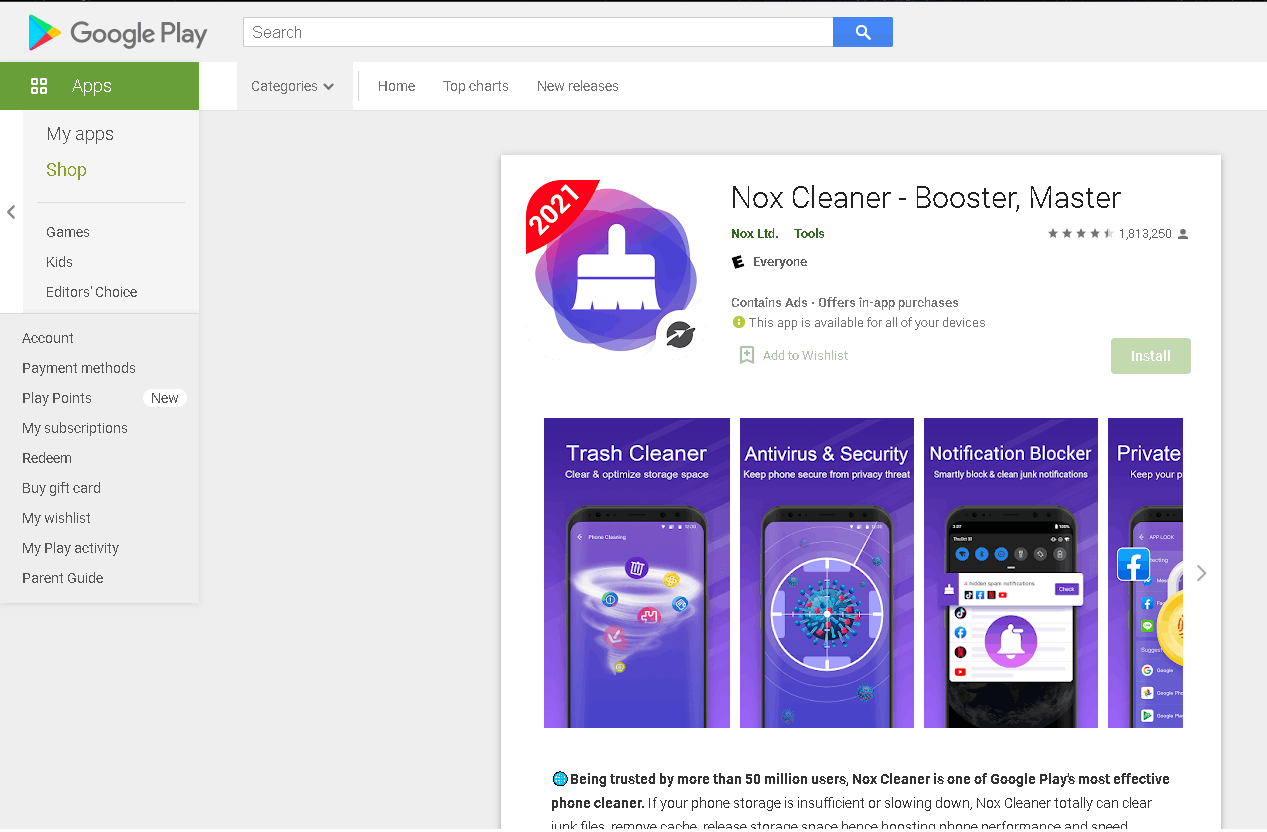 While we might be very careful with the links that we tap or the emails that we open, there is still a need for protection whenever we connect to the internet.
Nox Cleaner has a real-time virus scanner that seeks out potentially harmful threats on your device and isolates them immediately.
In just one tap, the app prevents serious threats to your security and privacy which makes this even more important to download on your phone.
Secure Apps with the App Locker Master
When it comes to security, Nox Cleaner not only protects our mobile phone with its antivirus system, it also protects your phone from getting hacked through the use of its feature called the App Locker Master. You can now protect your phone and your apps from unwanted access by setting up a password.
Whether you want to keep your Facebook and other social media apps private or your phone's gallery, the App Locker Master provides a quick and easy way to set up a password and block any would-be hacker from access.
The best part about this feature is that it lets you choose between setting up a password, using your fingerprint, or using a pattern code instead.
Save More Battery Life with the Nox Cleaner App
Battery life is one of the most crucial aspects when it comes to using your phone. For people like me who do not have the time to wait to charge my phone, I always make it a point that I conserve as much battery power as I can.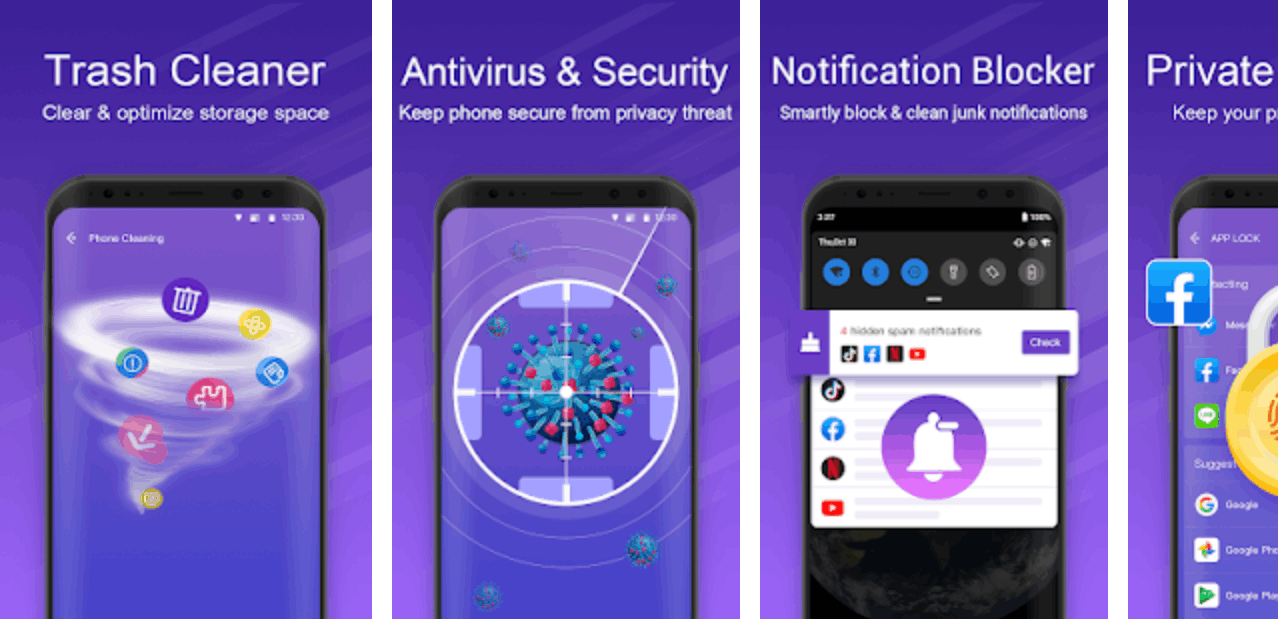 However, this happens a lot to many of us. One moment we see that the battery is still halfway through and the next moment it has dropped to critical levels. Many phones tend to have less and less battery life the more they are being used.
Even one year after purchase, phones have less battery life longevity and you may begin having to deal with battery issues later on. This is why Nox Cleaner has a feature called Max Battery Saver.
This feature carefully analyzes which apps are draining your battery and stops it in its tracks, efficiently saving power on your phone. Now, you don't have to worry about apps draining your battery life, and it can last the entire day without charging.
Lower Your Phone's Temperature
There are a lot of factors as to why your phone's temperature rises. One of which is the constant use of your phone and another is when certain apps are being used.
Sometimes, apps tend to behave abnormally and they begin to consume a lot of battery power thereby increasing the temperature of your phone. This can lead to some serious damage to your phone which is not the way we want our phones to be used.
The Nox Cleaner app helps conserve battery life while also maintaining a well-balanced temperature with its CPU Cooler Master feature. I this feature, it effectively closes apps that drain your battery and lowers the temperature on your phone.
To Sum Up
When it comes to taking care of our mobile phones, proper management is key. There have been a lot of apps that aim to manage our phones and aim for better performance but none has done it like the Nox Cleaner app. I hope you've learned a lot about the app and its features in this article.
Make your phone safer, faster, and better with the help of Nox Cleaner. Check out the Nox Cleaner app on the Google Play Store. Search by its name and be sure to click the option by the developer "Nox Ltd." To download, simply click the Install button to launch the installation process. Enjoy trying out the Nox Cleaner app!