With each new iteration of your phone's operating system, it becomes more customizable. You can change accents, animations, permissions, and so much more. And on top of this, there are apps now that can personalize your phone according to your requirements.
Zedge is one such app that lets you find wallpapers, ringtones, and notification and alarm sounds. It is one of the most popular apps available on both the Google Play Store and the Apple App Store.
If you're one of those people who extensively use their phone and want the best experience from it, Zedge could be the app for you.
What Is The Zedge App?
The Importance Of Wallpapers On Your Phone
Change Your Wallpapers Automatically
Set Alarms On Zedge
Save Your Favorites
Creating Your Zedge Account
Optional Permissions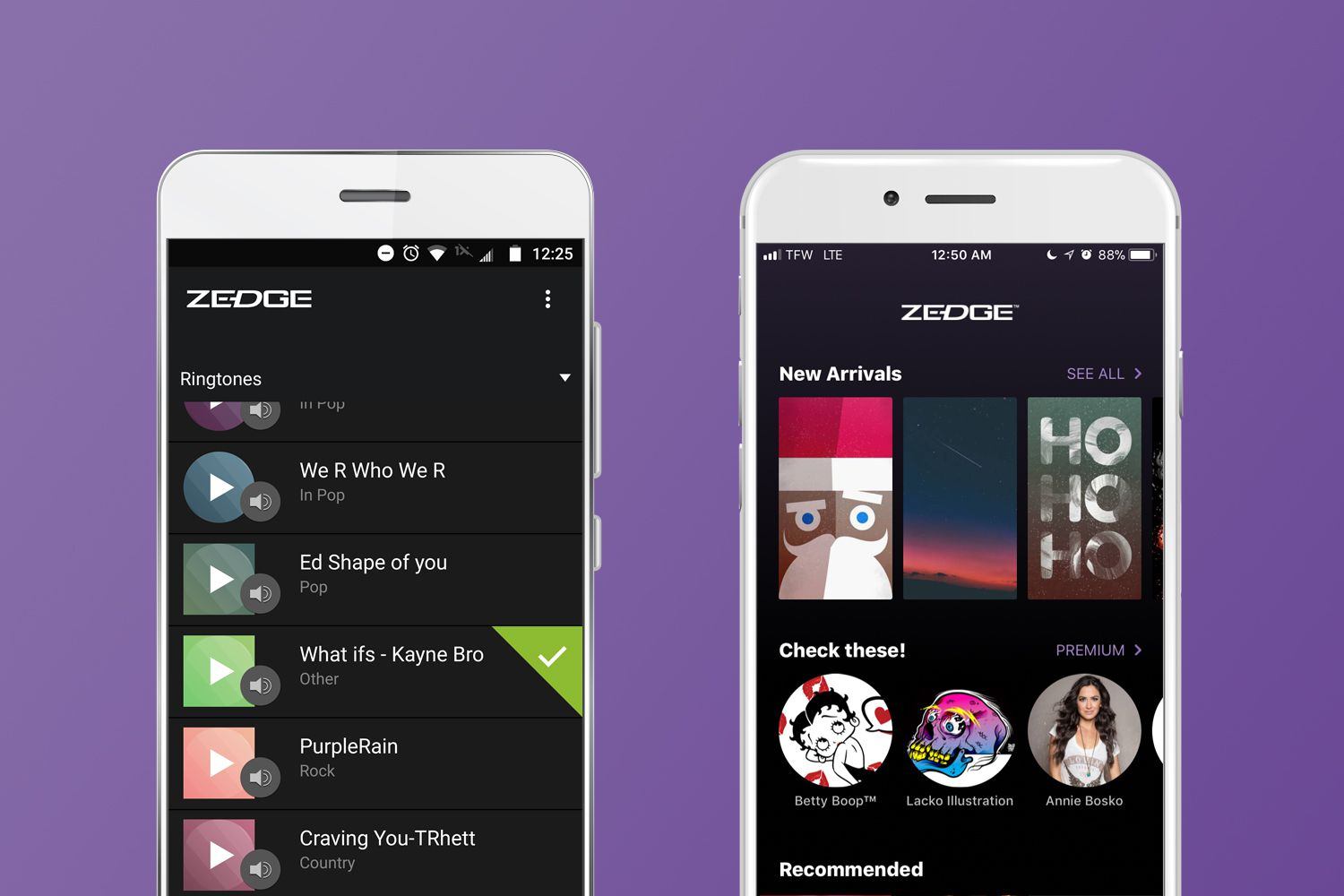 What Is The Zedge App?
At its core, Zedge is a personalization app. Let's face it; if you have the same wallpaper, theme, and ringtones for your phone for months on end, it can get boring. Remember how excited you were about your phone when you got it for the first time?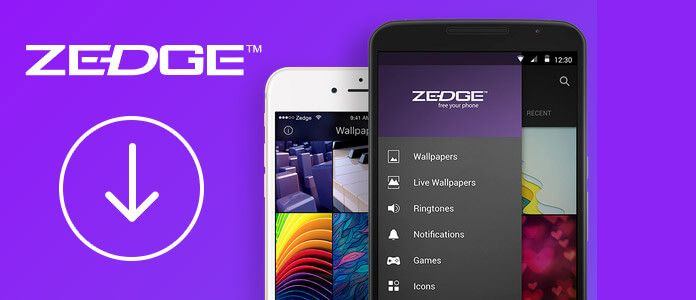 That excitement can be revisited with Zedge simply because of how different your phone will look and feel once you download the app. There are millions of customizations available on the app that will completely transform your phone.
Some of these customizations include live wallpapers and a wide range of different sounds that you can use as notification sounds for messages and calls and your alarms. You would love the customizability that Zedge will bring to your phone.
Key Features Of The Zedge App
The Zedge app comes with many features that make it so popular with millions of people. It has more than 30 million downloads on the Google Play Store, and the numbers speak for themselves.
Besides being able to completely customize your phone according to your specific tastes, the Zedge app also gives you the ability to create and share your own designs. The features of the app are discussed in detail in the coming sections.
The Importance Of Wallpapers On Your Phone
The first thing you see when you pick up your phone is your wallpaper. Even when you're just checking the time on it, you can see the lock screen behind it.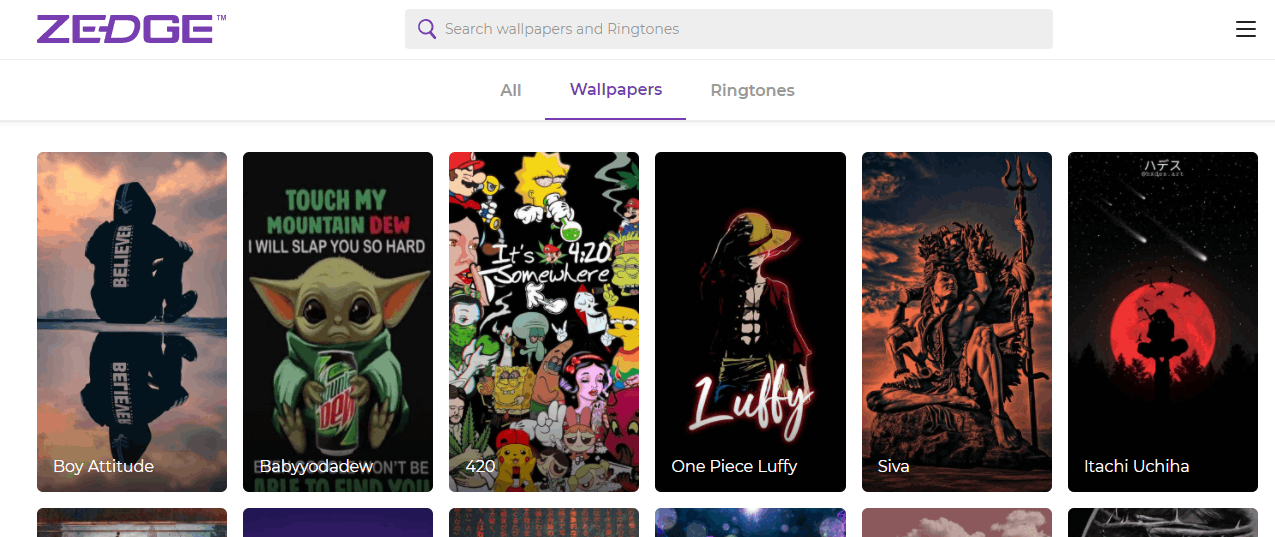 Why stick to the limited collection of stock wallpapers that your phone came with when you have the option to apply anything you want to it? Whether it's pictures of the universe, tech, nature, cute animals, or your favorite pop culture icon, Zedge has it all!
With an endless selection of wallpapers by creators worldwide, the number of options you have on the app keeps growing every day. You can browse the wallpapers you want based on a particular theme.
Otherwise, if you have something specific in mind, Zedge also gives you the option to search for wallpapers by using the search bar. These wallpapers are available in full HD and 4K resolutions to provide you with the best possible experience.
Live Wallpapers On Your Photo
Having an unlimited selection of wallpapers is all well and good, but how cool would it be to have a wallpaper that keeps moving all the time? Zedge gives you the option to do so. With an extensive catalog of live wallpapers for all tastes, you can select the best options available on the app.
Another interesting thing is that you do not need to install these live wallpapers to use them. They are directly embedded in the app, which means that as long as you have the app installed on your phone, you can search and apply any live wallpaper you like.
One common complaint that people have against live wallpapers is that they drain a lot of battery. Zedge understands that you only look at the wallpaper for a few seconds before going to whichever app you need on your phone. For this reason, the live wallpaper only displays once after you turn on your home screen, thus conserving your battery life.
Change Your Wallpapers Automatically
Do you fancy a different wallpaper every few hours or days? Doing this on Zedge is very easy. You do not have to go into your settings and change the wallpaper every time.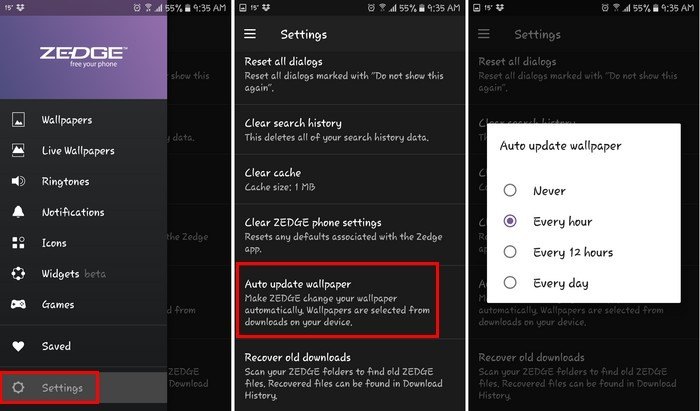 On the Zedge app, you get the option to select some backgrounds of your own choice. After this step, you can choose the interval at which you want the wallpaper to change.
Zedge will give your phone a new wallpaper in that interval, keeping your feed lively.
Ringtones Selection On Zedge
There is a limited number of sounds available on your phone when it comes to your phone's ringtones. The conventional iPhone or Android ringtones can get boring quickly. What if you want to add your favorite AC/DC song as your ringtone?
On Zedge, you get a wide selection of ringtones to give you a much more personal experience. These ringtones include not only music, but also funny sounds and effects.
Another exciting thing about this feature is that it can be personalized for different people on your phone. You can have a different ringtone for your family, a different one for your friends, and a different one for your girlfriend! This means that you will have an idea of who's calling you before you look at your screen.
Set Alarms On Zedge
Are you a light sleeper? You probably need just a few soothing sounds of nature early in the morning to wake you up. On the other hand, if you're a heavy sleeper, you might need something a lot longer and louder to get you out of bed in the morning.

The options for alarm tones available on your phone might not cut it. Zedge gives you a wide selection of different kinds of tones that will definitely wake you up in the morning!
Activate Your Notifications
How many times has your phone pinged, and you checked it, hoping for a message from someone, but it was just a notification for an advertisement from a food delivery app or a Netflix recommendation?
Wouldn't it be brilliant if you could change your notification sounds for just a few apps on your phone? You can now safely know when you're getting a DM on Instagram or just another useless notification from a different app with the option to select notification sounds and alert tones for select apps.
The wide variety of notification sounds also means that you can really get into personalizing your experience. Zedge lets you select funny sounds or pop culture references.
Save Your Favorites
Since Zedge has such a large gallery of wallpapers, ringtones, and notification sounds, you might want to come back to something you've used previously. You might also want to save something for later without downloading it right away.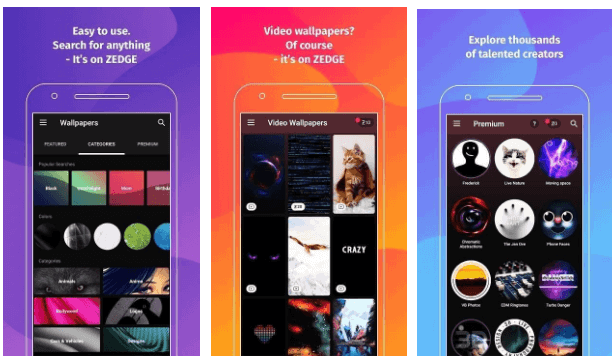 This is an option on the app as well, as you can save all of your favorite ringtones and wallpapers with just a click. These will get saved within the app on your account.
Limited Edition Goodies
If you need wallpapers or ringtones for special occasions like Valentine's Day, Mother's Day, or New Years, Zedge will send you a notification telling you about it.
You can also customize these for birthdays and anniversaries for an even better experience.
Creating Your Zedge Account
Let's say that you downloaded the Zedge app on your last phone, made quite a collection of your favorite wallpapers and ringtones, but now it's time to change your phone. You don't have to be worried about starting from scratch!
With Zedge's account, you get access to your entire collection across all your devices. Login from any device by using your details, and all of your wallpapers and ringtones will be available for you to download easily!
Permissions On The Zedge App
Since Zedge is a comprehensive app that can customize your phone on a very detailed scale, it will need some permissions to function properly.
These permissions are often optional, and can be turned off if you're alright with not being able to use particular features of the app.
The non-optional permissions include Media and Storage access. As the downloaded material from the app will be saved on your phone, these permissions will be needed to store your wallpapers, ringtones, and sounds.
Optional Permissions
The optional permissions include contacts (if you want to set individual ringtones to different contacts), system settings (if you're going to apply a downloaded ringtone as your default ringtone), and location (if you want personalized recommendations based on your location).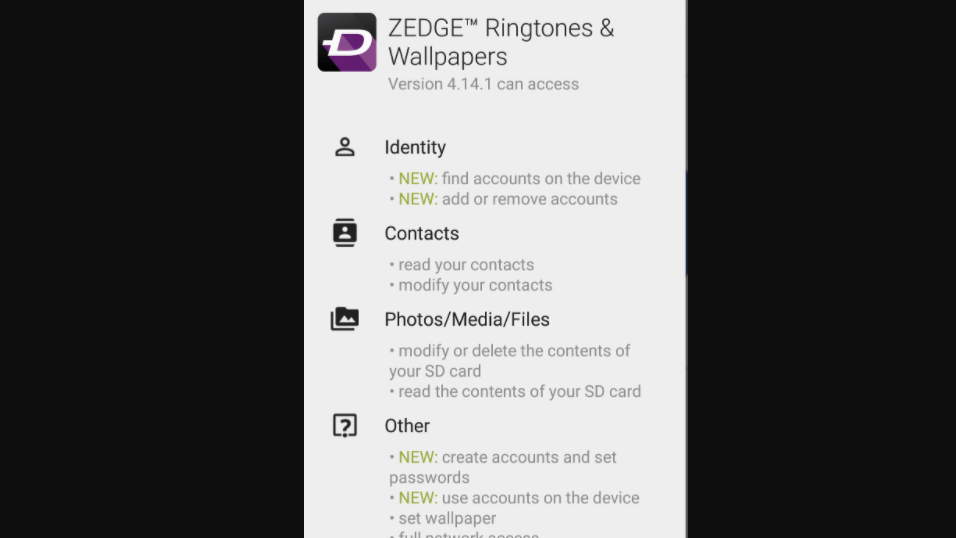 You can turn these permissions off, but you will not be able to use all features of the app.
Download The Zedge App
The Zedge app is available for free on both the Google Play Store and the Apple App Store. As the app is free to use, there are some ads present within it.
However, you can make some in-app purchases for the complete version of the app, which could remove the in-app adverts.
Click on the Google Play Store Zedge download link to download the application if you have an Android phone. Or you can click on the Apple App Store Zedge download link if you want to use this app on an iPhone or iPad.
The Bottom Line
Considering how far operating systems and apps have come in the last few years, customizing your phone is now as easy as just looking up a theme or a wallpaper and applying it.
Apps like Zedge make the whole process easier. If you are looking for something that will make using your phone an overall better experience, you should definitely check out the Zedge app!