Cooking is not everyone's cup of tea – this is true for people like me. But it can get a bit easier when we have a recipe book to follow. After all, how hard is it to follow instructions, right? For those who think of the kitchen as their kingdom, recipe books are a holy grail when trying out new dishes, meals, snacks, pastries, and desserts.
Whether you're a beginner or an expert in the world of cooking, one thing's for sure: nothing beats a recipe book that could be read straight from one's phone. With this technology, cooking with a recipe is easier and better! Here are some of the ten best recipe apps that I use which help me become a better cook.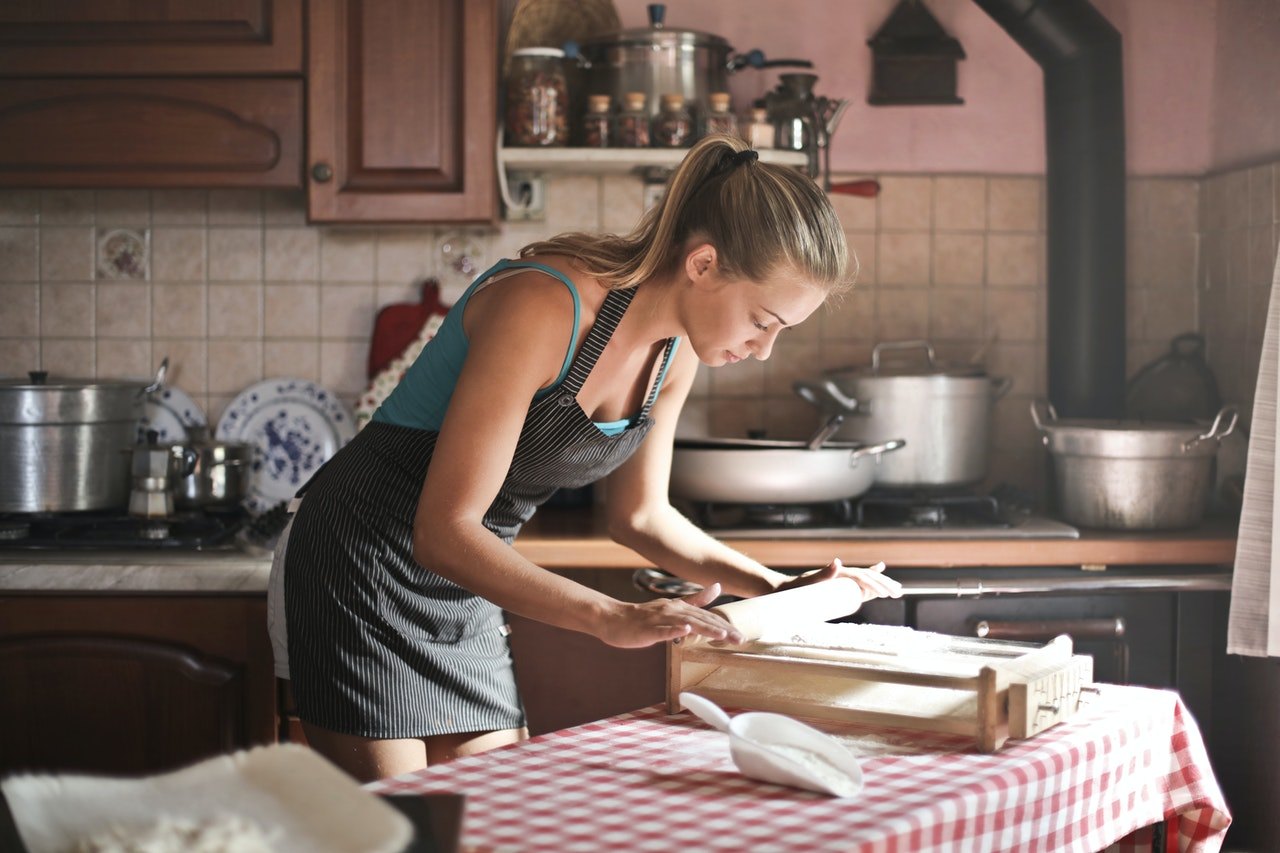 Paprika Recipe Manager
Paprika Recipe Manager is an app that allows users to save recipes to the app with a simple tap, a feature that I find very helpful whenever I'm browsing the Internet and happen to come across an interesting recipe.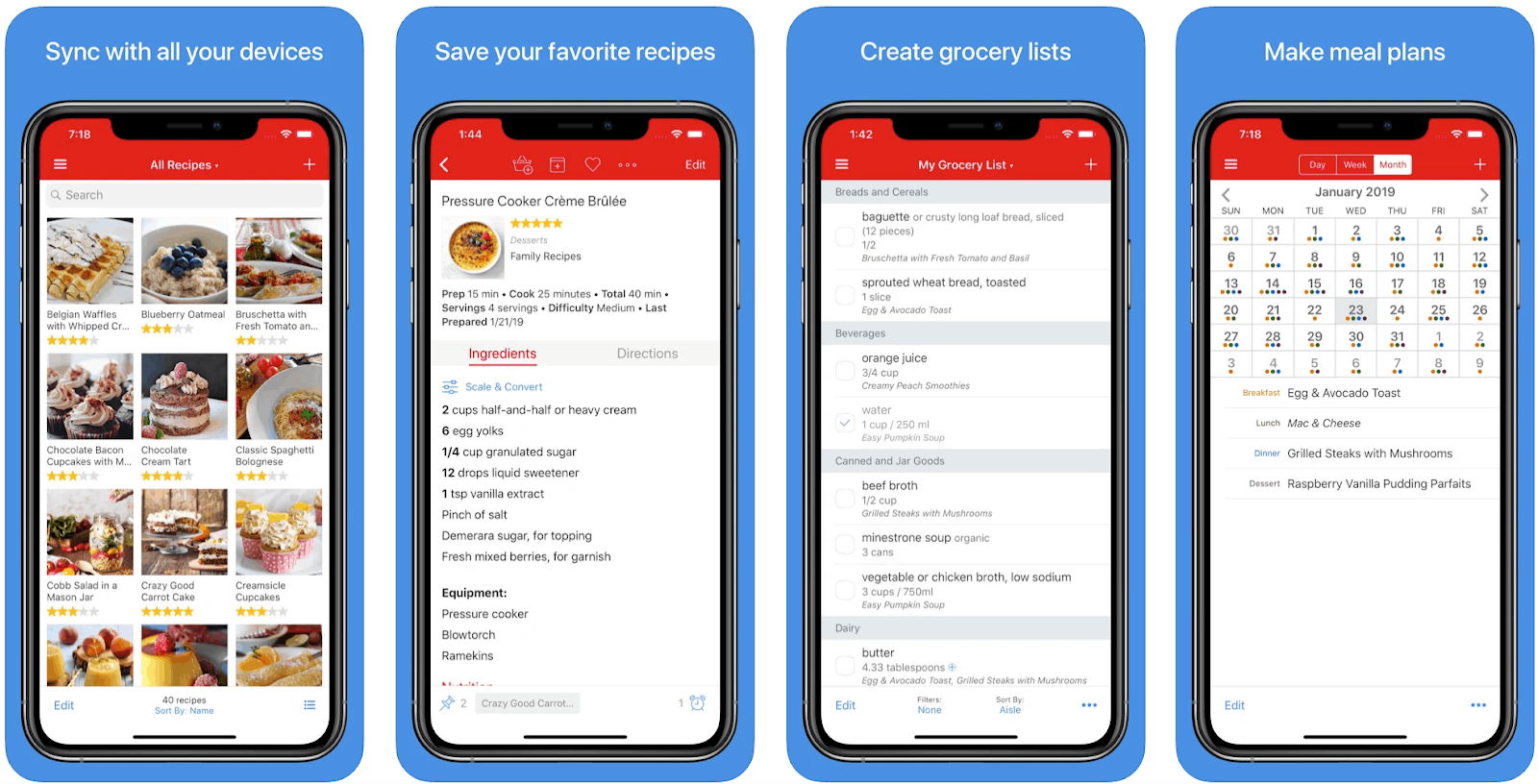 The best features of this app are that it allows me to edit downloaded recipes and interact with them in real-time as I am cooking. This includes highlighting the current step, crossing off steps I've done, adding images, and inserting bold or italicized text. What's more, I find it ingenious that my phone's screen won't dim when I'm using the app – so no more greasy or wet smudges!
Moreover, this all-in-one app also features a timer, a converter for measurements, and other tools which help me plan meals and create organized shopping lists for my meals! Paprika Recipe Manager can be downloaded for Android and iOS, with a $4.99 fee for the premium version.
BigOven
BigOven is one of my favorite apps because it allows me to import handwritten recipes (such as my family's secret recipe for beef brisket) without the need to manually type it in. All I have to do is take a photo or scan the recipe, and BigOven instantly recreates it in the app!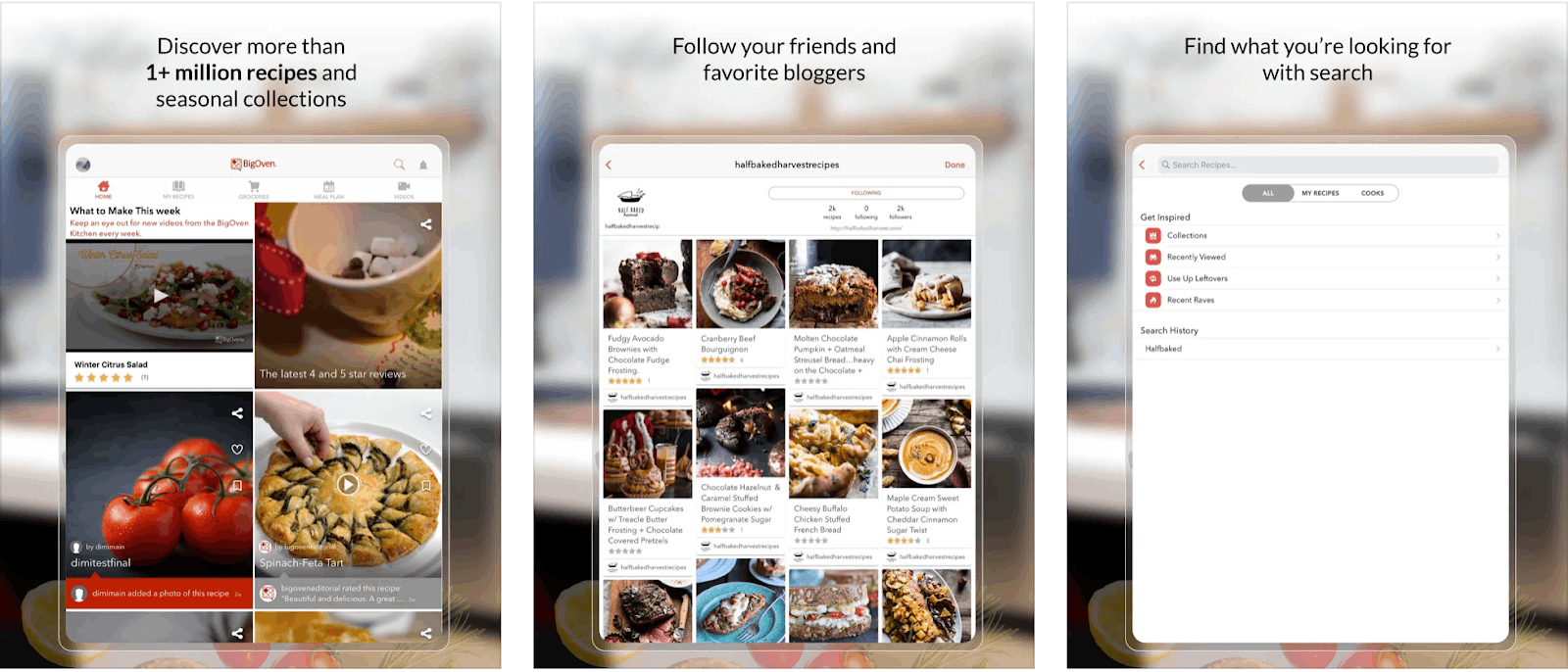 The Recent Raves tab includes over 350,000 recipes made by home cooks that you can browse. You can type in any meal you have in mind and get instant results from the wide collection of recipes.
Moreover, BigOven is a social app where you can connect with people who use the app. With the app, you can plan meals and coordinate your shopping lists with other family members. The app is downloadable on Android and iOS, with the premium version costing $24.99 per year.
Yummly
Yummly was my go-to recipe app during my vegetarian phase a little while back. It's one of the best recipe apps for vegans or vegetarians out there because the app allows me to filter out recipes that contain ingredients I want to avoid. This is also helpful if you have special dietary requirements or food allergies.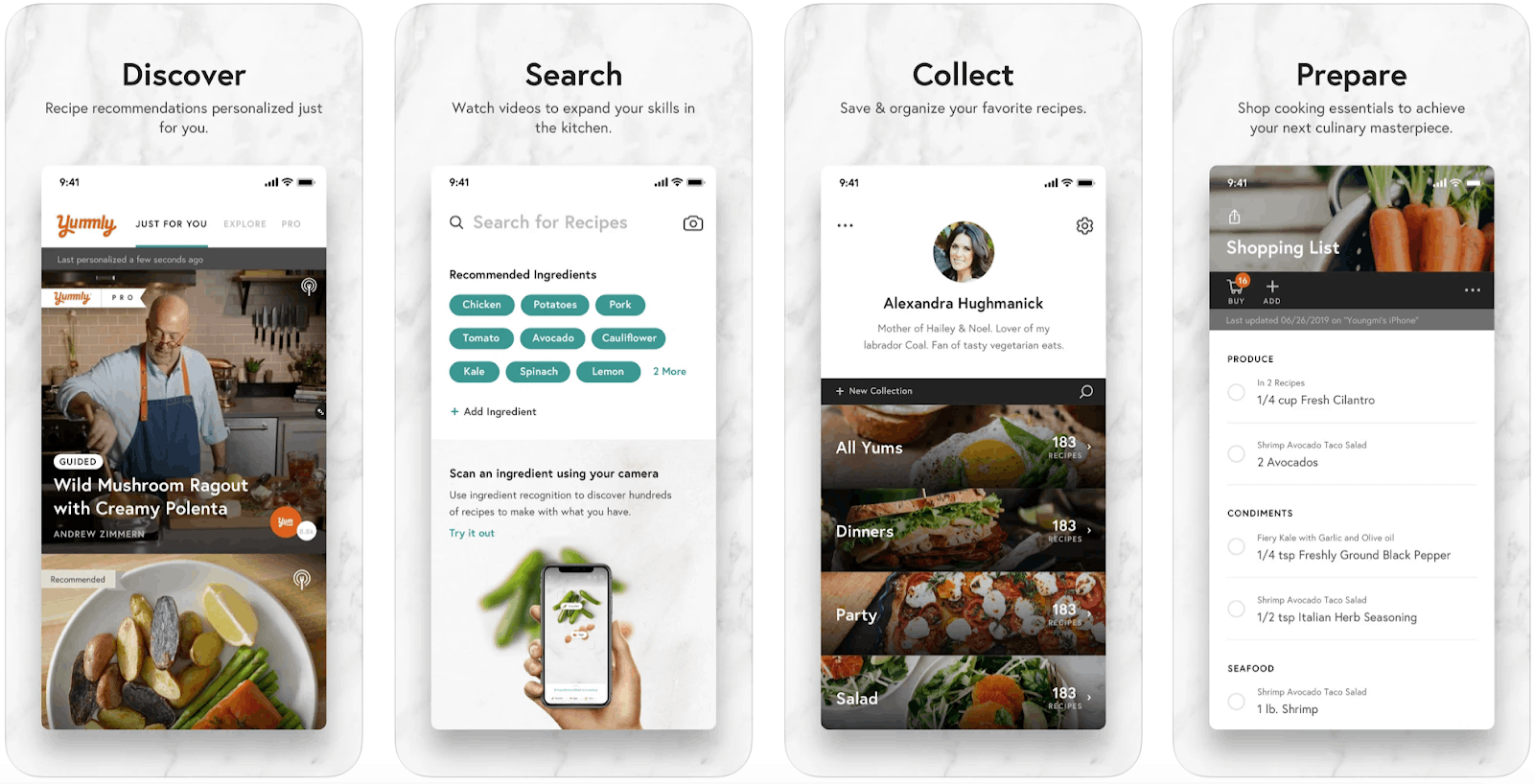 The app also provides suggestions or recommendations suited for your taste based on your recent searches. Once you've searched their library containing over two million recipes, you can mark your favorites so you can retrieve them later.
What's more, you can also schedule when to cook your meals on your calendar with the app. Yummy is available both on Android and iOS; no subscription or fees needed.
AnyList
AnyList is one of my go-to apps when it comes to organizing my recipes. The app lists all the needed ingredients and the quantities for each ingredient in any recipe that you've imported in the app.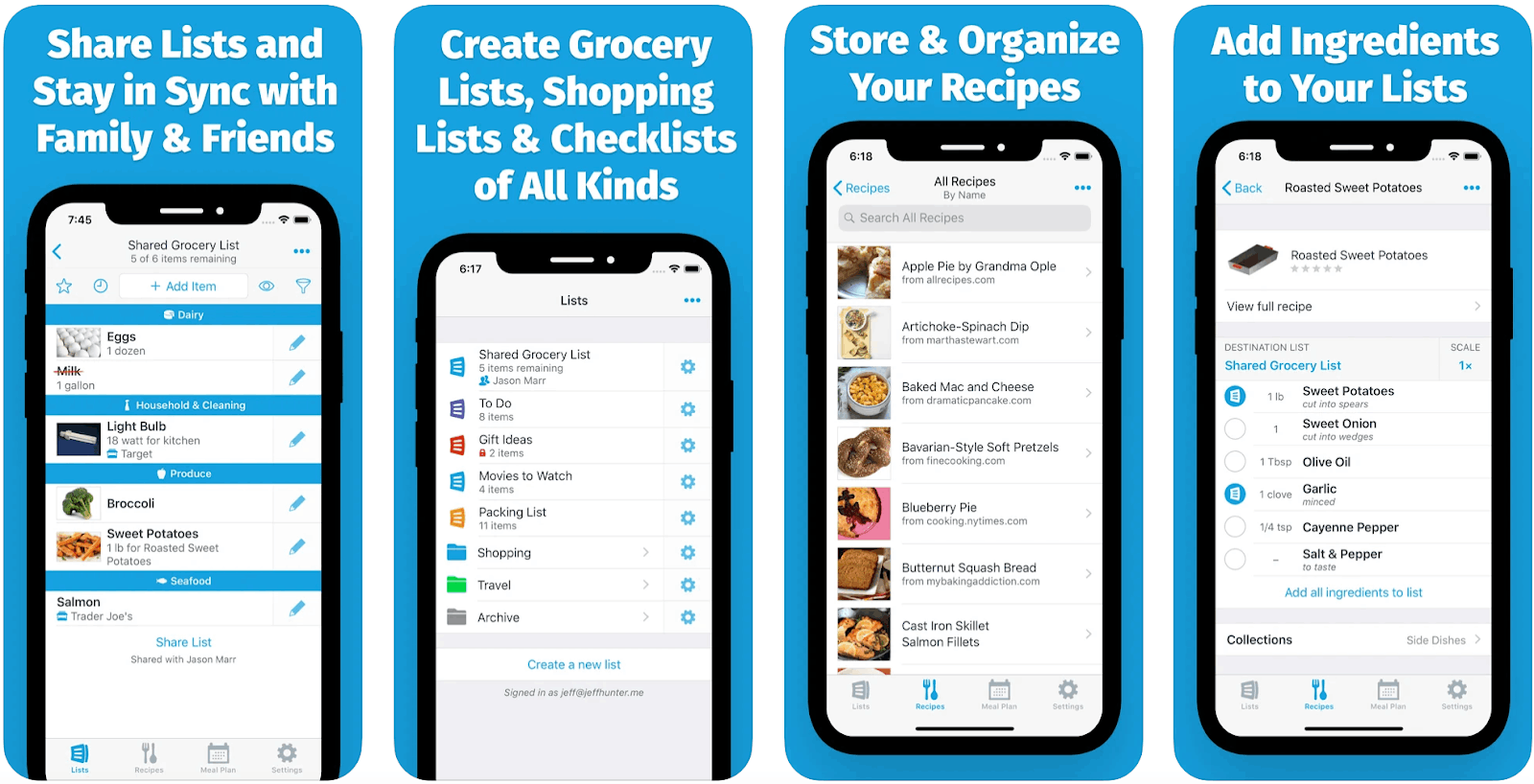 The app also allows me to import online recipes from my mobile browser. The app gets even better because it provides me with grocery suggestions during my next run to the grocery store. I can even share my list with family or friends who can pick up the ingredients.
The app also allows real-time collaboration on grocery lists, so this app is convenient for families or roommates. AnyList is downloadable on both Android and iOS, but you'll have to pay an annual fee of $9.99/person or $14.99/family to gain access to premium features such as ingredient scaling, themes, folders, and meal planning.
Whisk
Whisk is one of my go-to all-in-one apps for finding, saving, and organizing recipes, as well as creating weekly meal plans and shopping lists. Through the Whisk's Recipe Saver feature, I can save recipes from the browser and import them to the app.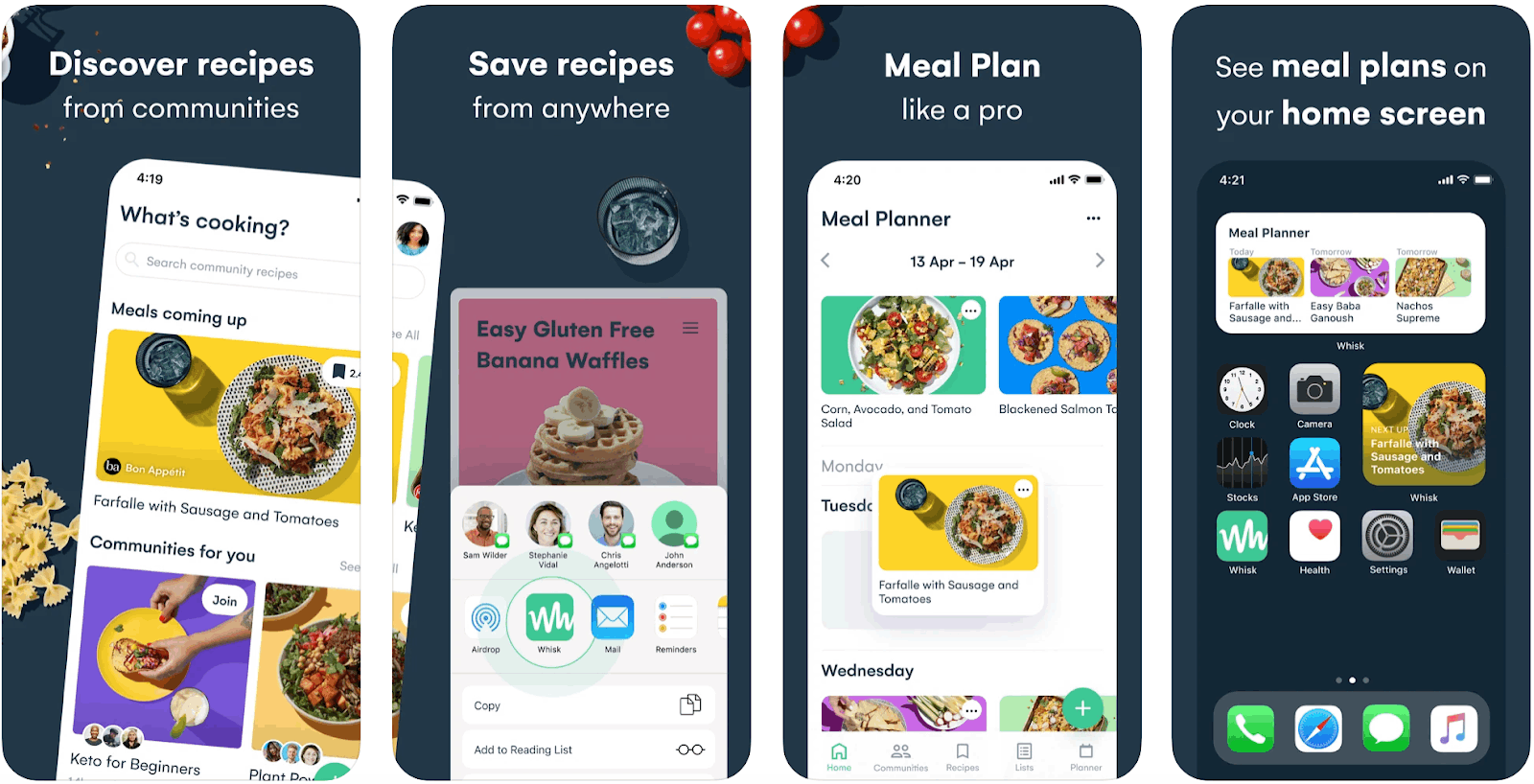 My favorite feature in Whisk is access to the recipes posted by other users in the Whisk community, which gives this app an edge over other recipe apps. Aside from that, Whisk's RecipeScan app also allows you to scan and upload printed or handwritten recipes.
As an added feature, Whisk enables you to order groceries on your shopping list in the app from Walmart, Amazon Fresh, Kroger, Instacart, and other grocery shops that Whisk partners with. The app is free to download on Android and iOS.
BBC Good Food
Although primarily made for the Brits (Americans, watch out for the measurements!), BBC Good Food is a straightforward and easy-to-use app with a huge collection of high-quality recipes from A-list chefs such as Gordon Ramsey and Mary Berry.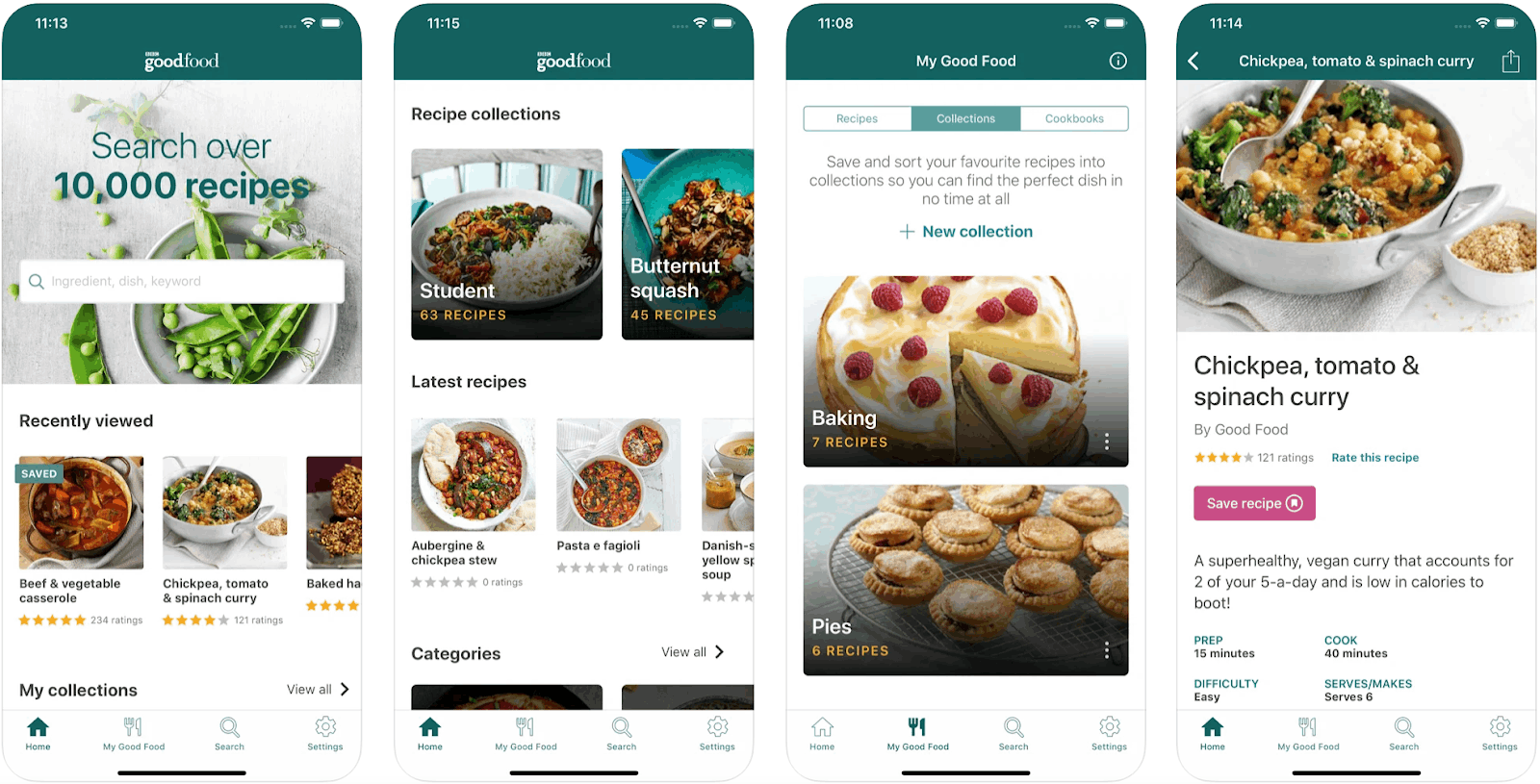 The app's Cook Mode feature ensures that your phone stays on the entire time while you are cooking to avoid touching your phone with greasy or messy hands. You can also save recipes into a personalized recipe folder to easily locate them later on.
The app contains thousands of recipes you can enjoy. BBC Good Food is available for download on Android and iOS.
Epicurious
Epicurious is a tried-and-tested recipe app for both beginners and pros in cooking. With its huge resource of 35,000 recipes from the best publishers like Bon Appetit, Gourmet, Harper Collins, and more, you'll be sure to find everything you need and more with this app.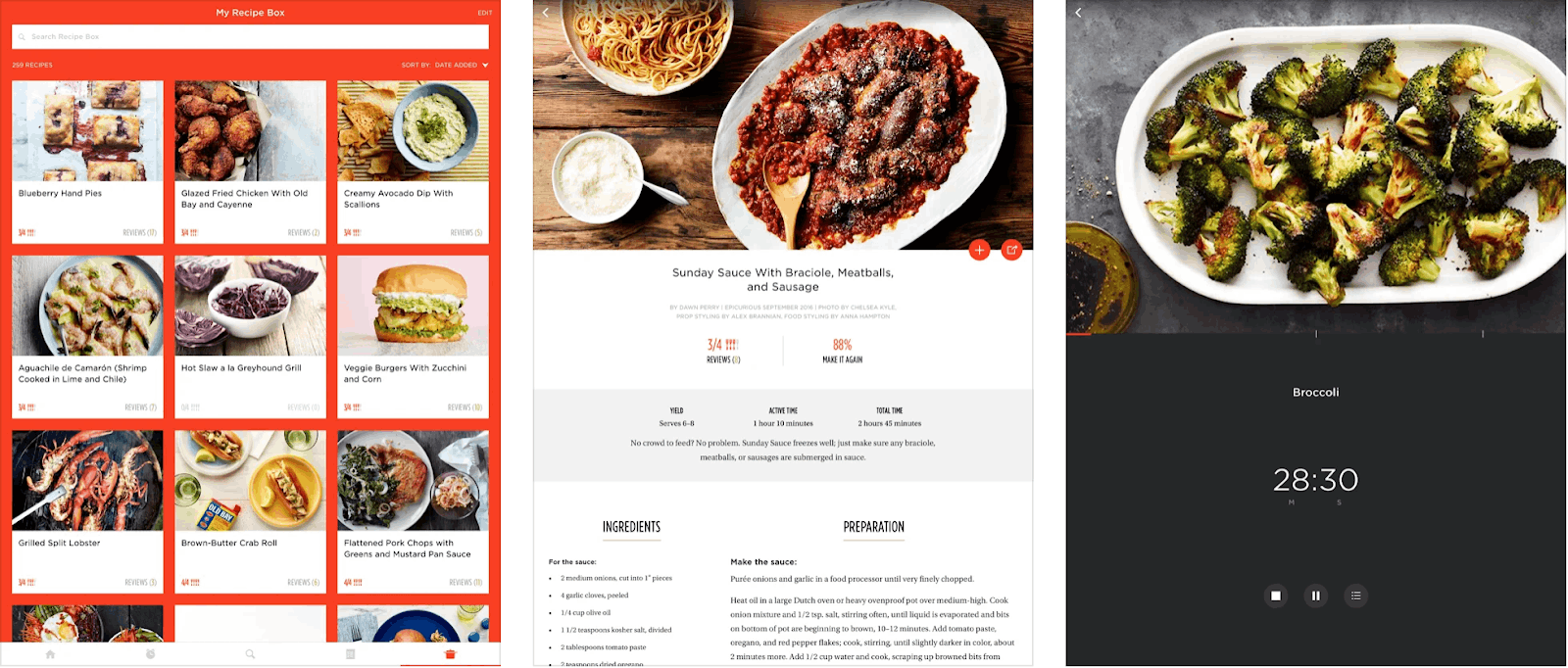 The app also provides new content daily from the website, so you can check that out and be updated with the latest food trends and content. The Recipe Box feature lets you save your favorite recipes so you can easily retrieve them later on. Other tools include a shopping list, a seasonal ingredients section, and a smart kitchen timer tool.
Epicurious is available for download on iOS. The app requires users to register for an account before enjoying the app's full features.
Food Network Kitchen
Although primarily designed to be used with a tablet, the Food Network Kitchen app also works great on smartphones. The app provides unlimited access to over 80,000 recipes from Food Network chefs such as Rachel Koo and Tom Kerridge.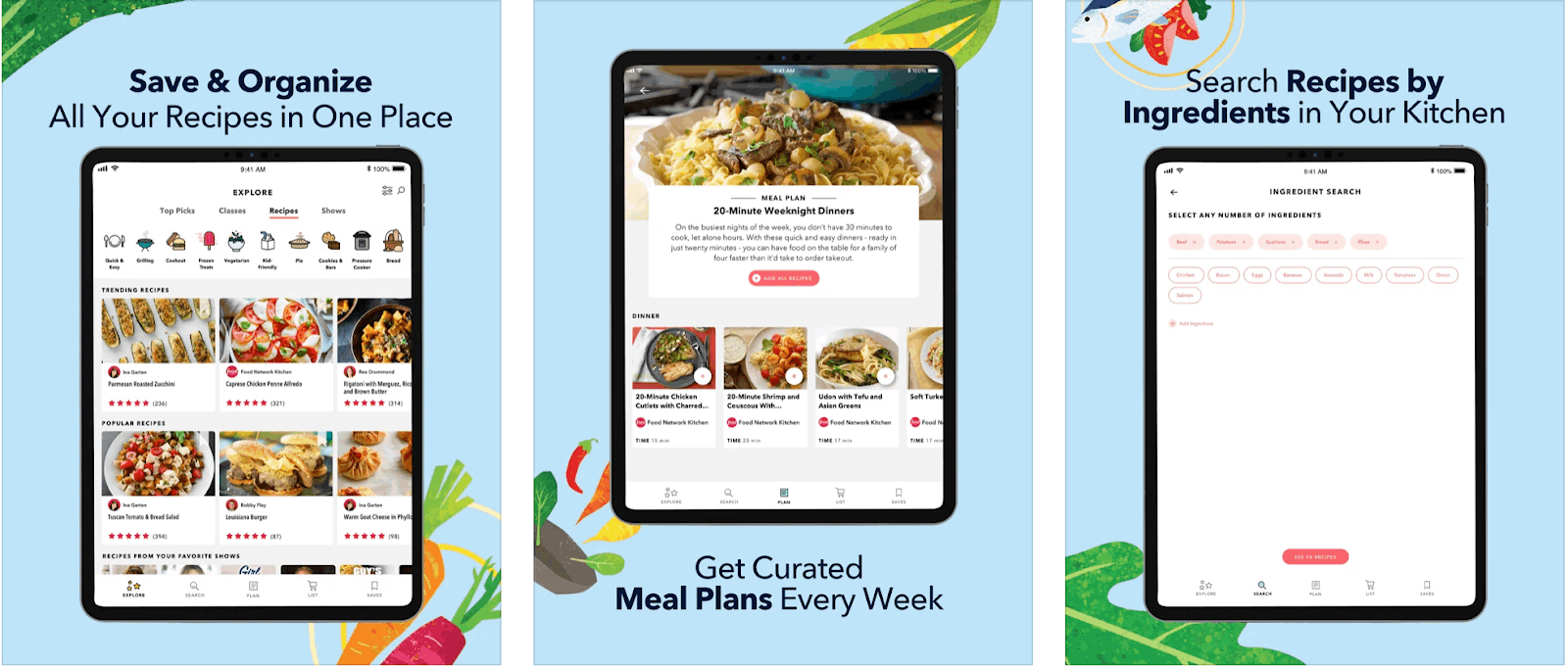 The integrated shopping list feature allows users to shop for all the ingredients needed for a recipe from Amazon Fresh, which is honestly one of the best features that make this app stand out from the rest.
The app is free to download on iOS and Android. To enjoy premium features such as access to more than 50 live classes each week taught by Food Network chefs, culinary experts, and celebrity guests, you can pay $20 for the premium version.
Kitchen Stories
Kitchen Stories offers over a thousand free recipes, in addition to helpful materials such as HD instructional videos and articles on cooking and baking. After setting up your profile, you can save your favorite recipes in personalized folders or cookbooks.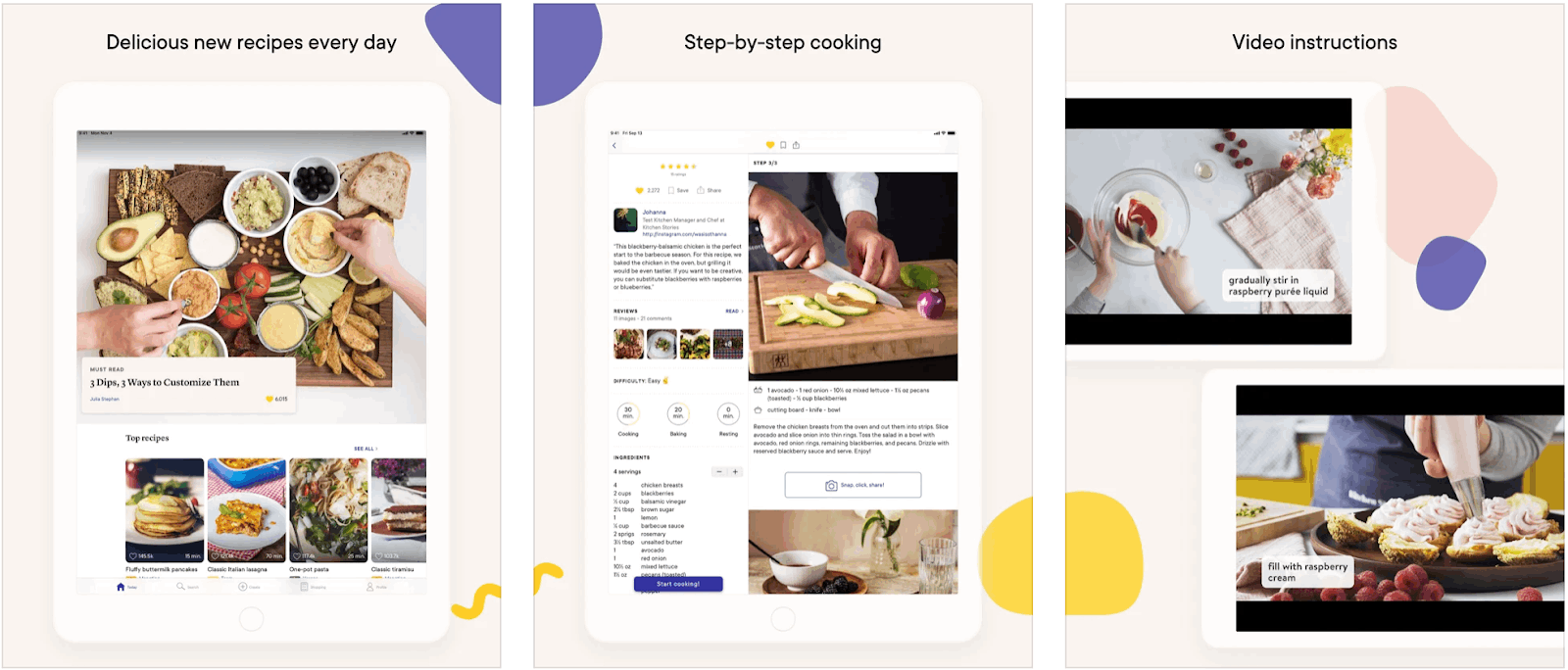 What I like best about this app is that I can publish my own recipes and share them with the Kitchen Stories' global community, as well as browse uploaded recipes and try other users' dishes as well.
The app has a Cooking Mode feature that guides users through a step-by-step process. You can also use the built-in measurement converter to adjust measurements according to serving size. Kitchen Stories is available for free on iOS and Android.
SideChef Recipes
SideChef is a simple app with 18,000 comprehensive and easy-to-follow recipes curated by professional chefs, cooking experts, and cookbook authors.
The app's meal planning tool is my favorite feature since I like planning my food weekly – and it's great because this app helps me choose recipes I can cook for the week.
You can also filter recipes by diet, time to cook, number of calories, and ingredients. As a bonus, users can create shopping lists and directly shop from Walmart and Amazon Fresh. The app is available for download on Android and iOS for free, but you'll have to sign up to enjoy the app.
Conclusion
These are just some of the best recipe apps I use to help me cook better, faster, and tastier. While there may be many recipe apps out there, these apps are incredible and sufficient for me because of their features and usability.
Technology has indeed come a long way, and I am just thankful that this type of modern technology was developed to aid us in preparing hearty meals for our loved ones and friends.