If you've been using Ryanair as your budget airline and you haven't used their app, I advise that you do. The Ryanair App gives the convenience of not having to print boarding passes on paper several days before your actual flight and then trying not to lose that piece of paper.
I know many people have a love-hate relationship with Ryanair, loving the cheap flights they offer but hating the way the airline tries to get money from its customers through fees and charges. I personally don't like how their website was set up, so I also had doubts about the app at first.
However, I found the app to be helpful and very easy to access and navigate. In this article, I will discuss the Ryanair app, its features, and how to download, install, and use it. If you want to find out more about the app, check out the rest of this article.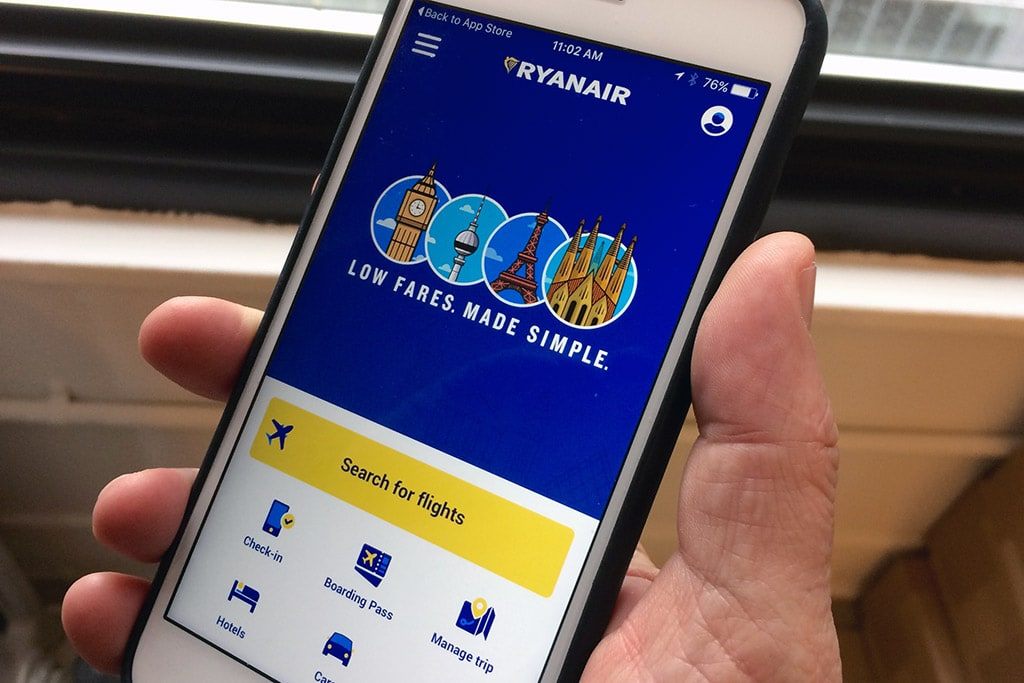 Looking Into Ryanair as an Airline
Before delving into the app, I want to talk about Ryanair as an airline. This ultra-low-cost carrier is headquartered in Dublin, Ireland, and has over 400 Boeing 737-800 aircraft in its fleet globally.
The airline operates out of 84 bases, the largest of which is at London-Stansted with 44 airplanes, followed by its home base at Dublin Airport. These bases connect 35 countries across Europe and North Africa.
Ryanair became the largest European budget airline by scheduled passengers flown in 2016. According to reports, it has carried more international passengers than any other airline.
A Brief History of Ryanair
Ryanair started as a small airline in 1984 that carried passengers from Waterford to London Gatwick. Co-founders Christopher Ryan, Liam Lonergan, and Tony Ryan started the airline and originally named it Danren Enterprises but it was shortly renamed Ryanair.
The airline restructured in 1990 and began its low fares model based on the system used by Southwest Airlines. The company used the deregulation of the airline industry in Europe in 1992 as an opportunity to expand, and it began buying more aircraft.
Ryanair's website was launched in 2000, and its mobile app was introduced in 2014. It abandoned its single airline strategy in 2018 and started launching new brands, including the Ryanair Sun subsidiary in Poland, the Austrian-based Lauda, and Malta Air in the Mediterranean country of Malta.
Launch and Evolution of the Ryanair Mobile App
As I mentioned earlier, the Ryanair mobile app was introduced by the airline in 2014.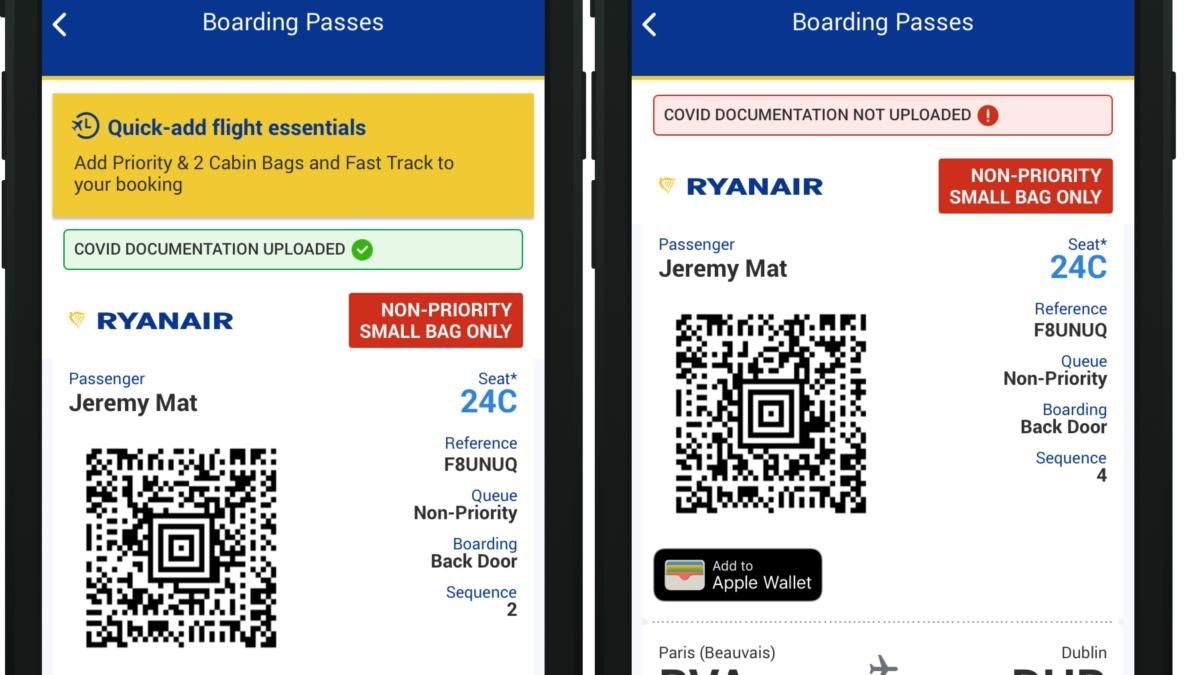 The Ryanair App enables passengers to book flights, hotels, and cars, view live flight information, check in, and download mobile boarding passes.
In 2017, the mobile app received updates with the addition of one-touch mobile payments, one-click options for seat reservations and upgrades, and rating tools for flights and boarding processes.
The upgrades were part of Ryanair's third annual Always Getting Better program that year.
Most Recent Ryanair Mobile App Update
This year, the airline launched a new in-app health passport feature. Ryanair developed this feature to allow passengers to prove their vaccination status ahead of the airline's plans for its summer schedule.
The in-app solution called COVID-19 Travel Wallet will enable customers to upload and save their COVID-19 documents into the app. These documents include negative test certificates, vaccination certificates, and any other travel requirements governments have in their places of origin and destination.
A passenger can upload these documents during the check-in process.
Also read: Tripadvisor App: Learn How to Plan & Book Trips
Downloading and Installing the Ryanair Mobile App
The Ryanair mobile app is available to download on both Android devices and iOS devices. This benefits me as a user of both platforms. I've installed the app on both my Android smartphone and my iPad so I can access the app with either one.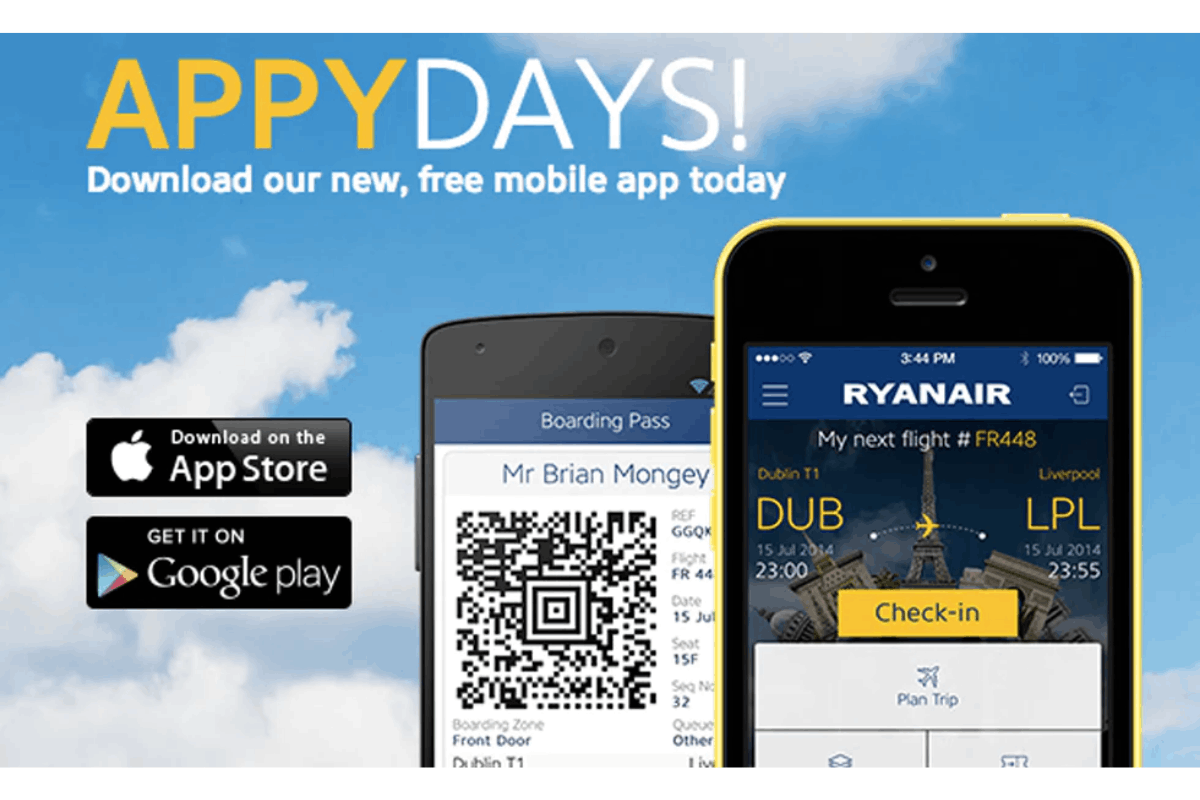 For Android users, open the Google Play Store and search for the Ryanair App. You will find it under the Travel & Local category under the name Ryanair – Cheapest Fares. The app is currently rated 4.1 out of 5 stars based on almost 200,000 reviews from users.
The Android version of the app has a file size of 97 MB and requires your device to be running Android 7.0 and up to function correctly. Once you're ready, tap the Install button to start the download and installation process.
Ryanair Mobile App for iOS
Meanwhile, iOS device users may search for the app on the Apple App Store and will find it under the Travel category. The app has a current rating of 4.4 out of 5 stars based on more than 320,000 reviews from users.
This version of the Ryanair App has a bigger file size than its Android counterpart. It requires a free space of at least 141.7 MB, and your iPhone or iPod Touch should be running on iOS 12.0 or later.
Tap on the Get button to start downloading the app. Once everything's downloaded, it will automatically install.
How to Use the Ryanair Mobile App
Once I downloaded and installed the Ryanair App on my phone, I opened it and found that I needed to sign up for an account using either my Facebook or Google profiles. I opted to use Google and entered my email in the registration form.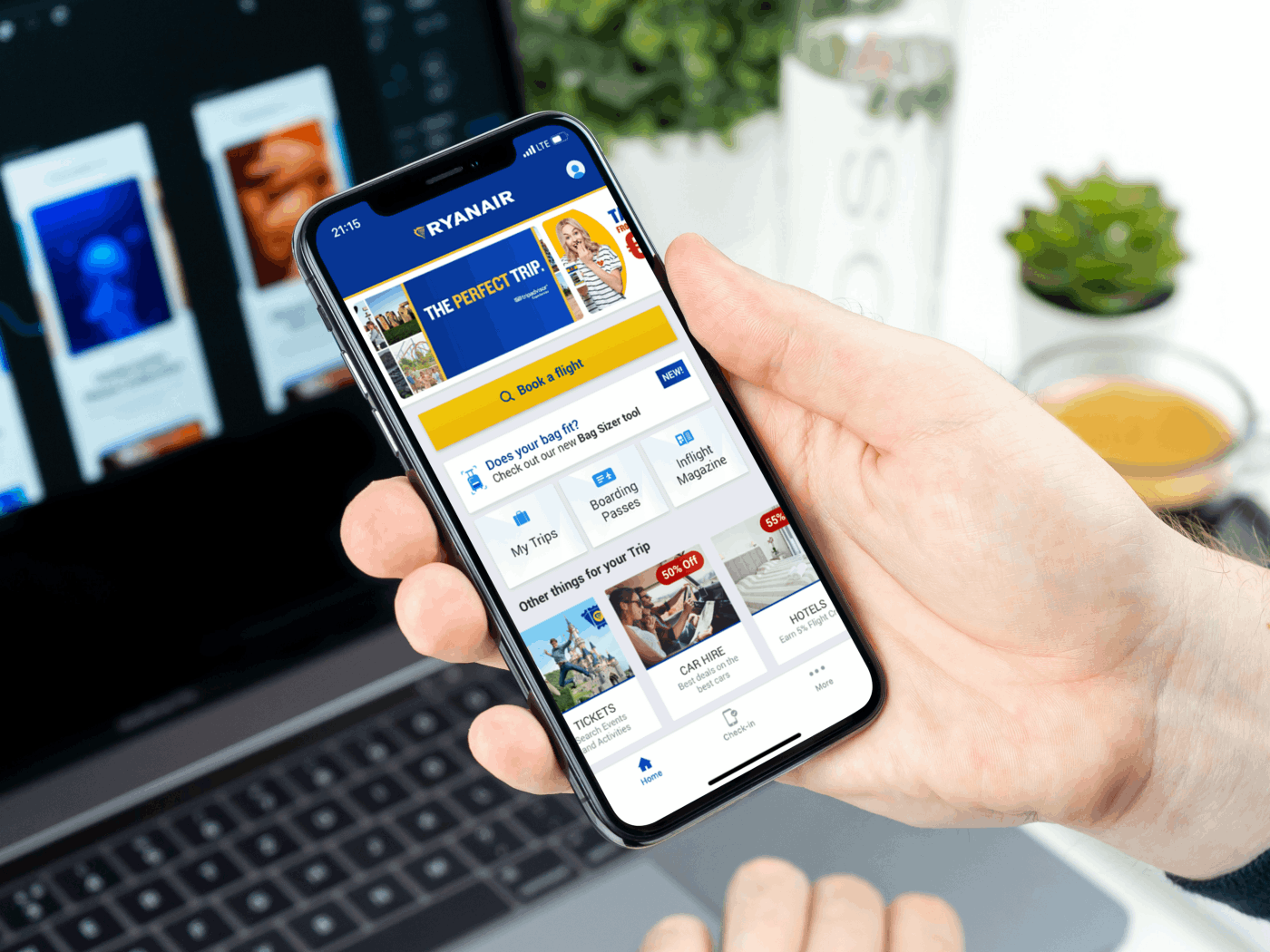 After logging into my account, I was taken to the Home screen, where I saw the book a flight button in the middle. Tapping on the book a flight button will direct you to a new page where you can select your point of origin, destination, return flights, and flight schedules.
I will later discuss how to book a flight using the app. If you've booked a flight using your account with Ryanair before, it will most likely auto-fill the personal information if you're booking a flight for yourself.
Other Features of the Ryanair App
I also noticed several other options on the Home screen, including My Flight, Boarding Passes, Inflight Magazine, Tickets, Car Hire, and Hotels. The My flight option will show you the flights that you've already booked.
The Boarding Passes option will list all the boarding passes you've generated and saved using the app. The Inflight Magazine is like a digital form of the inflight magazines you will see on the plane. The Tickets tab lets you see the electronic tickets from your bookings.
Lastly, the Car Hire and Hotels are tools you can use to hire a vehicle or book a hotel at your destination. The Ryanair App will list its recommended car rental services and hotel accommodations in the area of your choice.
Also read: Flightradar24 – The Best Flight Tracker App
How to Book a Flight With the Ryanair Mobile App
I mentioned earlier that the Book a flight button can be found at the center of the home screen. Tap this button, and it will take you to another page where you can input your origin and destination. You can also choose whether it's a one-way flight or you'll need a return flight.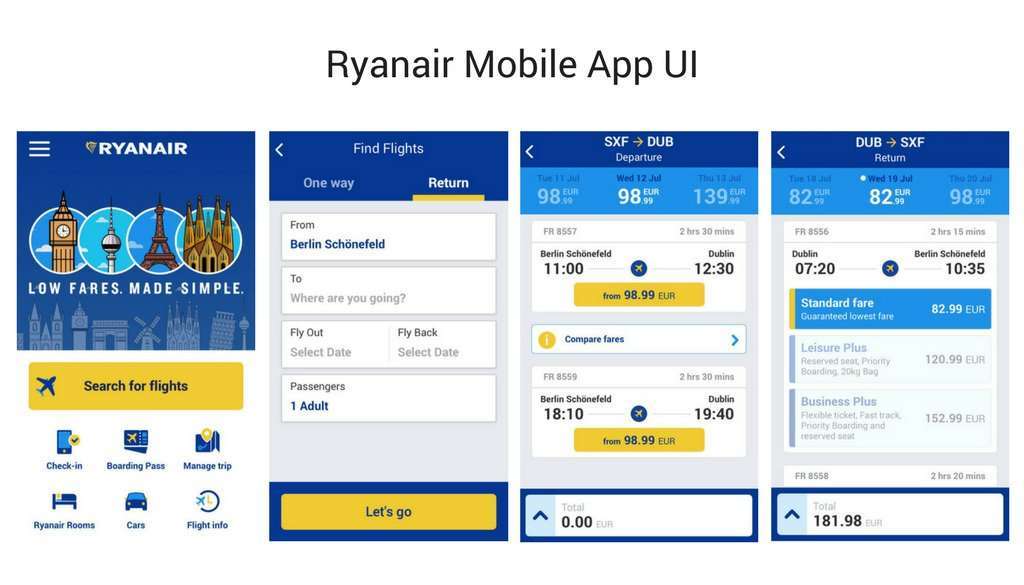 Select the cities or airports and make sure that you don't mix up the From and To locations. Next, select the fly-out date if it's a one-way booking, but you will also input the fly-back date if it's two-way. Once you're done, press the Let's go button.
You will then be taken to a page where you will find all the available flights based on your location and flight dates. Select your desired flight and the type of service you will get, namely Value, Regular, Plus, or Flexi Plus. Press Continue once you're finished.
Seat Selection, Bags, and Other Flight Essentials
After choosing your flights, you will need to enter the passenger details. If you're booking a flight for yourself, the Ryanair App will automatically fill out the information based on your registration details. But if you're booking for someone else, input the necessary information.
You will then be taken to the seat selection tab, where you can tap on which seat is available and applicable to your booking. After this, you will see a bag selection screen to choose which type of carry-ons or check-in bags you will bring.
A screen for other in-flight essentials will appear once you're done. Here you can decide if you want to have services like inflight food, insurance, car hire, and airport parking. Tap on Pay Now to input your payment details and complete the booking process.
Also read: Booking.com App: How to Find Great Hotel or Apartment Deals
Conclusion
Overall, my experience using the Ryanair app was a smooth one. Aside from competing with other users for the budget flights that are booked out almost immediately, I did not encounter any problems using the app.
Despite the bad reputation of Ryanair in terms of customer service and its website, I think that the Ryanair App does a great job in terms of booking flights, generating boarding passes, and even with its car services and hotel recommendations. If you're booking your next flight with Ryanair, I recommend using the app.