In recent years, online speeches, seminars, and other forms of presentations have become a regular part of business, work, and school activities. It's easier to give pre-made presentations that you have edited and revised to be coherent and well-organized.
However, the situation is different if you have to speak live in front of a camera. The pressure may sometimes make you forget the things you must say, even if you've already practiced for hours. This makes me think about news presenters and how they are assisted using teleprompters.
With this, I discovered the Simple Teleprompter app, which transforms your mobile device into a working teleprompter that you can use during presentations. In this article, I will talk about the app, its features, and how to download and install it on your device.
How Teleprompters Are Used
The Interesting History of the Teleprompter
Learning About Teleprompter Apps and Why They're Useful
Teleprompter Apps and Content Creators
Examining the Simple Teleprompter App for Android
How to Download and Install the Simple Teleprompter App on Your Android Device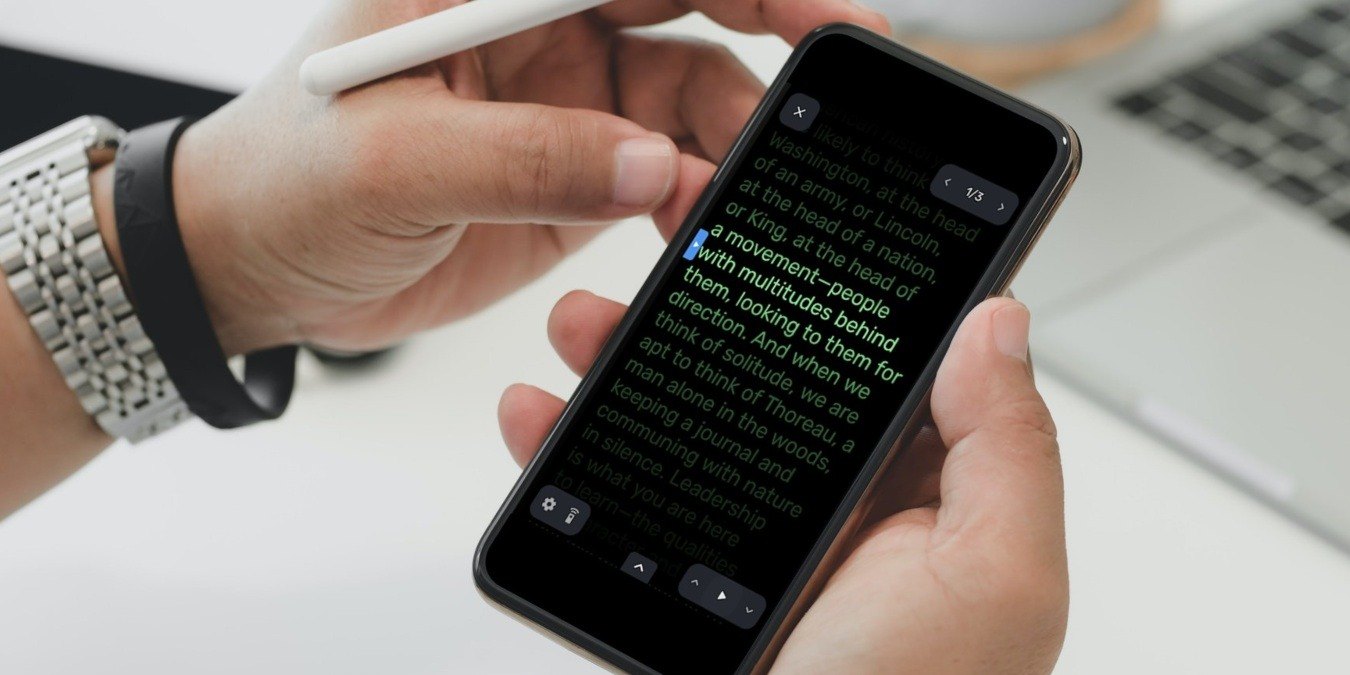 How Teleprompters Are Used
To understand the usefulness of the Simple Teleprompter mobile app, let's first discuss what teleprompters are in general and what they are used for.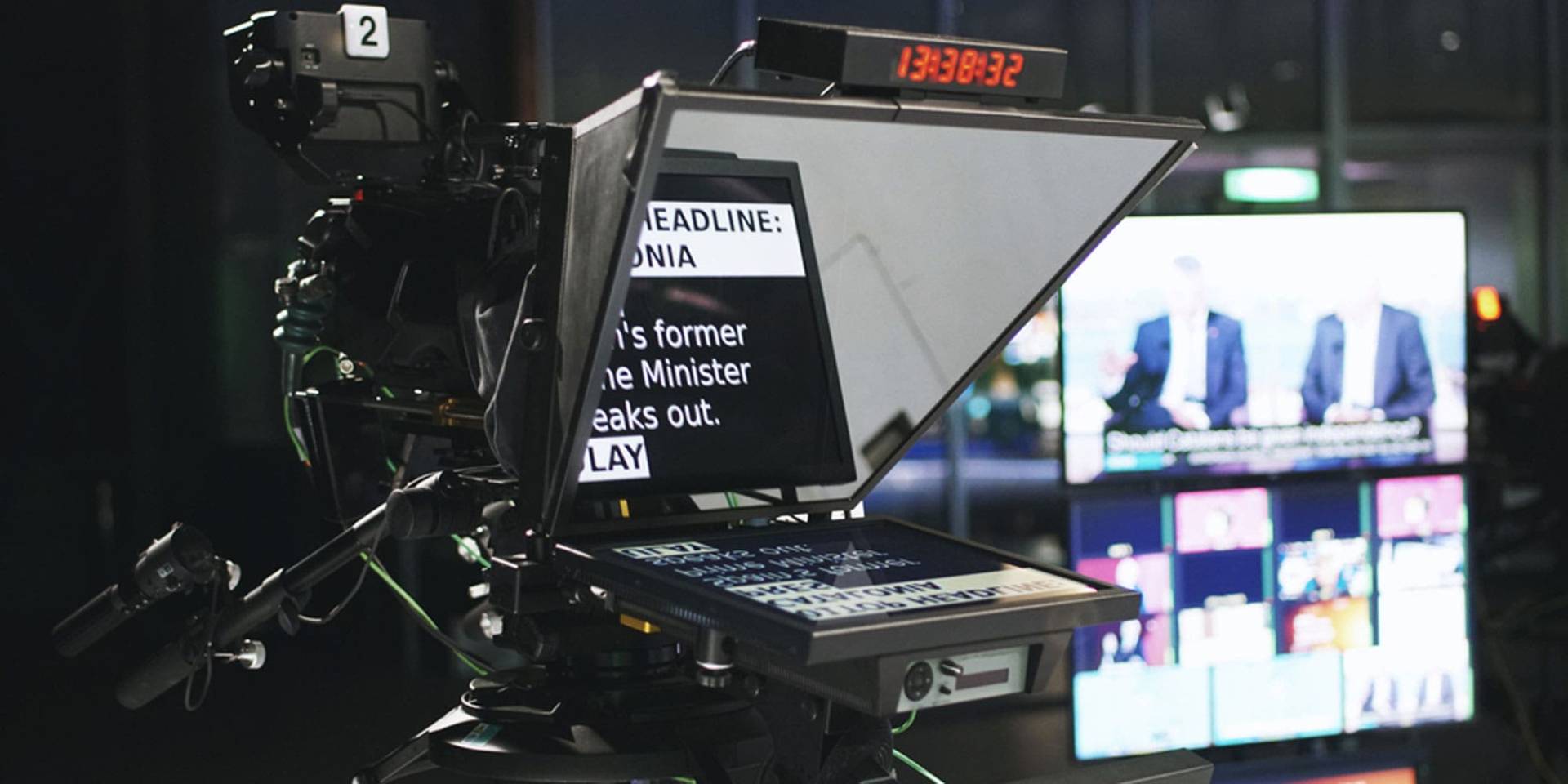 Also known as autocue, a teleprompter refers to a display device used to prompt a speaker about what to say next through visual text.
The concept is similar to cue cards but instead of cards, a teleprompter uses a screen placed in front of and usually below the lens of a video camera.
In order to make it appear like the reader is speaking directly to the lens, the text on the screen is reflected on a sheet of clear glass or other forms of beam splitters.
The Illusion of Preparedness
Because presenters are able to look directly at the camera, it will appear as if they have memorized the script or are speaking candidly.
This is much better than using note cards or cue cards that require presenters to take their eyes off the camera and seeming distracted to the viewer.
The Interesting History of the Teleprompter
The original concept of the teleprompter was suggested by actor Fred Barton, Jr. to assist TV performers who need to memorize huge amounts of lines in a short period of time.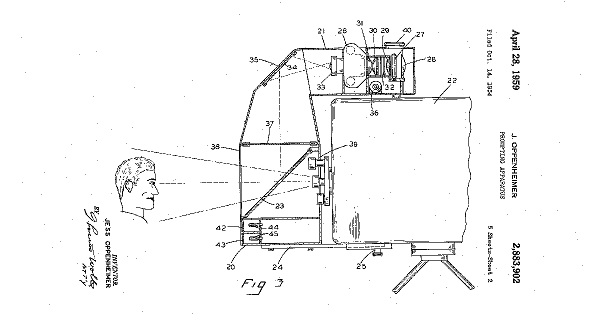 Barton, alongside electrical engineer Hubert Schlafly and media entrepreneur Irving Berlin Kahn, founded the TelePrompTer Corporation in the 1950s.
The first teleprompter was built by Schlafly in 1950, which was a simple mechanical device operated by a hidden technician near the camera.
He used a special electric typewriter to print the script in inch-high letters on a paper scroll. The company rented the machine out for $30 an hour.
Bringing the Text Inside the Lens
The first in-the-lens teleprompter was developed by Jess Oppenheimer and was able to secure U.S. patents for it.
Actors Lucille Ball and Desi Arnaz were the first to use this kind of teleprompter in 1953 for reading commercials on camera.
It eventually became staple equipment in the TV industry.
Learning About Teleprompter Apps and Why They're Useful
Now that we've discussed what a teleprompter is and how it works, you might feel like it has nothing to do with you if you aren't a presenter or don't work in the TV industry.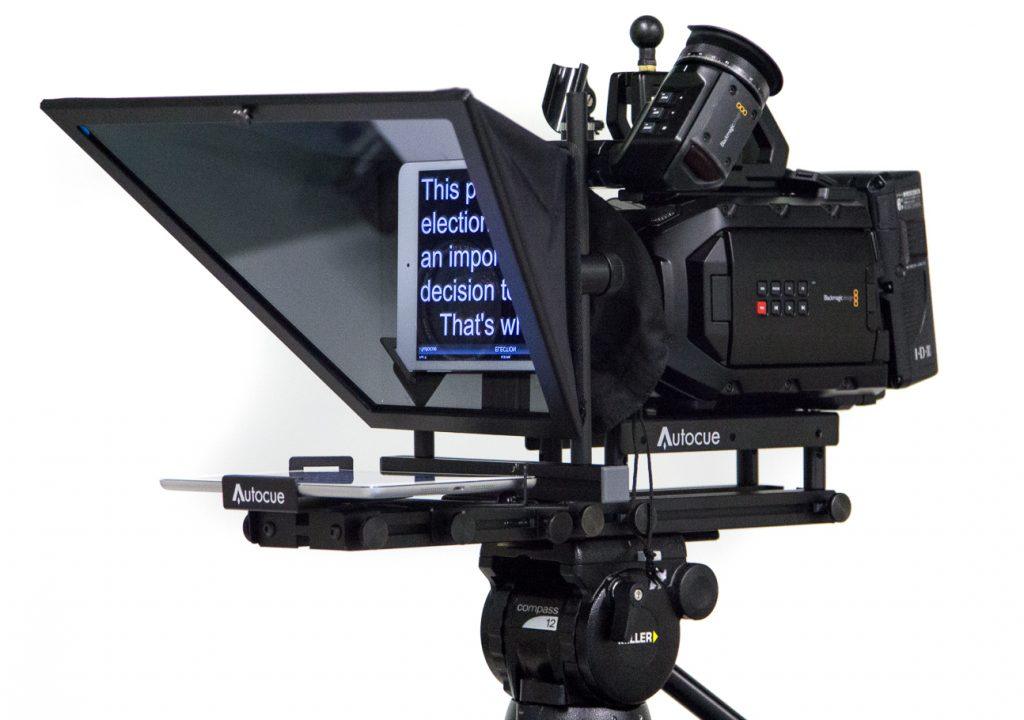 However, the development of teleprompter apps has made it easier for normal people to make better presentations in school or at work.
Developers have created mobile apps that are capable of transforming your mobile devices into working teleprompters that people can use in any kind of presentation.
If you're someone who's not very good at memorizing lines and remembering speeches, using a teleprompter app would make a huge difference for you.
How Teleprompters Are Becoming More Mainstream
The global health crisis has forced schools and even companies to operate remotely, so students and employees now have to present reports and conduct briefings online.
This wouldn't necessarily be a problem if it was audio-only but most sessions are now done via videoconferencing.
Using a teleprompter app allows you to maintain eye contact and provide a presentation that keeps your viewers engaged with you
Teleprompter Apps and Content Creators
Aside from work and school, teleprompter apps are also popular among online content creators and vloggers, particularly those who shoot videos outside and do live vlogging.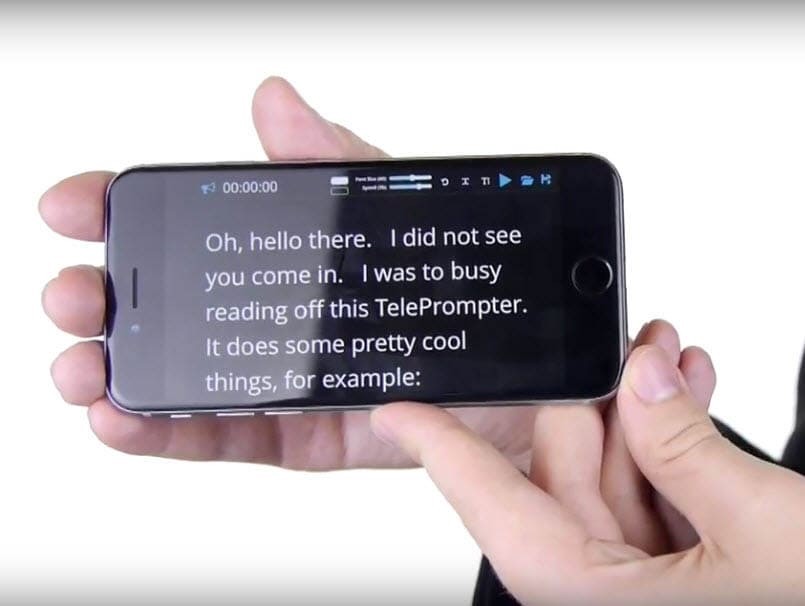 Unlike the bulky teleprompters used in TV shows, they only need a mobile device, an app, and a compact tool for holding up the camera and the device.
Customization to Read Your Way
Just like any other mobile app, teleprompter apps can be customized depending on how the reader likes the script to appear on the screen.
Font size and colors can be changed and the speed by which the text scrolls up can also be set at the pace the presenter wants them to be in.
Examining the Simple Teleprompter App for Android
The Simple Teleprompter app can be used by anyone who needs this kind of tool, may they be students, workers, or vloggers as long as they have an Android device.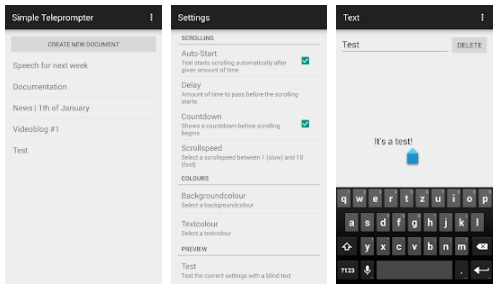 The Simple Teleprompter mobile app is a teleprompter app developed exclusively by Julian Schakib for Android devices. Using this app, you can turn your Android smartphone or tablet into an instant teleprompter that you can use for your presentations and vlogging needs.
The app is highly customizable, allowing you to reduce or increase the scrolling speed of the texts and even change their fonts and colors.
It has several features that you can use to further customize your teleprompting experience, such as orientation locking, auto-starting, and mirroring.
How to Contact the Developer and FAQs
Schakib is based in Aachen, Germany. I did not find much information about the developer and this app is the only one listed under his name on the Google Play Store.
However, the developer has an accessible website which links to the Simple Teleprompter app and provides an email that can be used to contact the developer. It also has a link to Schakib's old web games released on Newgrounds.
The developer also provides a link to an FAQ page about the Simple Teleprompter app, which provides answers to the usual questions about it. This includes solving the scroll speed bug, broken texts, keeping the display awake while using the app, and using a Bluetooth device to control the app.
How to Download the Simple Teleprompter App for Android devices
This app was exclusively launched for Android devices and Android users can download and install this on any device, including smartphones and tablets. This device is not available for the iOS operating system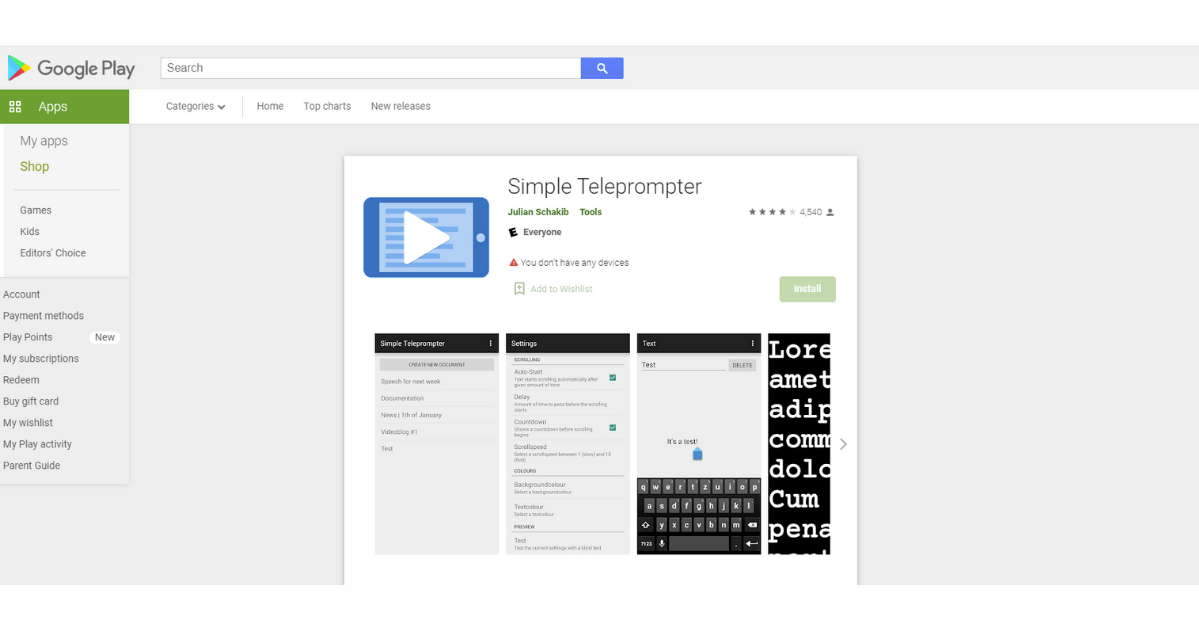 To search for the app, open the Google Play Store on your device and use the search bar. You will find it in the Tools category under the name, "Simple Teleprompter". It currently has a rating of 4.0 out of 5 stars based on more than 4,500 user reviews.
Since this app is free to download and use, you only need to tap on the Install button to begin the download process.
Once all files have been downloaded completely, the app will automatically start installing on your Android device.
Ensure Compatibility with Your Device and Look Into Permissions
In order to make sure that the app will run smoothly on your smartphone or tablet, you should see to it that your device is updated and meets the app's requirements for compatibility. This app, which has been installed by more than 500,000 times, has a file size of 1.4 MB.
It requires your device to run on Android 3.0 and up to ensure compatibility. It is currently on version 1.0 and was last updated on August 18, 2015. You may also look closely into the permissions required by the app to make sure that you agree with them before installing it onto your device.
According to the app's permissions page, the app will be granted permission to read the contents of your device's USB storage for photos, media, and other files, once you decide to use it.
Conclusion
Having tested the app several times, I can conclude that this simple app is really useful when making live presentations, especially when I need to share my screen to the audience. I get to give off the appearance of being calm and well-prepared because I don't need to look down on a paper or a cue card, breaking eye contact.
If you're not a vlogger, you don't even have to use any additional equipment. I simply used my daily phone holder to keep it steady above my camera. I would definitely recommend this app to anyone I know that gives presentations or visual reports. I hope this article helped you.