Since I was a kid, I have been fond of slimes, and I even had a collection of slimes at home. Now that I am an adult, playing with slimes from time to time can be a great idea for relaxation and fun.
However, there is now a difference in playing with slimes between then and now. Back then, I played with actual slimes, but now I can use a mobile app called Super Slime Simulator.
I still get enjoyment out of playing with slimes on the Super Slime Simulator app because it is highly realistic. Its other features also make my experience relaxing and enjoyable. Check out Super Slime Simulator's features below.
Discovering the Super Slime Simulator App
Playing with Slime
Making My Own Slime
Adding Color and Decorations to My Slime
Earning Coins on Super Slime Simulator
Playing to Earn Coins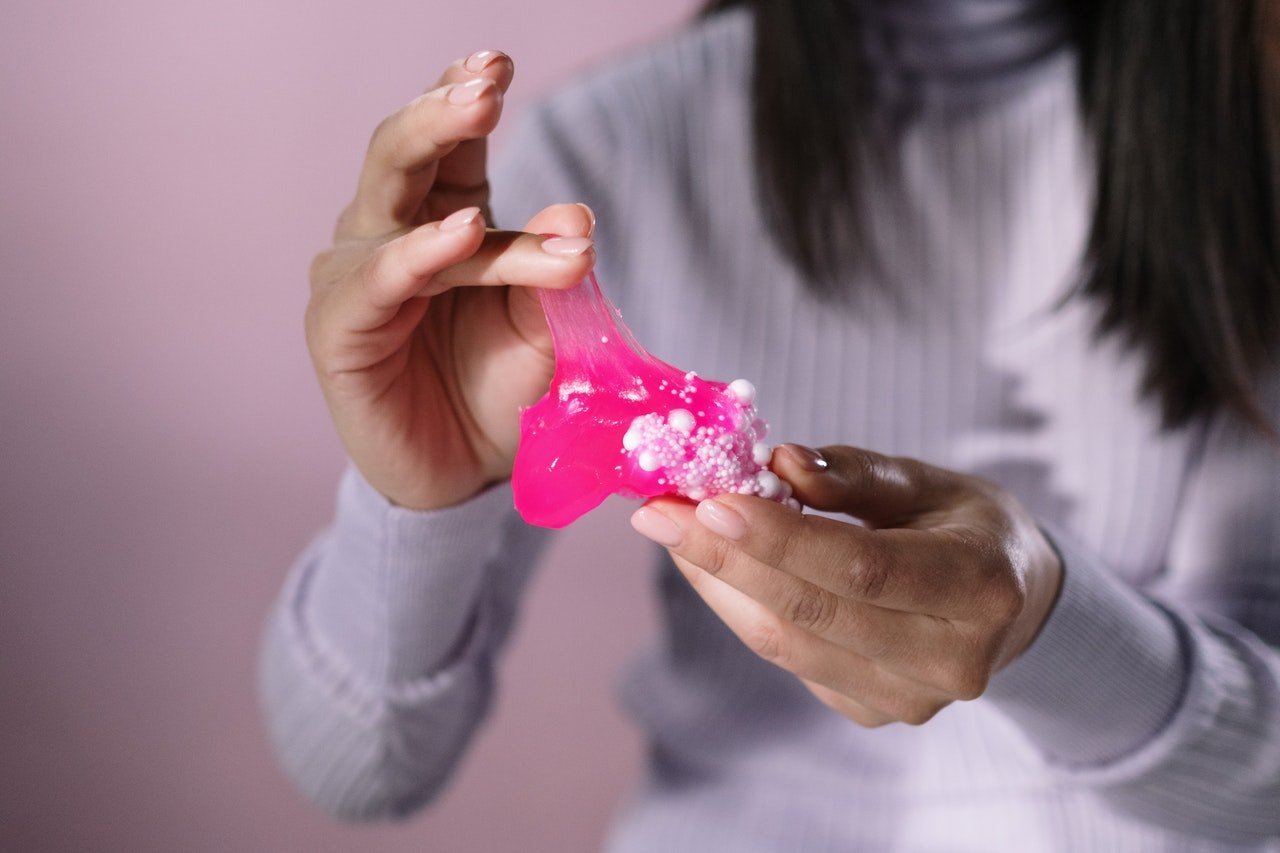 Discovering the Super Slime Simulator App
Being an adult, I usually take my time to find things that will help me get my mind off work and other stressful stuff. I've found that playing with slime still helps me to relax as an adult.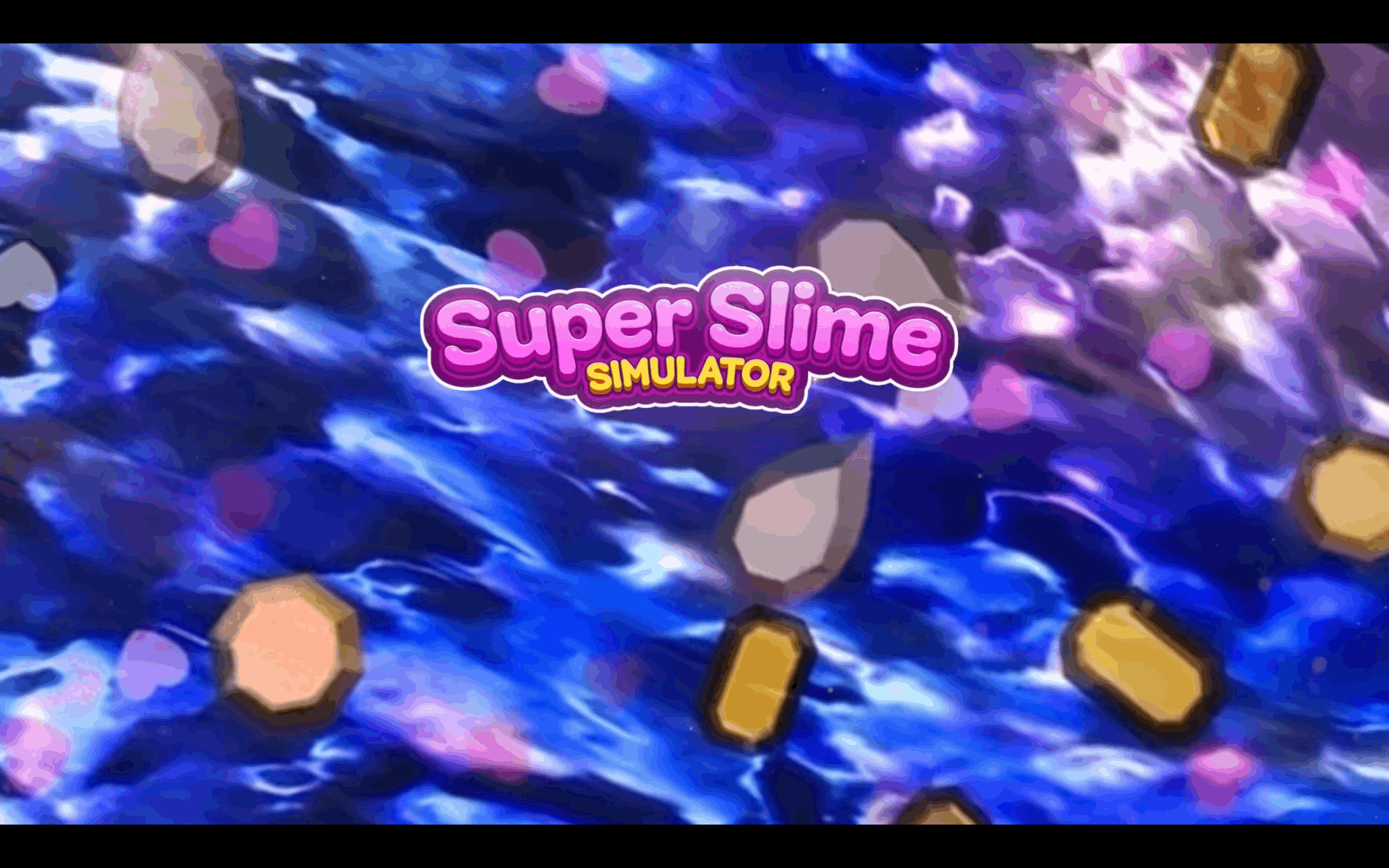 It would be a weird sight if an adult brought slime with them to work. Thankfully, slimes are now just on my mobile phone, so I can enjoy playing with slimes anytime and anywhere.
The Super Slime Simulator app provides me with super realistic slimes, which I can play with on my mobile device. It also has a unique ASMR experience that helps me relax my mind.
Dramaton released Super Slime Simulator in April 2018 for kids and kids-at-heart like me. Since the app provides a realistic experience of slimes, it gained popularity in just a short period and now has over 50 million downloads worldwide.
The App's Availability and Prices
The team wants everyone to experience playing with slimes on mobile devices, so they made the app available in over 100 countries. Moreover, the Super Slime Simulator app can be downloaded for free on both the Google Play Store and the iOS App Store.
Even though the app is free to be installed, in-app purchases are available for a better experience. One thing that greatly affected my time on Super Slime Simulator was the intrusive ads. Thus, I purchased the remove ads option on the app for $2.99.
There are also coin bundles, which can be purchased between $1.99 to $9.99 per item.
Playing with Slime
Upon installation, the app asks me to read the privacy policy to understand the information and data it would collect from me. Super Slime Simulator ensured that users' privacy would be protected at all costs.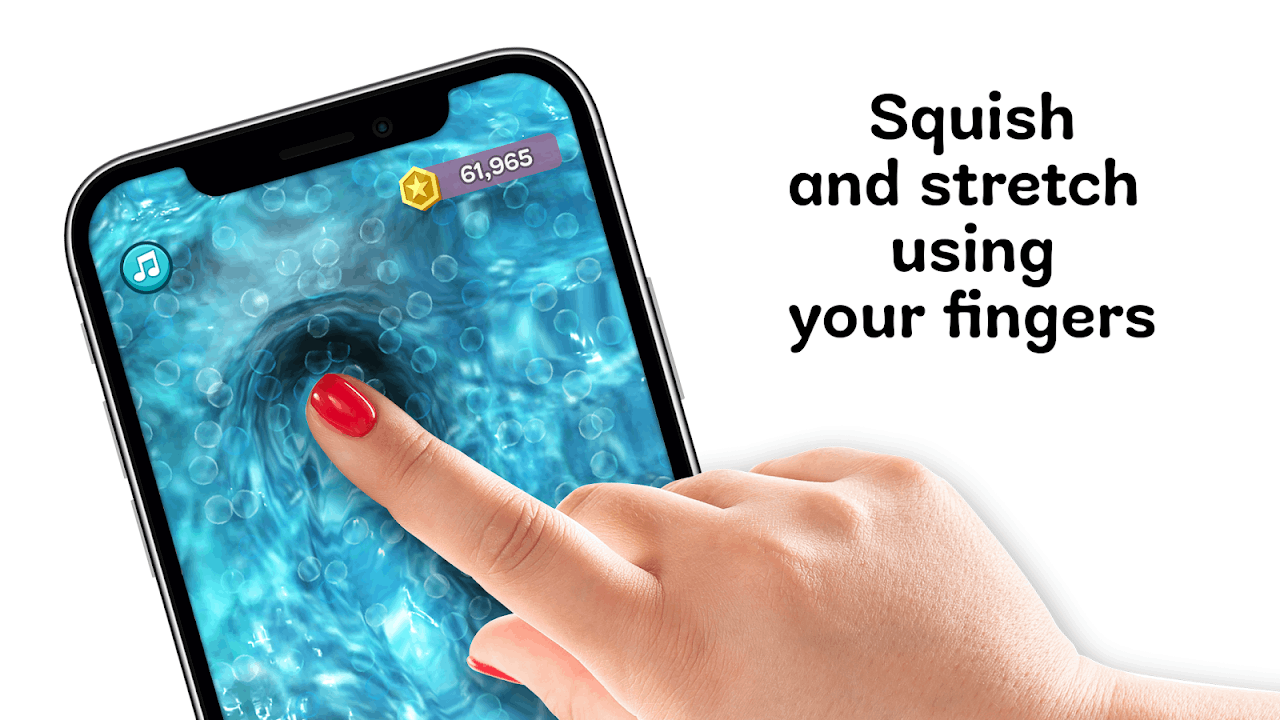 After agreeing with the terms and conditions of the app, Super Slime Simulator prompted me to follow a short tutorial on how I can play with the slimes. I just had to follow the hand motion, and the slime would react to it, just like how an actual slime would.
Here, I learned that I could tap, slide, and pinch the slime. It amazed me how the appearance of the slime changes accordingly following my action. Note that the entire screen of my phone became the slime itself.
Another interesting thing about Super Slime Simulator is the sound that the slime produces with every movement. True to its goal, the app made the experience of playing with slime highly realistic because of the accompanying sound.
Exploring the Home Tab
The tutorial on the app gave me a walk-through of the tabs on the home page, where I was introduced to several features of the Super Slime Simulator app. The first tab was called "Fun," which shows the list of games wherein I could collect coins.
The "My Slimes" tab allowed me to create my own slime that differs in texture and decorations. The "Collections" tab recorded all my unlocked items on the app, which I can freely use when making my slimes.
The next tab was an adventure quest game called "Lu-Lu's Slime Quest." The "Classic" tab contained all the basic and free-to-use slimes provided by the app. Lastly, the "Shop" tab is where I can buy the in-app purchases items.
Making a Custom Slime
The Super Slime Simulator app takes me back to making slime as a child because I can experiment with mixing and matching while creating my slime on the app. I start making my custom slime by clicking the Plus button on the My Slimes tab.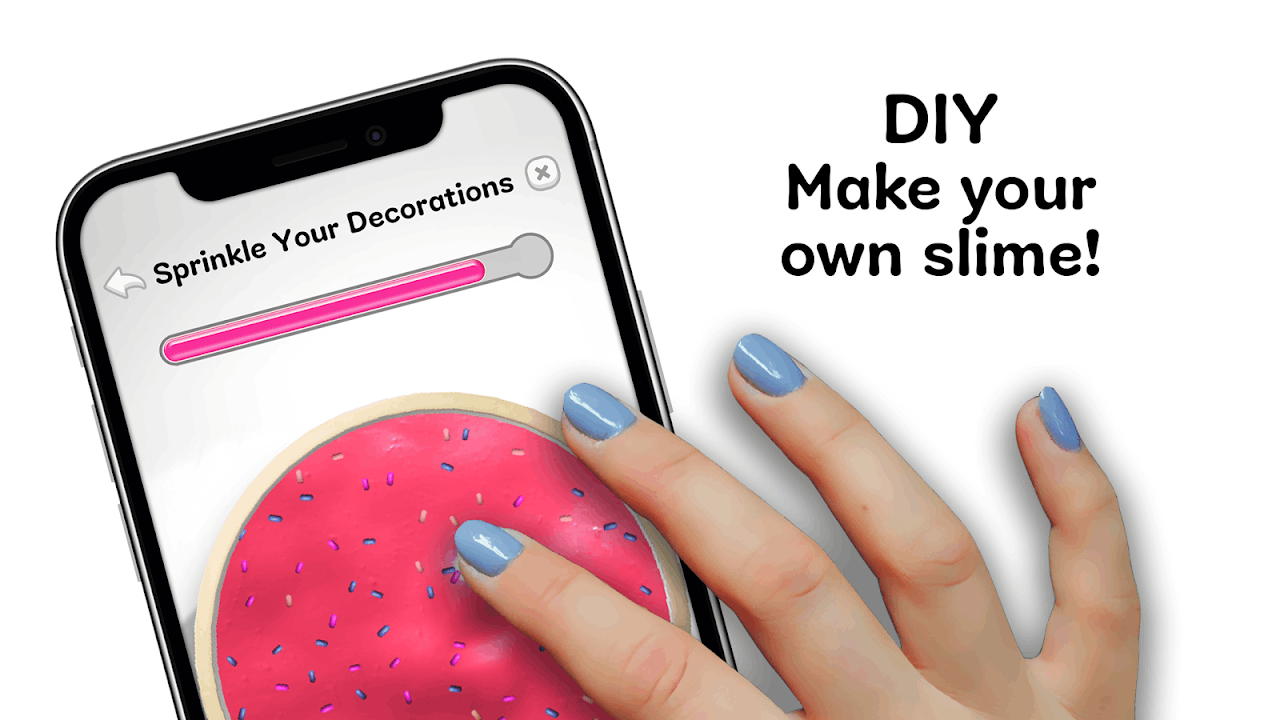 Then, the app asks me to choose my preferred slime type. There are over 40 slime types on Super Slime Simulator, of which only four are available for free upon installation. The rest must be unlocked using the coins.
After choosing the slime type, the app shows me the process for achieving the slime's best form. The ingredients and steps were given, so I just had to follow along. For example, when creating a clear slime, I need to add glue, water, and an activator.
Each ingredient had a different amount, meaning I had to add more water than glue. Lastly, the app instructed me on the specific technique to select to achieve the slime type I wanted.
Learning Different Slime Types
As mentioned, there are over 40 different slime types on Super Slime Simulator. I was extra motivated to unlock to all of them so I could experience playing with them.
The four free slime types upon download are clear, milky, classic, and fluffy.
Some of the slimes available to unlock are chunky, putty, thick, watery, airy, buttery, butter slushie, crispy, jelly, metallic, glossy, bubble, crunchy, and jiggly, among others.
Adding Color and Decorations to My Slime
Since making slime on the app is super realistic, it doesn't end with mixing the ingredients. There are several steps and options to create a visually-appealing slime.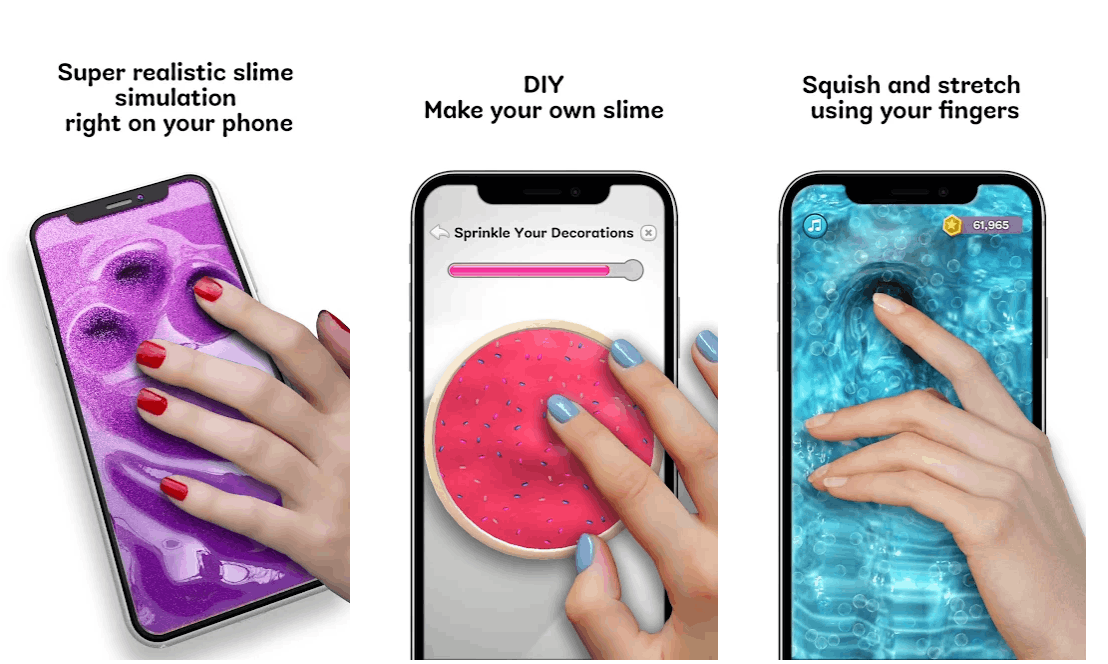 The next step was to choose the color I wanted for my slime. There are 10 free colors on Super Slime Simulator – blue, turquoise, green, yellow, orange, pink, red, violet, gray, and black. However, there are a total of 60 colors to unlock.
When I selected the color, I was asked to blend the color accordingly on the slime. Then, I was prompted to select a decoration to add to my slime. The options were glitter, hearts, foam beads, flowers, and submarines.
Like the color, I had to unlock other decorations by using the earned coins. Other decorations are moons, cereal, letters, candy, blocks, suns, popsicles, etc. Each decoration also had different sets of designs to choose from.
Saving, Naming, and Sharing My Slime
Once I was done making my slime, the app asked me to name my slime. I used my creativity and humor when naming them. You can skip the naming option, but it will be given a default name like "Slime 1."
The new slime is added to the home screen, wherein I can select it to play with it. Here, I discovered how the slime looks when pinched, pressed, or tapped.
I can share my slimes with my friends as the app has a Share feature. It allows me to directly post or send my slime as a photo on different social media and messaging apps like Facebook, Instagram, SMS, etc.
Earning Coins on Super Slime Simulator
The app makes my experience extra challenging by providing several things to unlock, such as the colors, slime type, and decorations. These items can only be unlocked by getting chests that cost 1,000 coins.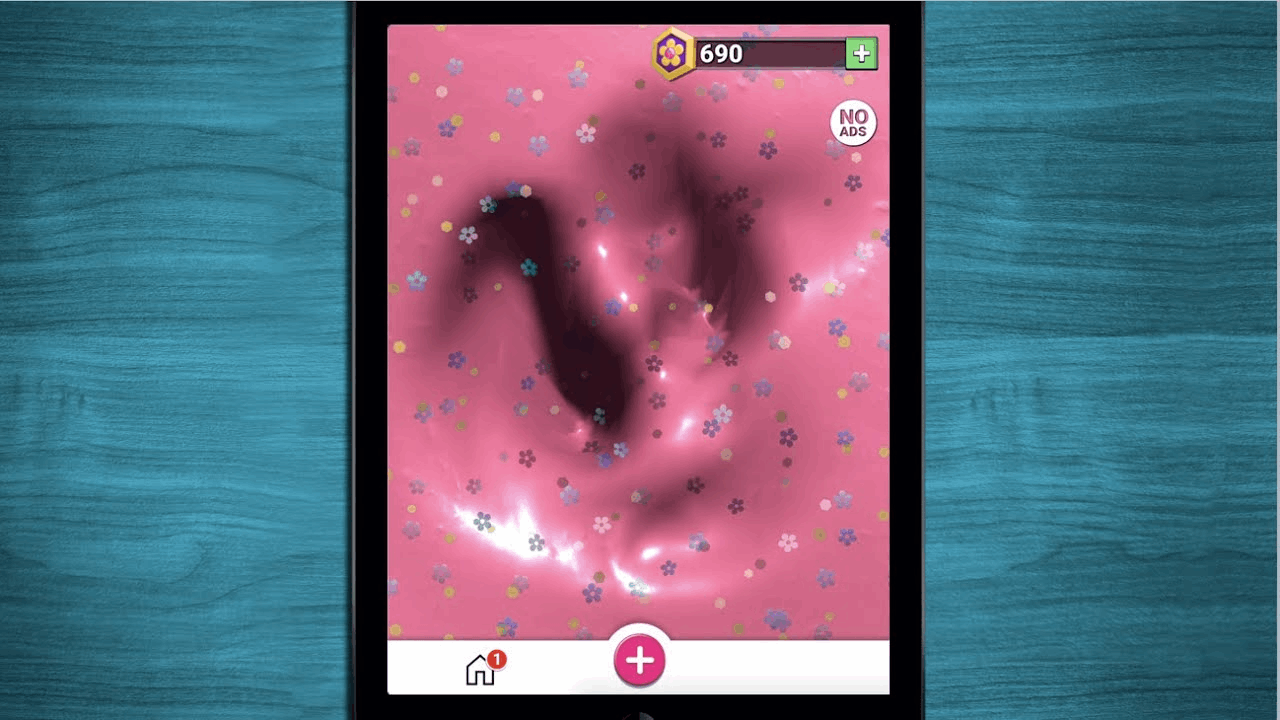 There are several ways to earn coins on Super Slime Simulator. First, every new slime I make corresponds to 500 coins, so I can get one chest by making two new slimes.
When playing with the slime, the app provides corresponding coins. The longer I play with slime by tapping, pressing, and sliding, the more coins I can collect.
In addition, watching an entire video ad gave me 500 coins.
Shopping for Coins
The other way to collect coins is through the Shop. If offers coin bundles in small, medium, and large sizes.
The small bundle costs $1.99 for 5,000 coins, the medium bundle costs $4.99 for 15,000 coins, and the large bundle is $9.99 for 50,000 coins.
Playing to Earn Coins
Another fun feature of the Super Slime Simulator app is the games where I could also earn coins.
The most popular game on the app is Lu-Lu's Quest. Here, I needed to clear each level by following the task assigned by Lu-Lu.
The tasks ranged from duplicating the provided slime, identifying the slime type, distinguishing the appropriate slime ingredient, and more.
After each level I accomplish, I collect coins. Moreover, the app automatically saves my progress so I can continue where I left off.
Even More Fun Games on Super Slime Simulator
The Guessing game piqued my interest as it asked for the ingredients of the slime provided. I was challenged to know the ingredients of each slime, including the color and decoration.
The Slime My Image game allowed me to select an image from my gallery in which the app transforms the photo into a slime. It looked like I was playing with a photo in slime form.
The two other games are Slime Painter and Squishy Magic.
Conclusion
The Super Slime Simulator app is indeed a highly realistic app for playing with slimes. It allows me to create customized slimes by choosing my preferred slime type, color, and decorations. The newly-created slimes can be shared across social media platforms.