I tend to save everything on my phone, which leads to cluttered local file storage. Initially, I only saved personal files, including photos, videos, and audio, on the storage. However, when I started using my phone for work purposes, my storage became messy.
I looked for an app to help me organize my files easily, and luckily I found the Solid Explorer app. Solid Explorer is a file manager app that lets me manage the files in a dual-pane layout. I can manage files on my cloud storage or NAS, backup files, and many more.
Check out the Solid Explorer app's features below. Learn how I manage my files and make my storage space organized with the help of the Solid Explorer app.
Get to Know the Solid Explorer App
Follow the Quick User Guide
Check Solid Explorer's Home Page
Get Storage Analysis on Storage Explorer
Manage Remote Files on Solid Explorer
Customize the Settings Menu on Solid Explorer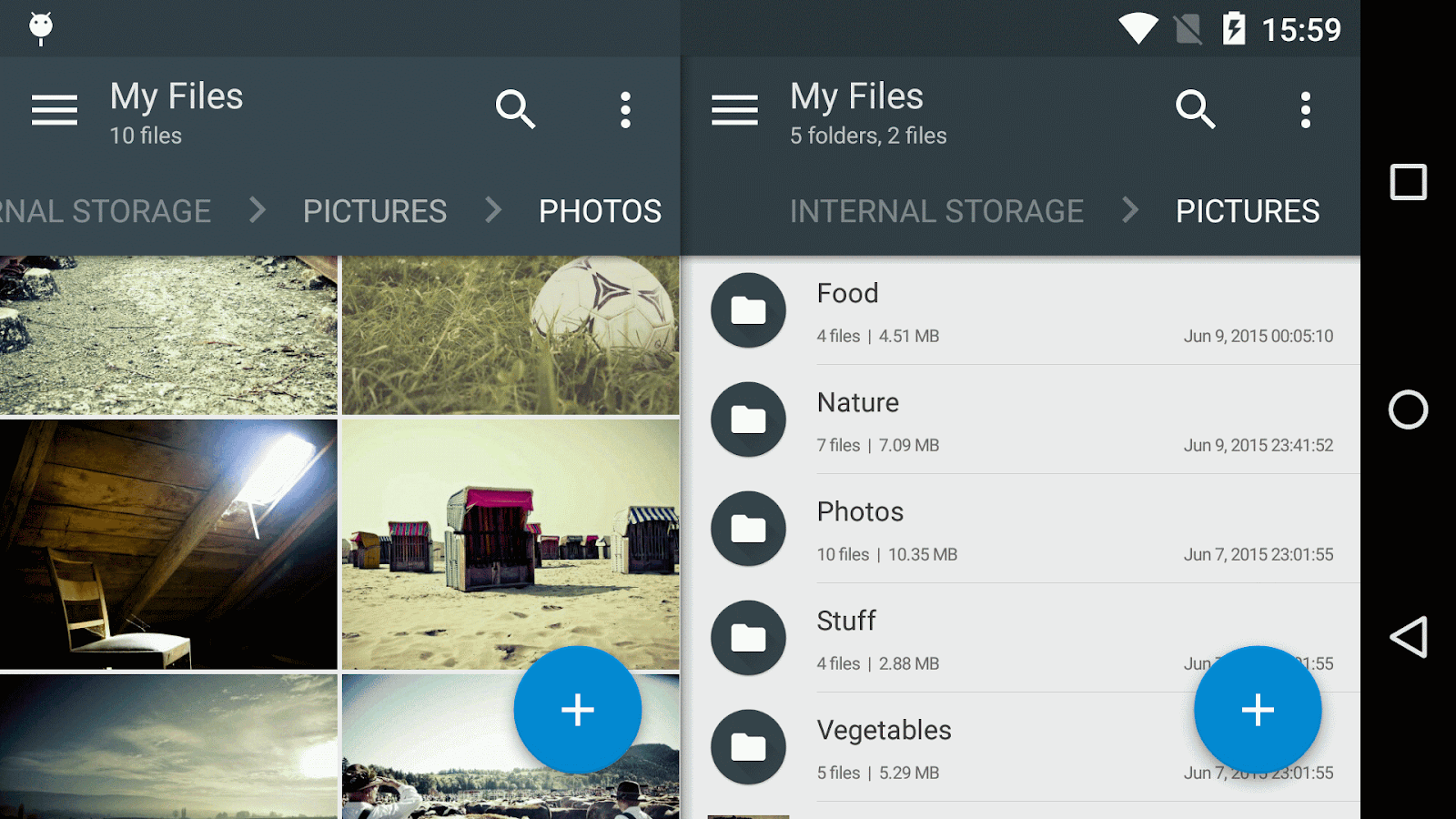 Get to Know the Solid Explorer App
The Solid Explorer app immediately caught my attention as a file management app because of its high user rating and excellent user reviews. I found out that over 5 million people have already installed the app.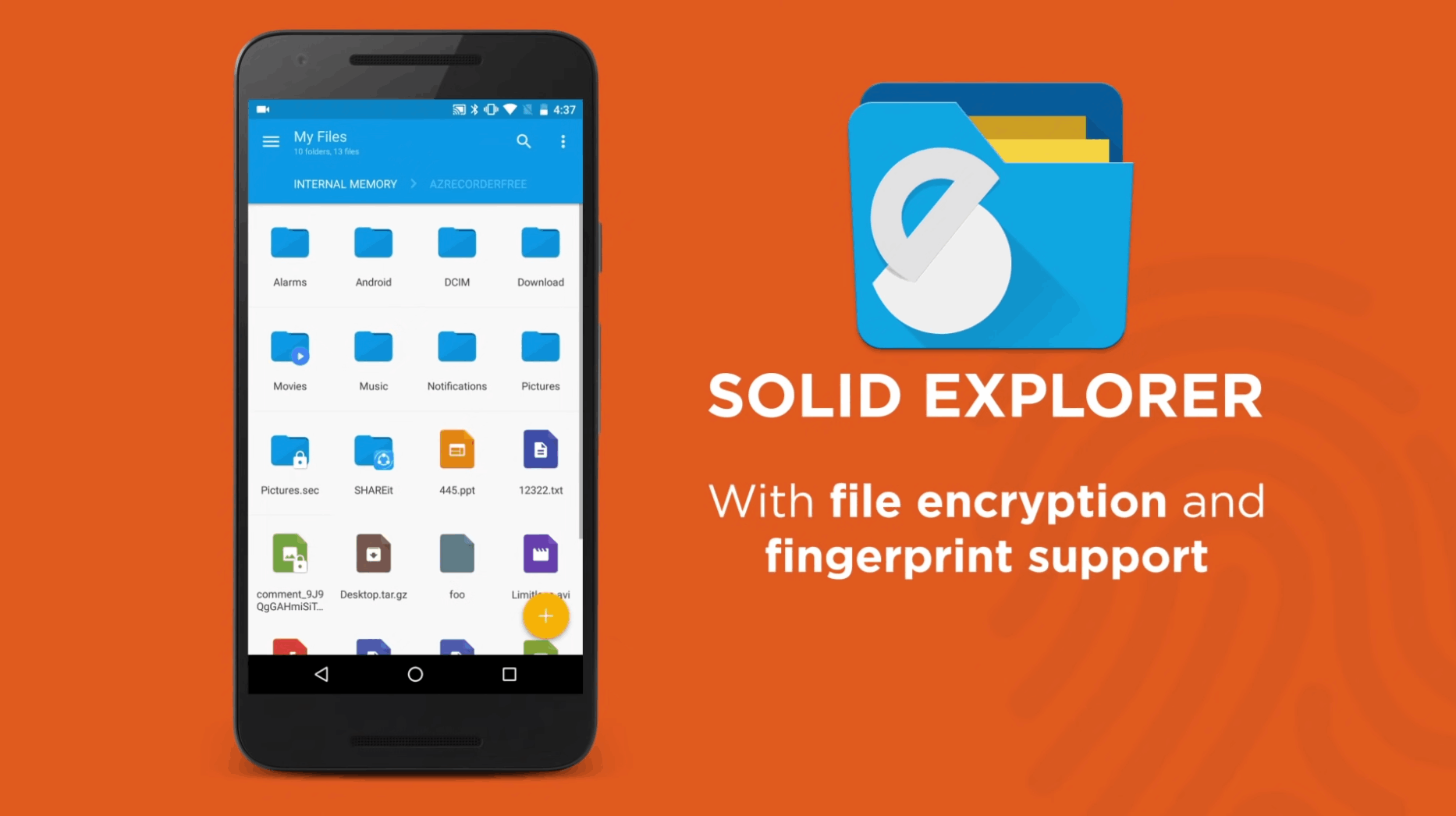 When I went through its description, Solid Explorer is a user-friendly file explorer that lets users manage mobile devices files. Through Solid Explorer, I can organize my files within my local file storage, external memory, and even cloud storage.
I was further convinced to install the app because it has an additional security feature to protect my files with strong encryption. It provided a way to quickly backup apps and files to any desired destination.
According to user reviews, they liked the app because its interface is also user-friendly. Solid Explorer has main shortcuts to all its options, which lets us explore all the subfolders in our file storage for convenience.
Downloading the Solid Explorer App
I discovered that the Solid Explorer has been available since July 2015. NeatBytes released the app with the school life commander applications as its inspiration. Through time, Solid Explorer has proven its worth as a reliable file management app.
The Solid Explorer app is only available on Android devices, which means that it can only be downloaded from the Google Play Store. Even though Solid Explorer is free to be installed, it has available in-app purchase items which range from $0.99 to $3.99.
Solid Explorer runs smoothly on devices with Android OS 4.4 and up. NeatBytes recommended using the app on these OS versions to have a great experience with Solid Explorer.
Follow the Quick User Guide
When I installed Solid Explorer, it welcomed me with a short guide of its main features. Old users can skip this short tour as they already know what Solid Explorer can do.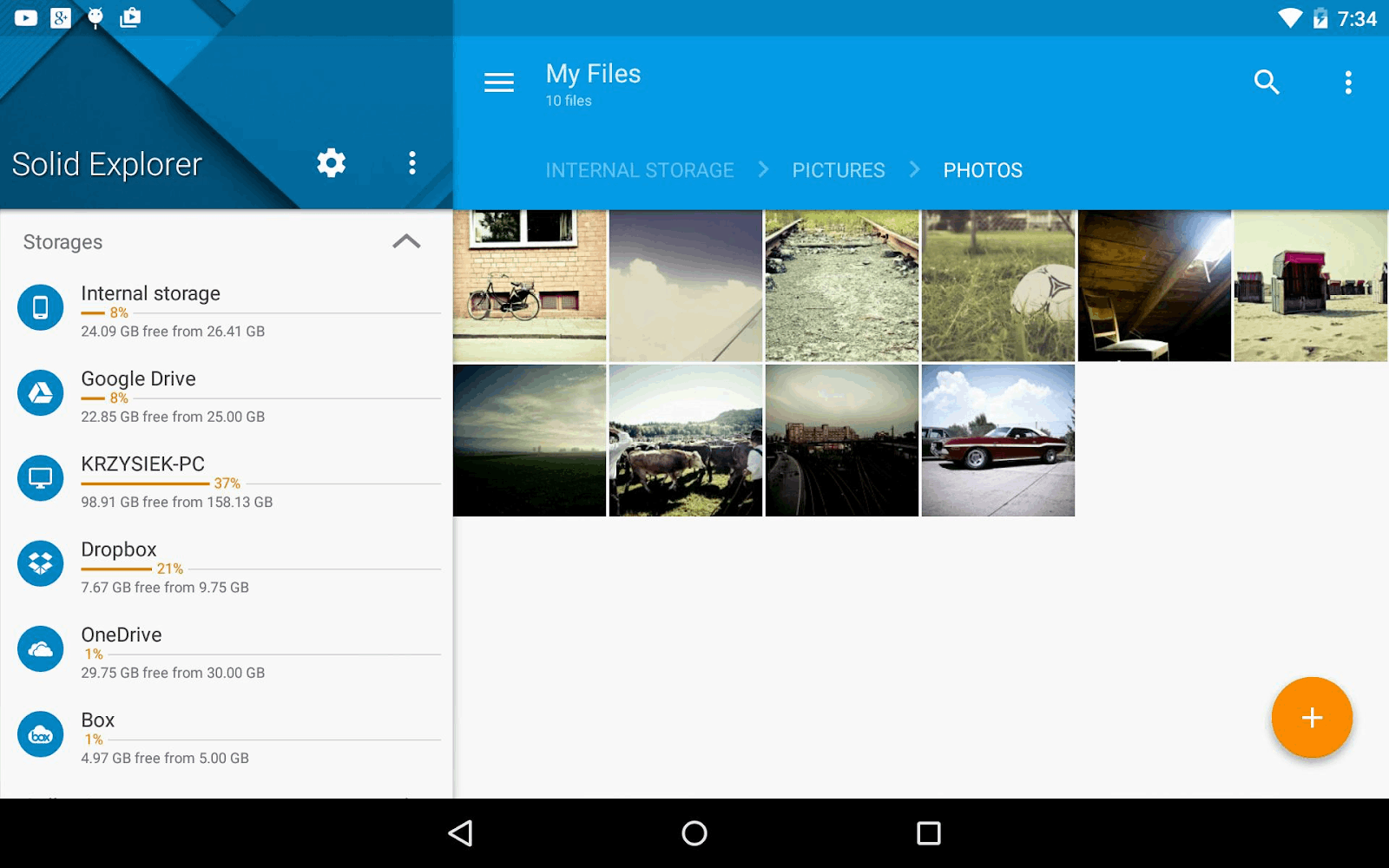 First, the app will allow me to access and manage my files wherever they are, either locally or in the cloud, and wherever I am. This means that I can access all my files anytime I want. The convenience that Solid Explorer promises seems to be true.
Solid Explorer will adjust its appearance to match my style with color schemes and icon packs. Interestingly, I already liked the app's interface upon installation, so I know I will like it more once I personalize it.
Solid Explorer is proud that it has limitless capabilities as I can easily extend application functionality with the additional plugins available in the Google Play Store. Lastly, the app offers a link for me to read more about Solid Explorer's user guide.
Granting Permissions to Solid Explorer
Upon reading the user guide, I had to agree with the License Agreement of the app to proceed. Then, Solid Explorer asks me to grant permission to access several aspects and features of my mobile device to enjoy its services and features.
I allowed the Solid Explorer app to access my identity and contacts to find accounts on the device, device ID & call information to read phone status, storage to read and modify contents, and Wi-Fi connection information.
Moreover, the app wants to modify system settings, prevent the device from sleeping, install shortcuts, have full network access, set wallpaper, run at startup, control vibration, control Near Field Communication, check Google Play license, and view network connections.
Check Solid Explorer's Home Page
The Solid Explorer app automatically scans all the memory storage that my mobile device displays on its Home page. The app lists all the folders I have for internal memory and SD card to easily check and organize my files.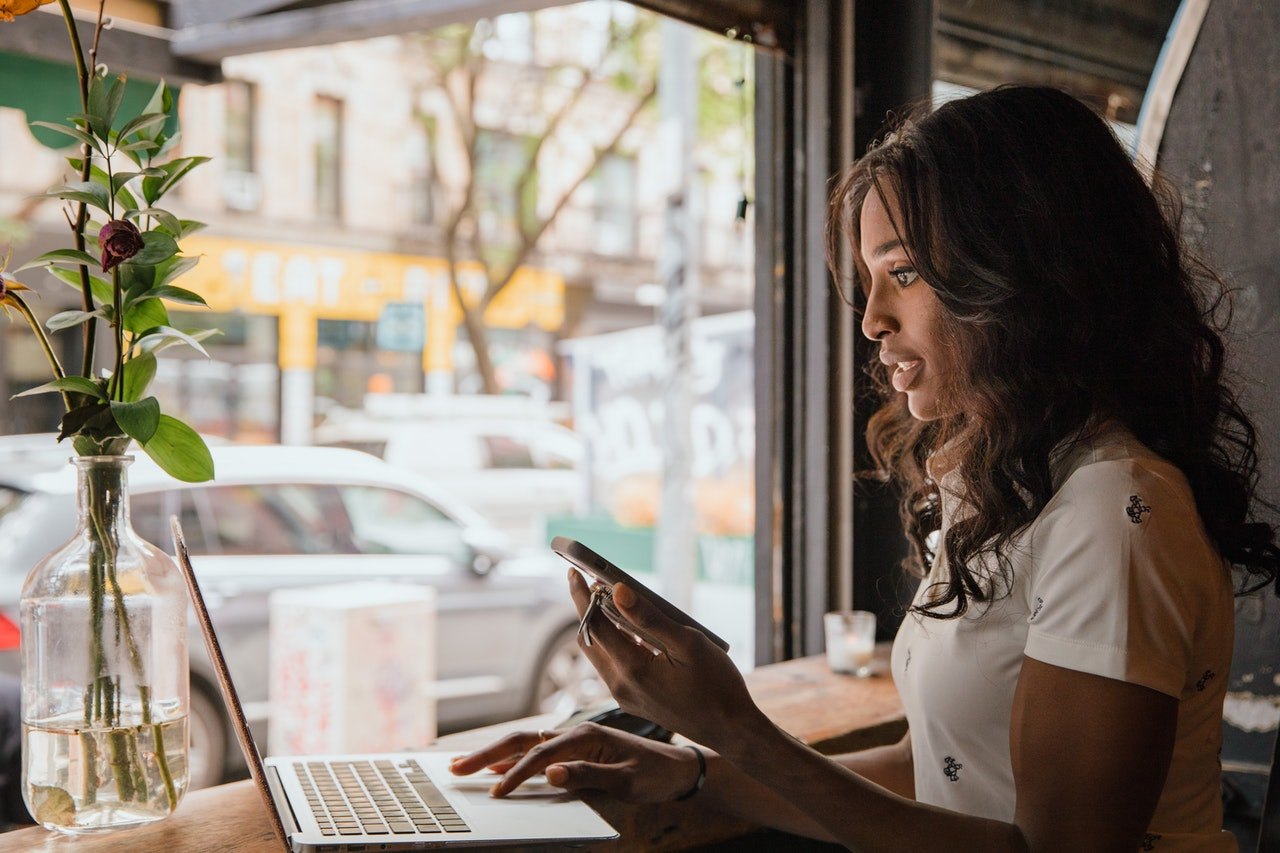 Solid Explorer also includes the number of items in each folder, which lets me know which folder eats up the most storage space. In my case, the folder with the most items is the one that needs to manage by organizing or deleting files.
I can also find a "plus" icon at the bottom of the screen, which I can use to add another folder. Moreover, I can utilize the "search" icon on the upper right corner of the screen to look for specific items inside the long list of folders in my file storage.
Tapping on the "three dots" icon beside "search" will let me use the following options: select all properties, view options, filter, folder options, and operations. The left drawer of the app contains the settings, offers, bookmarks, collections, and toolbox.
Exploring the Folders and Files
Since I have many folders in the file storage, it will take time to explore them and access the files I need. Fortunately, the app offers a comprehensive search feature to quickly find the files I need through filters.
I can search for documents based on their file type and file size. The app can also sort the files in the folder based on the last modification date, whether today, yesterday, this week, previous week, this month, previous, or this year.
Solid Explorer can automatically sort the files alphabetically. Lastly, the app allows searching for a file in a specific folder only so that the search process will be much shorter.
Get Storage Analysis on Storage Explorer
One of the most useful things I get from the Solid Explorer app is its storage analysis. I can grasp how much storage space I already consumed for either the internal storage or SD card with this feature.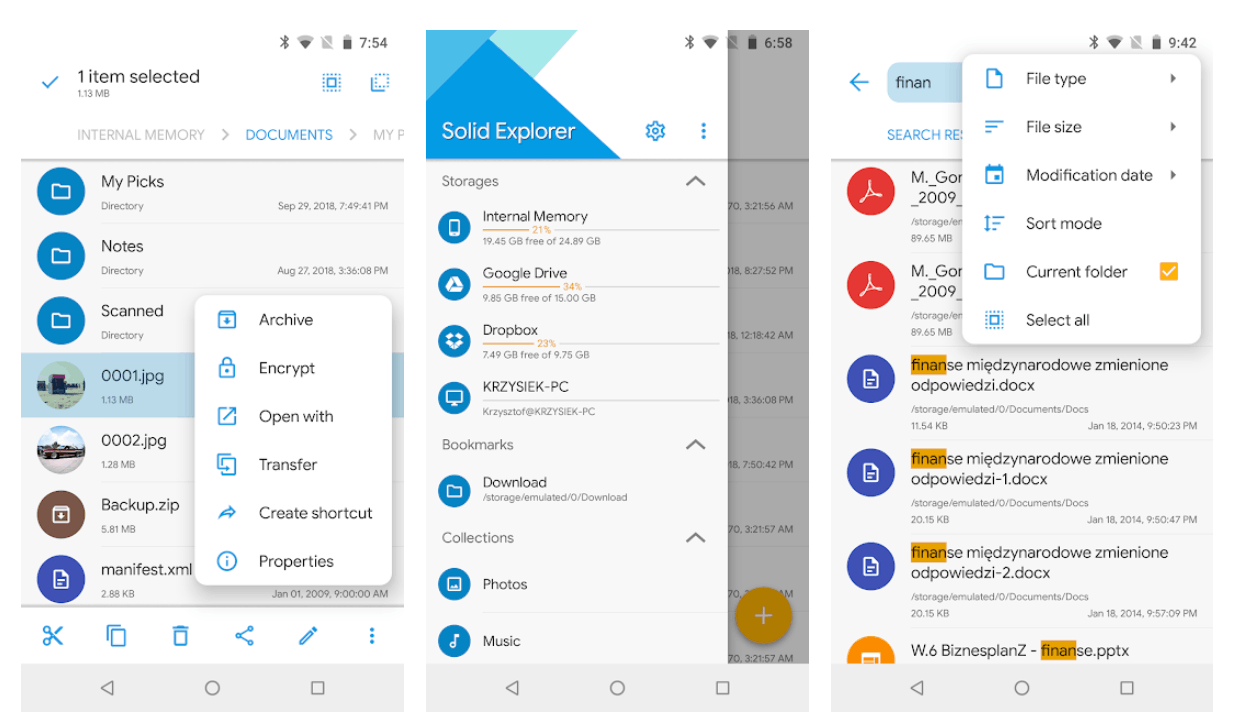 Even though it does not have a thorough storage analyzer, Solid Explorer offers basic information about the current condition of my storage. This information prompts me to delete files or move them to another storage space.
Moreover, Solid Explorer lets me know which files and folders take up most of my storage space by running the "Properties" feature. With just one tap, the app runs its scanning process to identify relevant information on my storage.
After scanning, the app reports the following information: location, parent folder, last modified, file type, size (storage space it consumes), number of folders, and number of files.
Organizing Collections
Solid Explorer brings convenience to users as it provides quick access to files of the same type.
I liked that the app lets me access the following in one tap: recent files, photos, music, videos, documents, applications, and trash bin. I do not have to manually sort and filter the files with the help of the organized collection feature, as the app automatically does the job for me.
Manage Remote Files on Solid Explorer
Aside from the local files in my internal memory and SD card, Solid Explorer supports organizing the remote files. The app supports major network protocols and cloud providers to organize and manage files across multiple storage locations.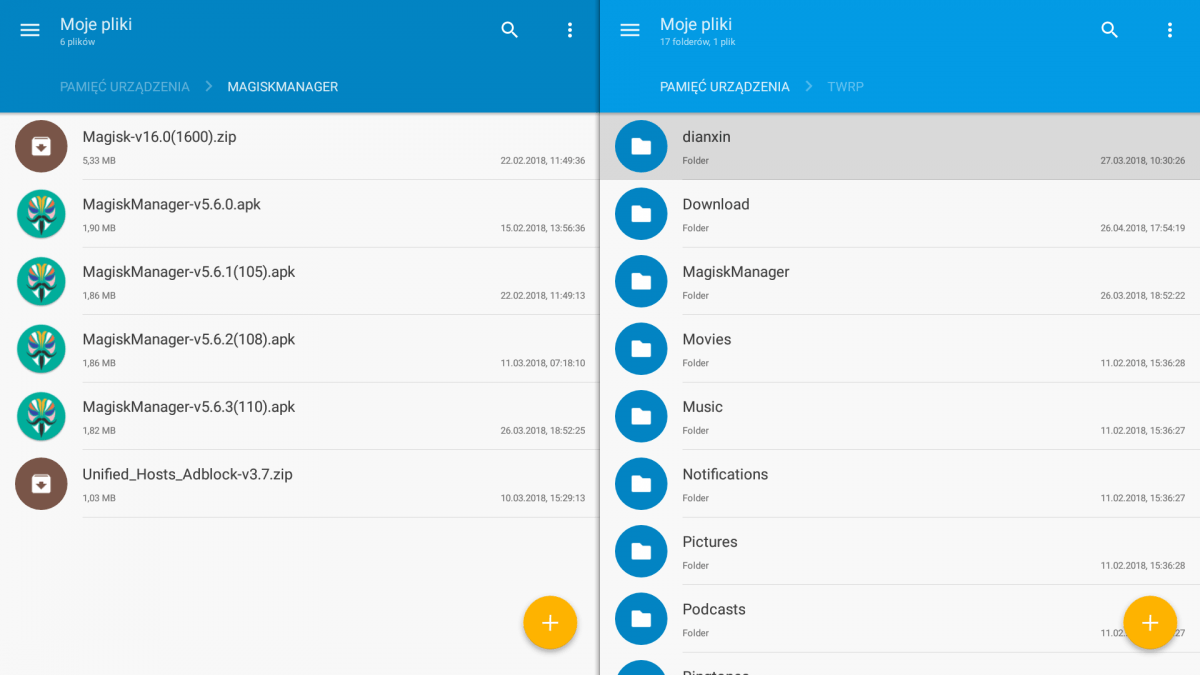 I can access remote files through the Solid Explorer app with this feature. At the same time, I can easily transfer files between storage locations. For example, I want to copy a folder from my Internet memory to my cloud storage, and I need to drag the folder from one panel to another to make it happen.
The app offers connections to major cloud storage systems like Google Drive, Dropbox, OneDrive, SugarSync, Box, OwnCloud, MediaFire, Mega, and Yandex. Meanwhile, Solid Explorer supports major network protocols SMB, SFTP, WebDAV, and FTP.
Adding Bookmarks
Solid Explorer has the "bookmarks" feature for easy access to my most-used folders to provide more convenience. Solid Explorer identified some of the folders I usually open and placed them on the "Bookmarks" in the left drawer upon installing the app.
However, I can customize these bookmarked folders, especially if I want to remove or add something. There is no need for me to do multiple taps in finding the folders that I need with the help of the bookmarks.
Customize the Settings Menu on Solid Explorer
Another selling point of the Solid Explorer app is its user-friendliness. The app is easy to explore and navigate, which users will not have difficulty enjoying its features. Moreover, the app has a visually appealing user interface.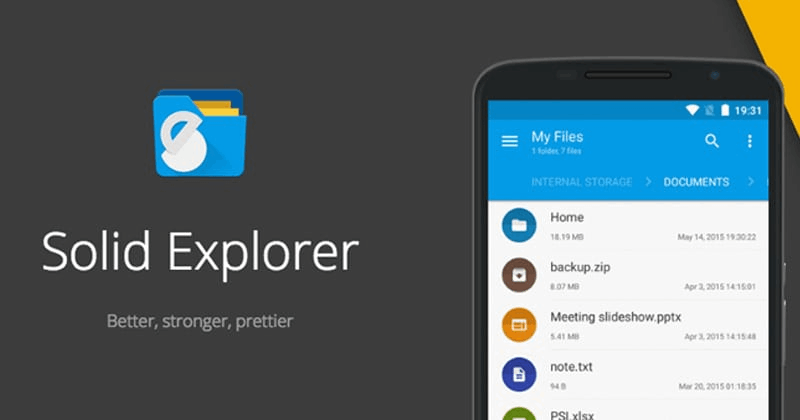 True to being user-friendly, Solid Explorer offers a way to customize my experience on the app through its "Settings" menu. I can modify the following things for the file lists: dual-pane mode, bottom, context toolbar, default panel content, list zoom, thumbnails, and columns.
Solid Explorer has a security feature wherein I can set a master password that will enable me to protect my network location.
The other features that I can customize on the app are using the trash bin, having prompts before moving to trash, setting the automatic deletion of files on the trash bin in a given time, and showing root storage.
Changing the App's Appearance
As I mentioned, I can customize the app's appearance based on my preference. Solid Explorer has nine themes: white, onyx, auto white + only, light, dark, black, auto light + dark, and auto light + dark.
I can also change the primary color, accent color, icon set, color scheme, and colorful navigation bar.
Conclusion
The Solid Explorer app offers a great file management solution to organize local and remote files. Users can also customize their experience on the app and its interface. This app will help you find and share files more easily.