In the past, I was frustrated most of the time when taking notes in my notebook. The pen suddenly dried up or I couldn't quickly find a previous relevant note in my notebook.
Does this sound familiar? Then you will love the new app I've discovered. The Squid app is specifically designed to make note-taking much easier.
If you are looking for an easier way to take notes, read on to see how I've experienced the Squid app's way of taking notes online.
Use Squid Instead of Pen and Paper
Main Features
Easy and Simple to Use
Upgrade to Squid Premium
Ideal For Teachers
Use Squid Instead of Pen and Paper
Since I've discovered the Squid app I'm rarely using pen and paper anymore to take notes. The Squid app allows me to take handwritten notes on my Android tablet and Android phone. It is also possible to use the app with Chromebook supporting Android apps.
I find Squid very easy to use as I write just like I would have done on paper with a pen or pencil. The difference is that with Squid I write with an active pen, a passive stylus, or my finger onto the screen. I can easily markup PDFs to fill out forms, edit papers, and sign documents.
The app allows me to import images and draw my own shapes. I can then add typed text to the images and my notes. As I can quickly select text and images and copy and paste them, I find it very easy to move content between pages and notes.
With Squid, I can organize my notes within notebooks. This is not possible with paper notebooks!
Squid for Presentations
I have to give presentations quite often so I use Squid to turn my device into a virtual whiteboard. Many teachers have told me that they also use Squid's presentation abilities in the classroom environment.
This presentation feature is made possible by wirelessly casting to a TV or projector. I often use Miracast or Chromecast.
I also find it very handy that I can export notes as PDFs or images to share content with others. Generally, I also store my notes and images in the cloud for later reference or re-use.
Main Features
I'm impressed that Squid as a vector-based app keeps my notes beautiful and readable on all compatible devices. During presentations, I can erase entire letters and words easily. I just use the stroke eraser tool. If I need to change only a part of a word I erase the letters with the true eraser tool.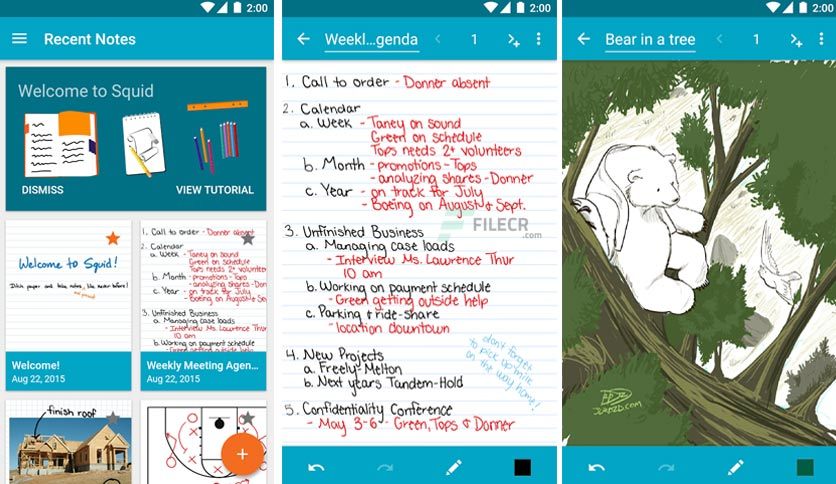 With the selection tool, I'm allowed to change the color and the thickness of my handwriting. The selection tool also enables me to resize a drawing whenever I want to. And the best is that I can resize without any loss in quality.
When I use Squid I use active pens on capable devices. This results in natural, pressure-sensitive handwriting. It is so comfortable to write with the pen and erase with my finger!
I've found that Squid is designed to be simple to use, allowing me to take notes efficiently. Graphics are easy to create and work with because the app operates with a vector graphics engine.
Paper Types and Resizing
I can also choose between multiple paper types and sizes. Mostly, I use blank paper, but I've also used ruled and graph paper types for specific presentations.
The page sizes I can use include letter, infinite, and A4. After I've decided on the paper type and size my next step is to organize and sort my notes within notebooks.
While organizing my notes I undo, redo, select, move and resize my content to get the notes ready for use. To remind me of important parts in my notes, I change the weight and color of certain parts.
Easy and Simple to Use
As explained above, it is very easy to write and erase with Squid. Its other features make usage very comfortable. It provides a two-finger scroll option and you can zoom with a finger pinch action. Squid is also very accommodating when I import and export my notes to PDF, PNG, or JPEG.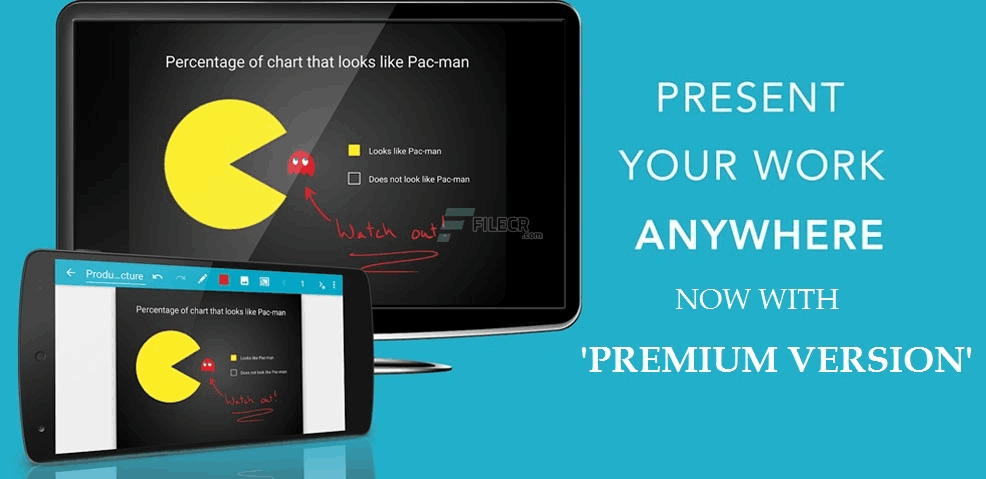 The export function allows me to print, archive, or share the content. The app also supports multi-window views and offers shortcuts to create a new note or open a notebook. Another feature of the app is that notes can be displayed on a secondary display like HDMI or Chromecast.
When I look at the rewards and recognition the Squid app has received, I know that I've made the right choice to download and use this app for my note-taking purposes.
It was a Featured App on the Google Play Store, and in Samsung Galaxy Note S Pen App Challenge it was an honorable mention for Productivity. It also won the Popular Choice Award in the Dual Screen App Challenge. The app also has many positive online reviews by other users.
How to Download Squid
I downloaded my Squid app via the Google Play Store onto my Android device. Downloading the app is free, but in-app purchasing is possible. To get the app installed correctly I had to grant certain permissions.
After launching the Google Play Store app, I searched for 'Squid – Take Notes & Markup PDFs' and once I selected the app from the results, I clicked 'Install' on its download page to start the installation to my phone.
The Android permissions required by Squid are internet permission to send crash reports, permission to save PDFs to external storage, and permission to resume export to the cloud with intervals that I've set. It also must have permission to check for internet and Wi-Fi connectivity before backup or export actions are taken.
Upgrade to Squid Premium
Squid Premium, a subscription option, unlocks even more paper background types and gives me access to all of the premium features.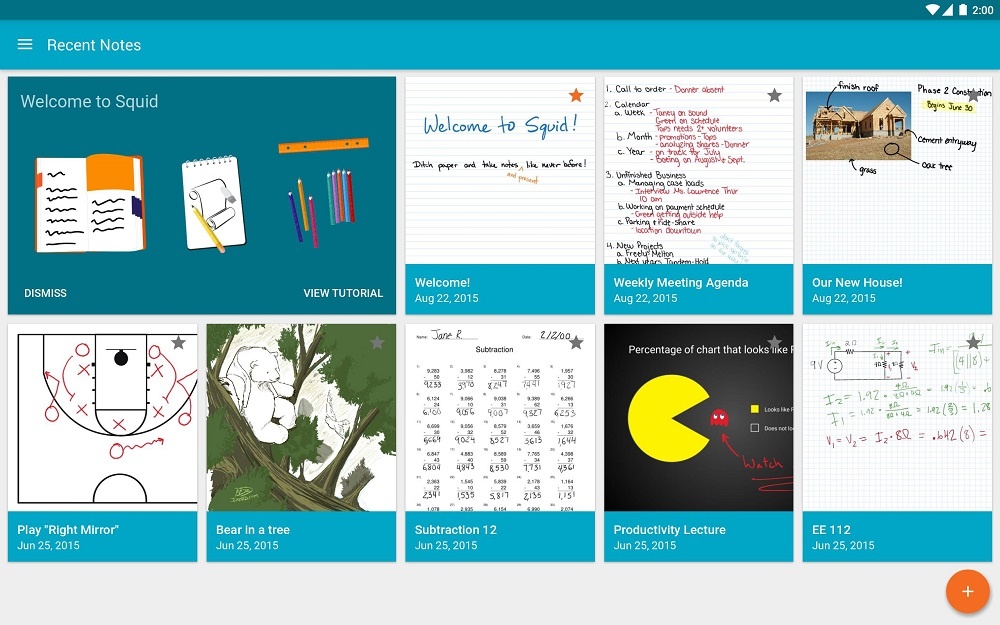 With Squid Premium I'm allowed to create notes and pages with premium backgrounds and express myself with the additional tools provided by the Premium option. Bulk export of my content to cloud backup is also available to me with Premium.
The subscription is only $1 per month or $10 annually. According to the information I have, the Premium option will always be updated with new backgrounds and features.
Squid Premium Backgrounds
As a Premium user, I get access to all of the free tools that come with the basic plan, but also an array of detailed and useful page types.
The new backgrounds include a basketball court and soccer field layouts. Coaches have told me that they love the opportunity to easily and in real-time draw up winning plays. For musicians, there are music staff backgrounds to compose on.
Squid Premium also offers engineering and isometric backgrounds, enabling mathematicians and engineers to complete assignments. Other available backgrounds include dot and cross grid, polar coordinates, and a logarithmic grid. Squid Premium also allows me to see a preview.
Ideal for Teachers
If you are a teacher, I can tell you that you will love this app. I've been told by teachers who are using the app that since they've been using it, the amount of paper piling up on their desks has drastically reduced. Even the paperwork in their students' folders has decreased.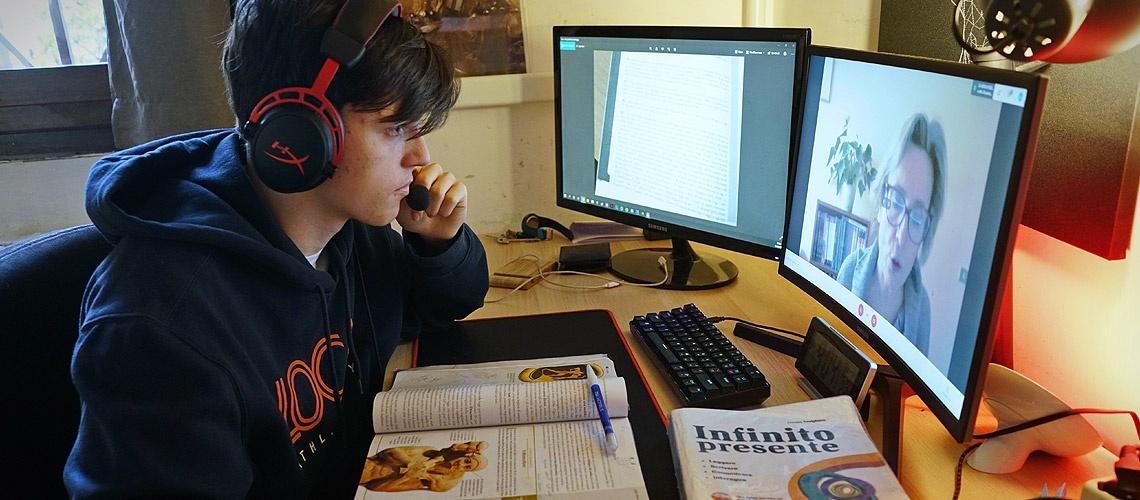 Teachers can import an image or diagram and notes and share them with their students. I believe many teachers have gone totally paperless with the app's PDF markup capabilities. As a teacher, you can use Squid to check whether the students understand the topics they have to research online.
Students have told me that they easily switch between diagrams, drawings, and written text without leaving the note. They simply have to turn the page by tapping on the arrow.
I've seen with my own children that they even have no problem with courses that rely on handwriting. Squid can really enhance learning through its digital handwriting feature.
Help with Home Learning
This past year, with many schools forced to close, innovation was required to help students learn from home. This is where collaborative apps really proved their usefulness and Squid is no exception.
Squid is a powerful tool to assist teachers to go online with their courses. There are special discounts available for Squid Premium licenses for schools.
Conclusion
For me, the Squid app for taking notes online is one of the best apps I've ever downloaded. I use it every day and don't experience the frustrations of pen and paper notes anymore. If you frequently have to take notes I would recommend that you download this app.
Creating, writing, editing, strategizing, and sharing has never been easier than with the Squid app. Whether you're a teacher, a coach, a student, a mathematician, or simply just want to be more organized, Squid can help.
Spanish version: App Squid – Descubre como tomar notas en línea