Have you ever thought how cool it would be if you could understand your favorite web series without having to read the subtitles? Or how exciting it would be if you could sing the lyrics of Despacito or Con Calma fluently?
Learning new languages can be difficult for anyone. Especially after our schooling years have been over. The rate at which we learn new words keeps dropping constantly.
Mastering one's own native language seems an uphill task at this point, let alone learning a new one. However, here's a one-stop app for all our language learning problems – Tandem.
Learn Language With Tandem
Cultural Learning Perks
Real-Time Learning Environment
How To Use The App
Boost Vocabulary And Grammar
Awards And Accolades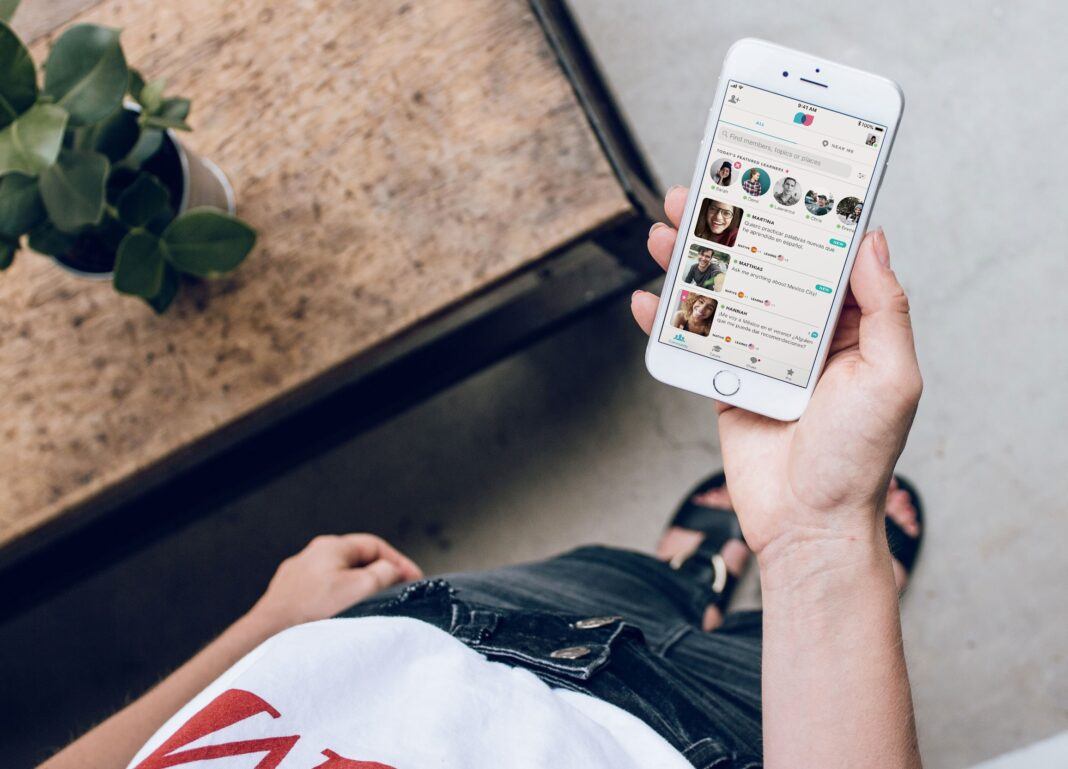 Learn Language With Tandem
Tandem is a language learning app that helps you learn any language in this world, including braille, sign language, and fictional language like Dothraki.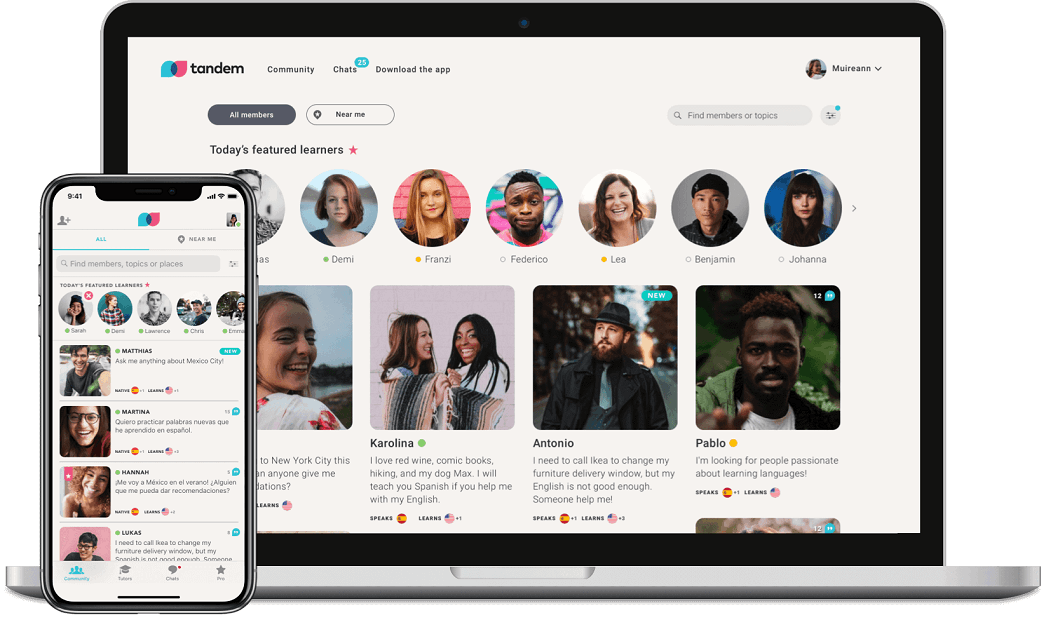 It is different from your regular language teaching apps because the teacher is not an automated bot or a virtual bird.
The person on the other side of your screen is a native speaker of the language you're trying to learn.
Widespread Online Community
There are millions of registered users on Tandem, making it an extensive online community. Users can chat, audio call, or video conference with their ideal Tandem partner.
It's an ideal platform to connect with people from different cultures and make friends.
Moreover, it's safe and secure because users have to go through a verification process that meets Tandem's security standards.
Cultural Learning Perks
The demand for learning new languages is at an all-time high as the pandemic has given us plenty of time to sit alone & idle at home. Tandem hits two birds with one stone – giving you a new hobby while connecting with people across the globe.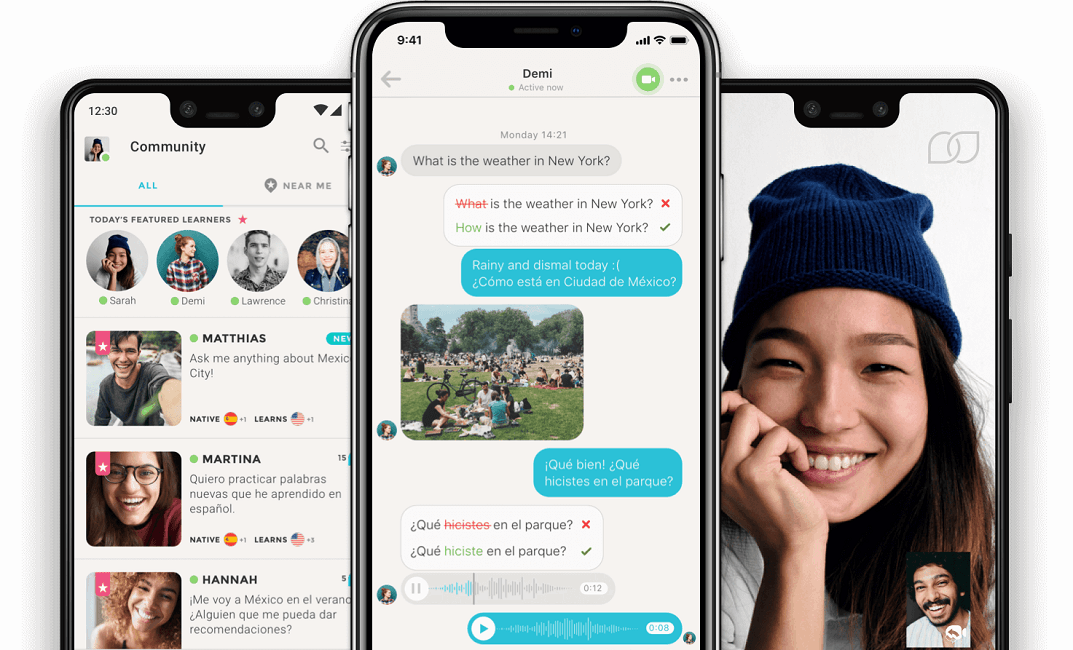 It's a great way to learn about different cultures and make friends. The interactive features make it a compelling way of learning which defies the boredom of regular practice sessions.
If you are someone whose next goal to cross off the bucket list is to travel far & wide or meet new people from the comfort of your home, then Tandem is the perfect learning platform to help you learn the language you desire.
How To Download
Tandem is available for Android and IOS users on Google Play Store and App Store, respectively. The app is easily accessible to PC and smartphone devices; however, the installation process might differ.
I'd also suggest you check out some installation tutorials to help you understand the process. Once downloaded, you can sign up on Tandem using your Google, Facebook, Apple, or Weibo accounts.
Alternatively, you can create an account using your email address. The app will ask for basic details like name, DOB, profile picture, and personal email to complete the process. As you move forward, you have to select a language you want to converse with people in.
Real-Time Learning Environment
Tandem is not a usual app that teaches in a one-way method. It's an interactive application that lets users learn in a real-time environment.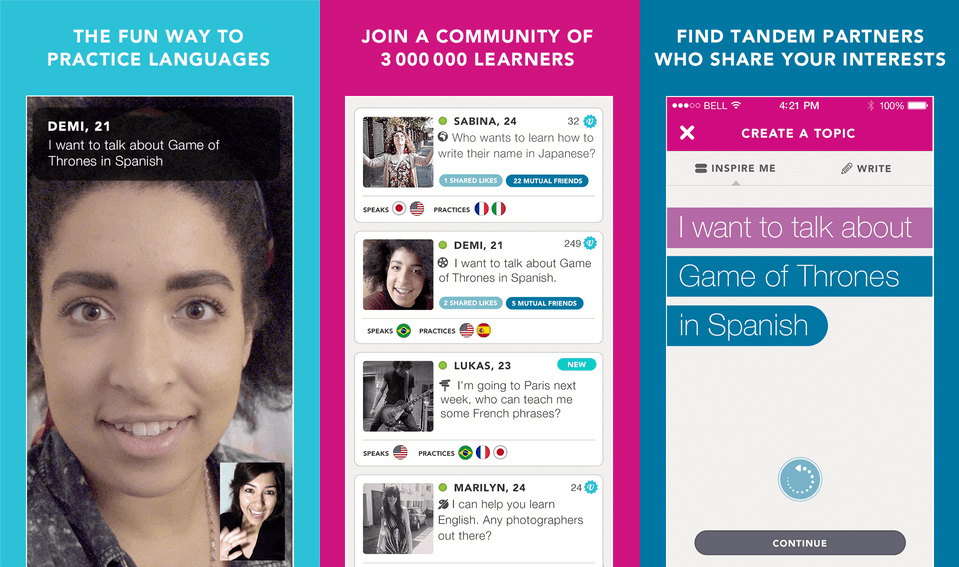 Since many users might exploit this feature, Tandem has a strict verification policy and security features. It gives you have the right to block and clear your data from the app at any time.
You also have the right to ask about the extent to which your data is being used. Additional safety features such as block, raise an objection, and file a complaint are also available.
After registering, you can choose your preference based on location, language, relevant interests, etc. Tandem will automatically match them with their perfect partner.
Easy Connections
Tandem users can then keep the conversation flowing through text messages, audio messages, video calls, images, stickers & a lot more.
An interesting feature about Tandem is that it uses auto-correction for any language that you're texting in. This helps in eliminating any possible chance of misunderstanding or unintentional derogative text.
Another feature is the Tandem Tutor option which lets you connect with professional and fully-fledged teachers. However, these tutors will charge a price for every session you have with them. The price is set on past experience and the popularity of the language.
How To Use The App
Users first need to register themselves on the app to continue. The initial registrations questions include questions enquiring about geographic location, language preference, and native language.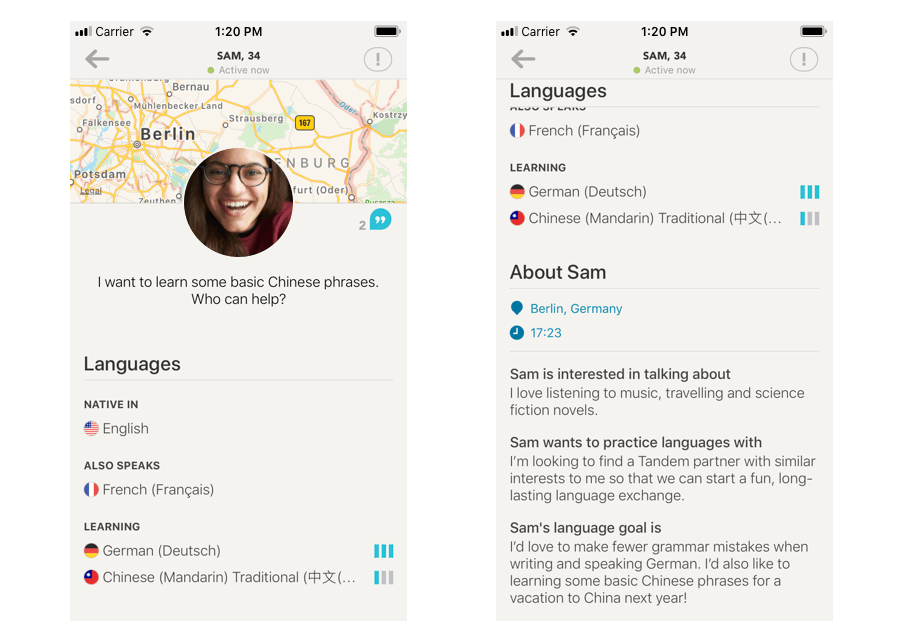 Next, the app asks you about the qualities you would like in your Tandem partner and mandates that you upload a profile picture. Once you're done, it may take up to one week before Tandem approves your profile.
However, you can skip the waiting part by purchasing the pro version, which costs around $7 per month. Once your profile receives a thumbs up, you can start connecting with other users.
Navigating The App
The "Community" option lets you connect with native speakers, while the "Tutor" option will set you up with teachers and masters. However, it all comes down to the "Chat" option. To aid you with texting, Tandem has different tools like Correct and Translate.
Although the free version allows five translations per day, unlimited translations can be unlocked with the pro version. The "Goals" section allows users to post their objectives which becomes a basis of pairing.
The last part is the "pro version," which comes with added benefits, an ad-free experience, and increased profile visibility.
Boost Vocabulary And Grammar
When it comes to benefits, Tandem offers it all to its users. While the app's pro version will require you to pay, the free version gives you a lot of value if you are a beginner or intermediate.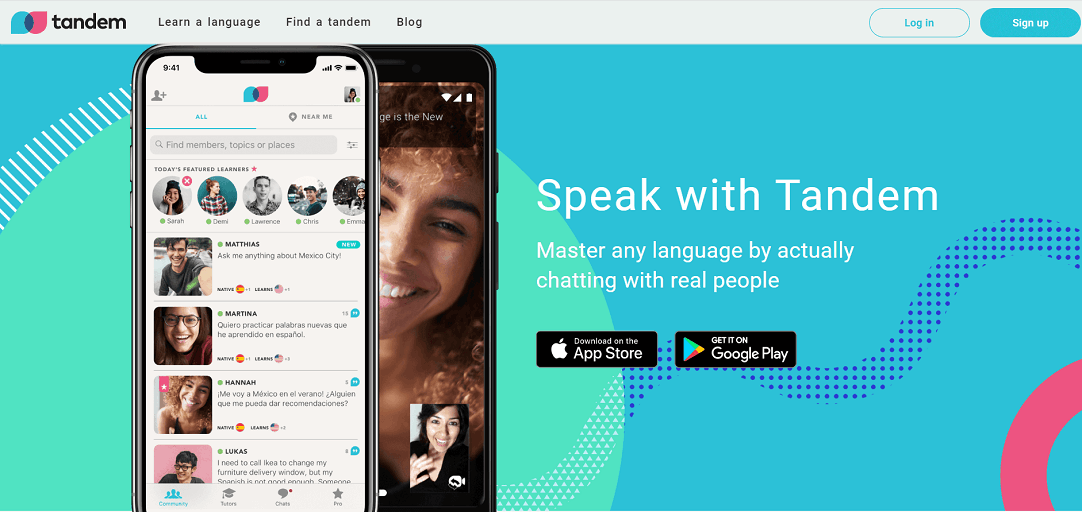 It helps boost vocabulary through repetitive speaking and the frequent use of tricky words during texting. You are improving your grammar while texting, which is a bonus.
The auto-correct feature within the app makes it easy to rectify errors. Moreover, there are no strict schedules and reminders that are constantly nagging you. However, some people use it for dating purposes. So as a responsible individual, one must use the app with caution.
Help With Pronunciation
When it comes to learning a language, pronunciation is the toughest challenge that people face. There are so many languages that you do not speak in the same way as it is written.
Moreover, a letter might change sound depending upon which letter is succeeding it in a word.
The new learners might struggle with the problem of using the right expression is there as well. Tandem helps in improving these areas via text messaging and the audio call feature of the app, which strengthens pronunciation. It also allows you to build fluency in the language and gain more confidence.
Awards And Accolades
Tandem was launched in 2015, and since then, it has harbored a lot of praise coming from credible sources. The Apple App Store featured it in its "Best of 2015" category, and the Google Play Store included it in its "Best of 2017" list.
TechCrunch stated that Tandem has a charming language practice community onboard. Words of praise came from Oprah Magazine, saying that members are free to choose their learning path as there is no forced schedule.
TechAdvisor commented that if a user feels like they have made decent progress in learning the basics of a language through other apps, then Tandem is the place to put that learning to use. It helps in getting better at actual conversations.
Reviews From Users
Tandem has received a positive response from most of its users. There are more than 2 million reviews on the Google Play Store, and the app has an impressive overall rating of 4.5/5. The app has helped many come out of their inner shell and bond with others over a mutual love for the same language.
One review stated that Tandem had connected the user with over 60 proficient Spanish speakers who have helped them immensely in their learning course. However, with all the positive reviews, there are complaints regarding the technical aspects of the app. Some users aren't able to see any new messages and have to refresh the app multiple times.
I feel the user experience of the app can also be improved further. It'd be convenient if the app rolls out a dark mode because reading normally puts a strain on the eyes. The app can also include an edit message feature that will save me from the trouble of double-checking the messages.
Conclusion
To sum up everything, Tandem is a great app for language learners who are on a beginner to intermediate level. Since the app doesn't teach basics, I'd advise you to refer to some other material and then incorporate practice via chatting and calls.
Features like auto-correct and translate make texting easy and educational. That being said, the app can fix some technical glitches that users face. As per the reviews, the UI/UX is something that can be improved.
Spanish version: App Tandem: Aprende con un hablante nativo