Learning does not stop the moment we graduate from the formal schooling system. Often, there are things that we are passionate about or have a personal interest in, and you might want to learn more about that passion.
I, for one, like to learn new things—anything ranging from basic skills to improving my overall academic knowledge. There are definitely challenges to learning, especially now that I am working, looking for suitable learning materials is one of those challenges. The good news is that the internet has made a whole lot of resources available to us.
One of the best ways to learn is to enroll in online courses. Udemy is one of the best platforms for individuals looking for a wide range of courses to enroll in. This article will talk about what Udemy is and how to get it on our mobile devices.
What Is Udemy?
Getting The Udemy App
Effective Learning Experience
Making The Most Of Udemy
What Is Udemy?
Udemy is an educational app that lets users across the globe access courses and programs offered by various educators worldwide. It provides learners and educators access to one platform, giving them the chance to acquire and share knowledge, hone skills, and unlock potential.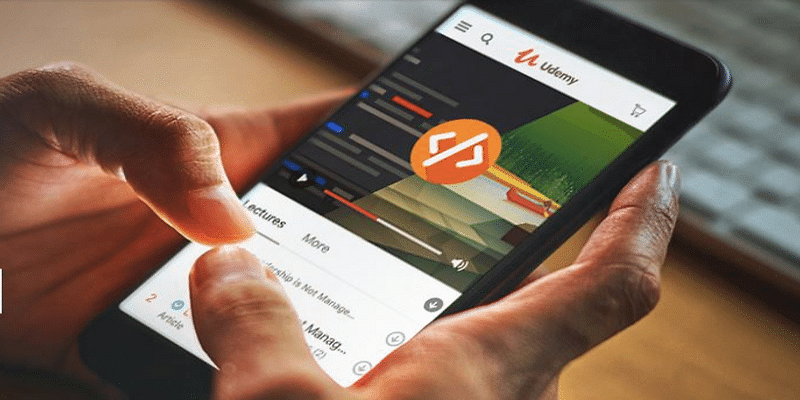 This application is highly successful thanks to more than 155,000 courses created by around 70,000 instructors and a whopping 40 million learners. Its courses have been enrolled in 480 million times and are available in more than 65 languages.
What I love about this application is it gives me a whole lot of courses to choose from. Udemy carries hundreds of thousands of online courses accessible to most users. I just need an Internet connection and a smart device, and I am good to go.
Of its thousands of offerings, there are hundreds of courses in several categories. It covers a whole lot of expertise and industries, including design, development, marketing, IT & software, personal development, and business, just to name a few.
How Does Udemy Work?
When I started learning from Udemy, the first things that I needed to do were to download the app, sign up for the service, and browse the platform's course offerings. The key to finding the right course is a thorough search; I start by sifting through the topics in the categories that I am interested in.
There are numerous topics under each category, such as Python and Machine Learning in the Development category, Financial Analysis and PMP in the Business category, and Photoshop and Drawing under the Graphic Design category.
Once I found the right course or program for my interest or needs, I just need to add it to my cart and purchase the course. Most of the classes are paid classes, but there are a few free options available. After this, I just need to log into my account to access course materials, attend classes, and submit requirements.
Getting The Udemy App
Unlike the traditional educational system in which learners would need to be accepted into the institution by going to the institution to enroll and paying for the classes they want to take, Udemy makes it easier to access its learning platform. We just need to download the application from our source of choice.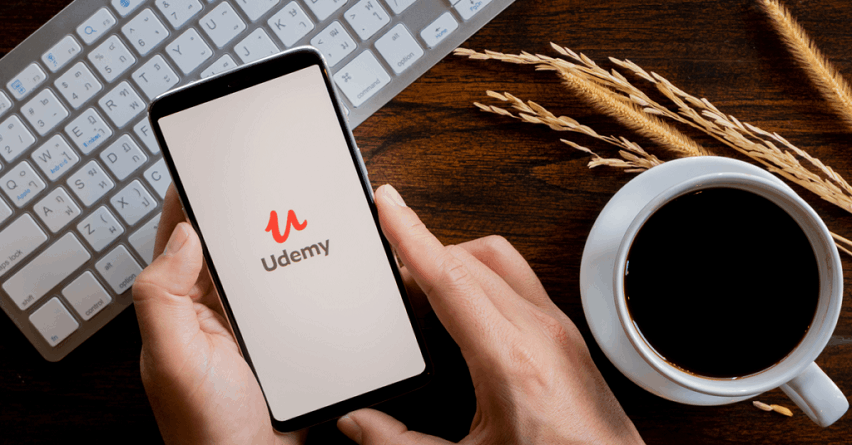 For my Android device, I need to go to the Google Play Store, and for my iPad or iPhone, my download source would be the App Store. I can easily find the app just by typing the name. Once I found the correct entry, I easily initiated the download and installation process by tapping Install or Get.
After installation, I simply launched the application from my Home Screen or App Drawer. I needed to provide permissions to the app, including access to photos/media/files, storage, Wi-Fi connection information, and others.
One thing I appreciate about this application is that it is free to download and use. If I do not want to spend a dime on my education, I can simply get this application and start browsing the free options. This allows me to learn thousands of new skills for zero dollars.
Acquiring Certificates Through In-App Purchases
Learning for free is a reasonable expectation. However, I find it essential to highlight that there are advantages to enrolling in paid courses. Free options only offer online video content, which offers a great independent learning opportunity.
Meanwhile, paid courses provide a more comprehensive experience, such as the chance to ask the instructor some questions and send them direct messages, making the entire experience an interactive one. Paid courses let me get a certificate of completion every time I finish a class.
The thing about pricing is that it varies depending on the course. For example, the Become a Web Developer from Scratch class costs $119.99 while the Photoshop CS6 Crash Course costs $49.99. The good news is the app is very transparent about prices, so I can easily decide whether I want to avail myself of the course I am interested in. Plus, all the courses are affordable and reasonably priced.
Effective Learning Experience
Speaking about learning experiences, we all want to make sure that the time and energy we devote to each class are well-spent. Personally, I look for high-quality learning materials, interactivity, and the opportunity to learn more about that particular subject. Udemy offers all of these and more with paid courses.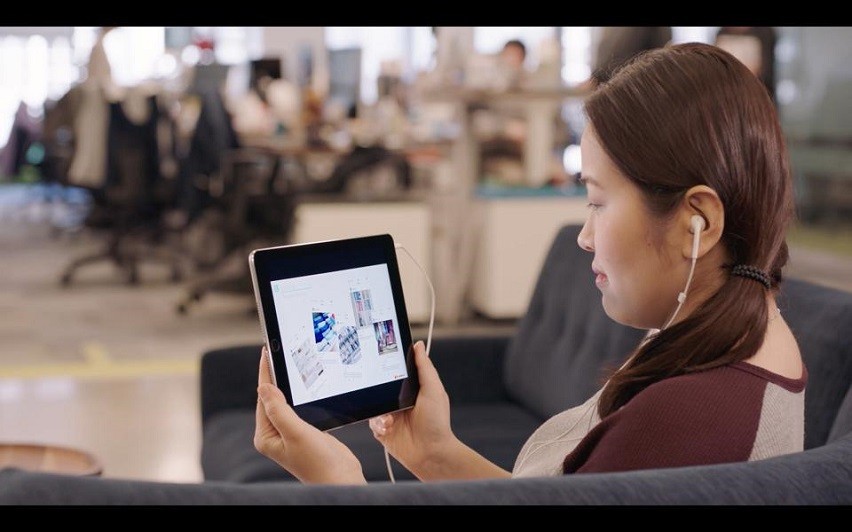 Looking through the offerings, I find it easy to look for the right class for my needs, especially with the learning features built into the app. I can take notes during classes with the help of Notes so that I can remember more. Should I need to go back to a particular topic, I can simply bookmark the topic in question and go back to it later.
Depending on the instructor's course design, I can also test my knowledge through quizzes. This lets me see how much I have learned and retained and where I can improve my skills or knowledge. During classes, I can also ask my instructors some questions to clarify some concepts.
One great thing about this app is that I can simply go back to the paid courses I have purchased and visit them later as Udemy offers lifetime access to classes. This way, I can always take a refresher course whenever I need to.
Learning On-The-Go
Now, most of us are most likely always on the go. After all, we tend to go from one place to another, whether it be commuting to and from work, vacation, business travel, personal visits, or other similar travels. If I want to continue doing my course during these activities, I can simply access my classes on my phone or tablet and switch to my computer when I can.
The best part is that I can simply download lectures to work on them during my commute to and from work, or when I run errands, or during long transports when traveling. This way, I am constantly brushing up on my skills and knowledge wherever and whenever.
I also appreciate that this application can be projected to a TV, which is great for watching lectures on bigger screens. This lets me see texts more clearly while being able to observe what my instructor is showing.
Making The Most Of Udemy
Udemy lets me make the most of my free time, so I want to ensure that I make the most of my Udemy course. The best way to do this is to sift through the app's thousands of offering using its advanced search tool. I can simply type in a keyword and use filters to find the best course for me.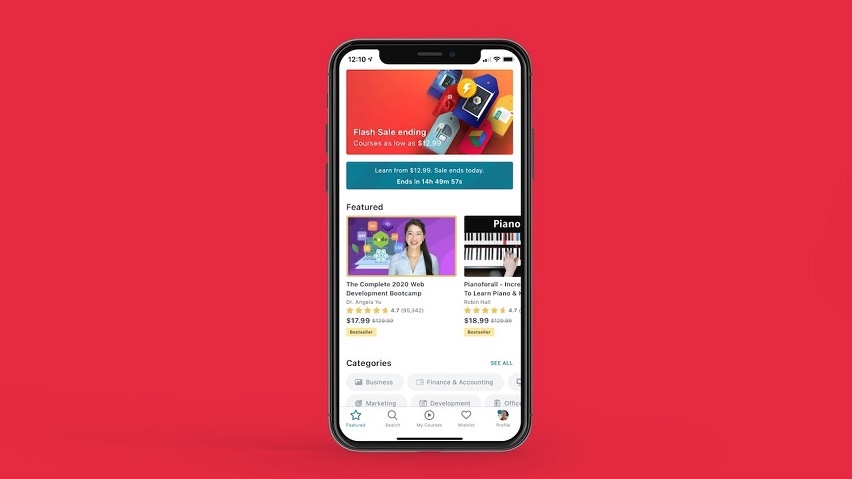 What gives Udemy an edge is that it helps me keep up with my learning despite my busy schedule. As I tend to forget many things, it helps that this app gives reminders through phone notifications. With this, I build a routine and remember to consistently check my progress.
I can also make sure that I learn everything from my instructor by taking advantage of the question and answer feature. I can simply send a direct message to the educator should I feel the need to.
Besides using the app for personal and professional development, I can also use it as a business owner. Udemy has a business version aptly named Udemy for Business. This app lets owners help their staff gain new skills and brush up on their existing skills with Udemy courses.
Picking The Right Course
Using the advanced search tool, I can select the topic, course level, language, price, and features I am looking for. I can also look for trusted courses by looking at the rating of the courses that form part of my search.
Other search options that I can specify while searching for the perfect course include video duration and subtitles.
Conclusion
Udemy is one of the best platforms to pursue my education dreams even after getting out of school. With its more than 100,000 offerings, I never fail to find the right course for my personal and professional needs.