Situating myself in the content creation industry can be challenging at times. I sometimes run out of ideas, and other times I have so many ideas and thoughts, I do not know where to begin.
Thankfully, I have found the We Heart It app. It is the home of my inspirations, where I can curate all the things I love. Through this app, I get inspired by so many others' content, and it also gives me the platform to share inspiring things myself.
Continue reading to learn what this app is for and how it can give you inspiration as well as the power to inspire.
A Brief History of the We Heart It App
Fabio Giolito, a Brazilian native, developed We Heart It in 2008 as a side project centered on the idea of "hearting" images and saving them to share with others. The app expanded naturally from there, even though it only started as a tool for the creator and his friends.
As the company grew, Fabio brought on co-founder Bruno Zanchet to help with infrastructure. In 2011, the site was formed in California, and the two took on some startup investment.
An App Flying Under the Radar
We Heart It is the epitome of a community that has remained largely unnoticed. Meanwhile, Pinterest, one of its closest competitors in terms of features, has become loved by marketers, artisans, and homemakers around the globe.
It's worth noting, though, that We Heart It was founded before Pinterest. Here, sharing images is a social activity that can create connections and allow users to delve deeper into specific topics.
We Heart It's content collection isn't quite as extensive as Pinterest's, but as more users sign up, the library will indeed expand.
Also read: Find Out About The Most Popular Searches On Pinterest
We Heart It – A Photography-Based Social Network
If you know Pinterest and Tumblr, which I bet you do, that's what We Heart It is. It is an app where I can find photos of my interests and save them in the app itself via the cloud or on my device.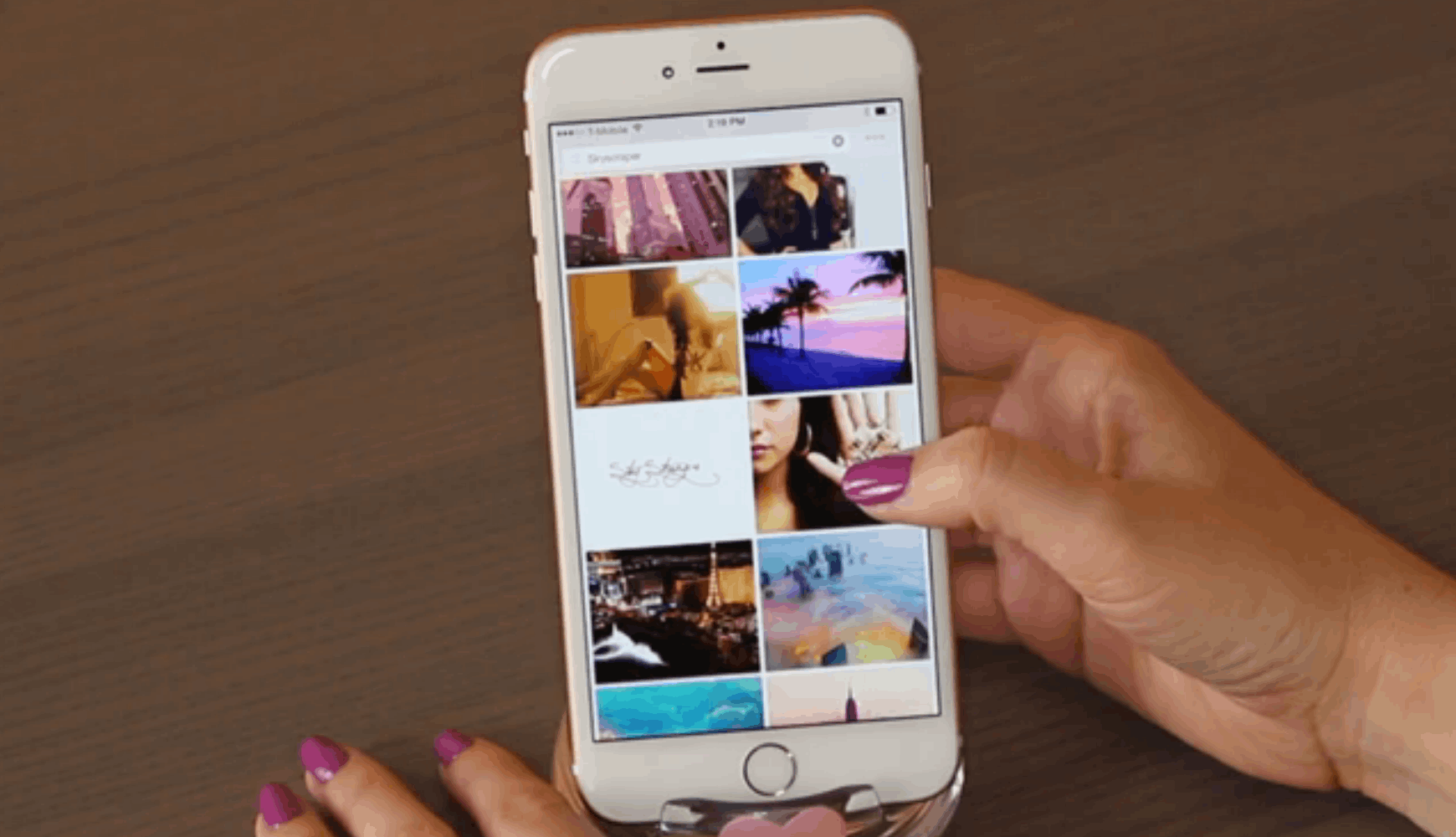 Also, I can select the tags that most fascinate me and search for any photographs shared by other users that have those tags.
Anything that inspires you and me is welcome in this app. I can search, save, and share curated compilations of inspiring photos and writings that never end!
I can, of course, follow and be followed by other We Heart It users. When I encounter a user whose images I appreciate, all I have to do is follow them to receive all of their posts in my main feed.
How to Download
While the platform has a web version, I started searching, saving, and sharing inspiring things through my phone by getting the free mobile app. You can download this app from the Google Play Store and the Apple App Store.
The We Heart It app has 687,791 downloads on the Google Play Store and a 4.4-star rating on the Apple App Store. We Heart It was named one of the "10 Happiest Places On The Internet" by the Huffington Post. In addition, it is one of Google Play's Best Apps of 2013 and 2015.
Signing Up
I created an account with one tap via Google. However, users can also sign up via Facebook, Twitter, or email.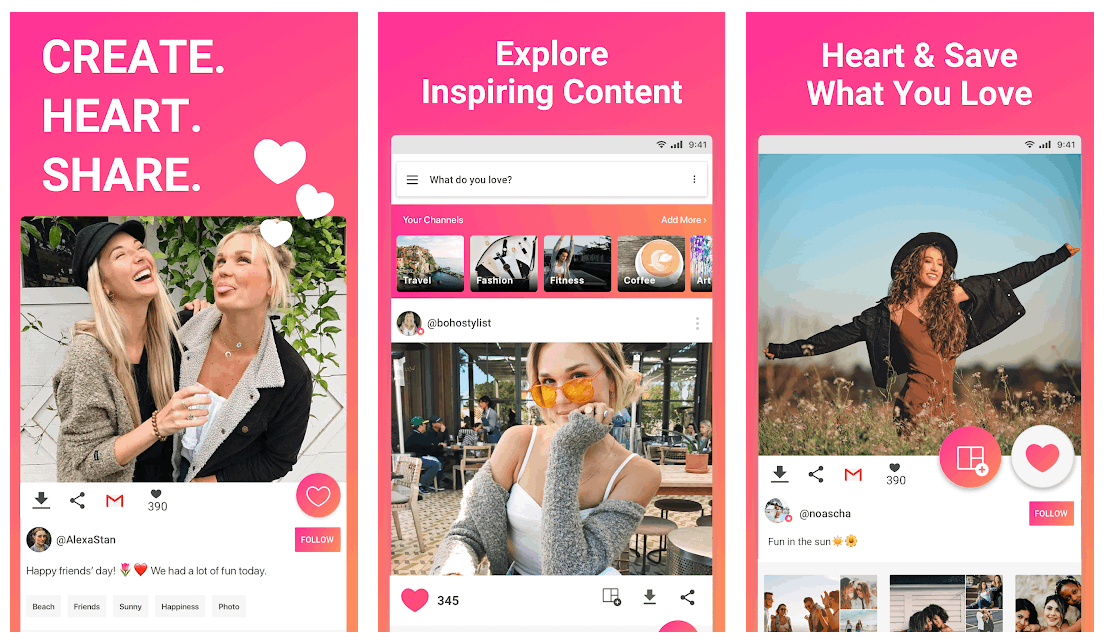 After choosing the sign-up method, it asked about my birthday so that the app knows my age. Before tapping Next, I read the Terms of Use and Privacy Policy, which is an important step before using any app.
I changed my profile photo, entered my username, and created a password. I can also set my account to public, to let anyone view my profile, or I can set my account to private.
I establish a profile that displays a part of my personality, just like I would on any other social media platform. I added a short bio, a link to my Facebook and Twitter accounts, and started sharing with other We Heart It users about my passion for creation.
Getting Started With the We Heart It App
We Heart It asked me to select three or more channels I am interested in. There are many channels to choose from, such as Fashion, Fitness, Food, Art, etc.
After selecting channels, it showed me trending influencers that I could follow, but users can also skip this part. You can follow any user to get inspired along the way.
I have also given the app access to my phone's storage to upload or download images. After these steps, I was directed to the app's Home page.
Also read: Instasize App – A Great Photo Editor
The Home Tab
The Home tab houses articles and posts from the different users under my chosen niche. Articles talk about the channels I chose when I started using the app, but users can always follow anyone they want.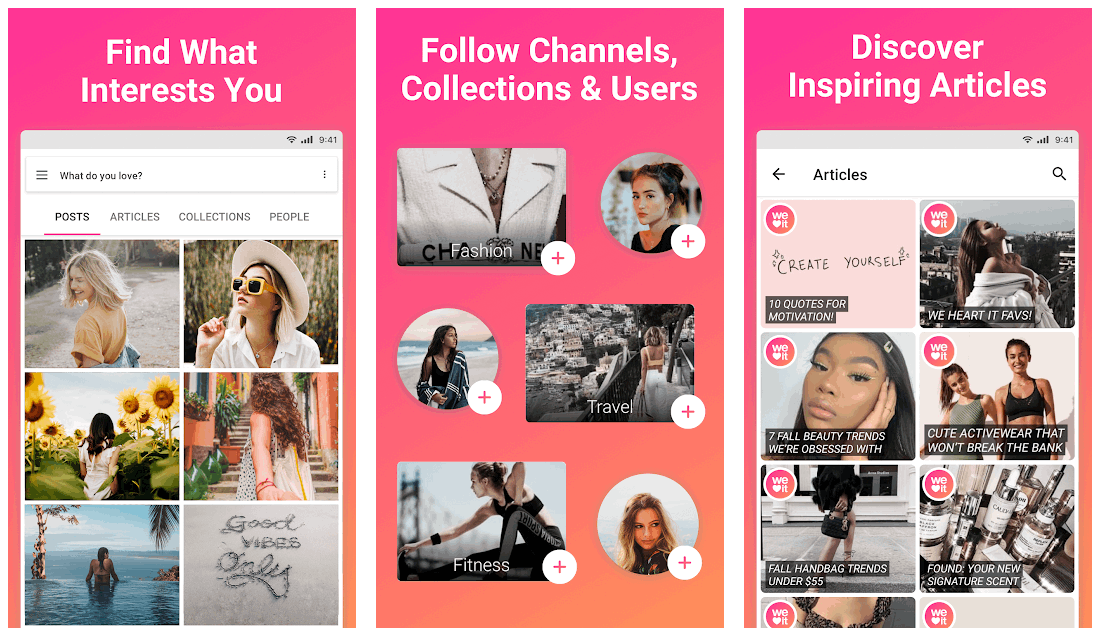 As the We Heart It app is like an Instagram, Tumblr, and Pinterest in one, I can scroll down and see all the wonderful and engaging photography content based on my chosen interests.
Whenever I want to view a photo from a user, I only need to tap the photo that I can "like" by tapping the heart icon on the bottom right corner. Once I tap the heart icon, the image will be automatically downloaded to my phone's gallery.
I can also save the photo by tapping the save button on the bottom left corner. Moreover, I can directly share it on my other social media accounts. Lastly, I can view the total number of likes at the bottom of a photo.
Upgrade to Premium
Ads can be distracting and annoying while using the app. Thankfully, the app offers a premium version for an ad-free experience.
You can sign up for this for $9.99 per year, but I used the three-day trial period before subscribing to the premium version.
It was a good decision because I enjoyed premium features such as custom app icons, profile backgrounds, multi-image upload, no watermarks or ads, photo filters, unlimited content, exclusive wallpapers, and a premium badge.
The Heartist Program
We Heart It launched a Heartist program to recognize its top users in 2015. These 'Heartists' are creative leaders recognized for inspiring others in the community.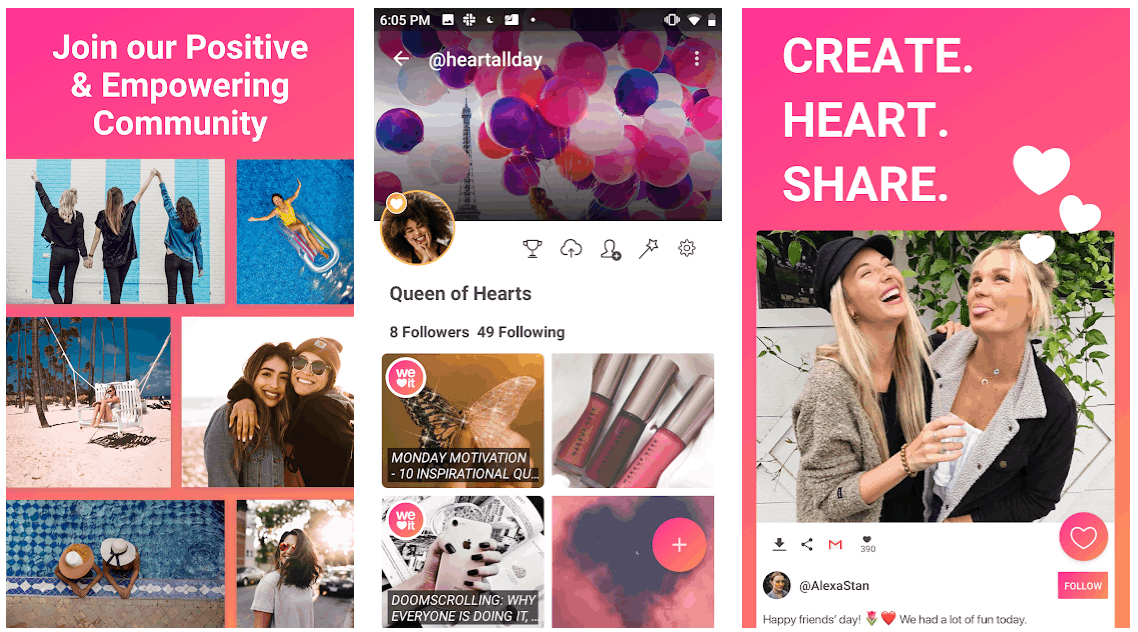 Annually, We Heart It selects the most active users and presents them with a pink star emblem that appears on the person's profile picture.
How to Be a Heartist
I have learned that I must use We Heart It regularly, not just occasionally, to be a 'Heartist.'
When I looked at all of the large accounts that are 'Heartists,' I realized that they are all committed to the same process: they publish content almost every day, which is why they were chosen.
Some 'Heartists' produce articles (and often photographs) every week to show dedication and commitment to the platform.
Also read: Filters For Instagram – How To Create Personal Filters
What I Love About the We Heart It App
We Heart It is a creative space that allows me and other users to upload images, animated GIFs, and videos. I can use the follow icons, live widgets, and share buttons when I want to embed We Heart It on my website or blog.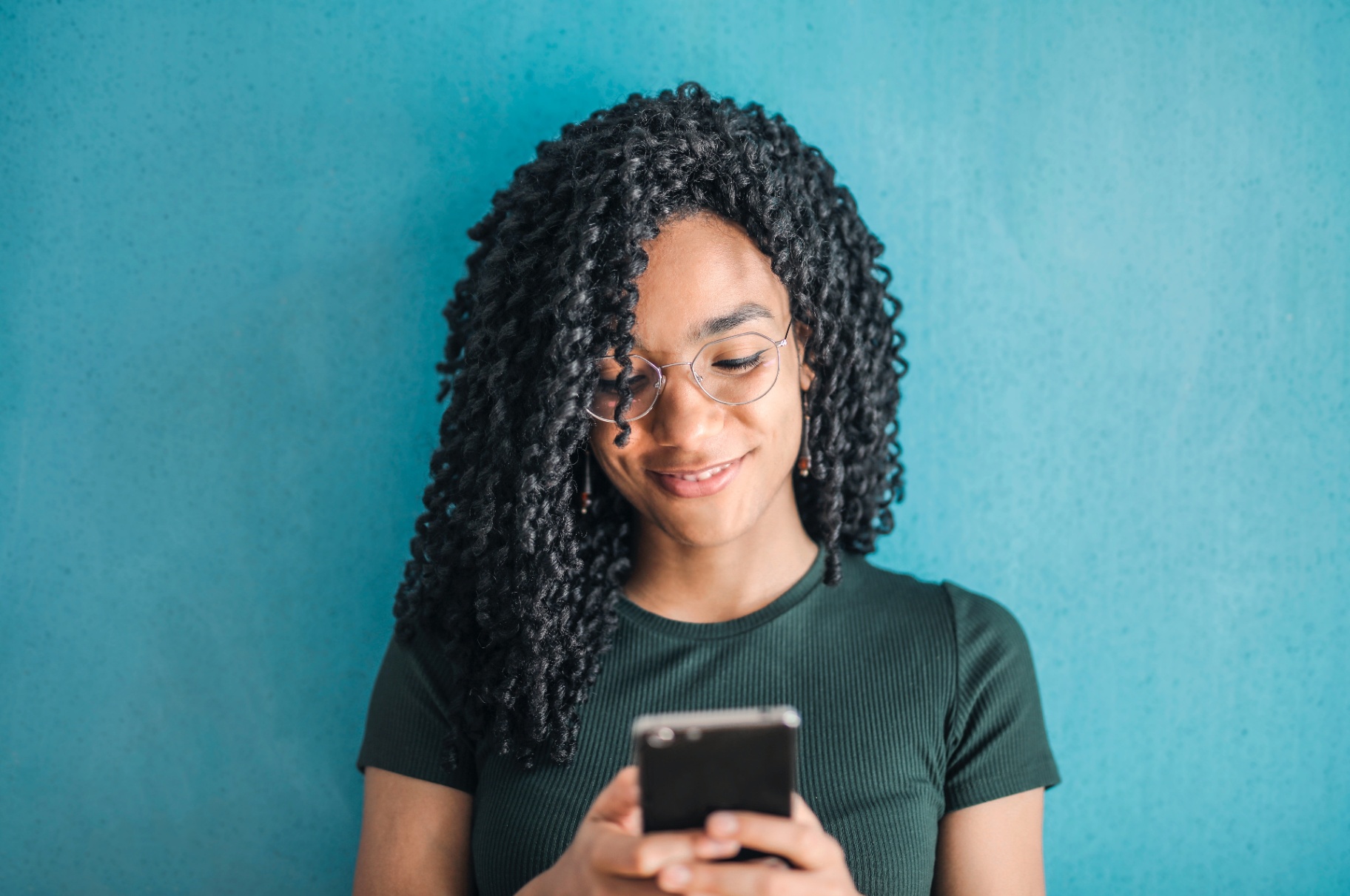 Also, I can create custom photos with quotations, filters, and colors to post on social media platforms or We Heart It through the Easel app, its companion app that was launched in December 2015.
Moreover, I love the Articles feature because it allows members of the community and me to share recipes, poems, creative thoughts and ideas, advice, and commentary, among other things.
Lastly, because there is no commenting feature on We Heart It, I feel more comfortable sharing content because I won't receive negative feedback like I might on other social networking sites. This no-comment feature is what makes the app stand out.
The User's Verdict
The We Heart It app is amazing as it helps build a community of people with the same interests. It has given me a platform to share my content to inspire others and be inspired by others' content as well.
It has been one of my favorite apps over the years, so I witnessed many changes that have been implemented by its developers. I don't recall ever seeing any advertising when I first started using the app.
However, after some time, ads are seen everywhere, even after attempting to save a photo. Even when I haven't touched anything, I'm constantly directed to the App Store or the Google Play Store. It's quite irritating, particularly when every ad is a scam.
Conclusion
We Heart It is a media and article-sharing application that resembles Pinterest, Instagram, and Tumblr in terms of aesthetics and certain features. Users can explore a collection of user-curated content and search for specific images using hashtags or names based on their interests.
People are encouraged to look for other users with similar interests, which may be done quickly with a single search. Certain profiles are more likely to be interesting than others, and users are encouraged to "follow" fascinating accounts and "heart" relevant or beautiful images.