Coloring is an activity that has long been enjoyed both by kids and adults. I have been a fan of coloring since 2015 when I was still using physical coloring books when my friends and I meet for coffee or tea. Sometimes, my nieces and I would also bond over coloring.
With the advancement in technology, coloring can now be done not just on paper but also on our gadgets and devices such as tablets and phones. Through coloring apps, people can now enjoy the art of coloring with just one device and no longer need to buy collections of pens and brushes.
I'll be sharing how coloring apps rose to fame, as well as the benefits of using these apps. I'll also be sharing some of the best apps I use for coloring, so be sure to read on until the end!
The Rise of Coloring Apps
It is no secret that coloring apps took most of the world by storm in 2017. This started with the surge in downloads of the famous paint by number color apps. I was still using physical coloring books back then, so I was very interested in taking my hobby into the digital space.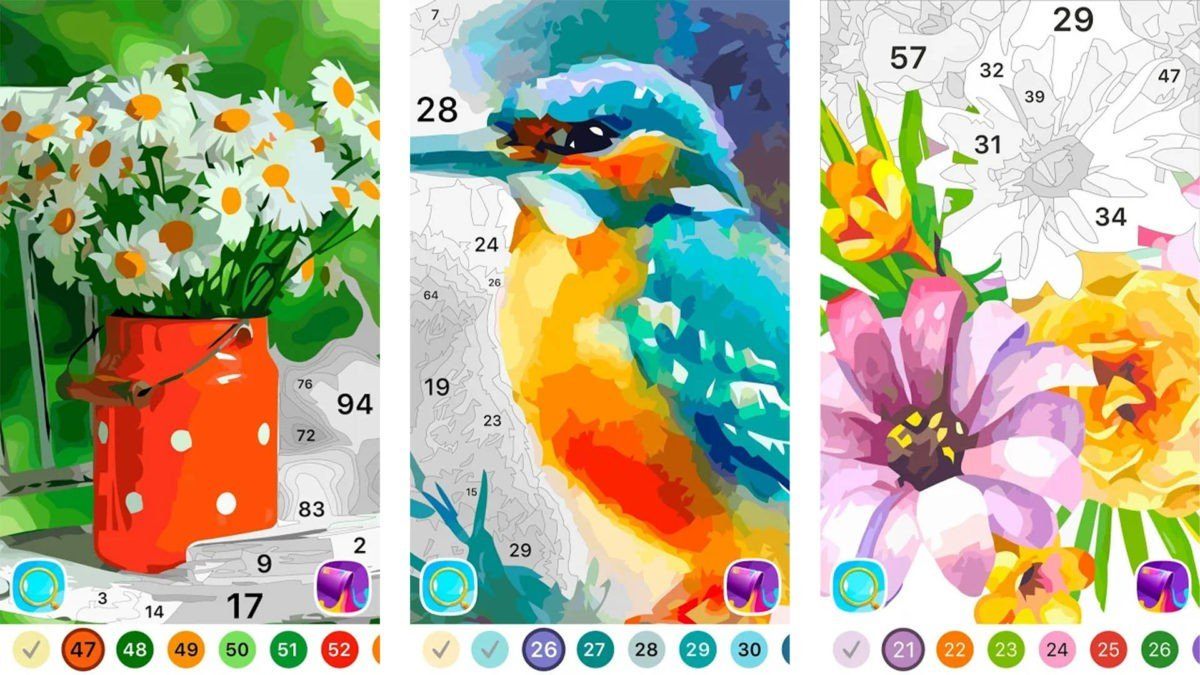 I soon joined the coloring apps craze and have since been using a number of coloring apps ever since. Soon enough, there was a decline in the sales and production of physical coloring books, which made me migrate to the digital world to continue my love for coloring.
Coloring has been my social circle's go-to therapy and favorite past-time activity. As a kid, I was drawn to coloring in my classes because it was a time for me to get in touch with my creativity after a long day of writing, playing, and talking.
There is no doubt about the rising popularity of coloring apps, which peaked in 2018 with 7.7 million downloads and a whopping $4.2 million in revenue. The craze was soon picked up by companies that saw coloring apps as excellent platforms for advertising, such as Marvel, Kellogg's, Lionsgate, and many more movies and productions.
Why the Craze Is Addictive
While coloring is often connected to children's activities, coloring provides adults with a break from their stressful and chaotic worlds.
As for me, it is the time of the day when I can relax and do something that I choose to do instead of an activity that I feel I am required to do. Because people can sometimes leave the house without anything but their phone, coloring apps make it easy for people like me to relax-on-the go.
While few studies focus on digital coloring, it has been long established that art therapy is a great form of therapy. Vibrant colors and images on a screen might do as much as physical coloring can.
Also read: Colorfy App – Become An Artist
The Benefits of Coloring Apps
As an avid fan of coloring apps, I've personally experienced why coloring apps can get so addictive. Instead of spending countless hours scrolling on social media and feeling bad about the news and other things, I found myself opening these apps instead.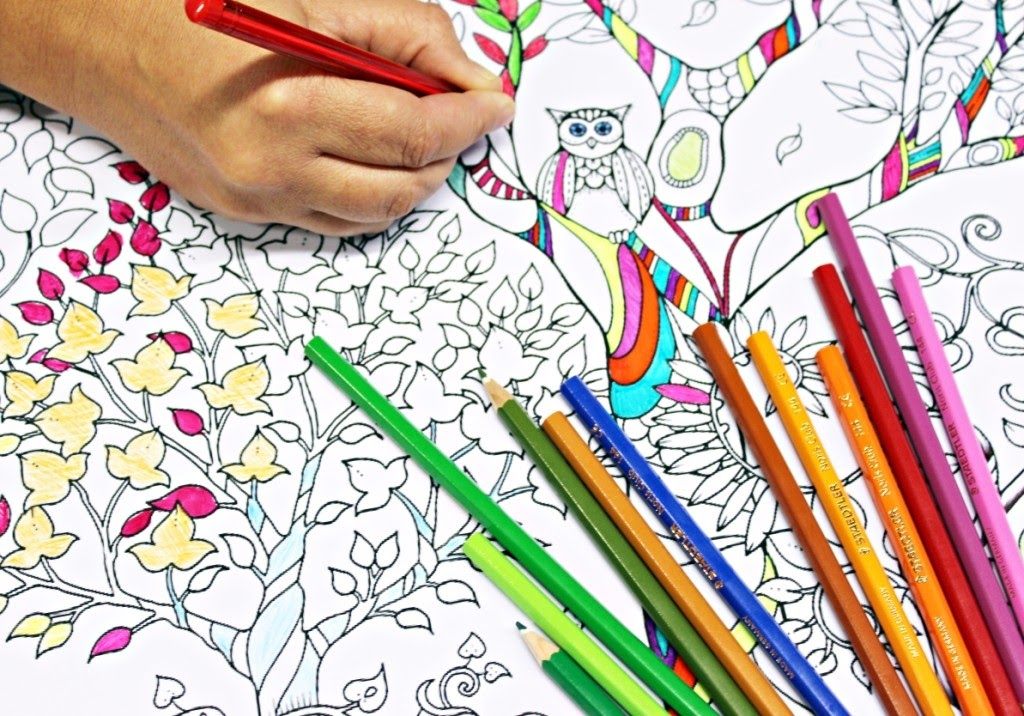 Whenever I spend time coloring on my phone or tablet, my mind is calm and at ease because I draw attention away from myself and instead focus on this simple act of coloring. I can destress, relax, and stop thinking of personal issues that cause anxiety and other problems.
Moreover, coloring also allows me to express my creativity and channel the inner child in me who has always loved coloring. I love how I am able to express myself through colors and images.
Further, coloring on my smartphone and tablet is a great alternative to meditation. I usually do not like meditating because I am uncomfortable with sitting or lying down in total silence. Through coloring, I can shift my energy into something meditative and relaxing.
Embracing Positive Thoughts
Engaging with coloring apps has helped me embrace positive thoughts. During the first few months of shifting from physical coloring books to coloring apps on my devices, I was happy that I could have a coloring session anytime, anywhere, without the need to bring any materials.
I would have two coloring sessions in a day, one in the morning and one at night, because it is convenient for me to quickly access a coloring app.
Because I feel calm and joyful whenever I am coloring, it is seldom that negative thoughts come to me while I doing it. It is like my mind activated my zen mode because there is nothing else that comes between me and the images I color.
Also read: Mindfulness Apps – Learn How Well They Work
Mandala Coloring – For Adults
Now it's time to share some of the best coloring apps I've used. The first one is my personal favorite, the Mandala Coloring app. The app is available for free on the Apple App Store.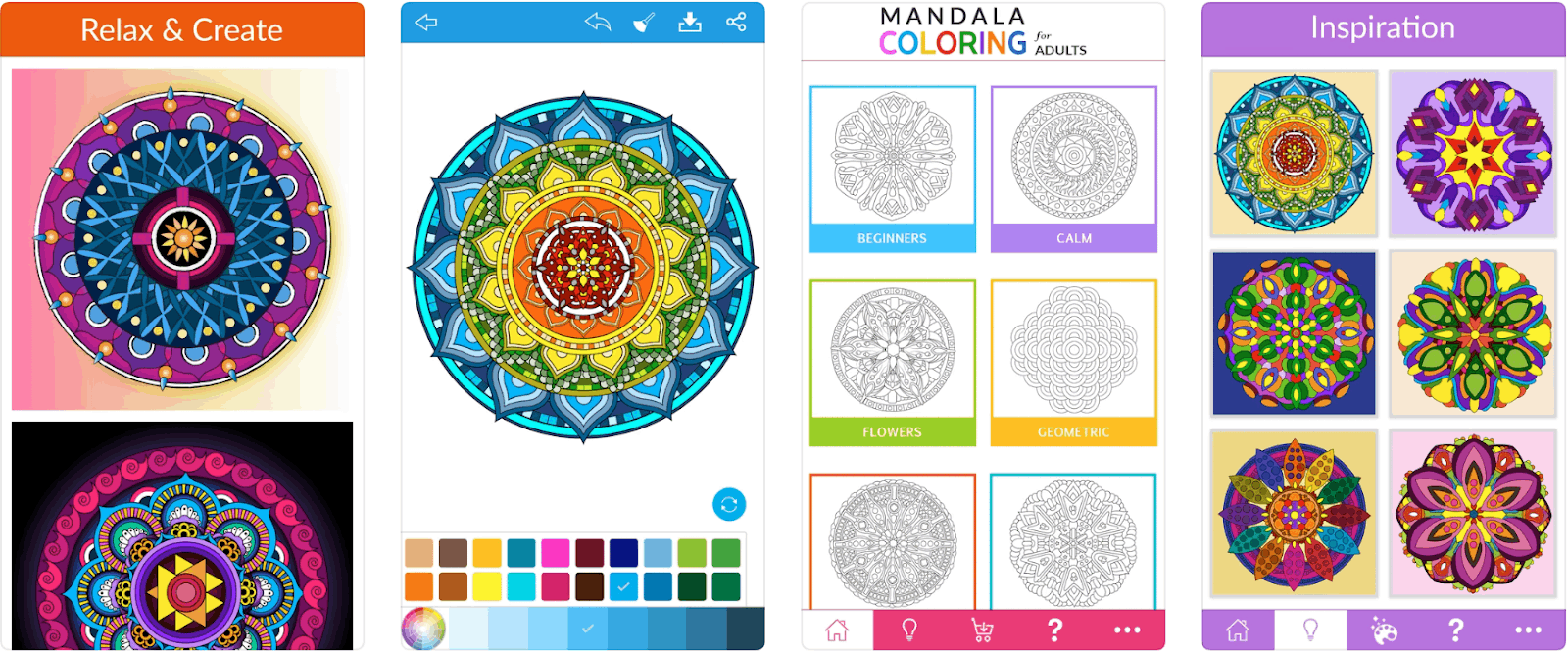 I'm drawn to this app because it incorporates the mandala, the figure symbolizing the universe in Buddhism and Hinduism, into a therapeutic coloring activity.
Moreover, this coloring book provides users with choices on the level of difficulty. I can choose between Easy, Intermediate, and Advanced images to color, with pictures under Advanced having the most intricate details.
Key Features of Mandala Coloring
The color palette is extensive, featuring several shades of each color. The app is also very easy to use. Its zoom and scroll feature makes it easy for me to navigate my way around the photo. Moreover, I can share my artwork in the app across multiple platforms.
Pigment the App With a Wide Array of Designs
My second favorite is the Pigment app, which I love for the wide array of designs, templates, painting materials, and tools that I can use for coloring. Moreover, I love how I can import artwork into the app, a feature that not many coloring apps have.
The app is available for Android and iOS users. However, this app does come with a price. After subscribing to the seven-day free trial, users will have to pay for a subscription. The subscription can be billed weekly at $4.99, monthly at $9.99, or annually at $59.99.
Key Features of Pigment
With over 3,400 designs and painting tools that range from brushes, pencils, and pastels to oil, sand, markers, and glitters, the app is one of my absolute favorites. It also has an excellent palette of predefined colors to spice up my artwork!
Colorfly Has a Large Selection
If you don't want to shell out money for a coloring app, try Colorfy. With its large selection of designs and images and the option to create my own image for coloring, Colorfy stands out among coloring apps on the market.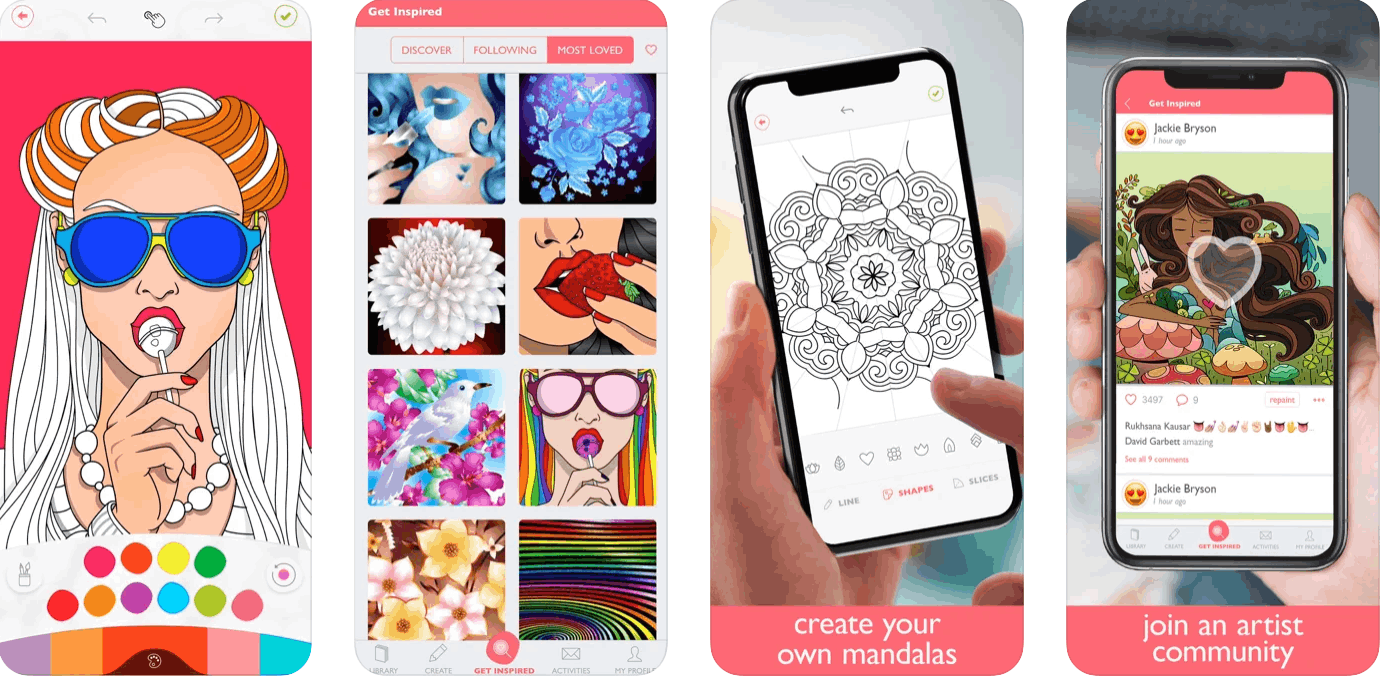 The app adds new content weekly to ensure that I do not run out of images to color. I can also import my own photos and create my own mandala designs. However, I noticed that there are limited choices for painting tools and textures.
Colorfy is available for download both for iOS and Android users.
Augmented Reality as an Added Bonus
Its use of augmented reality is an excellent bonus feature that shows my 2D designs as physical artworks hung up on the walls of my home. It's a great feature that I use to feature my artwork on my social platforms!
Also read: These Apps Can Help to Turn Photos Into Drawings
Recolor Offers 5,000 Unique Professional Coloring Pages
Recolor is an app I've been using lately because it provides me with a whole new experience by providing 3D images to color. The app is available for download for iOS and Android users.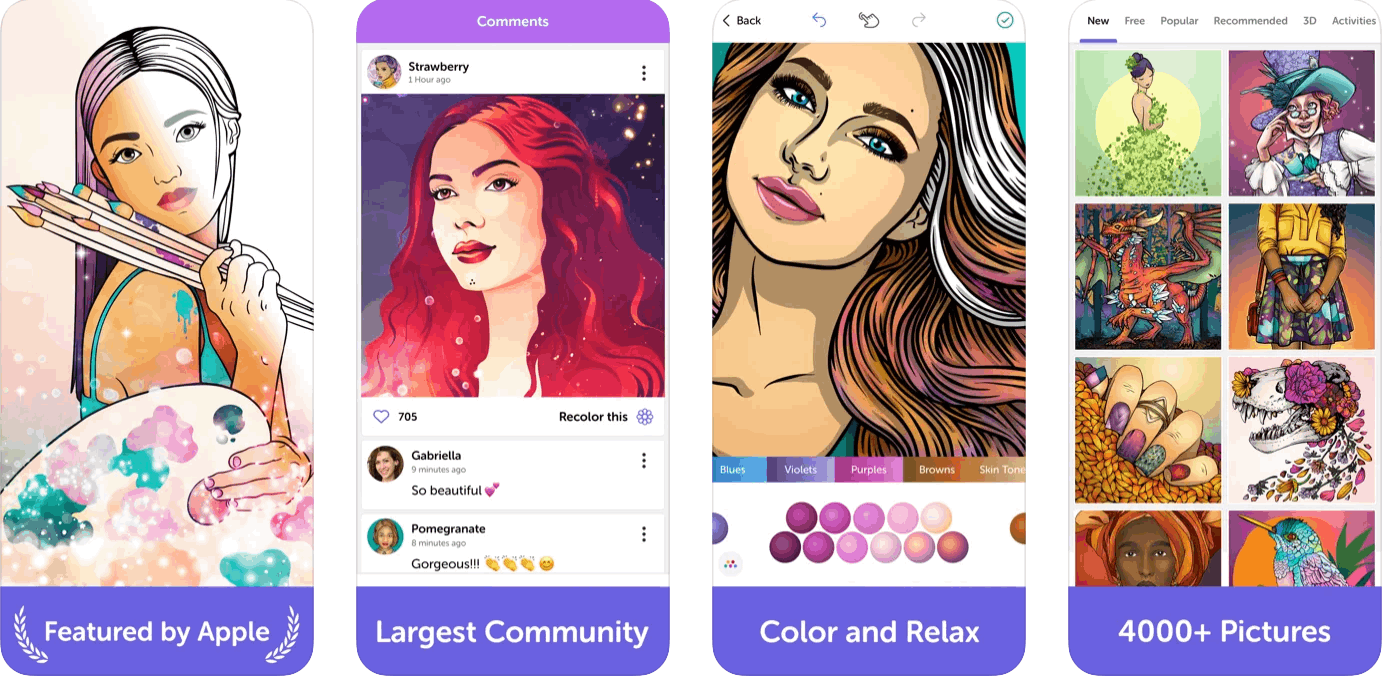 Its library features over 5,000 unique professional coloring pages. I also get four free new coloring images every day. Aside from these, its extensive palette, which features 70 coloring options, is a fun way to experiment and a tool to unleash my creativity.
I also love how I can interact with a community in the app by participating in challenges, as well as viewing artworks from other users through the app.
Live Colors For Unique Designs
Its Live Colors feature allows me to create trippy and unique designs which are heavily visual and appealing to the eyes. It is a fun feature because the objects that get colored are animated on the screen.
Conclusion
Coloring apps are genuinely therapeutic and enjoyable activities not just for kids but for adults as well. I am glad to have found coloring as one of my pastime activities because it brings me so much peace, calmness, and relaxation.
Through coloring, I am also able to express myself through different colors. Moreover, coloring is also a social and fun activity that can be done with friends. It is a wonderful activity that will surely bring out the best in every person.