When it comes to losing weight, no matter how intense you work out, it won't happen without a proper diet. The secret to losing weight is to live a healthy lifestyle where you ingest calories appropriate to what you burn in a day.
Therefore, when I decided to lose weight, I had my way clear – lower calorie intake, intermittent fasting, and working out. However, what I was not clear about was how exactly I could monitor my calorie intake.
That is when a friend introduced me to the YAZIO Calorie Counter and Intermittent Fasting app. If you have weight loss goals, then this app might be just right for you. Read on to find more about the app.
About The YAZIO Calorie Counter App
Calorie Counting
How To Download The YAZIO Calorie Counter App
What Are The Android Requirements?
Subscription Costs And Its Benefits
Smart Food And Nutrition Rating
Getting Started With The App
Setting And Updating Profile
About YAZIO App
Let me begin with a brief introduction to the application. As the company's co-founders say, the prime goal to build the app was to create the world's No. 1 diet and nutrition tracker app.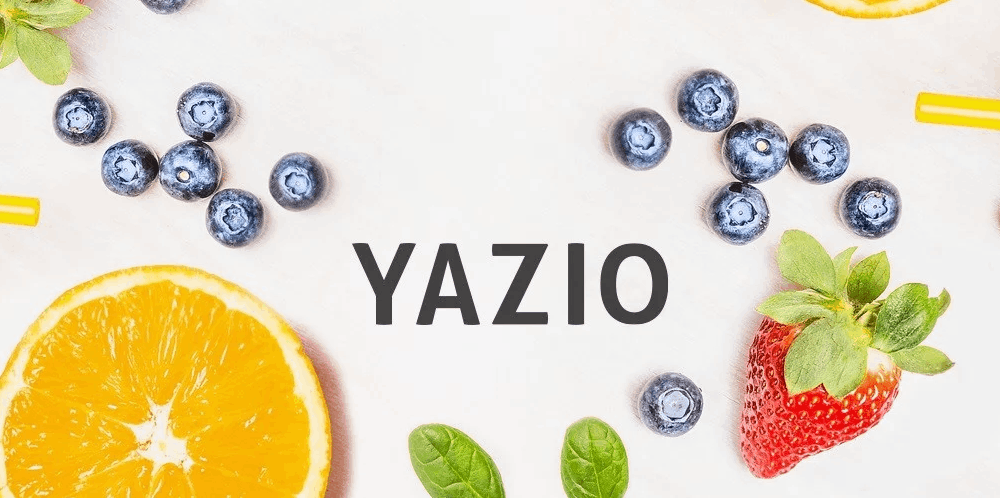 It is a comprehensive calorie-counting app that also incorporates other features that aids me to input and track meals and follow exercises – all that you require to lose weight and stay healthy.
While going through the app, I also found that YAZIO has amassed over 10 million users worldwide in more than 150 countries. YAZIO is also one of the most successful calorie counter and intermittent fasting app that allows users to lose weight without dieting.
A User-Friendly Interface
With the YAZIO app installed on my device, I could say goodbye to dieting or staying hungry yet lose weight. There are multiple features on the app that I find amazing. Below are some of those, which I found are very important and key for such applications.
The first things that I liked about the application are its simplicity, user-friendliness, and easy-to-use user interface.
The app is extremely easy to use and has a colorful interface that makes weight loss even more exciting. Moreover, it is free to use, what more could I ask for!
Calorie Counting
The app offers an easy-to-use calorie tracker and keeps a food diary with my goals. It can also track nutritional values and macronutrients in more than 4 million foods. For my convenience, it is equipped with a barcode scanner.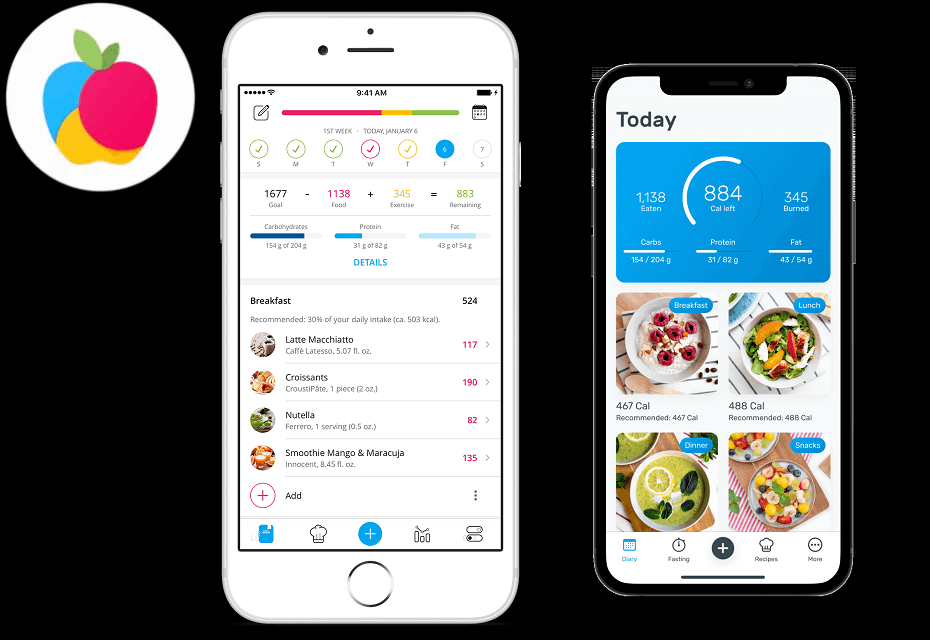 The scanner allows the app to give me food ratings for every product with a simple but smart calorie counting system.
The app also creates meals and recipes for me to use and gives me calorie counting tips and tricks, and provides me with a comprehensive calorie analysis.
Hundreds Of Delicious Recipes
The app offers me more than 1,000 delicious recipes to enable me to have enough recipes for weight loss purposes.
The recipes include low-carb and vegan meals and have all-time favorites like pizza, casseroles, salads, soups, and much more.
I sometimes also use the app's grocery list feature to buy food with the correct calorie count for the more than 30 different meal plans I can get from the app. I can also plan my meals by using the app's meal planner.
How To Download The YAZIO Calorie Counter App
The best part about the YAZIO app is that it is available on both Android and iOS platforms. And, with the pro version available, you can enjoy even more and even healthier options – which I will talk about in the Subscriptions Plans and Costs section.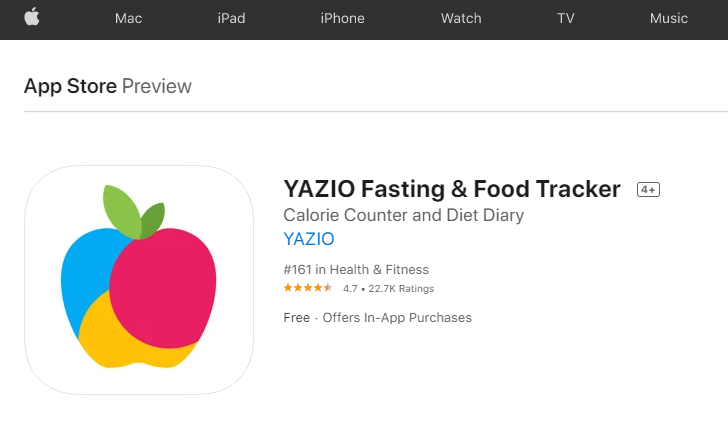 I used the app on my Android device, and it was pretty easy to download the app. I opened Google Play Store on my device and searched for the YAZIO Calorie Counter and Intermittent Fasting app.
After finding the app, I clicked on it and tapped on install – and that was it; the download process started.
Download on the iOS Platform
I believe downloading and installing the YAZIO application on the iOS platform is also pretty easy. Open the Apple App Store on your device and search for the app.
Once you find the app, tap on install to get started. Alternatively, I have also attached links to both Android and iOS platforms that will come in handy while downloading the app on your respective platforms.
What Are The Android Requirements?
The actual size of the YAZIO app in the Android device might differ from device to device. And, talking about the Android system requirements, YAZIO requires a device running on Android 6.0 or above to run the app without any glitches.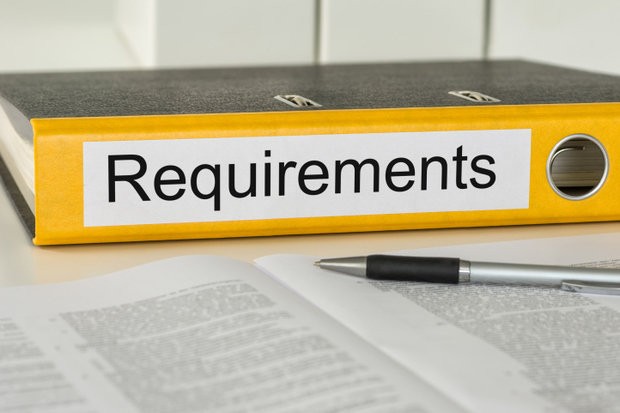 With Android 6.0, only YAZIO 6.9.7 can be installed. YAZIO version 7.0 or higher requires Android 7.0 for flawless operation. On the contrary, if you have a much older Android version, the app can no longer be downloaded or updated.
What Are The iOS Requirements?
Taking about the iOS requirements, the minimum iOS required is 12.2. As with other applications, the iOS version of YAZIO is also larger in size – 147.6 MB, to be exact.
Moreover, the app also works on multiple iOS devices, including iPhone, iPad, and iPod Touch.
Subscription Costs And Its Benefits
The app is free to use, and while the free version of the application is incredibly unique, the pro and paid version of the app gives a whole fantastic experience with even better features.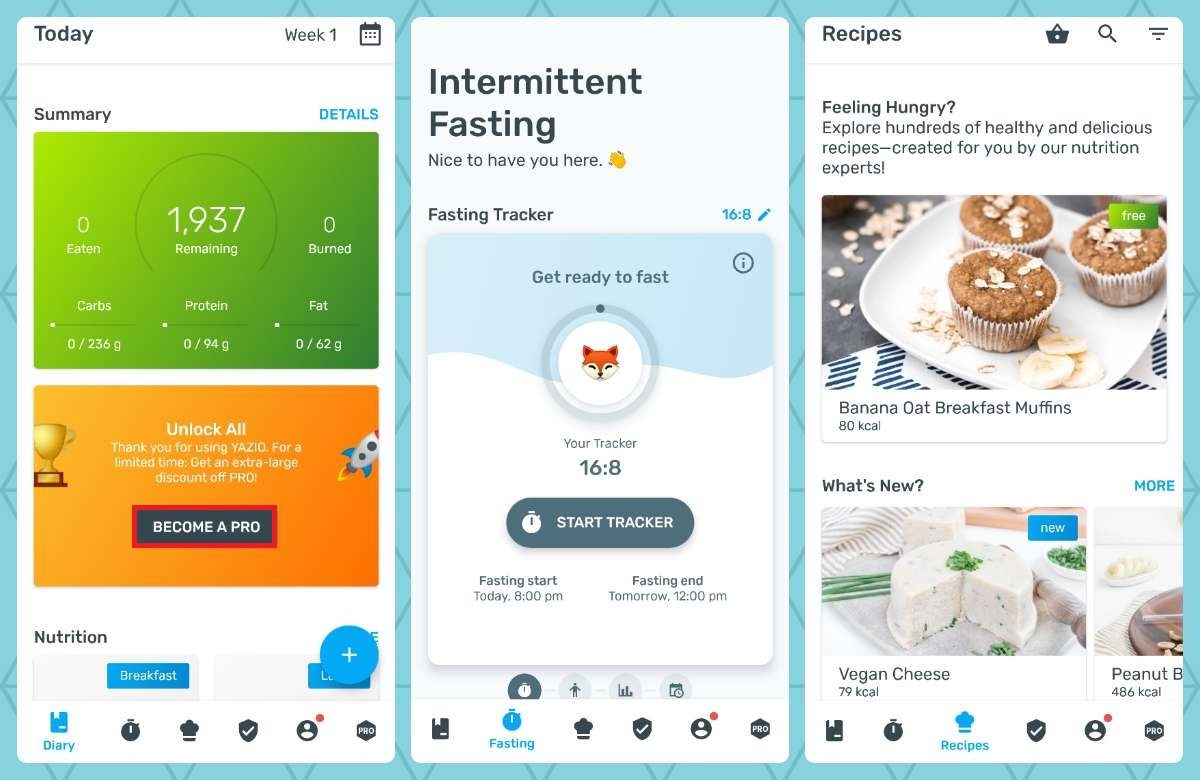 The in-app purchases and memberships are ranging from $6.99 to $54.99. Also, there are three subscription plans, namely a three-month calorie counter for $19.99, a six-month meal plan that costs $29.99, and a 12-month weight loss that can set you back by $39.99.
A Nutritional Coach
With the pro version of the app, I got my very own personal nutritional coach. I could unlock all the YAZIO programs that included numerous delicious recipes, daily tasks, and tons of tips to lead a healthier life.
Plus, the in-app nutritional coach also helped me to motivate myself throughout the journey.
Smart Food And Nutrition Rating
The pro version's smart food and nutrition rating feature gave me detailed statistics and analysis for all the nutritional values of the food. This helped me to determine if the food was healthy or not. Eventually, these ratings gave me a better understanding of the foods I should avoid and favor.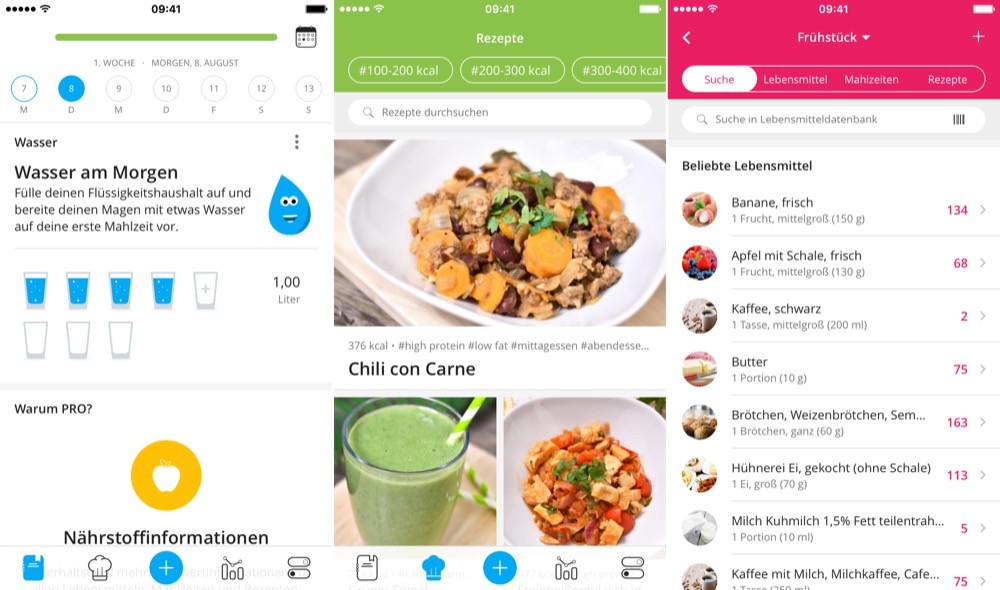 Syncing to multiple fitness trackers is one of those features which persuaded me to use the pro version. Fitbit, Samsung Health, Garmin, or Polar – name it, and you will be able to connect to all of them.
With this feature, I could sync the YAZIO app with my fitness tracker or smartwatch. This allowed me to automatically transfer all my daily activities and progress from my watch to the app.
No Advertisements
One annoying thing about the free version of the YAZIO app is that it is ad-supported. I was continuously bothered by several ads while using the app.
That is another reason for getting the pro version. The paid version is entirely ad-free – I was no longer disturbed by banner ads in the app.
Getting Started With The App
Getting started with the app was pretty easy. The first step was, of course, downloading the app, which I already mentioned above. Once I had downloaded and opened the app, I was given three options to choose from; I had to click on either one to tell the app about my goals.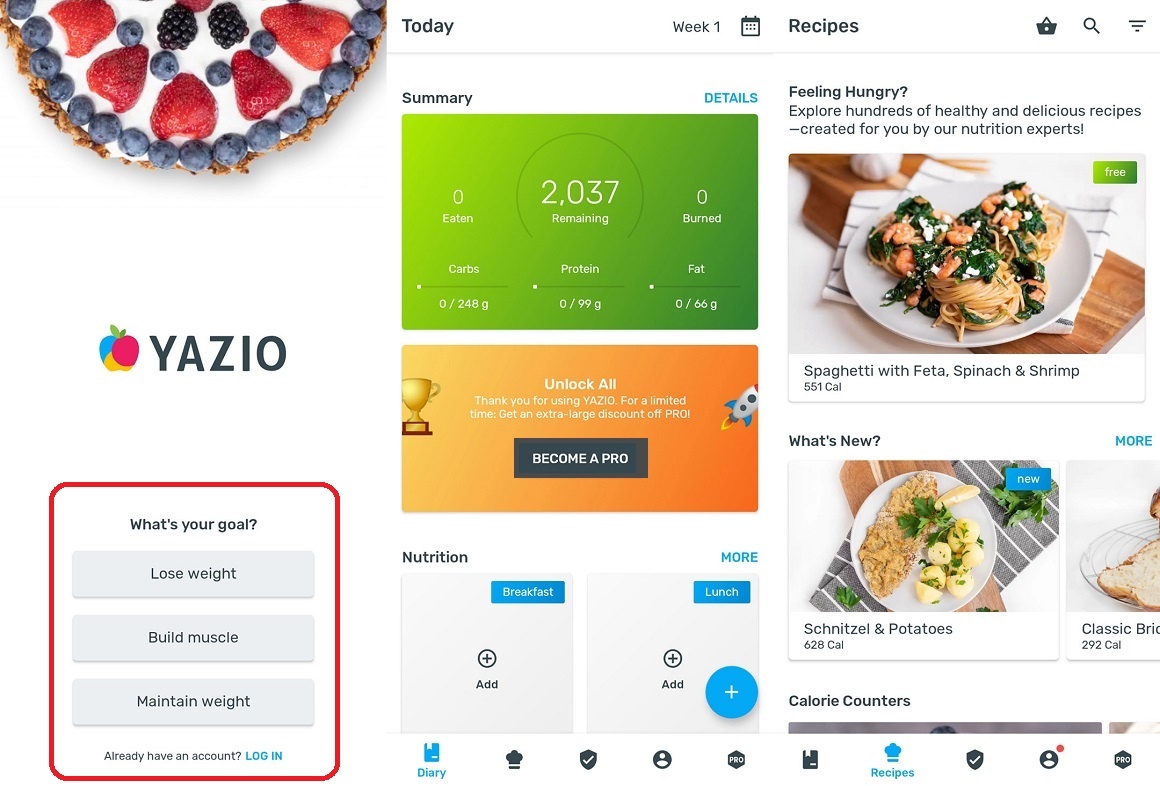 The options were, Lose Weight, Build Muscle, and Maintain Weight. Based on my answer about my health goal, I was prescribed specific meal plans, recipes, and tips to work towards my predetermined goal.
Next, I was guided through a set of questions, including the features I was interested in, my current weight, goal weight, gender, height, and date of birth.
As I dived into the app, I figured out that correctly answering these questions was very important for a perfectly personalized plan.
The Diary
This is the place where I had to record my eating habits – I had to input details about every meal so that the app could adequately perform calculations about my calorie intakes and help me maintain them.
There was also a room to record my daily physical activities, including steps that I have walked, cycled, ran, and workouts.
Additionally, YAZIO also features a built-in water tracker, where I could manually input data about my water intake.
Setting And Updating Profile
If you wish to use the app as a guest, you are most welcome. On the contrary, if you want to use the app seriously and take your health goals sincerely, creating an account is a way better option. And it is entirely free.
I signed up using my Gmail account, and it was as easy as eating a piece of cake. The profile section also introduced me to multiple challenges that I could participate in.
The challenges included no chocolate, no sugar, no fast food, no alcohol, and no cigarettes, among several other unhealthy eating habits.
Easy Timer
I found these challenges very helpful – to get started with any one of the challenges, tap on it. A timer will automatically set, and then it is all up to you – for how long you can survive the challenge.
There is also the coach and recipes section that are the app's pro features and requires users to get the paid version of the app to use them.
The Bottom Line
To sum up, I like the app, and hats off to the developer for developing such an app. It is a complete package for leading a healthy life and deserves a ten out of ten rating for all its features.
I would recommend YAZIO for everyone looking for an app to assist them in living a healthy lifestyle – whether your goal is to lose weight, build muscle, or monitor calorie intake. YAZIO works with absolute perfection.