Shopping is an activity that any person can relate to, regardless of gender and age, but our reasons for buying things may vary from person to person. However, if given an opportunity to get back even a little percentage of what we spent, I don't think anybody would decline.
The concept of "saving while spending" may have been a farfetched idea in the past but with the advent of mobile devices, customer loyalty rewards programs have become a reality for consumers. There are numerous marketing campaigns and programs that use this concept.
Since most consumers nowadays have mobile phones, it's not surprising that there are multiple rewards apps that have been developed and are available online. In this article, I will talk about one of the most popular apps in this category with the Fetch Rewards app.
Understanding the Concept of Customer Loyalty Rewards Programs
How Consumer Loyalty Apps Work
Learning About the Fetch Rewards Mobile App
Examining How the Fetch Rewards App Works
Redeeming Reward Points for Gift Cards
Fetch Rewards App for Android Devices
Fetch Rewards App for iOS Devices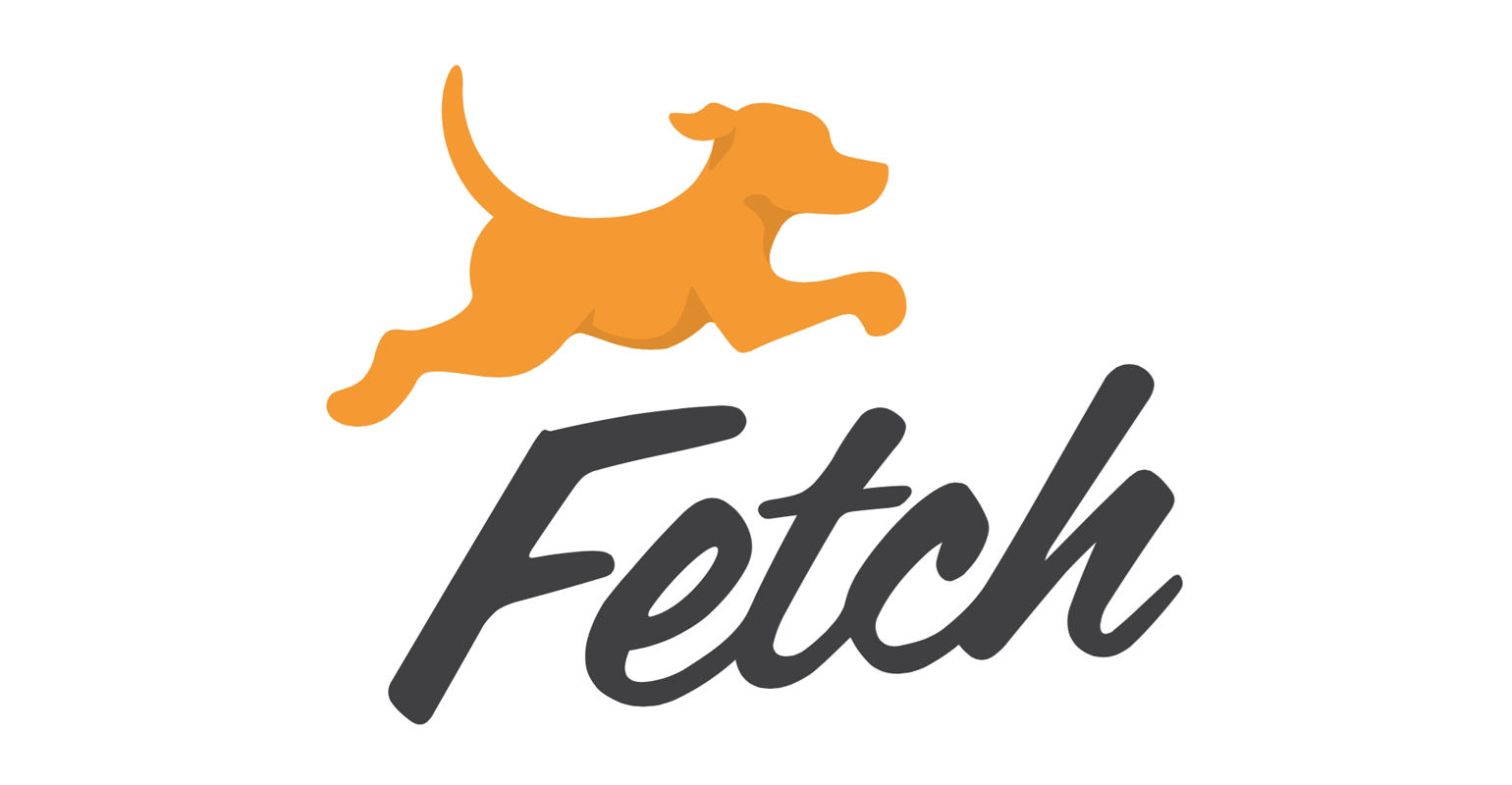 Understanding the Concept of Consumer Loyalty Rewards Programs
Consumer loyalty rewards are programs specifically designed by retailers and other businesses to attract and retain customers.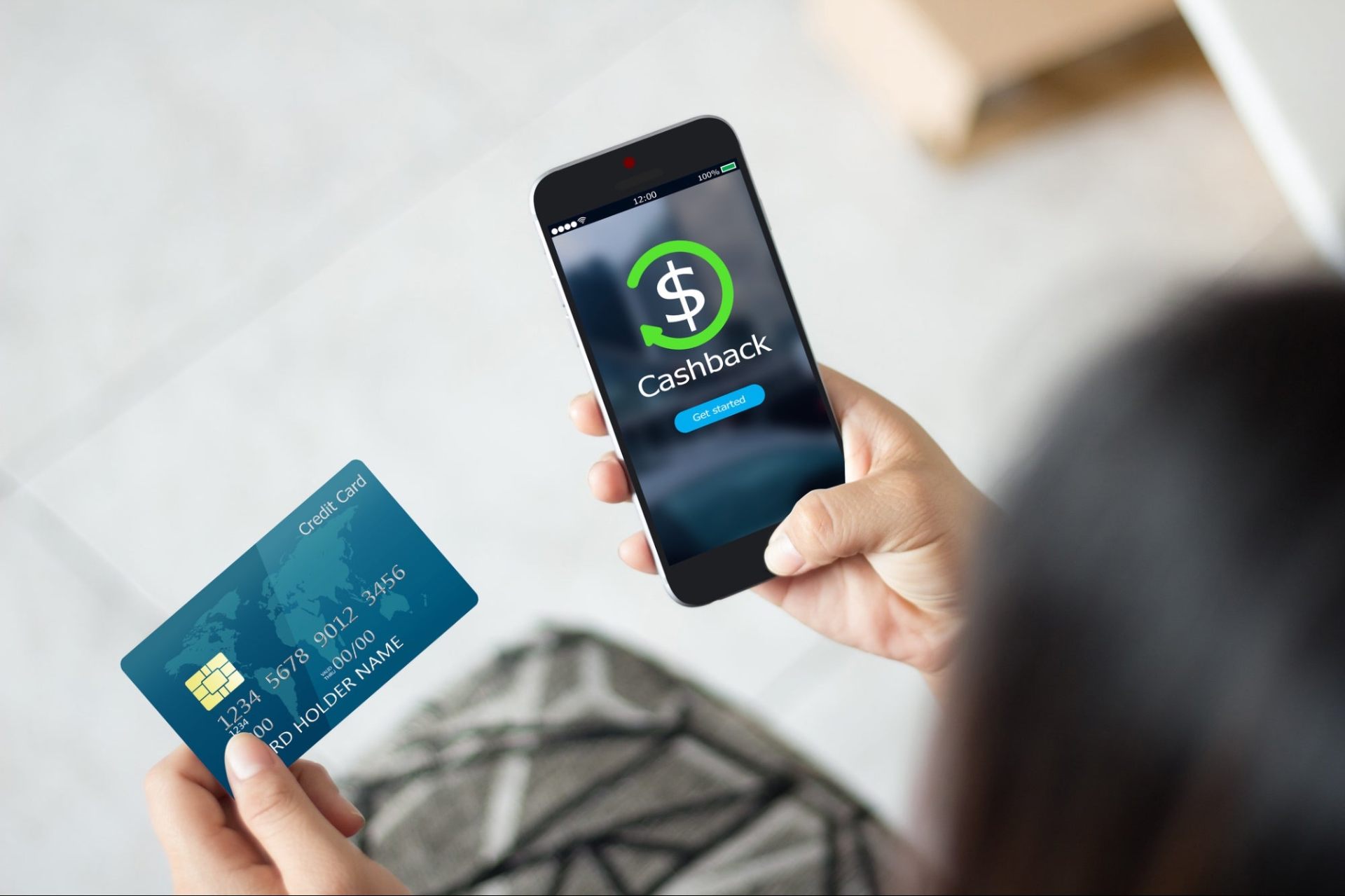 These programs offer customers certain rewards, such as discounts and other incentives to entice them to spend more money on their stores or businesses.
Initially, rewards programs were mostly designed for credit card and debit card users but its growing popularity led to the development of mobile apps and websites that catered to more consumers.
The Rise of Consumer Loyalty Apps and Receipt Scanning
And because more people are using mobile devices nowadays, retailers have turned to cash back mobile apps to entice more customers to spend their money.
One form of consumer loyalty app is receipt scanning. It involves scanning the printed receipts from your purchases in order to earn back some of the money you spent on them.
Some of these apps have certain restrictions. For example, in order for you to earn points, some apps require you to buy specific products at specific stores. Otherwise, you don't earn any rewards.
How Consumer Loyalty Apps Work
Most consumer loyalty app developers form partnerships with retailers to offer specific deals on certain items in their stores, such as seasonal items and holiday décor.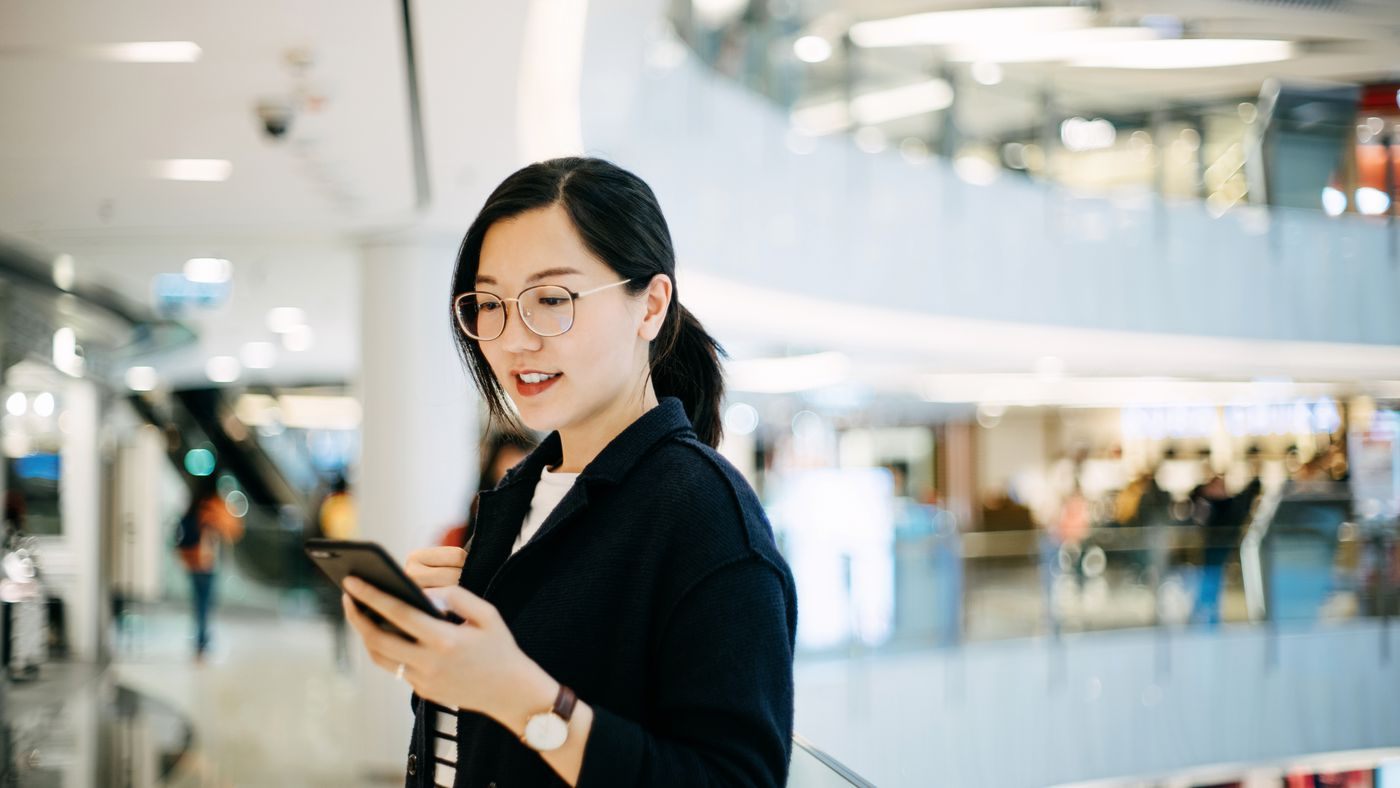 In order to become eligible to these rewards programs, customers need to download the app on their device and sign up to become a member for free.
While signed in to the app, customers can go ahead and make their purchase from the retailers' online stores.
The app will then record the transaction and will give the reward once the purchase is completed.
Other Uses of Consumer Loyalty Apps
Some of these apps recommend money-saving deals that are being offered not just by retailers but also in other categories like delivery services and restaurants.
Special discounts and promotions are sometimes exclusively offered to users of these apps and they won't be found on the businesses' official apps and websites.
This is why these cash back apps are a great way to save a small percentage of the money you spent on purchases, particularly on necessities.
Learning About the Fetch Rewards Mobile App
The Fetch Rewards app is one of these consumer loyalty apps that uses receipt scanning as basis for earning points that can later be redeemed as gift cards and other rewards.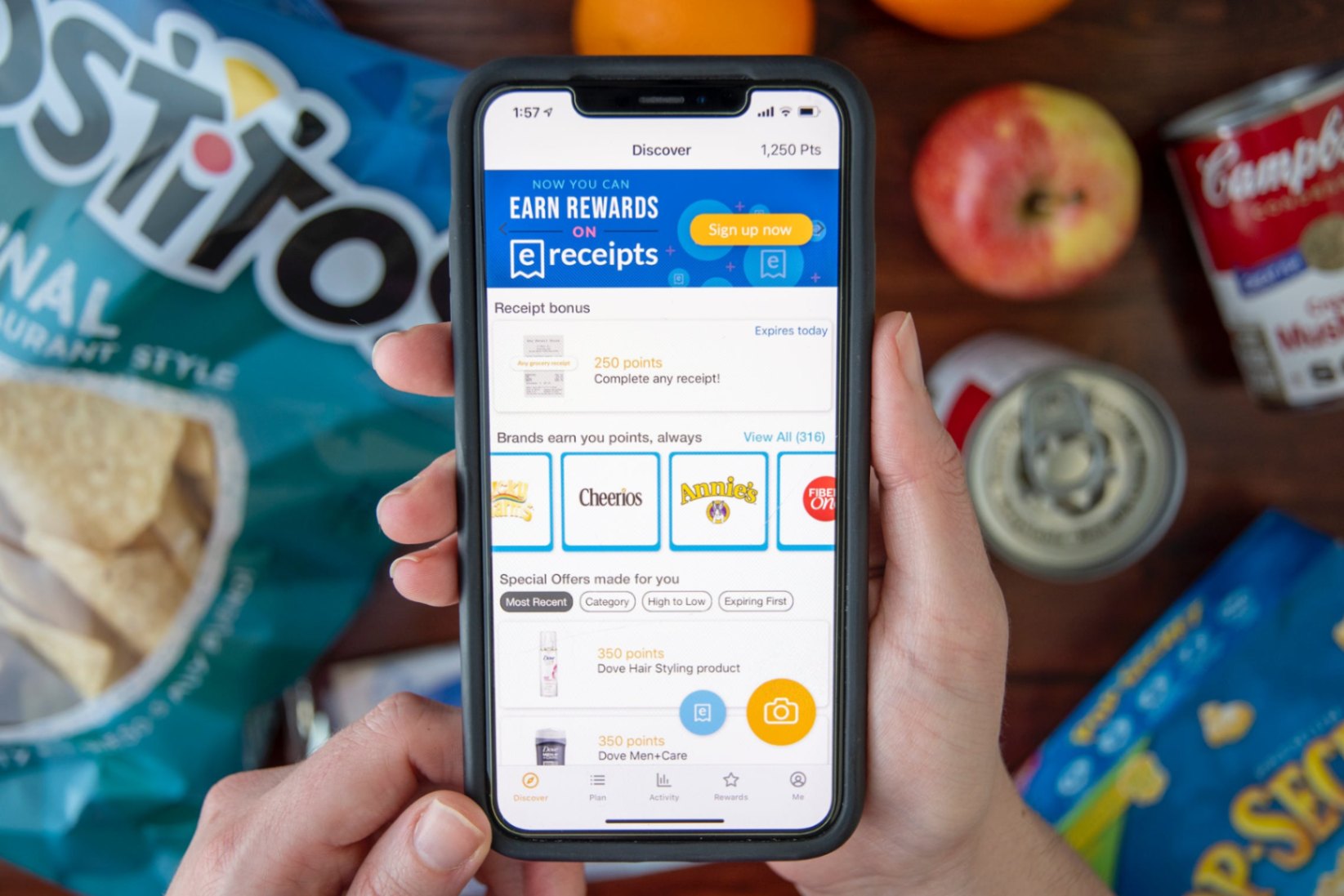 What separates Fetch Rewards from other similar loyalty apps is that it's more comprehensive. It's lets you earn points using any receipt from any store, restaurant, and even gas stations and drug stores.
This is because the company has partnered with a variety of stores like Walmart, Dollar General, and Target.
It makes its earnings through contracts with major manufacturers such as PepsiCo and KraftHeinz.
About the Company
The Madison, Wisconsin-based company began with a simple observation by its founder and chief executive officer (CEO) Wes Schroll.
As a college sophomore in 2013, Schroll wondered why there are no rewards programs for everyday purchases. There were only niche loyalty programs but none for daily purchases like groceries and gas.
He turned that idea into Fetch Rewards and currently, it has more than 8 million active users with over 1 billion receipts scanned.
Examining How the Fetch Rewards App Works
Simply put, the Fetch Rewards mobile app gives you points for taking a photo of your purchase receipts from its partner stores and businesses. Even electronic receipts are now accepted.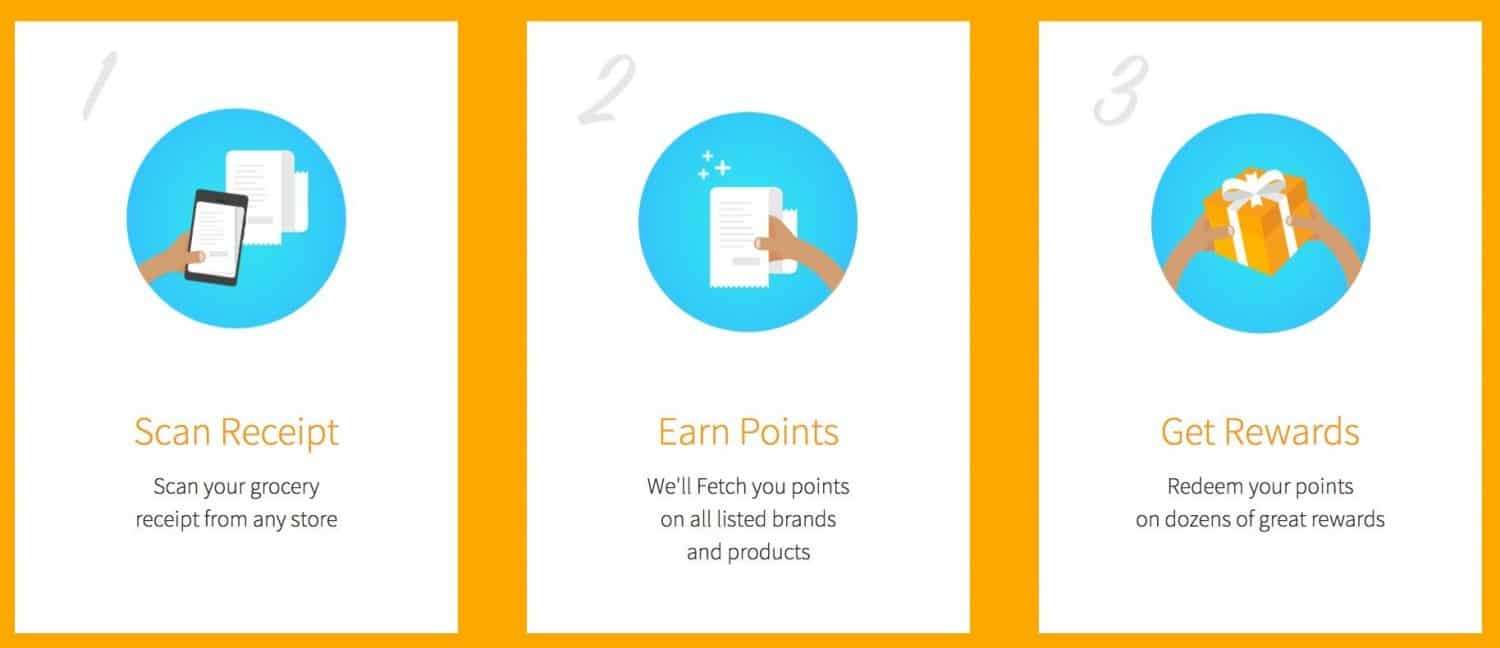 Just like I mentioned above, other apps require users to buy specific items from specific stores. However, this app is only concerned about specific products but not where you bought them.
As long as the product involved in the store's promotion is included in your receipt, you will automatically earn points.
You may even earn points from multiple offers using a single receipt.
Points Per Receipt
For every receipt scanned, app users may earn between 250 to 2,000 points per promotion but like I said before, a single receipt may contain multiple offers.
If converted to U.S. dollars, 1,000 points is equal to $1, meaning you can earn between $0.25 to $2 per offer and it may increase depending on the number of offers included in your receipt.
Remember that receipts can only be scanned within 14 days of the date of purchase so you shouldn't collect your receipts and scan them beyond the expiration date.
Redeeming the Points You Earned for Gift Cards
Of course, using the app is not just about collecting points. The pinnacle for me is when I'm exchanging the points I earned for gift cards to my favorite stores and services.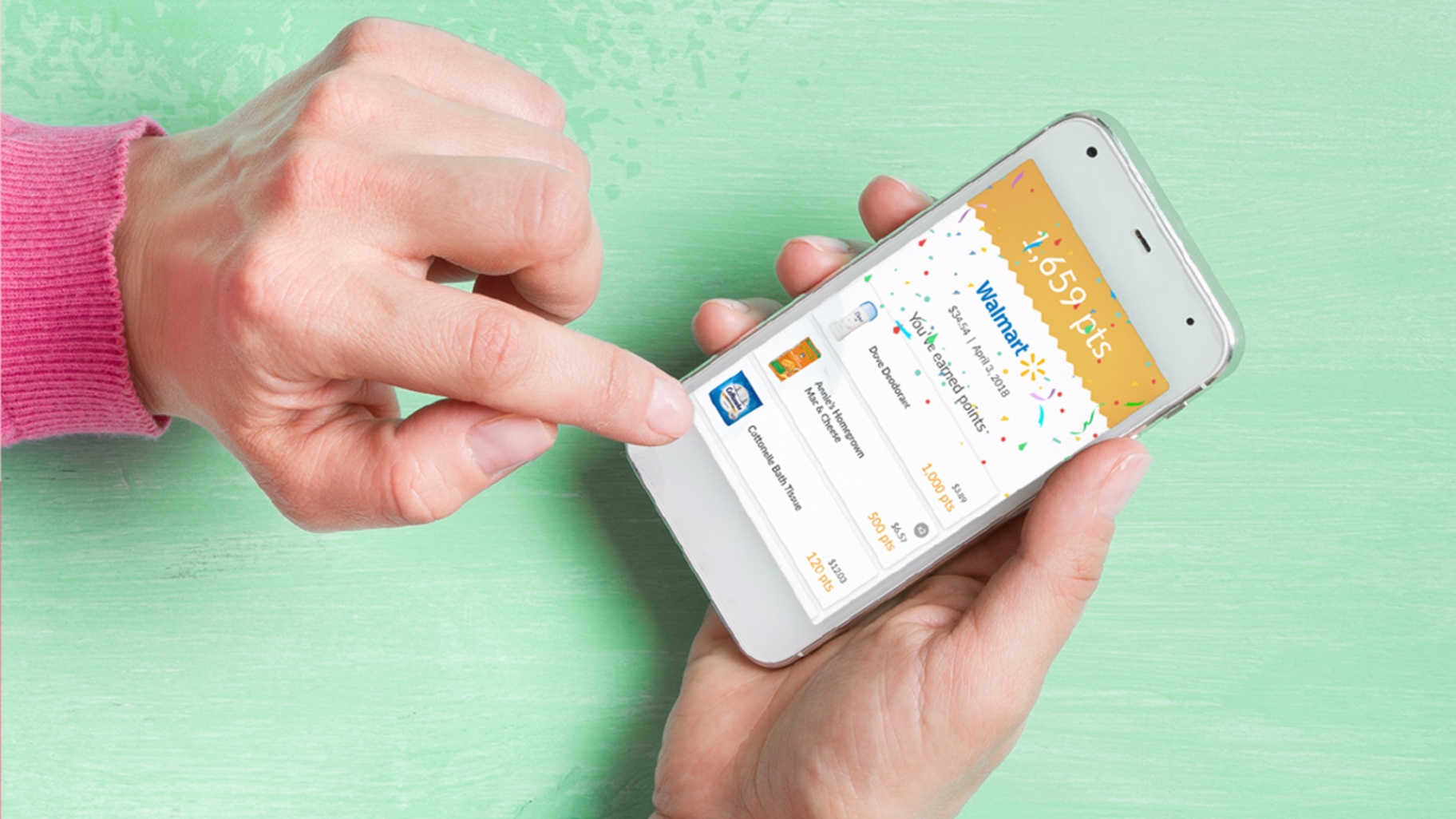 Fetch Rewards offer a variety of gift cards from the most popular stores and businesses, including Amazon, Uber, and Hulu.
You can even donate to organizations like the Red Cross and the American Cancer Society.
After choosing the gift card you want to redeem, you will receive a 4-digit security code via SMS or email, which you must input to validate your reward redemption.
Make Redemptions as Soon as You Can
I do not advise that you save your points like you're saving money in a bank account. I think that the best time to make a redemption is when you have enough points for the gift card denominations.
While there hasn't been any hacking that happened on the Fetch Rewards app yet, similar incidents have occurred to other consumer loyalty programs in the past.
Unlike bank accounts, Fetch Rewards points are not insured. So regardless if you are careful with your passwords, you will never know what might happen in the future.
Fetch Rewards App for Android Devices
For Android device users, you can search for the app on the Google Play Store. You will find it in the Shopping category under the name "Fetch Rewards".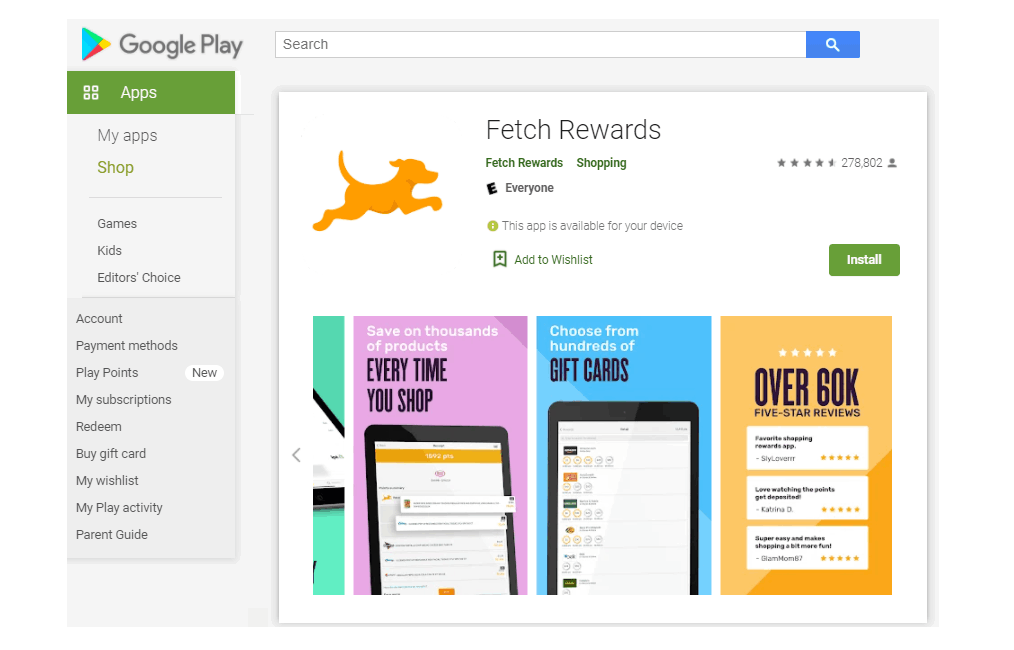 Fetch Rewards is among the most popular consumer loyalty apps available online and has been downloaded over 5 million times.
The Android version of the app is currently rated at 4.6 out of 5 stars based on more than 270,000 user reviews.
Downloading and Installing the Android App
The Fetch Rewards app has a file size of 45 MB and will require your device to run on Android 6.0 and up in order to function properly.
It is currently on version 2.51.1 and was last updated on September 29, 2021.
To download and install, tap on the Install button and wait for it to finish downloading all the files. Once all files are downloaded, it will automatically install on your device.
Fetch Rewards App for iOS Devices
On the other hand, if you use iOS devices, you will have to open your Apple App Store to search for the app.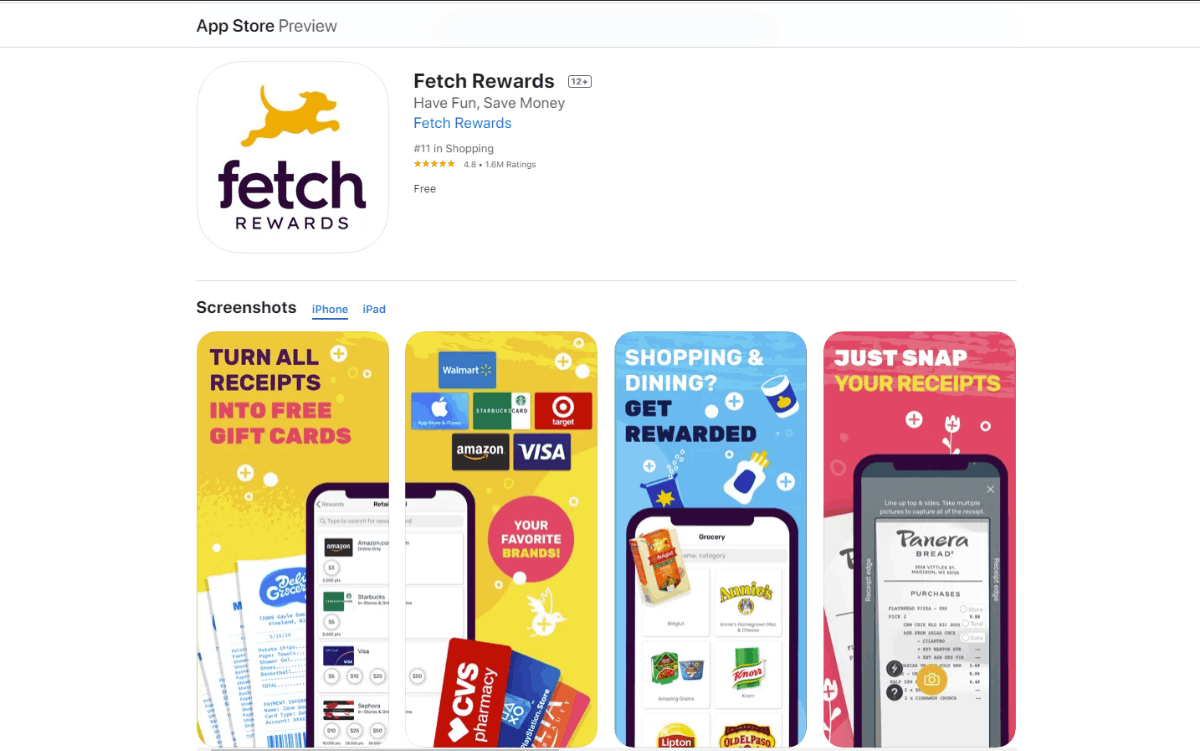 It is the 11th most popular app in the Shopping category and can be found under the name "Fetch Rewards". The app is available in both English and Spanish.
The iOS version of the Fetch Rewards app has a current rating of 4.8 out of 5 stars based on 1.6 million user reviews.
Downloading and Installing the iOS app
The Fetch Rewards app requires iOS 13.1 or later for both the iPhone and the iPod touch.
It can also be used on an iPad provided that it runs iPadOS 13.1 or later.
To initiate the download process, tap on the Get button and wait for it to finish. Once all resources have been downloaded, the app will automatically install on your device.
Conclusion
Overall, I think that the Fetch Rewards app is a great tool to save money for your next purchases. Scanning receipts takes little effort and the rewards from doing such a simple task is really worth it.
If you haven't tried using this app, I recommend that you do so and you'll find out how easy it is to earn points and get free gift cards from simple purchases that you make on a daily basis.