Was there ever a time when you needed to buy something right away but your credit card was maxed out and pay day was still weeks away? Are you looking for a no-interest installment plan on a gadget you've been eyeing for months but can't get your credit card approved?
If your answer is "Yes" to either of these questions, then buy now, pay later (BNPL) schemes may be something you'd be interested in. However, you need to ensure that the BNPL services you are considering are legitimate and are easy to use.
This is why I decided to write about the Klarna app that offers a BNPL scheme to its users. It is one of the most popular BNPL services available online and the app has been downloaded more than 10 million times. Continue to read below if you want to know more about Klarna.
About Buy Now, Pay Later Schemes
Advantages of Buying via BNPL Schemes
Take a Look at the BNPL provider Klarna
Examining the Klarna App and Its Features
Klarna App for Android Devices
Klarna App for iOS Devices
How to Make a BNPL Purchase Using Klarna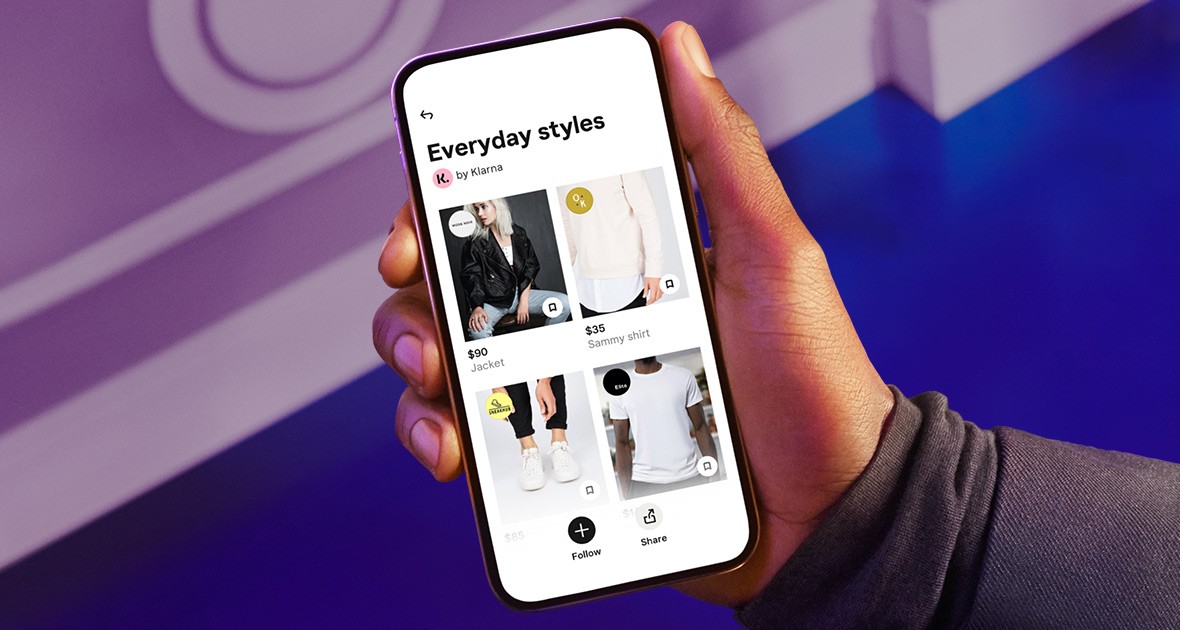 About Buy Now, Pay Later Schemes
The buy now, pay later scheme, also known as point-of-sale installment loan, is a type of short-term financing that enables customers to make purchases now and make payments at a future date.
Because most BNPL services are free of interest if you pay on time, the scheme is now increasing in popularity as a payment option, particularly in online shopping due to its convenience.
With BNPL, customers typically pay upfront a portion of the amount and then pay for the remainder on an installment basis. The number of payments is often predetermined.
How BNPL Programs Work
While not all BNPL programs are the same, there are several processes that can be commonly found among point-of-sale installment loan providers. The first one is that purchases can only be made at participating retailers and the BNPL option should be chosen at checkout.
Upon approval, a small down payment will be made, usually 25% of the total cost. The remaining amount will be paid off in interest-free installments.
Payments can be made via check, bank transfer, or deduction from the customer's bank account, debit card, or credit card.
Advantages of Buying via BNPL Schemes
One major advantage of using BNPL programs when making purchases is that compared with credit cards, they charge little to no interest at all.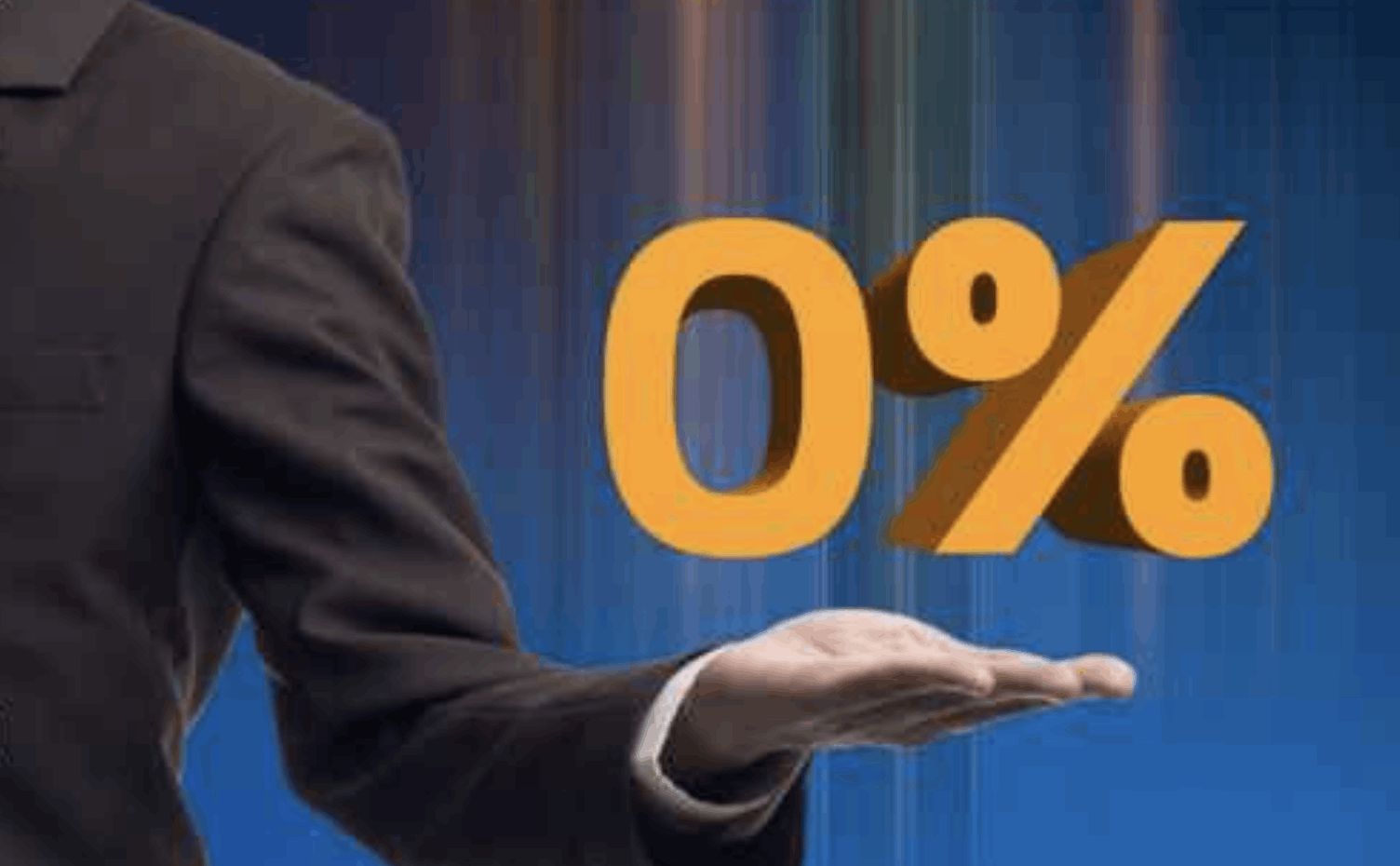 Approval for point-of-sale installment loans is also easier to get and high credit scores are not necessary to qualify.
They also don't impact your credit score or add to your credit card debt.
BNPL programs are also easy to use as more online and offline retailers are adopting this financing method. Approval of purchases made via BPNL only takes a few minutes to process.
Downsides of Using BNPL
Although I mentioned that BNPL programs impose little to no interest, missing or late payments would still result in fees and could even damage your credit score.
You also miss out on cash back and other rewards offered by other payment facilities, such as credit cards and e-wallets.
Returning items can also be troublesome as merchant still needs to inform the BNPL provider, which may cause a delay. You will still need to continue payments until the refund process is completed.
Take a Look at the BNPL provider Klarna
Klarna is a payment solutions company known for offering customers no-interest point-of-sale installment loans. It has formed partnerships with more than 200,000 retailers for its BNPL service.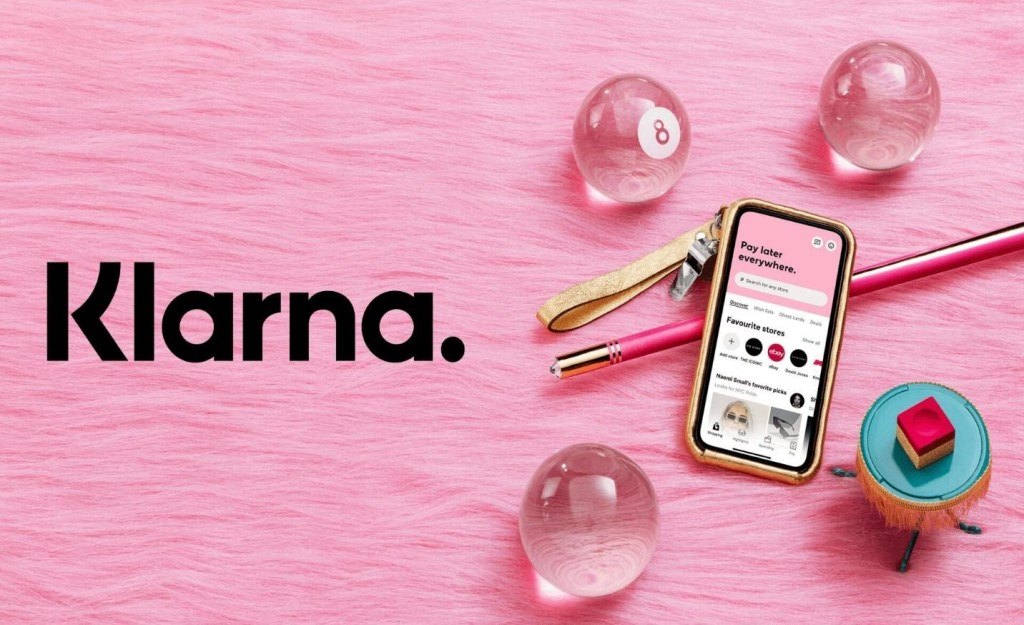 The Sweden-based company has a website and a mobile app that people can use to make their purchases and avail of the installment plans.
Installment programs range from its "Pay in 4 payments interest-free" financing to longer-term loans ranging from six to 36 months.
For the long-term loans, interest may be charged.
A Brief History of the Company
In 2005, Klarna was founded in Stockholm with the objective of making online shopping easier for people. According to its website, its goal is to make payments simple, safe, and smooth for consumers.
It acquired SOFORT in 2014 and formed the Klarna Group, with backing from various investors, including Bestseller Group, Sequoia Capital, and Silver Lake.
The company currently has 90 million active users across 17 countries and works with over 250,000 merchants globally. It employs 4,000 workers across its business.
Examining the Klarna App and Its Features
Using the Klarna app, you can avail of a BNPL loan while buying from numerous online stores. Your payment will be split into four interest-free installments that you will make every two weeks.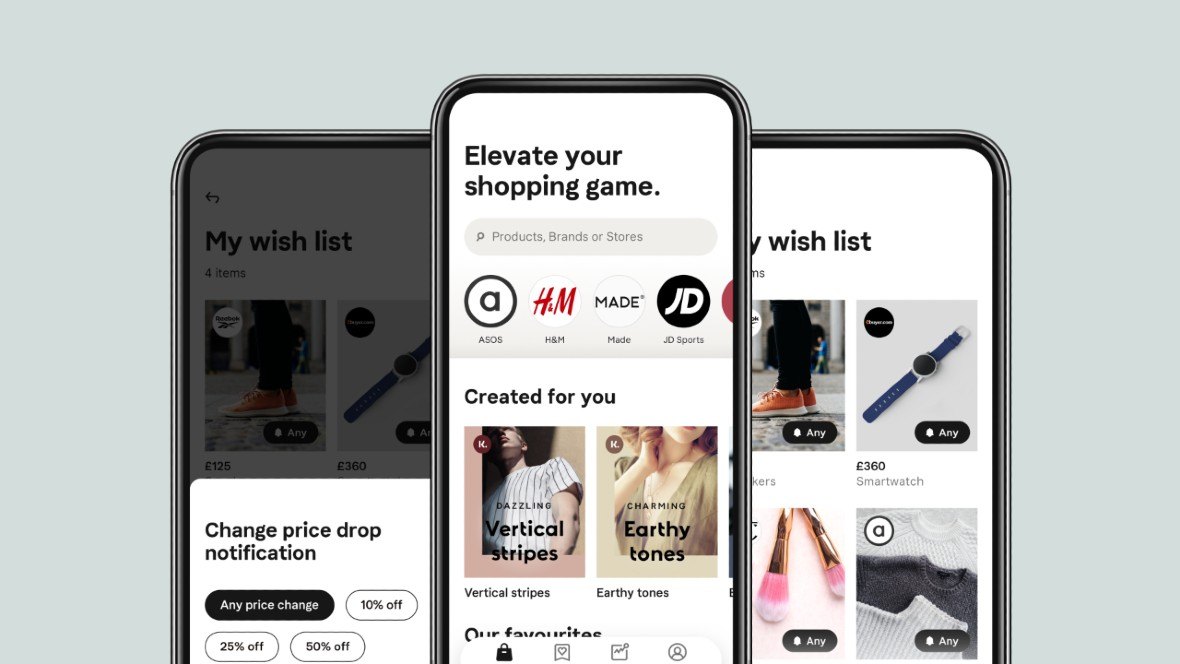 You can also create virtual card numbers which function similar to credit cards but payment plans are managed via the website or the app.
The app will also inform you about a variety of deals and discounts from different stores globally.
You can claim these exclusive deals simply by opening the app and tapping on the deal you like.
Other Perks of Using the Klarna App
You can also join Klarna's free rewards club, which gives you extra incentives for making successful payments on your purchases.
The app also has live tracking of your items for delivery, gives updates on delivery times, and provides pickup codes and pickup point photos to help you navigate your way.
If you're waiting for an item to go on sale, you can save it in your Collections and the app will automatically alert you if it gets a price drop.
Klarna App for Android Devices
If you're an Android device user, you can search for the app on the Google Play Store. You will find it in the Shopping category under the name "Klarna | Shop now. Pay later".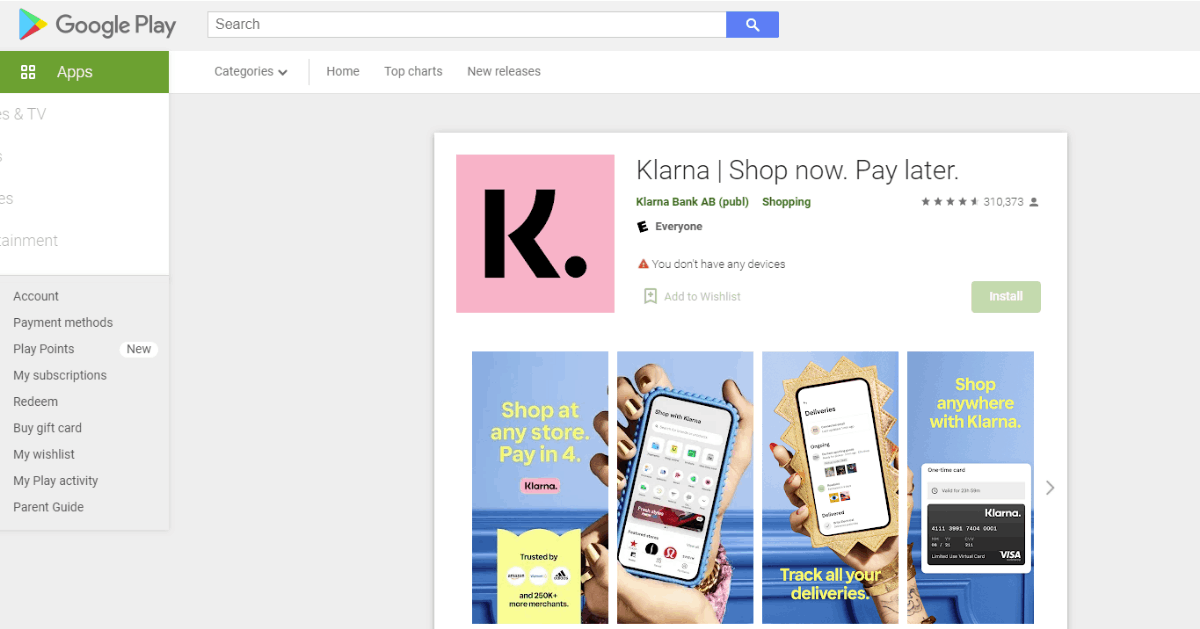 Klarna is among the most popular BNPL apps available online and has been downloaded over 10 million times.
The Android version of the app is currently rated at 4.6 out of 5 stars based on more than 300,000 user reviews.
Downloading and Installing the Android App
The Klarna app has a file size of 121 MB and will require your device to run on Android 5.0 and up in order to function properly.
It is currently on version 21.37.185 and was last updated on September 27, 2021.
To download and install, tap on the Install button and wait for it to finish downloading all the files. Once all files are downloaded, it will automatically install on your device.
Klarna App for iOS Devices
Meanwhile, if you use iOS devices, you will have to open your Apple App Store to search for the app. Find it by searching for "Klarna | Shop now. Pay later".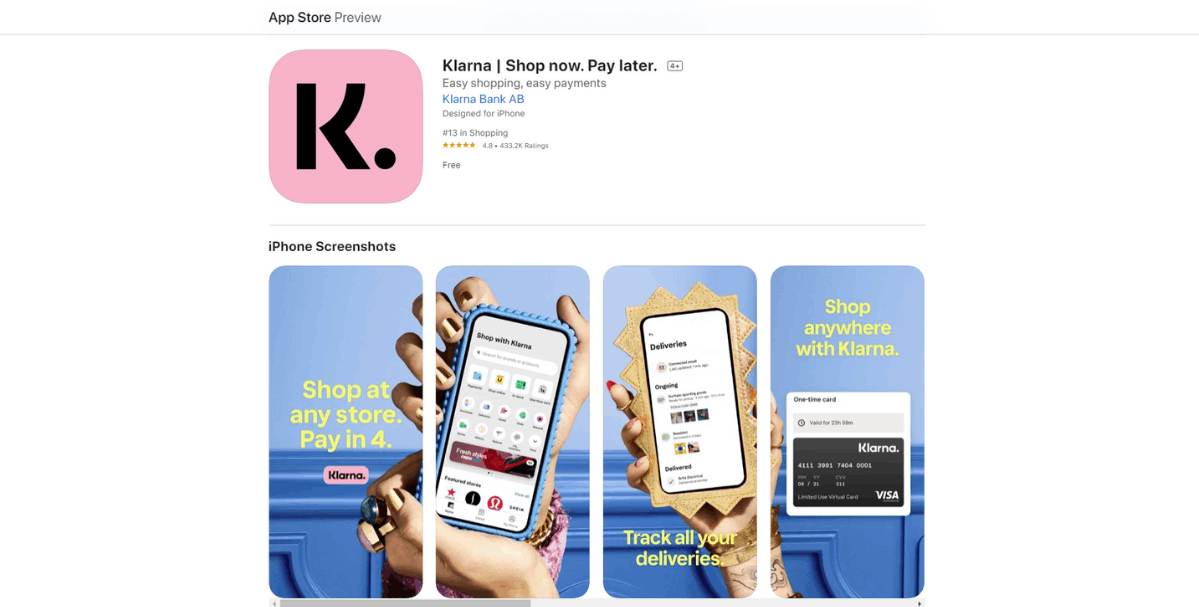 The app is available in several languages, including English, Danish, German, Portuguese, and Swedish.
The iOS version of the Klarna app has a current rating of 4.8 out of 5 stars based on over 433,000 user reviews.
Downloading and Installing the iOS app
The app requires 190 MB of space and iOS 12.1 or later for both the iPhone and the iPod touch.
It can also be used on Mac provided that it runs macOS 11.0 or later or it has an Apple M1 chip.
To initiate the download process, tap on the Get button and wait for it to finish. Once all resources have been downloaded, the app will automatically install on your device.
How to Make a BNPL Purchase Using Klarna
Once you've created an account with Klarna, you can start looking for an item you want to buy online. Upon checkout, you should select Klarna as your payment facility.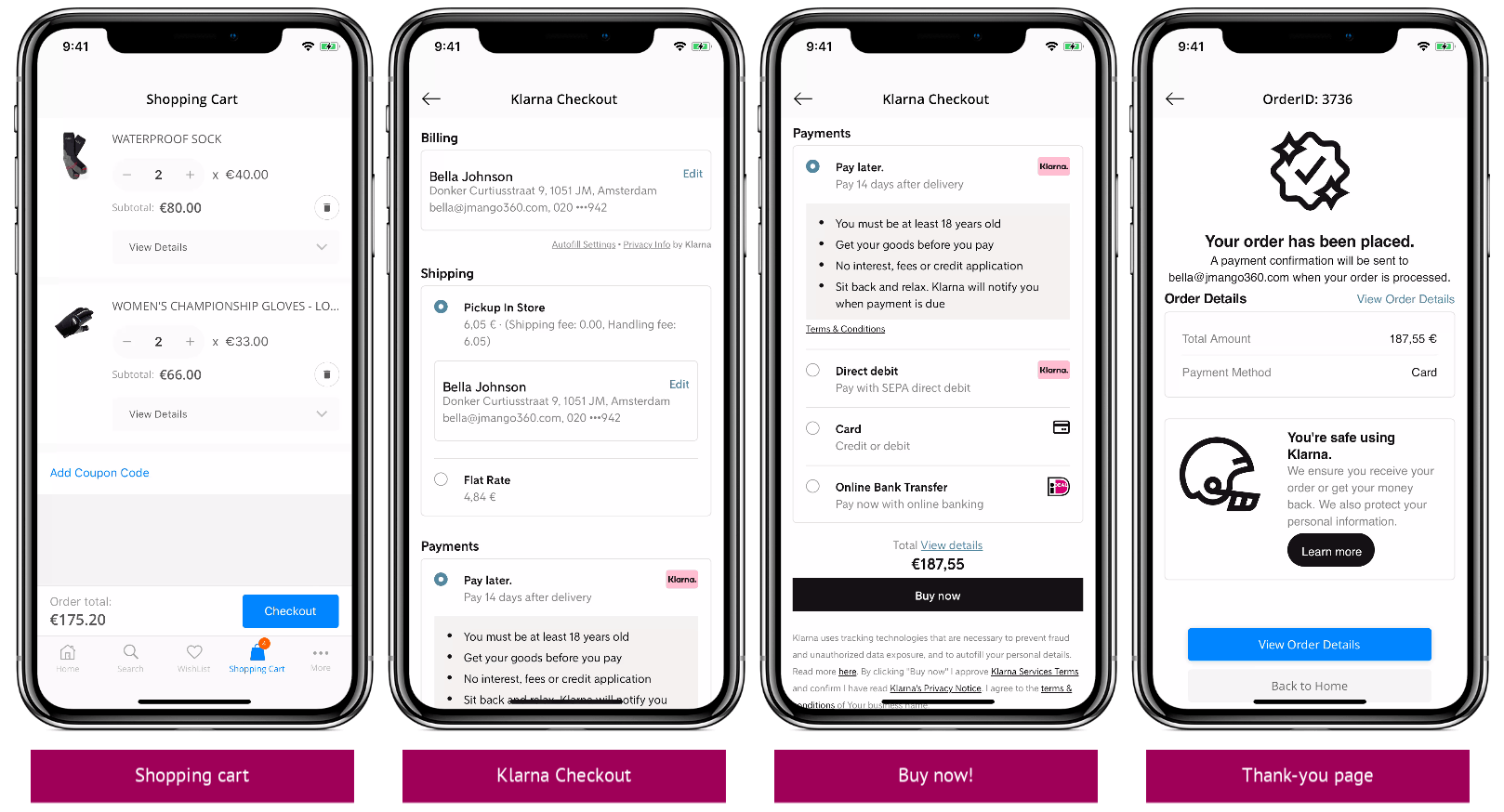 Once you select Klarna, you will be given the choices of "Pay in 4", "Pay in 30 days", and a six- to 36-month loan. The Pay in 4 option is the most commonly used one and it has zero interest.
The Pay in 30 days option allows you to try out the items you bought, return those you don't need, and then make a full payment on the rest of the items you kept.
Selecting the Pay in 4 Option
When using this zero-interest option, you only need to pay 25% of the total cost of upfront and the remaining balance will be made every two weeks thereafter.
If you bought $100 worth of items, you just make a $25 payment at checkout then three $25 payments at two-week intervals.
Please remember that while it has zero interest, Klarna imposes fees on late or missed payments. Late fees can be up to $7 per unsuccessful collection but will not go beyond 25% of the total order value.
Conclusion
Buy now, pay later programs are a great way to purchase without having to spend all of your money at once but it requires great self-control. Personally, I try not to buy anything that's not urgent using this method so that I can manage my personal finances.
However, the Klarna mobile app is a great app for those who don't want to maintain credit cards or are having a hard time increasing their credit scores. Overall, my experience with the app is a smooth one and I definitely recommend this for anyone looking for a BNPL app.