If there's one thing that the global health crisis taught us is that personal finance management is important in order to survive the worst economic situations. Managing our personal finances may be a bit overwhelming for some but its importance is never questioned.
Fortunately, the increased popularity of mobile apps led to the development of apps that simplify tasks like personal finance management. Various apps that have been launched over the years to help make budgeting and planning simpler and easier for people.
In this article, I will discuss Mobills, one of the most popular and most used personal finance apps online, with over 5 million installations already. I'll introduce you to Mobills, its features, and how to download and install it on your mobile device. Read on!
Why Personal Finance Management Is Important
Take a Closer Look at the Mobills Personal Finance App
The Most Notable Features of the Mobills App
How to Download and Install the Mobills Personal Finance App
Subscribing to Mobills Premium and Its Perks
Why Personal Finance Management Is Important
Investopedia defines "personal finance" as a term referring to anything that covers the management of your money, such as savings and investing. Further concepts include budgeting, banking, insurance, mortgages, retirement planning, and tax and estate planning.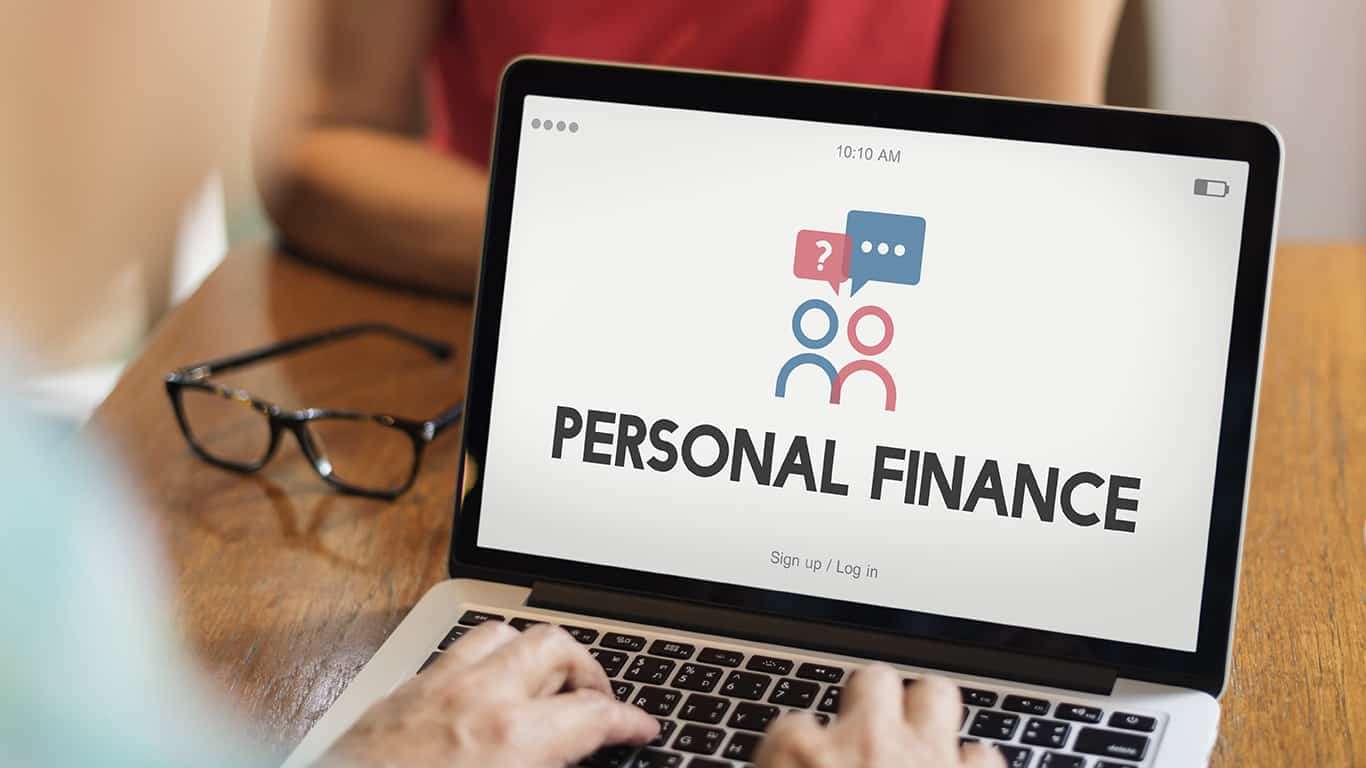 Simply put, personal finance management is about how you can achieve your personal financial goals, whether its short-term needs like emergency funds, or long-term plans like retirement and college funds for your children.
It involves planning how to fulfill those objectives within your financial capabilities. Discipline is a key element in personal finance but knowing when to adjust is equally important.
Since only a few schools take on personal finance management as a subject, most of our learning comes from online articles, blogs, podcasts, or through finance books.
Some Personal Finance Strategies You Can Use
To be able to achieve your personal financial goals, you should first organize the money that you earn by using a budget. The most common budgeting framework is the 50/30/20 method, referring to 50% of your income going to essential expenses, 30% for discretionary expenses, and 20% to savings.
Another strategy is setting up an emergency fund in order to avoid using your savings or borrowing in cases of unexpected expenses like car repair or hospital bills.
Limiting debt to a minimum is a strategy that applies to all. You just have to stick to the principle of not spending more than you earn. Credit cards should be used wisely and paid off fully every month.
Take a Closer Look at the Mobills Personal Finance App
In the past, I have personally done my budgeting on paper, breaking down my monthly income and listing everything that I need to buy and pay for.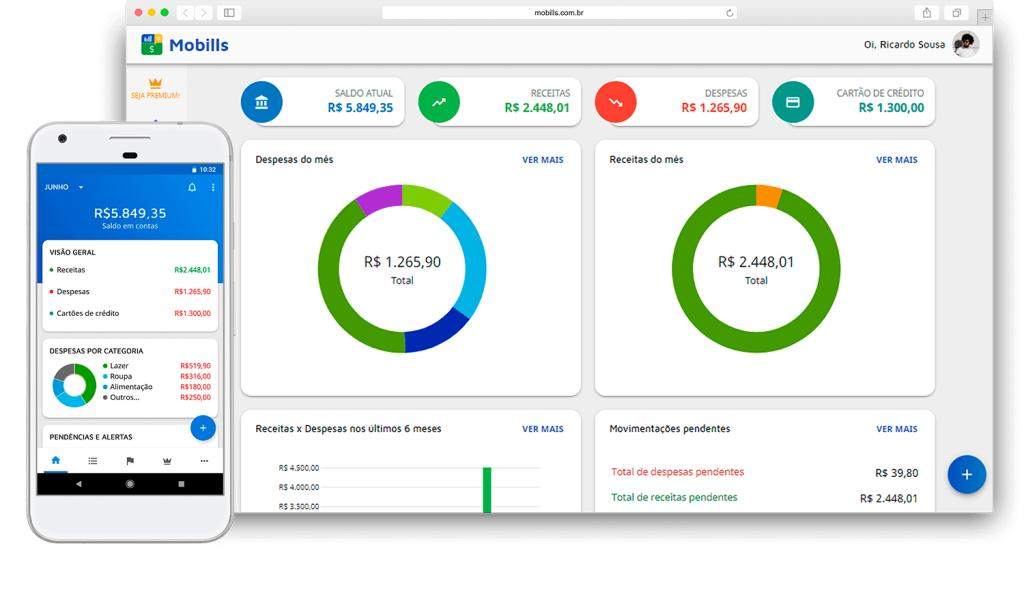 Then I started using spreadsheets to make it easier to compute and track my expenses, savings, and investments.
However, the problem with spreadsheets is that I can't bring them along with me and even if I open them using my mobile phone, it's hard to edit them on the go. I decided to look for a mobile app to help address my personal finance management needs.
That's when I discovered the Mobills personal finance app. This app basically enables you to create a custom monthly budget and keep track of your income and spending. Mobills aims replace traditional notes, statements, and spreadsheets.
Brief History of the Mobills App
Technology specialists David Mosiah and Carlos Terceiro created this great app due to their passion for creating simple solutions to everyday problems. They came up with the concept after they realized that they often run out of money before the month ends.
They found that this was a common problem with other people as well and that most people were unsure where their money was being spent. Carlos developed the first version of Mobills called Financial Manager, which he launched for Android in July 2013.
Meanwhile, David worked on the web app and released it in April 2014 under the name Mobills. This was also when they re-released the Android app under the same name. They eventually launched an iOS version of the app in October 2014.
The Most Notable Features of the Mobills App
One critical factor in financial planning and achieving your goals is knowing which is which, meaning creating categories for all your income and expenses. The app makes this easy by allowing you to allocate money for various purposes and then keep track of your budget and expenses.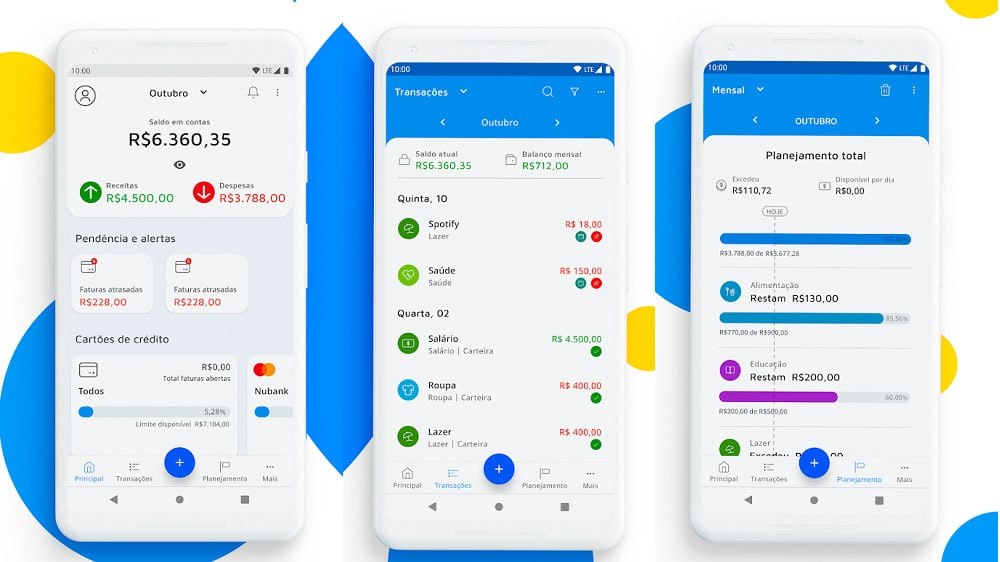 The app displays your financial status using graphs and charts and you can choose which one to use. It even has a "predicted balance" tool that lets you know how much money you should have by the end of the month by tracking your transactions.
The Mobills app also has a built-in bills reminder so you don't have to worry about missing out on a payment.
On the topic of payments, you can also use the app to manage all your credit cards in one place. It lets you track your credit limit as well as total amount due so you never overspend.
Other Useful Tools Included in the App
When using Mobills, you don't have to worry about not having an internet connection because its cloud synchronization updates all your devices once you go online. It also features advance filters for bills, categories, and tags so you can easily find what you're looking for.
As I mentioned earlier, the app keeps track of all your expenses so storing and saving your receipts through the app makes this even more accurate. To better remember what you spent, the app can even tell you where you spent it with its geolocation feature.
If you decide to start using the app and you feel like you could still use data from your previously made spreadsheets for budgeting, you don't need to worry because you can export and import Excel, OFX, and PDF files using the app.
How to Download and Install the Mobills Personal Finance App
Fortunately for those who don't want to spend money on mobile apps, Mobills is free to download and use for both Android and iOS platforms. However, a premium plan is available for anyone who wants to enjoy additional features and perks not included in the free version.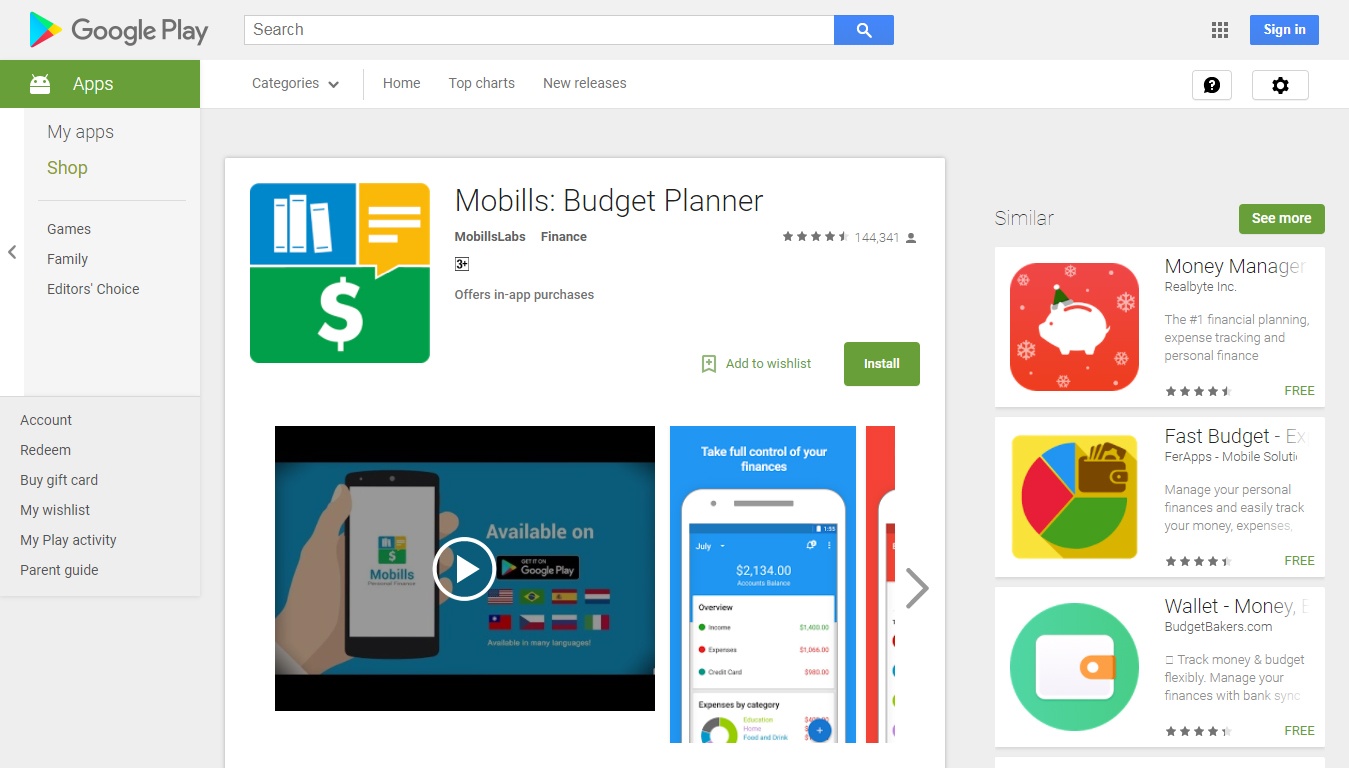 For Android user, open the Google Play Store and search for the app there. You will find it in the Finance category under the name "Mobills Budget Planner and Track your Finances". It currently has a rating of 4.6 out of 5 stars based on almost 250,000 user reviews.
To download the app, simply tap on the Install button and it will immediately start downloading the necessary files.
Once the download sequence is complete, it will automatically begin installing on your Android mobile device.
Mobills for iOS
Meanwhile, Apple device users will find the iOS version of the app on the Apple App Store. It is categorized as a Financial and Bill Organizer and appears under the name "Mobills – Budget Planner". It is currently rated at 4.7 out of 5 stars based on more than 2,700 user reviews.
This version of the app has a file size of 540.5 MB and requires iOS 10.0 or later for the iPhone and iPod touch, and iPadOS 10.0 or later for the iPad. It has an age rating of 4+ and is available in English, French, German, Portuguese, Russian, and Spanish.
To initiate download and installation, tap on the Get button and it will immediately start downloading. It will automatically install on your device once the downloading process is completed.
Subscribing to Mobills Premium and Its Perks
As I mentioned earlier, the Mobills app is absolutely free to download and use but if you want more features and access to other tools, you may want to subscribe to the premium version of the app. Mobills Premium gives you multiplatform access to its Android, iOS, web apps.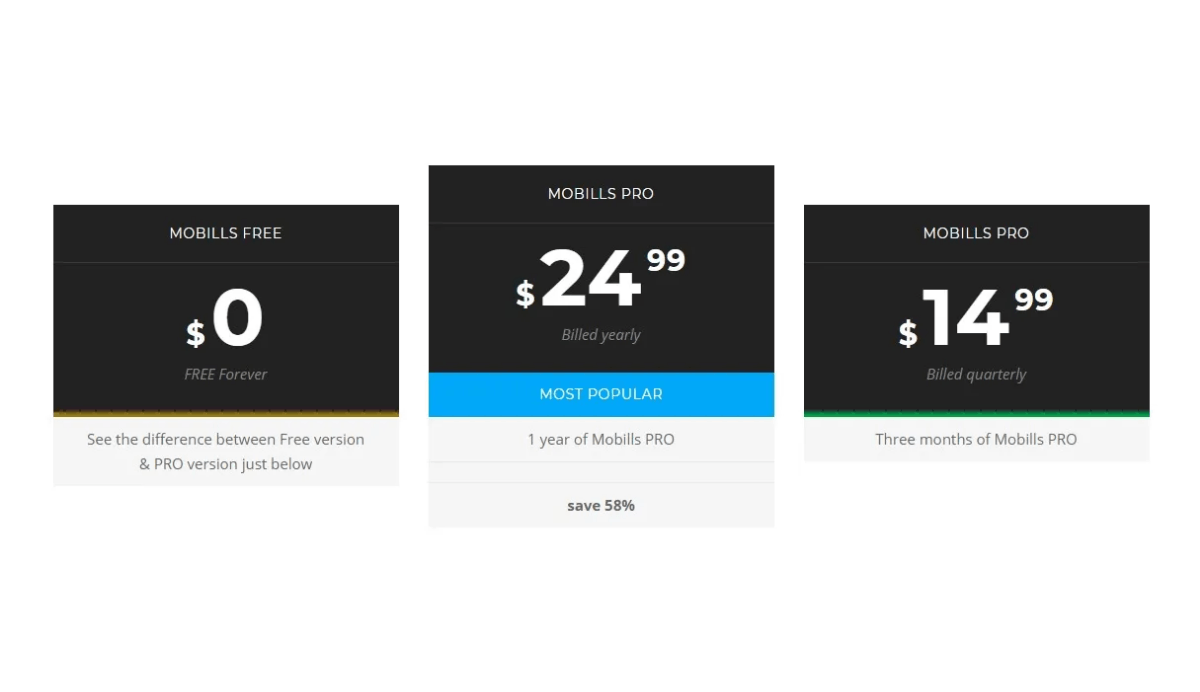 For the free version, you can only use the cloud sync feature once a day but with premium you will get unlimited use. You will also be able to create an unlimited number of monthly budgets and set an unlimited number of goals.
Importing and exporting data from OFX, SMS and Excel are also limited for the free version and unlimited for premium.
The number of credit cards you can manage in the app also has a limit for free users while it's unlimited for premium users. Additional tags, labels, and custom filters are also given to premium users.
Costs of Mobills Premium Plans
The Mobills Premium membership is available in a quarterly plan and an annual subscription. Both plans enjoy the same additional features and perks that the premium version of the app offers.
The quarterly plan costs $14.99 monthly but the billing is generated every quarter.
On the other hand, the yearly plan is the most popular because you can save 58% on the cost. It is billed annually at only $49.99.
Conclusion
Overall, the Mobills app is a great tool for managing your personal finances, particularly in making a budget and keeping track of your expenses. I liked how the graphs and charts make it more tangible to me rather than just looking at numbers on a spreadsheet.
The reminders also gave me some sense of ease as I have made late payments in the past because I simply forgot about the due dates. So, if you're looking to take more control of your finances, I recommend that you start by downloading the Mobills app.