Audible is the leading provider of online audio content including audiobooks, podcasts, and more. With hundreds of thousands of titles to choose from, there's always something for you on the app.
Whether you're looking for a classic novel, the best-selling novel of the month, or a self-help guide, Audible has it all. With the app on your phone, you can easily listen to your favorite audiobook wherever you go.
Find out more about the Audible app and discover an amazing way to read and listen to audiobooks.
Listen to Your Favorite Audiobooks
Discover Your Next Great Listen
Listen to the Best Podcasts
Listen to Audiobooks While Stuck in Traffic
Unlock Audible Plus and Enjoy Even More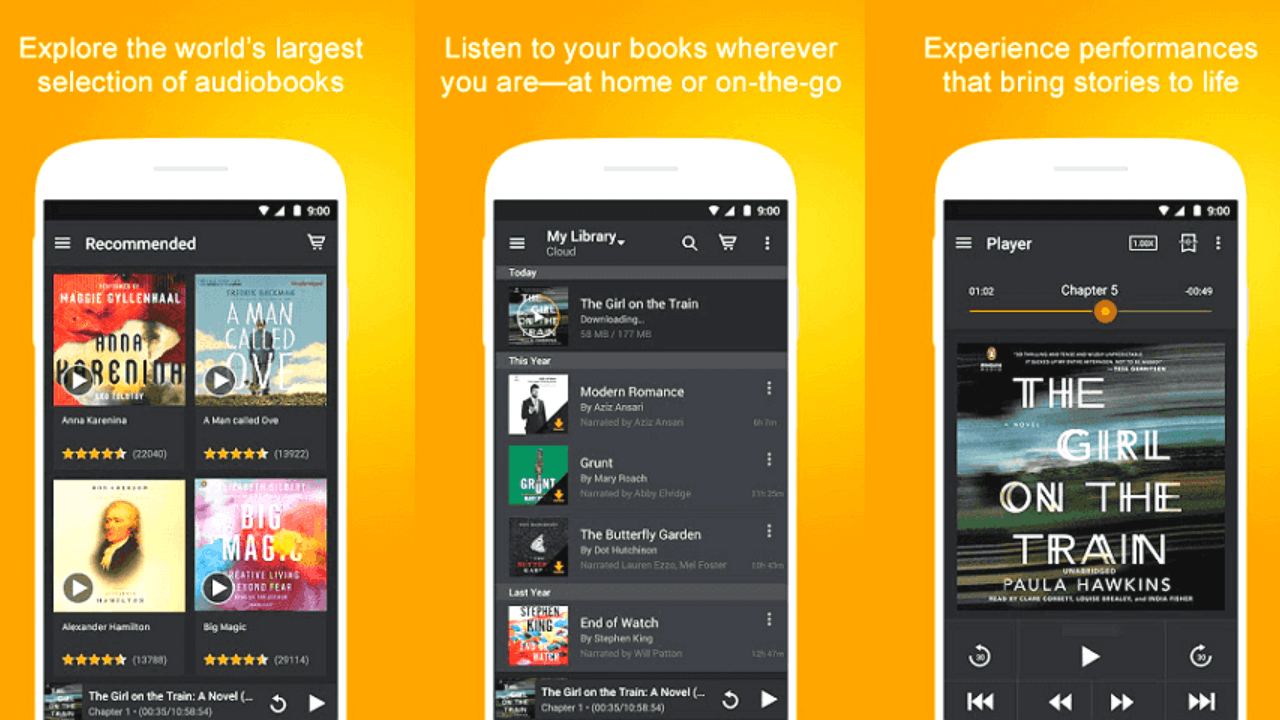 Listen to Your Favorite Audiobooks
Audible is a mobile app where you get to access and listen to thousands of audiobooks, podcasts, and other available audio content.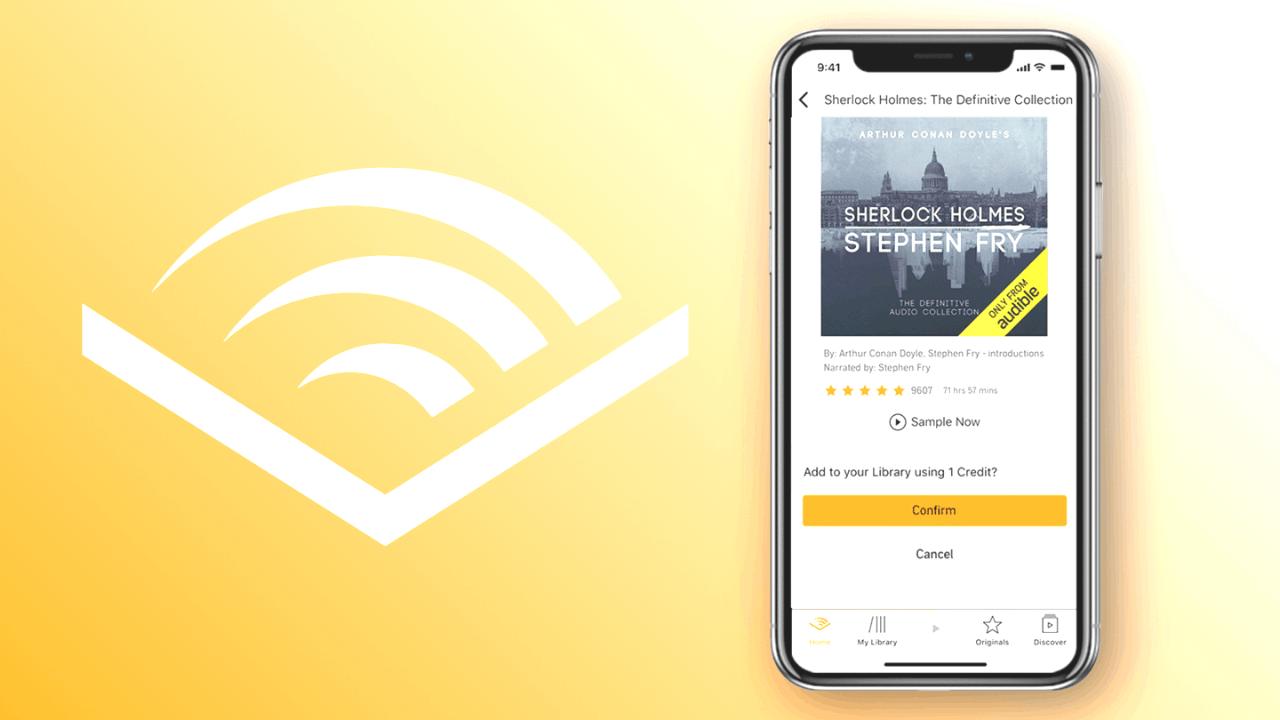 It is the best choice for audiobook lovers who want to listen to a wide variety of books and podcasts on their mobile devices. The app has different features that allow you to customize the way you want to listen and experience this audio content.
You can even sync your library across multiple devices all thanks to the cloud storage. Adjust the narration speed, and volume, and even bookmark different sections for reference later on.
The best part about using Audible is that you also get discounts on audiobooks from time to time.
Check Out How to Download
Audible is available to download from the Google Play Store and the Apple App Store. Search the name of the app in your device's app store and tap "Install" or "Get" to download.
Tap "Open" to launch the app and register for an account using your credentials. Log in and start using the app.
Discover Your Next Great Listen
Audible is one of the world's largest producers and providers of digital audiobooks. It has a wide selection of audiobooks for listeners to choose from.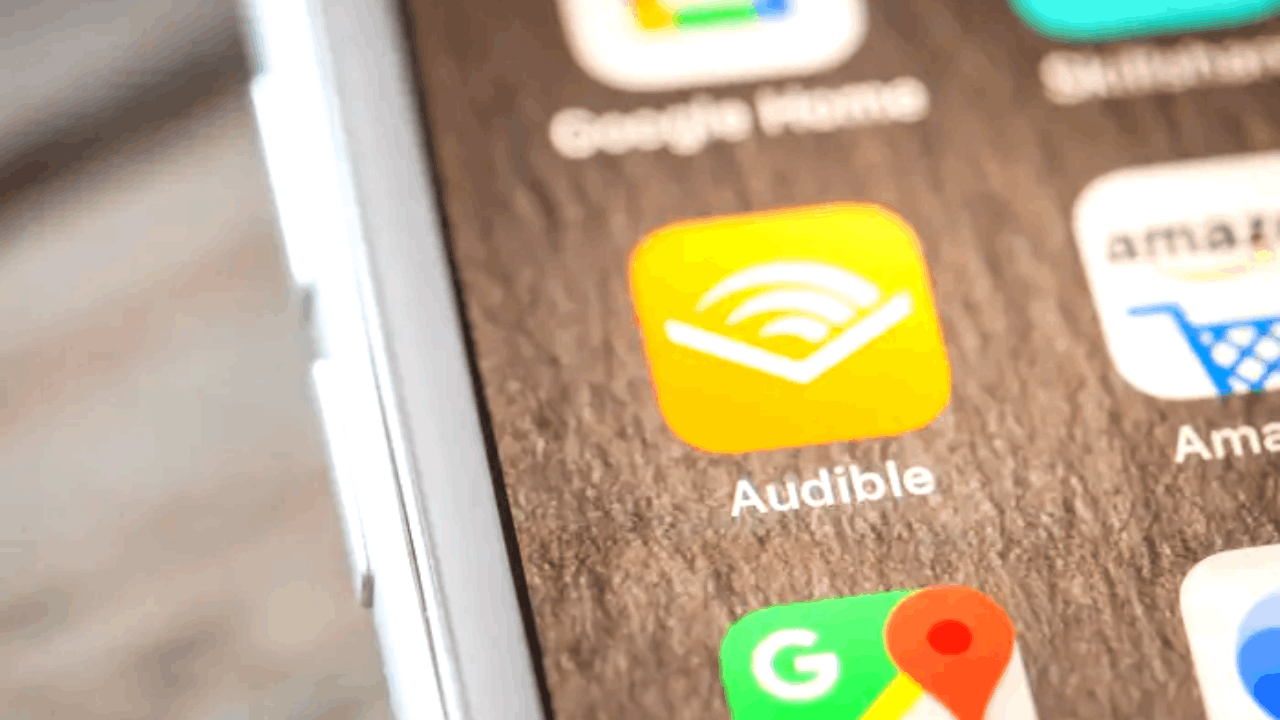 If you're looking for children's stories or popular fiction, Audible has everything for you to enjoy. You can find audiobooks from popular authors like J.K. Rowling, John Grisham, and Stephen King.
For those looking for classic works, you can expect literature by Charles Dickens and William Shakespeare available on the app.
Apart from audiobooks, Audible also has a wide selection of exclusive content such as original series and audio dramas.
Enjoy Unparalleled Audio Quality
One of the best features of the Audible app is its high audio quality. The app produces an unmatched listening experienced across the industry. Audible produces top-notch quality from its content producers.
You can adjust the playback speed and even limit the background noise levels as well as many other customizable options that heighten your listening experience.
With its high production values, you are sure to have the best experience listening to the various content found on the Audible app.
Listen to the Best Podcasts
Podcasts are very popular these days, and what better way to enjoy them than listening from the Audible app.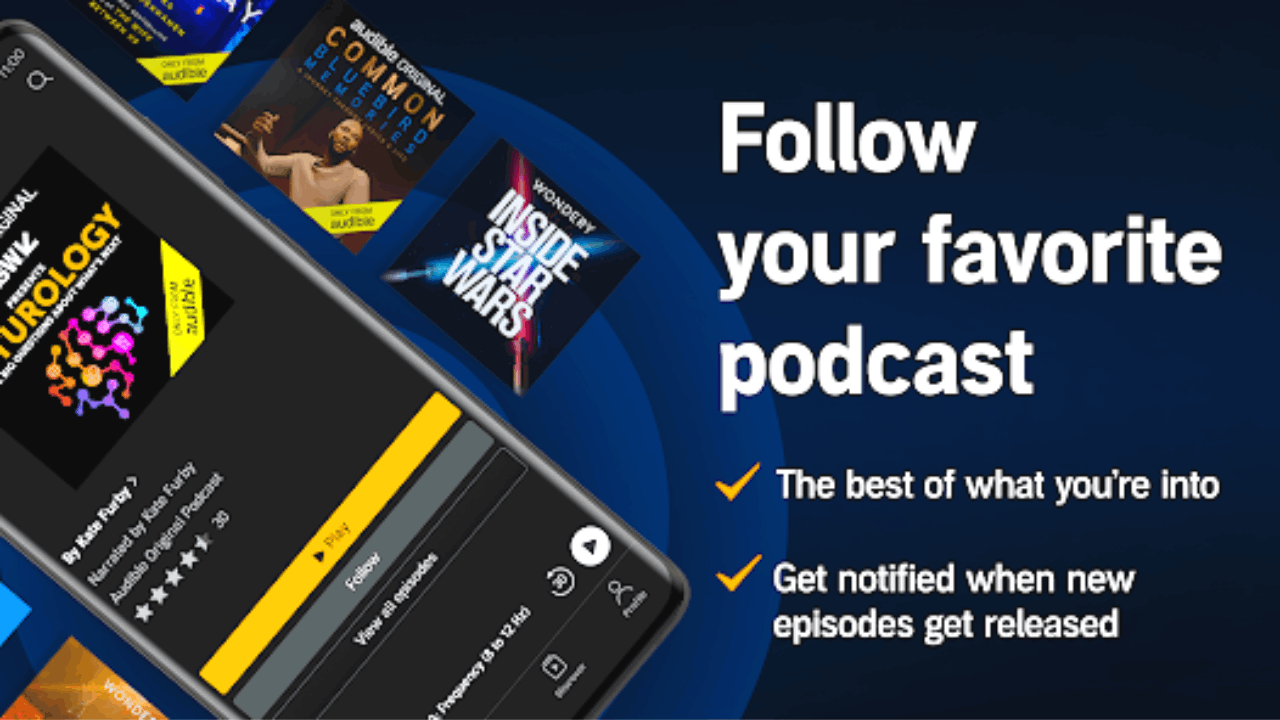 You can choose from a range of podcast genres including comedy, health and wellness, and even current affairs. These podcasts offer entertaining content for you to listen to while you're commuting or if you just want to relax after work.
Some of the most popular podcasts found on the app include The Daily and The Joe Rogan Experience. You also have the highly-inspirational TED Talks Daily from different experts in various fields.
Whether you're looking for something educational or purely for entertainment, podcasts are a solid choice.
Follow Your Favorite Author and Podcast
With Audible, you can follow your favorite podcast or author. To add your favorite author and podcast, browse through the vast selection of audiobooks and podcasts to locate their content.
You can search by author, podcast, or genre. Once you've found the author or podcast, you can add it to your library and you can easily access them whenever you want.
You can also receive notifications once your favorite author or podcast uploads new content so you'll also stay on top of their new content.
Listen to Audiobooks While Stuck in Traffic
Audible has a feature called Carplay mode which makes it easier for drivers to enjoy listening to their favorite audiobooks while driving.
The simple interface and navigational options allow drivers to easily access and control their audio content safely.
You can easily control the content with simple voice commands or by using your car's built-in controls.
Safety is a priority with Audible, and the app combines both voice commands and the trusted built-in controls of your car for a seamless listening experience during your commute.
How Playlists and Bookmarks Help You Enjoy Audible
The Audible app has a wide variety of features that make listening to audiobooks very enjoyable. You can create custom playlists of your favorite audiobooks so you can easily access them whenever you want to listen to them.
You can also bookmark specific sections of the audiobooks so you can go back to them later on. This is a very convenient feature that makes it easy for you to keep track of where you left off in the book and provides the exact spot where you want to listen to.
The best part is that you can share your playlist with your friends so you can enjoy listening to the audiobooks together.
Unlock Audible Plus and Enjoy Even More
To unlock more features on the Audible app, you can also subscribe to Audible Plus for $7.95 per month, or Audible Premium Plus for $14.95. Both have a free 30-day trial that you can cancel anytime.
Audible Plus allows you to build your own library from thousands of different audio content from the Plus Catalog, an exclusive platform within the app. You get access to the newest audio content that is added every week.
The Audible Premium Plus subscription provides an extended selection of best-selling audiobooks as well as new releases from your favorite authors and podcasts. You also gain access to the entire Plus Catalog and have a permanent library that is yours even if you cancel the subscription.
Earn Money with Audible
With Audible, you can earn money through affiliate marketing where you plug different podcasts into your social media or website through a link. When people tap on the link, they are taken to the subscription page, where you'll get around $15 for each successful signup.
You can also create your own audiobook and publish it through the Audible Audiobook Creation Exchange.
You can even narrate an entire audiobook if you have the right equipment and earn a flat rate payment once you've finished an entire book.
Conclusion
The Audible app is the ultimate destination for anyone who loves to listen to audiobooks and podcasts. With its wide selection of audio content, you get to enjoy your favorite stories on the go. Audible is the best choice if you're looking for the best listening experience.
Spanish version: Audible: Una forma increíble de leer y escuchar audiolibros