Technology has taken note-taking to the next level. In the past, I find this process basic and limited, but with the help of technology, I find that note-taking has become so much more. Mobile devices such as phones and tablets have become essential parts of modern note-taking.
The best part is I can choose among a wide variety of note-taking applications for our tablets, phones, and personal computers. For individuals on the go, who are expected to use their notes on their work desktops, I believe that Evernote is the best choice.
Evernote is one of the most functional notes applications out there, offering a wide variety of features that makes making, accessing, and sharing notes more efficient. This article details some of the best qualities and features of Evernote.
About Evernote
Downloading Evernote
Dynamic Note-Taking
Organization and Compilation
Accessibility and Sharing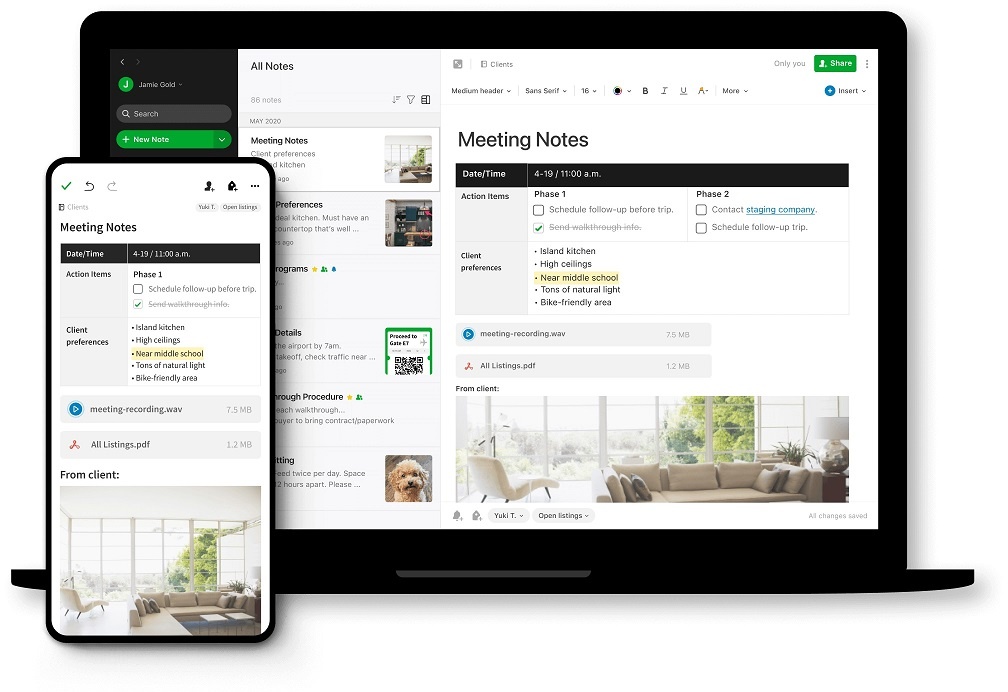 About Evernote
As mentioned, Evernote is a note-taking app that does more than take notes. For us busy individuals, its different tools can help better organize notes and become more productive. The key to achieving this is to take advantage of all the features included in this application.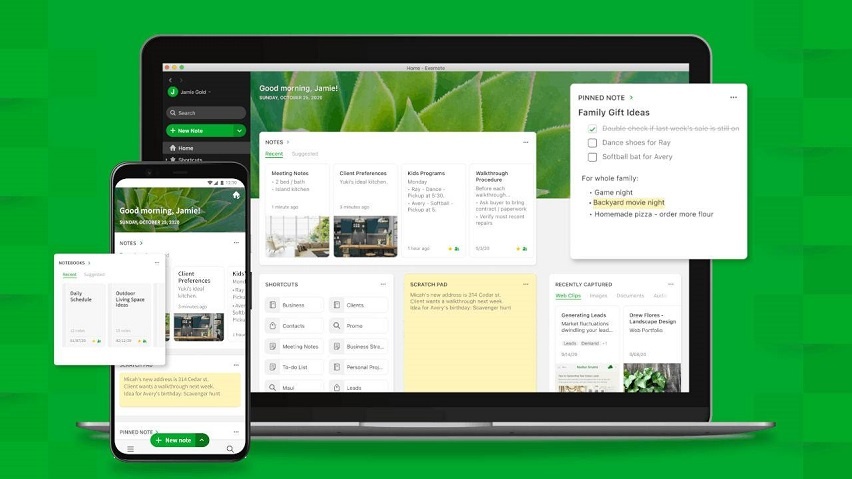 It offers different methods of taking notes, to fit your needs, all in one place. This app gives me the option of using pre-set listing modes such as meeting, to-do, and idea notes. If I find the templates lacking, then I can simply make my own from scratch.
As I always have difficulty organizing my notes, I appreciate that Evernote lets me place all my notes in one notebook or in different notebooks. I can categorize each item under a group, making it easier to find the notes I am looking for. I can also add tags for easir sorting and searching.
One thing that makes Evernote a great choice for me is its great Basic version. This allows me to use all its essential features for free. However, you can choose to get a premium plan for access to exclusive tools.
Great for Many Uses
I find this application great for everyday use. I can simply pull it up when I come up with ideas for my hobbies, or simply take down a list of things I need to buy, do, or accomplish.
Aside from personal uses, it is a great companion for work meetings. Business owners can also purchase a Business membership to get additional features. It allows multiple users to collaborate and share their notes in centralized space management by an administrator.
What makes this application great for professionals who value work-life balance is it allows us to use organization tools to separate work-related and personal notes. This way, we can simply go to the right notes when we need them.
Downloading Evernote
For those who are looking to download Evernote, it will come as good news that this application is easy to find on the Google Play Store or the Apple App Store for free. I can use it on most Android devices, as well as iPhones, iPads, and iPod Touches running iOS 13.2 or later.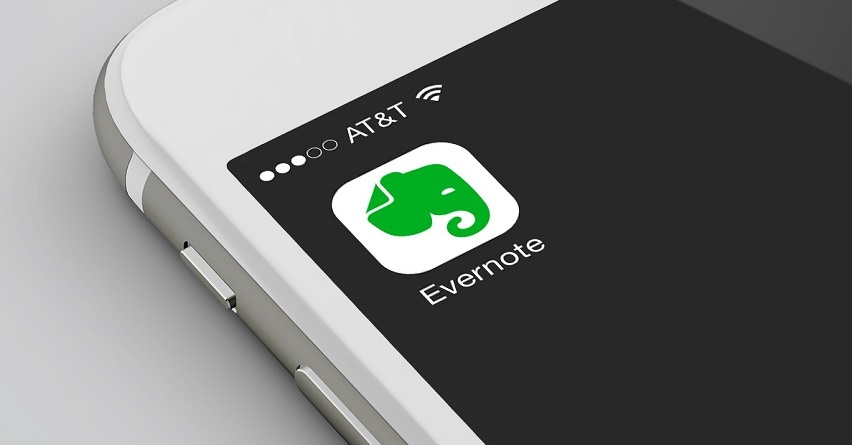 It currently has more than 100 million installs, proving just how popular this application is. After all, it is being used for personal, educational, and professional purposes.
Upon successfully downloading and installing the app, all I need to do is to create an account or to log in to an existing one. Then, it will prompt me to choose to try out the trial version of the Premium subscription.
So, even if I do not intend to spend a dime on Evernote, I can get a glimpse of what makes paid memberships a preferable choice for many. Now, it is important to note that this app has a lot of additional values, so you might want to consider getting the Premium version.
Premium Version
Speaking of the Premium subscription, this application provides pretty clear distinctions among its plans. Basic users enjoy limited features such as a limited number of synced devices, maximum note size, and upload limits.
For $7.99 monthly or $69.99 annually, the Premium version allows unlimited synced devices, 20MB maximum note size, and a 10GB monthly upload limit. Moreover, it offers all basic features plus customization and other additional features.
The Business version costs $14.99 per user and covers everything included in Premium and more. It also provides collaboration, management, and data ownership features. Plus, it allows a 20GB monthly upload limit with an added 2GB per user.
Dynamic Note-Taking
As mentioned above, Evernote is first and foremost a note-taking application with added perks and advantages. So, let us talk about its note-taking abilities. When it comes to creating notes, I find it easy to start using this app with the help of different pre-set types.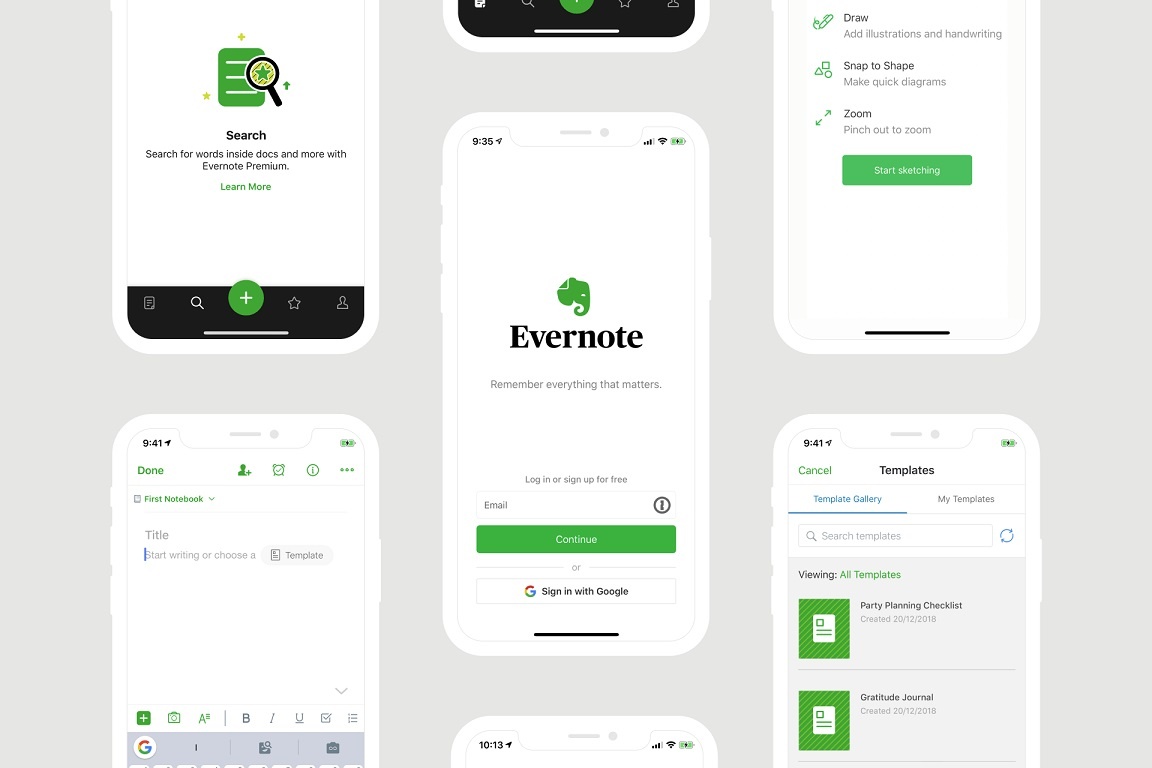 I can easily take control of how I take notes by using different font faces and styles. Plus, I can use bullets and edit the indentation when needed.
The best part is it has an insert tool that allows me to insert images by uploading them or by opening the camera and taking a photo. Other items I can add include tables, audio, code block, attachments, links, dividers, checkboxes, and sketches.
Using Templates
For a more convenient way to start taking notes, this application offers a library of templates that are designed to fit my goals. I can choose from all kinds of templates including creative writing, Getting Things Done (GTD), Home and Garden, and more.
Upon choosing a template, I automatically get the formatting and all of the insertions within the note. All I now have to do is fill in the empty spaces.
Now, every one of us has our own note-taking style, which means that templates may not work for you. So to make sure that you get the right format every time you create a new note, you can make your own template on paid versions.
Organization and Compilation
Evernote is designed to be used for a number of purposes, making it vulnerable to disorganization when not managed properly. Another thing I find useful about this app, besides its comprehensive note-taking capabilities, is its organization tools.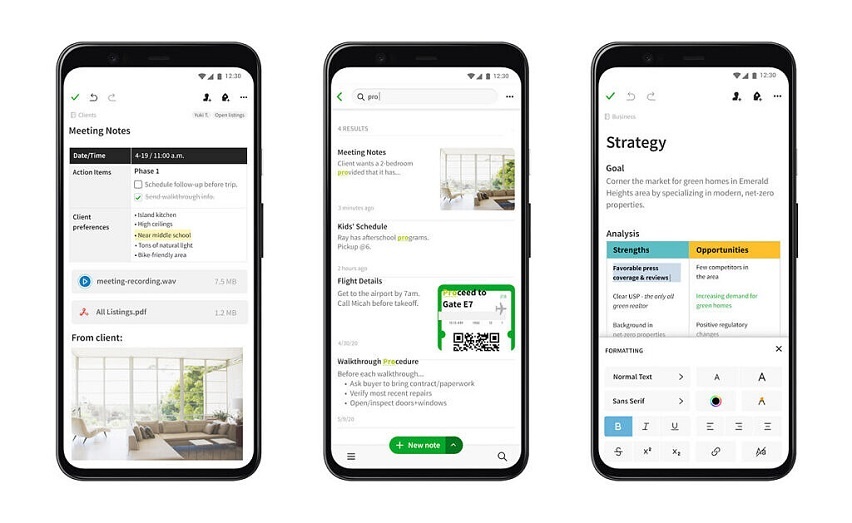 Above, I talked about my ability to create notebooks and classify each note under the right category. It also lets me add tags to make sure that each note is labeled correctly. Aside from this, it lets me sort the notes in different orders.
Should I fail to find the right file using the system I created, I can simply use the search function. Just type in a word, title, date, or content type, and the app will show every item that fits the description. This app can also search handwritten notes.
A management feature for teams is also available on the app through Spaces. With Spaces, I can collect, arrange, and share the notes and files my team needs for different tasks. It also synchronizes every item in the space to ensure that the notes are updated.
Using the Web Clipper Feature
Sometimes, taking notes is more than just listing down what you have in mind. It can also involve a bit of research, even an extensive one.
The internet is a great resource, so I personally tend to open my browser to find the right sources. Should I find the best webpage for my needs, Evernote can take note of the page's contents using the Web Clipper tool.
It can take screenshots of the entire page or just parts of it. Then, the app has tools that allow me to add screenshots and annotations onto the note.
Accessibility and Synchronization
the Evernote app is available on different platforms, so we have access to content no matter what device we are using. This app makes sure that I can get ahold of my notes across platforms.
With Evernote, my notes are backed up and synchronized with other devices. So, if I have it on my Android tablet, my personal computer, and my iPhone, I can access each and every one of my notes using any one of my devices.
This is useful for people who work on their ideas and notes while waiting in line, sitting on the bus, or during car rides. Then, can continue working when getting in the office or home computer. This allows us to quickly switch devices when needed.
Cross-Platform Sharing
Whether working with a team or simply wanting to share an idea with a friend, this application allows easy sharing.
It lets users create a shareable link that we can simply send. We can also email a copy or invite someone to view the note.
For added convenience, the app lets users share notes using different platforms such as ShareIt, Facebook feed, Gmail, Dropbox, Messenger, Reddit, Instagram, and many others. It can be shared on almost any platform.
Conclusion
Evernote is one of the most powerful note-taking tools out there.
With its organization, sharing, and accessibility features, it is always a welcome addition to my work or personal devices used for taking down ideas and details.