Looking for a way to have fun while focusing on tasks? The Study Bunny app is a great help because of its two main features – a focus timer, and having a "study bunny."
The app is a companion that helps me focus on what needs to be done and makes me more productive.
Discover the Study Bunny app and its features below. Learn how it can help you be productive by keeping track of the time while you work or study.
Study Bunny – The Fun Focus Timer App
Study Bunny – Our Study Buddy
Countdown Timers – The Primary Feature
Coin Rewards – Get Rewarded for Every Accomplishment
Store Items for Our Study Bunny
Flashcards and Music – A Way to Collect More Coins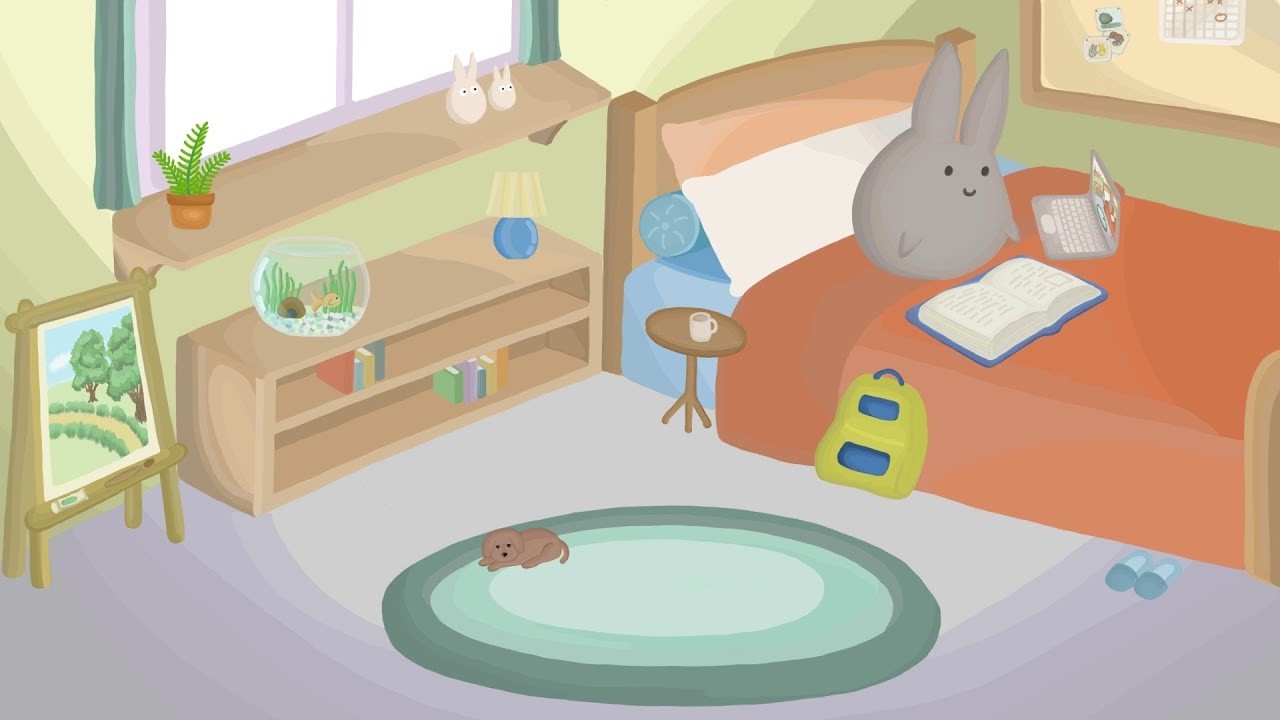 Study Bunny – The Fun Focus Timer App
I find it difficult to stay focused because of the many distractions in my workspace. I recently came across an article saying that instead of finding ways to get rid of these distractions, why not come up with a reward system for staying focused on a task.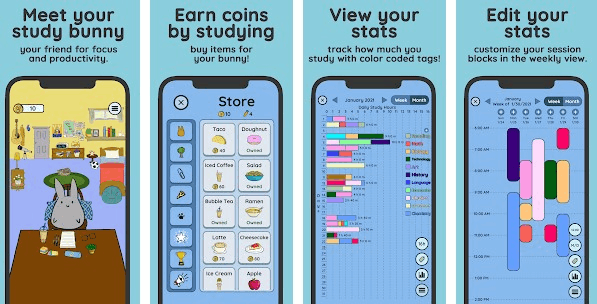 By doing this, the reward will help me overcome the distractions and create a surge of motivation.
The Study Bunny app is a great companion for this method because it is a two-in-one application. It serves as a timer for the time I spent being focused on work with a gamification twist.
SuperByte developed the app as an aid for students who are struggling to focus on their studies. They added a reward system that will keep students motivated because the longer they are focused, the more rewards they will get.
Study Bunny App Installation
Since the team wanted to help students, they ensured that the app was available and accessible to everyone.
We can install the Study Bunny app for all mobile devices from the Google Play Store and the iOS App Store. In addition, Study Bunny is completely free.
There are no in-app purchases or premium subscriptions on Study Bunny. However, there are advertisements that may affect the user experience. Nonetheless, we can enjoy every feature that Study Bunny offers.
Study Bunny – Our Study Buddy
Upon installing the app, we can immediately meet our "study bunny." Like a study buddy, the bunny will be there while we are focusing on our homework. The Study Bunny app wants us to play with our respective bunnies by making them happy and buying things for them.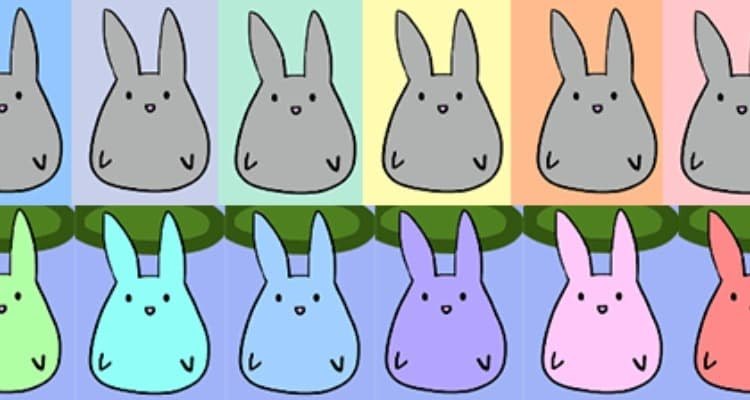 The study bunny is like we have an avatar or pet that we can customize while taking care of them. To make it more personalized, the app requires us to name our study bunny.
In addition, we can buy stuff for our study bunny for them to look good and feel good, which makes them happy.
For us to customize our study bunny, we need to focus on doing our tasks. The app bases the reward on how long we are focused. The longer we're focused, the more rewards we earn to buy things for our study bunny.
Happy Meter
One of the goals of the app is to make our study bunny happy. The app shares specific ways on how we can increase the happiness of our study bunny through the Happy Meter.
Some of these ways include feeding our bunnies carrots, completing study sessions, buying store items, playing music, checking off the tasks on our to-do list, and quizzing ourselves with the provided flashcards.
When the bunnies' Happy Meter is full, we can earn extra coins to buy more stuff in the store.
Countdown Timers – The Primary Feature
The primary feature of the Study Buddy app is a focus timer. We use it to time ourselves to stay focused on accomplishing various activities. Although the app was initially meant for students, we can still use it for other purposes besides studying.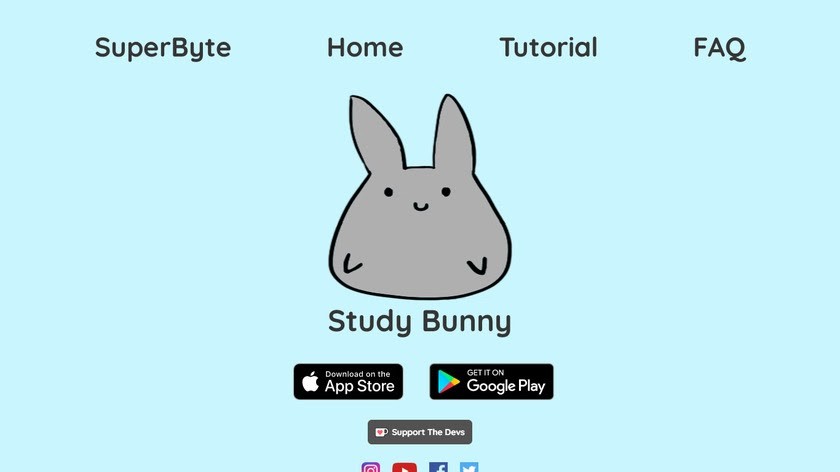 On the home page, we can find the timer by clicking the book icon. It will prompt us to set the time that we intend to work on a specific task. Study Bunny has a slide menu to select the time period ranging from five minutes to 180 minutes.
Once we have set the time, we just need to click the Start button. The app will automatically start the countdown timer for us. So, we can refer back to the timer to see how much time remains to accomplish the task at hand.
We can also utilize the two timers on the app: Study Session Timer and Break Timer.
Countdown Timer Pause and Stop Options
There will be instances while tracking our time with Study Bunny that we will be interrupted by external distractions. When this happens, we need to immediately pause or stop the timer so we can have an accurate record of the amount of time we have stayed focused.
The Pause button is on the lower left of the timer. Study Bunny reminds us that we can lose coins we pause for more than seven minutes. To take a real break after studying without losing coins, stop our study sessions or tasks and use the break timer instead.
Pressing the Stop button will mean that we have accomplished our tasks ahead of time or we need to continue them another time. Note that if we spend only a short period of time focusing, the app cannot guarantee coin rewards.
Coin Rewards – Get Rewarded for Every Accomplishment
Aside from study sessions rewards, we can also opt to use the Ad Rewards feature for an easier and faster way to collect coins.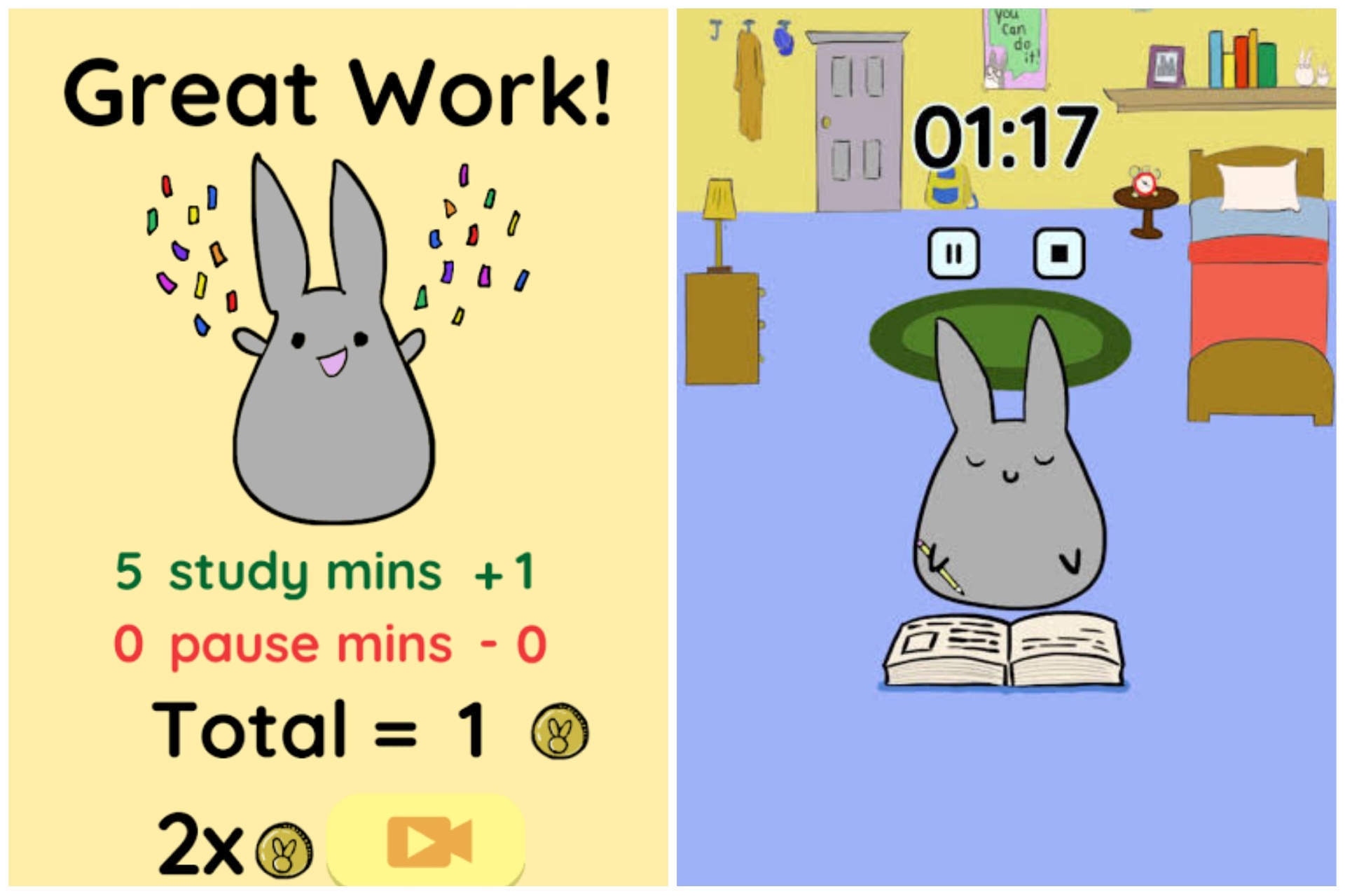 In this feature, we can get a coin for watching ads. However, there is only a maximum of five ads that we can watch per day.
The app also offers rewards by following the Study Bunny official social media accounts. For example, we can earn 50 coins when we follow their Instagram account.
All the collected coin rewards will be shown on the home page. Here, we can keep track of how many coins we have to be able to buy some stuff for our study bunny.
Carrot Rewards
According to the Happy Meter, we need to feed our study bunny with carrots. However, we cannot earn carrots by finishing the countdown timers we set for our study session.
Study Bunny allows us to receive carrot rewards by watching advertisements.
Like the coin rewards, we can only watch a maximum of five ads per day. Thus, we can only collect five carrots daily.
Store Items for Our Study Bunny
One of the app's exciting features is customizing our study bunny by buying store items from our collected coins. With this, we can personalize how our study bunny looks with the available accessories and items.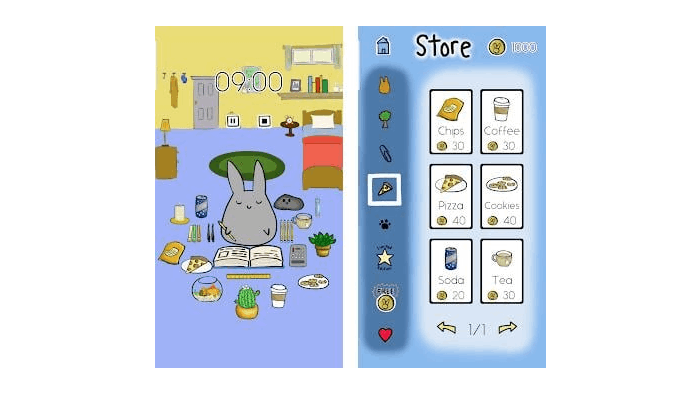 We can buy costumes and items of clothing such as an avocado costume, bee costume, clown costume, pride shirt, hula skirt, striped dress, tie-dye shirt, pajamas, fall sweater, princess dress, cat costume, mermaid costume, ghost costume, and many more.
The app also offers accessories for our study bunnies like a witch hat, glasses, lei, mitt, chef hat, bucket hat, sleep mask, tiara, princess wand, sombrero, headband, bow tie, beret, goggles, and other fancy items.
Other Store Items
Aside from clothing and accessories, we can buy some other stuff in the store. We can change the setting or background of our app's home screen to a scene like a porch, kitchen, laboratory, haunted house, classroom, hospital, cabin, or farm.
There is also additional stuff for our backgrounds that will enhance its appearance. It is possible for us to buy spider webs, fall wreaths, magnets, glowsticks, and many more. There are also available food, animals, and decorations that we can buy.
We can also unlock different ribbons and trophies in the store depending on the number of hours we have spent focusing on studying or accomplishing tasks. Remember that the app constantly updates its store items, so there will be more options for the users.
Flashcards and Music – A Way to Collect More Coins
The Study Bunny app provided another way to collect more coins by focusing on what we are studying. The Flashcards feature contains quiz items and answering these flashcards correctly entails coin rewards.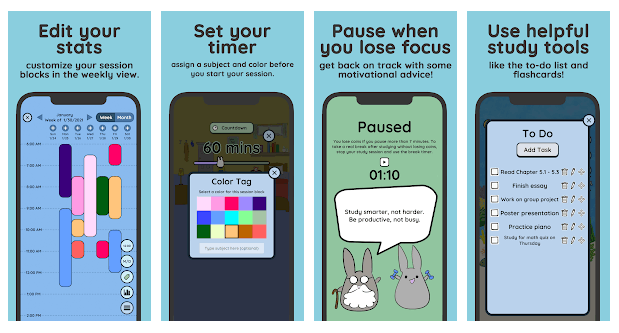 There are template questions on the flashcards on the app already, but we can customize the questions and create a quiz related to what we are currently studying.
I personally like to listen to music while studying because it helps me to focus better. With Study Bunny, I do not need an external music app because there are several music options that I can play. There are peaceful piano, jazz/blues, lo-fi hip hop, clock ticking, and others.
With the music playing, I am not the only one who will benefit. The music will also increase the Happy Meter of my study bunny.
Study Session Stats
Another interesting feature of the Study Bunny app is that it records our study session stats. We can track how much we studied daily, weekly, or monthly.
We can monitor how much we have accomplished and what other tasks we need to accomplish. Moreover, the statistics are well-organized as it is properly labeled and duly color-coded.
Lastly, we can customize our stats by editing the blocks in the weekly view. It means that the app can also serve as a calendar for us.
Conclusion
The Study Bunny app allows us to have fun while focusing on our studies or tasks. It has a reward system wherein we can earn virtual coins every time we finish a countdown timer we've set to finish a task.