Podcasts are becoming more and more popular. A podcast is an audio-only episodic series provided in digital audio form. The series generally features one or more recurring hosts discussing current events or a specific topic.
Researchers are still trying to find all the reasons why podcasts are becoming so popular. To listen to podcasts you need a podcast app. We've looked at some of the best podcast apps available for podcast listening on the market today.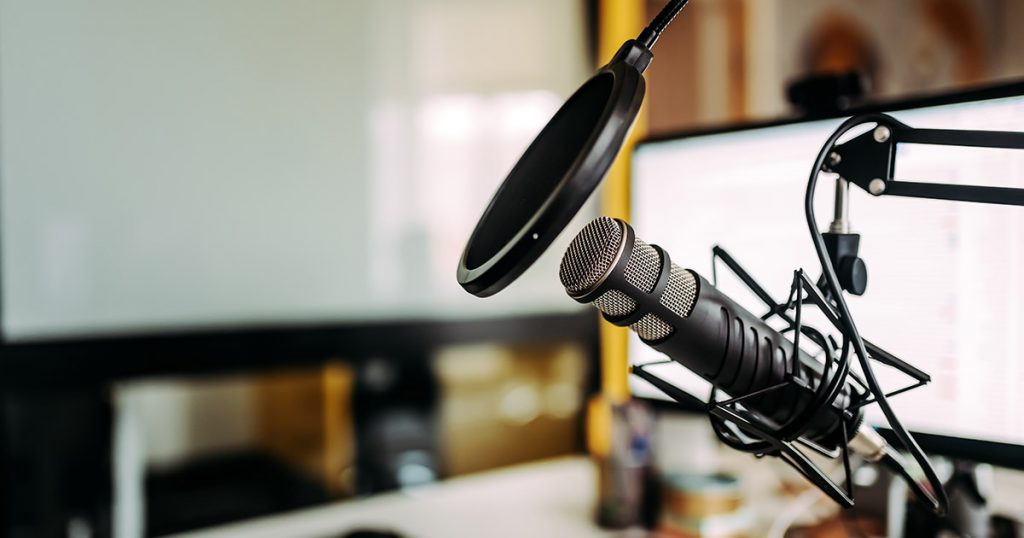 Castbox
Castbox, a winner of a Google Play Best App award, is a free podcast app with no ads and supports over 70 languages. It offers more than 1 million podcasts with over 2 billion episodes. A major reason it is such a huge hit is that it includes cloud syncing for listening over multiple devices.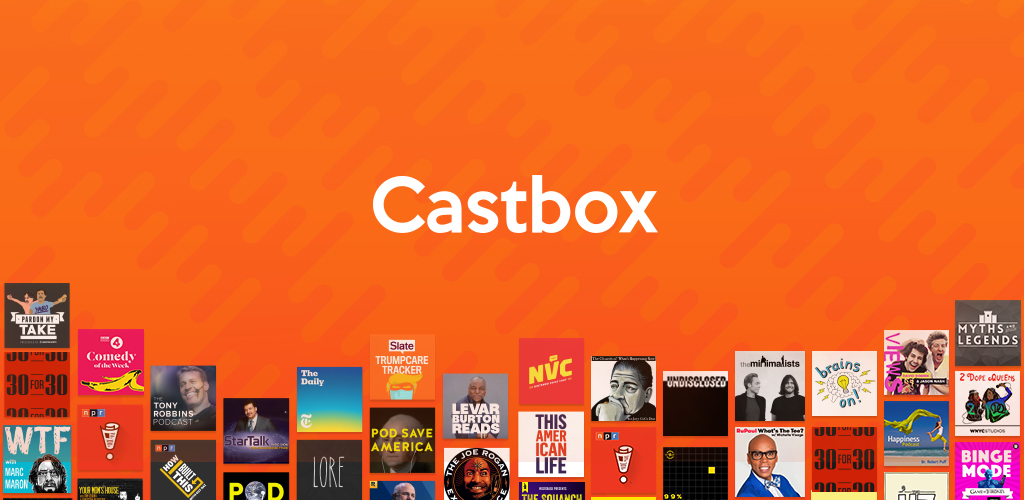 The app is easy to use with its super clean interface and layout. The app makes it easy for you to stream or download the podcasts you want to listen to, anytime and for free. The content also includes audiobooks and FM radio from 27 different countries.  
Topics include news and political podcasts, music podcasts, sports podcasts, business podcasts, and so much more. You can even listen to sleep meditations. The Castbox app is available for your Android mobile on the Google Play Store. 
DoggCatcher
Although DoggCatcher is one of the earliest podcast apps, it gets frequent updates and nowadays offers support for things like Android Wear, Chromecast, and Android Auto. It not only has a massive library of podcasts, but it also supports many other features like playlist support, variable playback speed, and customization options.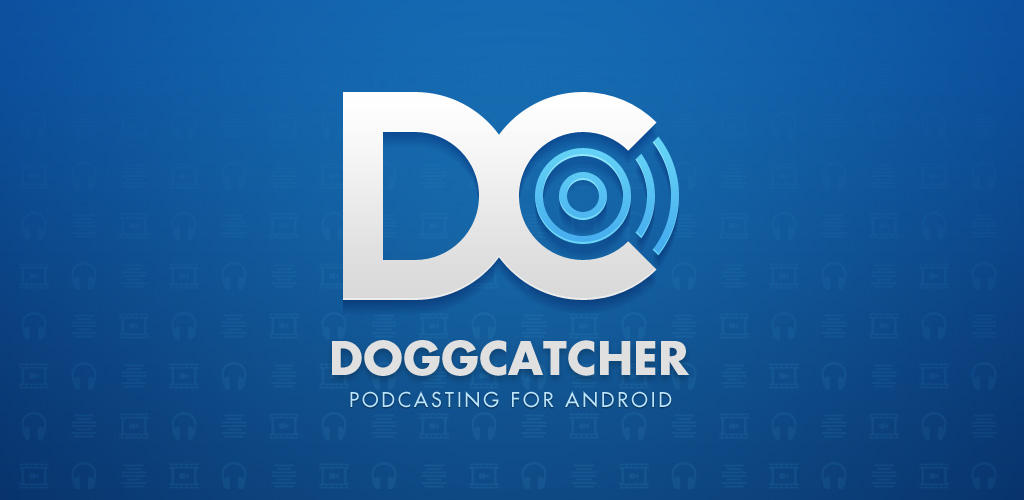 It is not a free app, you have to pay $2.99 upfront, but for this payment, you can listen to your podcasts without ads or additional in-app purchases. DoggCatcher is battery and data-friendly, meaning you can limit downloads based on available power, network connections, and data. You can also view and manage the download queue.
With this app, it is easy to subscribe to new podcasts. It also offers you auto-download and cleanup of the media files. A very good feature is that you can play podcasts offline. Download DoggCatcher from the Google Play Store.
Pocket Casts
Pocket Casts is one of the older podcast players but it's still an outstanding player. The app has very good discoverability features, and some specific power user options. Pocket Casts offers subscriptions for $0.99 per month or $9.99 per year.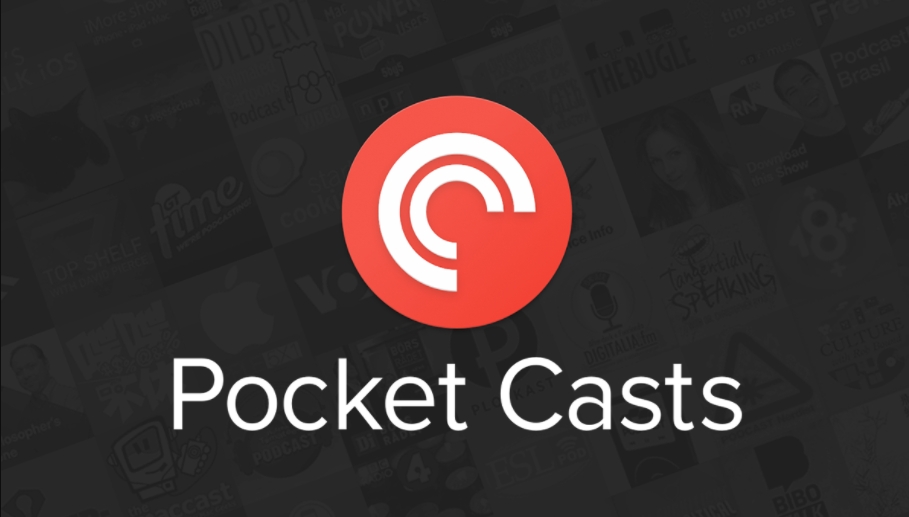 The app has received very positive comments from the press. Android Central describes it as the 'best podcast app for Android', and The Verge echoed the same comment. It has also been named Google Play Top Developer and has been Google Play Editor's Choice. It also received the Google Material Design Award. 
This app's features include the ability to jump between chapters, skip episode intros and parts you don't want to listen to, and customization features like themes. With Android Wear, you can control the playback from your wrist, even pausing your episode and continuing it later. Android users can get the app from the Google Play Store.
PodBean
PodBean offers podcasts that are neatly organized into a variety of categories. You can download, subscribe, or stream to listen. You also receive lock screen controls, and you can choose between various audio effects.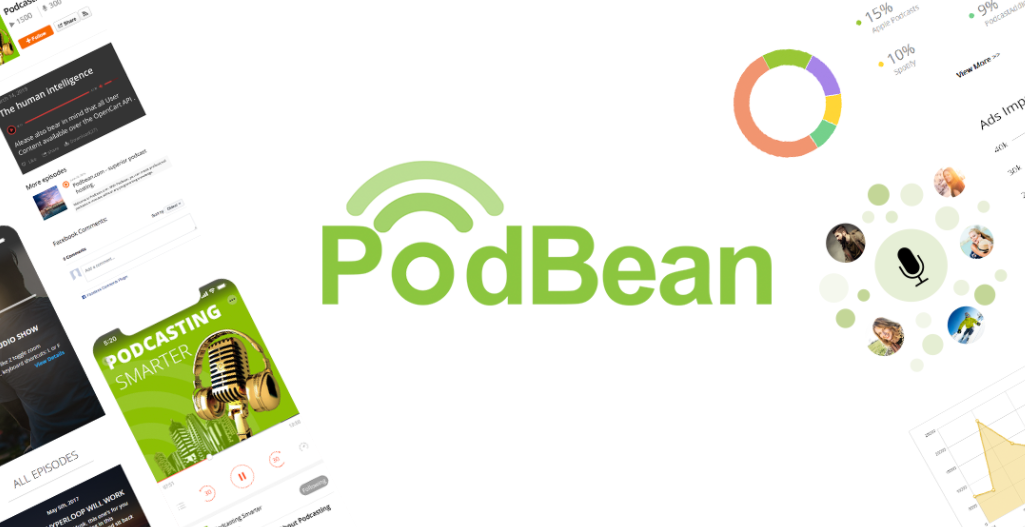 These include integration with Amazon Alexa, Chromecast support, and Android Auto support, meaning you can use the PodBean app virtually everywhere. With its super clean layout and easy-to-navigate interface, it is easy to use the app. You can search by podcast name, episode name, or author name.
If you're looking for new and trending podcasts the app allows you to search by topics or categories. It also gives you customized recommendations based on your listening history. You can choose classic and bestseller audiobooks for free. The app is free to download on the Google Play Store.
Podcast Addict
Podcast Addict is currently a very popular podcast app, and it is completely free. It has a massive library where you can find podcasts, streaming radio, audiobooks, and much more. To make the app convenient to use it features things like variable playback speeds, skip silence options, SONOS support, and Chromecast support. 
The UI looks a bit outdated, but it works very well. It has thousands of options for playlists and playback organization. Because it's free, the app has advertising, but you can avoid ads by using the optional pro version in the Google Play Store for $2.99.
The Podcast Addict app offers advanced playback features. You can use Shuffle mode, Loop mode, and even a sleep timer. It also works as a standalone player and gives you full chapter support. You can manage Podcasts, Radio, YouTube, and many more from one single app. Find it on the Google Play Store.
Podcast Go
Podcast Go offers you basics like downloading, sleep timers, variable speed playback, and much more. The app has more than 300,000 available podcasts. You can search or browse when you have time and then subscribe.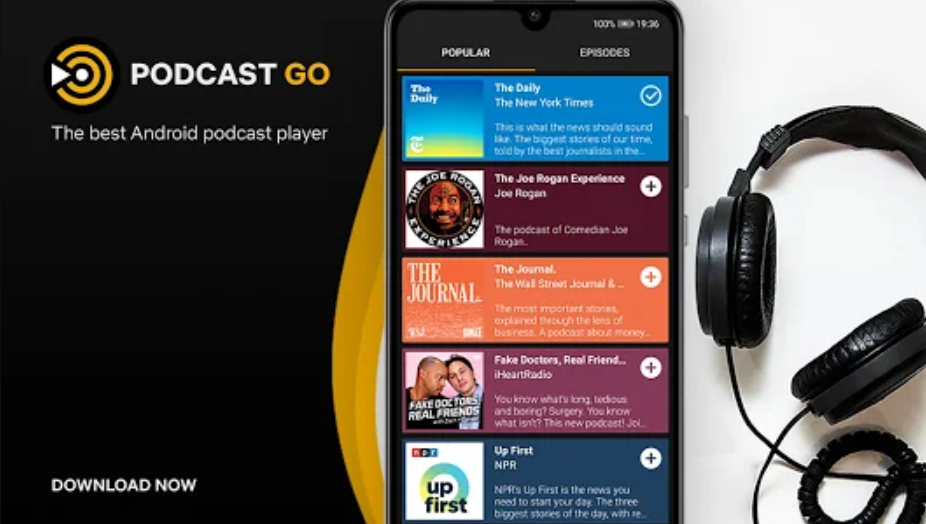 The app is free, but there are ads. If you don't like to listen to the ads, there is an option to pay $2.99 and the advertising will be excluded. If you subscribe, your favorite artists and podcast presenters will always be up to date. The app is also Chromecast-ready. 
Top features include things like the option to create your own playlists, choose your favorite app theme, and saving podcast files to an SD card. Check out one of the newest podcast apps available today but downloading Podcast Go on the Google Play Store.
Spotify
Spotify is mostly known as a very popular music streaming service, but since 2016 they have branched into podcasts and are making a huge splash, signing contracts for big names on the podcast scene. The app is free but contains ads, which can be eliminated when subscribing to a premium plan.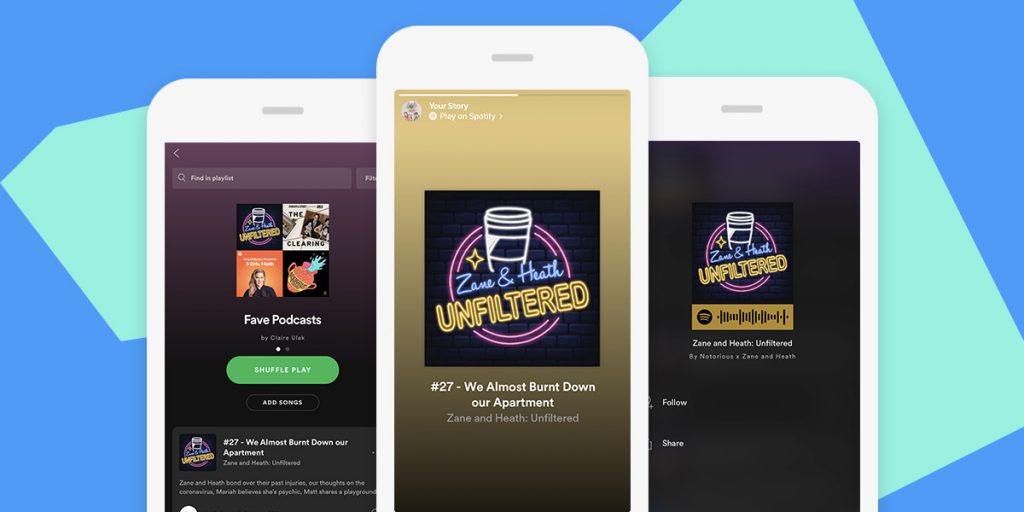 This option will cost you $9.99/month, but then you'll have no ads interrupting your listening pleasure. It is a great feature that with Spotify you can listen to your podcasts and your favorite music on the same device. You can easily discover new podcasts and see a wide variety of topics, stories, and news from around the world.
You can download your podcasts and music when you are online, and listen to them offline at a later stage. The app lets you always enjoy amazing sound quality on your personalized podcasts and music. If you want to download this app to your Android device, you can find it on the Google Play Store. 
TuneIn Radio
The free app TuneIn Radio focuses mostly on live talk radio, but it also includes podcasts, AM and FM radio stations, and live sporting events. Although podcast owners must make their podcasts available for this app it still has many podcasts to offer.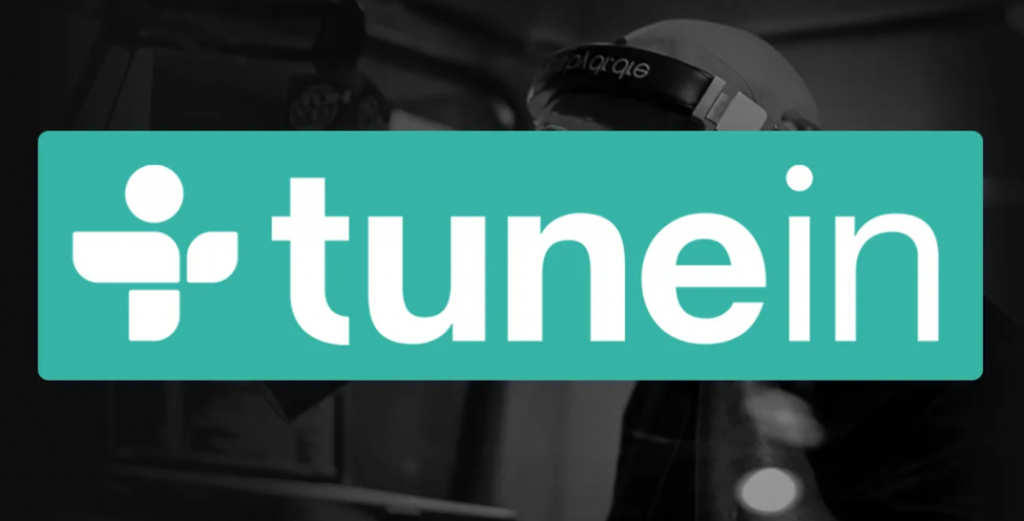 There is a premium subscription available, giving you access to live NFL, MLB, and other sports games at a fee of $9.99 per month. TuneIn brings radio stations with live sports and news, as well as podcasts from around the world to you all in one app.  You enjoy on-demand audio from the sources you trust. 
For sports fans, it is the ideal app. You can get on-demand podcasts covering your football, baseball, basketball, hockey, and other sports obsessions! TuneIn is available for free not only to use on your phone, but you can use it on many other connected devices, including smartwatches. Visit the Google Play Store to download. 
Google Podcasts
With the free Google Podcasts app you can not only listen to your favorite shows' latest episodes, but you can also explore Google's personalized podcast recommendations for you and browse trending shows to find something you are interested in. There are a wide variety of topics and themes to choose from.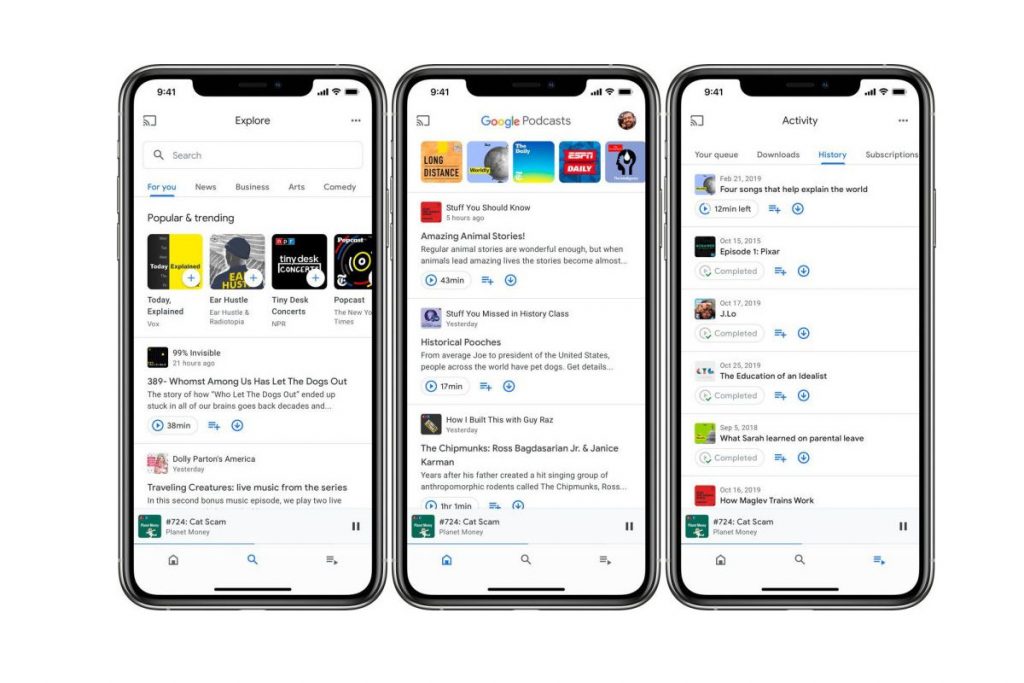 These topics and themes include TV and film, comedy, history, business, sports, and much more. Customize your listening experience with faster playback speeds or skipping the silences. The episodes can be queued up for a comfortable listening experience without breaks. 
You can track your downloads and listening history and listen wherever you are. The app works on multiple devices and as you can track your history, it is easy to find what you've been listening to when you change to another device. If you want to explore this app, download it from the Google Play Store. 
Conclusion
If you have a podcast app you can listen to a podcast about any topic you are interested in, literally! Find the best app for your needs, whether that includes free or premium subscriptions, playback speeds, major podcast names, or simply an easy-to-use app. 
We hope this list helps you in choosing the app that works best for you, and can provide you a smooth introduction into the podcast world if you're new, or an easy, functional, thoroughly customizable experience for podcast fans.