Efficiency and effectiveness are what keeps every business running. Communications in this manner are especially important to ensure successful projects and tasks are completed on time. In order for that to happen, means of communication are to be efficient as well – text messages can only go so far!
Luckily businesses don't have to resort to text messages for their daily communications. There are many apps out there that can help them solve this problem with a streamlined communication process that's not just simple but time-saving too. Let's discuss these applications in detail below.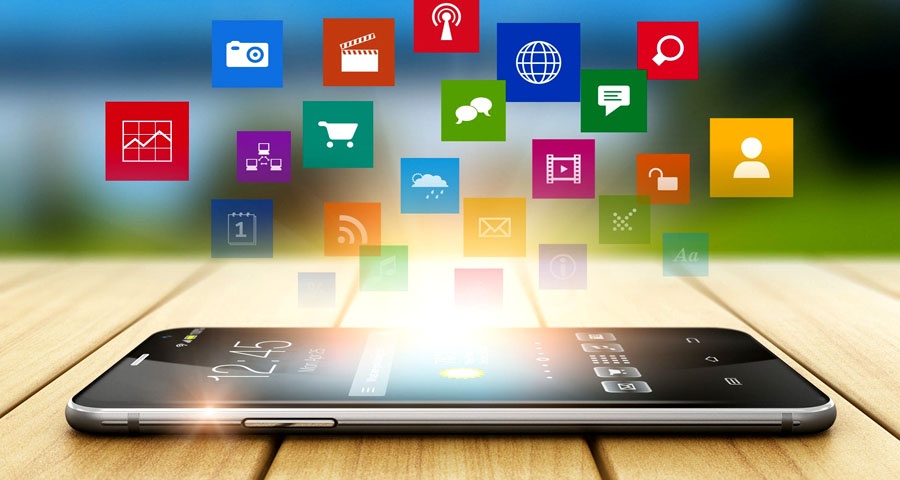 ProofHub
ProofHub is one of the best pieces of software to use to ensure smooth and simple team communication. This software, which people can also download onto their phones, brings all project communications to one place. No matter what type of complex topic it is, you can easily convey it to your employees through ProofHub.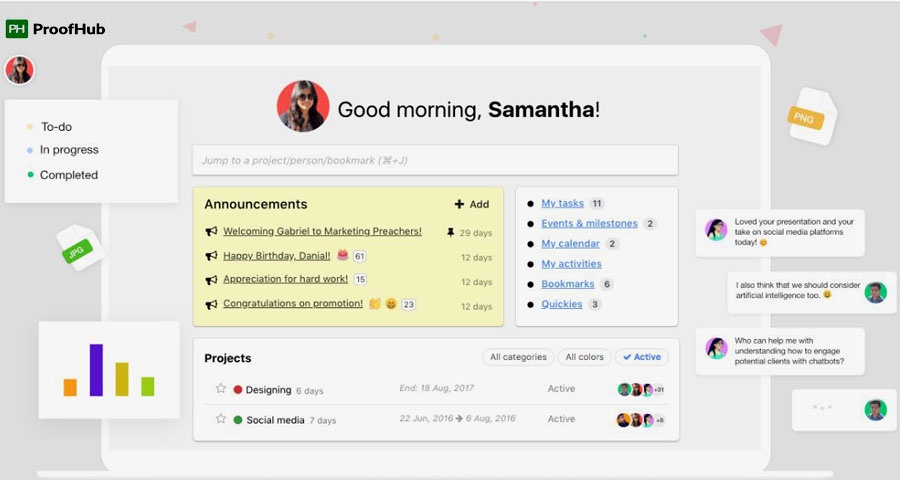 You can also use ProofHub to communicate with your clients – this sorts out the trouble of having different conversations with clients on multiple mediums. ProofHub essentially brings clarity in every conversation, and through group chats, it helps people collaborate, work together, and get everything done.
Discussions can also be created using ProofHub so that people can brainstorm on certain topics together. There are two subscriptions of ProofHub: Essential, which is for $45/month, and Ultimate, which is for $89/month. You can download ProofHub on your iPhone as well as on your Android device.
Chanty
Chanty works in a way that it combines all three modes of communication: it works with chat, audio, and video calls plus screen sharing as well. This easy-to-use application brings teams together in order for them to collaborate and communicate quickly and efficiently.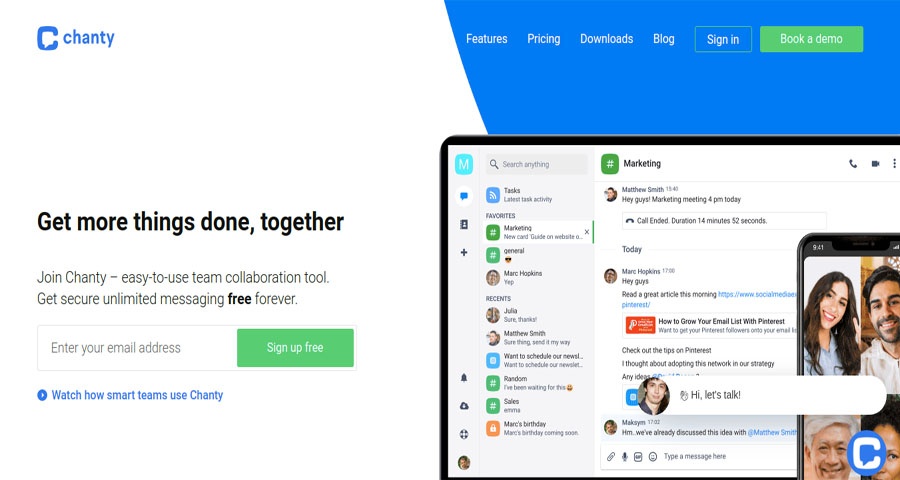 Chanty can also be used for light project management: you can easily turn messages into tasks with a few clicks! Besides that, the application integrates with Google Drive, Trello, Dropbox, and also Github. Features such as the Teambook help individuals see all their messages and tasks in one place.
The free plan in Chanty allows people to have unlimited message history. Chanty also has a free plan for teams, including up to 10 members, and a subscription to a Business plan for $3. You can download the application from the Apple App Store or the Google Play Store.
Troop Messenger
Using Troop Messenger's single interface, your teams can build one-on-one conversations throughout all levels of the hierarchy and with easy collaboration. Troop Messenger provides an excellent user experience with the ability to conduct voice-video calls, share screens, share files, preview files, filter content, and marking favorites.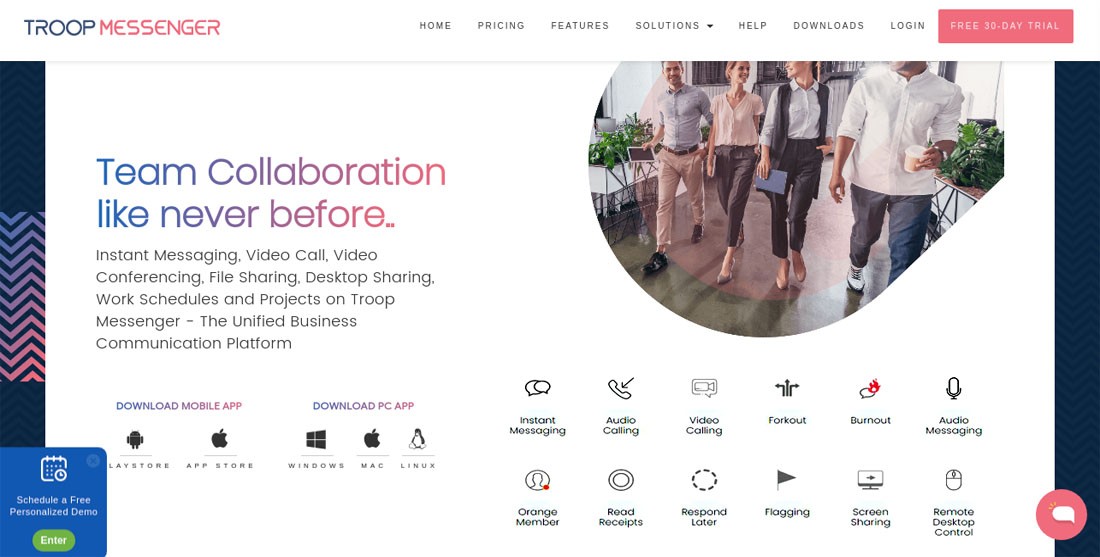 The application can be used to easily and quickly streamline your teams and incite collaboration without hassle. No member will miss a message thanks to the app's unread message filter. Find the app on the Google Play Store or the Apple App Store.
This app comes with self-hosting and API delivery options available along with custom administrative controls, vendor collaboration, and conveniently crafted dashboards. For Troop, there's a free plan, a premium plan for $1/month/ user, and also an enterprise plan for $3/month/user.
Connecteam
Connecteam is literally what the name suggests – it connects teams together. The application is an all-rounder when it comes to employee management, providing solutions to typical communication problems within a business. With just the application, you can have complete access to groups or private chats!
You can update your employees with extra information through the application, explore the employee directory, and also collect surveys for feedback on a regular basis. There is also an HR suggestion box, and you can also go through analytics and the activity of employees to keep a check.
The price levels start from $29/month for 200 users or use their free plan. The advanced subscription of Connecteam starts at $59/month, and the expert subscription is $119/month. You can download the application on your iPhone by searching the app on the App Store. If you have an Android, you can download it by searching the Google Play Store.
Brosix
Brosix is a private team networking application that is 100% administrable with its IM platform. The application not only provides collaboration features such as basic instant messaging but also provides a platform for audio and video chatting. You can send and receive files through Brosix and also collaborate through screen sharing.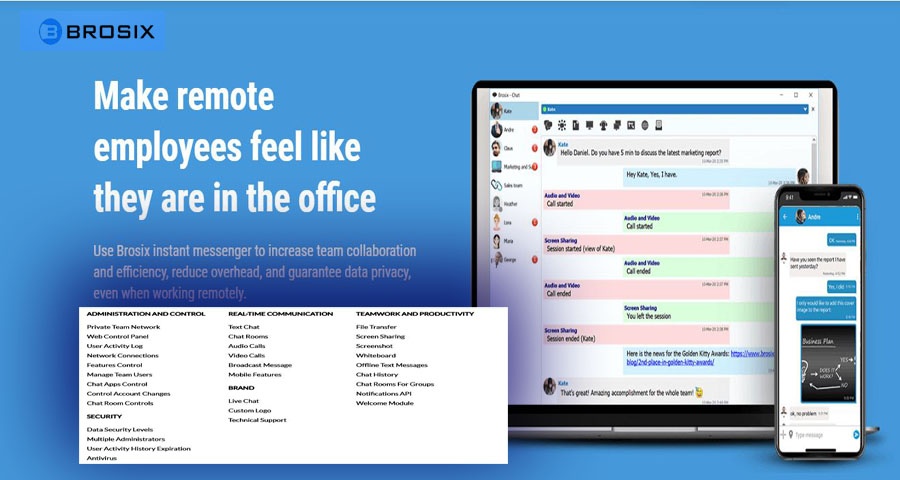 Every communication channel that Brosix has uses P2P encryption in order to create a safe and secure communication environment. The application offers administrative controls over user accounts as well. Brosix is free for up to three users. For more than three users, you must switch to a Business subscription for $4 per month per user.
The Premium package for Brosix is $6 per month per user. If you own an Android, you can download the app through the Google Play Store. However, if you use iOS devices, then you can download the application through the App Store.
Rocket.Chat
Released in 2015, Rocket.Chat has become an open-source team communication application for easy and simple collaboration between teams. You can share files through the application, chat in real-time, or just use audio or video conferencing to begin discussions with your teammates.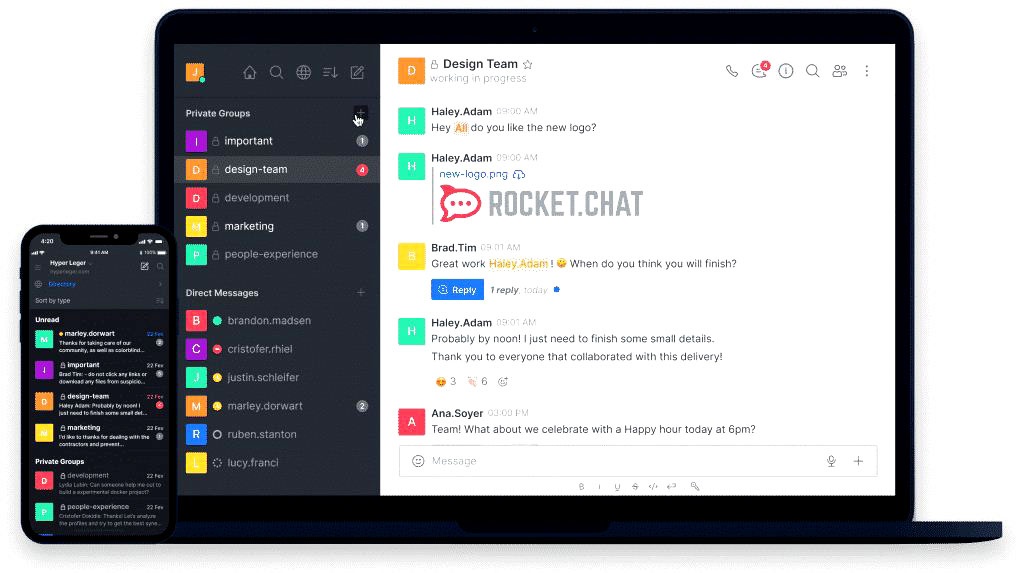 You can also alter the application according to your needs and requirements by customizing and adding functionalities in the app too. By mentioning users, you can notify them immediately of messages. There's an automatic message translation feature and use the asynchronous team chat for effective communication.
The freemium version of Rocket.Chat is for 1,000 users with shared conferencing servers. The two premium packages include the Pro package, for $3 per user per month, and the Enterprise package, whose prices are quoted by the company. To download on iPhone, search 'Rocket.Chat' on the App Store, and to download the application on Android, search 'Rocket.Chat' on the Google Play Store.
Hangouts Chat
Developed by Google, Hangouts is used by teams as a communicative platform to initiate and engage through various channels. It doesn't matter if communication is being done group-wise or one-on-one, the application is one of the most preferred ones globally because of how famous it is.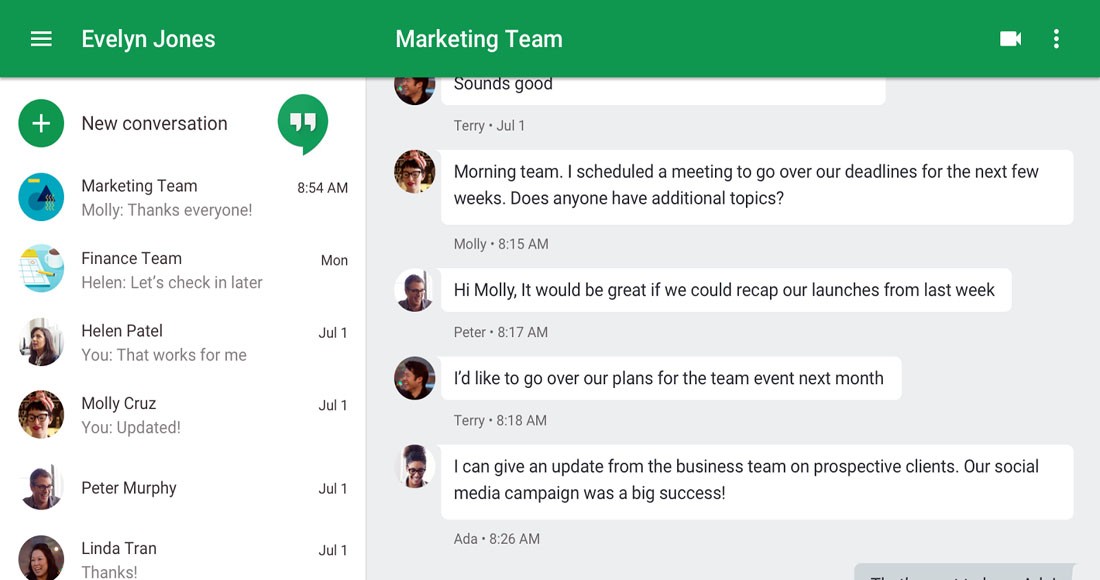 The group conferencing in Hangouts is in HD quality with voice calls that are convenient as well. Teammates have the option to screen share and use multiple devices at one time. There are also customizable admin controls.
The basic version of Hangouts is for $5/month/user with 30GB storage capacity, the business version is for $10/month/user with unlimited storage, and the enterprise version for $25/month/user. You can download the application for Android.
Slack
The first few very famous applications that provide team collaboration include Slack. Many teams and businesses globally use this application to bring efficiency to their communications and improve the way teams collaborate. Slack covers instant messaging and provides the ability to share files amongst users.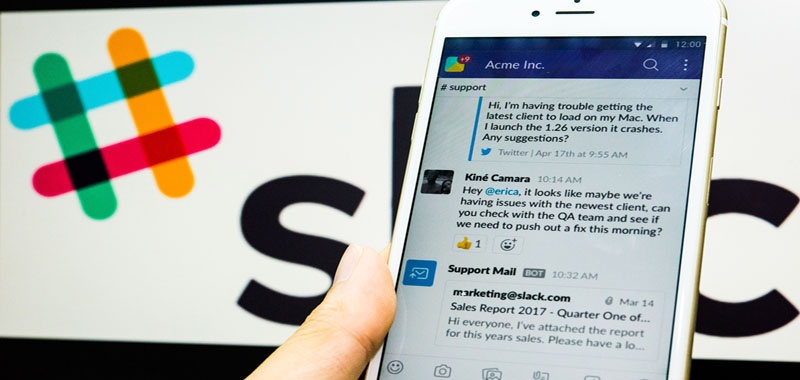 You can also create an automatic syncing across devices through Slack. The app directory for Slack includes over 1,500 applications to share channels in which people can work regularly. The standard subscription for Slack is for $6.67/month/user, and the Plus subscription is for $12.5/month/user.
To download the application on your iOS devices, you can search the application on the App Store. You can also download the application on Android devices by searching the Google Play Store.
Facebook Workplace
For all types and sizes of businesses, Facebook Workplace can work efficiently by providing its next-gen technology and distinct features. Teammates can connect with each other through the instant messaging features and groups can also be created in order to have a common discussion place for every department.

The app uses API for custom integration and bots along with administrative controls for leaders to benefit from. The standard version of the application is free, and the premium version costs $3/user/month.
You can download the application on your Android devices by searching the application on the Google Play Store. If you own an iOS device, you can download the application by searching the App Store.
Ryver
If you want your team communication to be hassle-free and simple, Ryver is the best option you can have. The application has an Active Response Technology, which replaces slow human responses with a collaboration system that is powerful and automated.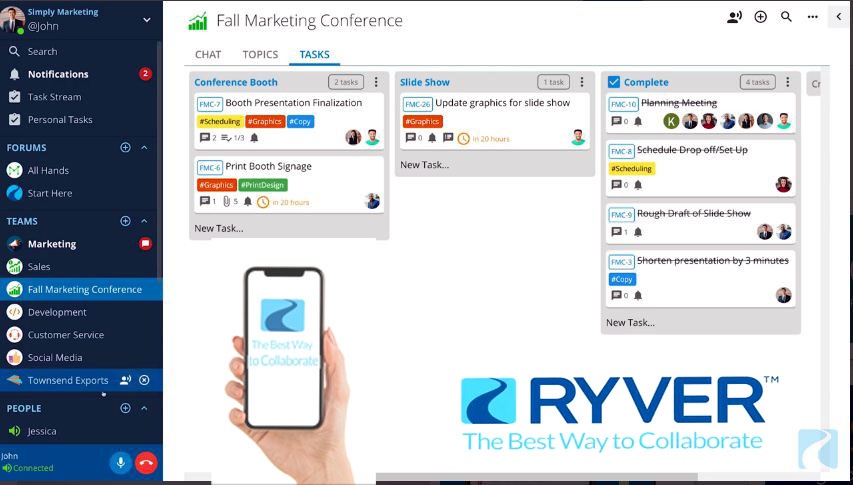 The starter package for Ryver is for $49 per month, the unlimited package for $99/month, and the enterprise version for $399/month.
You can download Ryver on your iPhone devices by searching the application on the App Store. If you have an Android, you can search on the Google Play Store.
Final Words
In short, all of the applications above can be used by teams and businesses all over the world to ensure efficient communication amongst them.
You can never lag behind with these applications on your phone because staying in touch with your team will be as easy as pie!
References