The Mathway app helps us solve math problems by turning our phone's camera into a scanner, reading a math problem aloud, or by trying different calculators.
Mathway has become a good companion for myself and other students to be able to better learn and understand different math concepts.
Discover the features of Mathway and how it serves as a mobile learning app.
Mathway – The Math-Solver App
Downloading the Mathway App
Scan to Solve Problems on Mathway
Speak to Solve Math Problems on Mathway
Different Calculators on Mathway
Subject Areas on Mathway
Solutions and Answers to Math Problems on Mathway
Mathway – The Math-Solver App
I am used to having a tutor for mathematics because I am not confident with my skills.
Even though I have the tools and resource materials, I constantly seek guidance when answering math problems. Calculators, video lessons, and lecture notes are not enough for me.
Fortunately, I found a tool that can provide all the help I need with my math studies. It can be my tutor, calculator, and resource material in the form of a mobile app.
The Mathway app describes itself as the world's smartest calculator because it can cover many branches of mathematics, making it an all-in-one calculator.
Students' Math Companion
The team behind the Mathway app wanted to create a quality on-demand math assistance service for the students. Their goal is to make Mathway accessible to many so they made the app available across hundreds of countries worldwide.
True to its long-term objective, the team has also continuously upgraded the features and functionalities of the Mathway app.
When I first discovered the app, it was simple and only provided it's main feature – scan math problems and provide answers. But, it has evolved into a beneficial math companion for us students.
Downloading the Mathway App
We can get the Mathway app for free on the Google Play Store or the iOS App Store. The app uses the freemium model wherein we can enjoy the app's basic features at no cost.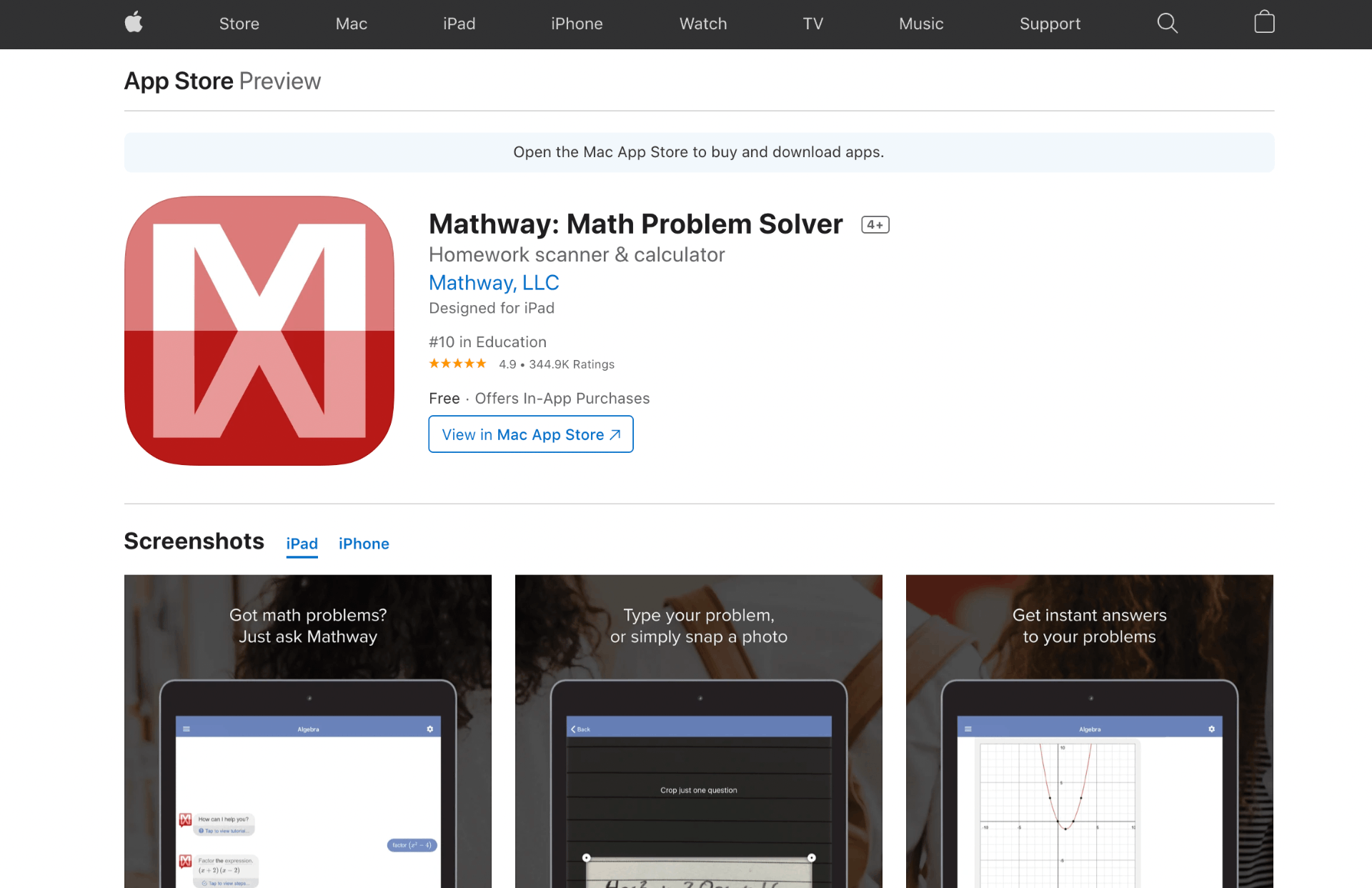 However, the free version has intrusive ads that may affect our experience on the app.
To remove these ads on the Mathway app, we have to subscribe to the premium plan. It costs $19.99 per month or $79.99 per year.
This subscription also entails unlocking all other premium features that make Mathway an ideal companion and tool in learning different math concepts.
Signing In Mathway
Upon installation, the users with subscriptions must sign in using their registered email.
Mathway is also available across devices as it has a web-based app and desktop app.
So, we can sign in on multiple devices and enjoy our premium subscription on Mathway.
Scan to Solve Problems on Mathway
I instantly liked the Mathway app for its main feature because it provides so much convenience. It allows us to scan the math problem directly from our worksheets or books, and then it will automatically provide the answer.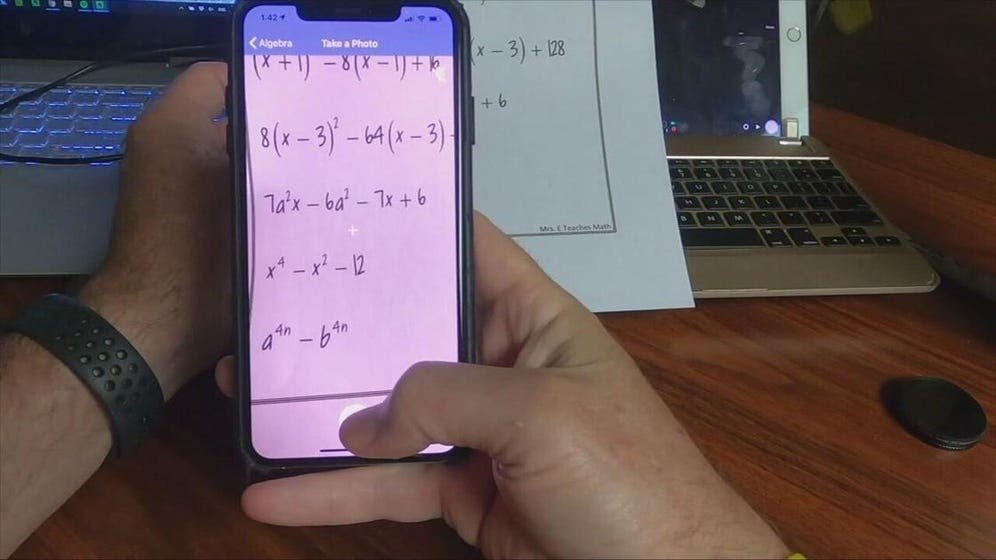 With Mathway, we can save the time we would have spent manually solving the problem.
Being able to scan the problem with our cameras on our devices helps to save time from having to manually type the equations or formulas on our phone.
The convenience brought by the app is one of its best-selling points. This feature then requires us to grant permission to the app to access our device's camera.
Turning Our Phones Into Scanners
On the Mathway app, we can turn our phones into scanners. We just need to open the app and select the camera icon on the home screen, for starters.
Make sure that the camera is focused solely on the problem because other things may affect the answer to the problem. Click the "Capture" button so that the app will process the problem and produce the result after a few seconds.
Remember that we need to make sure the captured part is clear, especially when we are trying to scan our handwritten problem to ensure that Mathway will read it accurately.
Speak to Solve Math Problems on Mathway
Mathway does not only offer one way on how it can help us solve different math problems. Aside from turning our cameras into scanners, we can also use our voice to take advantage of the app's features.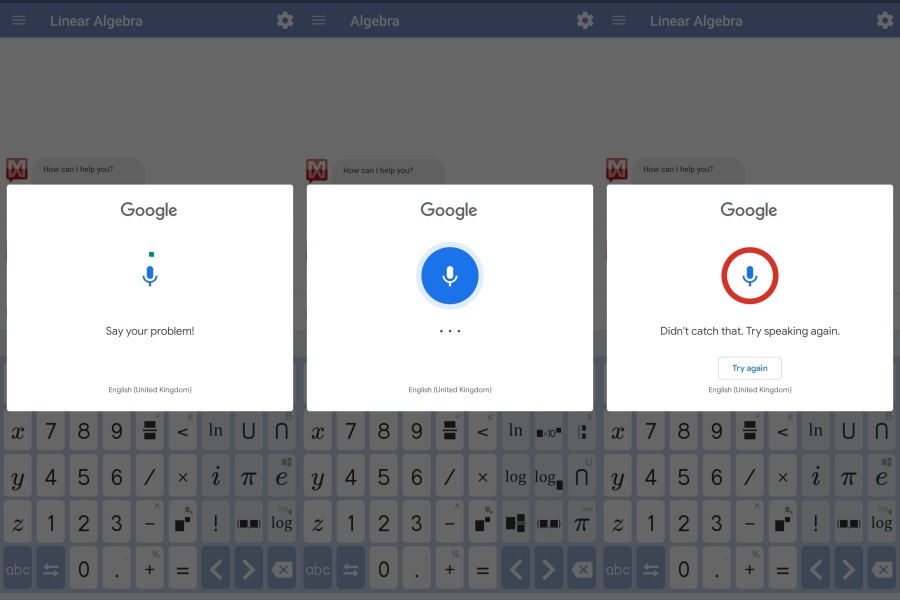 Mathway allows us to utilize its built-in technology in recognizing voice commands. Thus, we can use the microphone icon on the home screen to speak the math problem aloud.
However, though it may seem convenient, I actually find it challenging to use because there are math problems, equations, and formulas that are hard to explain or read. This may lead to a potential error in the answer provided by Mathway.
Getting the Most Out of the Mathway Voice Command Feature
I recommend this feature only for easily understood problems when read aloud, like simple arithmetic equations.
Also, we can maximize this when we have no choice, such as when our hands are preoccupied with typing, or our cameras are not working.
Different Calculators on Mathway
Mathway claims that it is the world's smartest calculator app on the market. To prove this, the team provides several versions of calculators meant for different branches and levels of mathematics. This makes the app viable to be used in various topics and problems.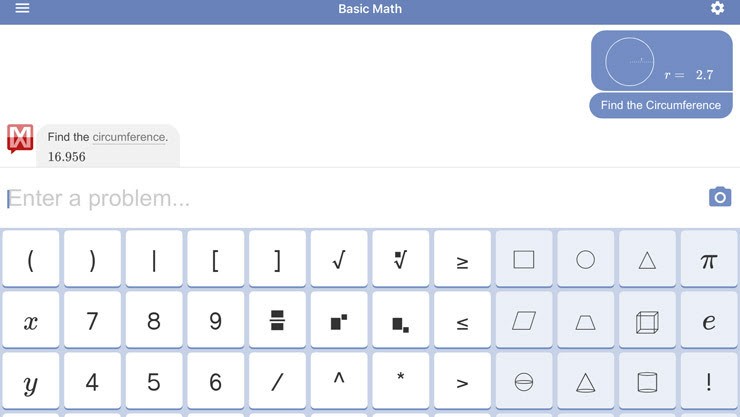 To prove this, the team provides several versions of calculators meant for different branches and levels of mathematics. This makes the app viable to be used in various topics and problems.
This feature is also the third way in which we can solve math problems on the Mathway app. We can directly type the problems and equations into the app for it to solve.
Mathway is highly intuitive, making it easier for us to type various math symbols as it knows the value we need to supply for each operation.
Using the Calculator
Before we type in the math problem, Mathway recommends that we choose the calculator. Each calculator is fit for the 10 different subject areas available on the app.
Thus, each calculator has unique tools, keys, and functions meant to cater to the math problem for the specific subject area. When using the calculator, the app screen will show a blank notepad or canvas showing the typed math problem in real-time.
This feature helps us ensure the accuracy of the values and symbols we input because we know that one misplaced value or symbol can change the result in mathematics.
Subject Areas on Mathway
There are the 10 subject areas on Mathway.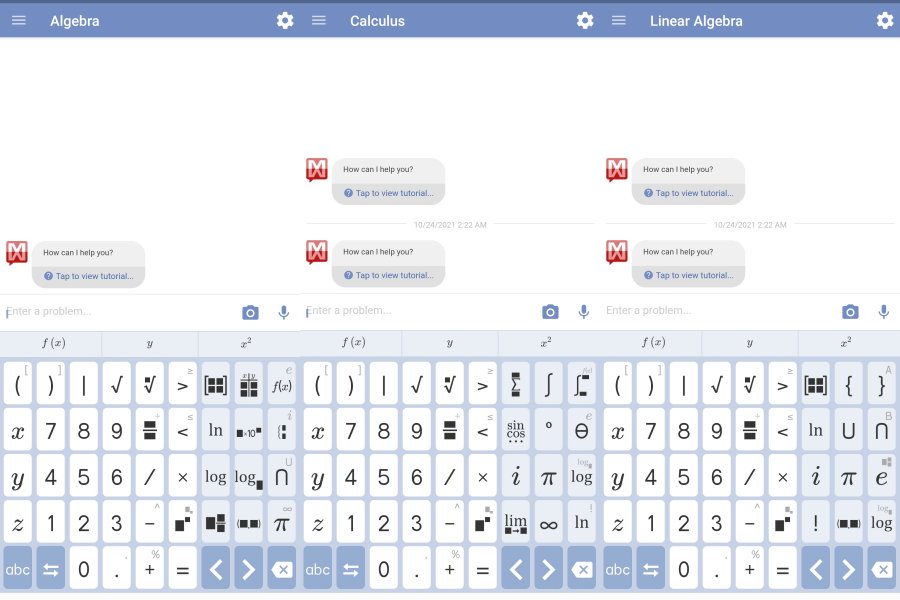 These include Basic Math, Pre-Algebra, Algebra, Linear Algebra, Pre-Calculus, Calculus, Statistics, Trigonometry, Finite Math, and one science subject – Chemistry.
As there are 10 available subject areas on the app, it entails 10 different calculators.
We can also choose the subject area before scanning or speaking math problems to the app for more accurate results.
Unique Keys and Functions Per Subject Area
Each calculator is unique because of the varying keys and functions.
For example, in Basic Math, there are additional keys of different geometrical shapes like circle, square, triangle, cube, sphere, cone, cylinder, etc.
These keys are essential because they can automatically process problems like finding the circumference of a circle.
Solutions and Answers to Math Problems on Mathway
Most of its users are satisfied with the free version, however, there is one key feature of Mathway that can help us with our math problems – the solving process.
This is where the learning process comes in for me, as I can better understand different math concepts by applying the solving process to different math problems or equations.
Mathway provides the step-by-step solution to its premium users only, which is why I immediately subscribed. With this feature, the app aids the learning and understanding of the students.
For this reason, it is common to find that math teachers utilize Mathway in their classrooms as well. They find the app helpful as an aid in the students' learning process as it is almost impossible for them to closely monitor the solving process of all their students in a certain math concept or topic.
Collaborating and Correcting
Mathway helps us with the math homework that we have. However, the team knows that we love to work with our classmates and friends on these math problems.
Thus, Mathway allows us to save and share the answers and solutions with our friends across different messaging platforms or apps.
Moreover, we can easily recompute the problem if we think there might be a possible error. These errors happen when the app cannot correctly read the scanned math problem. With the recompute feature, we can double-check whether the given result is correct.
Conclusion
The Mathway app instantly offers us an answer to our math problems. By scanning, speaking, or handwriting, we can solve math problems using different calculators for various subject areas.