As an aspiring novelist and avid reader, I was always on the lookout for an app where I could enjoy reading lots of stories while cultivating my passion for writing.
While nothing beats the feeling of reading books in print, the abundance of interesting stories online written by imaginative writers catches my attention these days. Fortunately, I came across NovelToon, a reading app containing thousands of stories.
Even better, it gives me a platform to tell my own stories. In this article, I'm sharing my overall experience with NovelToon and the features that I love. Read on to learn more!
NovelToon – Read Stories For Free
The Home Tab – Get Your Recommendations
The Genre Tab – Discover Titles to Love
The Discover Tab
Chat Stories – A New Form of Literature
Author Benefits – Earn Money While Writing
Writing a Novel for NovelToon

NovelToon – Read Stories For Free
NovelToon is a great application to read original books and titles in different genres such as romance, fantasy, comedy, and horror. I have access to thousands of mesmerizing web novels that were just waiting to be read.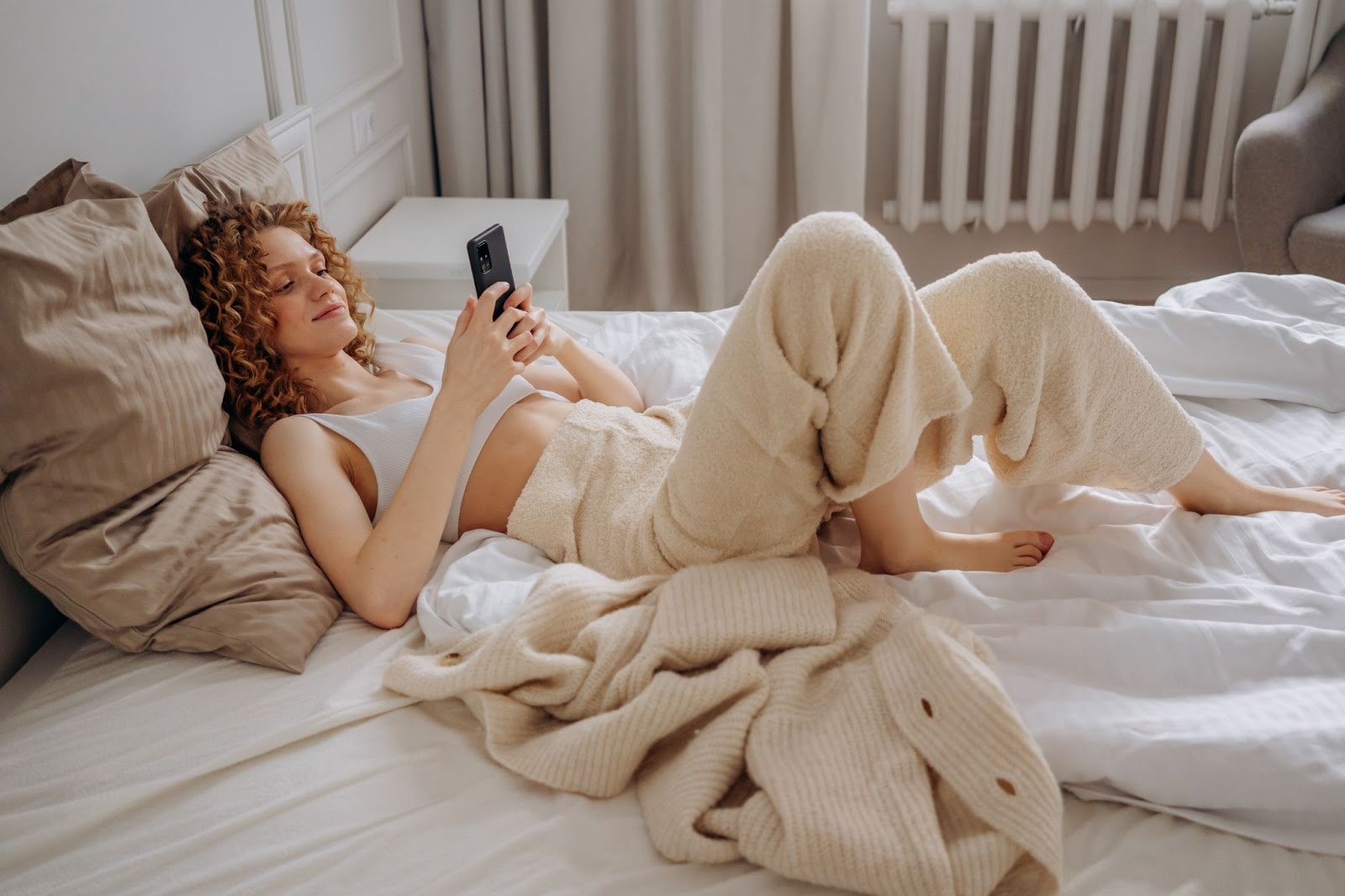 I also like connecting with a community of like-minded people who share the same interests as me. I can interact with authors of some of my favorite titles. I appreciate the ability to chat with authors to inspire and influence the storyline and discuss my favorite titles with other novel lovers.
NovelToon also helped me unleash my creativity and pursue my passion for writing. The app provides me with a platform to tell my story and share it with tens of millions of readers on the app. What's more – my stories also have the possibility of being adapted into comics!
If you are like me, someone who loves to read novels whenever and wherever, download the app for free from, the Google Play Store and the Apple App Store. It has over 10 million downloads and an impressive 4.5 and 4.8-star rating on each platform.
Getting Started with the App
After downloading the app, I was asked to choose between romance/modern and fantasy/action. I chose the first option as a hopeless romantic and a sucker for cheesy romance stories.
I was also asked to choose my preferred language. Currently, the app only supports five languages in addition to English –Thai, Bahasa Indonesia. Vietnamese, Spanish, and Portuguese.
The Home Tab – Get Your Recommendations
The app has five main tabs – Home, Genre, Discover, Library, and Me. The Home tab, represented by an icon of a house, is where I get my recommendations and browse for new titles to read.
The Home tab has several sections. The upper portion contains featured titles, and by clicking them, I will be redirected to the title's page to start reading. I usually browse through the featured titles first to see if there is anything that I like.
The other sections below list books under the following categories – Most Read, You Might Like, Completed, Featured Novels, Popular, Featured Chat Stories, Short Story, Editor's Choice, New Arrival, and Top.
I can never run out of titles to read because there are thousands of books and titles in NovelToon's extensive library.
Switching Between Romance and Action
I can also switch between Romance titles and Action titles by tapping on the icon on the upper leftmost corner of my screen.
A red icon means I am browsing titles categorized under Romance and Modern, while a blue icon indicates that I am browsing titles under Fantasy and Action.
Another subsection of the Home tab is the Discover section. Here, titles are listed on one page, without categories. I can scroll down the list and choose any title I want to read.
The Genre Tab – Discover Titles to Love
NovelToon's library is home to 19 genres, including Action, Mystery, Sci-Fi, School Life, Time Travel, Romance, Horror, Comedy, Fan Fic, Boys' Love, Girls' Love, Adventure, Supernatural, Modern, Completed, Trending, Update, Fantasy and Chat Story.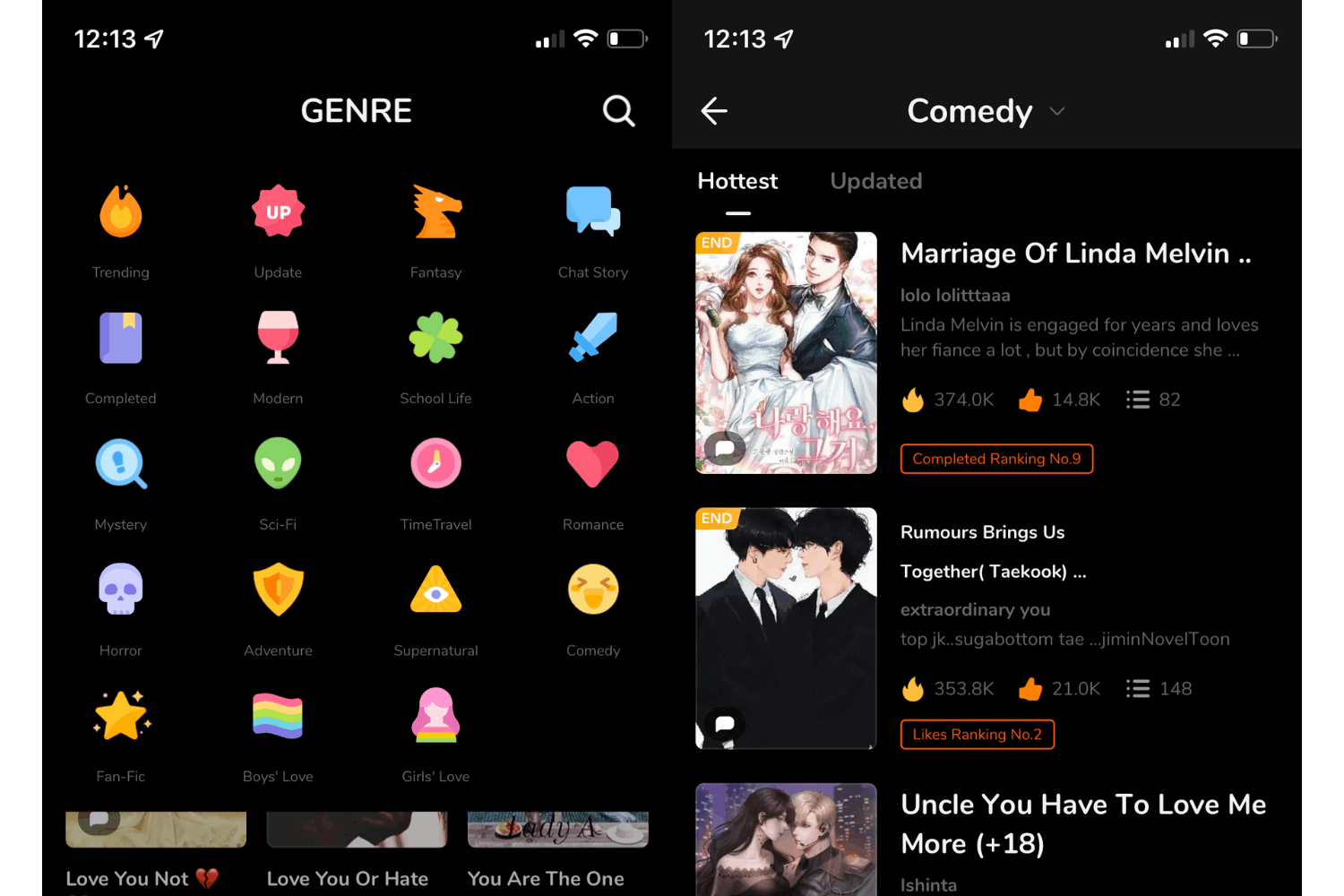 Clicking on each genre's icon redirects me to the titles listed under that specific genre. Other genres that are not included in the 19 main genres of the app are Urban, Eastern Fantasy, and LGBT+ stories.
Search For Stories
To search for specific titles or genres, I click on the magnifying glass icon found on the upper right corner of my screen and type in the keyword.
The app also shows two main buttons under the search bar, Hot Works and You May Like, for easy access to titles.
The Discover Tab
The Discover tab is the centermost icon located at the bottom of my screen. This is quite different from the Discover section under the Home tab. Here, I can write stories and contribute to other stories from novelists and writers in the app.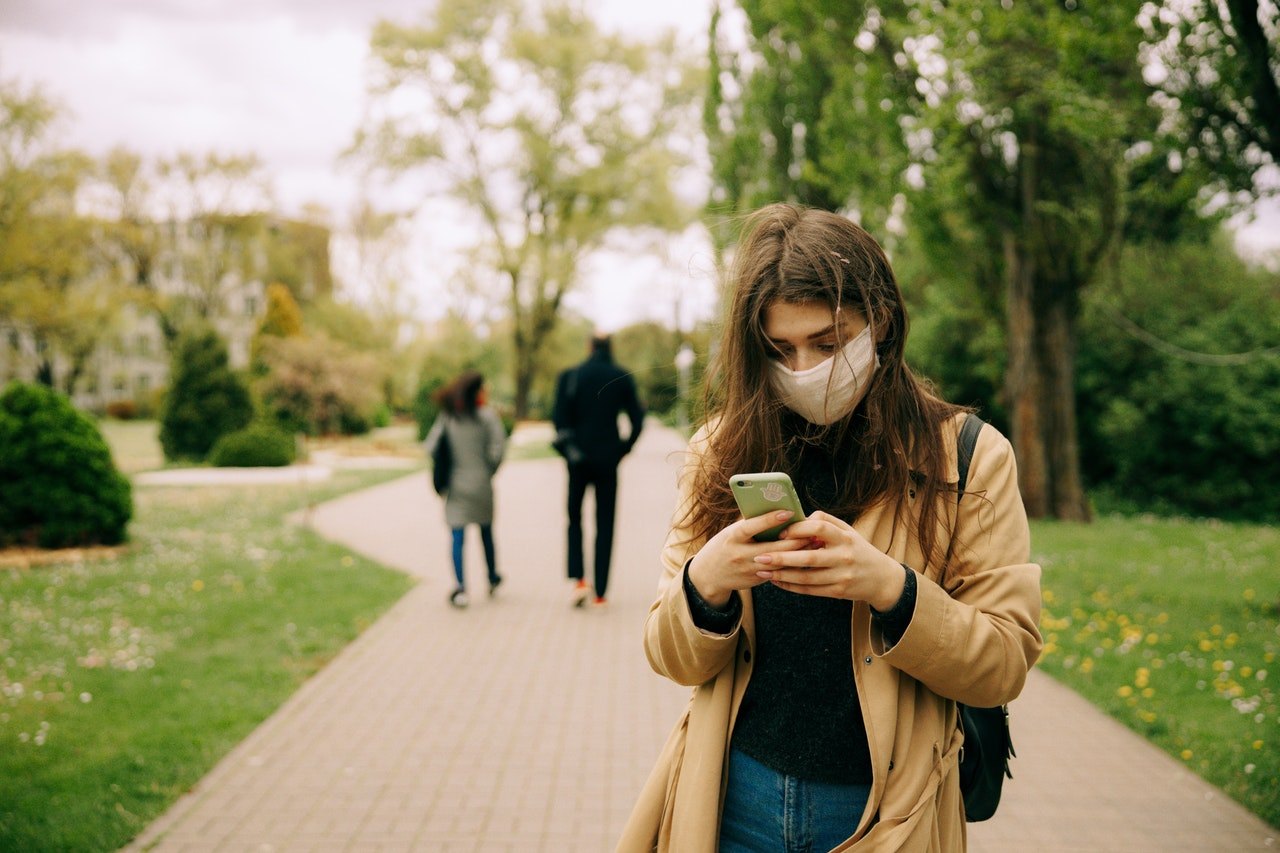 The first section is the Check-in section, where a list of recommended novels is also shown. In this section, the goal is to log in continuously and use the application for 14 days to get a reward.
Log In and App Usage Rewards
Logging in for 30 days in a row elevates me to the Loyal User status and allows me to enjoy VIP rewards, such as ad-free viewing.
Every day that I log in, I get different rewards, such as earning points for each day. I can use the coins to redeem gift packages and unlock titles and books on NovelToon.
Chat Stories – A New Form of Literature
One genre that I particularly came to like is Chat Stories. It's a form of a story shown and told through chat exchanges as if the characters were messaging each other on the phone.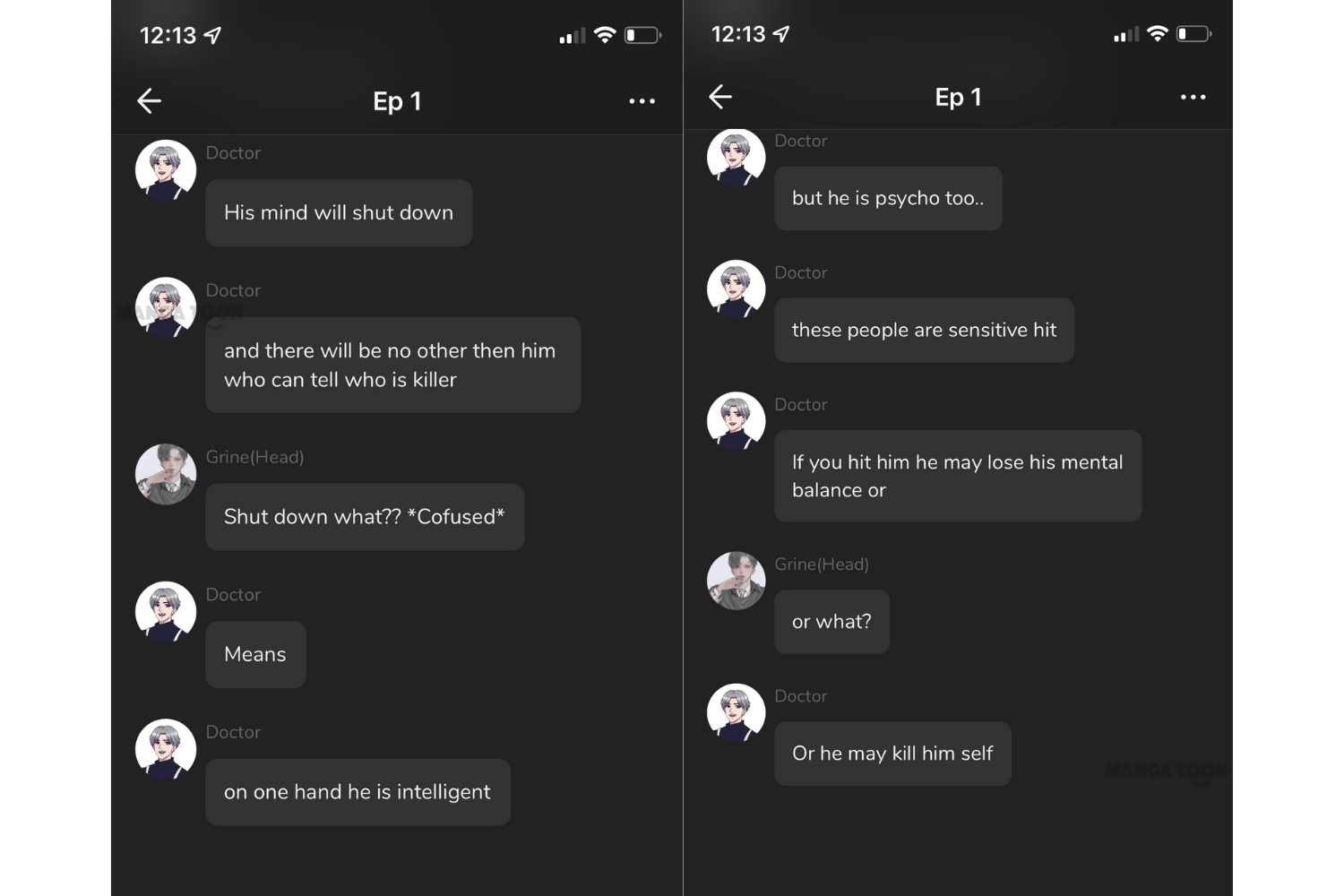 Chat Stories are enjoyable to read, but I soon discovered that they were challenging to write because I had to tell stories solely based on dialogues.
I had to get creative because there was little room for descriptors except for a few lines. Other Chat Stories do not strictly follow the premise of characters solely messaging each other. The stories that deviate from this format have more flexibility and room for creativity.
Chat stories are an emerging form of writing that has gained popularity in apps such as NovelToon. While some may say that this form is not great, chat stories rea entertaining. It also tests the creativity of writers like me to tell a story without using the conventional form and lengthy paragraphs.
Reading Chat Stories
Chat stories, similar to novels, are also divided into several genres. However, most chat stories revolve around romance rather than action and fantasy.
Reading chat stories is also quite different from novels. While I enjoy chat stories, having to click the screen every time the next lines appear can be quite distracting.
With that, I hope that NovelToons can explore the possibility of integrating an auto-read function, much like an auto-scroll function.
Author Benefit – Earn Money While Writing
A novel that reaches 20,000 words can be considered for an exclusive contract. All applications are reviewed in three rounds, and the final results are issued through email.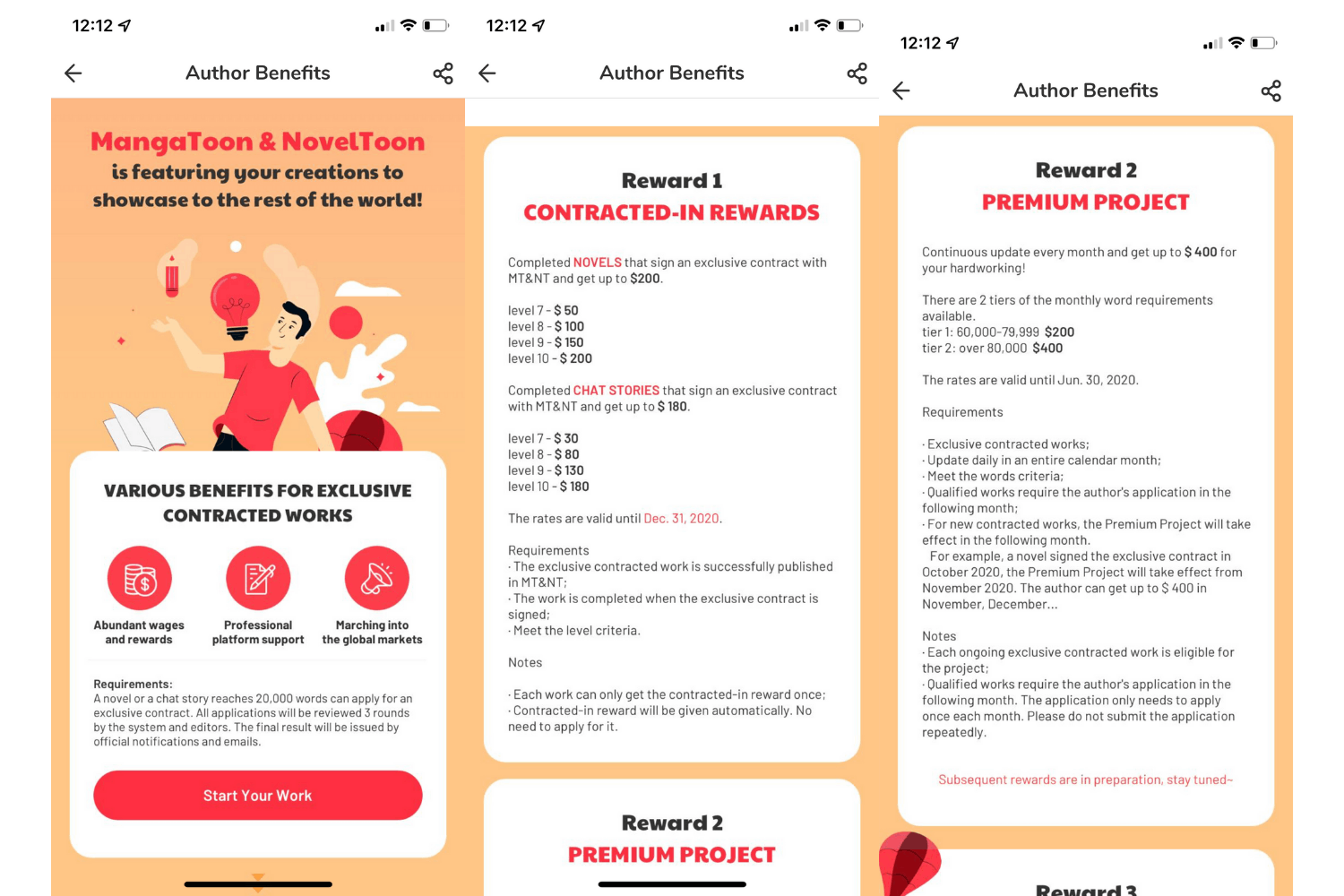 As a budding writer, I never really reached that point where I could be considered for an exclusive contract, but several of the friends I've met on this platform have already gotten their contracts.
Exclusive Perks and Rewards
All exclusive contract works are graded on a scale of 1 to 10, with each level corresponding to different exclusive benefits. High-level works (closest to 10) get more benefits.
There are three types of rewards for authors – Contracted-In, Premium Project, and New Completed Works.
Novels rated at level 10 can get up to $200, while chat stories of the same level get $180. For Premium Projects, an 80,000-word limit must be reached before the platform pays out at least $400.
Writing a Novel for NovelToon
I first started writing my novel two months after I discovered NovelToon. I got so inspired by the many stories and tales from fellow readers that I decided to create one.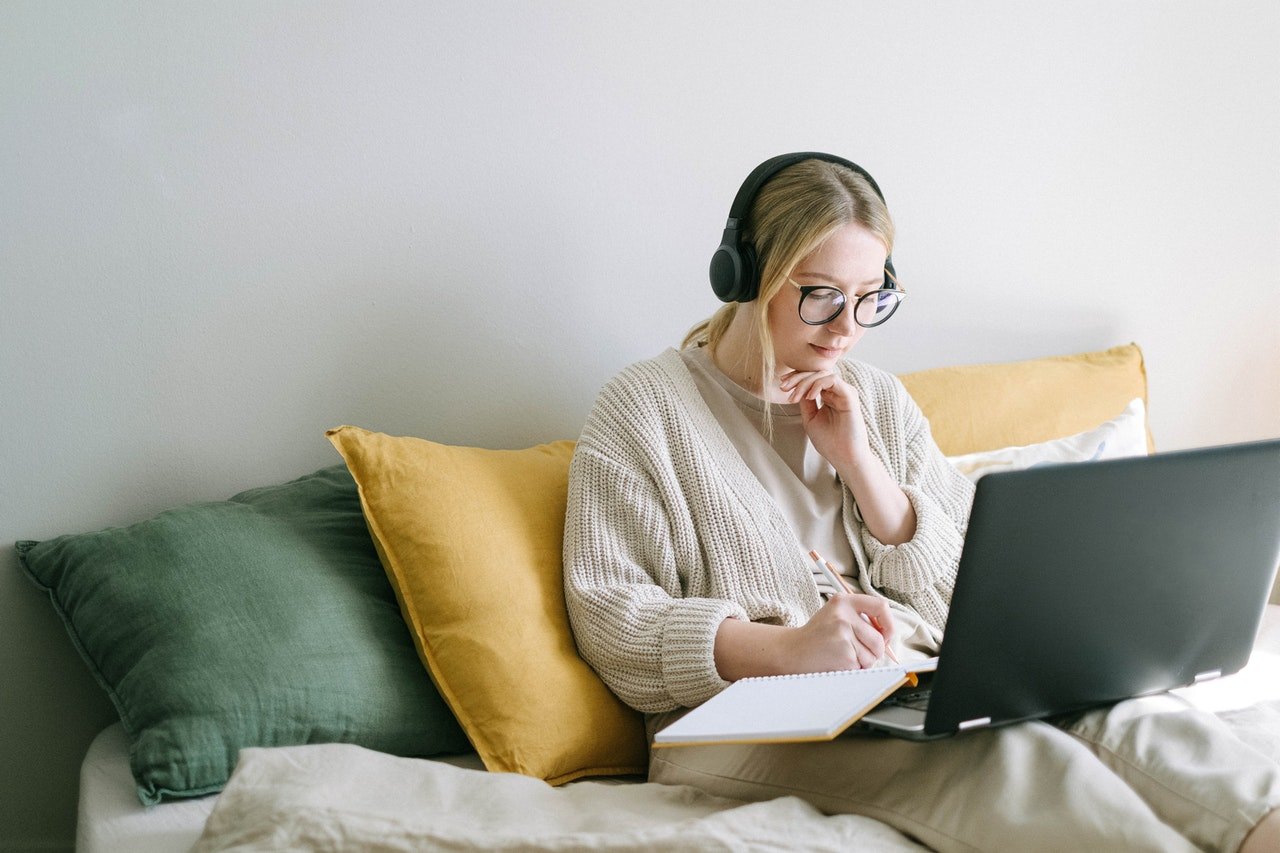 I went to the Discover tab and tapped on the contribute icon. I had three choices – to write a normal novel, a chat story, or post a story idea to discuss with others.
I decided to write a novel and typed in the title and a short introduction.
I can add pictures, media and also format the text and get creative with how the text appears using NovelToon's in-app editor. After that, I submitted the first section of my novel.
Before Uploading the Novel
Details such as my name, WhatsApp, email, country, genres, and language are asked before proceeding with my submission.
Afterward, I uploaded my novel for everyone else to enjoy!
Conclusion
The NovelToon app truly does make reading and writing fun and enjoyable processes. The platform fosters interactions between readers and writers, making the app one of the best reading apps on the market.
I am excited to see what Noveltoon has to offer in the future. This app has so much potential to make reading and writing novels accessible to many people. For now, I will continue using NovelToon as my go-to reading application.