As the world becomes more interconnected through technology every single day, it has become imperative for us to learn other languages aside from English. Building personal and professional relationships with people across the planet requires a level of respect and learning how to speak their language is one way to show this.
However, language learning is a task that we usually associate with spending numerous hours in classes, virtual or face to face. Personally, I don't have a lot of free time to spend hours on classes so I tried to search for an alternative. This is when I came across the Duolingo app and what a discovery it was.
Before Duolingo, I've always thought that learning a new language would be tedious and stressful. This app really made language learning fun and something I look forward to whenever I have a few minutes to spare. If you want to know more about Duolingo, continue reading the article below.
About the Duolingo App
Duolingo's Structure as a Learning App
How the Duolingo App Works
How to Download Duolingo
About the Duolingo App
Duolingo is a language learning website and mobile app developed by Duolingo, Inc. It began as a project by reCAPTCHA creator and Carnegie Mellon University professor Luis von Ahn and his then-graduate student Severin Hacker in 2009. Duolingo was officially launched in June 2012 and currently has over 300 million registered users globally.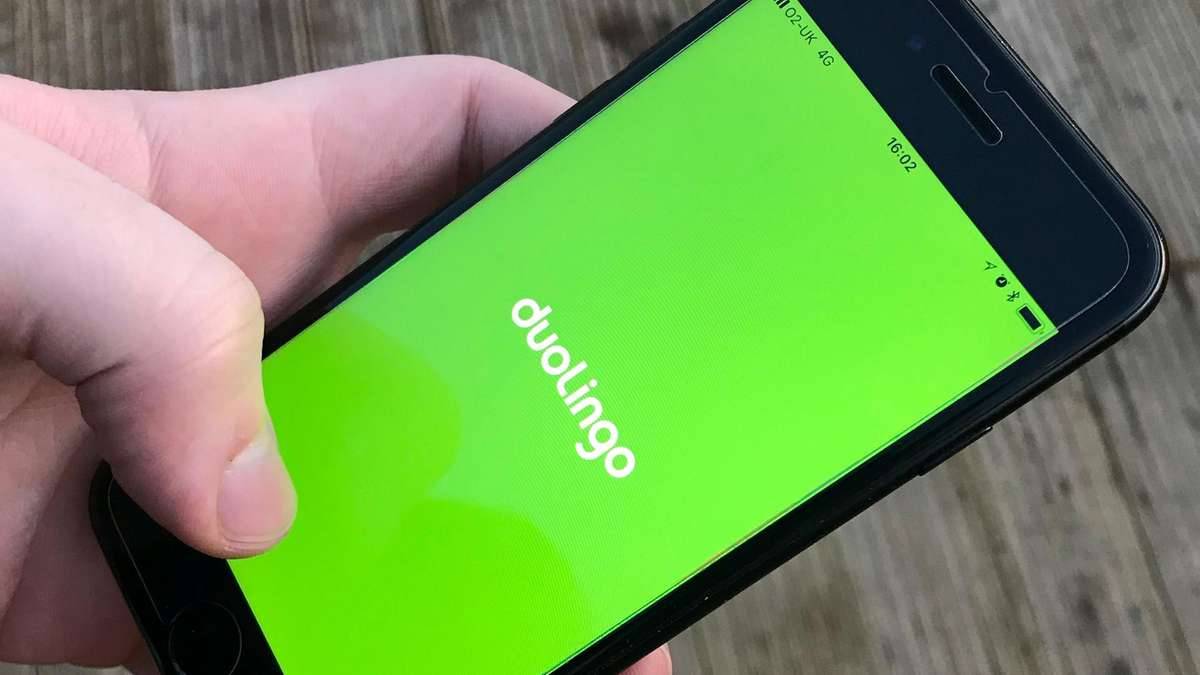 Duolingo offers 106 different language courses in 38 languages, including Spanish, French, Russian, Japanese, and Mandarin Chinese. These courses are designed to adapt to different learning styles while exercises are personalized based on recent lessons that you've received.
Since Duolingo is an app, you may choose to take your language lessons during convenient times in your life, such as during work breaks, commuting to and from work, and while waiting in line at the local grocery store.
I also liked how you receive immediate feedback since exercise results will be displayed immediately and it provides the correct answers too.
Gamification of Language Learning
In my opinion, what makes it different from other language apps is that it made lessons gamified or following the structure of video games. To make things more interesting, Duolingo also features a reward system where you earn gems or lingots, an in-app currency used for purchasing things like character customizations or bonus levels.
Duolingo also features public leaderboards similar to online games where people can see how they fare against friends that use the app or people across the world who are learning the same language.
The experience points (XP) that you earn while doing activities in the app translate to your skill level. Badges are also awarded to you upon completion of specific objectives or challenges.
Duolingo's Structure as a Learning App
I must say that Duolingo is excellently structured and organized as a learning app. Its interface contains Modules, which have multiple lessons and are arranged progressively so you need to complete a certain number of lessons on your current module first before you can open the next module.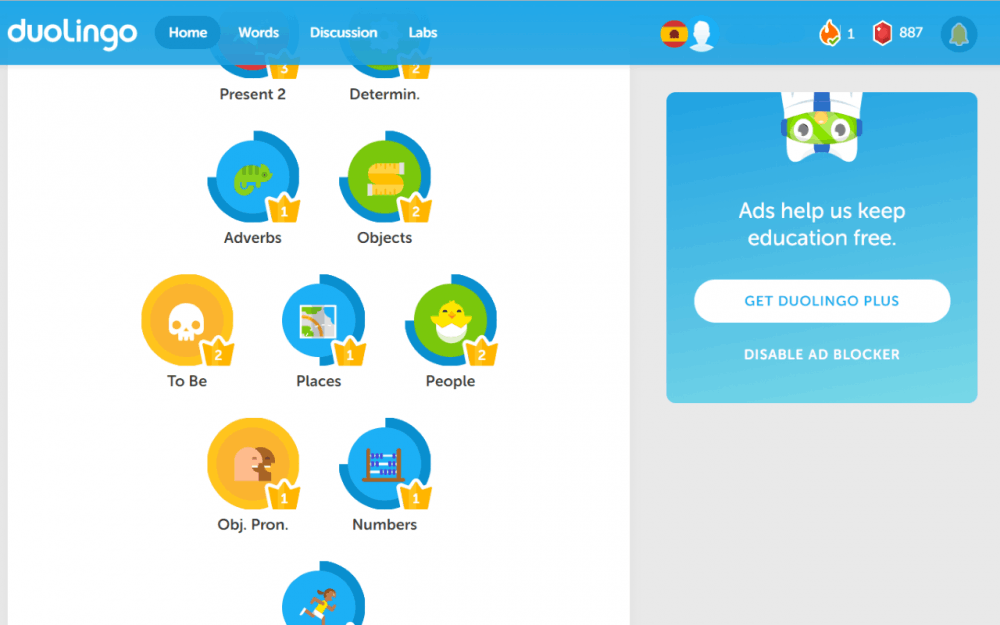 Another thing that I liked about Duolingo is that its lessons are broken down into small lessons so even on days where I'm too busy, I am still able to complete my daily tasks during the limited minutes I had.
And when I have more time to spare, the app allows me to review lessons I've already taken and it even shows me topics I may need a refresher on and gives out tests on them.
One motivational tool that kept me completing lessons on a consistent basis is the achievements and badges I earn. The simple daily streaks and XP goals actually keep me from skipping any lesson. The sense of accomplishment or hitting milestones that the app sets for me have a psychological effect on my willingness to use the app consistently.
Targeting Multiple Language Skills at a Time
According to linguists, learning a language takes multiple skills to accomplish, namely reading, writing, speaking, and listening skills. What's impressive about Duolingo is that it doesn't only focus on vocabulary and grammar but it also emphasizes honing these language skills.
Incorporating all these skills into a single app might be quite challenging that's why most of the other language apps focus on a combination of these skills but rarely tackles them all.
Duolingo was able to do this by introducing numerous activities that target them with the goal of developing well-rounded skills in all of the areas of language learning.
How the Duolingo App Works
At the start, the app asked me what language I wanted to learn and whether I have previous experience studying my chosen language or if I'm a complete newbie. It then asked me to choose my daily learning goal, categorized as Casual, Regular, Serious, and Intense. These are based on the amount of time I am willing to spend on learning the language every day.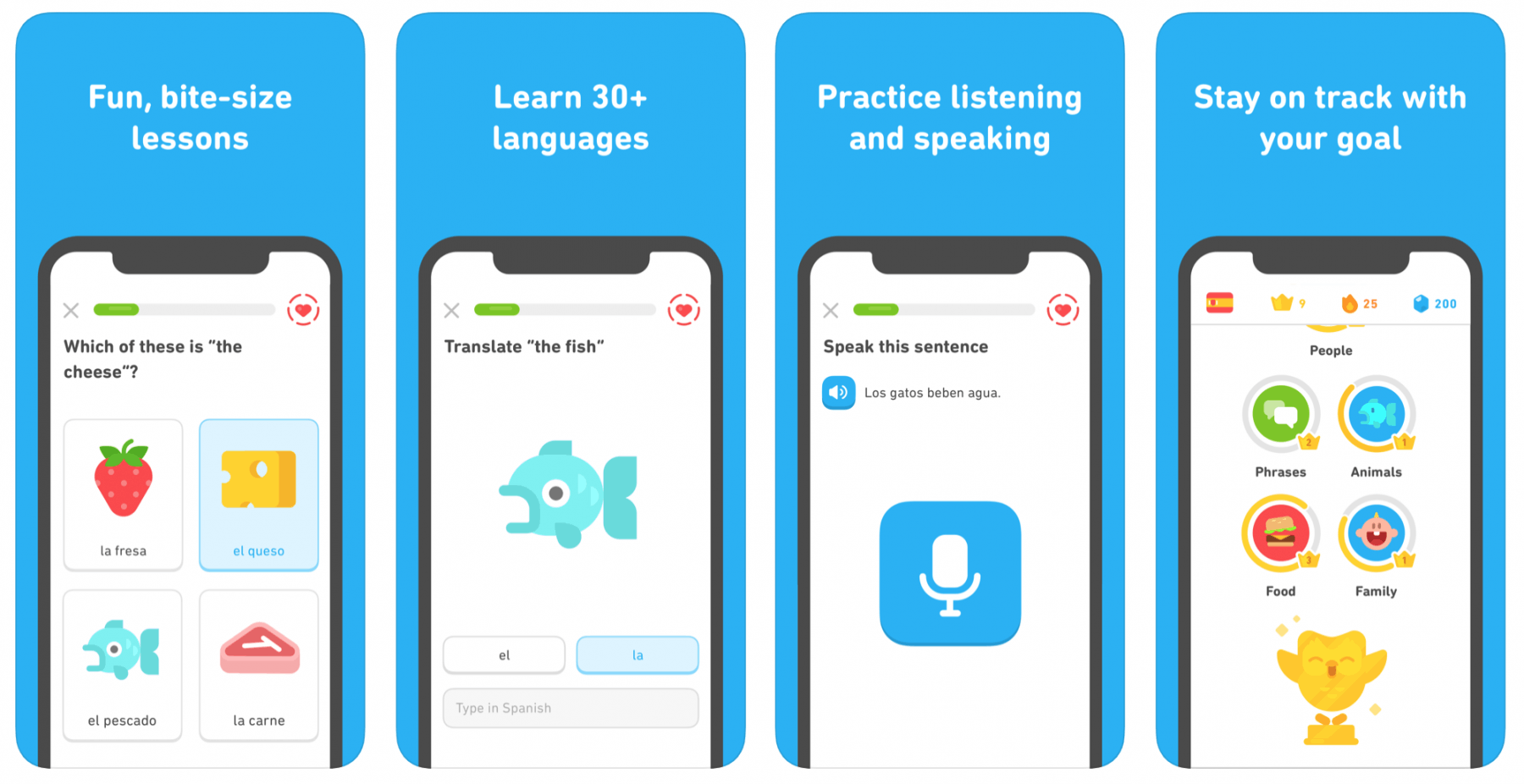 After completing the initial lesson, I was able to view the home screen where I found the lesson tree, comprised of icons representing modules of lessons.
As I mentioned previously, I won't be able to move to the next module without completing a certain number of lessons in my current module. Lessons involve activities such as fill-in-the-blank multiple-choice, translation, and write what you hear.
Duolingo also conducts placement tests, checkpoint quizzes, skill practices, test outs, and stories. Users also have the option of learning multiple languages at the same by pressing the flag located on the upper left of the home screen and tapping the plus button with the word course below it.
About Duolingo Plus and What it Offers
Duolingo is free to download and access for anyone who wants to use it but a paid subscription called Duolingo Plus is also available to anyone who wants to enjoy additional features. The annoying ads are removed for Duolingo Plus subscribers, making their learning sessions uninterrupted.
With Duolingo Plus, you will also be able to download lessons and use them offline unlike with the free version where you need to be online to access the modules. Other perks include unlimited hearts and skill test-outs, a monthly streak repair, and the ability to take a Progress/Mastery Quiz.
To subscribe to Duolingo Plus, tap the gem-like Shop icon on the lower-right corner of the main screen and select Learn More on the Duolingo Plus banner on top. Follow the instructions to complete your subscription. A Duolingo Plus subscription costs $6.99 monthly or $83.88 for a yearly subscription.
How to Download Duolingo
The Duolingo app is available for all Android and iOS device users. If you use a laptop or PC, you may also access your lessons via the official website. Windows users may also install it as a desktop app.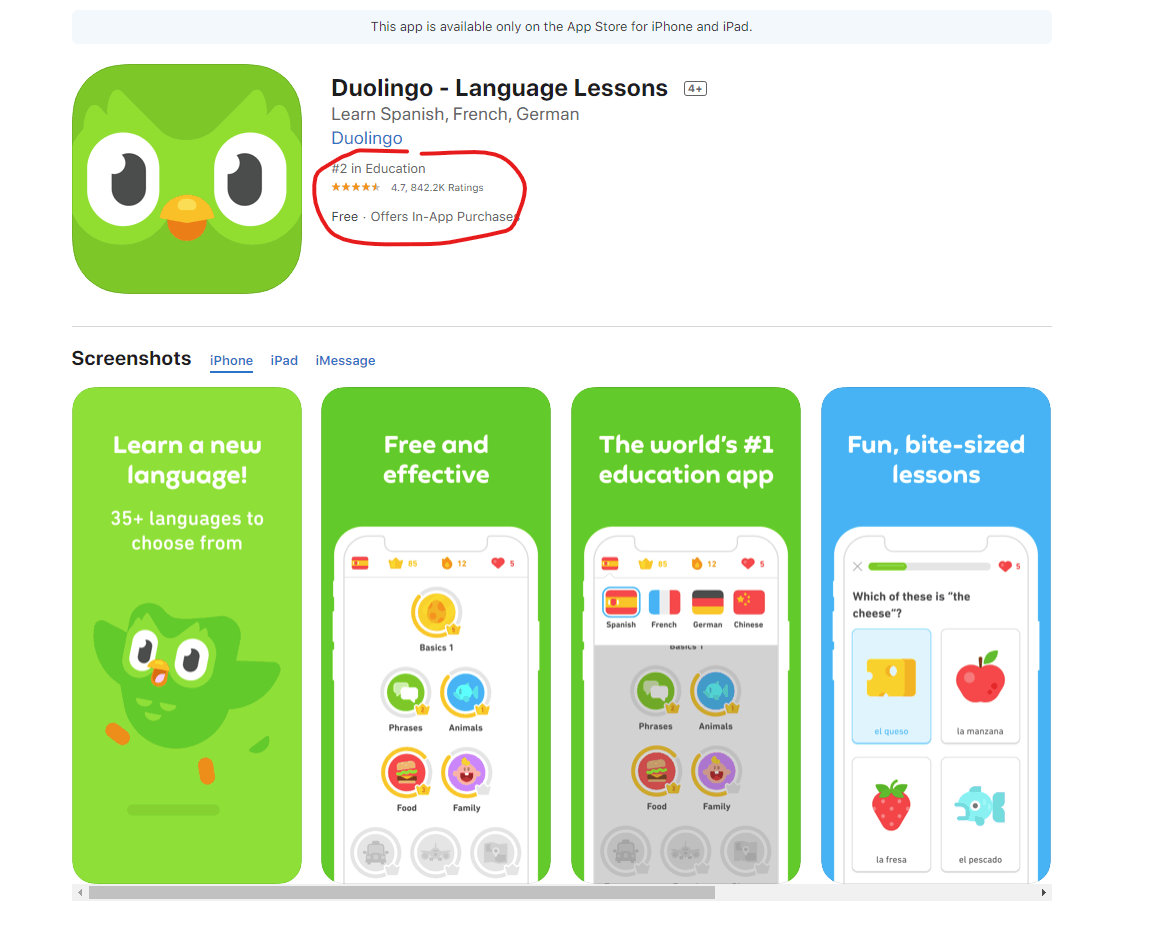 For Android users, you will find the app on the Google Play Store under the name 'Duolingo: Learn Languages Free'. Just tap on 'Install' to start the download process and wait for the installation to finish to launch the app.
Meanwhile, iOS users will find the app in the Apple App Store under 'Duolingo – Language Lessons'. Tap on the 'Get' button and wait for it to finish downloading before opening the app and setting up your account.
Because this app offers in-app purchases, you may be required to confirm permissions during the download process.
Duolingo Account Setup
Creating an account with Duolingo may be done through the website or via the app. On the Duolingo website, look for the Get Started button, click it, and follow the instructions. With the Duolingo app, you will be asked to create a profile.
First, choose the language you want to learn about. You can scroll through the list of languages available on the app and tap on your choice. Then select how many minutes you are going to spend learning this language on a daily basis using the Casual, Regular, Serious, and Intense options.
I initially chose 'Regular' but changed to 'Intense' later on. To complete the setup, you may either use your existing Facebook account and Google account or register your email and create a username and password.
Conclusion
The Duolingo app is a great tool to learn a new language, especially for complete newbies like me. What made my Duolingo experience more interesting compared to other free online language classes that I've tried in the past are the challenges, streaks, and badges that boosted my commitment to the language I wanted to learn.
There may be some room for improvements, but I feel Duolingo delivers in its promise to teach people new languages in a fun way. I think many people, especially those who are busy like me, could benefit greatly from this app. If you think you're one of these people, download the Duolingo app now.